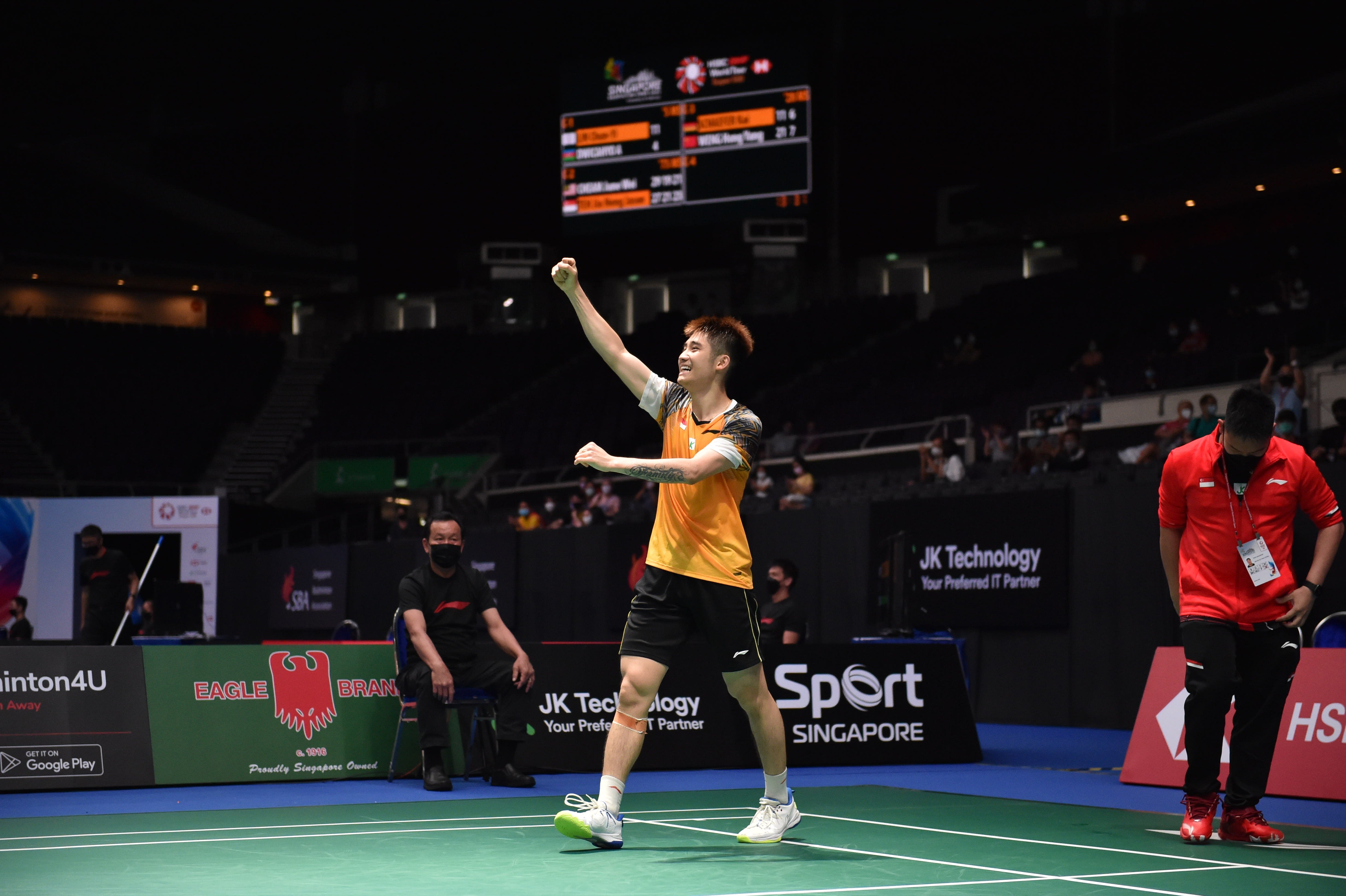 (TeamSG's Jason Teh celebrates at SBO 2022. Photo Credit : David Wirawan)
12 July : The local contingent gave their badminton-starved fans plenty to cheer about after they made a promising start to their Singapore Badminton Open campaign on Tuesday.
Making its return after a two-year hiatus, the first day of qualifying action at the Singapore Badminton Open saw Singapore's Jason Teh become only the third Singaporean men's singles player - after Derek Wong and Loh Kean Yew - to play in the main draw in the past decade.
Jason got the local cheers going early at the Singapore Indoor Stadium after overcoming stiff resistance from Victor Svendsen of Denmark. In the opening match of the men's singles qualification that lasted more than an hour, the World No.90 had to dig deep to beat the 62nd-ranked Svendsen 24-26, 21-18, 21-14 in their first-ever clash.
Svendsen clinched the first game in a tight battle. However, the Singaporean stepped up the tempo to win the second game, forcing the contest into the decider. The Dane led briefly 11-5 in the deciding game, but Jason staged his comeback, winning nine consecutive points to eventually progress.
It then took another herculean effort for him to see off the challenge from Malaysia's Cheam June Wei, in his 2nd qualification match almost two hours later. The Singaporean was almost on the brink of exit with Jun Wei holding 7 match points in the decider. But like his opening match against Svendsen, the Singaporean shuttler staged his fightback, clawing back seven points at 13-20 to overturn the deficit and prevail 23-21.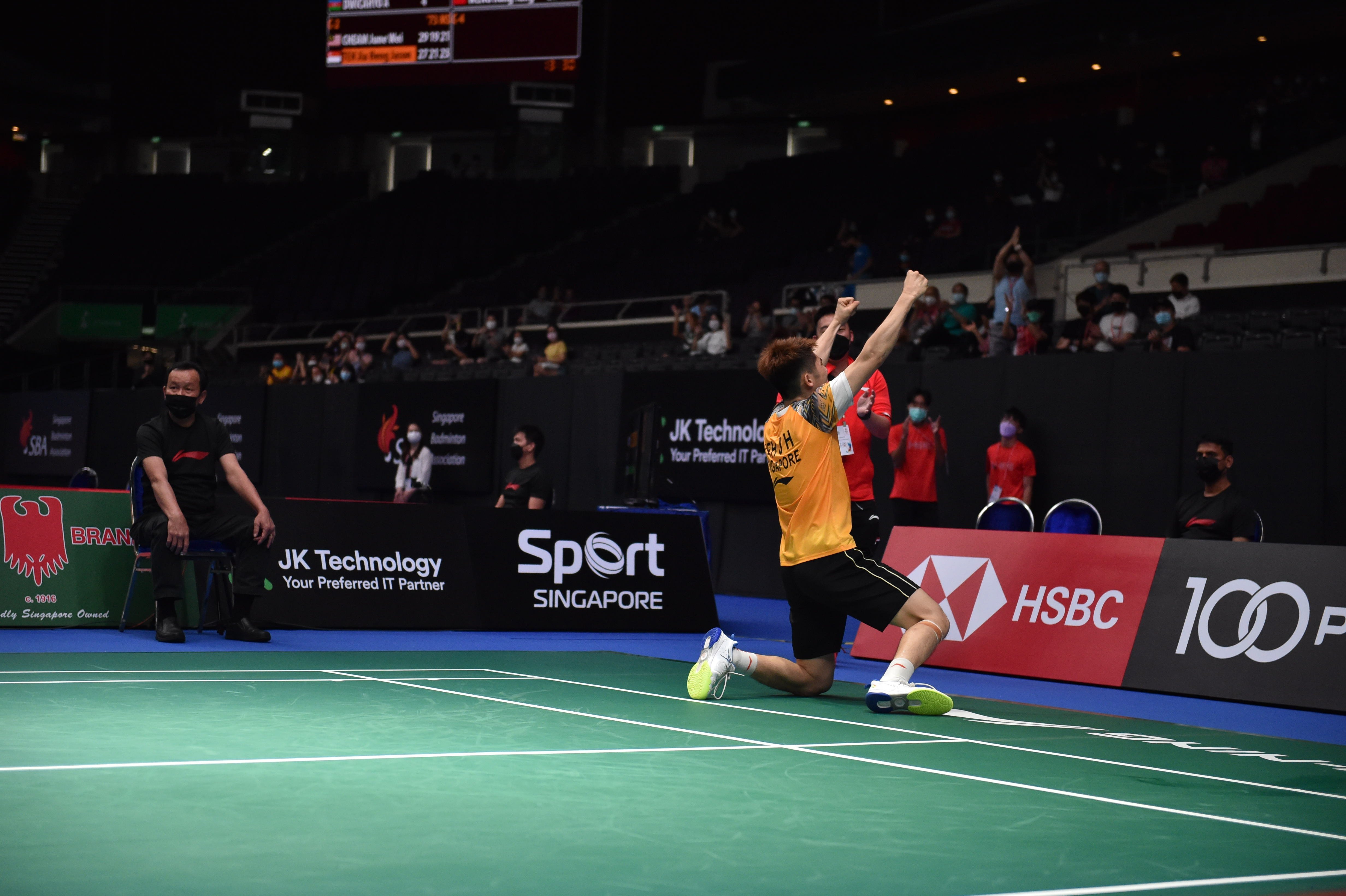 (TeamSG's Jason Teh acknowledges the crowd after his 2nd win. Photo Credit : David Wirawan)
"I was telling myself I do not want to lose for the third time to June Wei. I lost to him twice, so I'm definitely very happy I got my breakthrough against him today," said the 21-year-old, who is making his Singapore Badminton Open debut this week and faces Indonesia's Tommy Sugiarto, the World No.35 next.
"I fought for every point today including my opening match against Victor. It was not easy but I kept believing in myself. There are no weak opponents in the main draw. So, I'm not going to put any expectations but rather focus on doing my best and challenge them."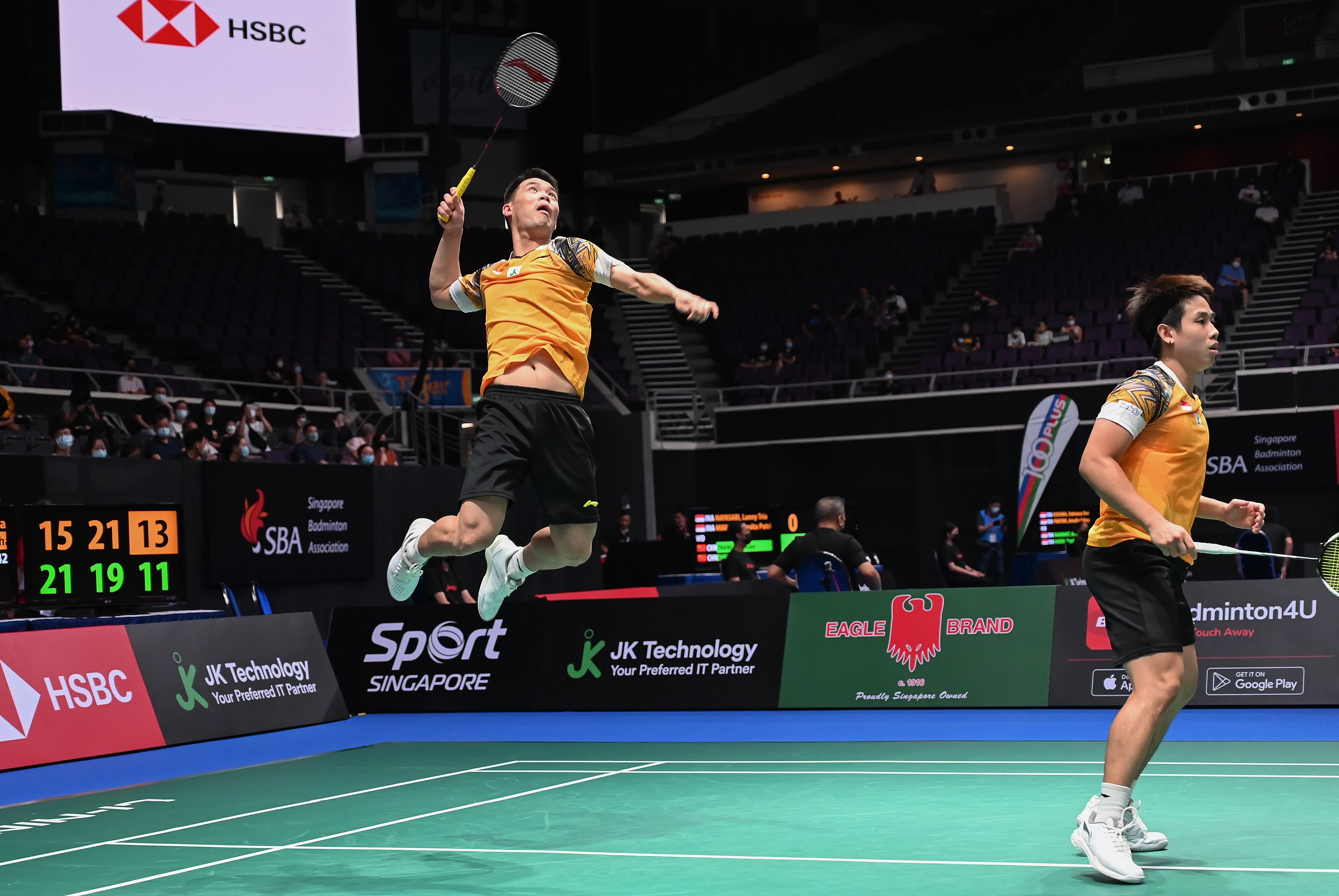 (TeamSG's Terry Hee and Loh Kean Hean are victorious in opening match at SB0 2022. Photo Credit : David Wirawan)
Loh Kean Hean, meanwhile, joins younger brother and world champion Kean Yew in the Main draw. That's after he combined with Terry Hee to take down India's Krishna Prasad Garaga and Vishnuvardhan Goud Panjala 21-15, 19-21, 21-17 in 50 minutes in the Doubles.
"It was a huge relief that we managed to win our opening match on home soil," said Terry. "This is a huge confidence booster for us. We were caught off guard by their change in tactics in the second game, but really pleased to recover in the third game and eventually beat them." Kean Hean credited the voracious home crowd who spurred them on to victory against the Indians.
He said: "Never underestimate the passionate support from the fans. They really motivated us further to fight for every point and we are indeed grateful to them."
China's Weng Hong Yang is also safely through to the main draw where Japan's Kodai Naraoka awaits. The World No. 50 Chinese won the Korean Open in his first event of the season this year and remains on course for his third World Tour win. That's after dispatching compatriot Sun Fei Xiang 21-16, 21-12 in 37 minutes, before he outplayed Germany's Kai Schaefer 21-11, 21-14 in his second qualification match.
In the women's singles qualification, Jordan Hart, who switched her allegiance from Wales to Poland to pursue her badminton ambitions, will face Singapore's Yeo Jia Min in the main draw after breezing past Egypt's Doha Hany 21-16, 21-14 in 22 minutes.
In her social media posts, Hart said: "I'm so happy to be able to get my first win at the Singapore Open this morning. It's my first time in Singapore and I'm simply blown away by this beautiful country after only two hours."
Olympic gold medallists Lee Yang and Wang Chi-lin from Chinese Taipei, who were forced to withdraw from the Malaysia Masters last week after being tested positive for COVID-19, returned to the courts for the first time in a week.
Despite not being fully fit, the duo who secured Chinese Taipei's first-ever Olympic gold medal in badminton at the Tokyo Olympic Games last year, made easy work of the Norwegian pair of Torjus Flaatten and Vegard Rikheim 21-10, 21-14 in 24 minutes.
Said Lee Yang: "We are not feeling 100 per cent physically fit yet and we're taking each match at a time. We do not want to overexert ourselves too much and hope we can regain our competitive fitness with each passing day."
Chi-lin added: "The last week was a good opportunity for us to be in isolation and rest. We were trying to conserve our energy so that we can put up a good show for all our fans who have been supporting us."
The main draw round of 32 begins on Wednesday with the big guns taking the court. Among those set to feature are Indonesia's Anthony Sinisuka Ginting and Jonatan Christie, India's Srikanth Kidambi, Singapore's Loh, Thailand's Ratchanok Intanon and Chinese Taipei's top seeds for the men's and women's singles Chou Tien-Chen and Tai Tzu-Ying.
Season passes and a number of single-day passes to certain match days, including the semi-finals and finals, are already sold out. However, fans can still choose to purchase single-day tickets to other match days. Single-day tickets start from $5 for children and $30 for adults.
The Singapore Badminton Association (SBA), the event's organisers, had to make the unprecedented move to open up more tickets for this year's edition - which will boast more than 6,000 fans since the SBO has been held at the SIS.
Tickets will be available for purchase via Ticketmaster here.
Related Events & Programmes