Kean Yew's campaign ends after tough performance in Singapore Open semis!
by Circle Stories, on July 17, 2022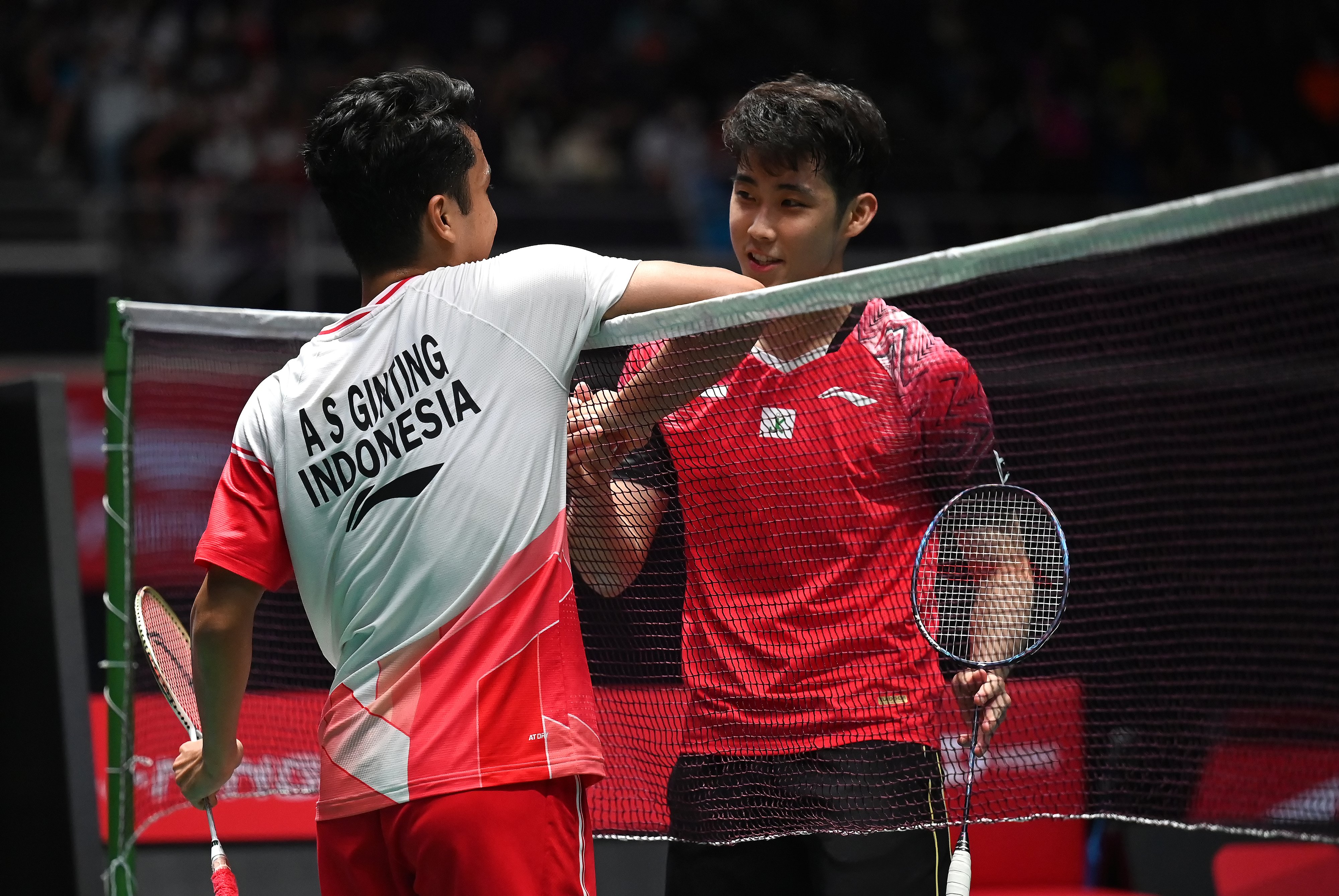 (Indonesia's Anthony Ginting defeats Loh Kean Yew in SBO 2022 Semis. Photo Credit : David Wirawan)
16 July 2022 – Indonesia's Anthony Ginting ended Loh Kean Yew's hopes of
becoming the first Singaporean male singles player to win the Singapore Badminton Open title in 60 years, as he triumphed 21-17, 21-14 in the men's singles semi-final.
Ginting had yet to beat the Singaporean after two meetings. And with a capacity 6,000 crowd at the Singapore Indoor Stadium cheering their local hero, many were hoping for Singapore's World No.9 to get the better of his 6th-ranked opponent. But aggressive play and superior shots at the net proved too much for Singapore's world champion, who before the match had yet to drop a game at the tournament.
(Kean Yew in action at SBO 2022. Photo Credit : David Wirawan)
Said a dejected Kean Yew : "I wanted it (the Singapore Badminton Open win) too much. I think too much about the results rather than the process. I need to focus more on the process. The result was very disappointing and not the happiest outcome. But I tried my best to find the solution on the court. However, it wasn't enough and I felt that Ginting definitely prepared well and was ready."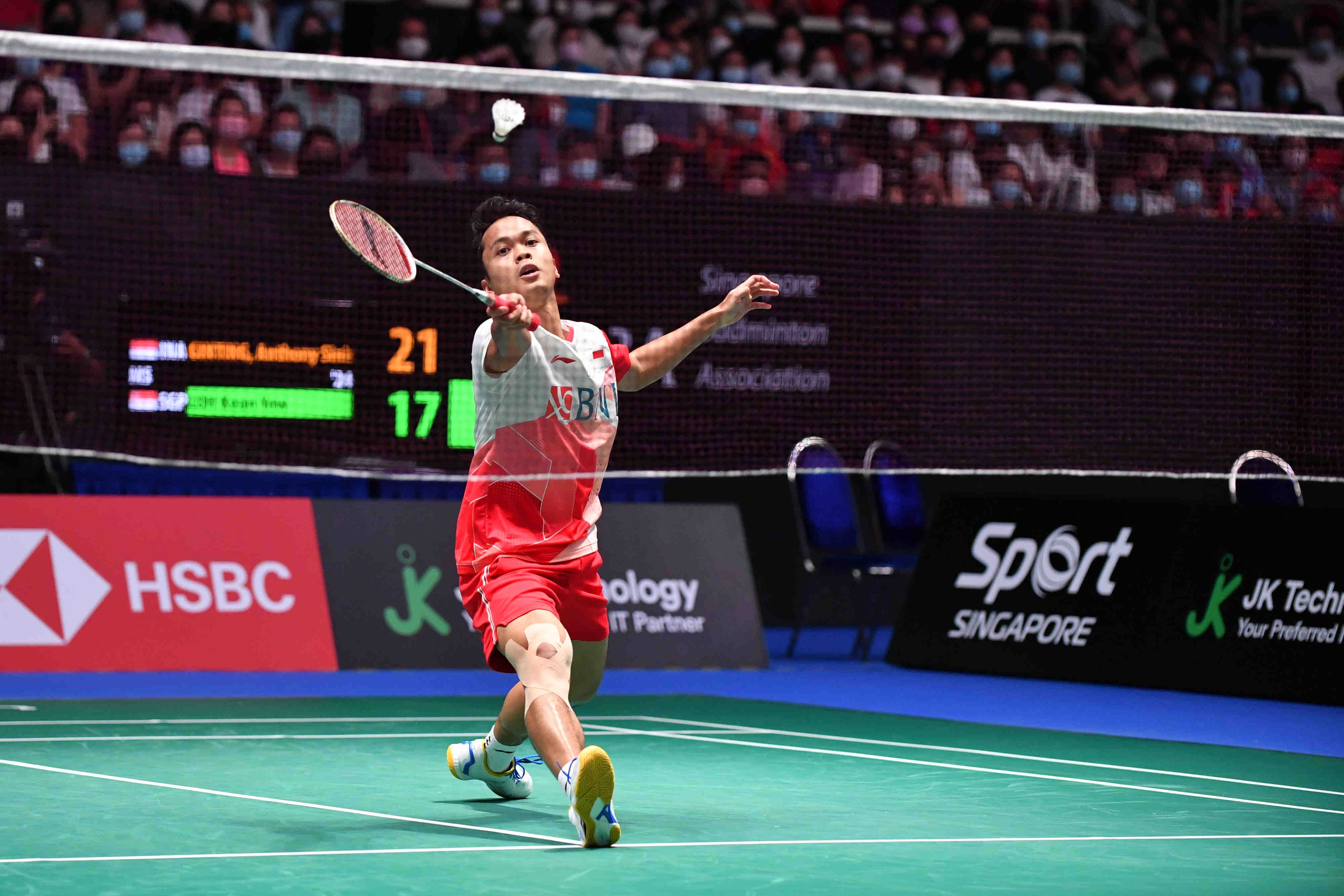 (Olympic bronze medallist Anthony Ginting of Indonesia. Photo Credit : David Wirawan)
Unfazed against a partisan local crowd, Ginting trailed the Singaporean early on, but turned the tables with his patient approach. "I knew Kean Yew has very quick footwork and my plan was to disrupt his movement and stay calm," said the Indonesian. "I could sense Kean Yew was feeling nervous and I completely know that feeling when we compete on home soil."
He continued his attacks against Loh in the second game and his game plan paid off after 37 minutes, as the Singaporean simply came up second best against the Indonesian, thereby ending the host nation's last hope of a podium finish at this year's edition.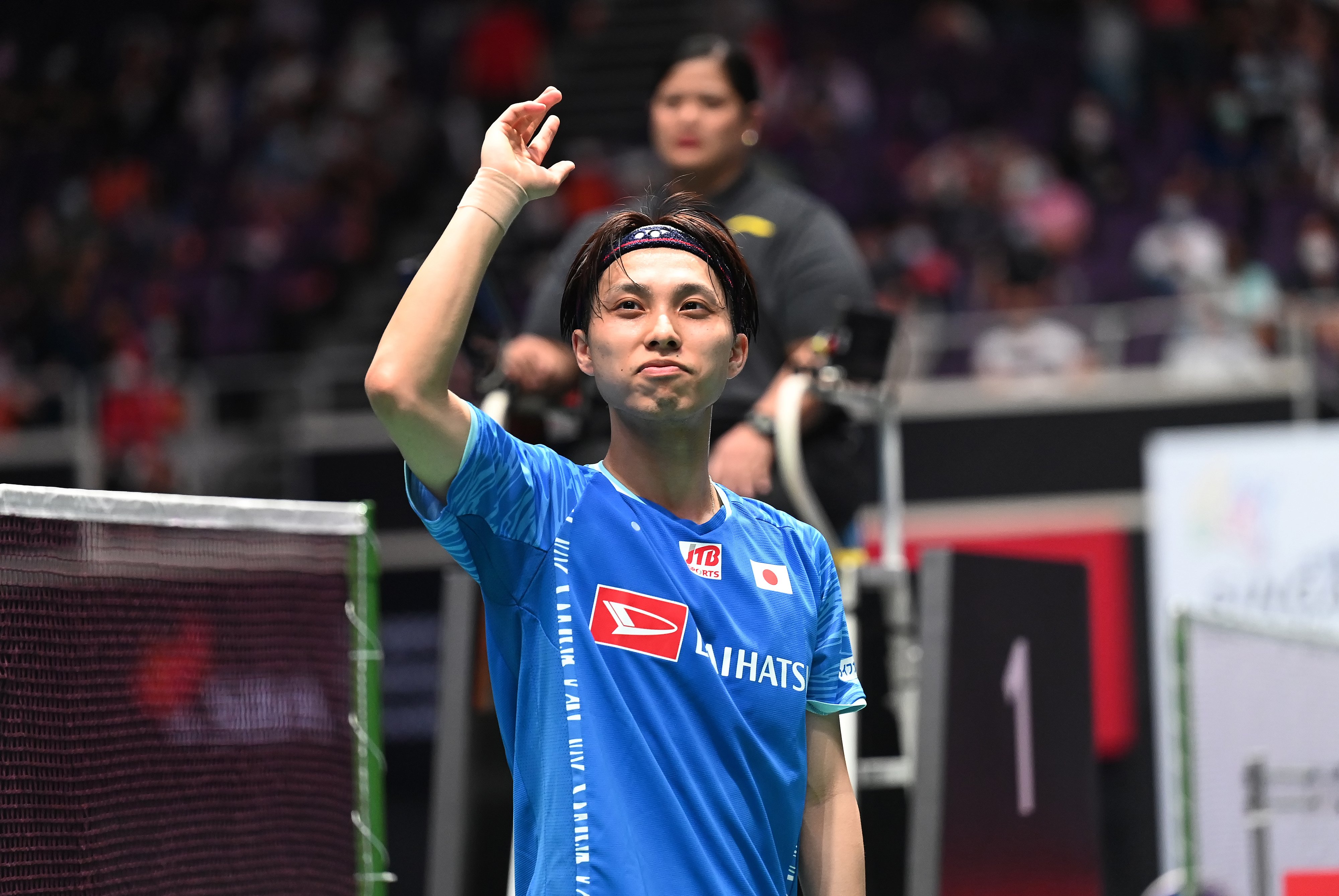 (Japan's Kodai Naraoka reaches final of the SBO 2022. Photo Credit : David Wirawan)
Japan's Kodai Naraoka, meanwhile, remains on course for his BWF World Tour breakthrough, after he outplayed China's Zhou Jun Peng in the other semi-final. Naraoka won the first game 21-18 after battling back from 6-12 down. He then relied on his deceptive net play in the second game to counter Zhao's powerful smashes. It eventually paid off after he triumphed 25-23 to progress and set up a clash with Ginting.
Said Naraoka: "I knew Zhao was very strong in his attacks and I had to defend well from the back. I had to draw him to the net and take him on from there. I'm ready for tomorrow's final and hopefully, I can win."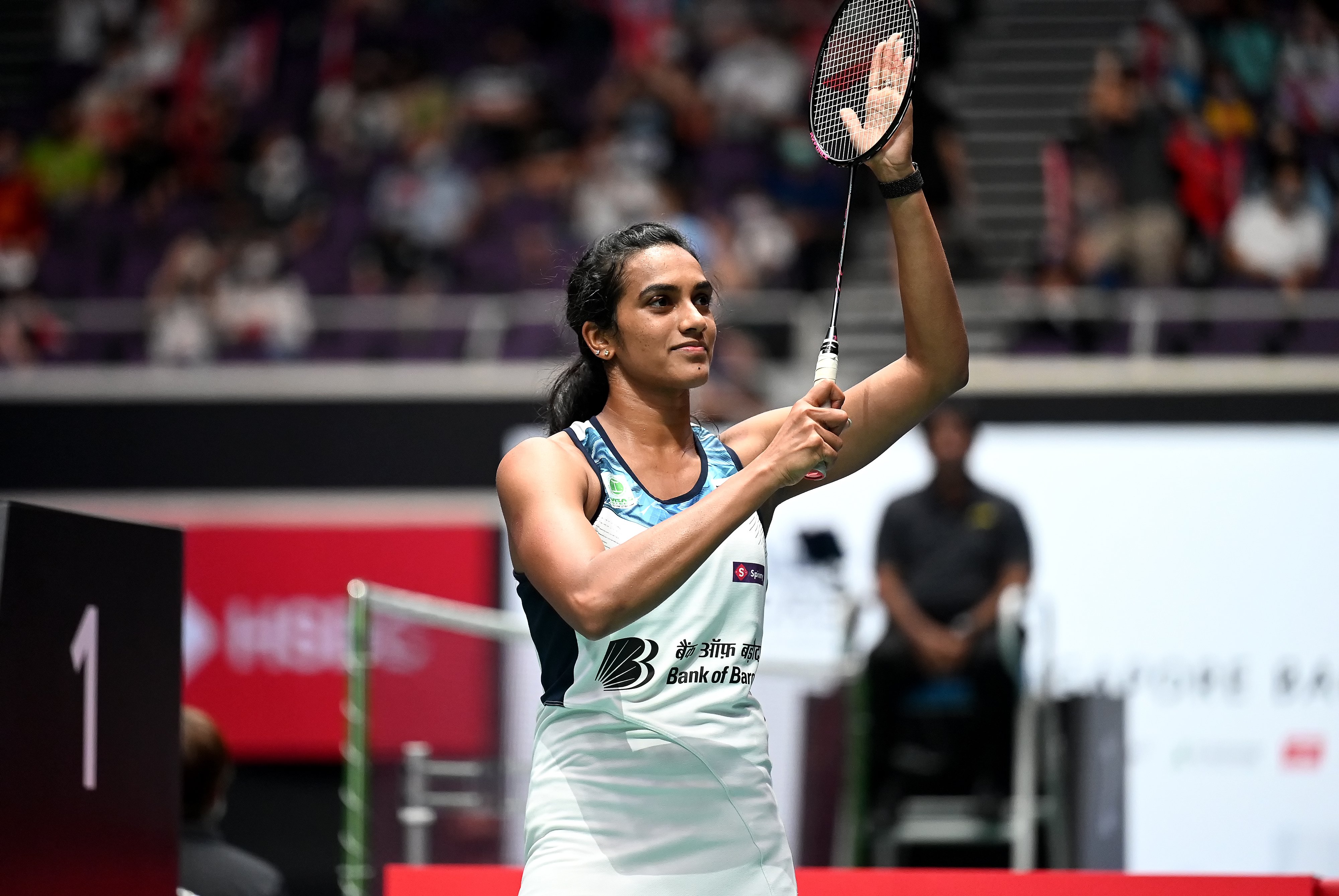 (2nd seed Pusarla V. Sindhu is through to the Finals. Photo Credit : David Wirawan)
Onto the Women's singles, World No.7 Pusarla V. Sindhu of India extended her winning record against Japan's Saena Kawakami to 3-0 after defeating her 21-15, 21-7 in 32 minutes in the semis.
2nd-seeded Sindhu was a figure of composure on the court and never lost the lead in the first game. She continued her dominance in the second, racing to a 5-0 lead before allowing Kawakami to claw back two points. At 11-5, she won eight successive points to reach 19-5 before the Japanese stopped her in her tracks momentarily, taking another two points. However, it was all she could muster as Sindhu closed out the match by winning the next two points.
Said Sindhu: "This win is very important for me. I haven't played against Kawakami for such a long time and I had to find my rhythm against her again. I felt I was able to control the conditions better and after winning the first game, I was pretty confident. But having said that, I did not think it was going to be easy as anything can happen. I've reached the finals but it's not over yet. There's still one more match to go and I'm going to give my 100 per cent."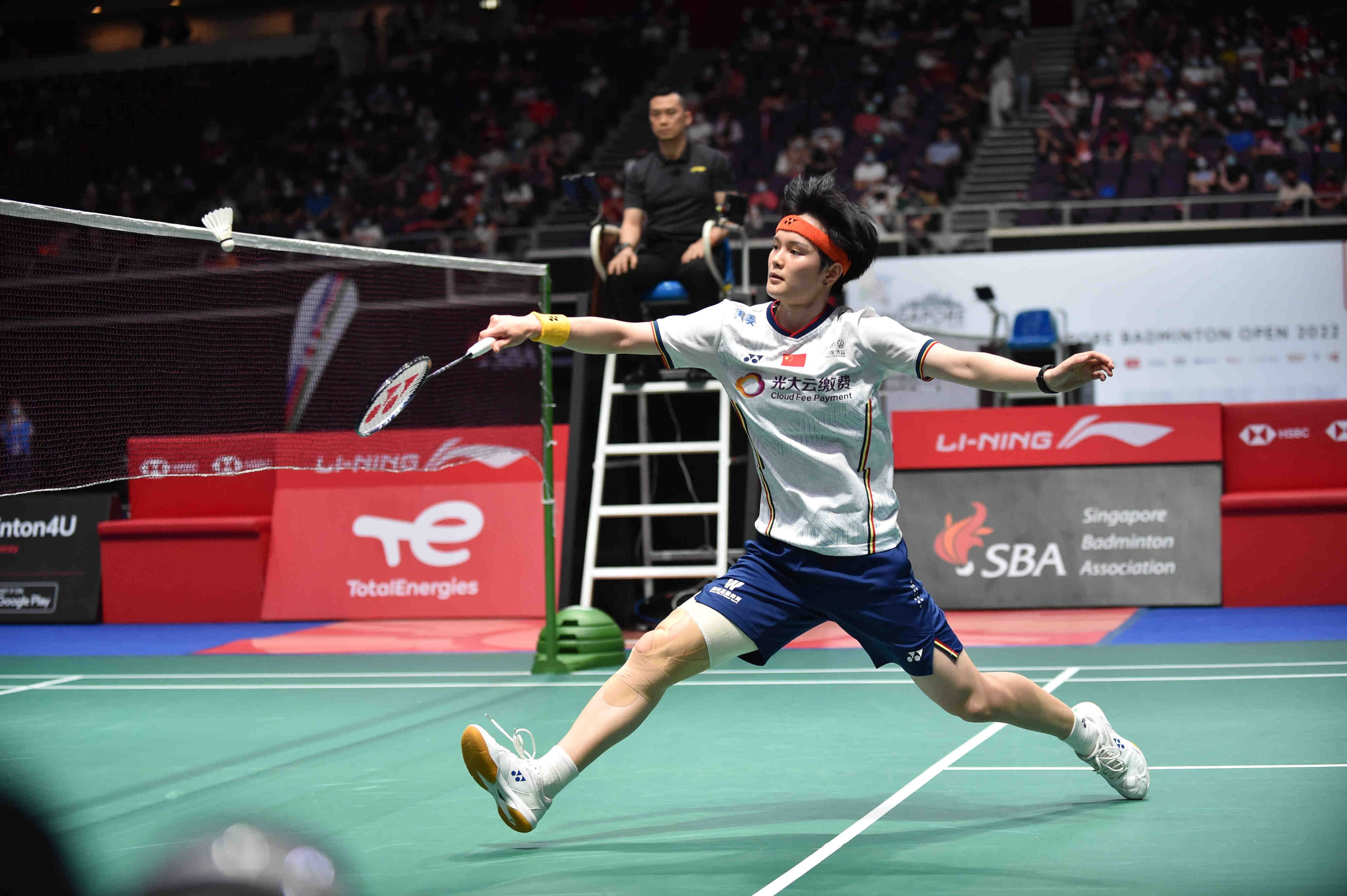 (China's Wang Zhi Yi in action. Photo Credit : David Wirawan)
Sindhu takes on China's Wang Zhi Yi after the Chinese dispatched Japan's Aya Ohori 21-14, 21-14 in 38 minutes. It was Zhi Yi's first victory over Ohori in four attempts and the win was especially sweet for the 22-year-old, who is seeking her second World Tour victory in two months since she captured the women's singles title at the Badminton Asia Championship in Manila.
Said Wang on her win: "The last time I played against her was in 2020 in Thailand, but we've all improved and changed a lot these last two years. Today I did a little better than her in terms of wind control. I'm going to cherish this victory for a little while before I get back to work and focus on my final against Sindhu. On facing Sindhu next, Wang said: "Sindhu's a very fast and aggressive player. I have to match
her speed, rhythm and style."
Mixed doubles defending champion, Dechapol Puavaranukroh and Sapsiree Taerattanachai of Thailand are through to the final but not after having to fend off the spirited challenge from Malaysia's Goh Soon Huat and Jemie Lai. Said Sapsiree: "We are so happy to be back in the final again and are looking to do our best as
always. For this match, we just wanted to attack, be aggressive and defend well. We did not make many mistakes which were important."
In the nail-biting contest which lasted more than an hour, the Thais enjoyed the early advantage by winning the first game 21-17. The Malaysians then fought back, overturning a 2-0 deficit at the start to regain control of the game at 3-3. They only lost the lead once at 8-9 but closed out the second 21-16 with their speed and aggression. The third game was a tighter affair with no more than two points separating them after they were tied at 4-4. The Malaysians broke away and led 17-13, but were left to rue several costly mistakes and succumbed to their nerves to throw away the lead and lose the game 20-22.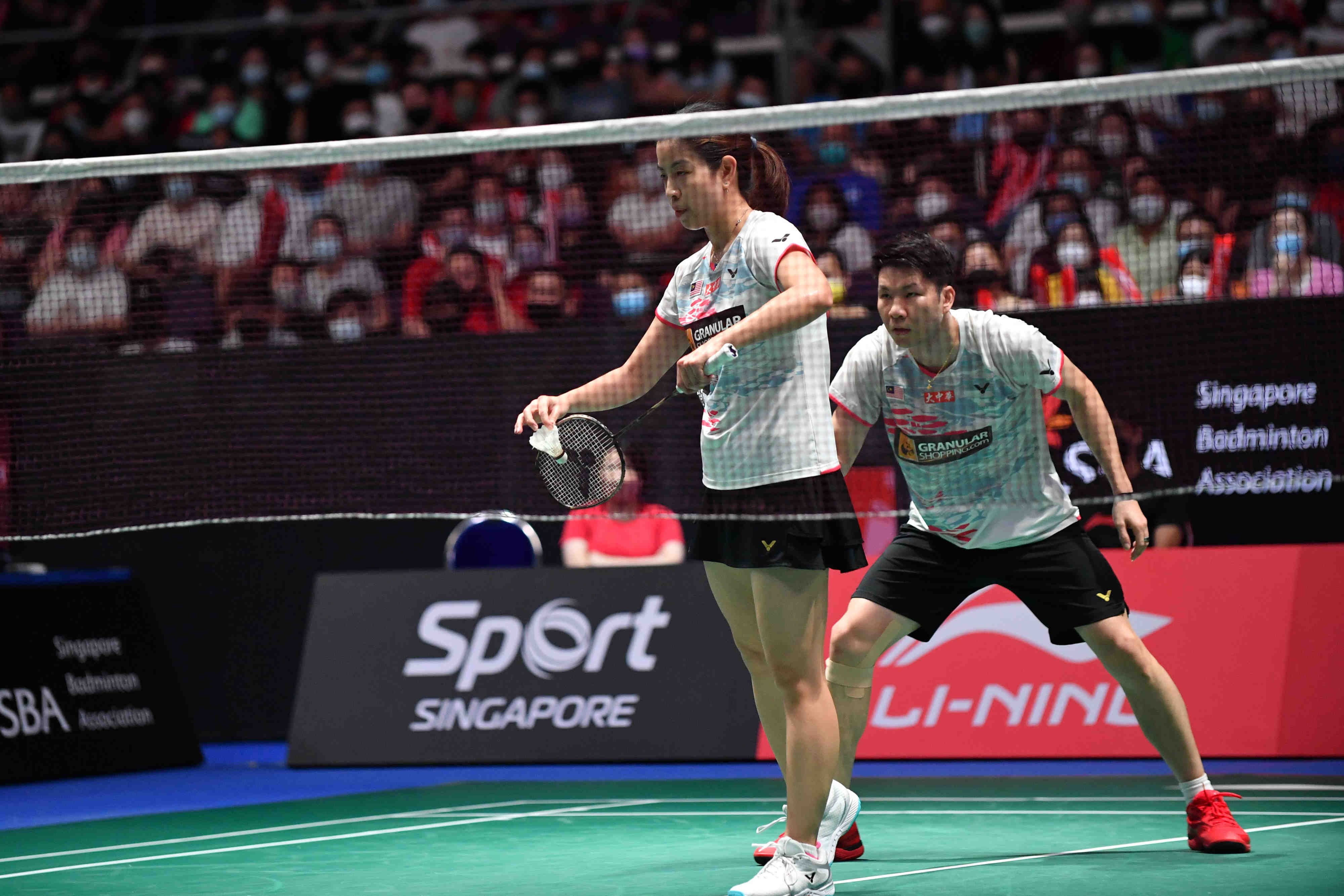 (Malaysia's Goh Soon Huat and Jemie Lai. Photo Credit : David Wirawan)
"At the crucial points, they were more aggressive and more stable in terms of their game plan and the consistency of their shots," said Jemei. "From there, especially on my part, I did not manage to calm myself down quick enough to place the shots where I wanted and made several mistakes." Soon Huat added: "During the game point, we got a bit nervous and especially on my part.. I've not done well enough to hold the game today."
In the men's doubles, Indonesia is assured of a winner as Fajar Alfian and Muhammad Rian Ardianto take on compatriots Daniel Marthin and Leo Rolly Carnando in the final.