Singapore-based figure skating coach Zhang Wei, guides China's athletes to Gold and Silver medals at ISU Grand Prix in Italy!
by Circle Stories, on November 14, 2021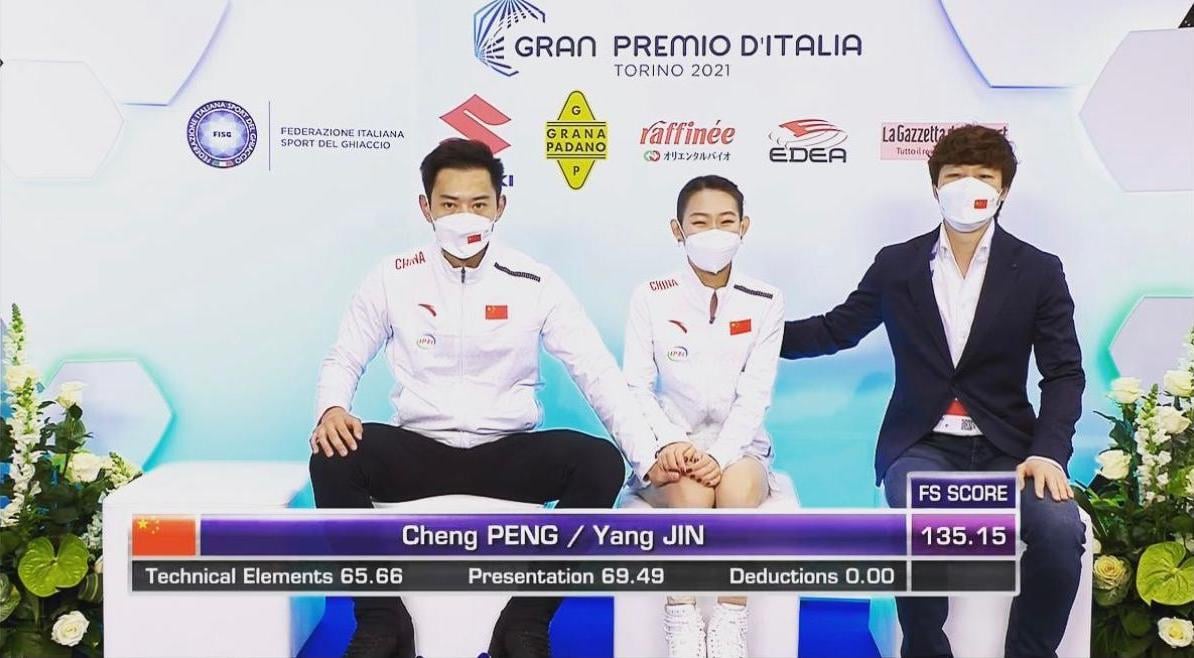 (L-R: China pairs skaters Jin Yang and Peng Cheng won Silver at the ISU Grand Prix Italy, with Singaporean coach, Zhang Wei)
By Singapore Ice Skating Association
Figure skating coach Zhang Wei has made history by being the first Singaporean, to be on the winning team at a major figure skating competition.
Recently at the International Skating Union (ISU) Grand Prix Gran Premio D'Italia in Torino (Italy), China skaters Sui Wenjing and Han Cong won Gold, while Peng Cheng and Jin Yang clinched Silver for pair skating. Both pairs train under a team of coaches comprising former Olympic champion Zhao Hongbo as well as Zhang Wei and Guan Jinlin.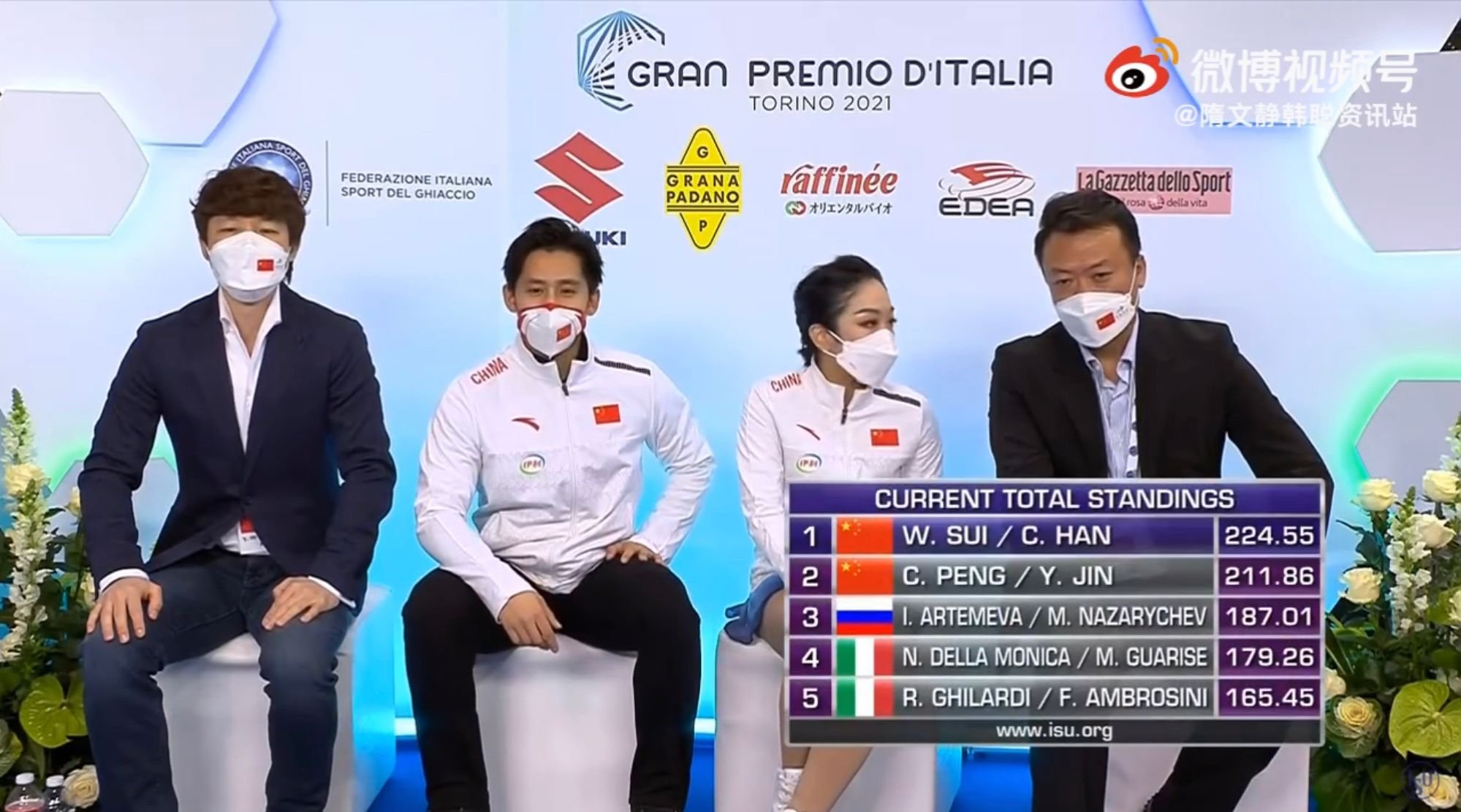 (L-R : Singaporean figure skating coach Zhang Wei with Gold medallists Han Cong, Sui Wenjing and Coach Zhao Hongbo, at ISU Grand Prix, Italy)

In March 2021, Zhang flew from Singapore to Beijing at the invitation from China, to take on a new appointment as pairs team coach for the China figure skating team. He is tasked with helping the Chinese team train and prepare for the XXIV Olympic Winter Games to be held in Beijing from 4 to 20 February 2022.
Zhang is a former figure skater who won Gold at the Asian Winter Games in 1999. Following his retirement from competitive skating, he built a reputation in coaching and choreography. He began coaching in Singapore in 2001 and made the Republic his home. He was serving the local ice skating community as Technical Director for Singapore Ice Skating Association. But the 43 year old had to step down from this pro bono role to focus on his new appointment in China.
Said Alison Chan, President of Singapore Ice Skating Association : "Zhang Wei has been actively contributing to Singapore ice skating for many years. We are proud of his achievements. Before he left for China, he shared with us that when he returns to Singapore, he will use his experience to groom our young skaters to prepare for major figure skating competitions in the coming years. We believe there is much our Singapore skaters can benefit from his coaching stint with the Olympics team in China."
The ISU Grand Prix of Figure Skating is a series of senior internationals organised by the International Skating Union, starting in 1995. Medals are awarded in the disciplines of Men's Singles, Women's Singles, Pair Skating, and Ice Dance. Skaters earn points based on their placement at each event and the top 6 in each discipline qualify to compete at the Grand Prix Final. The 2021-2022 series is setting the stage for the 2022 European, Four Continents, the World Championships, as well as the upcoming Winter Olympics. The 2021-2022 ISU Grand Prix Final will be held in Osaka, Japan in the 2nd week of December 2021.
Sui Wenjing and Cong Han won Silver at the 2018 PyeongChang Olympics and Silver at the ISU World Championships 2021 held in Stockholm earlier this year, while Peng Cheng and Jin Yang were placed 5th in Stockholm.