TeamSG defeats Korea to book a place in IFF Men's World Floorball Championships 2022!
by Circle Stories, on June 3, 2022
(TeamSG has qualified for their 4th straight IFF World Championships! Photo Credit : Dennis Lim/Singapore Floorball Series)
3 June 2022 - Singapore qualified for the Men's World Floorball Championship (WFC) after defeating Korea 6-3 in the quarter-finals of the Men's World Floorball Championship Qualification-AOFC (Men's WFCQ-AOFC). Australia also booked their berth in the year-end Men's WFC after beating New Zealand 9-0 on Friday (3 June) at the OCBC Arena. The stage is set for the Men's WFCQ-AOFC final (4 June), with Thailand to face the Philippines in an epic battle for the title. Both teams are undefeated this week, and qualified for the WFC on Thursday after finishing top of their respective groups.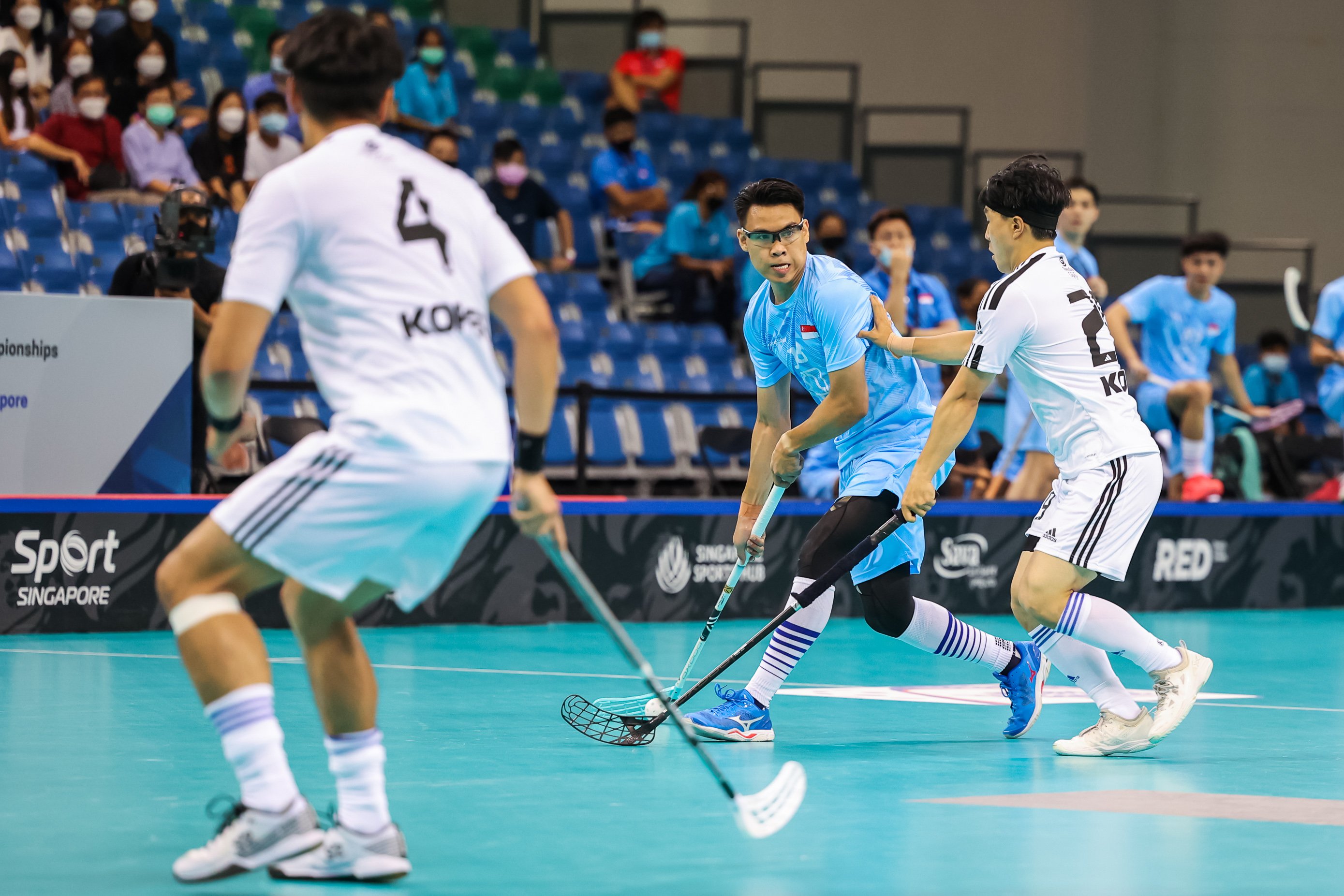 (TeamSG on an attacking run. Photo Credit : Dennis Lim/Singapore Floorball Series)
Singapore triumphed over Korea in an intense battle that ended 6-3. The game started off close when Muhammad Akmal Shaharudin drew first blood to give Singapore the lead. It didn't take long for Korea to respond as they quickly equalised through Max Parbrand after a well-placed finish into the bottom corner of the net. Singapore regained their lead after a loose ball in the box led to an own goal by Korea. TeamSG raised its tempo in the second period and added three goals to their tally to make the score 5-2. Singapore's Player of the Match, Nicholas Chua, scored his second goal of the game in the final period to put the game beyond doubt. Singapore will now face Australia in the third-placing match on Saturday.
(Post-match interview with TeamSG's Player Of The Match, Nicholas Chua. Video Credit : Singapore Floorball Series)
In addition to talking about the clash against the Koreans, Nicholas also paid tribute to the crowd at the OCBC Arena, adding: "I would like to thank each and every one of the supporters for coming down every single day, especially the younger ones. I hope that by watching us play, you guys are more inspired to learn to become a better floorballer. And most importantly, the family and friends who continued cheering very loudly even though we were losing yesterday, and today when we scored, they were the loud ones who gave us hope and the spirit we needed."
Meanwhile over in the first quarter-final, Australia earned a resounding 9-0 win over New Zealand. Australia started out the game on the front foot scoring four past the New Zealand defence in the first period and another four in the second to make it 8-0. Australia captain Daniel Gartner wrapped up their impressive victory by scoring his team's ninth and completing his hat-trick.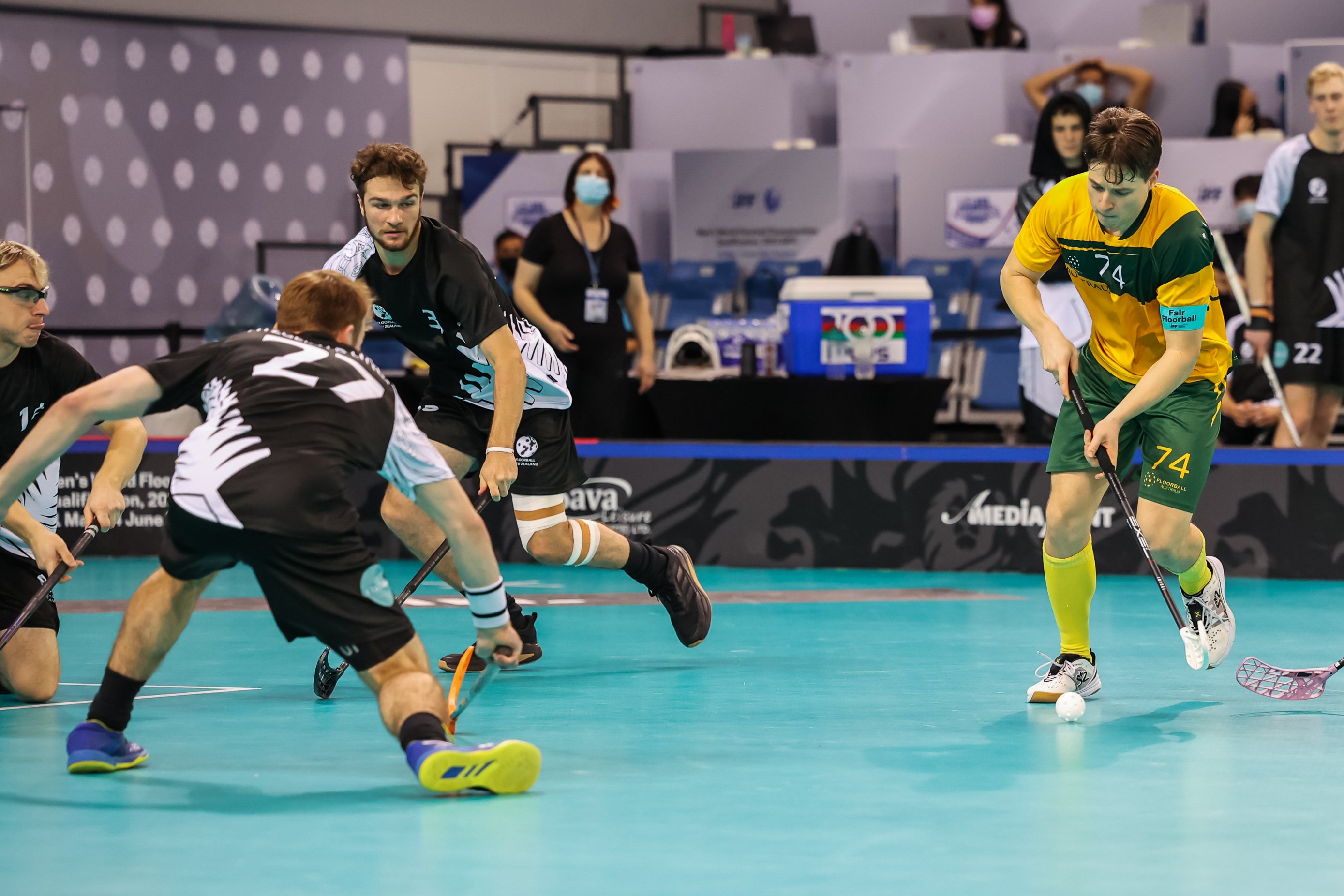 (Australia booked their place in the Men's WFC in November. Photo Credit : Dennis Lim/Singapore Floorball Series)
Gartner, who was named Australia's Player of the Match, said: "It's been a hard two years for Floorball Australia, we didn't train together for almost two and a half years. This tournament is sort of a comeback for us, where the team came back together, we finally had some training with one another and hopefully for the world championship we can improve more and show more of our teamwork and skills."
New Zealand's Player of the Match Matthew Bertschinger said of his award: "It's awesome, the whole team gave their all, everyone fought to the last minute. So the Player of the Match goes to everyone but I'm stoked that I was able to get my own this game as well."
The match schedule for 4 June is as follows:
10.15am: Japan v Malaysia (7th place play-off)
1.00pm : New Zealand v Korea (5th place play-off)
3.45pm : Australia v Singapore (3rd place play-off)
6.30pm : Philippines v Thailand (Final)
Tickets to the Singapore Floorball Series 2022 are available at https://www.sistic.com.sg/events/efloorball0622, starting from $6.
Visit www.sistic.com.sg for more information on ticketing.
ALL Matches will be Live streamed as well on ActiveSG Circle : go.gov.sg/mwfcqaofc2022
Follow the Singapore Floorball Series on Facebook and Instagram for event updates. Match statistics are available at https://floorball.sport/mens-wfcq-2022-aofc/.