TeamSG floorballers retain Women's AOFC Cup title, after 4-1 win over the Philippines!
by Circle Stories, on May 28, 2022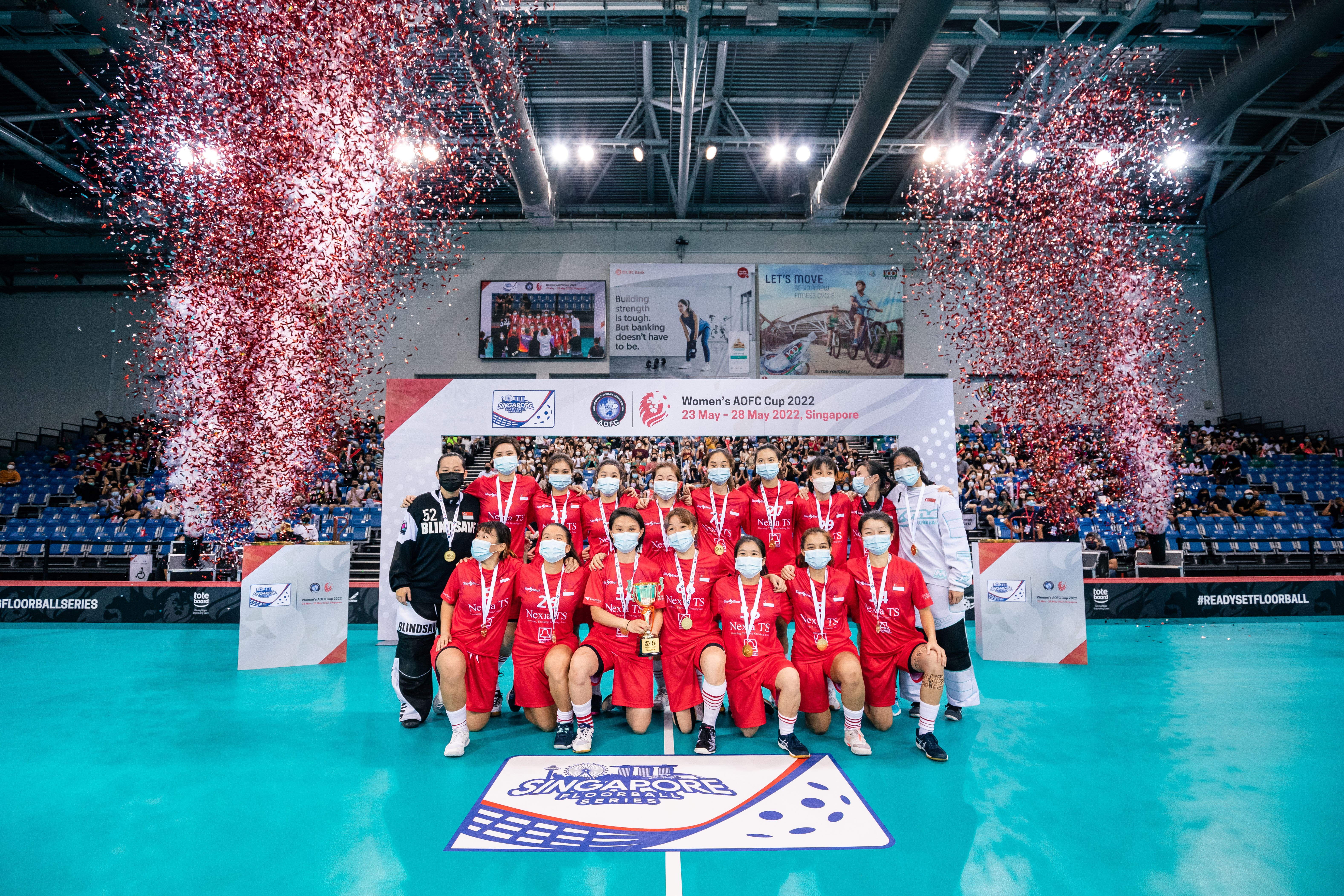 (Team Singapore win their 2nd straight Women's AOFC Cup at the OCBC Arena on 28 May 2022. Photo Credit : Eng Chin An, Singapore Floorball Series)
28 May 2022 - Singapore are champions of the Women's Asia Oceania Floorball Confederation Cup (Women's AOFC Cup) for the second time, after defeating the Philippines 4-1 to retain their title on Saturday (28 May). The final day of the event also saw Thailand come from behind to defeat Malaysia 3-2 in the play-off for 3rd spot. And the Singapore Under-19 team ended their campaign on a good note, after beating Indonesia 6-1 in the 5th-placing match.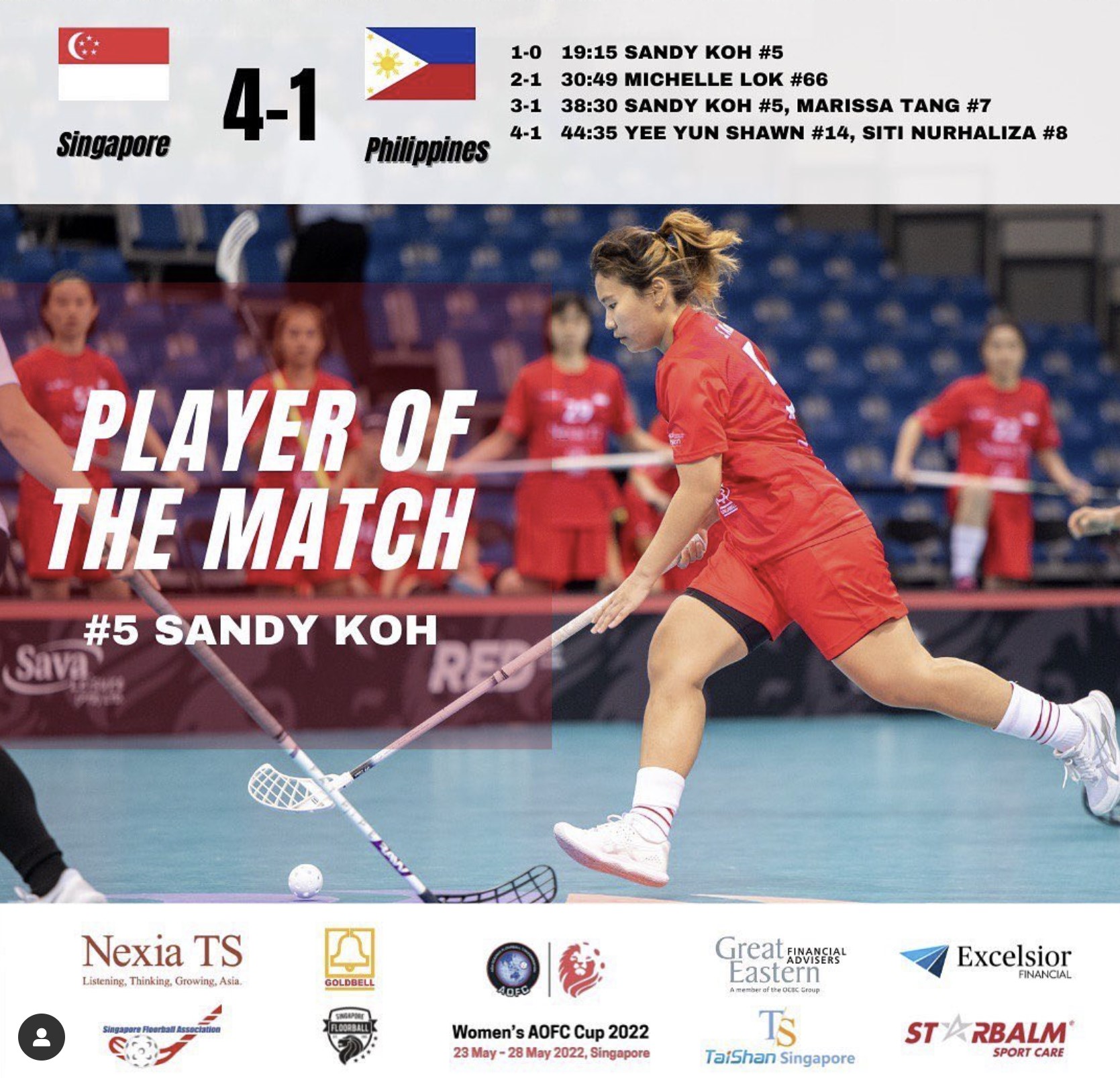 (Image Credit : SGWomensFloorball IG)
Over at the OCBC Arena, the finale was a close affair at the beginning with Singapore scoring first through Sandy Koh, and Michelle Coritina fired home from long range to equalise for the visitors. But the defending champions ramped up their firepower in the final period as they reeled off 3 goals to for a resounding 4-1 win. The victory ensured that Singapore forward Ong Hui Hui capped off her 18-year playing career in style, as the Women's AOFC Cup 2022 final was her last match. The 33-year-old, who joined the national team in 2005, concluded her storied career with 84 caps including 7 World Championship appearances.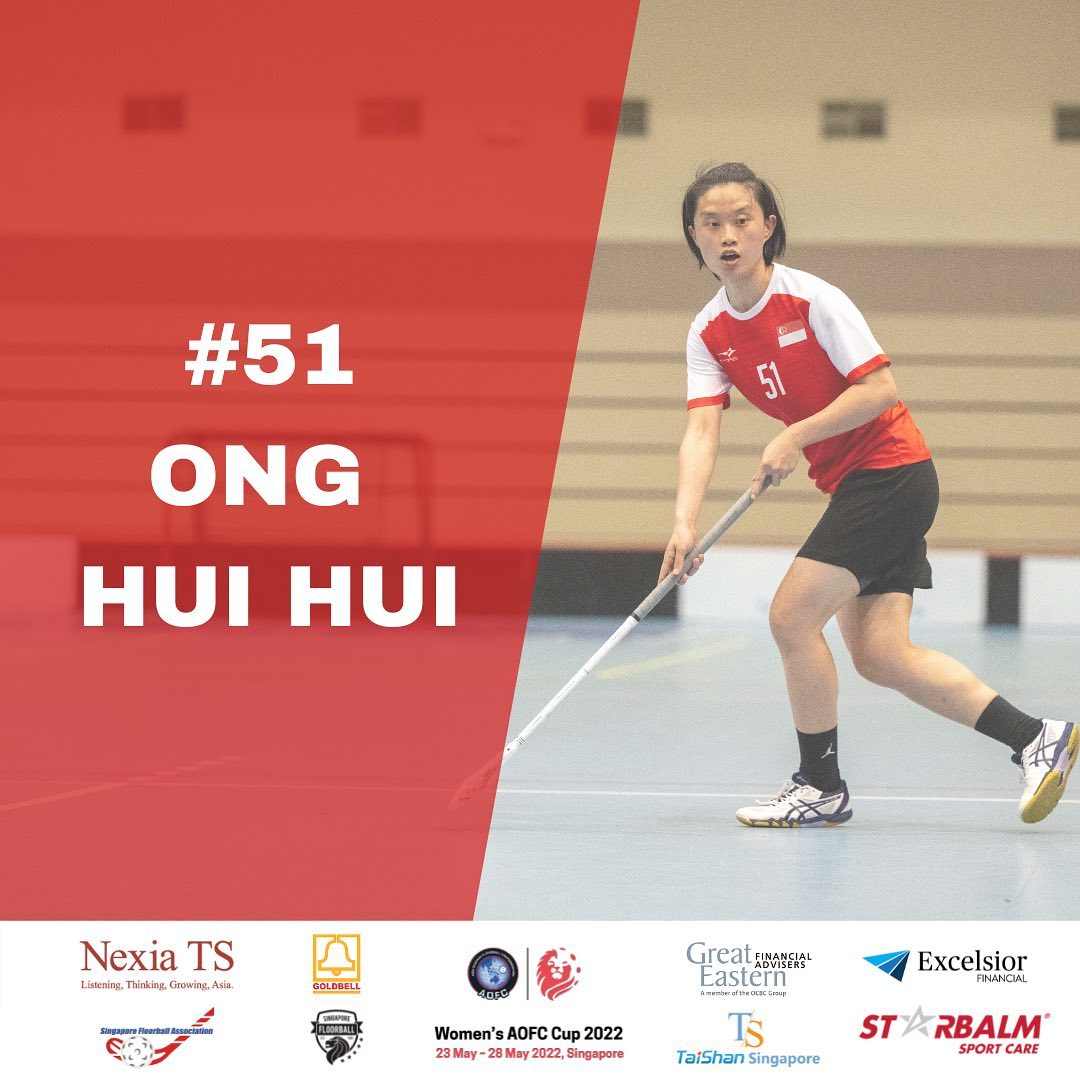 TeamSG's Ong Hui Hui retires after 84 international appearances. Image Credit : SGWomensFloorball IG.
Sandy Koh, playing in her first international tournament at the Women's AOFC Cup 2022, said: "Hui Hui is a very good senior who always guides her juniors. Although she may look a bit intimidating sometimes, she is actually a very good senior who always teaches us. We would like to follow her footsteps and continue playing hard for Singapore."
(Post-match interview with TeamSG's Player of the Match, Sandy Koh. Video Credit : Singapore Floorball Series)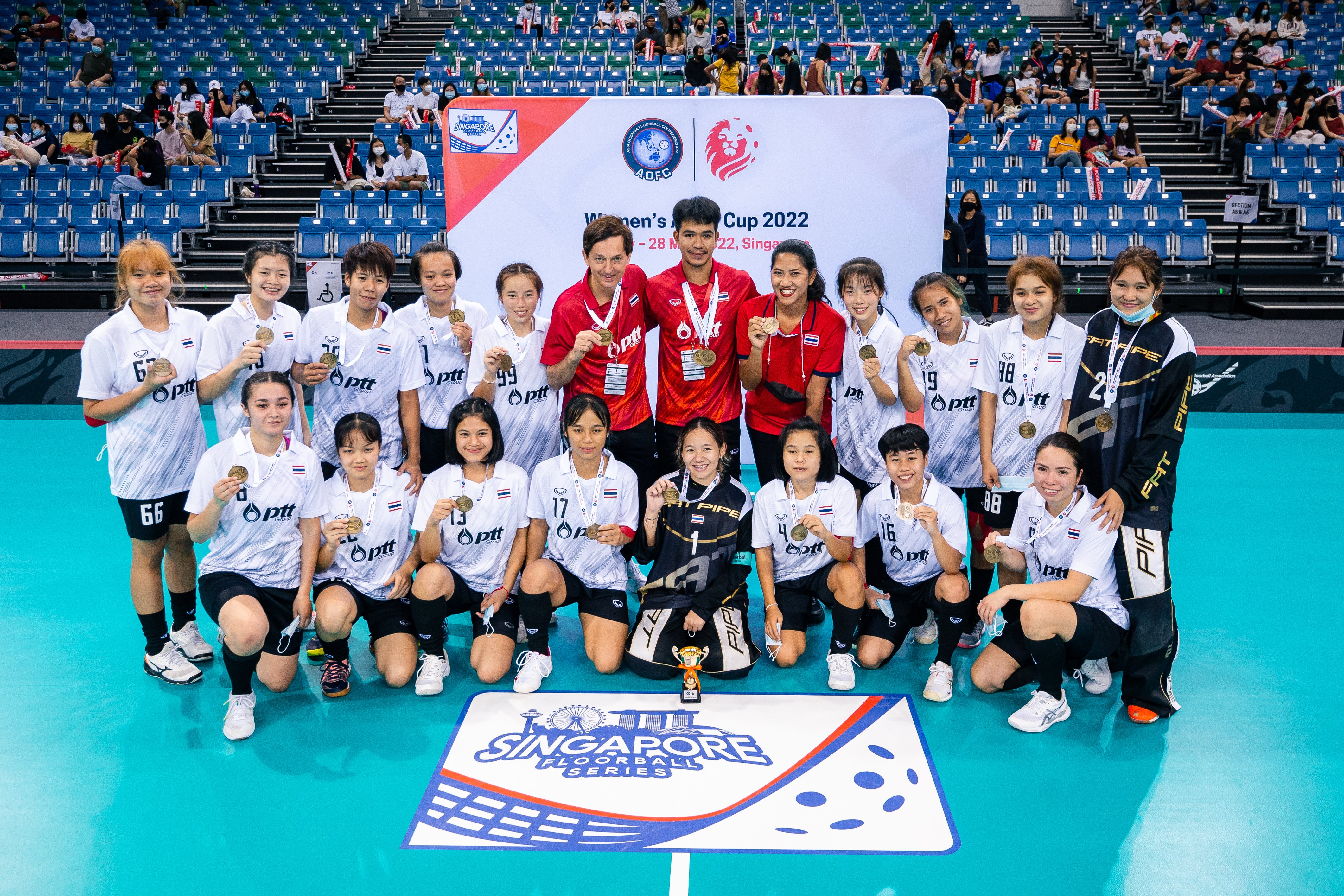 (Team Thailand at the Women's AOFC Cup 2022 in Singapore. Photo Credit : Eng Chin An, Singapore Floorball Series)
In the battle for 3rd place, Thailand and Malaysia delivered a thrilling display with both sides on par after three periods. Malaysia cruised to a 2-0 lead after scoring once in the first period and another in the second. But Thailand had other ideas when they scored two in the final period to level the score. The match went into extra time and Thailand's Nelly Johansson's golden goal tipped the scales in their favour as they secured their 3rd-place finish.
Johansson spoke about her team's comeback and her winning goal: "We said to each other that we are not going to lose this match. So, everyone definitely gave 100% to play the game and score those 2 goals. I was very happy and excited. I think at that moment when I scored, I did not really know what happened."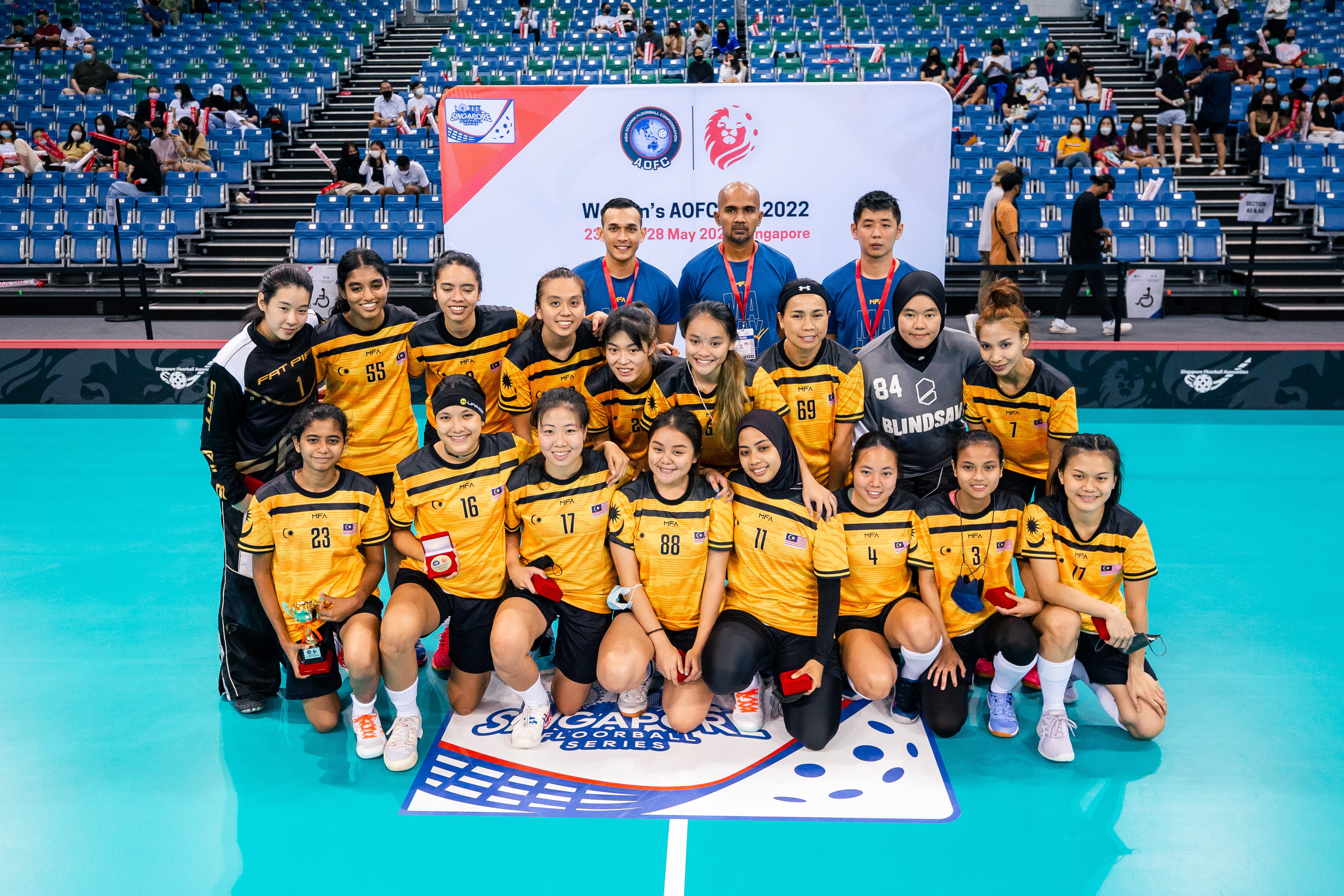 (Team Malaysia at the Women's AOFC Cup 2022 in Singapore. Photo Credit : Eng Chin An, Singapore Floorball Series)
Malaysia captain Cheah Pei Yi said this about her team's mentality: "I think mental strength is very important. We were 2-0 up but when the goal came in, we cracked a little bit. But towards the end I think the girls were able to bring it back up which was good, because they are very young players and actually a debutant team. So it's pretty good to see them step up, especially number 23 (Sarannia Veeramuthu) — she did an amazing job."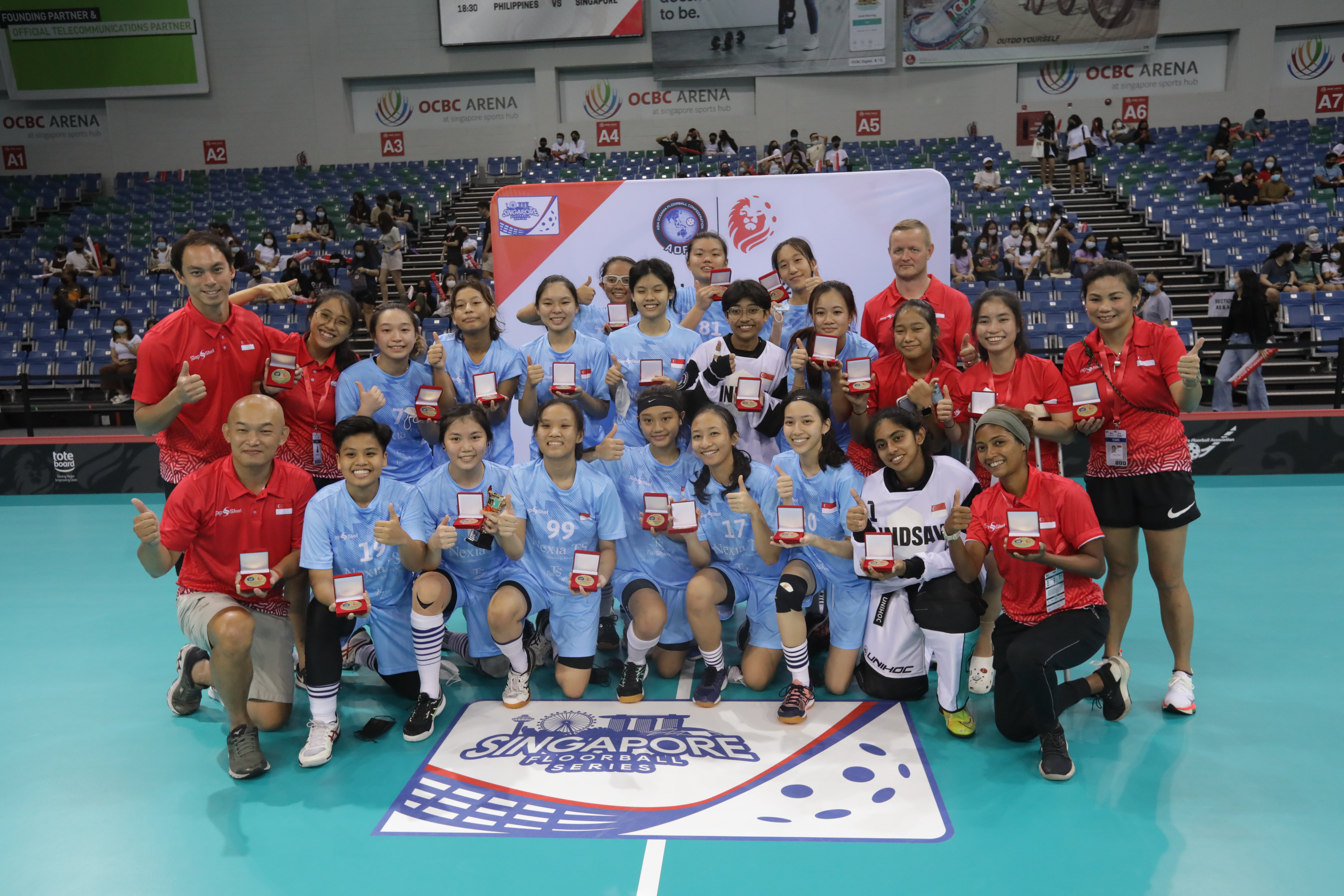 (Singapore's Under-19s at the Women's AOFC Cup 2022 in Singapore. Photo Credit : Eng Chin An, Singapore Floorball Series)
The Singapore Under-19s also had much to celebrate after their 6-1 win over Indonesia. Singapore U-19 Player of the Match Natasha Lim said: "I would say that we did relatively well for a young team with no experience. You can always train with your team, but when you go against opponents, I would say that the intensity is really high. That's an area where my team actually managed to step up, even though it's our first international competition. We did pretty well."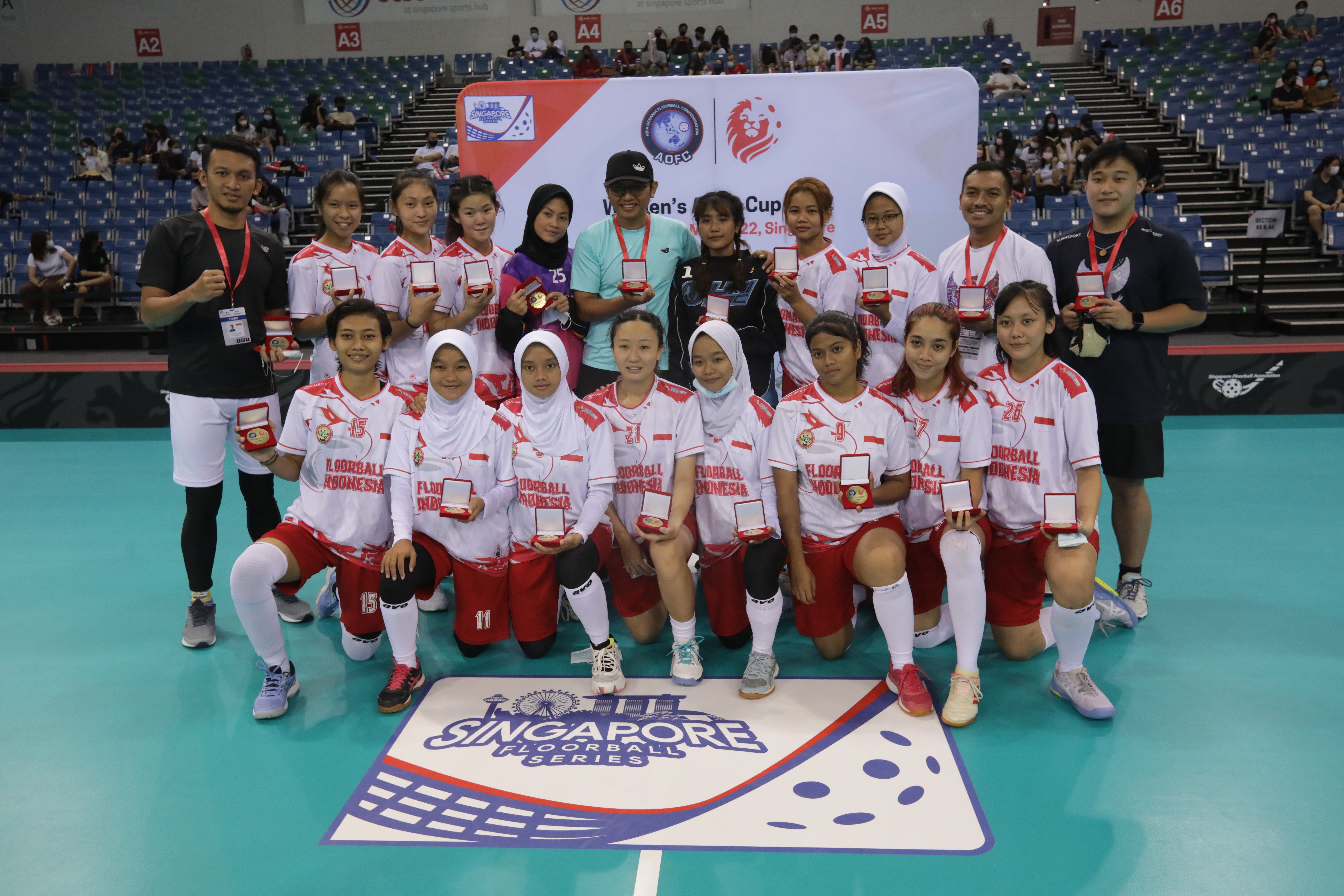 (Team Indonesia at the Women's AOFC Cup 2022 in Singapore. Photo Credit : Eng Chin An, Singapore Floorball Series)
Indonesia's captain Eka Anjar Rahmadani had plenty to talk about her team's experience, she said: "Our players are new, so this helps team Indonesia because it's all about the experience for us. That's the most important thing, because our players can see what it's like at international competitions. Once they have experienced that, they can put in more effort and train hard so that we can do better at our future games."
Floorball fans can return to the OCBC Arena next week for more thrilling action, with the Men's World Floorball Championship Qualification-AOFC taking place from 31 May to 4 June.
Tickets to the Singapore Floorball Series 2022 are available at sistic.com, starting from $6.
Follow the Singapore Floorball Series on Facebook and Instagram for event updates. Match statistics for the Women's AOFC Cup are also available at https://floorball.sport/womens-aofc-cup-2022/
If you didn't catch the Live matches at the OCBC Arena, you can still catch ALL the exciting matches on our encore broadcast streaming via the ActiveSG Circle : go.gov.sg/aofc22