TeamSG floorballers will defend their title against the Philippines, in Women's AOFC Cup Final on 28 May!
by Circle Stories, on May 27, 2022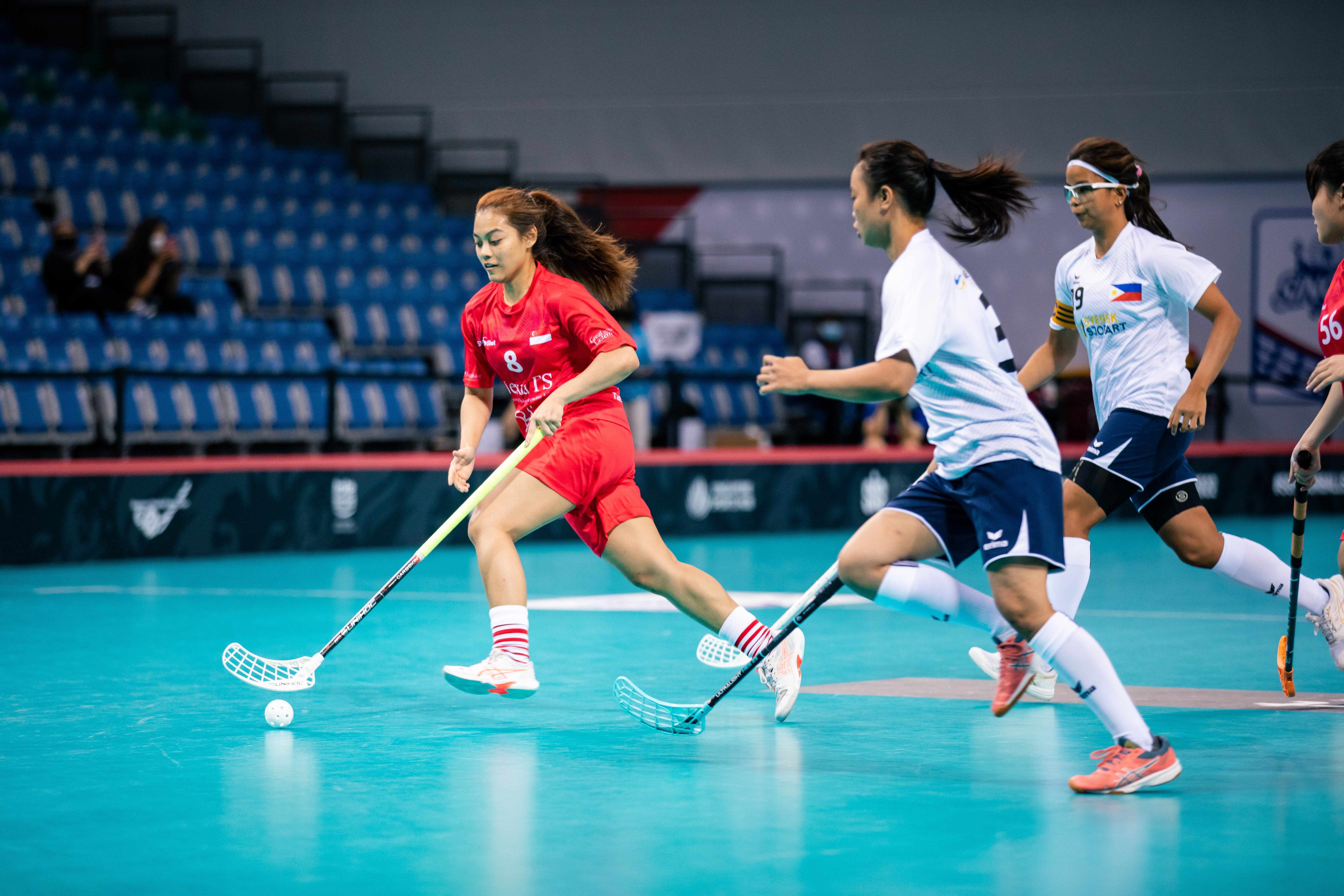 (TeamSG's Siti Nurhaliza with an attacking run. Photo Credit : Eng Chin An, Singapore Floorball Series)
27 May 2022 - Singapore's winning streak came to an end after the defending champions lost an intense battle 3-2 to the Philippines at the Women's Asia Oceania Floorball Confederation Cup (Women's AOFC Cup) on Friday (27 May). Both sides had been undefeated entering the last day of round robin play, and will face each other again on Saturday for the title. Day 5 of the event also saw Thailand beat Indonesia 11-0 at the OCBC Arena, while Malaysia defeated the Singapore Under-19 team 3-0.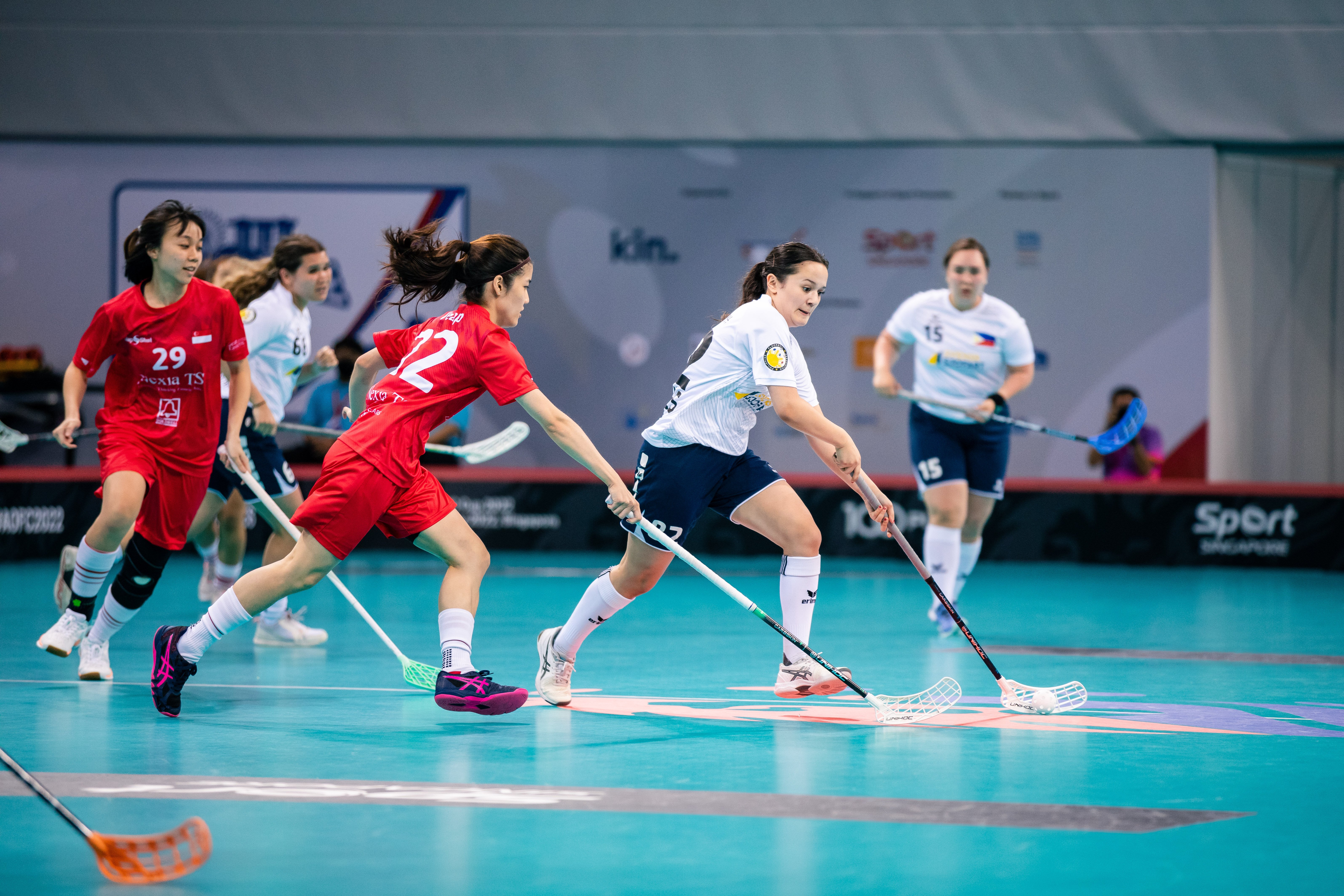 (The Filipinas end Singapore's 4-match winning streak on 27 May. Photo Credit : Eng Chin An, Singapore Floorball Series)
Angelica Bengtsson of the Philippines said after her team's victory: "The reason we won was because we have so much power in our team. There was so much spirit and we gave our best in everything. This win is going to boost our confidence (ahead of the finals tomorrow), of course. But we're not going to get ahead of ourselves because we know that anything can happen in floorball. It's a very quick game and Singapore's a really good team so we will keep our cool until tomorrow."
The much-anticipated clash between Singapore and the Philippines lived up to its billing, with neither side relenting as the score remained locked at 1-1 after the 30 minutes. As both teams attacked at every chance they got, the Philippines drew first blood through Evelina Skarfeldt, only for Singapore's Ong Hui Hui to equalise in the first period.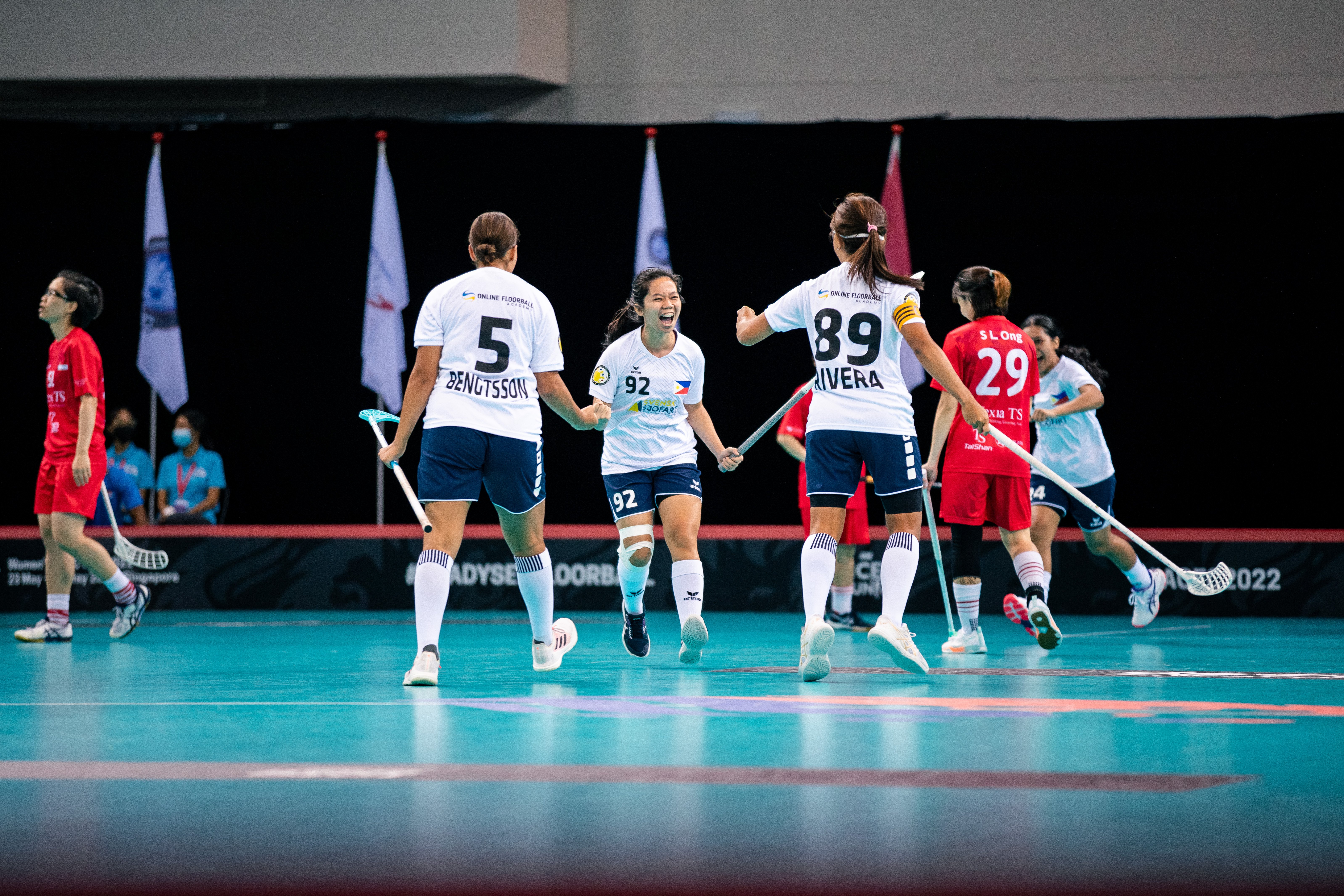 (The Philippines celebrate after their 2nd goal scored. Photo Credit : Eng Chin An, Singapore Floorball Series)
After a goalless second period, the third and final period did not disappoint as the players continued their quest for victory. The Philippines took the lead after an impressive throw from Loella Andersson to find her compatriot Nathalie Sundin at the opposite end of the court. Sundin then went round the goalkeeper and scored from close range, but it didn't take long for the hosts to respond as Siti Nurhaliza Khairul Anuar capitalised on a mistake and levelled the score.
But the Philippines were determined to prevent a draw, producing late drama when Roxane Ruiz scored a cracking goal with less than three minutes to go, extending her team's unbeaten run at the 2022 Women's AOFC Cup. Both sides will meet again in the final on Saturday at the OCBC Arena, where they will fight for the title.
(Post-match interview with Singapore's Player of the Match, goalkeeper Lim Zhi Yan. Video Credit : Singapore Floorball Series)
The other matches on Saturday will see Indonesia and the Singapore Under-19 team play for fifth place, while Thailand and Malaysia will face off for third.
The match schedule for Saturday, 28 May is as follows :
1.00pm : Indonesia vs Singapore Under-19
3.45pm : Thailand vs Malaysia
6.30pm : Singapore vs Philippines
Tickets to the Singapore Floorball Series 2022 are available at sistic.com, starting from $6.
If you can't get down to the Arena, YOU can still catch ALL the exciting matches on LIVE streaming via the ActiveSG Circle : go.gov.sg/aofc22
Follow the Singapore. Floorball Series on Facebook and Instagram for event updates. Match statistics are also available at https://floorball.sport/womens-aofc-cup-2022