Singapore Joins HSBC SVNS Revolution – the Ultimate Festival of Immersive Experiences  
by ActiveSG Circle, on July 18, 2023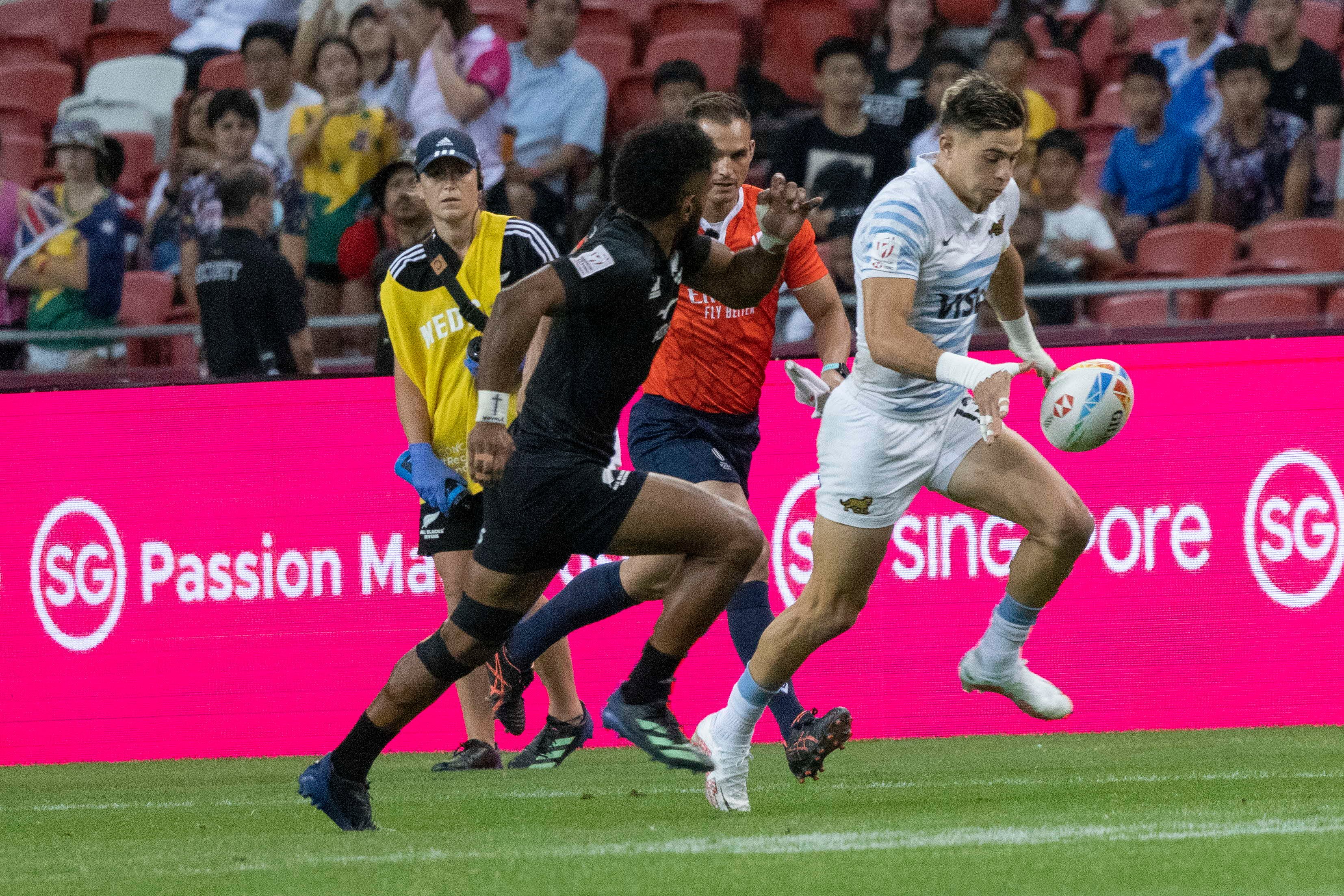 New Zealand (Black) vs Argentina in the 2023 HSBC Singapore Rugby Sevens Final. Photo Credit : Team Nila
Singapore has been confirmed as one of the eight iconic destinations to host HSBC SVNS (7s), World Rugby's revamped and rebranded global celebration of rugby sevens that was launched today.
With a bold ambition to supercharge rugby's global reach and appeal by being more relevant and accessible to younger, leisure-hungry audiences, SVNS aims to deliver the ultimate in immersive experiences, a unique festival of sport, entertainment and culture set against stunning backdrops. Starting from December 2023, SVNS festivals will provide the annual platform for the world's best sevens athletes to shine with 12 men's and women's teams sharing a global stage at the same location.
Located in the heart of Southeast Asia, Singapore is a thriving tropical metropolis with a robust calendar of unique experiences to suit every interest. The city is easy to get around to experience its vibrant events, festivals, and experiences that reflect our multi-cultural heritage, and feed diverse passions across the arts, history, food, music, shopping and sports.
HBSC SVNS – Festival Dates
| | |
| --- | --- |
| Host City | Date |
| Dubai, UAE | 2 - 3 December 2023 |
| Cape Town, South Africa | 9 – 10 December 2023 |
| Perth, Australia | 26 – 28 January 2024 |
| Vancouver, Canada | 23 – 25 February 2024 |
| Los Angeles, USA | 2 – 3 March 2024 |
| Hong Kong, Hong Kong China | 5 – 7 April 2024 |
| Singapore, Singapore | 3 – 5 May 2024 |
| Madrid, Spain | 31 May – 2 June 2024 |
For the latest information on tickets, fans should visit here to find out more.
World Rugby Chief Executive Alan Gilpin said: "We are excited to be launching HSBC SVNS, the supercharged new identity for our Olympic format, with iconic destinations and a new concept on and off the field, broadening the reach and appeal of the sport beyond its traditional audiences.
"Our ambition is for SVNS to be at the forefront of our growth strategy, appealing to a younger, leisure-hungry audience. In eight iconic destinations played over seven months, we will bring together a truly immersive festival of rugby, music, food and experiences to create the ultimate weekend-long get together for young people, the hottest ticket and open a new era for the sport.
"For the first time in rugby sevens history, all locations will be unified under the same approach, meaning that the overall experience is the same and we can optimise commercial revenue for reinvestment, including playing our part in ensuring that sevens is a viable career path for the talented players and Olympians."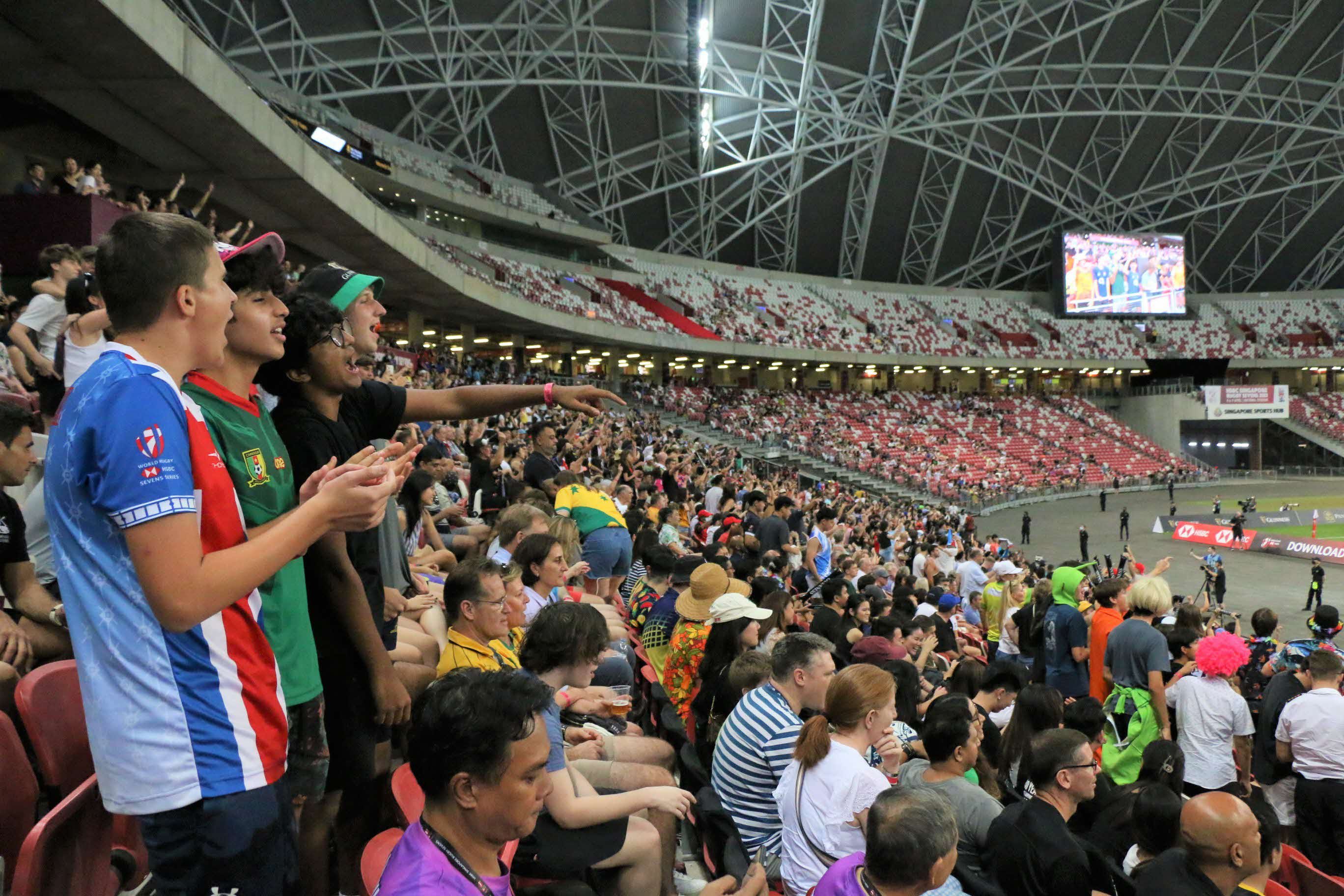 Fans at the 2023 HSBC Singapore Rugby Sevens Final. Photo Credit : Team Nila
Summer vibes, festival feel
Off the field, SVNS is all about summertime vibes. Sun-soaked days and unique experiences as rugby, music, food, and wellbeing combine to attract a new generation of audiences. Celebrating cuisine and culture, each SVNS destination will showcase its unique local flavour, adding to the overall excitement and enjoyment of the events across the globe.
There will also be a range of competitive and social sports for all at SVNS festivals, from non-contact rugby to functional fitness. Every event will deliver something unique.
New format, gender parity
Each event is designed to enable the world's top players to be at their best. Following consultation with players, fans, broadcasters and unions, the competition format has been revamped with SVNS set to deliver more adrenalin pumping action and drama.
The top eight teams, based on cumulative series points, at the conclusion of Singapore SVNS will secure their opportunity to compete in the new 'winner takes all' Grand Finals in Madrid, where the women's and men's SVNS champions will be crowned.
Under the new model, SVNS delivers gender parity with all seven rounds and the Grand Final featuring combined men's and women's competitions and equal participation fees, with a 70 per cent uplift in World Rugby's investment in participation fees as a commitment to sustainable growth.
Continuation of an impactful and innovative partnership with HSBC
Continuing 12 years of passionate support of rugby sevens, HSBC has been confirmed as SVNS title partner in a four-year deal. The renewal is a continuation of a hugely successful long-term partnership between HSBC and World Rugby that has created opportunities for players and fans all over the world. Alongside World Rugby, HSBC has been committed to the future of the women's rugby and has helped 558,962 young people pick up a rugby ball through grassroots programmes.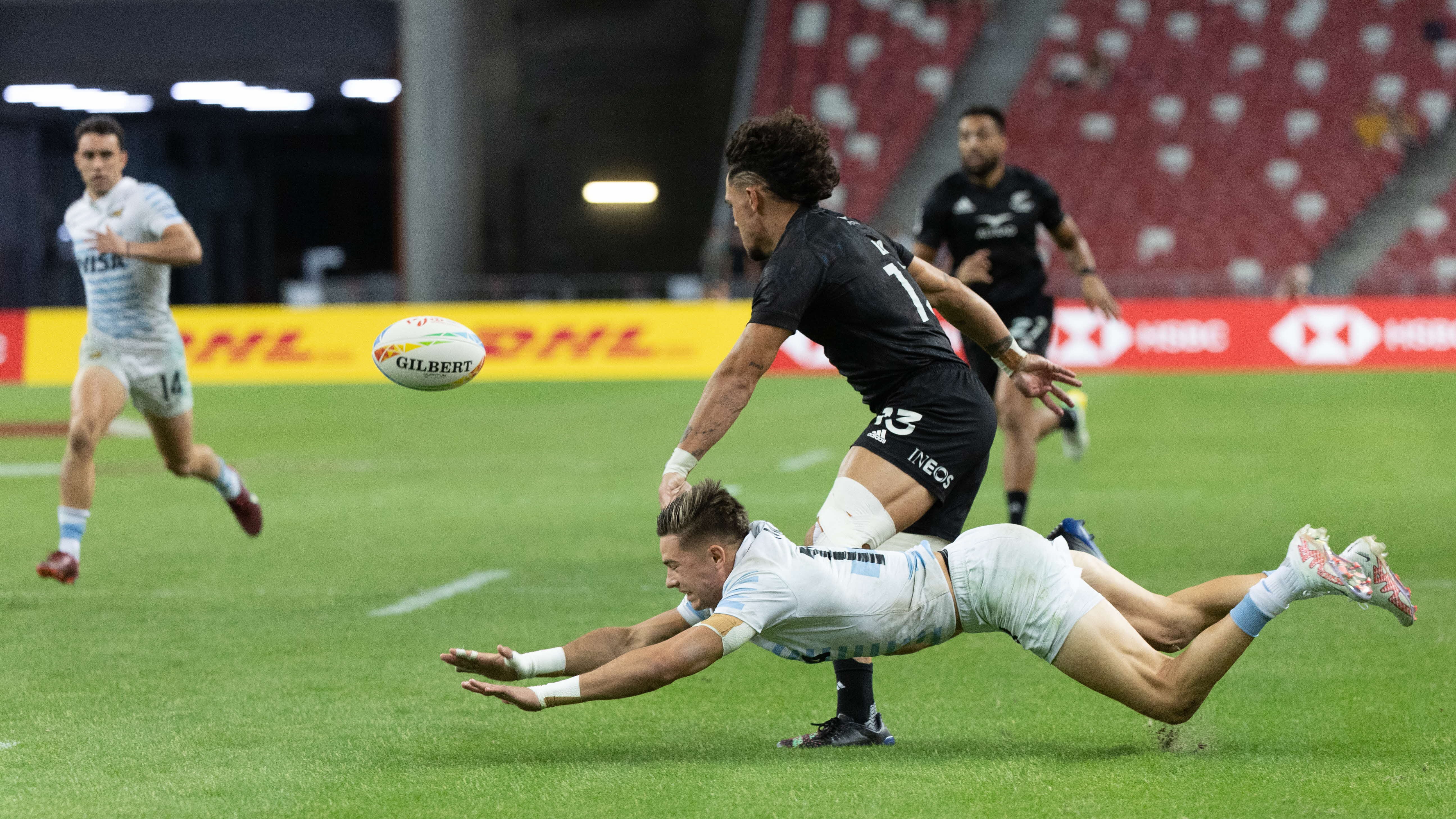 The All Blacks (NZ) vs the Pumas (ARG) in the 2023 HSBC Singapore Rugby Sevens Final. Photo Credit : Team Nila
Sport Singapore, Chief Executive Officer, Alan Goh said: "HSBC SVNS has grown to become a mainstay in Singapore's sporting calendar. Over the past 10 editions, this tournament and its community activations have elevated the profile of rugby as a sport in Singapore and attracted both local and international fans to immerse in its festivities. As we continue our partnership with World Rugby, the 2024 HSBC SVNS Singapore will see the top women's teams compete in our iconic National Stadium. We look forward to combining different elements of the signature Rugby Sevens experience to promote more interest in the sport and inspire our next generation of youth athletes."
President of Singapore Rugby Union, Sunny Seah, also expressed his anticipation for HSBC SVNS taking place in Singapore. He said, "Singapore being chosen again for another cycle is a tremendous testament for the excellence in enlarging the interest and advancing the potential of 7s and rugby in Singapore and throughout the region. The Singapore Rugby Union is delighted and proud to be part of the team to bring this event back in a different way and to continue to grow the game through developing community-based fringe events around the new HSBC SVNS."
The new series follows a widespread and comprehensive consultation process, involving representatives from participating teams, existing tournament hosts, the International Rugby Players, player welfare representatives and fans.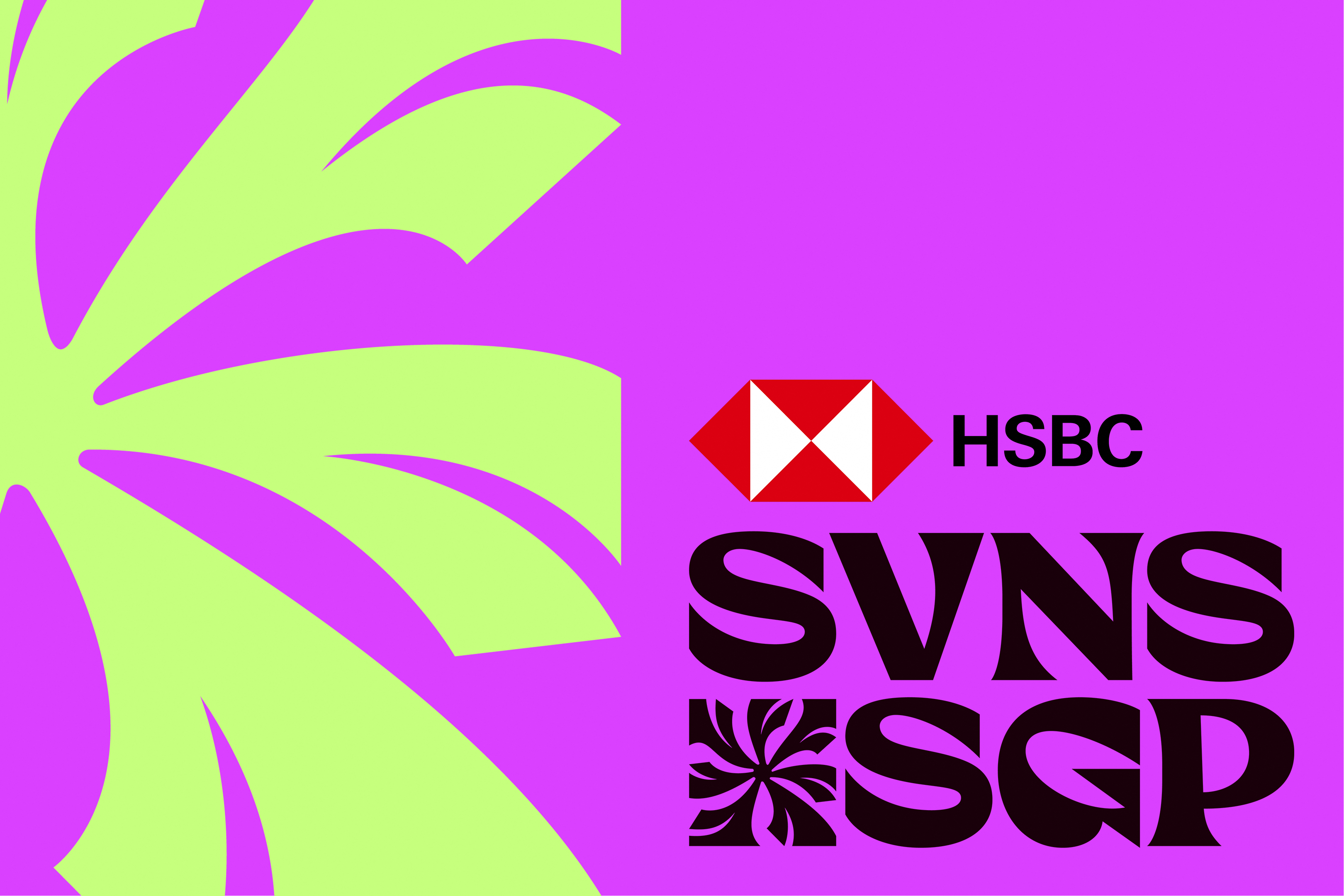 New Logo of the 2024 HSBC SVNS Singapore. Image Credit : World Rugby
Recent Events & Programmes