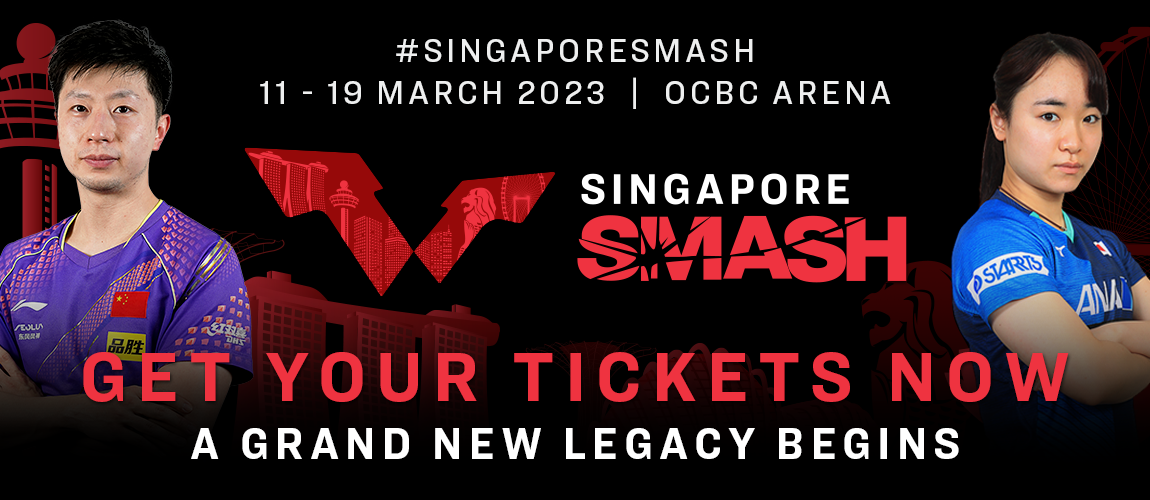 Image Credit : WTT
Table tennis fans in Singapore can soon enjoy a smashing experience, with tickets to the second edition of the WTT Singapore Smash now available on Ticketmaster. The world's best table tennis players will be in action as Singapore Smash returns to the Singapore Sports Hub's OCBC Arena next year. Tickets to the qualifying rounds, which take place from 7-9 March 2023, start at S$18 while ticket prices for main draw from 11-19 March 2023 start from $28.
In addition to the exhilarating, fast-paced displays of table tennis action, ticket-holders can also look forward to a brand new fan experience. The Singapore Smash Park at the OCBC Arena will feature delectable food and beverage options, live entertainment, and player engagement activities such as autograph sessions.
Fans can choose to buy individual tickets to the Infinity Arena (main competition hall at OCBC Arena Hall 1) and Hall 2 respectively. Those who purchase Category 1 or above tickets will also have access to matches in Hall 2 (subject to capacity limits). Fan-friendly bundles are also available across Category 2, 3 and 4 tickets. More details are available in here. Fans who purchase 6 tickets in applicable categories 2 or 3 also receive a 10% discount, while those who buy 8 tickets in those categories get 20% off.
The first-ever Singapore Smash in March 2022 marked the start of a grand new legacy for table tennis and for Singapore. Singapore Smash 2023 promises to be bigger and better with more action on the Infinity Arena – there will be one additional match in each session. Action on the Infinity Arena will see five matches per sessions during the early rounds. Spectators' viewing experience in Hall 2 will also be enhanced with two show tables so fans can enjoy better value and event experience through more matches and longer sessions.
The seating capacity within the playing halls (Infinity Arena and Hall 2) is also set to increase, and with a greater number of competitors, more fans will get the chance to watch world-class players and thrilling matches up close.
Singapore Smash 2023 will feature 64 player men's and women's singles and 24-pair doubles and mixed competitions. A singles qualifying competition featuring a further 64 men and 64 women will be held from 7-9 March.
World Table Tennis Head of Event and Experience Shaun Nik said: "We're proud to have successfully staged the first-ever Singapore Smash this year, adapting well to the challenging circumstances to give spectators the best possible experience amid the limitations. We're looking forward to returning in full force next year, with an elevated experience and new highlights that fans can look forward to, including our Singapore Smash Park and more courtside seats. We have some very attractive ticketing options and packages, so that there is something for everyone. Following the success of this year's event, we anticipate high demand for Singapore Smash 2023, especially with the excitement we've planned both within and outside the competition halls. We look forward to welcoming both new and returning spectators back to the OCBC Arena next year."
World No. 14 Patrick Franziska of Germany, a quarter-finalist at Singapore Smash 2022, said: "One of the highlights for us when we travel to different countries to compete is getting to meet our fans from all over the world, and winning over new fans of the sport through our matches. We didn't get to interact with our Singapore fans as much as we would have liked to at this year's Singapore Smash, but we definitely heard their cheers during our matches and we appreciated their support very much. We're looking forward to more opportunities to get to know the Singapore community a little better next year when we come for Singapore Smash."
Tickets are available here.