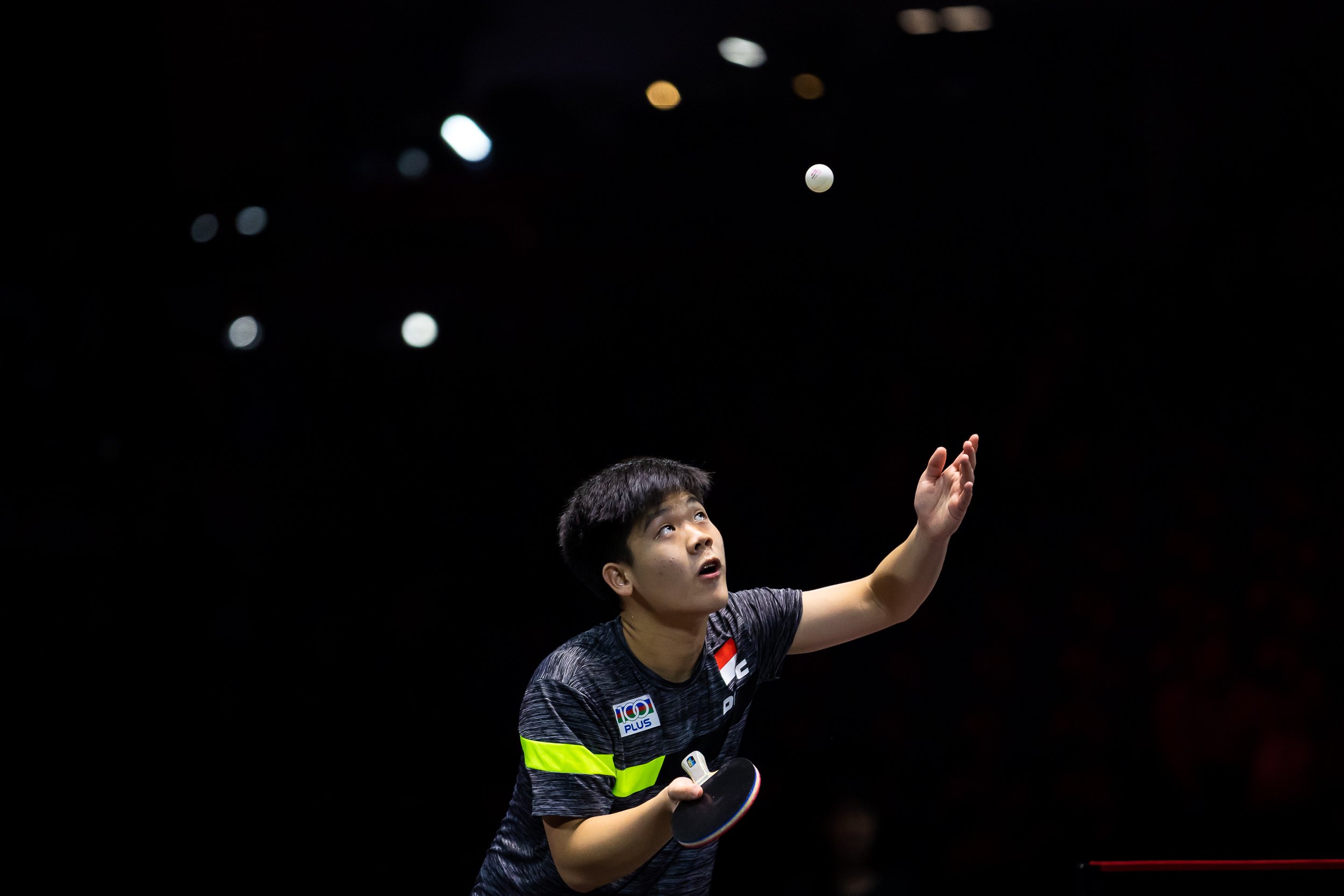 TeamSG's 16 year old zaac Quek at Singapore Smash 2023. Photo Credit : Team Nila Content Producer : Ron Low
By Pearlyn Koh


Following Singapore's success at hosting the first-ever WTT Singapore Smash in the Lion City last year, the Republic staged the prestigious tournament once again in 2023. With close to 200 of the world's best paddlers gathered at the OCBC Arena from 7-19 March, table tennis fans around the globe were in for a treat, with exciting action awaiting them everyday.
As the US$2 million Singapore Smash 2023 came to a close last weekend, let's review the Top 8 moments of the star-studded tournament!
1)From Wildcard to Top 16!

All attention was on TeamSG's Izaac Quek at the Singapore Smash as he made an unbelievable run, defeating two higher-ranked players enroute to the Round of 16! Having received a wildcard to enter the main draw of the Men's Singles event, not many - including the 16 year old himself, would have expected him to upset both the reigning Commonwealth Games triple-Gold medallist Sharath Kamal Achanta, and the 2019 World Championships Silver medalist Mattias Falck. The Infinity Arena was also filled with more than 250 local supporters on Wednesday (15 March) evening, as Izaac took on the reigning Youth Olympic champion, Wang Chuqin. Despite his defeat though, the teenage star has many things to be proud of in this Singapore Smash! One of those accolades includes his massive jump in the latest world rankings, when he rose from 241 to 100!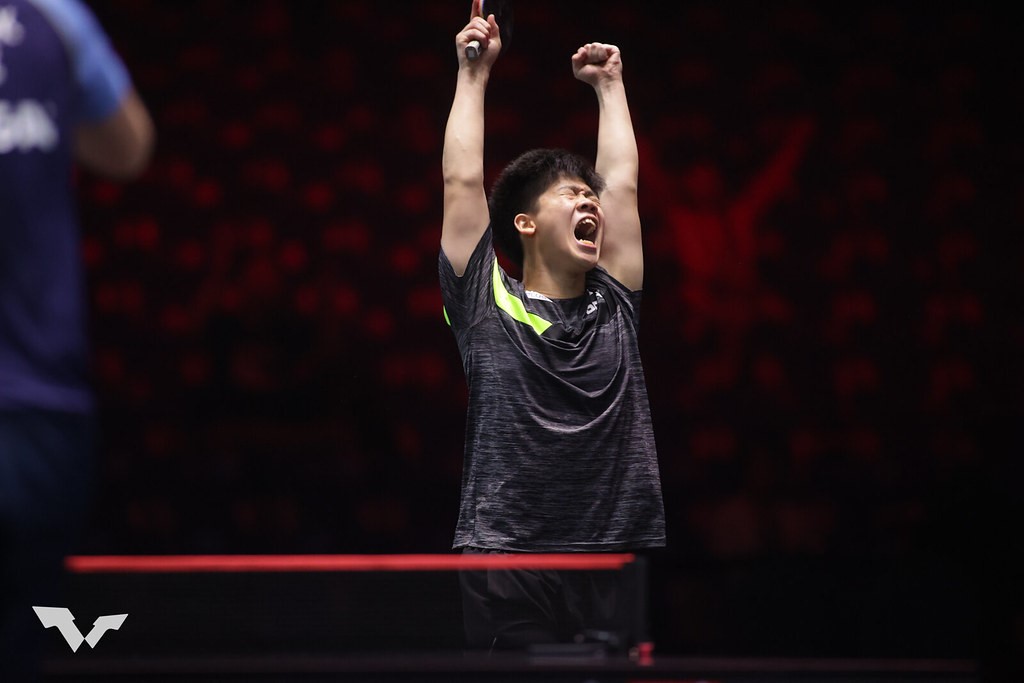 Team Singapore sensation Izaac Quek letting out a huge roar of victory, as he scores his biggest career win against world number 36 Mattias Falck on home soil . Photo Credit : WTT

2)TeamSG Athletes Unafraid Against World's Best

Being the host country, a total of 18 TeamSG athletes were granted wildcards for the grand tournament. Despite facing higher-ranked players, our local paddlers remained unafraid and relentless in their fights. Among them, Josh Chua (world number 311) scored a win over Romania's Eduard Ionescu (world number 153) in the qualifications event, while Izaac Quek and Koen Pang also defeated higher-ranked opponents during their Singapore Smash campaign. And in the doubles events, local wildcards also put up strong performances against their opponents. These experiences will certainly help our athletes as they prepare for the upcoming SEA Games and Asian Games happening later this year.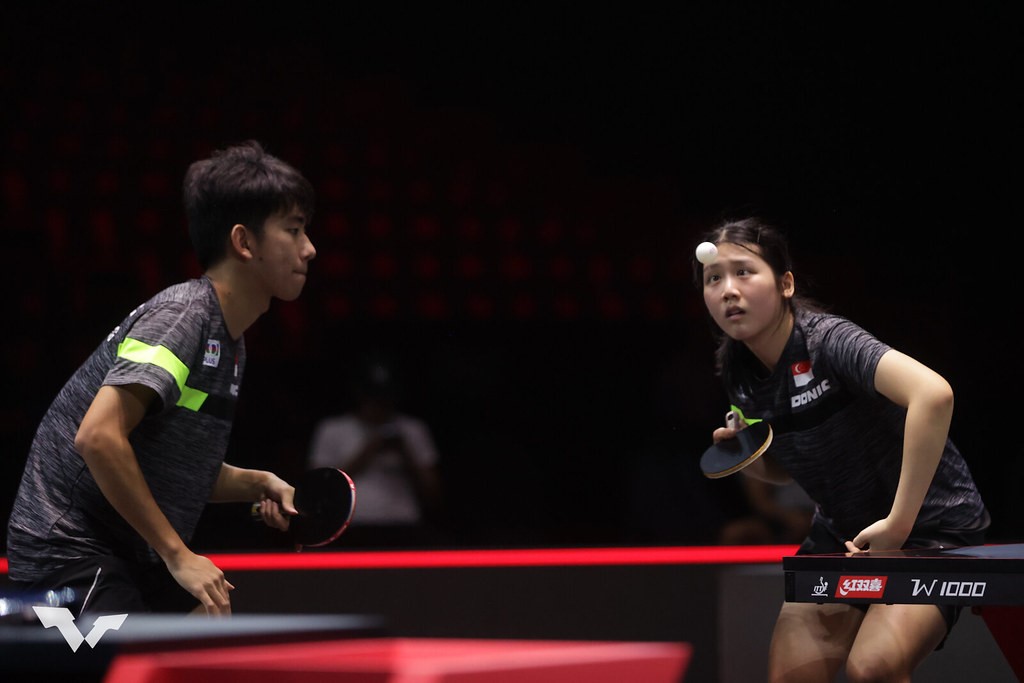 Wildcards and reigning SEA Games Mixed Doubles Gold medalists Koen Pang and Wong Xin Ru in action, during the opening round of the Mixed Doubles event. Photo Credit : WTT
3)The Power of 3!
S$150,000 is the estimated total prize money picked up by Sun Yingsha, after sweeping 3 titles on offer in the Lion City. 3 days before the grand finale, Yingsha and Wang Chuqin successfully retained their Mixed Doubles title and in the process, extended their winning streak to 14 matches (their last loss dates back to the 2021 World Championships). 22 year old Yingsha, then went on to partner Wang Manyu as the Chinese stars were able to defend their Doubles title, and secured US$12K in prize money. With 2 trophies in the bag in 3 days, world's top-ranked Yingsha turned her eyes on the biggest prize of the tournament - the coveted Women's Singles title. Facing off her compatriot Qian Tianyi, the odds were in Yingsha's favour as she held a 4-0 win/loss record prior to their 5th meeting on 19 March. And despite a valiant performance from Tianyi, it was the top seed who took home $100,000 for the 4-1 victory in the Singles Final! Having missed out on the 2022 Singles finale at the OCBC Arena, Yingsha's patience, hardwork and perseverance certainly paid off with her unique hat-trick at Singapore Smash 2023!
Sun Yingsha (CHN) vs Nina Mittelham (GER) in round of 16 at Singapore Smash 2023. Photo Credit : Ron Low
4)Underdogs Shine at the Infinity Arena
Ever since the first match at the Infinity Arena where TeamSG paddler Izaac Quek (world number
241) shocked India's Sharath Kamal Achanta (world number 51) on 9 March, the Singapore Smash has been a tournament full of upsets! With qualifications for the Paris 2024 Olympics underway,
these upsets will certainly shake things up in the rankings, as the Singapore Smash offers one
of the highest world ranking points of any WTT tournament. And among the several upsets in the last 2 weeks, the most remarkable one had to be when 33 year old Elizabeta Samara stunned reigning Singapore Smash winner and world number 2, Chen Meng! The Romanian player emerged victorious after a nail-biting Round of 32 match at the Infinity Arena on Monday (13 March) to claim her ticket to the 3rd round, before losing to Austria's Sofia Polcanova.
World number 42 Elizabeta Samara (ROM) in disbelief and happiness as she upsets reigning Olympic Gold medallist and Singapore Smash winner, Chen Meng in the Round of 32. Photo Credit : WTT
5)Queen of Comebacks : Qian Tianyi
The Lion City will be a place for 23 year old Qian Tianyi to remember, as it was where she became a surprise Women's Singles finalist and earned herself the title of 'Queen of Comebacks'! Enroute to the finals, the world number 22 player defeated 4 higher-ranked players before eventually falling to reigning world number 1, Sun Yingsha. Throughout her Singapore Smash campaign, the Chinese player also made several impressive comebacks. In the Round of 32, Tianyi upset Olympics gold medallist and world number 5 Mima Ito 3-2, despite being down 10-8 in the rubber game. And in the Round of 32, she also overcame France's Yuan Jia Nan from two games down! Following her unbelievable run at the Singapore Smash, the 23 year old broke into the Top 10 of the Women's world rankings for the first time in her career, as she moved up 15 places to become the current world number 7!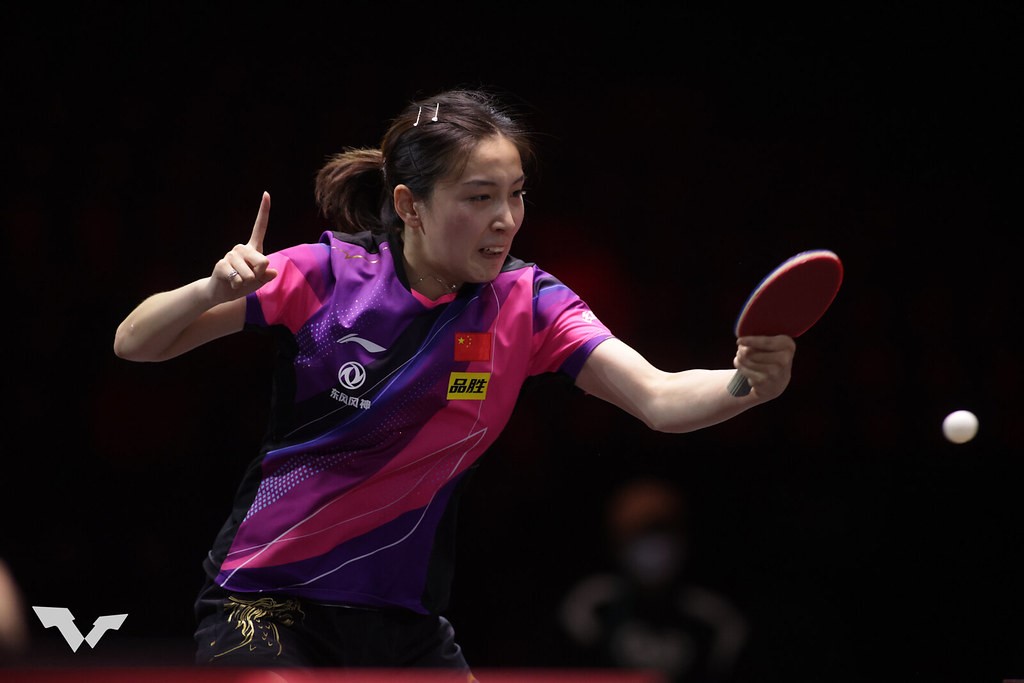 China's Qian Tianyi in action, determined to win a point at Singapore Smash 2023. Photo Credit : WTT
6)Family Means Everything
Fans at the OCBC Arena witnessed what family means to Austrian player Robert Gardos (world
number 47), as his 12 year old son, Alejandro cheered him on enthusiastically throughout his
Singapore Smash campaign. Loud cheers filled the hall each time Robert scored a point, with
Alejandro bursting out of his seat and letting out resounding, supportive cheers for his father.
The 44 year old father-of-three miraculously came back from 2 games to defeat Sweden's Jon
Persson (world number 42) in the Round of 64 of the Men's Singles, before falling to another
Swede - Truls Moregard in the second round.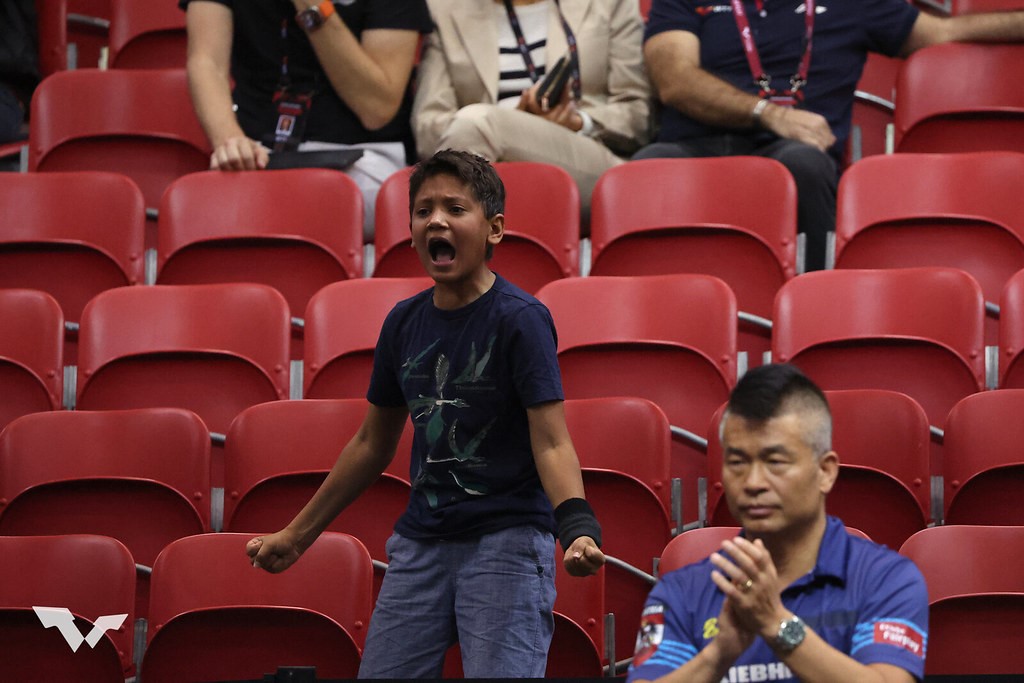 Austria's Robert Gardos' 12 year old son Alejandro cheering on passionately as his father scores a point (Photo Credit : WTT)
7)Meet & Greet with the Stars
Fans had the rare chance to get up-close and personal with their favorite table tennis players, at the star-filled Smash Park appearances. A slew of table tennis stars, including reigning Olympic champions Ma Long and Liu Shiwen, as well as European champion Darko Jorgic made special
appearances at the Smash Park for autograph and live-stage Q & A sessions. The Singapore
Smash is the first-ever WTT tournament with such grand out-of-court engagements between
players and supporters. Fans had the opportunity to get autographs, take pictures, and even spar with the stars!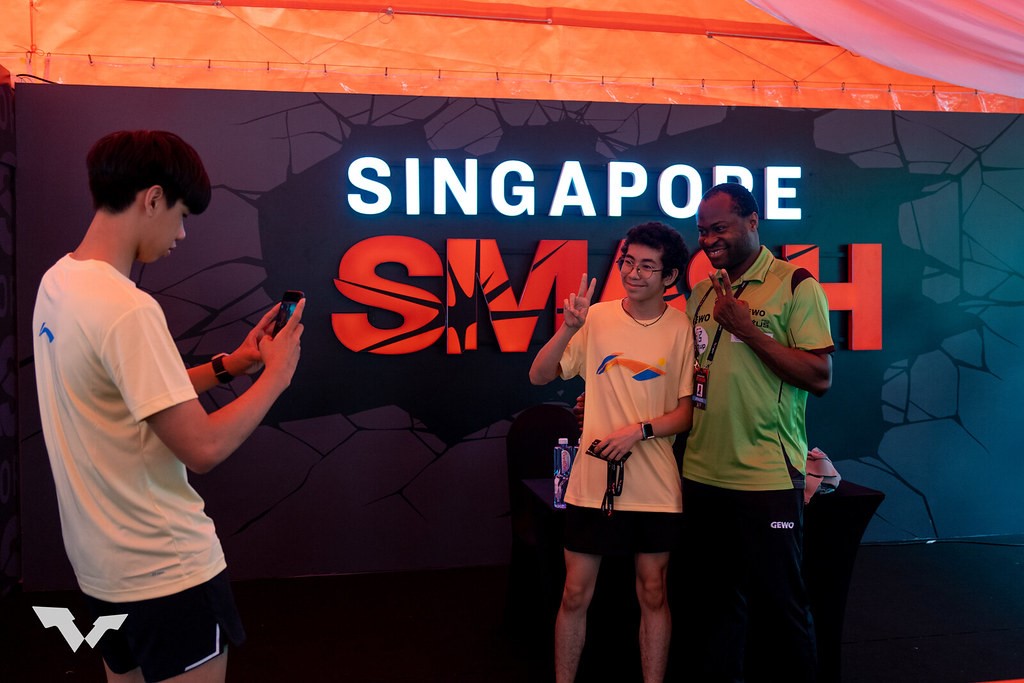 Nigerian table tennis icon Quadri Aruna posing for pictures with local table tennis fans during his Smash Park appearance on Day 1 of the Singapore Smash. Photo Credit : WTT
8)Taking Table Tennis to the Metaverse


Besides competing at the OCBC Arena, table tennis stars including France's Simon Gauzy, China's Chen Xingtong, and Sweden's Truls Moregard also had the opportunity to take the sport to another level - the metaverse! At the ElevenVR booth in partnership with Alibaba Cloud, a virtual table tennis tournament was held for the first time in Singapore last Saturday (18 March). It was a fun-filled experience for fans, as they too had the chance to challenge their friends in virtual reality table tennis. With VR being the future of technology, fans at the Singapore Smash had a sneak preview of what table tennis could possibly look like in the near future!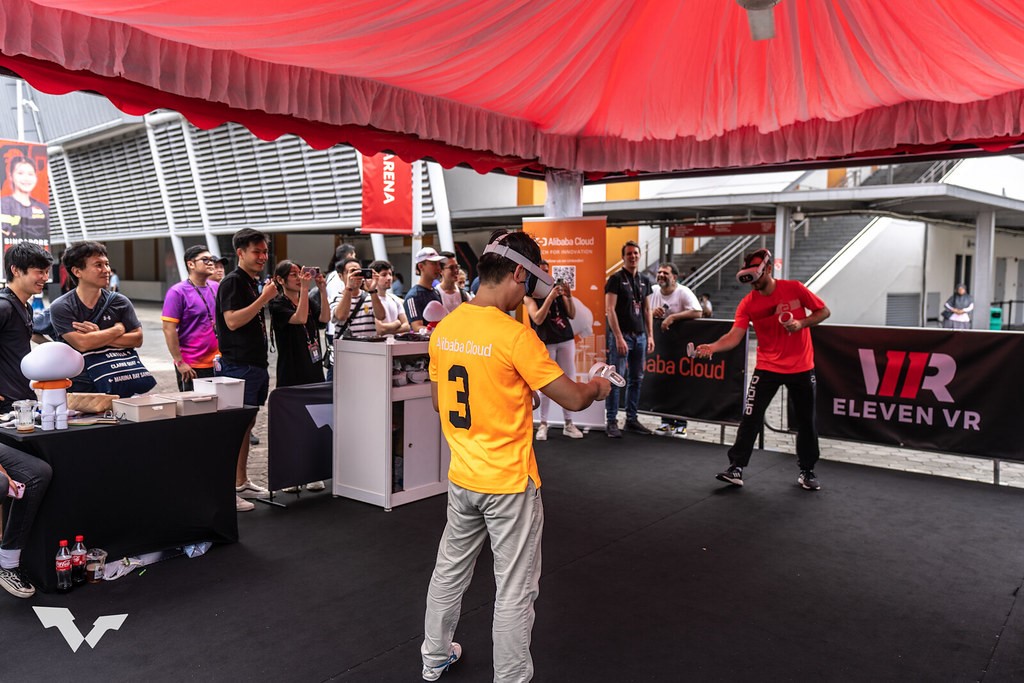 France's Simon Gauzy (far right) trying his hand at playing VR table tennis (Photo Credit : WTT)
Pearlyn Koh played Table Tennis competitively for 9 years. She represented Team Singapore at several major tournaments, including the 2018 Asian Games and World Table Tennis Championships. In 2019, Pearlyn was also the sole Southeast Asian player to enter the Top 16 at the Asian Junior & Cadet Table Tennis Championships. During her free time, Pearlyn enjoys reading and catching up with her friends. Having retired from the national team in Feb 2023, she's now a Business Ad undergrad at NUS.