Singapore wins the right to host the World's most prestigious Coaching Conference (ICCE GCC) in 2023!
by Circle Stories, on October 25, 2021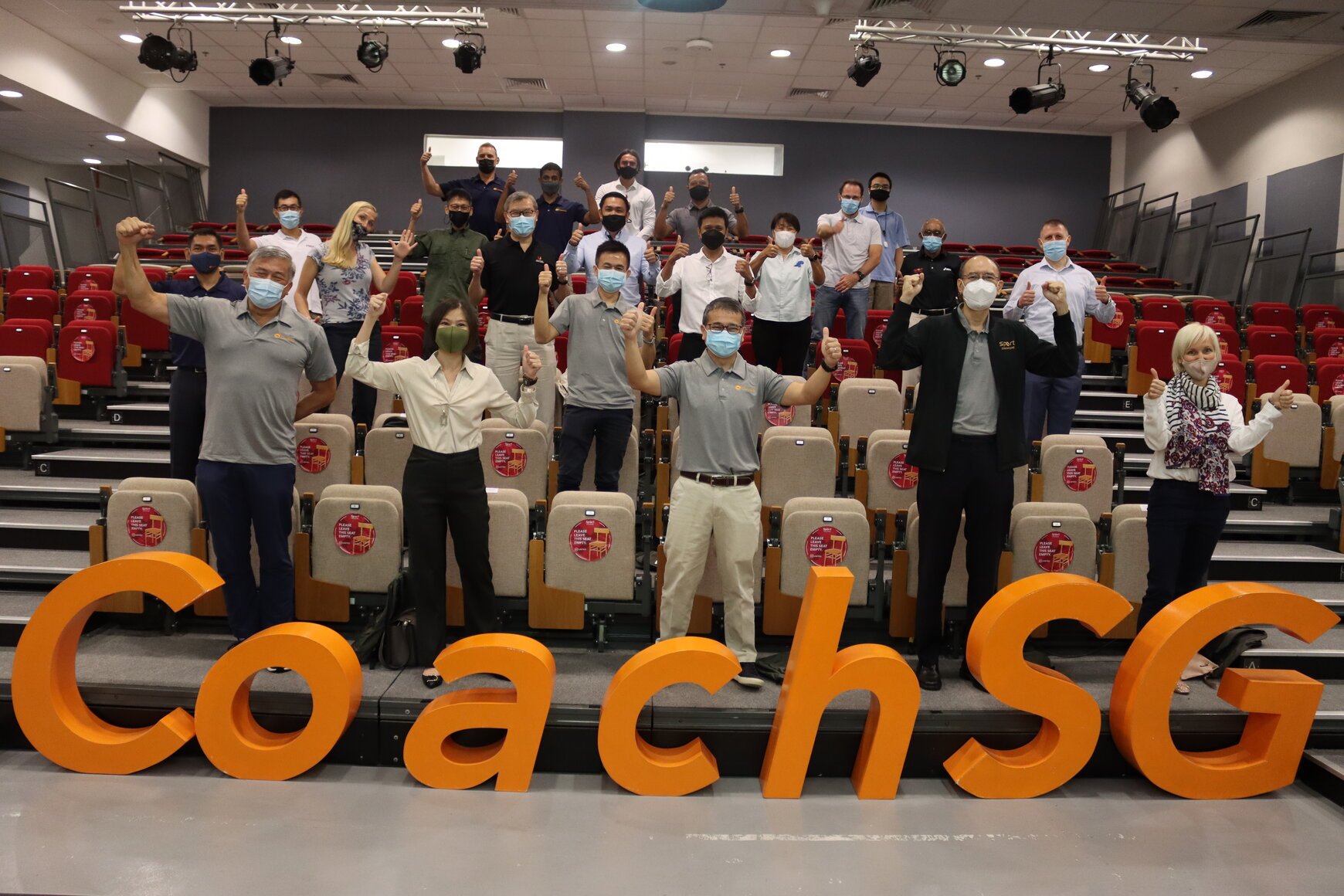 (Selected guests in attendance for the official Launch of CoachSG Conference 2021 - Photo by CoachSG)
COACHES AFFIRM COMMITMENT DURING THIS PANDEMIC PERIOD
Singapore to host the ICCE GCC 2023 – first in Southeast Asia and third in Asia.

SportSG-ED was launched to support professional learning and growth of coaches, athletes, and sport leaders.

Game for Life video series defines and inspires the essence of coaching for local coaches.
Singapore, 26 October 2021 – Despite the challenges wrought by the pandemic, sport coaches have been resilient, adaptable, and remain committed to continue to learn and grow in the true spirit of sport. Since the start of the pandemic in 2020, they have attended over 300 upskilling programmes conducted by CoachSG that reached out to over 5000 coaches. In addition, CoachSG's webinars and digital content on its social media platforms garnered over 45,000 views on average during this period. Today, the National Registry of Coaches (NROC) has more than 6200 members, triple the number since 2017; testifying to the growing professionalism of this community.
Through this 5th edition of the annual CoachSG Conference, CoachSG endeavours to continue to encourage the spirit of collective learning and challenge the boundaries for coaching innovation. Running between 26 October and 28 October 2021, it is hosted in a hybrid format following the COVID-19 SMMs. Keynote speakers at this year's conference are Mr Wayne Goldsmith, renowned coach developer from Australia; Ms Yuko Fujii, first female head coach of Brazilian Men's Judo Team and Singapore's very own Mark Chay, coach of five-time Paralympic gold medalist, Yip Pin Xiu. Mr Goldsmith and Ms Fujii will join us virtually for the conference.
Gracing the CoachSG Conference 2021 – Sport Reimagined: Thriving Amidst Challenges, Mr Edwin Tong, Minister for Culture, Community and Youth and Second Minister for Law, affirmed the critical role coaches play in the lives of Singaporeans, young and old, and encouraged all to remain nimble and adaptable in the face of the ongoing push towards a new normal.
Singapore to host ICCE GCC 2023
Applauding CoachSG's efforts, Minister Tong announced that Singapore had won the bid to host the International Council for Coaching Excellence Global Coach Conference (ICCE GCC) in 2023.
The ICCE GCC is the most prestigious coach conference in the world. Held once every two years, ICCE GCC brings together coaches, coach educators, researchers, sport scientists, technical directors, and sport administrators from the world to address current and emerging issues in coaching. Singapore will be the first city in Southeast Asia and the third in Asia, after Beijing and Tokyo, to host the ICCE GCC.
Singapore's selection as host city is testimony to the growing significance of sport here and in the region, and the ICCE's confidence in the country to host a world class and safe conference for the global audience. In addition, CoachSG's active engagement of the ICCE and through its papers presented at various international conferences and webinars, including ICCE GCC 2017 and 2019, ASEAN Council of Physical Education and Sport Conference, the International Association for Physical Education in Higher Education (AISEP) International Conference, and the IOC Safe Sport Webinar among others has established its credentials as a thought leader of repute.
SportSG-ED
Launched at the CoachSG Conference 2021, the SportSG-ED is a comprehensive platform for online sport education and a critical impetus for coaching excellence and sport knowledge management. It will bring local and global sports professionals and experts in different fields to deliver content on an online learning platform.
The portal is loaded with interactive content with videos, activities and knowledge check quizzes to lead to better knowledge retention. Learners can readily access content, choosing their learning path at their own pace.
The Game for Life: Transforming Lives Through Sport
The video series features esteemed local coaches who have shown values and beliefs that have transformed lives through sport. Five coaches - Ang Peng Siong (Swimming), C. Kunalan (Athletics), Loh Ngiap Tai (Football), Louise Khng (Floorball) and Teo Siew Lan (Volleyball) explore the heart of coaching. They share the common ethos of sport coaching - building team culture, fostering a conducive environment for holistic development and having a strong purpose. These videos hope to inspire the current coaches and the next generation of coaches and leaders in sport.
This series is directed, produced and written by Documentary Storyteller OKJ. Find out more about the series and how to watch in full on SportSG-ED via this link: www.go.gov.sg/gflseries
See Official Trailer on CoachSG's YouTube Channel below :
(Opening Address by Mr Edwin Tong - Minister for Culture, Community and Youth - Extracted from CoachSG Facebook Live)