Singapore's Men's Squad Fought Hard, to Win Bronze at World Tchoukball Championships!
by ActiveSG Circle, on August 6, 2023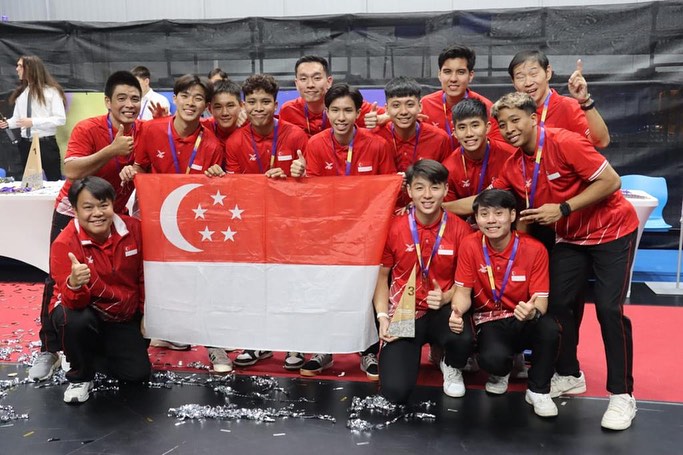 TeamSG'S Tchoukballers, posing with their 2023 World Championships' Bronze medal. Photo Credit : TBAS
The national men's tchoukball team gave Singapore an early birthday present when they successfully retained their bronze medal at the World Tchoukball Championships. Bronze medallists at the last edition in 2019, TeamSG ensured a return to the podium with a 67-57 win over Switzerland.
World No.3 Singapore had lost by a solitary goal (56-55) against World No.2 Italy in the semi-final on Friday in Prague. And while TeamSG's captain Ivan Ng said that the team could have approached the match against the Italians with more confidence, self-belief was something the team had plenty of against Switzerland in the 3rd-place payoff.
Said Ivan: "We did well today and I think one of the reasons for the good performance was that we were much more confident going into the match. The Italians played at a high standard and that puts the team under some pressure. But against Switzerland, we were more relaxed and that allowed us to better control the game."
"We went into the competition hoping for a top-4 finish, so I would say we did well to meet our target. But we also realized, in a narrow loss to Italy, that we are not so far behind the top teams. To reach that level, we need to train hard and build a strong core group of players for the next world championships, highlighted Ivan.
At 22, Ivan added that with this year's team, having a good mix of six experienced players and six debutants, believes there is a healthy base to build on towards the next world championships in 2027. "One thing we learnt at the tournament is that we lack consistency. We get distracted by refereeing decisions that didn't go our way and allow that to affect us. With Europe showing their strength at this year's tournament, we should also look to international exposure to gain experience playing in different environments," stressed Ivan.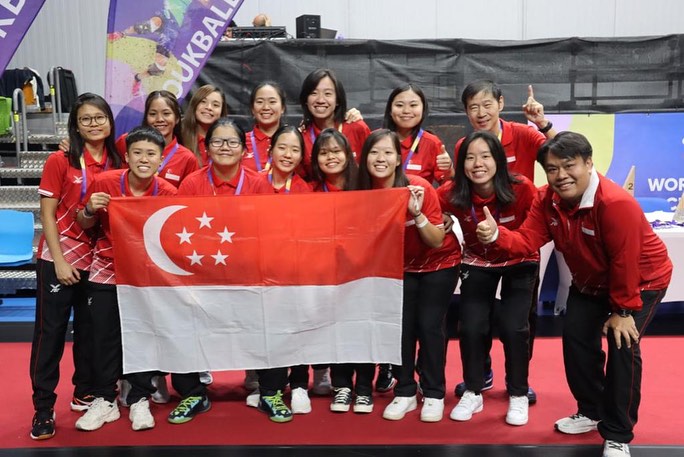 TeamSG's Female Tchoukballers, following the end of their 2023 World Championships' campaign. Photo Credit : TBAS
Women's team seal 5th spot
Singapore's women's team bounced back from Friday's shock quarter-final elimination by Hong Kong, to beat Malaysia (61-43) and then Argentina (68-24) to seal 5th spot.
The women, ranked No.1 in the world, had been fancied to meet World No.2 Chinese Taipei in the final. But the championships showed the rise of the European teams as Italy knocked out defending champions Chinese Taipei 61-58. And in the women's final, the Italians beat Switzerland 42-36 to win the gold.
Said Tchoukball Association of Singapore President Delane Lim: "Although we had hoped for two medals, the bronze by the men's team is still a nice birthday present to Singapore. I want to pay tribute to the men's team who showed resilience and courage - characteristics we want our national teams to have. The tournament has shown that the world order for the sport may be shifting slightly. The Europeans have improved so much that even traditional powerhouse Chinese Taipei was also affected. We will have to work hard to match these teams," added Delane.
Recent Events & Programmes