Singapore's top water polo family donates $500,000 to start fund for the sport
by Circle Stories, on March 21, 2021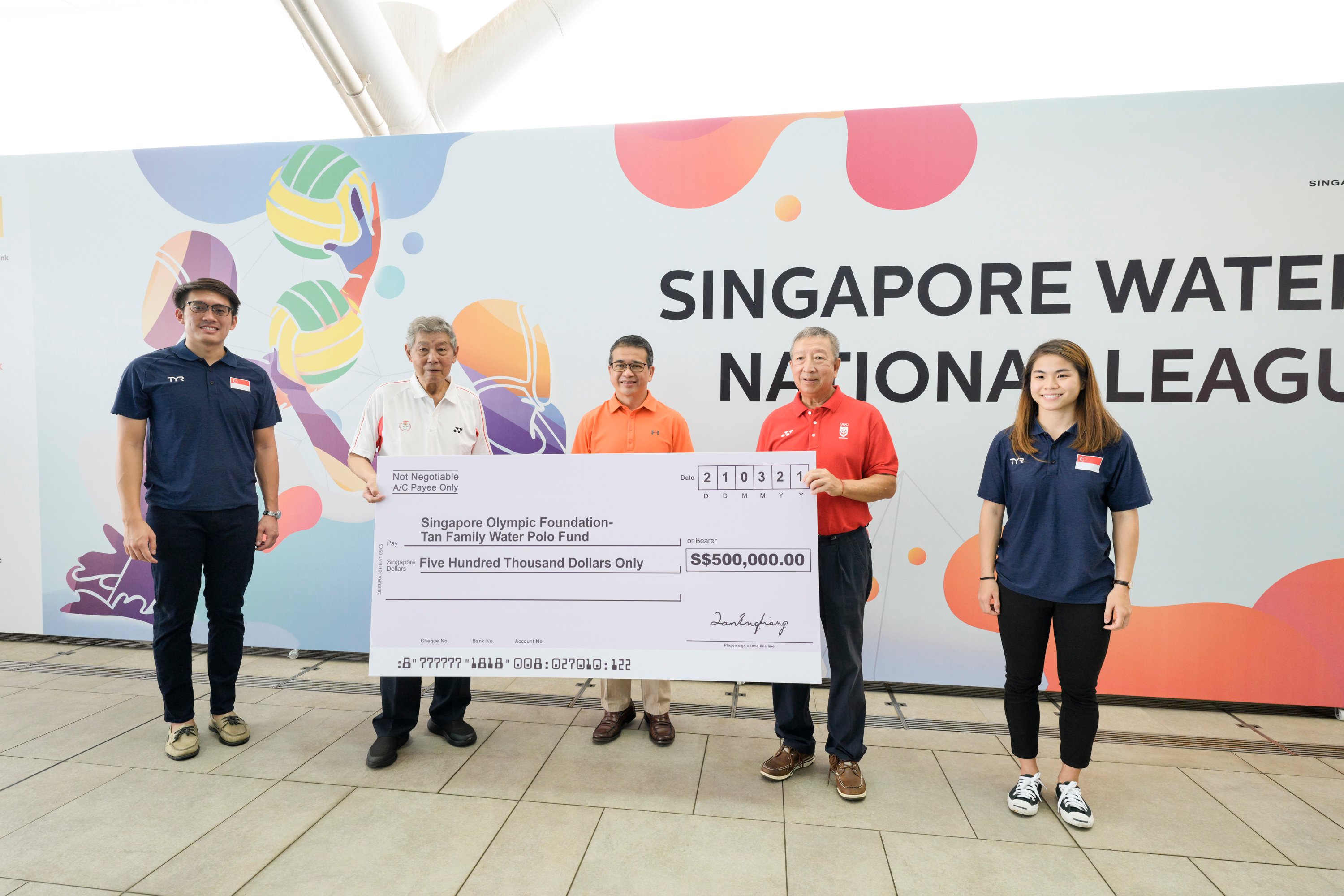 Lee Kai Yang (Captain, Men's National Team), Dr Tan Eng Liang (Fmr Chairman, Sport Singapore), Mr Edwin Tong (Minister for Culture, Community & Youth and Second Minister for Law), Mr Ng Ser Miang (Vice-President, International Olympic Committee) and Koh Ting Ting (Captain, Women's National Team) Photo Credit : Singapore Olympic Foundation
21 March 2021 – Seventy years after first creating a water polo dynasty in Singapore, the famous Tan Family is building on their legacy with a $500,000 donation to the sport here.
Spearheaded by Olympian Tan Eng Liang, the Singapore Olympic Foundation-Tan Family Water Polo Fund will develop young athletes and groom elite players, so as to establish Singapore as an Asian power.
"Although I only had a $200 bursary in university, it helped me to pay the bus fare," said the former chairman of the Singapore Sports Council and vice-president of the Singapore National Olympic Council. "Whatever amount you get as a national athlete is a lot, so (the fund) is just our family's small way of supporting water polo."
The Fund was launched today at Our Tampines Hub, with Minister for Culture, Community and Youth and Second Minister for Law Edwin Tong as the guest-of-honour. The donation is eligible for one-to-one matching by the Government under the One Team Singapore Fund.
It is the latest in a long list of contributions by the Tan family to water polo and sport in general in Singapore.
Brothers Tan Eng Liang, Tan Eng Bock and Tan Eng Chai, together with their uncle Tan Hwee Hock started a water polo force, culminating with a gold medal at the Asian Games in 1954 and an appearance in the 1956 Melbourne Olympic Games. It remains the only time Singapore has qualified for water polo at the Olympics.
They were also responsible for Singapore winning its first water polo gold at the 1965 Southeast Asian Peninsular Games, starting an unbelievable 54-year unbroken winning streak which ended two years ago in 2019.
Eng Bock's sons Mark and Matthew carried on the tradition – the former won one SEA Games gold medal while the latter became captain in 1983 and clinched 10 straight titles at the competition.
After Hwee Hock, Eng Chai and Eng Bock all passed away in 2020 and early 2021, Eng Liang was keen to build on their legacies and enhance the support and development of the sport.
"Water polo brought me to the Olympics, and I benefitted not only in flying the Singapore colours, but attaining other achievements while playing for the country," said the 83-year-old, who is also the nation's first Rhodes scholar.
"Water polo was a life changer for me. Without water polo and academics, I would not have gotten the chance to (be awarded the) scholarship. I'm grateful for the sport."
He hopes the Fund, which will be administered by the Singapore Olympic Foundation through bursaries, scholarships and various programmes, can do the same for up-and-coming athletes. There are three broad objectives:
Enable young and talented water polo athletes to achieve their goals

Groom and support high-performing water polo athletes to represent Singapore on the world stage

Promote a healthy environment for the progress of water polo in Singapore through educational and coaching programmes.
A rallying call
Mr Tong said, "The contributions made by Dr Tan Eng Liang and his family over the years to water polo and the sporting fraternity in Singapore have been significant and extensive. This new Fund will support promising and high performing water polo athletes, and help them achieve their sporting aspirations. I hope more individuals and organisations will be inspired to step forward and support our athletes as One Team Singapore!"
IOC Vice-President Ng Ser Miang praised the initiative. "The Fund is an incredible way for Dr Tan Eng Liang and his family to play a key role in developing water polo in Singapore and continue his family's legacy – as they have been doing for decades," he said. "It can become a springboard towards greater heights."
Athletes are also excited that the significant cash boost can help expand water polo's reach and empower local athletes to break through barriers.
"We need to do good by the donation that the Tan family has so graciously given and make sure there is a long sustaining impact on the water polo community," said national men's team captain Lee Kai Yang.
Koh Ting Ting, the national women's team captain, also shared her views. "It will be a good opportunity for our players to test themselves overseas and they can repay the favour by raising their level," she said.
For Eng Liang, the Fund comes at "the right time", having witnessed the Republic's men's team relinquish its status as kings at the 2019 SEA Games. He remains motivated to wrest back the title and progressively establish both the men's and women's squad first in Asia, then internationally.
"Let us rebuild, and in the immediate term push and continue to make water polo the pride and joy of Singapore," he said. "If you look at all the team sports in Singapore, none has a more glorious history than water polo."
Interested donors can donate via the Singapore Olympic Foundation at www.sof.sg – all cash donations are entitled to tax deduction 2.5 times the amount of the donation.
Follow us on Telegram for more news and updates.