SingHealth Polyclinics (SHP) launched Health Up! - An inter-agency population health programme, that brings healthcare and community partners together, to promote health in Tampines
by Circle Stories, on November 30, 2021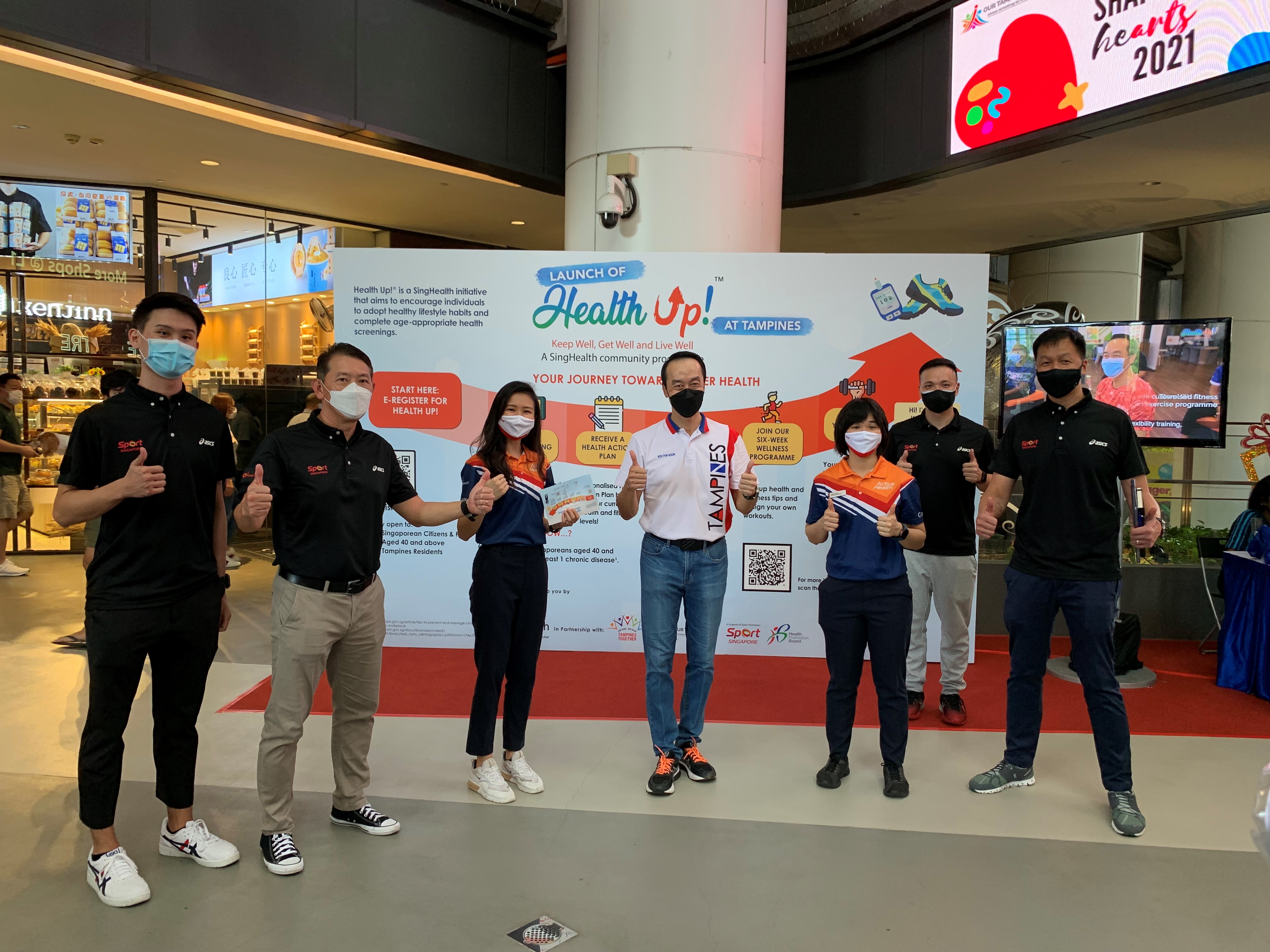 Dr Koh Poh Koon (White Shirt) together with staff from Active Health & ActiveSG
Singapore 27 Nov 2021 - SingHealth Polyclinics (SHP) today launched the Health Up! programme, an inter-agency collaboration which sees Primary Care stepping up to promote health among Tampines residents through health screening and the adoption of healthy lifestyles. The launch event held at Our Tampines Hub (OTH) was graced by Mr Masagos Zulkifli, Minister for Social and Family Development and Second Minister for Health, Dr Koh Poh Koon, Senior Minister of State for Health, together with the rest of the Tampines Grassroots advisers.
Led by SHP which is part of the SingHealth Regional Health System (RHS), the Health Up! programme comprises healthcare and community partners including Changi General Hospital (CGH), Health Promotion Board (HPB), Tampines GRC (GRC) and Sport Singapore (SportSG).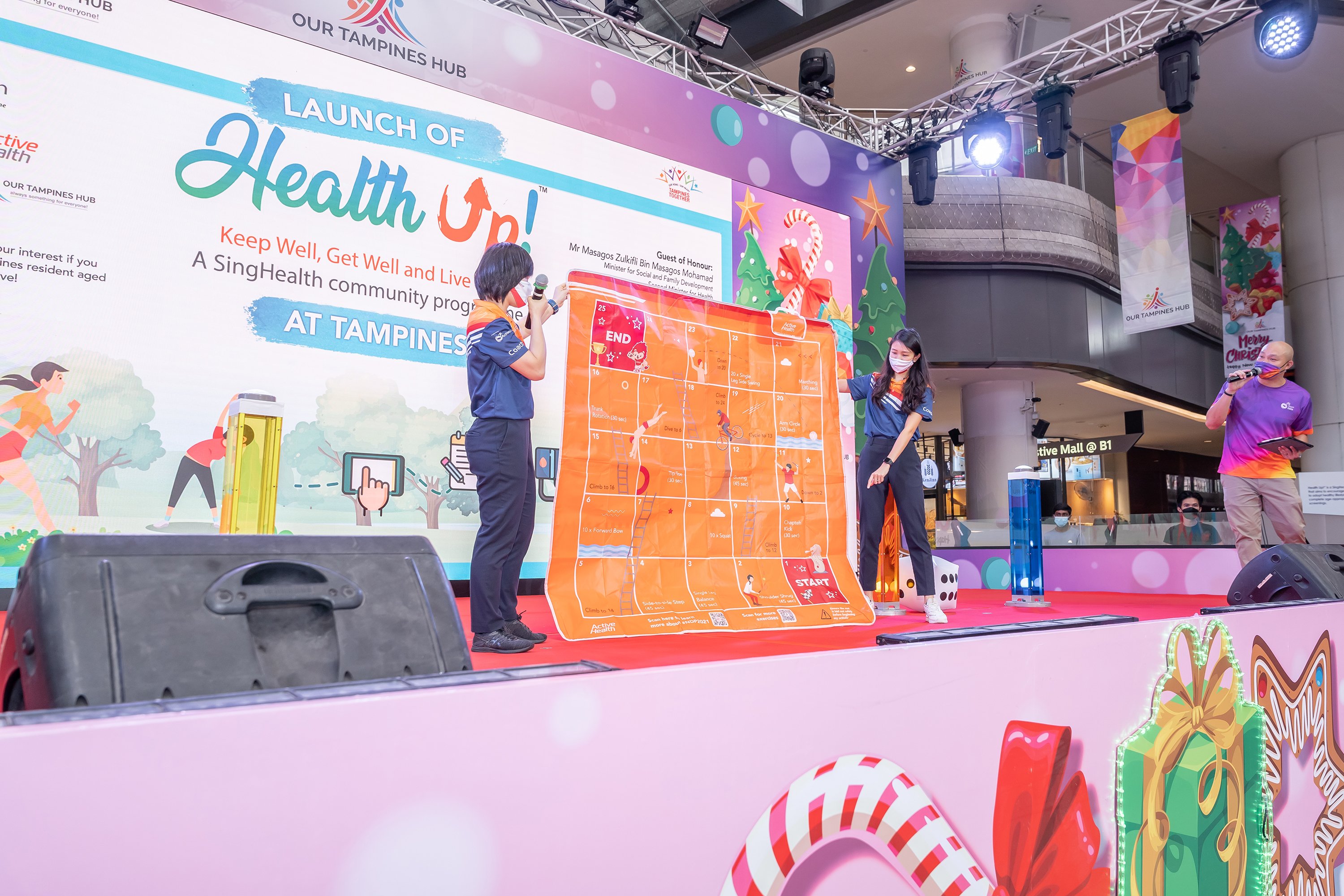 Dr Sabrina Wee, Clinic Director (Designate) of the upcoming Tampines North Polyclinic and one of the clinician leads of Health Up! said, "Health Up! aims to empower residents and families to adopt healthier lifestyle habits, participate in age-appropriate health screening and physical activities to attain the goal of better health and wellness. With the strong support from grassroots advisers and partners in Tampines, we are piloting Health Up! in Tampines to recruit residents into this programme."
(Download Dr Wee's full speech transcript here)
Recognising that health is determined by a myriad of factors spanning from living environment to social support networks, Health Up! provides a holistic and structured health and wellness journey for enrolled participants. Residents enrolled into the programme will be assigned a Wellbeing Coordinator, who will create an individualised care plan for the resident. The Wellbeing Coordinator will recommend age-appropriate health screening at GP partners, community screening events or the polyclinics to assess their health status.
The Wellbeing Coordinator will also link the resident to a customised six-week programme that imparts health and wellness knowledge through virtual workshops and small group coaching led by certified Active Health coaches, who will guide the participants towards proficiency and confidence to plan their own exercise regime and adopt sustainable healthy habits to embrace active living. To sustain their interest in active living, participants will be further connected to a wide range of community-based exercise programmes and interest groups offered by the HPB, GRC and SportSG. To motivate participants on their journey towards better health, the Wellbeing Coordinator will reach out to participants regularly, to guide and follow up on their progress.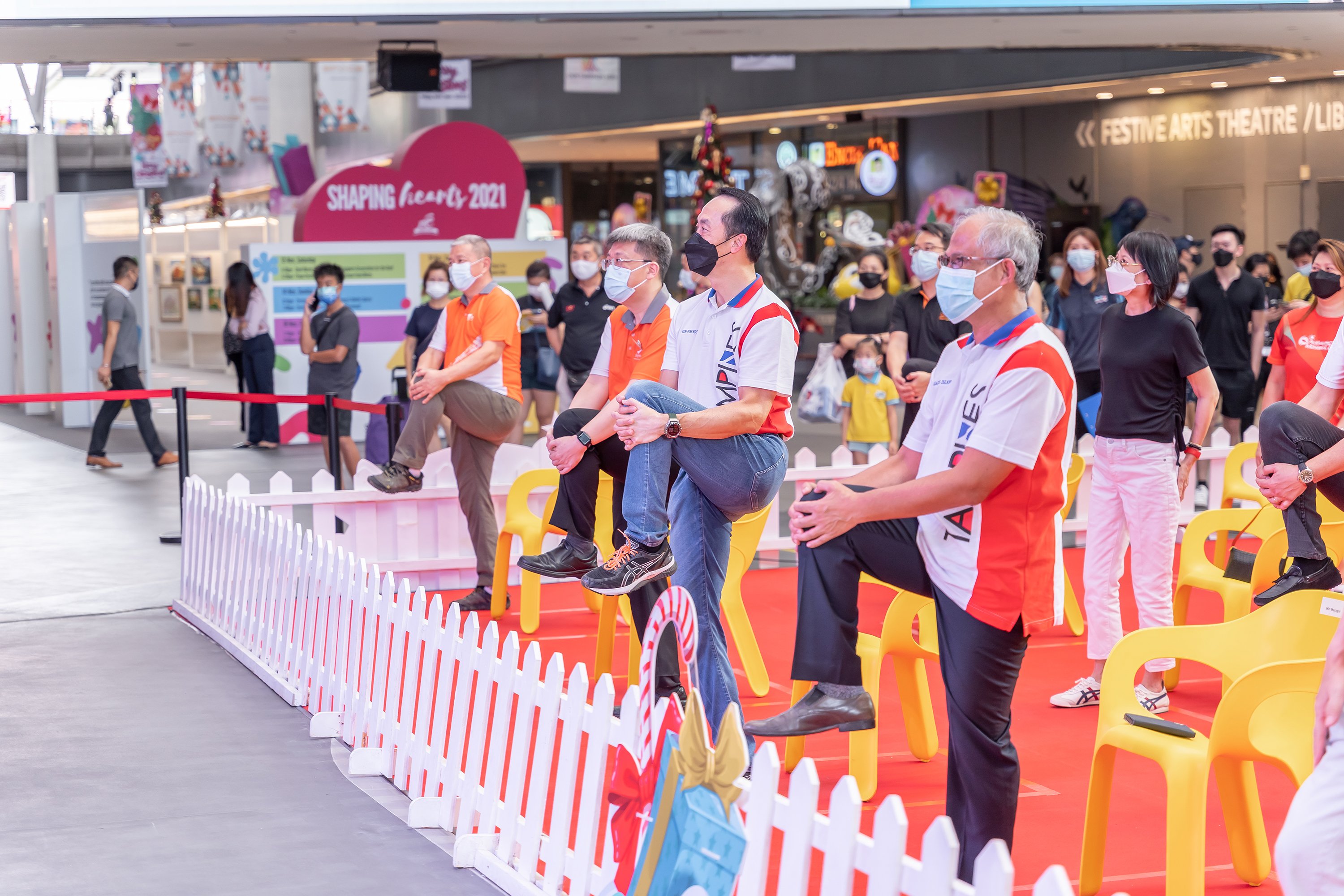 Dr Wee added, "Health Up! is targeting residents aged 40 and above as the 2019 National Health Survey showed that those aged 40 to 49 years old were less likely to be screened for chronic diseases like diabetes, high blood pressure and high cholesterol. We need to detect these chronic conditions early, if present, so that timely medical interventions and lifestyle modifications can be started to delay progression of the condition and its associated complications. Our recent survey of Tampines residents1 showed that although there was some readiness towards adopting a healthy lifestyle, residents cited challenges in sustaining it, such as the lack of energy and motivation, and concerns that a healthy lifestyle would be expensive to maintain. Health Up! was initiated to identify and close the screening gaps, and remove the barriers for the individual to adopt and sustain a healthier lifestyle."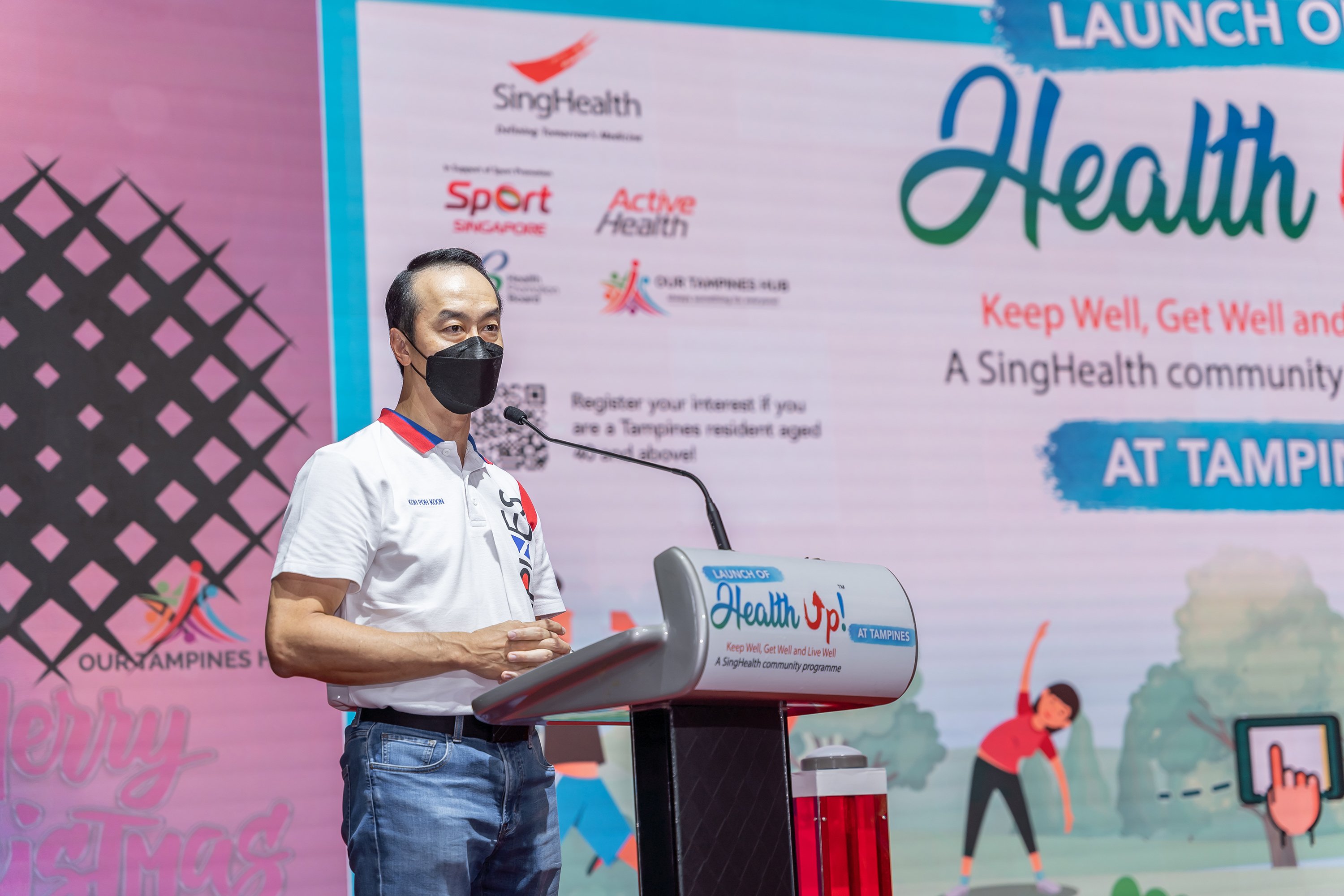 (Dr Koh Poh Koon, Senior Minister of State for Health)
Dr Koh Poh Koon welcomes the initiative, adding: "Many health promoting initiatives have been implemented in Tampines to make healthy living accessible and affordable for our residents here. Health Up! integrates well with the existing slate of programmes, to offer a more holistic approach to health promotion and disease prevention. I am confident that Health Up! will empower our residents to take charge of their health so that they may enjoy more years of wellness and not sickness, and a better quality of life."
(Download Dr Koh's full speech transcript here)
Dr Michael Wong, Group Director, SingHealth RHS said, "Health Up! brings together the expertise of primary care providers and community partners to provide a platform for greater health and social integration. Leveraging the strengths of our community partners who have strong roots in the Tampines precinct, ensure more effective resident engagement and long-term sustainability of healthy lifestyle habits. At the same time, residents will be able to enjoy and reap the benefits of a comprehensive health and wellness programme customised to their specific needs."
Mr Chiang Hock Woon, Deputy Chief Executive Officer, Sport Singapore commented, "Active Health is about celebrating living. In the past years, we have built and grown a unique ecosystem that transforms how we think, relate and experience health. Today, we are proud to note that our Active Health programmes and facilities have benefited many members in our communities. More crucially, our Active Health coaches are present to provide effective, practical advice and support. We are excited to come on board with the rest of the Health Up! partners and with this full suite of resources, we look forward to support Singaporeans on their journey to better heath, with long-term holistic value-based care."
Joining Health Up!
The Health Up! pilot programme, which is targeting to recruit 250 participants, is now open to Tampines residents who are Singapore Citizens or Permanent Residents (PR) aged between 40 to 60 years old. Interested residents can sign up for the programme by visiting https://www.singhealth.com.sg/rhs/health-up.