Singapore Premier League Football Action Returns to Full Competition Format for 2023 Campaign!
by Circle, on February 16, 2023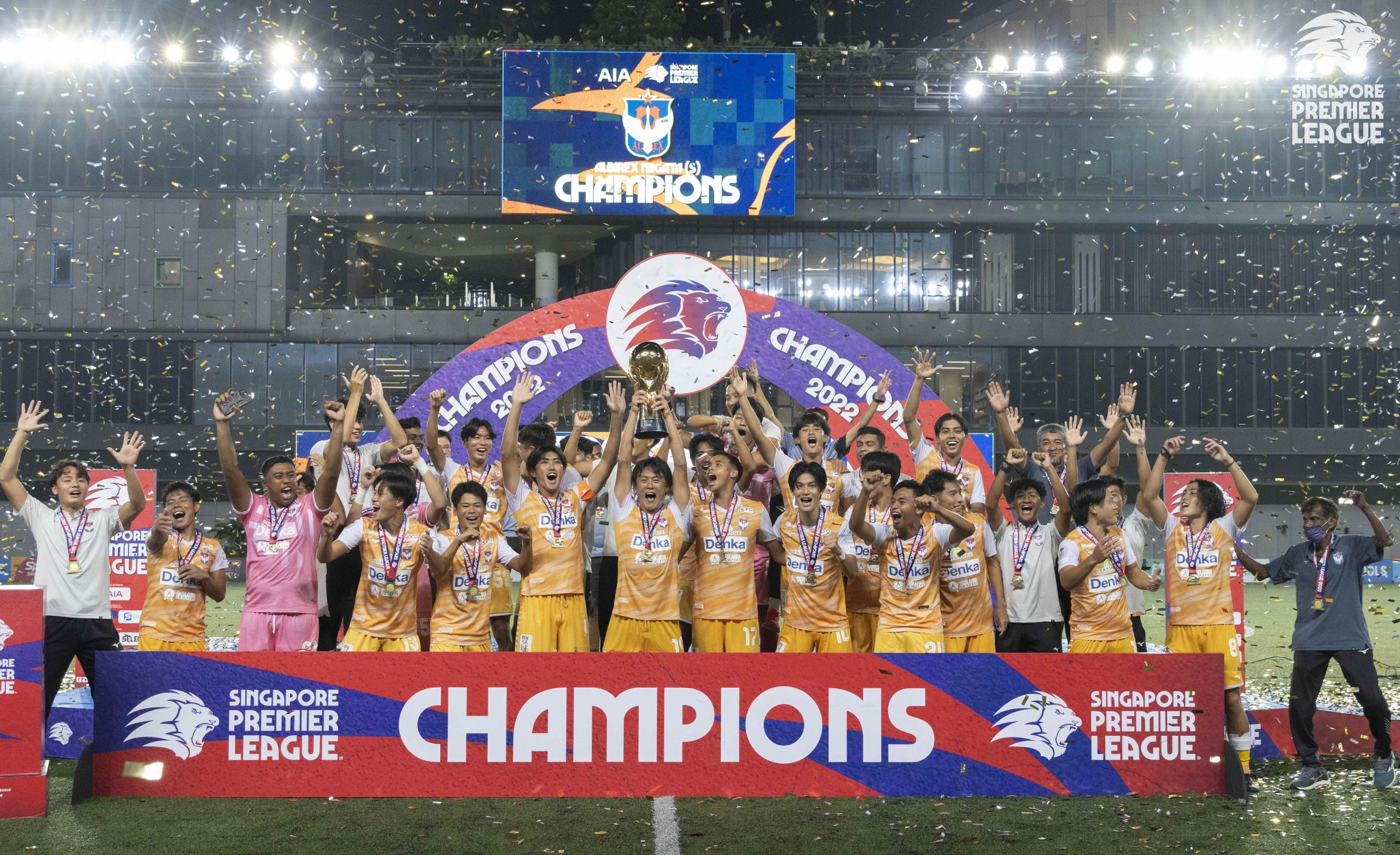 AIA Singapore Premier League 2022 Champions, Albirex Niigata FC (S). Photo Credit : Football Association of Singapore
Season 28 of the AIA Singapore Premier League (SPL) kicks off on Sunday, 19 February at the Jalan Besar Stadium. From 6pm onwards, it's the Community Shield clash between Albirex Niigata FC (S) and Hougang United FC. 4 months ago, the White Swans won their 5th league title with 2 games to spare. And the Cheetahs won the Singapore Cup trophy for the first time in Hougang United's history, with their 3-2 win over former champions, Tampines Rovers in the grand final.
The 2023 campaign will see clubs reverting back to a triple round-robin format, whereby teams will meet each other 3 times during the regular season, which will end in August. And the Singapore Cup will take place from September to mid-December. Besides the return of Brunei DPMM, amendments to stadium venues and player registration rosters, the most important change in Season 28, is the introduction of the Video Assistant Referee system for all SPL matches. Also known as VAR, it made its global debut at the 2018 FIFA World Cup finals in Russia.
Football Association of Singapore (FAS) Director (Referees), Nazeer Hussain said, "The VAR system is increasingly becoming a staple feature in football since its introduction and we are pleased to have this piloted for the SPL, which will undoubtedly help to enhance and elevate the levels of officiating here. I am confident that this is a positive development for Singapore football." For more details on the new VAR system in Singapore, do check out the promo video below.
VAR Intro Video. Credit : Football Association of Singapore
Here's a brief look at all 9 competing clubs for the 28th SPL season. (see below in alphabetical order)
ALBIREX NIIGATA FC (S)
From L to R (Back Row) : Takahashi Ryo, Kunori Seia, Kawachi Koki, Ogawa Kaisei, Kishimoto Shunsuke and Hassan Sunny. (Front Row) : Nicky Melvin Singh, Komaki Shuto, Yokoyama Shodai, Yokokawa Asahi and Fuwa Sho. Photo Credit of 2023 new signings : @Leo ShengWei/Playmaker


Club : Albirex Niigata FC (S)
Nickname : White Swans
Final Position in 2022 SPL Season : Champions
Name of Head Coach : Kazuaki Yoshinaga
Home Stadium : Jurong East Stadium


Kazuaki Yoshinaga made history in 2022, when he became only the 2nd Coach in SPL history to win the league trophy for the 3rd time. 3-time Coach of the Year Richard Bok holds the record of 4 SPL trophies with Warriors FC from 2006 to 2009. And for the coming SPL season, 54 year old Kazuaki is looking to continue his successful stint with Albirex Niiagata (ANFCS). They've signed 11 new players including Japanese midfielder, Masaya Watanabe. The rising 19 year old star featured for German fifth-tier club Turu Dusseldorf last season. And former Asian Cup winner Tadanari Lee, who scored 11 goals last year for the defending champions, will again be based at the Jurong East Stadium for the coming campaign.
Also making his debut in the Orange and White colours of ANFCS is Singapore's top goalkeeper, Hassan Sunny. The 38 year old custodian with 100 international caps, will feature in his 6th SPL club when he stands in goal for the White Swans. Fellow keeper Hyrulnizam Juma'at and midfielder Nicky Melvin Singh were also retained for the upcoming campaign, while Singapore's U-19 keeper Firman Nabil has just arrived at the club.
BALESTIER KHALSA FC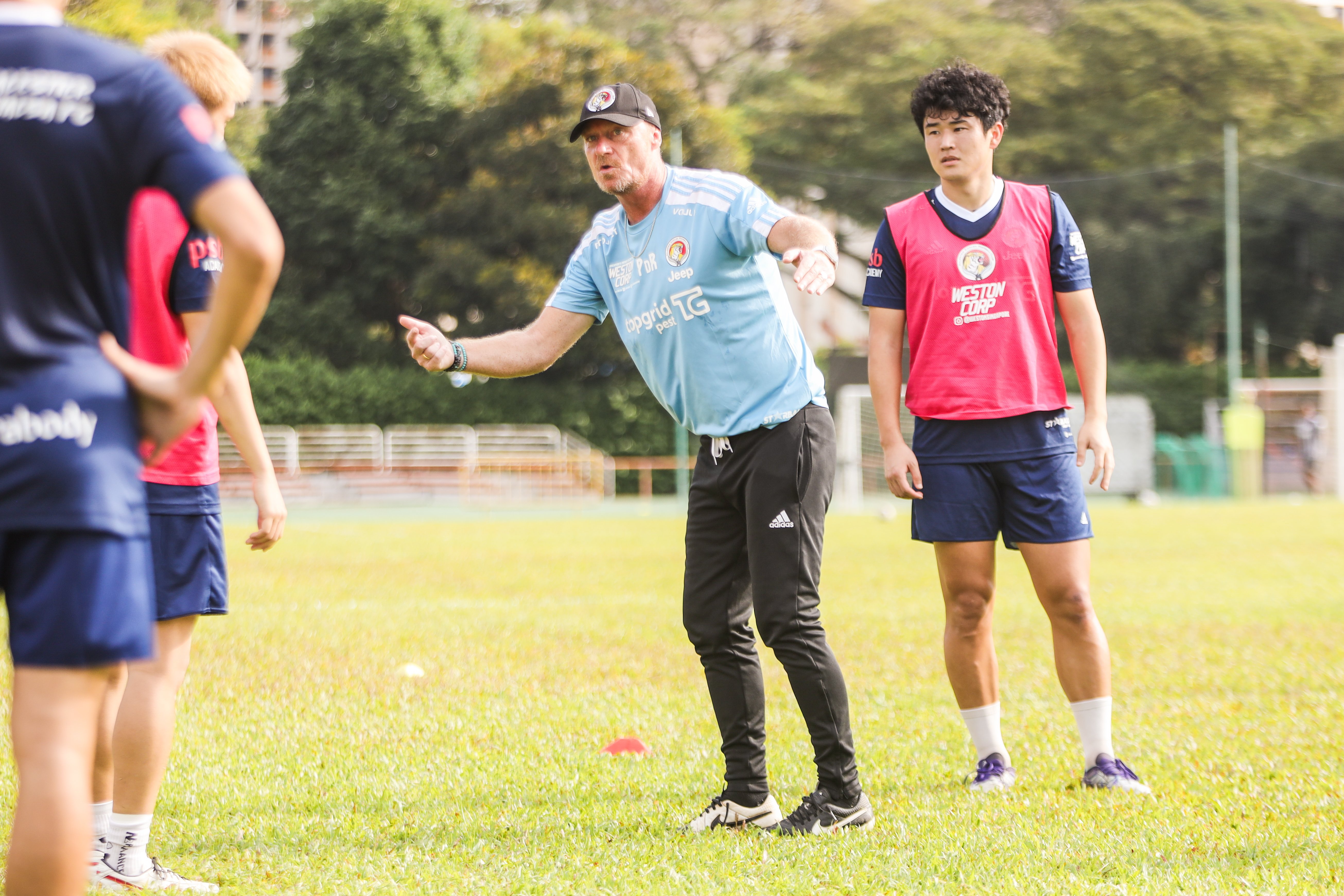 Tigers' head coach, Peter De Roo. Photo Credit : Balestier Khalsa FC
Club : Balestier Khalsa FC
Nickname : The Tigers
Final Position in 2022 SPL Season : 7th
Name of Head Coach : Peter De Roo
Home Stadium : Bishan Stadium
52 year old Peter De Roo has been in charge of Balestier Khalsa FC since last September, when he took over from departing coach, Akbar Nawaz. The Tigers did go on to finish 2nd from bottom in the SPL table standings, plus a 4th place finish in the Singapore Cup. The Dutch coach retained 12 players for the 2023 season including the likes of Darren Teh, Madhu Mohana and Ho Wai Loon. De Roo also made 8 new signings with seasoned names like Fabian Kwok and Emmeric Ong joining the Tigers' setup.
The club's foreign legion includes 3 Japanese players and Slovenian-born midfielder, Alen Kozar. 23 year old Masahiro Sugita, who scored 9 goals for the White Swans in 2022, was the final foreign signing for BKFC.


DPMM FC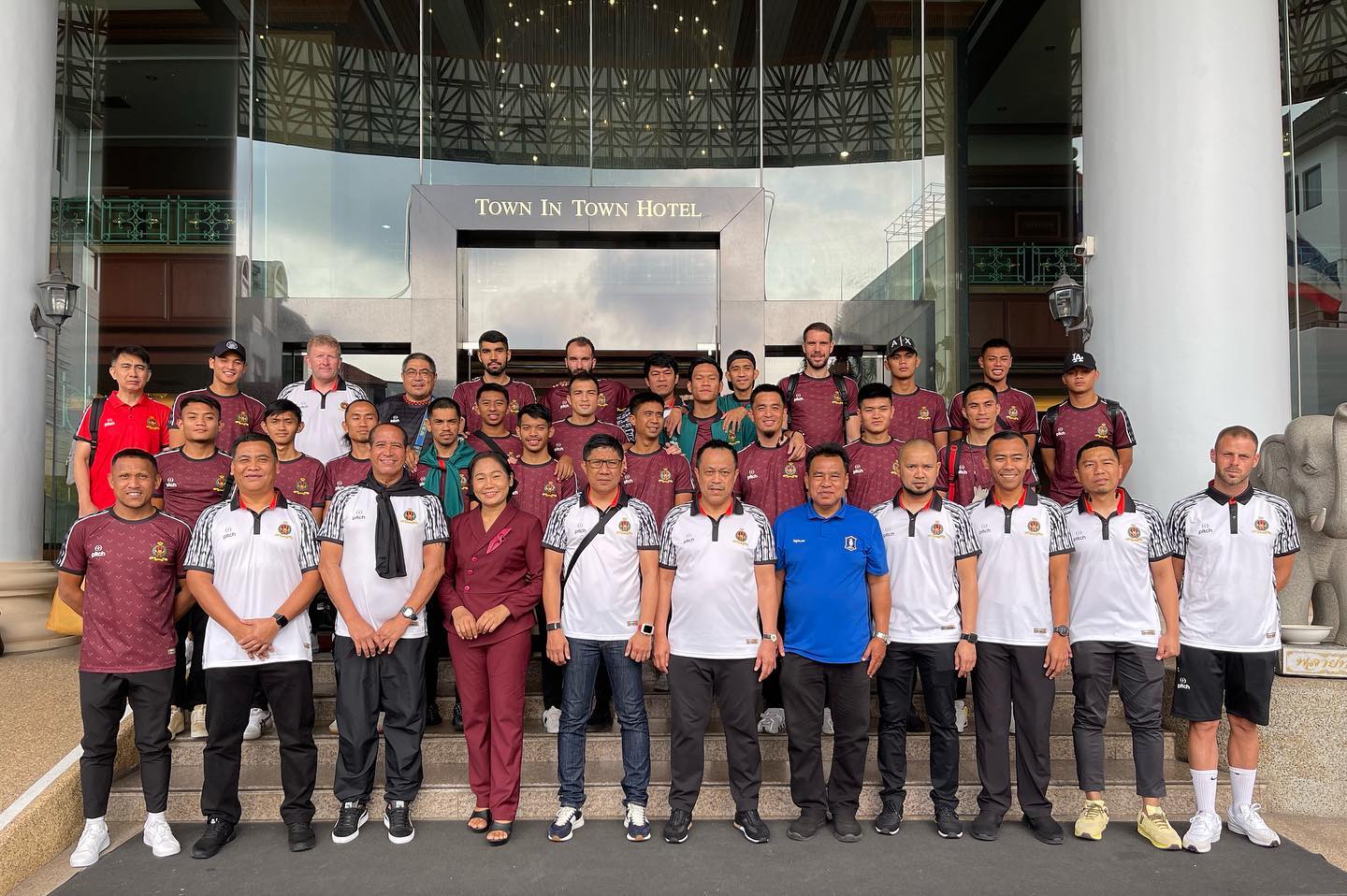 DPMM FC's pre-season training trip to Thailand in Jan 2023. Photo Credit : DPMM FC Facebook
Club : DPMM FC
Final Position in 2022 SPL Season : Did not compete
Name of Head Coach : Adrian Pennock
Home Stadium : Hassanal Bolkiah National Stadium
2-time Champions Brunei DPMM have waited anxiously for 3 years to make their return to the Singapore Premier League. The 2015 and 2019 winners didn't compete in the SPL due to the global pandemic. And the confirmation of their return was only made official in late January, just before the club embarked to Thailand for a pre-season tour. The return of DPMM will see SPL clubs being able to travel again to compete at the 30,000 seater Sultan Hassanal Bolkiah National Stadium in Bandar Seri Bagawan.

Helmed by Coach Adrian Pennock since 2019, the Englishman has a foreign lineup which features, 2019 SPL top scorer, Andrei Varankou. The former Belarus international scored 21 goals in 22 games to lift their 2nd SPL trophy. Meanwhile, ex Spanish youth international Angel Martinez, Croatian midfielder Josip Balic and Uzbekistan goalkeeper Akmal Tursunbaev complete the foreign quota.


GEYLANG INTERNATIONAL FC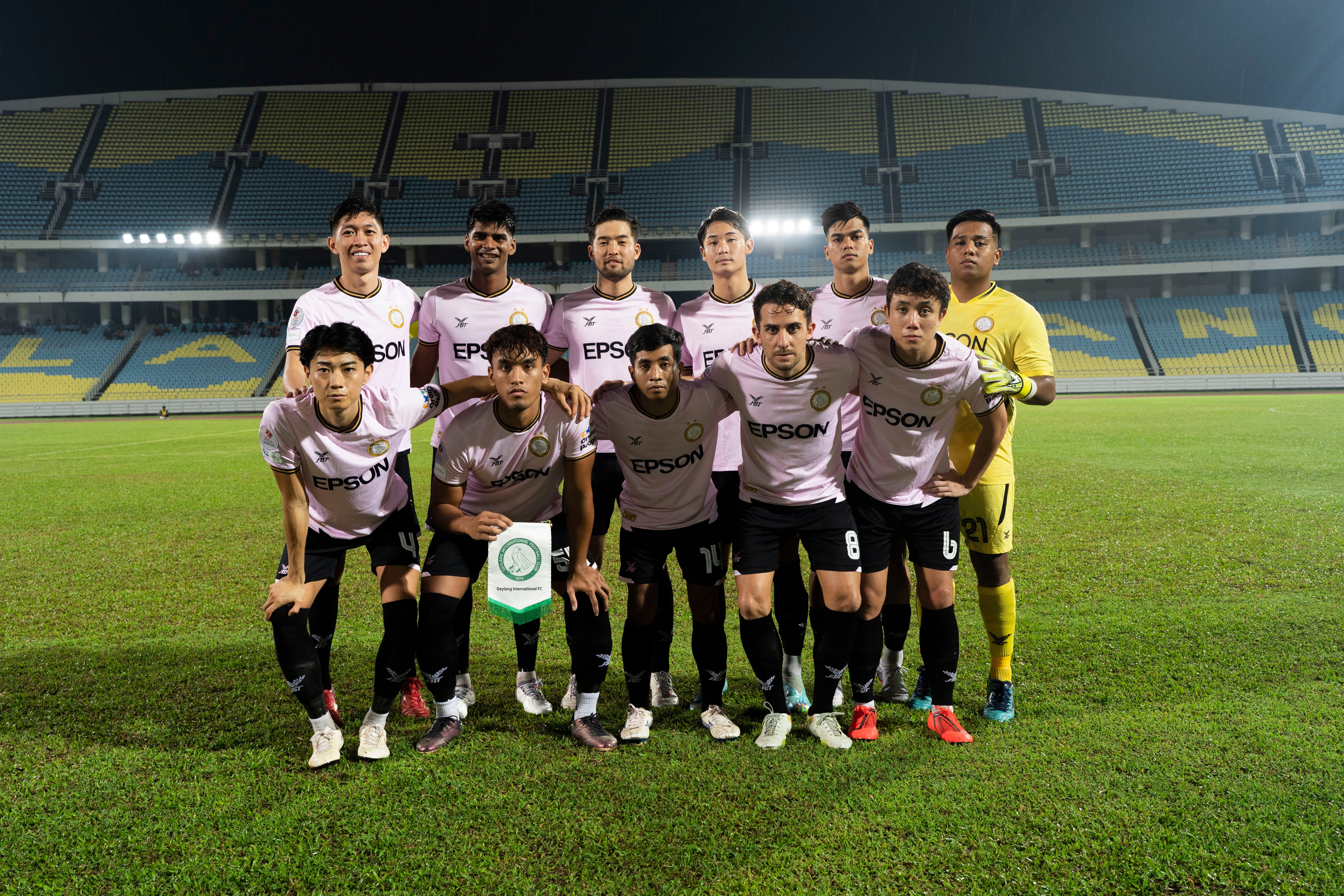 From L to R : (Back Row) Joshua Pereira, Iqbal Hussain, Rio Sakuma, Yushi Yamaya, Noor Ariff & Hafiz Ahmad. (Front Row) Takahiro Tezuka, Nazhiim Harman, Ahmad Syahir, Vincent Bezecourt & Gareth Low. Photo Credit of GIFC Eagles' at a pre-season match in early Feb 2023 : The Picture Suite
Club : Geylang International FC
Nickname : The Eagles
Final Position in 2022 SPL Season : 4th
Name of Head Coach : Md Noor Ali
Home Stadium : Our Tampines Hub
During the pre-season, Geylang International FC signed a landmark deal with City Football Group (CFG). The Eagles are the first Southeast Asian football club to partner with CFG, which owns Premier League champions, Manchester City. And the collaboration has started to pay off with the recruitment of Japanese attacker Yushi Yamaya, which was supported by CFG's network.
Flying into his 6th campaign with the Eagles, Coach Md Noor Ali has included Iqbal Hussain in his attacking plans. The 29 year old forward returns to the side he last plied his trade with in 2020. National midfielder Joshua Pereira will also turn out in Geylang colours for the coming full season, as he only played from last August onwards upon completion of National Service. And more good news for Geylang fans, who'll see Vincent Bezecourt in season 28 as well. The enterprising Frenchman impressed in his maiden SPL season with 10 goals and nine assists. And Takahiro Tezuka is the 2nd foreigner to stay for another season. The midfielder featured in 31 matches for the club last year.
HOUGANG UNITED FC
From L to R : HGFC's Hazzuwan Halim, Irwan Shah, Brian Ferreira, Gabriel Quak, Firdaus Kassim (Coach), Zaiful Nizam, Naoki Kuriyama, Kazuma Takayama, Umar Ramle and Ajay Robson. Missing in Photo due to injury : Shahdan Sulaiman. Photo Credit of new signings : Hougang United FC
Club : Hougang United FC
Nickname : The Cheetahs
Final Position in 2022 SPL Season : 5th
Name of Head Coach : Firdaus Kassim
Home Stadium : Jalan Besar Stadium
Firdaus Kassim is the new guy in the "hot seat" at HGFC! The 35 year old replaced Clement Teo, who's left to coach a club in Cambodia. As a former youth coach and serving as the Cheetahs' assistant coach since 2021, Firduas was handed the reins during last season's Singapore Cup campaign. And he led HGFC to their very 1st trophy, by beating Tampines Rovers 3-2 in the Cup finale.
With assistant coach Marko Kraljević by his side in 2023, Coach Firdaus brought in 10 players to the fold, with several household names just about to don the Hougang colours. They include Singapore national players Zaiful Nizam and Gabriel Quak. The duo will link up with national midfielder Zulfahmi Ariffin and Lions striker Sahil Suhaimi, who's just extended his stay for a 4th season. And Cheetahs defenders Anders Aplin and Nazrul Nazari have also been retained to play their 4th and 8th campaigns respectively for HGFC.
LION CITY SAILORS FC

Lion City Sailors at a training session in 1st week of Feb 2023. Video Credit : Lion City Sailors FC
Club : Lion City Sailors FC
Nickname : The Sailors
Final Position in 2022 SPL Season : 2nd
Name of Head Coach : Risto Vidaković
Home Stadium : Bishan Stadium
This past Valentine's Day marked the 3rd anniversary of the founding of Lion City Sailors FC (LCS). And with only days before their season-opener (24 Feb) against Tanjong Pagar United on their home turf at the Bishan Stadium, newly-minted coach Risto Vidaković is busy with the final stage of preparations. "The key is that in every moment we know what we're doing, everyone has to know what they're representing. Players have to know that they're in a special club and it's not easy to play for the biggest club in the country, because opposing teams will be very motivated to play against us," said 54 year old Risto on the club's website.
With the opening of their $10 million world-class training facility at Mattar Road last July, LCS Captain Hariss Harun and his teammates have undergone focused individualised training programmes, designed by sport scientific tools. And regarding the players' roster for the 28th season, 8 new names were signed across the last 2 months. The most high-profiled transfer is Japanese striker, Kodai Tanaka. Having led Albirex to their 4th SPL title with 33 goals in 2022, the reigning "Player of the Year" has found a new home at Bishan Stadium. And joining Kodai among the new faces is Zharfan Rohaizad (GK), Shawal Anuar (FW), Danish Qayyum (MF), Lionel Tan (DF) and Christopher van Huizen (MF).


TANJONG PAGAR UNITED FC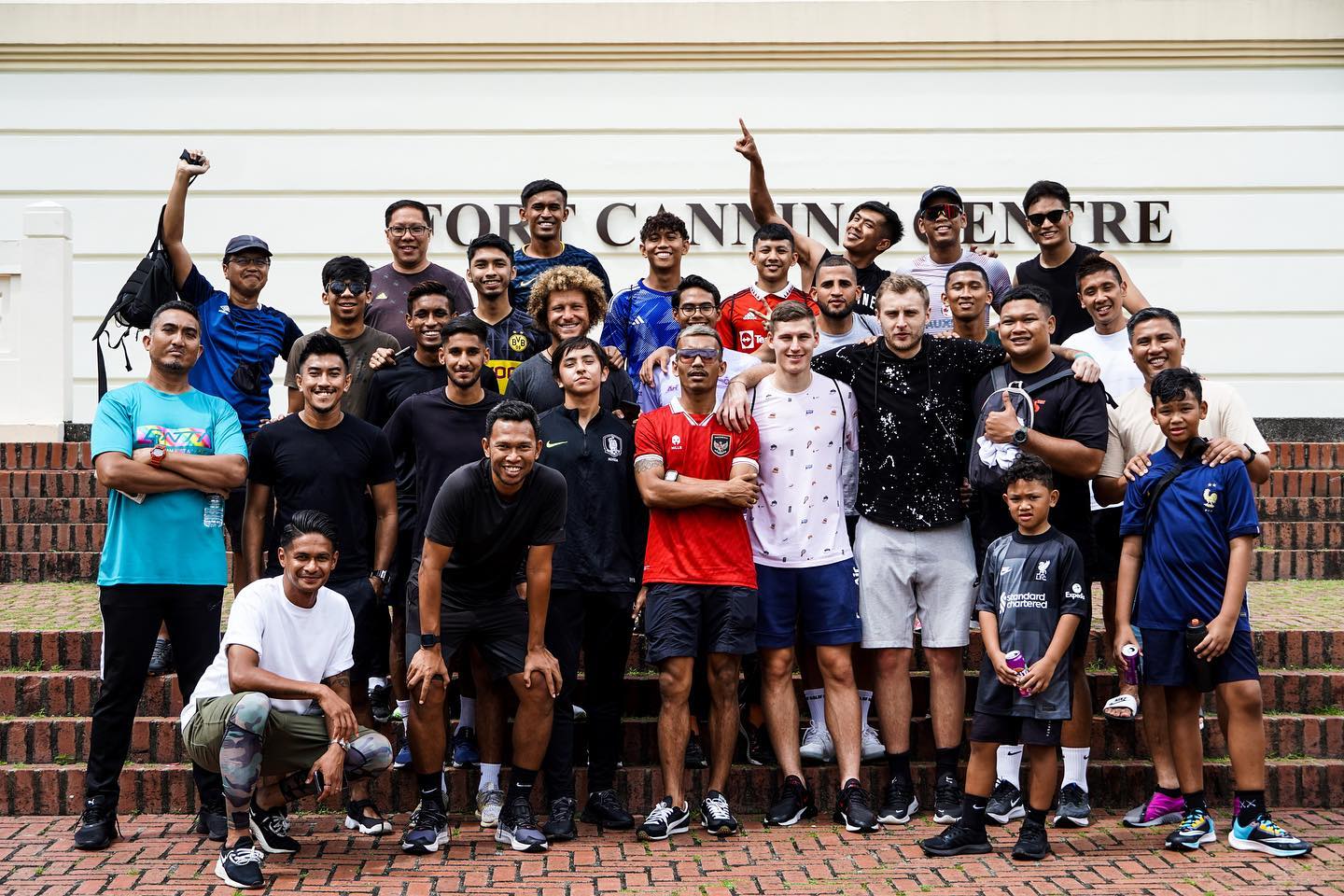 Tanjong Pagar United Players at a recent team-bonding session. Photo Credit : Tanjong Pagar United FC


Club : Tanjong Pagar United FC
Nickname : The Jaguars
Final Position in 2022 SPL Season : 6th
Name of Head Coach : Hasrin Jailani
Home Stadium : Jurong East Stadium

Head Coach Hasrin Jailani has re-signed 9 players for the 28th season of pro football in the Lion City. The returning players include former Lions star striker Khairul Amri, Raihan Rahman and Shahrin Saberin. 28 year old winger Tajeli Salamat will also be exciting to watch up and down the right flank. And making his return after serving NS, is 24 year old keeper Kenji Rusydi. Following stints with Home United and the Young Lions (2018-19), this fan favourite will be one to watch. Also back from a lengthy injury is Lions defender Shakir Hamzah, as the 30 year old signed with the Jags in 2021.
The foreign star signings comprise fan favourite Blake Ricciuto, who will ply his trade with Tanjong Pagar for a 3rd straight season. And having played in Thailand and Malaysia, 30 year old Brazilian defender Pedro Dias arrives in Singapore, standing at a towering 1.9m.

TAMPINES ROVERS FC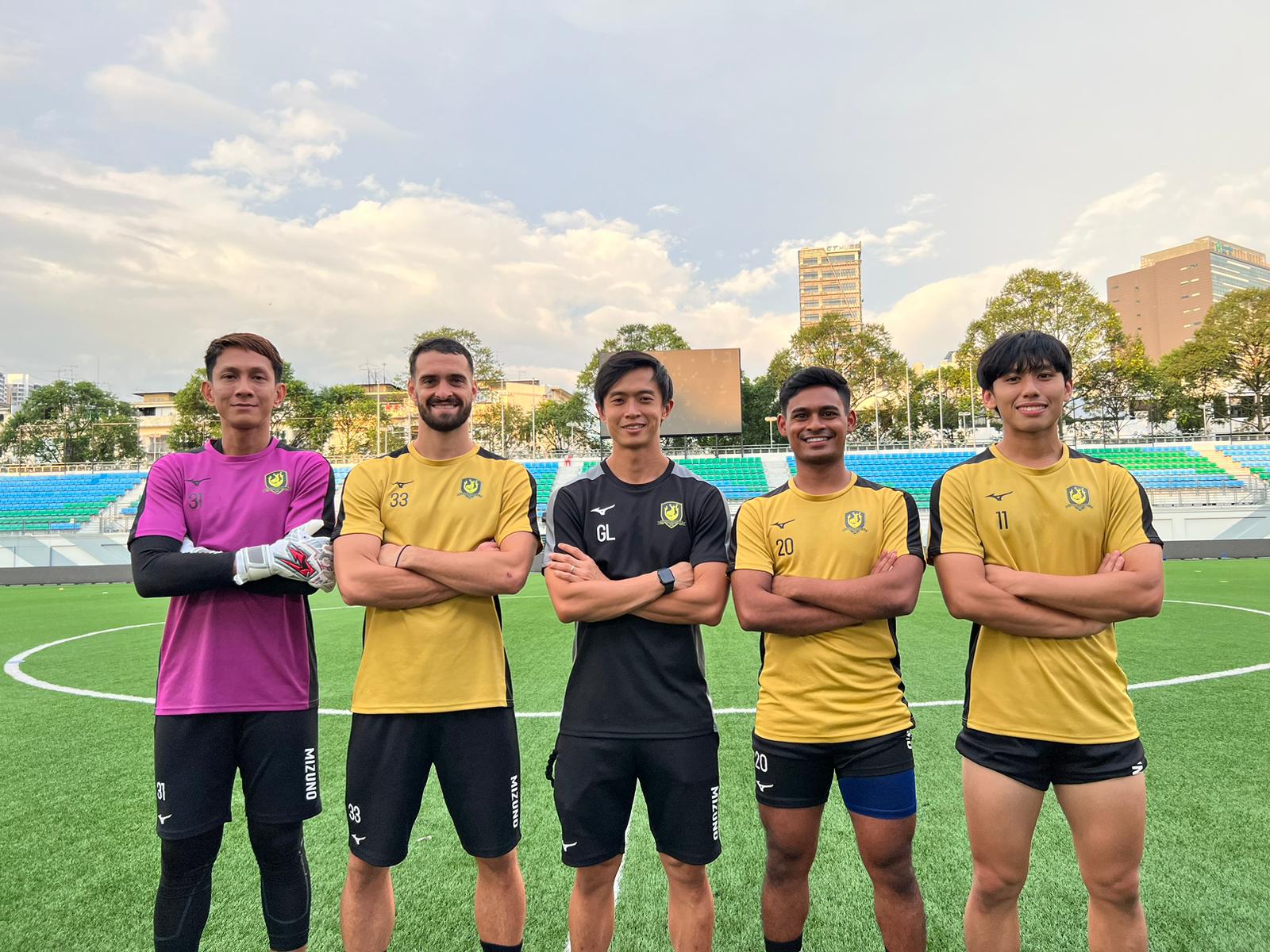 From L to R : Ridhuan Barudin, Milos Zlatkovic, Gavin Lee (Coach), Saifullah Akbar and Glenn Kweh. Missing from photo : Faris Ramli. Photo Credit of Stags' new signings : Tampines Rovers FC


Club : Tampines Rovers FC
Nickname : The Stags
Final Position in 2022 SPL Season : 3rd
Name of Head Coach : Gavin Lee
Home Stadium : Our Tampines Hub

2023 marks the 5th season of Gavin Lee as head coach of Tampines Rovers FC (TRFC). The 32 year old led the Stags to 3rd-place last season and finished 9 points behind SPL champions, Albirex. And for Season 28, he's managed to retain 15 local players including Yasir Hanapi, Syazwan Buhari, Firdaus Kasman and Joel Chew. They're joined by the returning Saifullah Akbar as after 5 seasons with the Young Lions and Lion City Sailors, the 23 year old attacking midfielder is back at Our Tampines Hub for his 7th campaign with the eastern giants. And Saifullah's joined by 22 year old striker Glenn Kweh, another exciting young talent who moved over from the Young Lions.
The Stags' foreign lineup includes the SPL's Golden Boot winner, Boris Kopitovic! The Montenegrin forward is back for a 4th season, after smashing in 35 goals in 28 matches in 2022. Japanese midfielder Kyoga Nakamura will feature for the 4th consecutive year for the Stags. And former Serbia Under-19 centreback Miloš Zlatković has joined the Stags' defensive ranks. The 26 year old moved to Singapore after two seasons in the Malta top division with Balzan.


YOUNG LIONS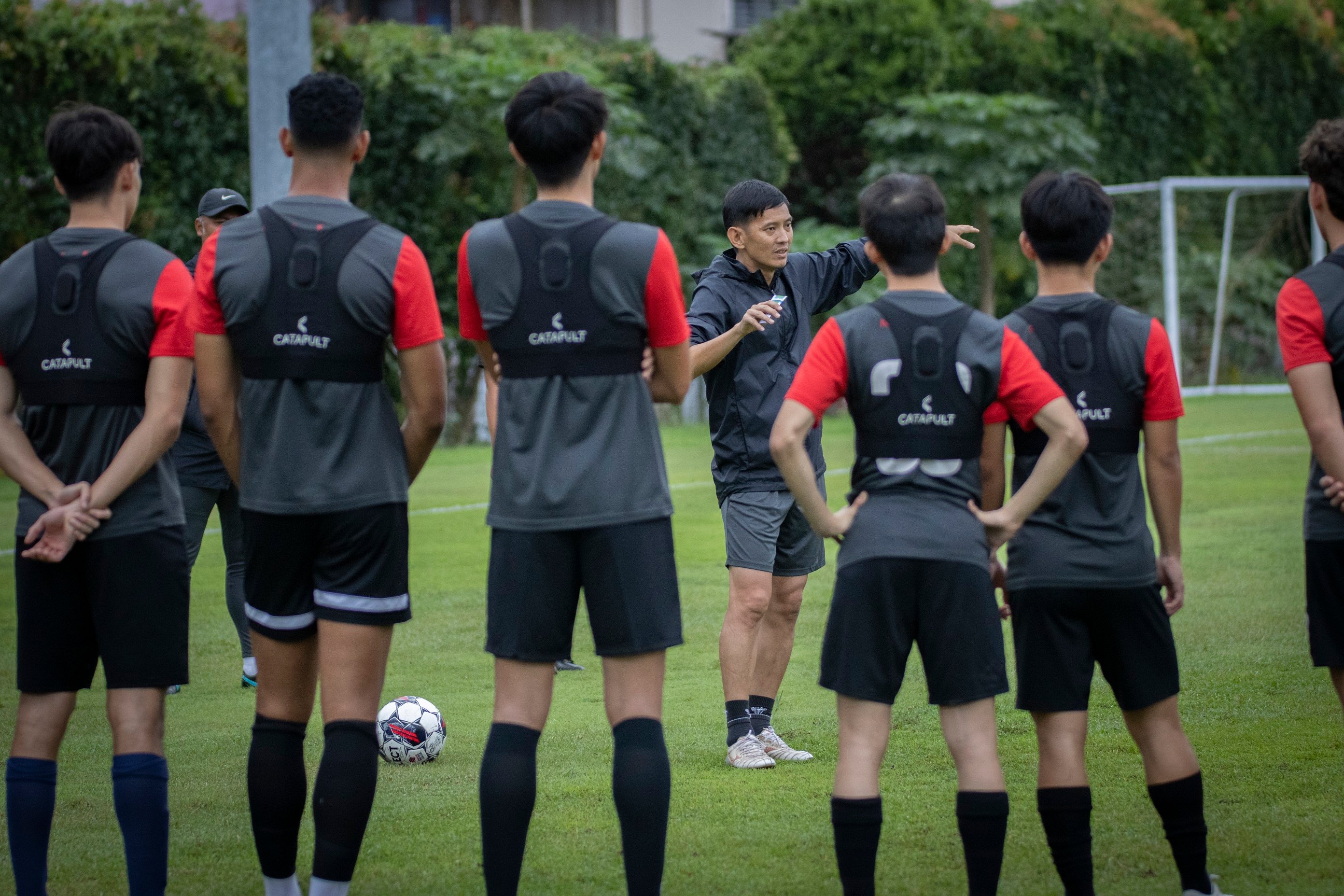 Coach Philippe Aw at a Young Lions training session in Feb 2023. Photo Credit : Football Association of Singapore
Club : Young Lions
Final Position in 2022 SPL Season : 8th
Name of Head Coach : Philippe Aw
Home Stadium : Jalan Besar Stadium

All eyes will be on Philippe Aw's coaching style of the Young Lions (YL) in his 2nd stint with the national setup. With the team comprising mainly Under-23 players who finished at the bottom of the table standings in the last 2 seasons, 45 year old Philippe is well aware of the massive challenge ahead. "This group of players is crucial for Singapore football and it is imperative that they kick on from their early promise to hopefully becoming mainstays in the national team in the years ahead," said the YL coach.
For the 2023 season, the Young Lions have been allowed to sign 3 foreign or overaged Singaporean players. And the team immediately moved in to sign former Albirex captain Jun Kobayashi and playmaker Kan Kobayashi for the upcoming season. Coach Philippe has also signed 15 new local players to replace a group of 18 from their previous 2022 campaign. The incoming cohort features 4 players from Tampines Rovers' including Ethan Pinto and others from 4 SPL clubs.
Matchweek No 1. Image Credit : Football Association of Singapore
The Community Shield - traditional season curtain-raiser - will be followed by the first Matchweek, which kicks off on 24 February. For the full season's fixtures, do check here.