S'pore's No 1 Shaheed Alam : I will train even harder and aim to play professionally on the ATP Tour!
by Circle Stories, on February 25, 2021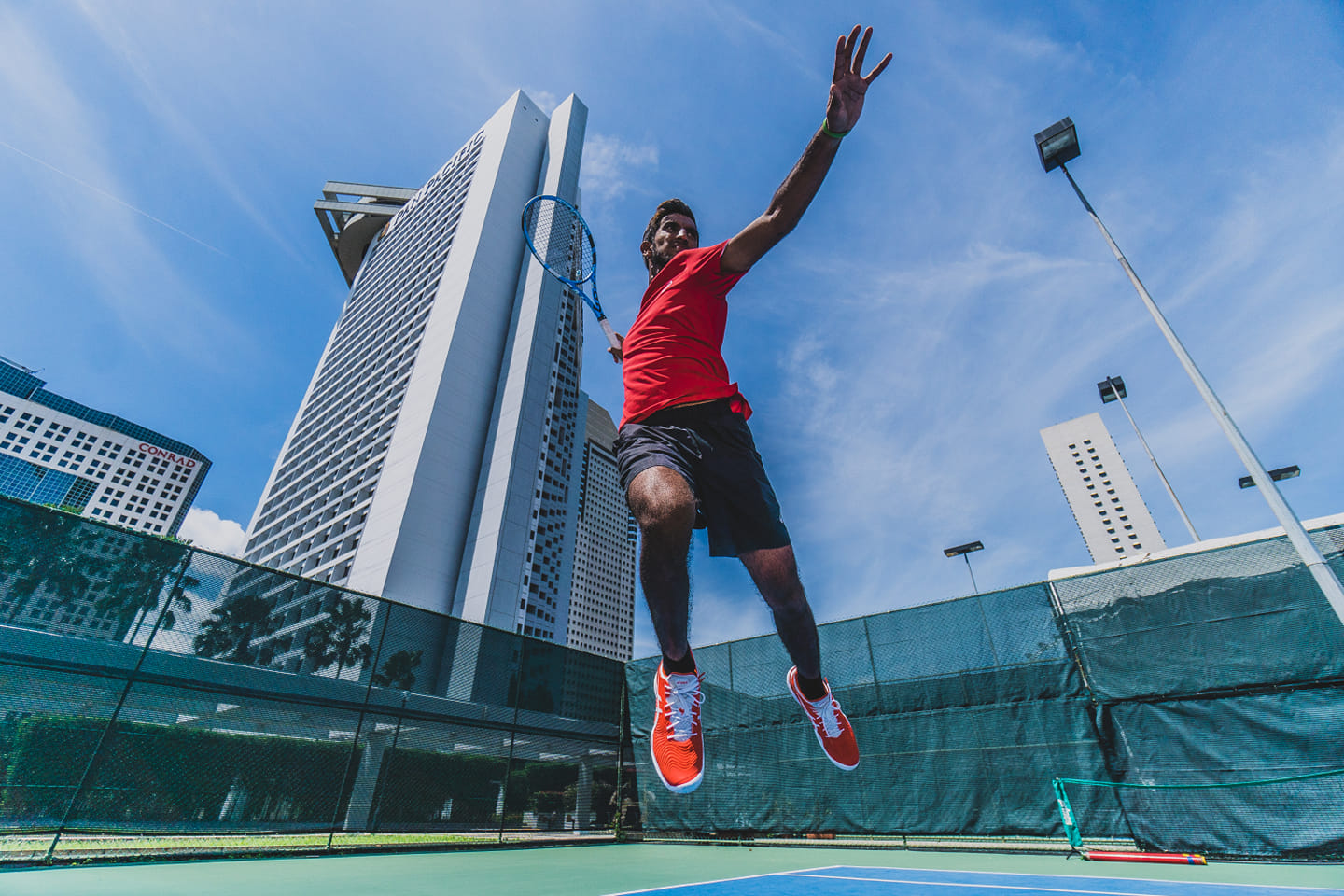 By Shaheed Alam
The ongoing US$300,000 Singapore Tennis Open is the highest level of Men's professional tennis in a while. There's been a great deal of publicity and news about this event, because of the circumstances that it's currently being held in. Marin Cilic, Adrian Mannarino, John Millman and Yoshihito Nishioka are some of the big names that took the flight to compete in this ATP250 event. And it's so rare to see world class Men's tennis action taking place in the Lion City – the last time was in 1999 when we hosted the Heineken Open which drew the likes of household names such as Michael Chang, Ivan Ljubicic, Mark Philippoussis, Lleyton Hewitt, Paradorn Srichapan, Mikael Tillstorm and others. I was less than six months old at that time, when the last Heineken Open was played at the Singapore Indoor Stadium.
Fast forward to current day though, I'm very excited to know that at least some 500 local fans will be able to watch the semi-finals and finals of the STO, this weekend at the OCBC Arena. After a week of exciting on-court action and strict monitoring of the current Covid-19 situation in the local community and even among the 200 players, officials etc who arrived in Singapore for the event, I'm glad for the organisers to have made the call to allow a selected number of fans to attend.
Fans who were unable to secure tickets though, can continue to tune in to the live coverage of the STO on meWATCH. On Sunday 28 February, fans may also catch the Singapore Tennis Open Grand Finals on Mediacorp Channel 5. Alternatively, they can watch the matches on live streaming at Hub.Tennis, and beIN Sports.
Personally, for me, I had the brilliant opportunity and privilege to be able to be a part of this tournament as a player. I received a Wildcard entry into the Qualifying event for Singles and the Main Draw for Doubles. Never would I have thought that I'll have the chance to play in this event. But when I received the call, I immediately informed my superiors (as I am currently serving NS) and they allowed me to leave slightly earlier to be able to go train. I trained as hard as possible to be in the best shape for the tournament.
When the Draw came out, I was slated to play Tunisia's Malek Jaziri, a player whom I've watched numerous times on TV competing against the likes of Novak Djokovic last year and beating Alexander Zverev a couple of years ago. Of course, I was nervous, but I was also excited to play against a former Top-50 player.
2 years ago, I competed in the Davis Cup in Singapore and the overall logistical setup at the OCBC Arena was truly fantastic. But the STO 2021 is next level stuff, for sure! Next level in terms of the WTA Finals standard, which Singapore hosted from 2014 to 2018 (I've dreamt of 1 day being able to play on the Men's ATP season-ending Finals). They had a full-on introduction with music and smoke flares as each player was introduced to the match court. I could only imagine if spectators were allowed, I'm sure the OCBC Arena would have been close to packed, as it was during the Davis Cup campaign.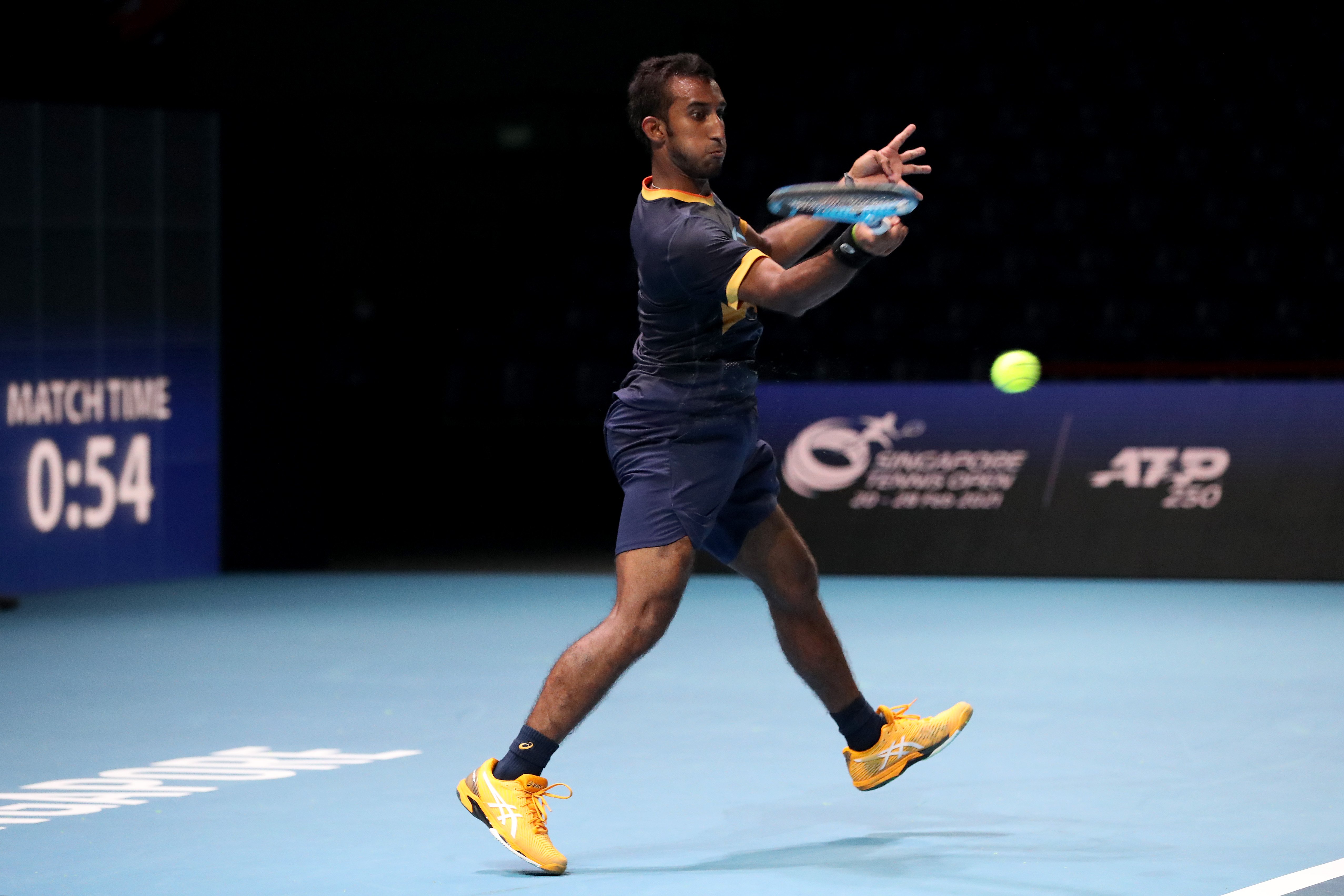 Looking back at my Singles match on the 1st day of the qualifiers a week ago, the opening set was over in about slightly less than 30 minutes with a score of 6-1 in favour of my Tunisian opponent. Of course I was nervous, anyone in my situation would be. The anxiety resulted in me not swinging through my shots as much. But as I sat down over the set break, I thought to myself, that this might be a once in a lifetime opportunity for me and I have to give it a real go!
As the umpire called "Time" (which marked the end of the break), I jogged up to the baseline and started swinging through my shots more. I managed to break Jaziri's serve once to level the scores at 3-3 in the 2nd set, by playing a much-improved game. But the wily veteran at age 37, managed to utilize his vast experience and pulled away taking the set and the match 6-1, 6-3.
No shame though, losing to a seasoned top-level Pro (19 years as a Pro), but I felt I gave a good account of myself and enjoyed the experience on my ATP Tour debut.
2 days later, I partnered my fellow compatriot Roy Hobbs and we were up against the top doubles pair of India's Sriram Balaji and Swiss Luca Margaroli. Both players were established top Professionals with Top – 150 ATP doubles ranking. We entered the match with nothing to lose and everything to gain, to be able to enjoy the experience of playing a tennis match with electronic line calls (something we could only imagine). Once again, we pushed them right to the end of the set. But the turning point of the match was at 5-5 (15-40) with Balaji serving, we had 3 chances to break his serve to serve for the first set. Unfortunately, we could not capitalise on the chances and we ended up getting broken to lose the set 5-7 which was closely fought.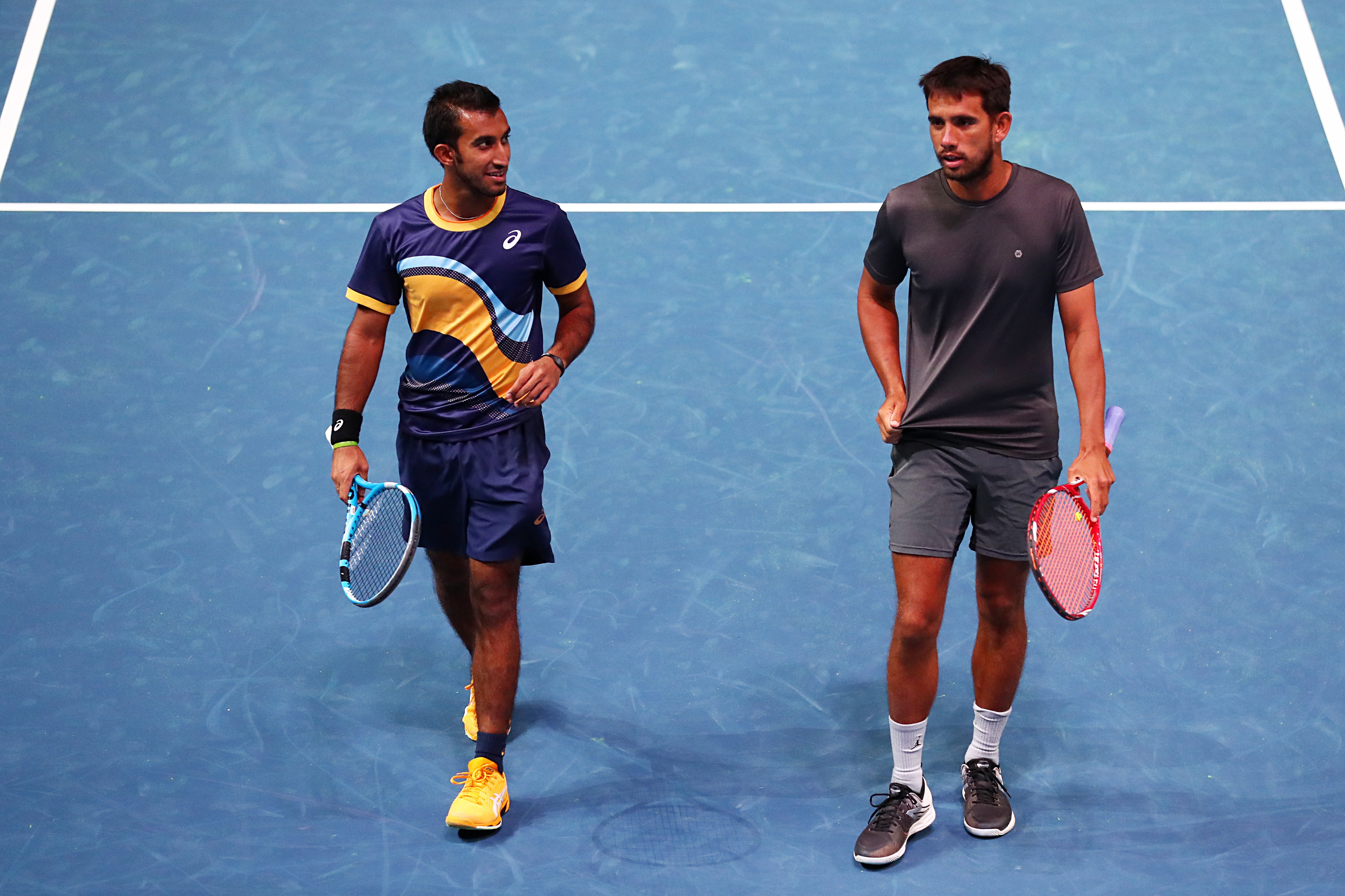 On the set break, they flashed the stats of the set and it showed that we had a break point coverage rate of 1/8 or 12.5%. Our opponents then gained confidence and ran away with the 2nd set with a score of 6-1. Once again, we put up a decent showing on court in our very first ATP Tour match appearance together. Of course, we would have hoped the results went in our favour, but considering the situation, we performed decently well.
Singapore Tennis Open 2021 was definitely an eye-opener for me to see what it's like to be considered and treated as a top tennis professional and I enjoyed every single moment of it. It gives me the motivation and determination to continue training hard, to be able to one day reach this level on my own account and without a wildcard entry. This is also why it's such an amazing opportunity for Singapore to be able to host this ATP250 tournament. The lucky ticket holders this weekend at the OCBC Arena, will get a great chance to watch some of the NextGen stars in action, knowing that a few of them, will probably go on to become global household names. Moreover, it's also a great opportunity for our own local upcoming junior players to witness firsthand, world class tennis right on our shores.
All in all, it was a fantastic opportunity plus an incredible experience for me. And I would like to thank Sport Singapore as well as the Singapore Tennis Association, for the faith they put in me to represent the nation on a world stage. It was the first taste of ATP Tennis for me and I am going to make sure I train hard and give my all so that it will not be the last!
(Edited by Raj Kumar)
Shaheed Alam is currently, Singapore's Number 1 Men's Tennis player. He became part of the national TeamSG setup at the age of 16 in 2014. And he's the first Singaporean Male ITF Junior Singles title winner. His playing resume includes 6 Davis Cup tournaments and 3 SEA Games campaigns. As the top-ranked Singaporean on the ATP Tour, he's the current holder of 12 National Titles. Shaheed's also a SportSG Ambassador and 20 Feb 2021, marked his debut at a ATP Pro Men's Tour event - the Singapore Tennis Open!
For live streams, schedules and more stories from the Singapore Tennis Open 2021, visit hub.tennis
For the latest Singapore Tennis Open updates on the go, follow us on Telegram
Related Events & Programmes