Standard Chartered Singapore Marathon 2022, sees the return to full event with competition categories
by Circle Stories, on June 21, 2022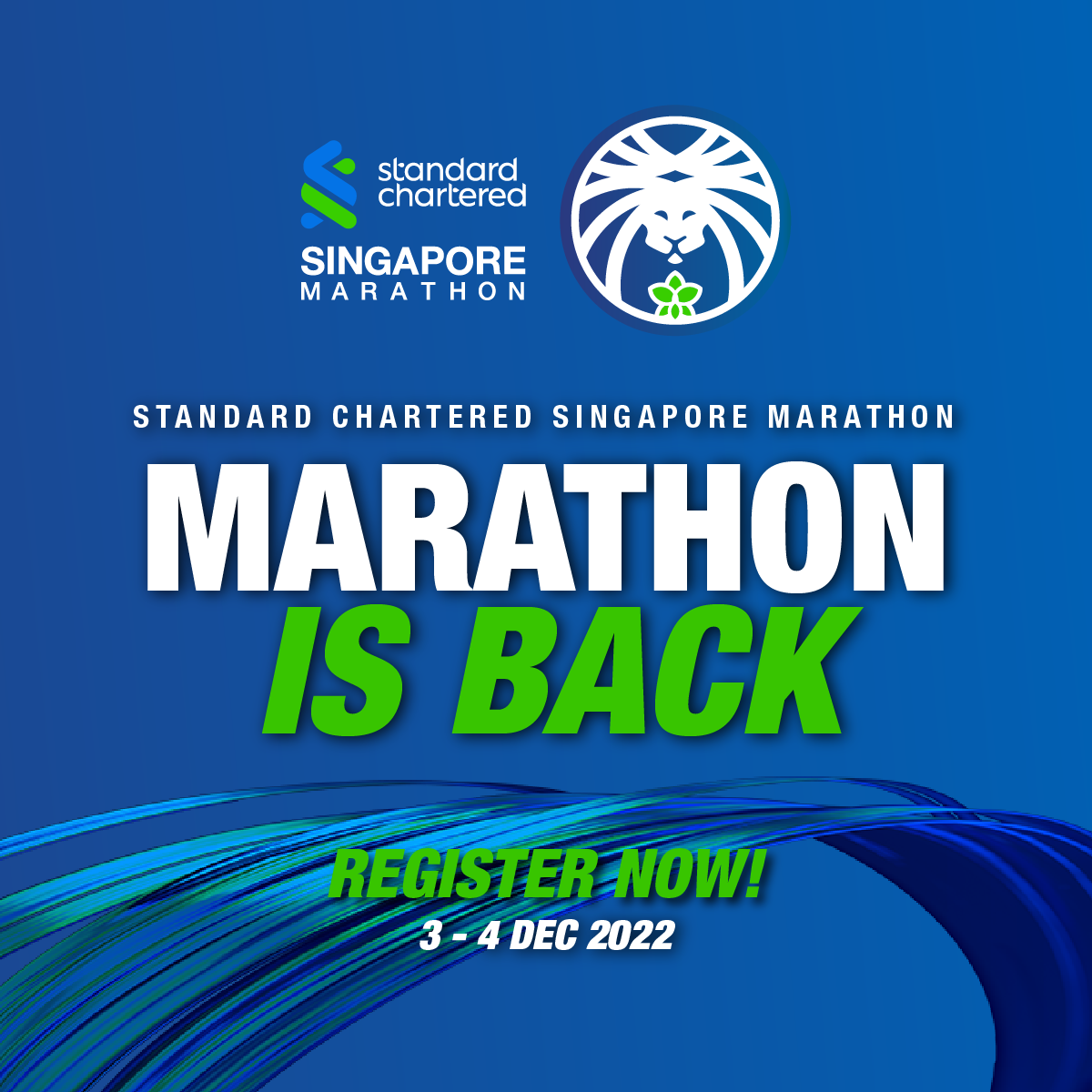 22 June 2022 – The Standard Chartered Singapore Marathon™ (SCSM), is back. With a mass start and road race format, the event returns in its true form for the first time since 2019, marking the return of the Half Marathon 21.1km and Marathon 42.195km categories to cater for more runners.
Last year's edition, the largest in-person running event held in Singapore since the COVID-19 pandemic began, saw 4,000 runners flagged off in waves of 50 – with three moving off every 10 seconds – to ensure safe distancing. In addition, only the 5km, 10km and the relay categories were held in-person to keep the participant numbers low. With events in Singapore reopening to full capacity, this year's SCSM is expected to draw up to 50,000 participants over the two-day event from 3 to 4 December.
Prevailing Safe Management Measures (SMMs) will also still be in place to safeguard the health and safety of all participants. Road closures should also be expected to provide runners an enjoyable experience running through the city once again, while ensuring that road traffic continues to run smoothly. More details on the closures are to be confirmed.
"After SCSM2021, we've been constantly monitoring the status of the pandemic in Singapore while working closely with Sport Singapore, Singapore Tourism Board (STB), Standard Chartered Bank, and all other stakeholders to determine the format for the 2022 edition. With the restrictions easing, we are delighted to be able to organise an event that our runners have grown to love year after year," said Jeff Edwards, Managing Director of Asia for The IRONMAN Group. "We have full confidence that this year's event will mark the safe return of mass participation events as we come back bigger and better than before, with more in-person race categories and a mass start."
With this year's edition back to full-scale, participants will also be able to sign up for the Double Up Challenge. With limited slots available, runners can take part in not one, but two races. They can choose to register for either the 5km or 10km category, combined with a Half Marathon 21.1km or Marathon 42.195km. Upon completion, they will receive their respective event finisher medals and an exclusive Double Up Challenge medal.
Unveiling SCSM's brand new logo
A new logo for the SCSM was unveiled to celebrate the return of a full-scale event and represents the roots of this long-standing event. The logo is fronted by two of Singapore's most famous icons: the Merlion and the Orchid. The Merlion, which celebrates its 50th birthday this year, is a Singapore icon that is featured in the new SCSM logo to signify the event's positioning as a city race. The Orchid, is known to symbolise hardiness and resilience – qualities that reflect the Singapore spirit to go beyond and achieve greatness by defying limits and boundaries. The new logo will be displayed in all key branding materials such as the race singlet, marketing collaterals and event signages.
Patrick Lee, Cluster CEO, Singapore and ASEAN Markets (Malaysia, Vietnam, Thailand and representative offices), Standard Chartered said: "Standard Chartered is proud to have been the title sponsor of Singapore's marquee running event for over 20 years. We have seen the event grow, improve and innovate over the years, and are very excited to bring back a full-scale city road race to our community here this year. The new Standard Chartered Singapore Marathon logo marks another milestone in Standard Chartered's partnership with the Singapore Marathon. We look forward to continuing the development of the Standard Chartered Singapore Marathon as a key community and sporting lifestyle event in Singapore."
Keith Tan, Chief Executive, Singapore Tourism Board added: "As we welcome more visitors back to Singapore, premier sporting events such as the Standard Chartered Singapore Marathon 2022 will reinforce our position as a leading destination for sports in the region and boost our reputation as a vibrant business and lifestyle destination. We are excited to welcome back runners from all over the world to experience the sights and sounds of our beautiful city and hope they will enjoy their time here."
Lim Teck Yin, Chief Executive Officer, Sport Singapore, shared: "Running has featured as one of Singaporeans' most popular physical activities over the years, with more people taking it up in the last two years. The welcome return of a full-scale SCSM will once again bring new and experienced runners, families and friends together to challenge themselves, train, and bond towards a year-end goal. This not only reaffirms our commitment to bring mass participation events back, but also to grow and engage the local running community, providing a world class stage for Singaporeans of all abilities to race alongside each other.
The two-day event will kick off with 5km and 10km on Saturday morning, while the Marathon 42.195km and Half Marathon 21.1km categories will flag off on Sunday morning. More details about Kids Dash, route, and race expo will be announced later.
Priority registration for SCSM2022 will be open from 23 June at 10am Singapore time to 23 June, 0959 hours for SCSM 300KM Club runners as well as Marathon 42.195km participants of SCSM2019. Public registration will begin on 24 June at 1000hours Singapore time. Standard Chartered cardholders can enjoy a 15% discount. Corporate rates are also available upon request. For more information, please visit www.singaporemarathon.com.