Standard Chartered Singapore Marathon 2023, to Finish at Iconic National Stadium for the First Time!
by ActiveSG Circle, on July 13, 2023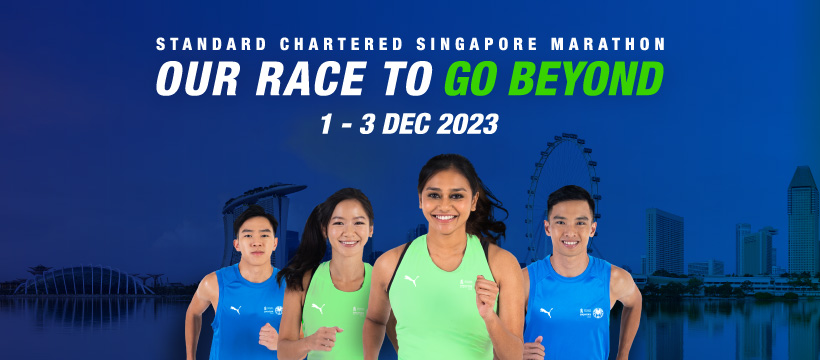 The Standard Chartered Singapore Marathon (SCSM) has announced that race participants of SCSM2023 will begin their run at the F1 Pit Building before finishing on the running track of the iconic National Stadium. This will mark the first time in the event's history that runners will cross the finish line at the 55,000-capacity venue, which is Singapore's centerpiece for sporting, entertainment, lifestyle, and national events.
The event's finish line was previously located at The Float @ Marina Bay, which is currently undergoing redevelopment to become a permanent venue known as NS Square. This year, runners can expect a different race route and an enhanced finish experience, with several fun-filled and family-friendly activities to be held in the stadium, and the Singapore Sports Hub vicinity.
Beyond the prestige of finishing at the National Stadium, the new venue will offer participants numerous post-race enhancements. Participants will have easy access to the National Stadium, Kallang Wave Mall, as well as the Stadium MRT station for easy departure upon conclusion of their race. Along with the finish being sheltered, the National Stadium will also be full of activities and festivities, creating an incomparable, brand-new race experience that will be supported by race partners. The partners that have confirmed their support include Standard Chartered Bank, Sport Singapore, Singapore Tourism Board, Tata Consultancy Services, PUMA, Seiko, Oatside, and 5-Hour Energy, with more partners to be announced closer to the race date.
The Singapore Sports Hub will be the home ground for all SCSM Training and Pacer Runs which are open to the public, with sessions aimed at assisting participants of SCSM and the wider community train for long-distance running and achieve their fitness goals. The Training Run sessions will begin in mid September. More information on the sessions will be shared once details are confirmed.
Roy Teo, Chief of Industry Development, Technology and Innovation Group at Sport Singapore shared, "SportSG continues to partner our stakeholders to keep our sporting calendar vibrant. SCSM is a marquee event in our calendar and has consistently attracted runners from all walks of life. This year, the organisers have planned the run's finish line at our iconic National Stadium for the first time in SCSM's history. We look forward to welcoming runners and supporters into the heart of our Singapore Sports Hub."
Race entries opened to the public on 27 April and are selling at a strong pace. Tier 1 pricing for the Marathon, Half Marathon, and 10KM race categories have sold out while limited slots are available for Tier 2 pricing. To secure the best price for an unforgettable experience, race organisers urge all interested participants to register as soon as possible.
To register and for more information, please visit here