Star-studded Lion City Sailors worked overtime to beat resilient Young Lions 1-0!
by Circle Stories, on April 6, 2022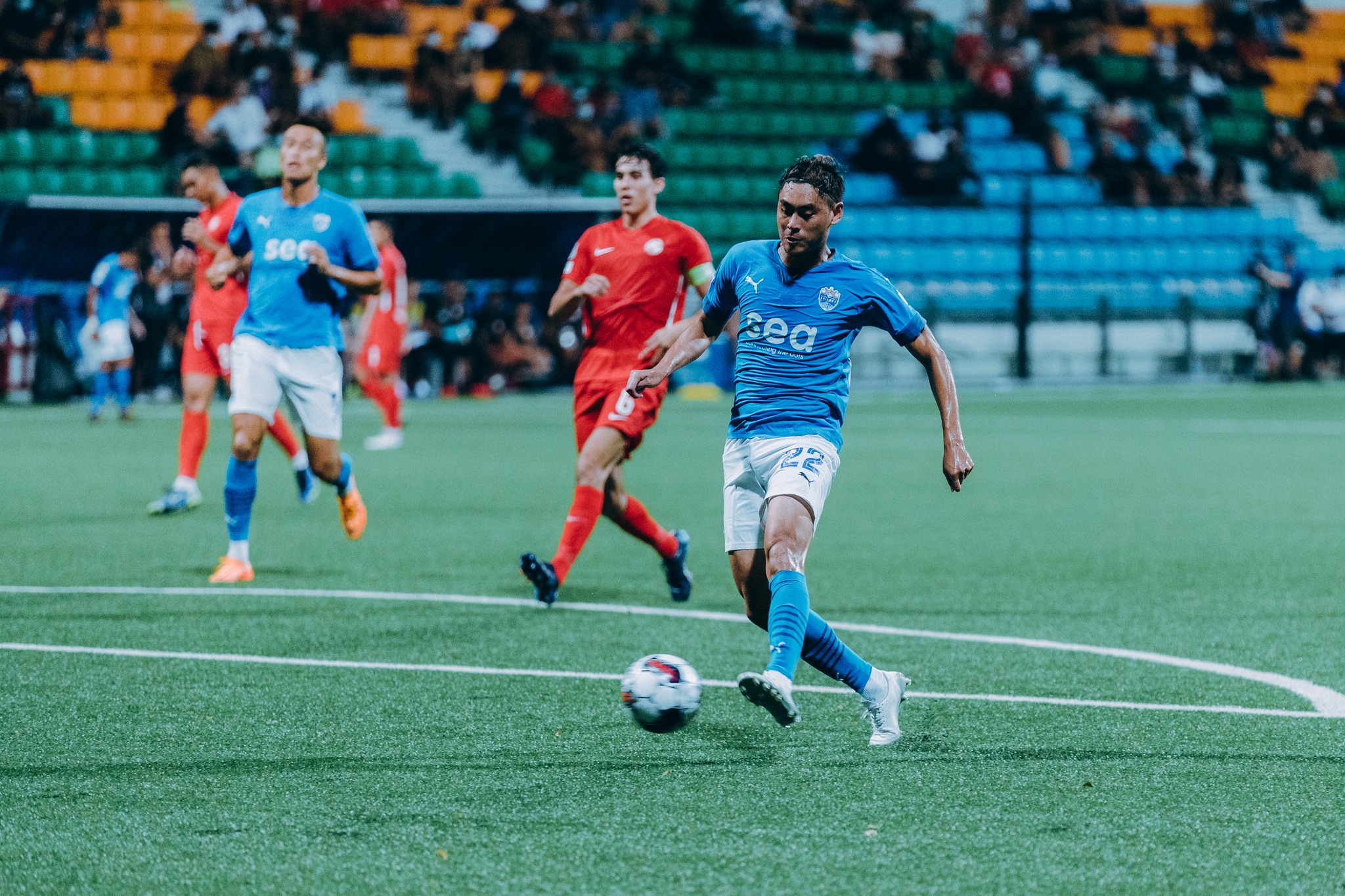 (LCS' Gabriel Quak with the ball. Photo Credit : Lion City Sailors FC)
By Chia Han Keong
6 match-weeks into the Singapore Premier League (SPL), and defending champions Lion City Sailors are back on top of the table. And ominously for their rivals, they have barely gone past their second gears for much of the young season.
On Wednesday (Apr 6), a solitary goal by Gabriel Quak against a gallant Young Lions was enough to give the Sailors their 4th win of the season - the most of any SPL side. Yet, while they dominated possession in the 1-0 victory, they hardly battered their bottom-placed opponents - only 3 of their 12 goal attempts were on target.
Yet, they did just enough to collect all 3 points, and even though previous league leaders Tanjong Pagar United managed to salvage a 3-3 draw after going 0-3 down to Tampines Rovers at Our Tampines Hub, it was not enough to prevent the Sailors from overtaking them at the top of the table.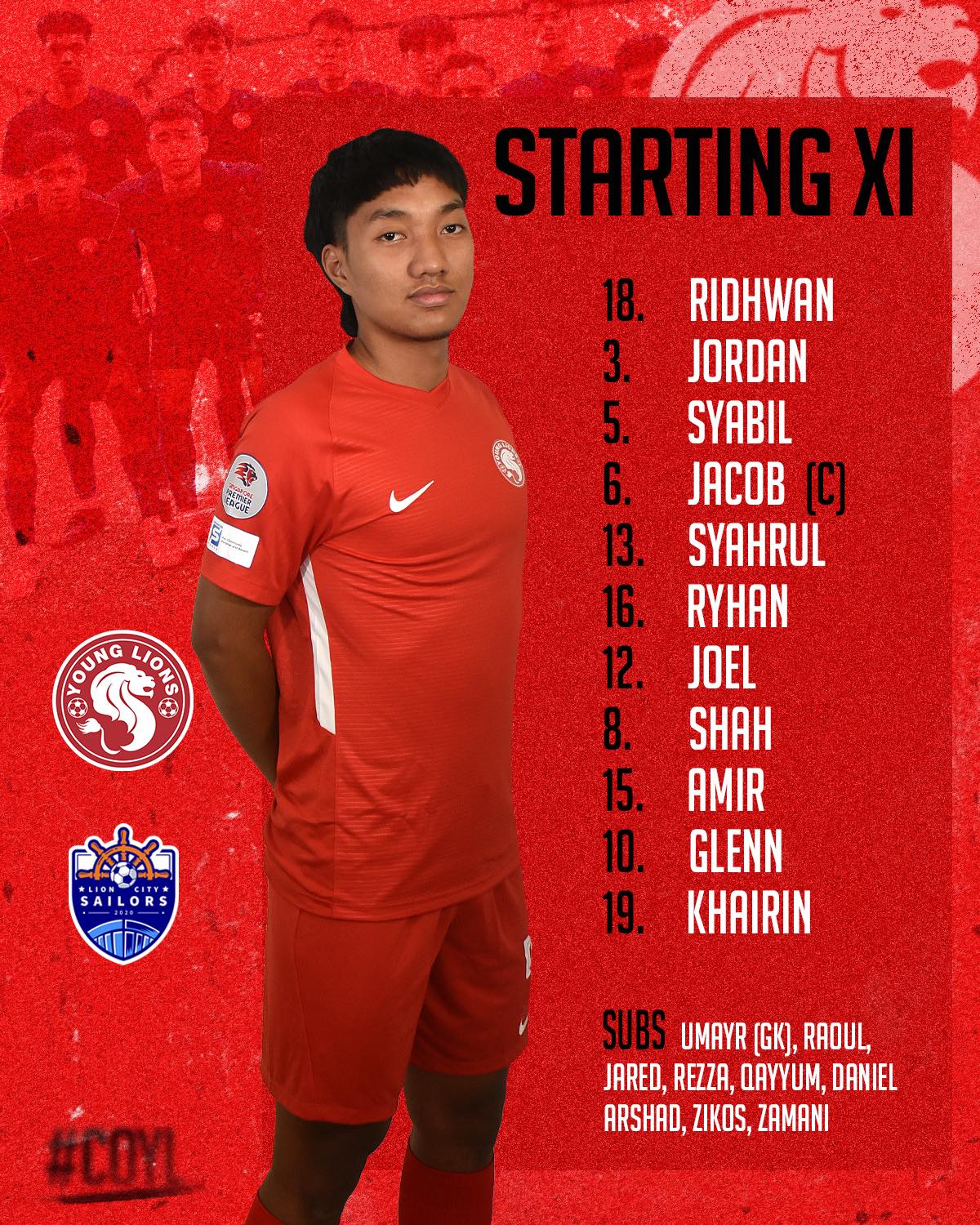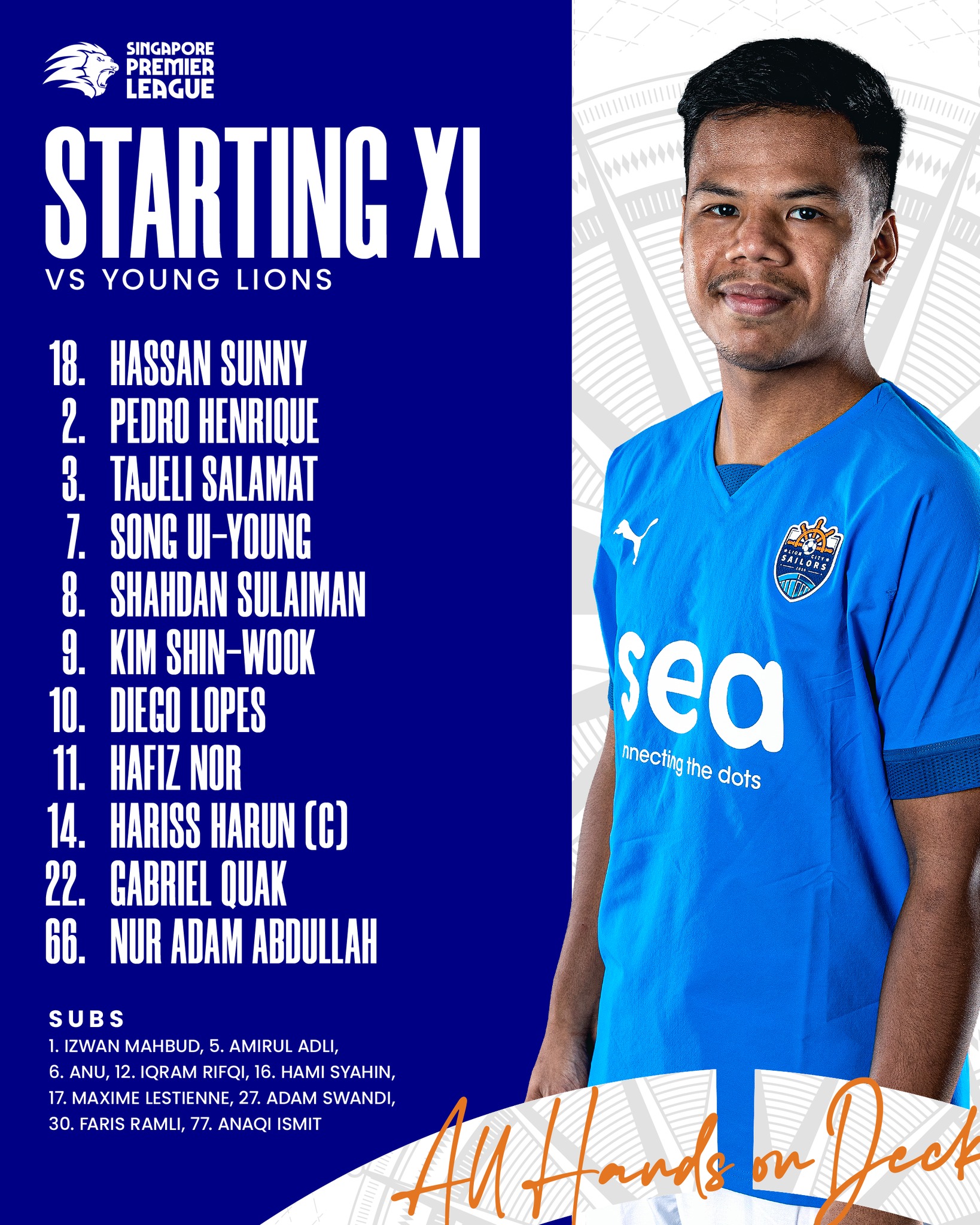 One could sense that Sailors coach Kim Do-hoon may be trying to save his players' legs for the expanded 28-game season, as he has rotated his starting line-up frequently. With the Sailors about to embark on their AFC Champion League campaign next week - when they will play a gruelling 6 group-stage matches in 15 days in Buriram, Thailand - it is perhaps understandable that the Sailors players were content to play out a narrow win rather than go all out to pile on the goals.
A rout had looked likely when the team sheets came out. The Sailors fielded a strong starting line-up with imposing Korean striker Kim Shin-wook - who already has 5 league goals - leading the front line with Singapore internationals Quak, Hafiz Nor and Song Ui-young just behind him.
The Young Lions, on the other hand, were missing injured striker Ilhan Fandi as they sought to earn their first points of the season on their 4th try.
Both sides had early chances to score. As early as the 4th minute, the Sailors' Shahdan Sulaiman latched onto a smart lay-off by Kim to surge into the box. However, his stinging shot was deflected by Young Lions goalkeeper Ridhwan Fikri onto the left goalpost and bounced out.
8 minutes later, Sailors and Singapore international goalkeeper Hassan Sunny inexplicably directed a clearance straight at Joel Chew. From about 25 metres out, the Young Lions midfielder tried a quick lob, but Hassan saved his own blushes by just managing to tip the goalbound ball over the bar.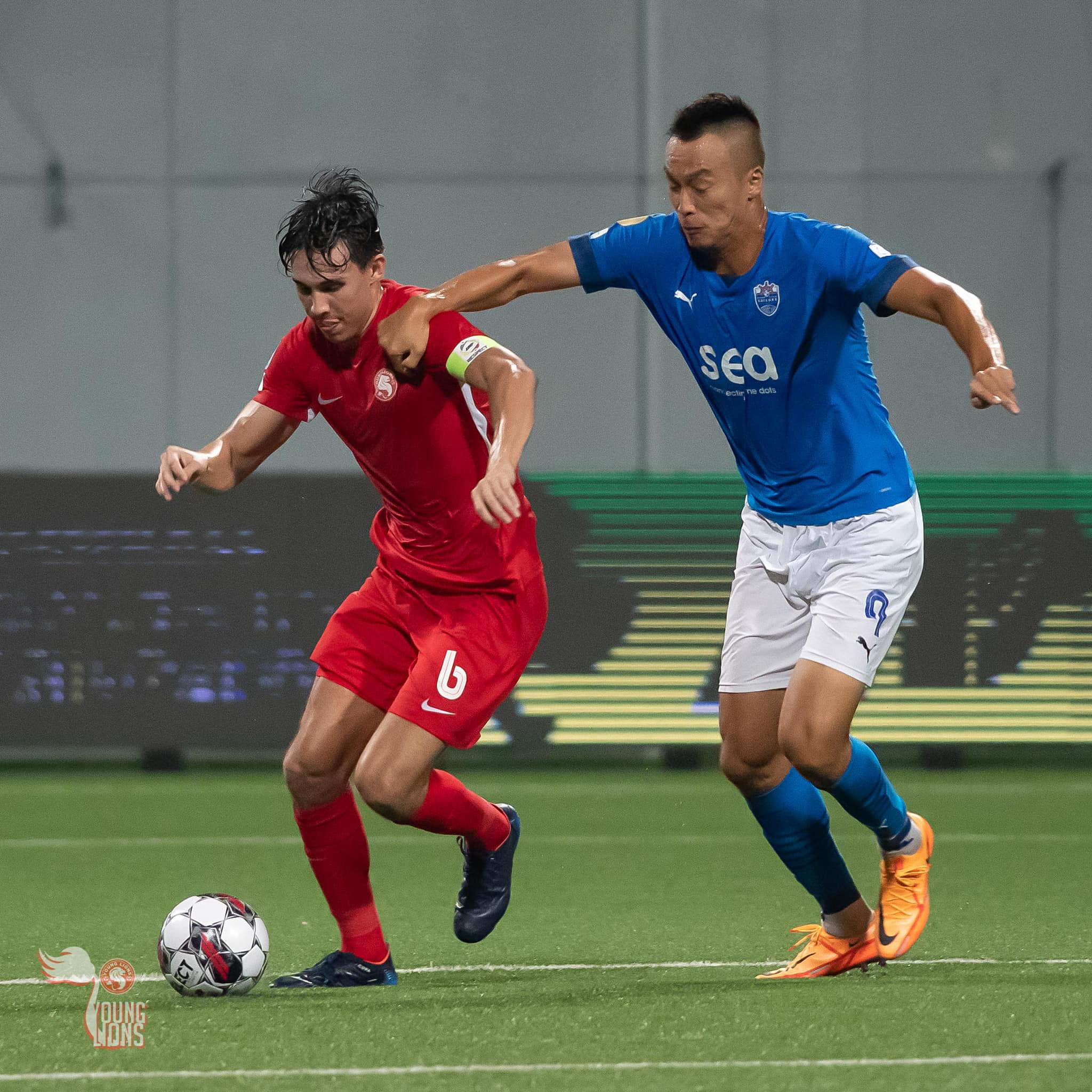 (Young Lions' Jacob Mahler with the ball and pressured by Kim. Photo Credit : Young Lions FC)
As much as the Young Lions were not overawed by their opponents, the Sailors were patient and confident that they could count on numerous match winners on their side to put away any half-chances that came their way. And that was precisely how they went ahead in the 15th minute. When Hafiz's cross came in from the left flank, Song's first-time shot was blocked by the defence, but as the Young Lions hesitated for a split-second, up came Quak to regain possession.
The mercurial forward immediately hit a speculative shot that had accuracy but seemed to lack power, yet it was just enough to elude Ridhwan's desperate dive and nestle into the bottom right corner of the net, as the Young Lions threw their hands up in disgust at letting in a soft goal.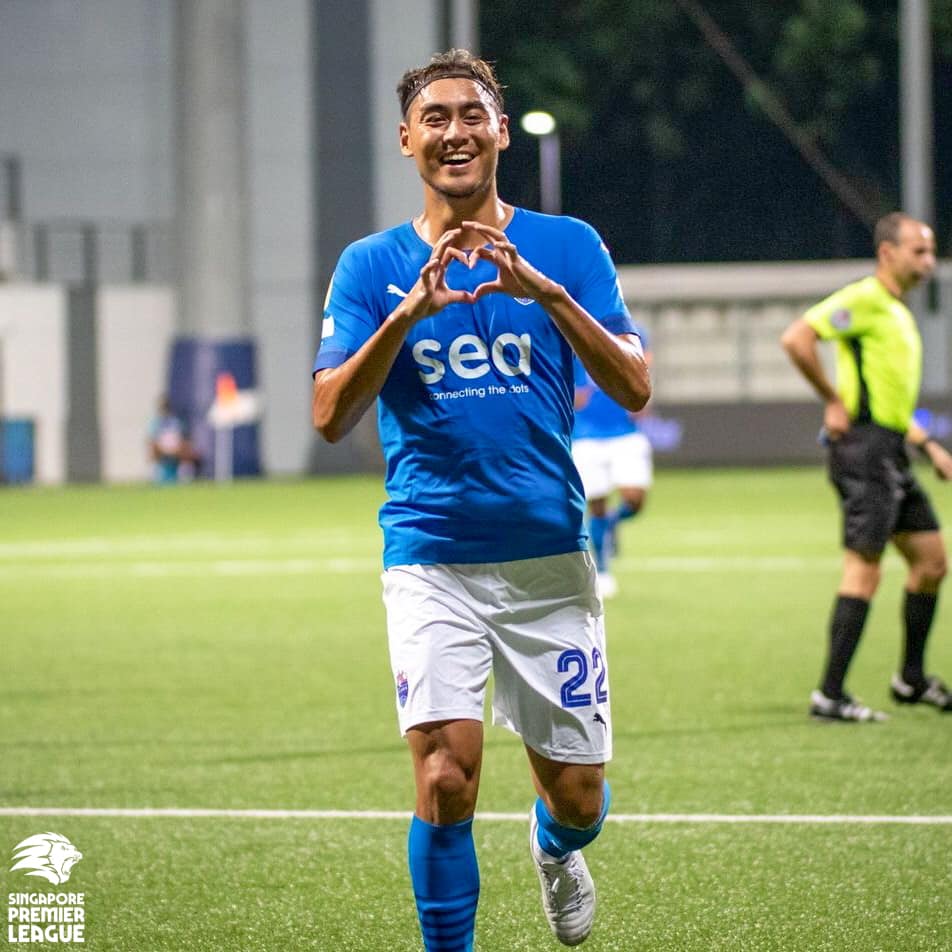 (LCS' Gabriel Quak celebrates after scoring. Photo Credit : Lion City Sailors FC)
What ensued in the remaining 75-odd minutes was either astute game management by the Sailors, or a struggle against a limited but stubborn opposition, depending on your point of view. While the Sailors were comfortable in possession and in fending off the Young Lions' offence, they were lacklustre in creating clear-cut chances up front.
This resulted in a lukewarm match that failed to build upon the early goal. The Young Lions had several half-chances at goal, but the closest they got was when Glenn Kweh spun and shot just wide from outside the penalty box in the 73rd minute. Meanwhile, the Sailors' most expensive signing Diego Lopes somehow managed to miss a glorious opportunity in the 89th minute, when he raced in unmarked to latch onto a pass by substitute M. Anumanthan but, with only Ridhwan to beat, slammed his shot against the post.
The Young Lions could have snatched a stoppage-time equaliser, but Hassan managed to palm away Jacob Mahler's deft shot from a corner, allowing the Sailors to breathe a sigh of relief - and enjoy their moment as league leaders when the final whistle blew.
They will play 1 more SPL match before heading off to Thailand for the AFC Champions League competition – and it is a mouth-watering, top-of-the-table clash with Tanjong Pagar United at Jalan Besar Stadium on Saturday.
Meanwhile, the Young Lions will seek to break their SPL duck on Sunday, when they face struggling Hougang United, who are one spot above them in the league table.
Chia Han Keong is a veteran journalist who has covered both Singapore and international sports extensively for the past 19 years. He was the sports editor of bilingual tabloid My Paper, and has also worked for The Straits Times and Yahoo News Singapore. He has covered four SEA Games (2009, 2011, 2013, 2019), two Asian Games (2010, 2014) as well as the 2008 Beijing Summer Olympics and the Tokyo 2020 Olympiad. He counts himself as a massive Liverpool, LA Lakers and Rafael Nadal fan.