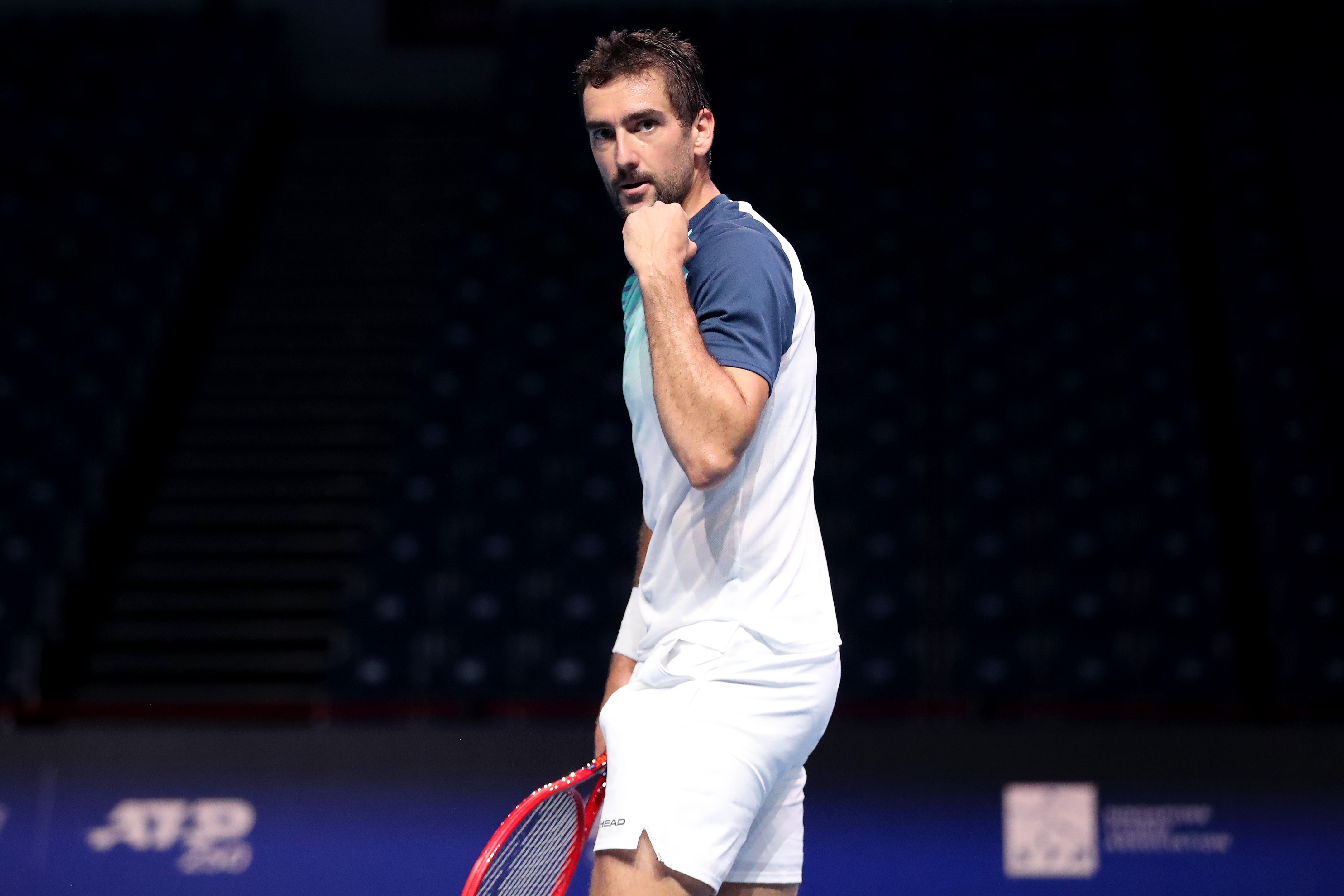 By Dillon Lim
In the 2nd singles match on Centre Court on Day 3 of the Singapore Tennis Open, Croatian 3rd seed Marin Cilic, opened his campaign against Japan's Taro Daniel. Cilic, the 2014 US Open champion and 2-time grand slam finalist, seeks his 9th career ATP Tour indoor title. On the other side of the net, Daniel looks to build on his first win over Ramkumar Ramanathan on Monday at the OCBC Arena, after losing his last 6 tour level matches since 2020 in Pune.
In the first set, after holding serve easily in the opening game, Daniel seemed to be off to an early lead when he found himself with 2 break points, after Cilic shanked a forehand and an overhead smash. However, the Croat swiftly saved both break points, moving the ball from side to side, before winning the game with a forehand winner off a short return. The former world number 3 seemed to have found his rhythm after a shaky start and mistiming his shots, as he hit a running forehand crosscourt passing shot, to have a look at a break point opportunity.
Cilic then drew first blood by breaking on his second break point to lead 2-1. After holding serve and racing to a 3-1 lead, the 32 year old looked to be in control when he hit some deep groundstrokes to get errors from the Japanese and set up another break point. Daniel stood his ground and fought back to prevent a second service break. Cilic, now playing with confidence and controlled aggression, started the 6th game of the match by taking the ball very early and ripping a backhand down the line winner. He continued his big striking with an inside out forehand winner behind a 210km/h first serve to lead 4-2.
After a quick service hold, Daniel looked to have turned things around by setting himself up with 2 break points on the Cilic serve. The 28 year old played low risk tennis and an unforced error from Cilic's backhand gave Daniel the break, which brought the match back on serve at 4-4. The 3rd seed seemed to bounce right back, showing his amazing touch when hitting a lob over his opponent to go 0-30 up Daniel's serve. Staying calm and maintaining his composure, the Japanese fought back to hold serve, winning his 3rd consecutive game. The 2014 US Open champion, then held serve in a tight service game, where Daniel climbed back to 40-40 from 0-40, to level the match at 5-5. The Croat pulverized a forehand return at 15-30 the next game to give himself 2 break points, before the Japanese completely mishit a forehand into the stands, giving Cilic the break. A perfectly timed backhand winner gave the 3rd seed 3 set points. The big-serving Croat converted it on the first, with an unreturned serve, to close out the opening set 7-5 in 55 minutes.
Both players started the 2nd set strongly by holding their serves to love quickly, bringing the score to 2-2 in just 11 minutes. Cilic hit a clean forehand winner at 2-2 (0-40) on Daniel's serve to break the streak of love games, but an ace from the Japanese quickly gave him the hold to lead 3-2. The very next game, Daniel put Cilic under pressure by going 0-30 up, but the Croat won 4 straight points to keep the set on serve at 3-3. In another tough service game at 3-4, Cilic used his serve to get him out of trouble by hitting his 10th ace and a forehand error from Daniel in the next point gave the Croat the game.
The next game had 3 deuces with both players displaying high quality tennis and showcasing excellent shot making. However, it was Cilic who went a gear higher and came out on top. The Croat played patient tennis and did not seem to miss, before breaking his opponent's serve at the first time of asking. Serving for the match at 5-4, the 3rd seed took it up a notch and fired a big unreturned serve and 2 consecutive aces, to give himself 3 match points. He closed the match with a forehand winner on his 3rd match point, 7-5, 6-4 in 1 hour and 41 minutes. Cilic hit 12 aces and converted 3/5 break points en route to victory.
After winning his first match of 2021, Marin Cilic will face either South Korea's Kwon Soon-woo or Japan's Yasutaka Uchiyami in the quarterfinals.
(Edited by Raj Kumar)
Dillon Lim is in his final year of university. He enjoys playing tennis and has been in love with the game since he was a kid. The 23 year old used to play competitively for Raffles Institution and was in the junior national training squad before leaving to study in the UK. And he still plays for his current university. Off the court, Dillon enjoys watching tennis matches and always keeps up with the very latest tournaments.
**In case you missed this exciting match, we've got you covered! Just click HERE to watch the full match (Marin Cilic vs Taro Daniel)
For live streams, schedules and more stories from the Singapore Tennis Open 2021, visit hub.tennis
For the latest Singapore Tennis Open updates on the go, follow us on Telegram
Related Events & Programmes