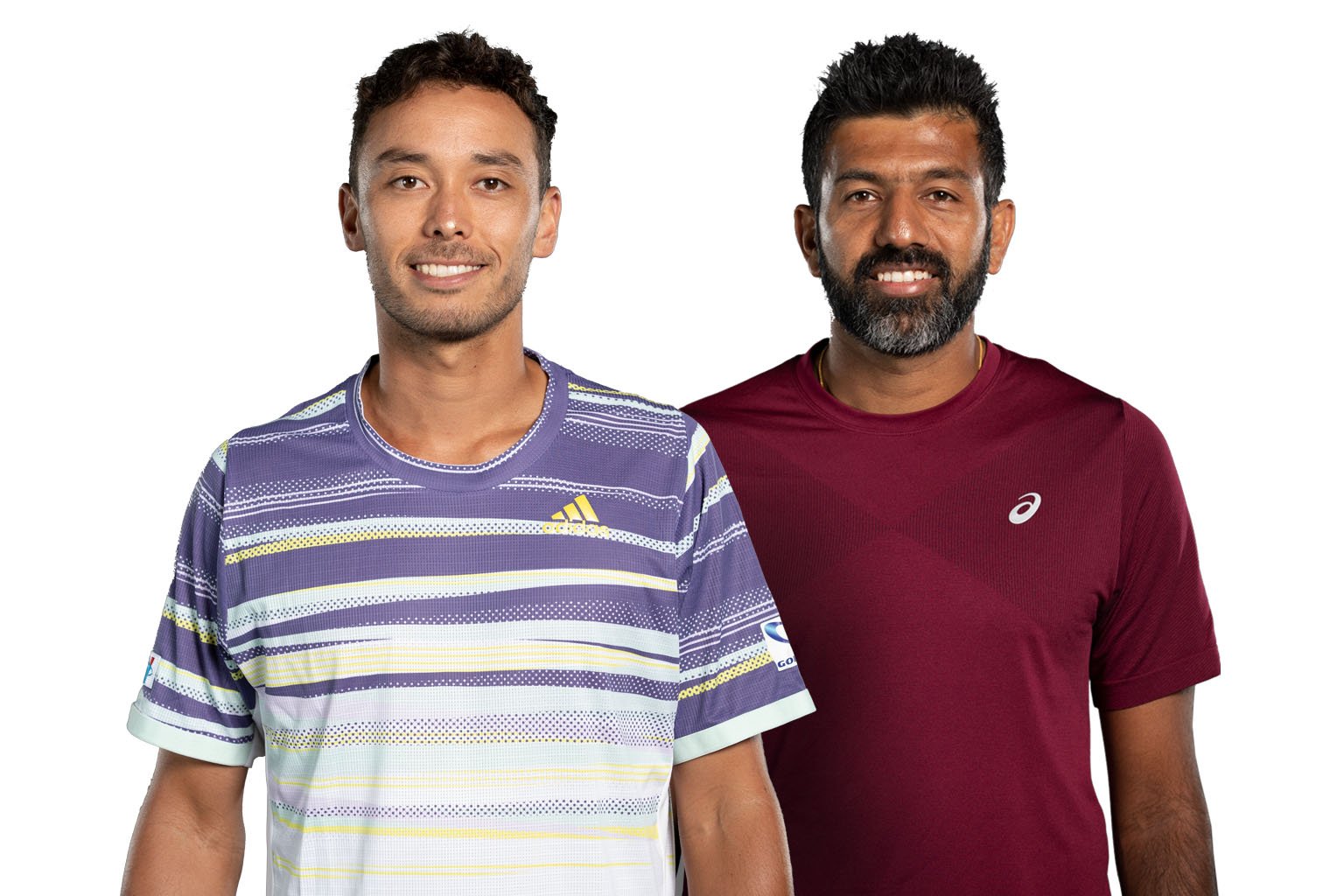 By Lynelle Lim
Rohan Bopanna is a 41-year-old professional tennis player from India, who is currently ranked #38 in doubles by the ATP Tour (Association of Tennis Professionals) and has achieved a career high ranking of #3 which was obtained in 2013. He was born in Bangalore, India, and still resides there. Bopanna is a right-handed player with a one-handed backhand. Standing at 1.93m (6 ft 3 in), his height certainly gives him an extra advantage in serving and to cover the court for doubles. Although he is known to be a doubles specialist, the Indian player has also played Singles before and achieved a career high ranking of #213. Bopanna has been a key member of the Davis Cup team representing India since 2002. The 41-year-old is the fourth ever Indian player to win a Grand Slam title when he took the 2017 Roland Garros Mixed-doubles title home while partnering Canada's Gabriela Dabrowski.
Ben McLachlan is a 29-year-old professional tennis player from New Zealand. However, he now represents Japan, as he switched his citizenship because his mother is Japanese. The 29-year-old was born in Queenstown, New Zealand, and currently resides there as well. McLachlan is currently world ranked #48 in doubles and has achieved a career high ranking of #18 which was obtained in 2018. He is a right-handed player, also with a one-handed backhand. Standing at 1.88m (6 ft 2 in), the Japanese has rock-solid volleys and an amazing return of serve. The Japanese is also known to be a doubles specialist and has played a big part in representing team Japan for the Davis Cup and the ATP Cup.
The new partnership between Bopanna and McLachlan came about at the 2021 Australian Open, after both players' initial partners had to pull out of the tournament. Due to the mandatory two weeks quarantine in Melbourne, Bopanna and McLachlan did not have a chance to get much court time, let alone practice with each other and work on their tactics together so their partnership is still raw. The Indo-Japanese pair just fell short 4-6, 6-7 (0) to the Korean duo who had gotten a wildcard for the tournament Down Under in the first round.
With that being said, the early exit gave Bopanna and McLachlan more time to practice their game and strategies together while working on their chemistry. The fresh pair can take the time to get more familiar with each other's game and playing styles, as well as to forge a stronger collaboration before the start of their tournament here at the Singapore Tennis Open, held at the OCBC Arena in the Singapore Sports Hub.
Bopanna is also participating in the Singles event in the qualifying draw which could be quite a big advantage to him as he will be more adapted to the court surface and new conditions. I strongly believe that the pair will find a way to dig deep in the upcoming week by using their huge serves and reliable volleys to trouble their opponents under the unfamiliar conditions. With much anticipation, I would like to see a successful partnership between Bopanna and McLachlan. It would be nice to see the pair pick up some points and improve their rankings respectively.
(Written by Lynelle Lim and Edited by Raj Kumar)
Lynelle Lim is a full-time tennis player and part of the national Team Singapore setup. She's represented the Republic in various prestigious and renowned events such as the Federation Cup, WTA Future Stars, as well as the 2019 SEA Games. At the age of 13, she made the decision to take a route less familiar because she had an extremely strong desire to become a competitive tennis player. And today, Lynelle feels proud and fortunate to say that tennis has given her a great deal, and it's taught her so much more than she could ever imagine. Aged 20 and watching the game from a different perspective, she's looking forward to writing about the Singapore Tennis Open, featuring world class players from the Men's ATP Tour!
For live streams, schedules and more stories from the Singapore Tennis Open 2021, visit hub.tennis
For the latest Singapore Tennis Open updates on the go, follow us on Telegram
Related Events & Programmes