Super League Triathlon returns to Singapore, with first-ever Triathlon Esports World Championship Series!
by Circle Stories, on January 18, 2022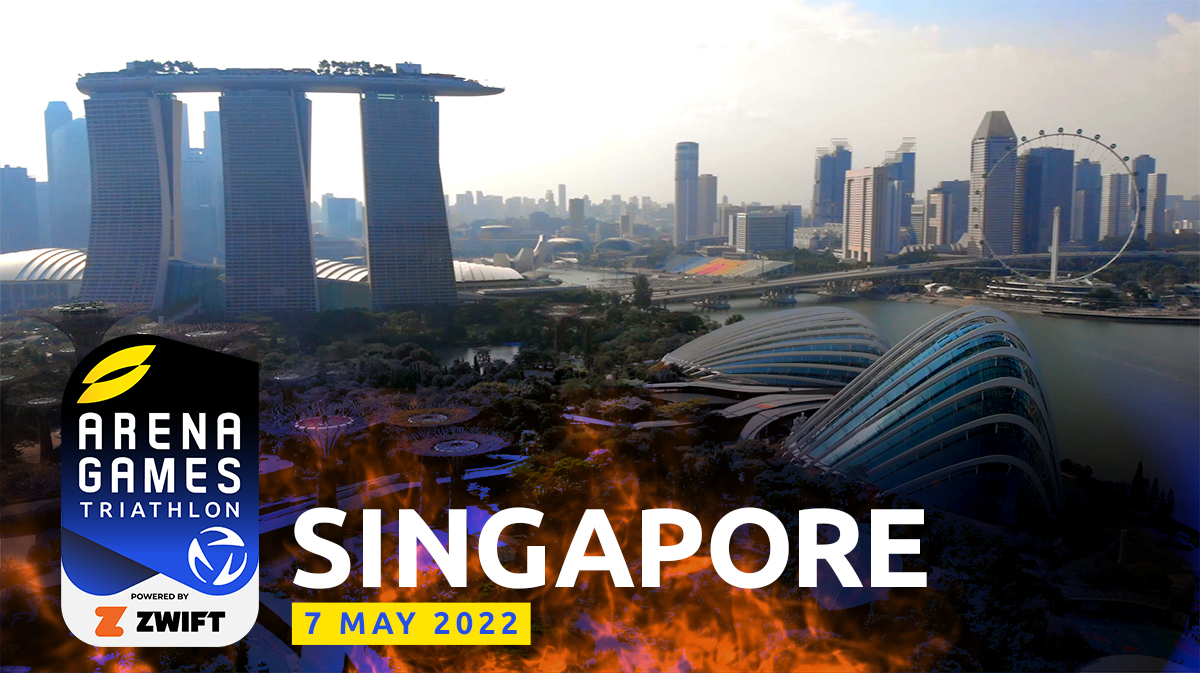 SINGAPORE, 18 January 2022 – Super League Triathlon (SLT) will adopt a new format when the action returns to Singapore later this year. Singapore has been selected as the host city for the Grand Final of the Arena Games Triathlon powered by Zwift, a global esports World Championship series, on 7 and 8 May.
The event organisers and the relevant authorities are in discussion on the details for staging the event safely in accordance with Singapore's prevailing safe management measures. The series, which will feature real-life and virtual racing action, was launched after a groundbreaking partnership between SLT and international governing body World Triathlon. The series kicks off in Munich, Germany and will move to London, before its grand finale in Singapore.
Arena Games Triathlon 2022 Locations:
9th April 2022: Munich, Germany at Olympia-Schwimmhalle

23rd April 2022: London, UK at London Aquatics Centre

7th May 2022: Singapore Grand Final
Super League Triathlon's inaugural season started in September 2018, with the series finale held in the Lion City. The Singapore stop, which took place in February 2019, saw 2 days of action-packed races whose highlights included overall champion Vincent Luis staging a remarkable comeback to recover from a flat tyre and clinch the title.
The Arena Games Triathlon (AGT), which made its debut in Rotterdam in 2020, is a trailblazing concept pioneered by SLT, grown from an ambition to drive competitive triathlon throughout the global pandemic. In 2021, the first multi-city version of the Games took place in Rotterdam and London, featuring 3-time Olympic medallist Jonathan Brownlee and European champion Beth Potter among the field of competitors. Fans can expect a bigger and better experience next year, boosted by SLT's recent partnership with World Triathlon.
The swim leg of the AGT will see the triathletes take to the water, while the bike and run disciplines are completed on smart trainers and self-powered curved treadmills with the power and speed of the athletes turned into a visual race via Zwift's online platform. This combination of real-life and virtual racing, provides an immersive viewing experience that allows fans to get up close and personal with the best triathletes in the world without having to leave the comfort of their seat.
The AGT also gives Esports fans and lovers of sports statistics, the chance to enjoy live data from the athletes in real time. Born in the COVID era but promising a new generation of stars, the Arena Games Triathlon is the future of indoor racing.
Each stop of the event will contribute points to the WT World Ranking, and the athletes who collect the most points over the course of the series will be awarded the first-ever triathlon esport World Titles in Singapore. All 3 venues will see the return of fast and furious elite racing, offering an incredible spectator experience for the fans.
"We are delighted to welcome these 3 amazing cities to our roster of hosts, and to end our season in Singapore. This is a great line-up of events for our 2022 season, with our three host cities each boasting a strong and unique sporting culture, experience at the Olympics and expertise in organising high quality sporting events. I am sure that both athletes and fans will enjoy it. We look forward to watching the action," said World Triathlon President and IOC Member, Marisol Casado.
"We have continued to innovate during the pandemic, and the pinnacle of that is our Arena Games Triathlon. Following our recently-announced partnership with World Triathlon, we're very excited to see this event come together at these iconic locations! This series will be a milestone in the history of triathlon, and these venues are great places to mark this significant step," said Michael D'hulst, CEO and co-founder of Super League Triathlon.
"Singapore was an impressive host during SLT's debut season, staging a superb finale in February 2019 with top-class facilities and organisation. We are happy to be back again to bring the Arena Games Triathlon to our friends in Singapore, and are confident that you will have a good time being a part of the experience."
World Triathlon and Super League will collaborate on all aspects of Arena Games Triathlon powered by Zwift, including scheduling, participating athletes, involvement of national federations, promotion, broadcasters, host venues and amplifying the reach of the events. The first series will be announced shortly, with the first official World Champions set to be crowned in 2022.