TTX (Outdoor Table Tennis) in Singapore, attracts players of all ages
by Circle Stories, on April 25, 2021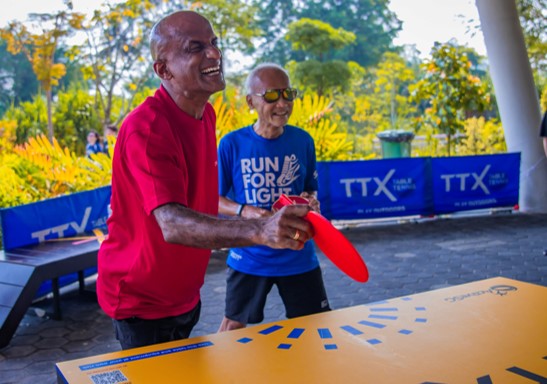 It's been 5 years since the official global launch of Table Tennis X (TTX) by the International Table Tennis Federation. The new way of playing table tennis outdoors was initially aimed at the youth market in mind, making the sport more trendy, hip and cool. But over the years, TTX has rapidly evolved to also attract senior enthusiasts as well.
So what exactly is TTX? Some of the finer points of the game are listed below :
TTX is a modified way of playing table tennis that recreational players can enjoy.
TTX balls are bigger and heavier and this allows the game to be played outdoors in slightly windy conditions.

The TTX bats and balls are designed to let you play outdoor without compromising your playing experience.

TTX harder racket blade without the rubber covering offers better control, making it suitable for first-time table tennis players to pick up easily.
TTX rules are simple! There are no rules on how to serve, as long as the ball touches your side of the table once before going over the net. The time bound format heightens the excitement and a single set lasts 2 minutes and one can play a best of 3 or more sets.
Scoring works like regular table tennis but with a few fun additions. You score a point when opponent serves incorrectly or fails to return your ball. You score 2 points with a "winner" shot not touched by opponent.
If you feel confident before serving, double your points by calling out "wildcard". Each player gets 1 wildcard per set.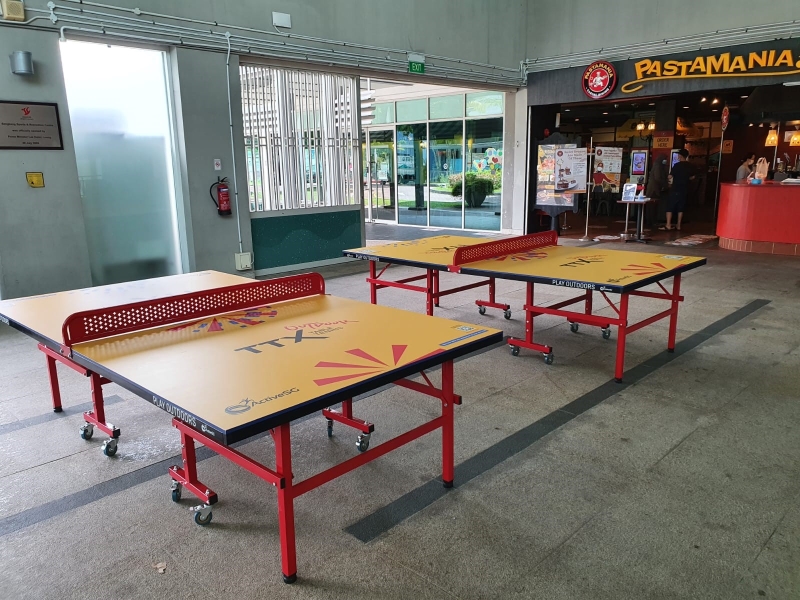 (TTX Playing Table)
TTX was launched in SINGAPORE in October 2020 and there're currently 33 tables at 16 locations islandwide in the community spaces.
No bookings are required as it's on a first-come-first-served basis.
Many of the players have either not played Table Tennis before or last played the game 30 or 40 years ago, during their school days. But they're now enjoy playing TTX as it's played in the open (fresh air) and the customised bats and balls make it easy to pick up the game.
ActiveSG has organised 5 competitions so far and received very good feedback. Friendships are formed as participants are seen exchanging phone numbers, so that they can gather and play. Many of them have also joined interest groups and are now playing on a regular basis.
ActiveSG is also working with a non-profit organisation, Table Tennis 4 Good (TT4G) to help the seniors and friends with Dementia & Parkinson. It is a 1.5 hour programme over 12 weeks.

The program is known as "Beat Dementia And Parkinson" or BDAP. It's a tailor-made program with attention being given to improving the quality of life of people with Parkinson and Dementia by playing Table Tennis (aka Ping Pong). The set of activities developed under this program is a focused approach to attain physical and brain exercise while having fun playing. The volunteers will help train/spar with the participants to make the play more productive yet joyful.

Another programme by TT4G is "Table Tennis For Elderly" or TTFE. Table Tennis has always been a drug free way to enhance your brain power. And this program is designed in a way to improve your overall body health while ensuring fun and remain challenging.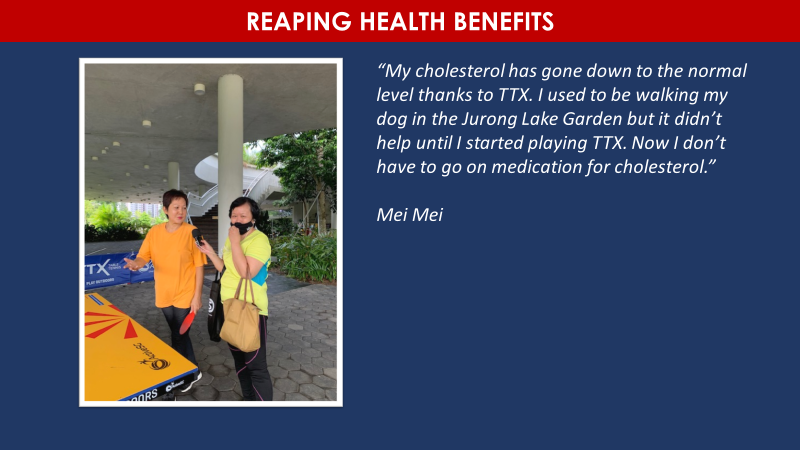 For more information of the TTX scene in Singapore regarding playing venues, upcoming competitions, rules etc, you can visit this ActiveSG website, TTX Singapore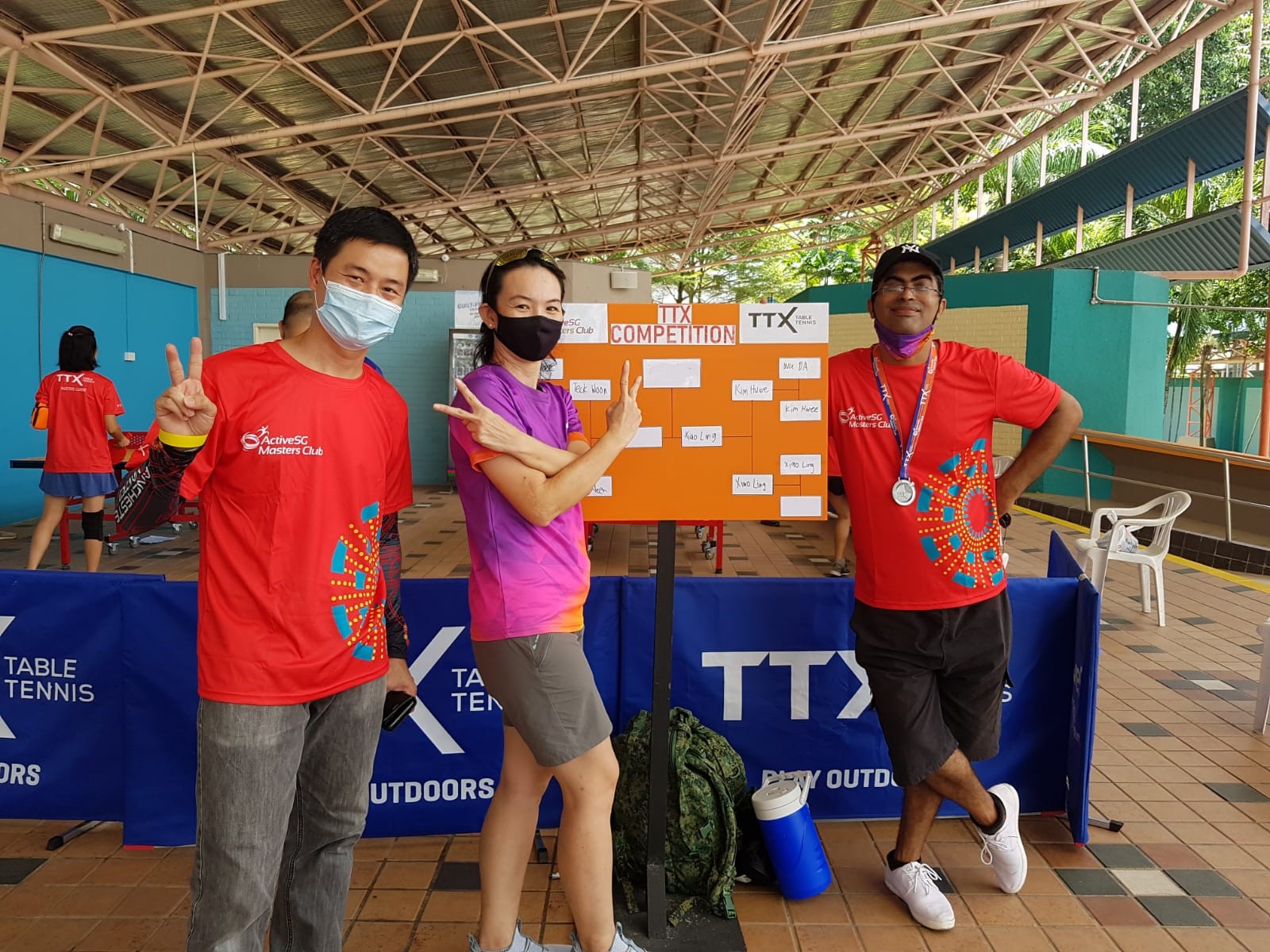 Follow us on Telegram for more sports news and updates.