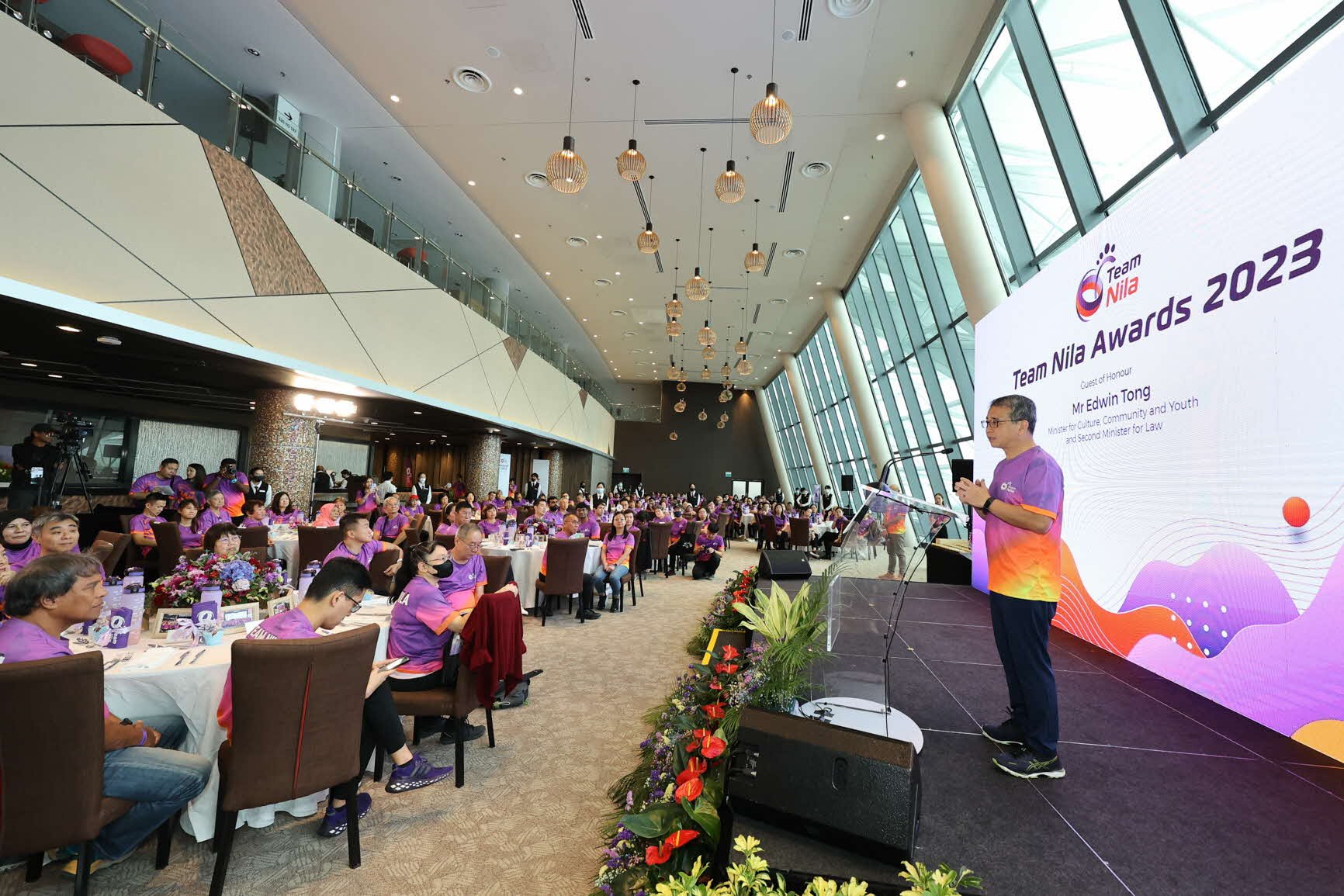 Mr Edwin Tong, Minister for Culture, Community and Youth & Second Minister for Law delivered a speech at the Team Nila Awards on 4 March 2023 at the OCBC Lounge, National Stadium.
Volunteers are the backbone of sport, and their contribution to developing social
cohesion is pivotal to any community or sporting organisation. With these values, Sport
Singapore's volunteer force, Team Nila, has grown from strength to strength and come out of
the pandemic stronger and more united. The membership of Team Nila has grown to more
than 39,000 individuals.

Despite having a sizeable membership, Team Nila's fundamental strength lies in its
capacity to unite people and communities through sport and beyond. The recent
pandemic presented an opportunity for the volunteers to connect communities and offer a
helping hand - whether it is by distributing COVID-19 essentials, encouraging migrant workers
to stay active, or serving as race event marshals. As a result, Team Nila volunteers grew more
unified and motivated to help the community throughout COVID-19 and this has allowed the
team to grow from strength to strength.

Recognising our Dedicated Team Nila Volunteers
Every volunteer who takes time out of their hectic schedules to aid others deserves
community recognition and support. The awards ceremony this year celebrates the
remarkable achievements of our Team Nila sport volunteers in 2022. Today, 305 Team Nila
volunteers earned the Gold, Silver, and Bronze awards for their volunteering activities in 2022,
committing a total of 360, 180, and 90 hours or more of volunteer work, respectively. This is a
significant growth compared to 216 awards given out for exceptional volunteer work (achieved
in 2021).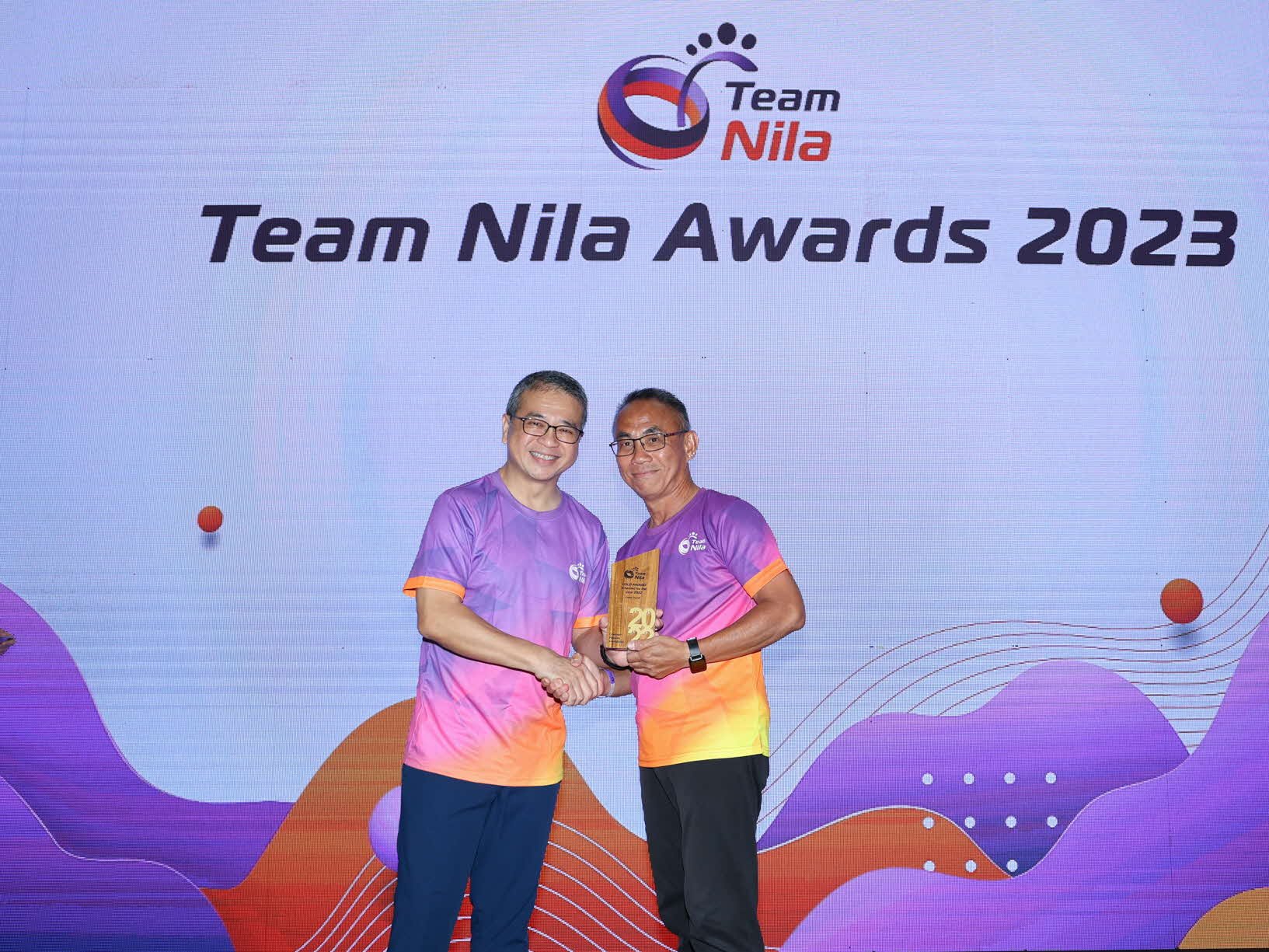 Mr David Lawe received the Gold Award for volunteeing from Minister Edwin Tong.
Mr Edwin Tong, Minister for Culture, Community and Youth & Second Minister for Law
was the Guest-of-Honour at the Team Nila Awards 2023 Ceremony held today. At the
ceremony, a new award category - Biggest Heart Award, was given to Mr Bakthavatchalam
Narendrakumar (Naren) for his acts of selflessness through his leadership and commitment
of his personal time to contribute and participate.
Team Nila volunteer and Gold awardee Mr Bakthavatchalam Narendrakumar was recognised for his selfless contribution to many causes.
"What a journey Team Nila experienced in 2022. Many volunteers have come back,
just because they missed the camaraderie and friendship. But for many, they come back to
volunteer with Team Nila to fulfil a desire to be of service and help the community through
sport. We know that sport touches many aspects of someone's life, whether on the sports field
or at events, I am heartened by the passion of Team Nila volunteers, and I believe they are
the heartbeat of the sporting community," shared Mr Ethen Ong, Division Head of Team Nila.

Another new award category, the Family is Everything Award, was given to three
Team Nila leaders and their families: (1) Ms Layyin Lyn, (2) Mr Vincent Teo, and (3) Ms
Hameiza Abdul Hamid. Each volunteer leader has overseen projects, but more importantly,
they have encouraged their own families to actively serve as volunteers. Refer to Annex A, for
more information about the profiles of Family is Everything awardees.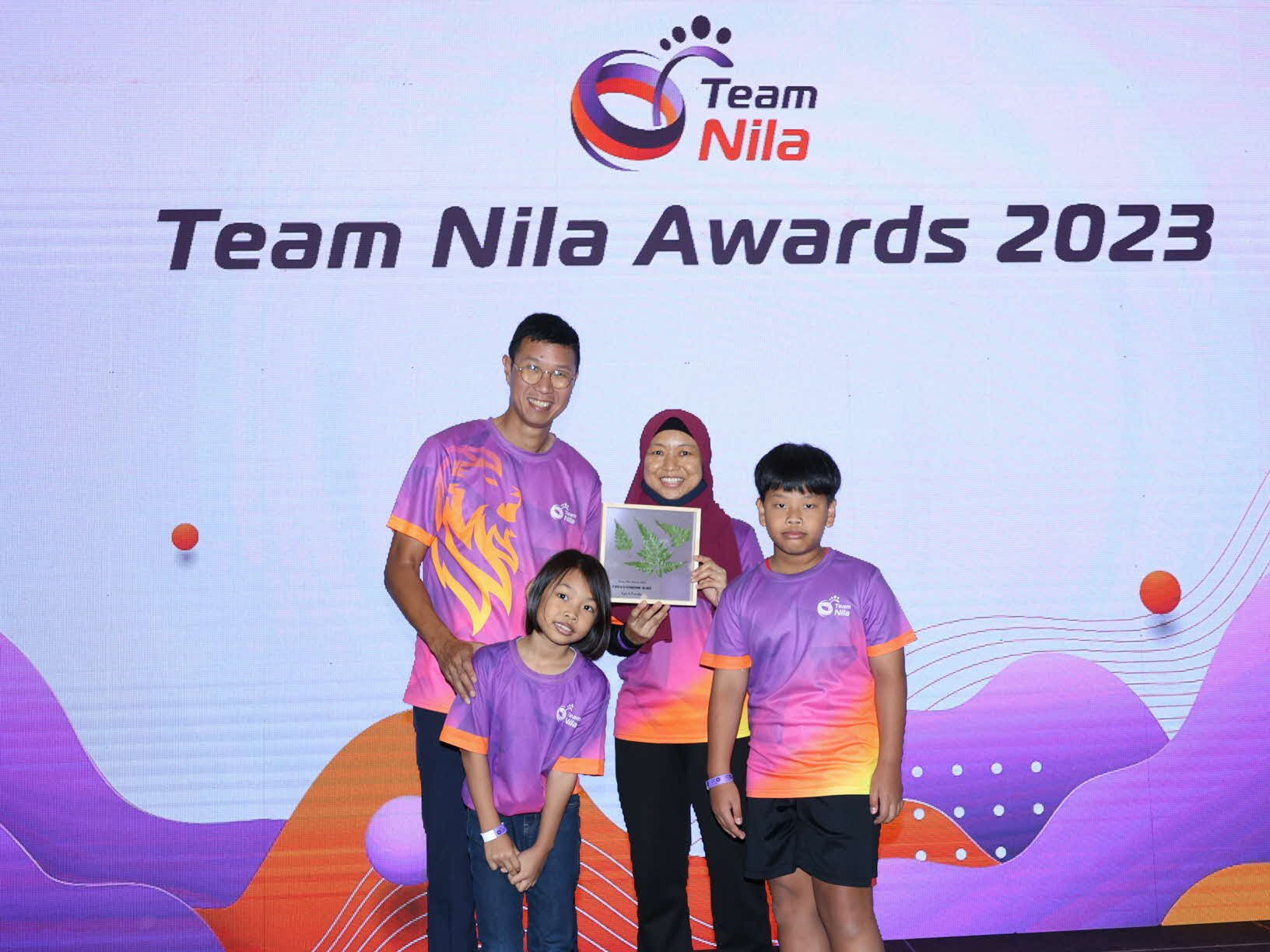 Family is Everything Award was given to Ms Layyin Lyn and her children Doa Mecca Kamzaruddin @Lyng En (son) and Lyha Medina Kamzaruddin @Lyng Hui (daughter) from Chief ActiveSG, Mr Tan Hock Leong.
"I think it would be difficult to conduct an event smoothly without committed volunteers
at every level of sport. Being a part of the preparation, training, and collaboration that goes
into successfully hosting an event is uncommon, so I included my family, especially my
children to learn and gain experience. It is an opportunity for us to learn while also staying
active as a family through volunteer work," said Ms Layyin Lyn, age 47, who joined Team Nila
in 2021 and has logged 283 hours of service work.

In 2022, Team Nila volunteers signed up for opportunities to volunteer at numerous
national and international events, including the Standard Chartered Marathon Singapore, the
World Table Tennis Singapore Smash, the HSBC Singapore Rugby 7s, FIBA 3x3 Asia Cup,
the National Day Parade, GetActive! Singapore Pesta Sukan, SportCares Play Inclusive, and
Purple Parade. In 2022 alone, Team Nila offered about 700 volunteer opportunities in total.
Weekly opportunities to participate in Active Farming and Square Stepping with elders at
ActiveSG sport facilities were among them.

In recognition of Team Nila's varied volunteering interests, the team's fight against
COVID-19 has not gone unnoticed. For invaluable contributions to the nation's fight against
the pandemic, Team Nila is awarded the President's Certificate of Commendation

(COVID-19), conferred to organisations and teams with exceptional efforts that made a
positive impact in Singapore's fight against COVID-19. In addition, four sport volunteers were
awarded the individual Public Service Medal (COVID-19). They are (1) Mr Daniel Lee Soi
Keng, (2) Ms Hameiza Abdul Hamid, (3) Mr Keh Eng Song, and (4) Mr Velappakutty Gagan.
The four volunteers have led projects and contributed greatly to supporting national efforts
against COVID-19.

Growing a Community of Like-minded Volunteers
This year, with more community sport and mass participation events expected to take
place, there will be more opportunities for Team Nila volunteers to undertake leadership roles
as part of planning and management teams to organise large-scale events. They will still be
able to continue giving back through roles such as competition managers in the Academies
and Clubs programmes, Active Health ambassadors, SportCares mentors, sport centre guest
officers, and sport interest group leaders. Volunteers can make an impact by using their skills
and passions, such as photography, content production, event organising, logistics
management, and making a difference through coaching and officiating.
In addition, Sport Singapore will be adding more opportunities to contribute in other
segments such as sport heritage projects and befriending platforms with youth, seniors and
the vulnerable segments, using sport as a force for good. Interested individuals can sign up
as a Team Nila volunteer here