TeamSG Paddlers' Resilient Performances on Day 2 of Singapore Smash 2023!
by Circle, on March 9, 2023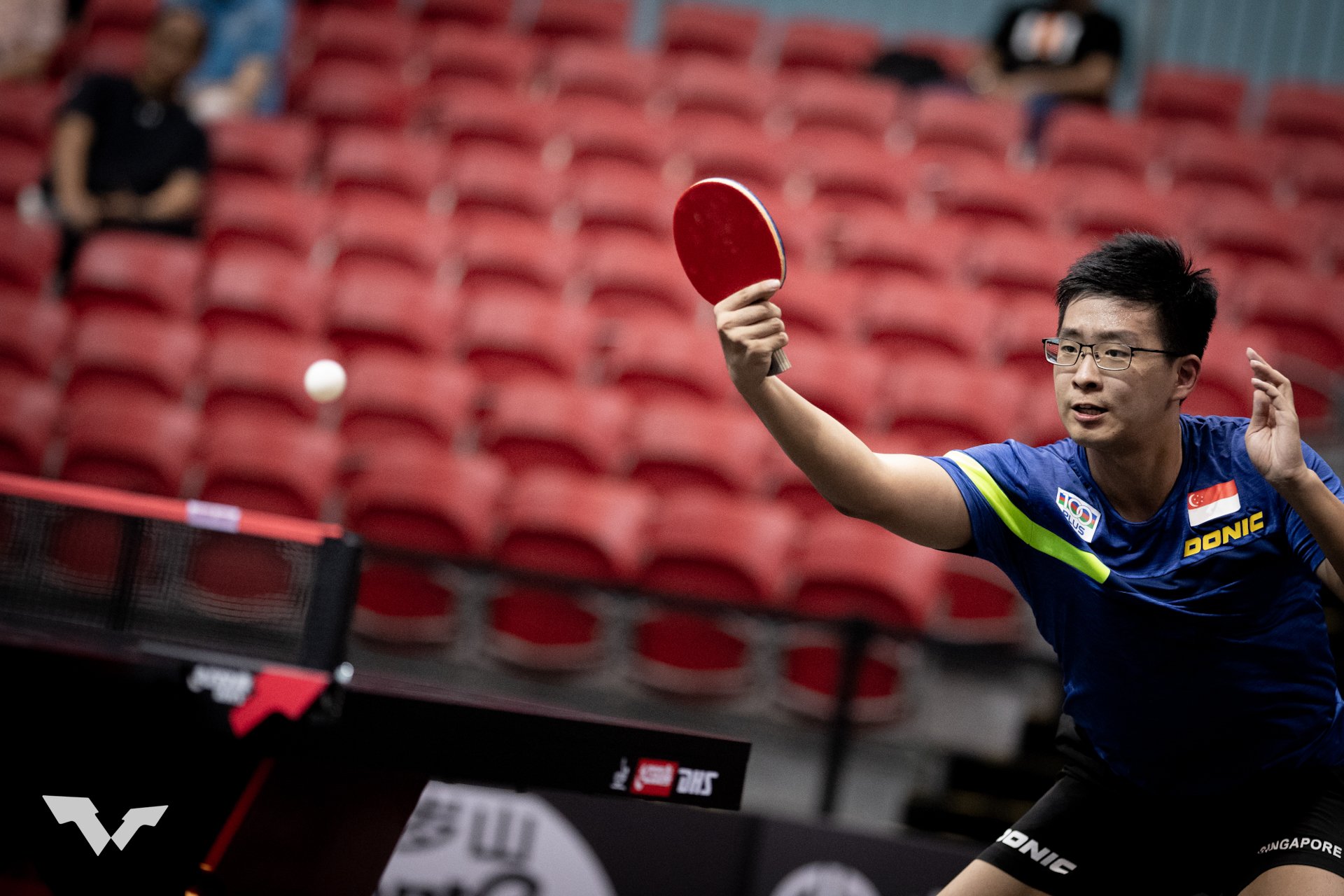 TeamSG's Ethan Poh vs Felix Lebrun at Singapore Smash 2023. Photo Credit : WTT
By Pearlyn Koh
Day 2 at the qualifications of the second-ever Singapore Smash kicked off at the OCBC Arena, with local favourite Ethan Poh against world number 46 Felix Lebrun in Round 1 of the Men's Singles event! 24 year-old Ethan (world no. 417) is the reigning Men's Doubles champion at the Hanoi 2021 SEA Games. And at the Commonwealth Games just last August, the TeamSG athlete also scored 1 Silver and a Bronze, in the Men's Team and Men's Doubles events respectively!
Felix, on the other hand, is touted as one of France's brightest stars in the making. The 16 year old remains as one of the very few pen-holders (a traditional Asian style grip of holding the bat/racket) in the current table tennis scene, and has already been making waves on the international stage. At the recently concluded WTT Star Contender Goa event, the teenager overcame several higher-ranked players to emerge as the semi-finalist of the Men's Singles event!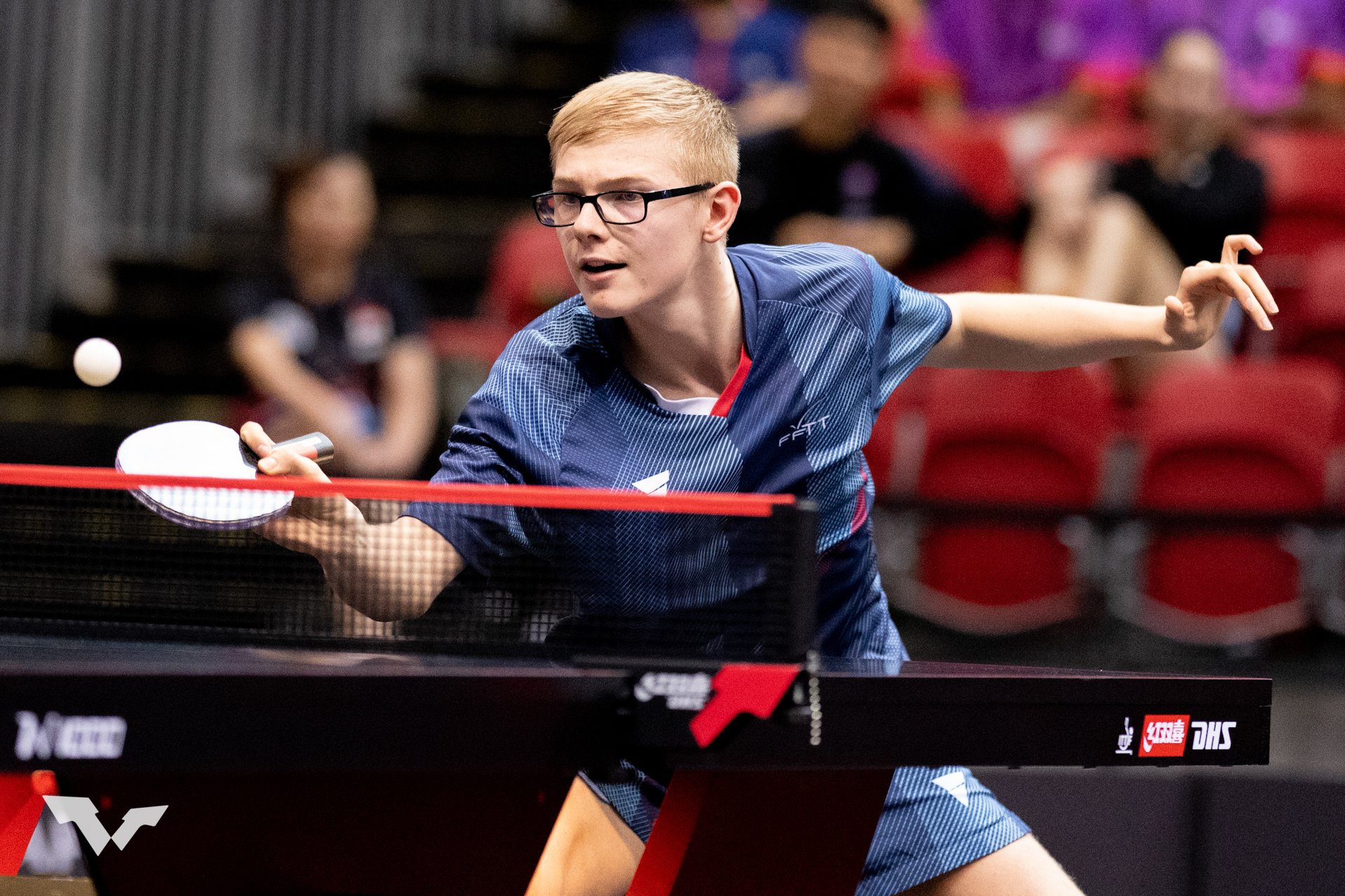 World number 46 Felix Lebrun at Singapore Smash 2023. Photo Credit : WTT
The duo's encounter at the OCBC Arena on 8 March, marks their first-ever career meeting. While the SEA Games gold medallist would have hoped to start off his Singapore campaign with a victory, it was his French opponent who eventually prevailed 3-1 (6-11, 11-3, 11-6, 12-10).
Ethan entered Game 1 with full focus and energy, executing a series of powerful service-attack combinations, leaving his world number 46 opponent without any answers. With the French teen struggling to manage the variations in Ethan's serves, the local star dominated the opening game with a 5-1 lead, before taking the game 11-6!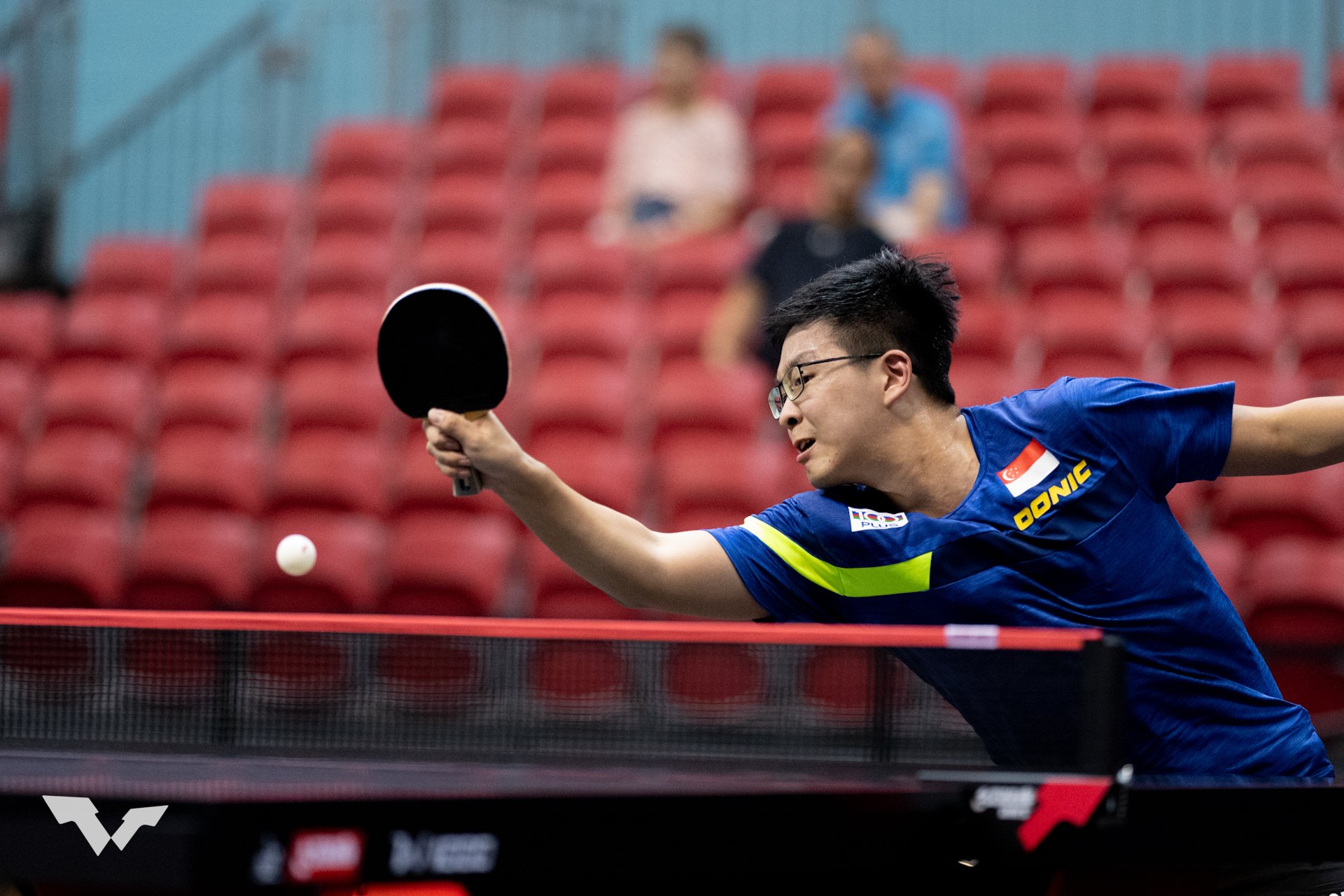 TeamSG's Ethan Poh at Singapore Smash 2023. Photo Credit : WTT
Trailing by one game, Felix knew he had to employ a different strategy in Game 2. The 16 year-old made full use of his advantage as a pen-holder, adding more variations to his service which the Singaporean found difficulties in receiving. Coupled with several wide-angled forehand shots by the French, it was Felix who went on to win the second game, 11-3!
At one game apiece, it seemed as though world number 46 Felix had found solutions to all of Ethan's shots, as he took 7 straight points to bring himself to a 7-0 lead. But the Commonwealth Games medalist was not ready to throw in the towel so easily, as he clawed back to 9-6, forcing his French opponent to call for a timeout. And following the timeout, it was Felix who bagged 2 consecutive points, successfully claiming his second game 11-6!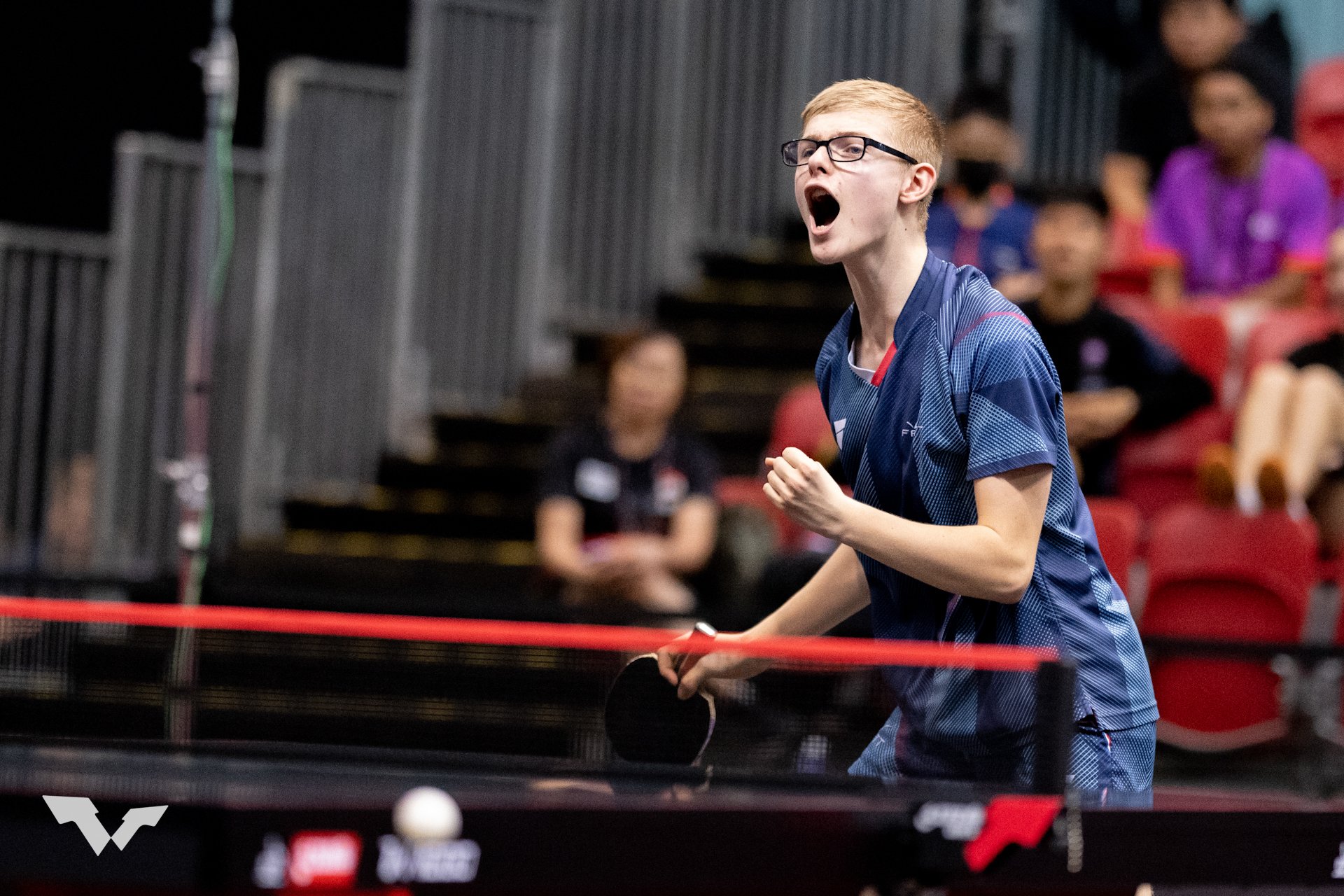 French teenager Felix Lebrun at Singapore Smash 2023. Photo Credit : WTT
Down 2-1, the TeamSG paddler knew he had to play more aggressively - just as he did in Game 1, in order to keep his Singapore Smash Singles' dream alive. Despite trailing 5-2 in the fourth game, Ethan remained hopeful and capitalized on his opponent's unforced errors to level the score at 5-all. And with a series of perfectly executed backhand topspin rallies, the 24 year old brought himself to a comfortable 10-8 lead! Being one point away from taking Game 4, the reigning SEA Games champion attempted to execute his winning service-attack combinations yet again; but the higher-ranked Felix prevented the attacks with his well-calculated receives. Ultimately, it was the French who took the fourth game, 12-10 and the 3-1 overall victory.
"Overall, I'm pleased with my performance, but I felt I could have done better in my receiving game. It was also a pity I couldn't capitalize on my 9-5 lead in Game 4, but it was a great learning experience for me playing against Felix, one of the best penhold players today. It's a great honour for me to compete at the Singapore Smash and have my friends and family supporting me Live in person. I will do my best for my upcoming matches", expressed Ethan in a post-match interview.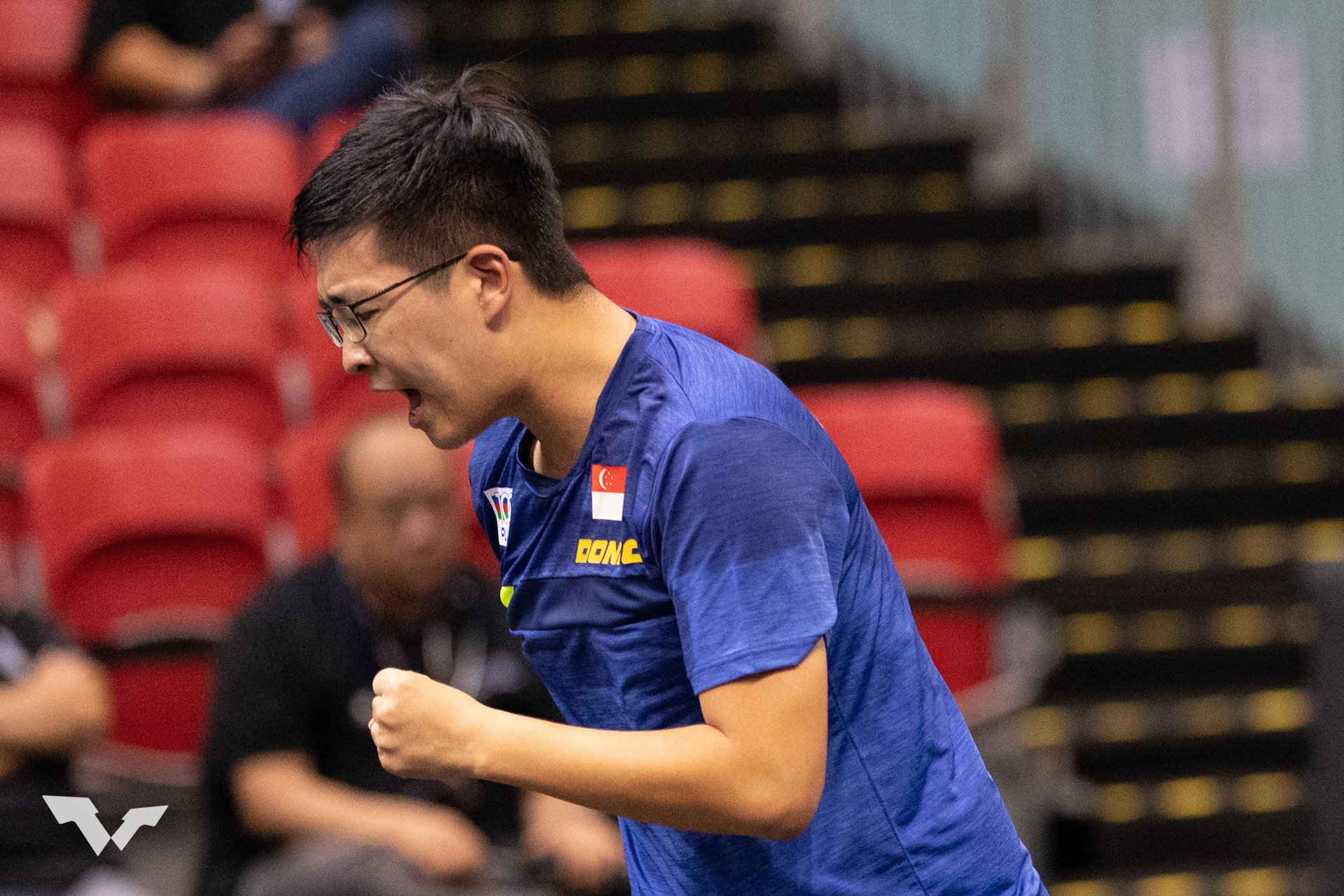 TeamSG's Ethan Poh at Singapore Smash 2023. Photo Credit : WTT
While Ethan is out of the Men's Singles, he will still feature in the Men's Doubles Main Draw starting 11 March, alongside teammate Clarence Chew. In last year's Singapore Smash, the duo fought hard to reach the quarter-finals.


Results Summary for TeamSG athletes on 8 March:
Women's Singles (Qualification) :
Nicole Arlia (ITA) vs Janissa Cheng (SGP) : 3-2 (11-9, 7-11, 11-4, 10-12, 11-8)
Prithika Pavade (FRA) vs Zhang Wanling (SGP) : 3-0 (11-7, 11-4, 11-8)
Men's Singles (Qualification):
An Jaehyun (KOR) vs Dominic Koh (SGP) : 3-0 (11-8, 11-8, 11-9)
Felix Lebrun (FRA) vs Ethan Poh (SGP) : 3-1 (6-11, 11-3, 11-6, 12-10)
Catch Josh Chua on Day 3 (9 March) of the Singapore Smash, as he takes on Brazil's Victor Ishiy (world no. 68) from 2pm onwards in Round 2 of the Men's Singles qualification series!
Event details
Singapore Smash 2023 at the OCBC Arena, will feature 64 player men's and women's singles and 24-pair doubles and mixed competitions. A singles qualifying competition featuring a further 64 men and 64 women will be held from 7-9 March. The overall player line-up for the 7-19 March extravaganza is listed here.
Tickets for the Qualifying sessions and the Main draw are available here.
Pearlyn Koh played Table Tennis competitively for 9 years. She represented Team Singapore at several major tournaments, including the 2018 Asian Games and World Table Tennis Championships. In 2019, Pearlyn was also the sole Southeast Asian player to enter the Top 16 at the Asian Junior & Cadet Table Tennis Championships. During her free time, Pearlyn enjoys reading and catching up with her friends. Having retired from the national team in Feb 2023, she's now a Business Ad undergrad at NUS.