TeamSG to face France, Australia & Germany in Women's World Floorball Championships 2023!
by ActiveSG Circle, on April 5, 2023
(from left) John Liljelund, Secretary General, International Floorball Federation and Kenneth Ho, President, Singapore Floorball Association. Photo Credit : Women's World Floorball Championship 2023
The stage is set for Singapore to host the world's best floorball players at the Women's World Floorball Championships (WFC) 2023, from 2 to 10 December at the Singapore Sports Hub. The four pools for the group stage have been confirmed following the group ballot on Tuesday (4 April) and the WFC is set for an exciting return to Singapore at the end of the year. The Republic last hosted the WFC in 2005, and the 2023 edition will be just the 2nd time that an International Floorball Federation (IFF) WFC event is played outside of Europe.
The 16 teams battling for glory at the Singapore Sports Hub's OCBC Arena in December are: hosts Singapore (#13), defending champions and world No. 1 Sweden, 2021 runner-up Finland (#2), Switzerland (#3), Czech Republic (#4), Poland (#5), Slovakia (#6), Norway (#7), Latvia (#8), Germany (#9), Denmark (#10), Australia (#11), Japan (#12), Estonia (#14), the USA (#15) and France (#27).
The groups are as follows:
| | | | |
| --- | --- | --- | --- |
| Group A | Group B | Group C | Group D |
| Latvia | Slovakia | Singapore | Estonia |
| Norway | Poland | France | USA |
| Finland | Czech Republic | Australia | Japan |
| Switzerland | Sweden | Germany | Denmark |
The teams with a higher world ranking based on the previous two editions of the Championships are drawn into Groups A and B while teams with a lower ranking will be drawn into Groups C and D. In the group stage, each team will play against their opponents in the same pool once. The top two teams each from Group A and Group B qualify directly for the quarter-finals. The remaining teams from Group A and Group B, as well as the top two teams each from Group C and Group D, will compete in the first play-off round for a place in the quarter-finals.
Dr Su Chun Wei, Chief of Singapore Sport Institute, Sport Singapore said: "Singapore hosting the Women's WFC again signals a boost for the sport, as well as the local and regional women's floorball scene. We're proud to have been the only country in the APAC region to have hosted the Women's WFC – this is testament to the International Floorball Federation's confidence in Singapore. We've seen local interest in the sport grow over the last few years, especially among youth. More opportunities to play and compete have also been created to cater to this increased interest. The Women's WFC is a valuable opportunity for the floorball and wider sporting community to watch world-class sporting action right at their doorstep while also cheering on our national women's team. We look forward to working closely with industry partners to deliver a successful and memorable event for sports fans in Singapore."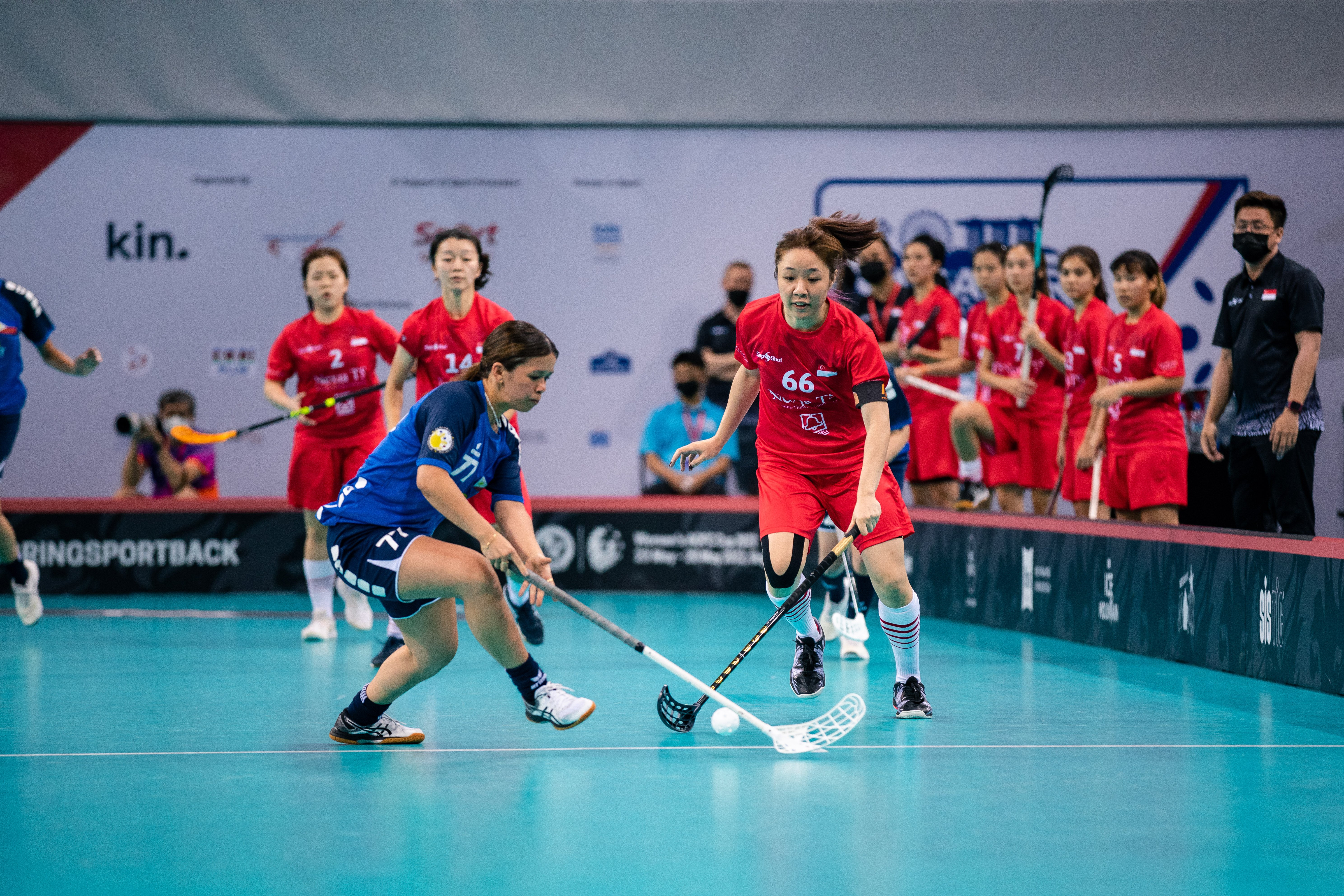 TeamSG (Red) vs Philippines in Singapore Floorball Series 2022. Photo Credit : Eng Chin An, Singapore Floorball Series
International Floorball Federation Secretary General John Liljelund said, "It's a real pleasure for the international floorball community to come back to Singapore after 18 years. To have a Championship outside of Europe does not only show the development of floorball in Singapore, but also in Southeast Asia. The 16 teams who are coming to the Championships are all here to fight for the gold medal, and to achieve and to bring the sport forward. This is very important for the whole floorball community. We hope to welcome as many of the fans to Singapore to experience the heat, not only outside but also on the field of play."
The competing teams are also ready and eager to deliver a good show at the Women's WFC. Singapore vice-captain Mindy Lim said, "We are very excited to have the WFC happening on home ground. We've increased our intensity and frequency of training, and we also have a few upcoming competitions such as the SEA Games in Cambodia. We're also looking to have an exchange training programme with Sweden in May. Such experiences are essential to increase match exposure and build our bond as a team, so that we'll have better chemistry going into the competition at the end of the year. We are nervous because we'll have pressure to perform well with our friends and family coming to watch us, but I'm confident my team will be able to manage it well."
More information and event updates are available here.