TeamSG's Danelle Tan's Football Career is off to a Flying Start in Germany
by ActiveSG Circle, on September 1, 2023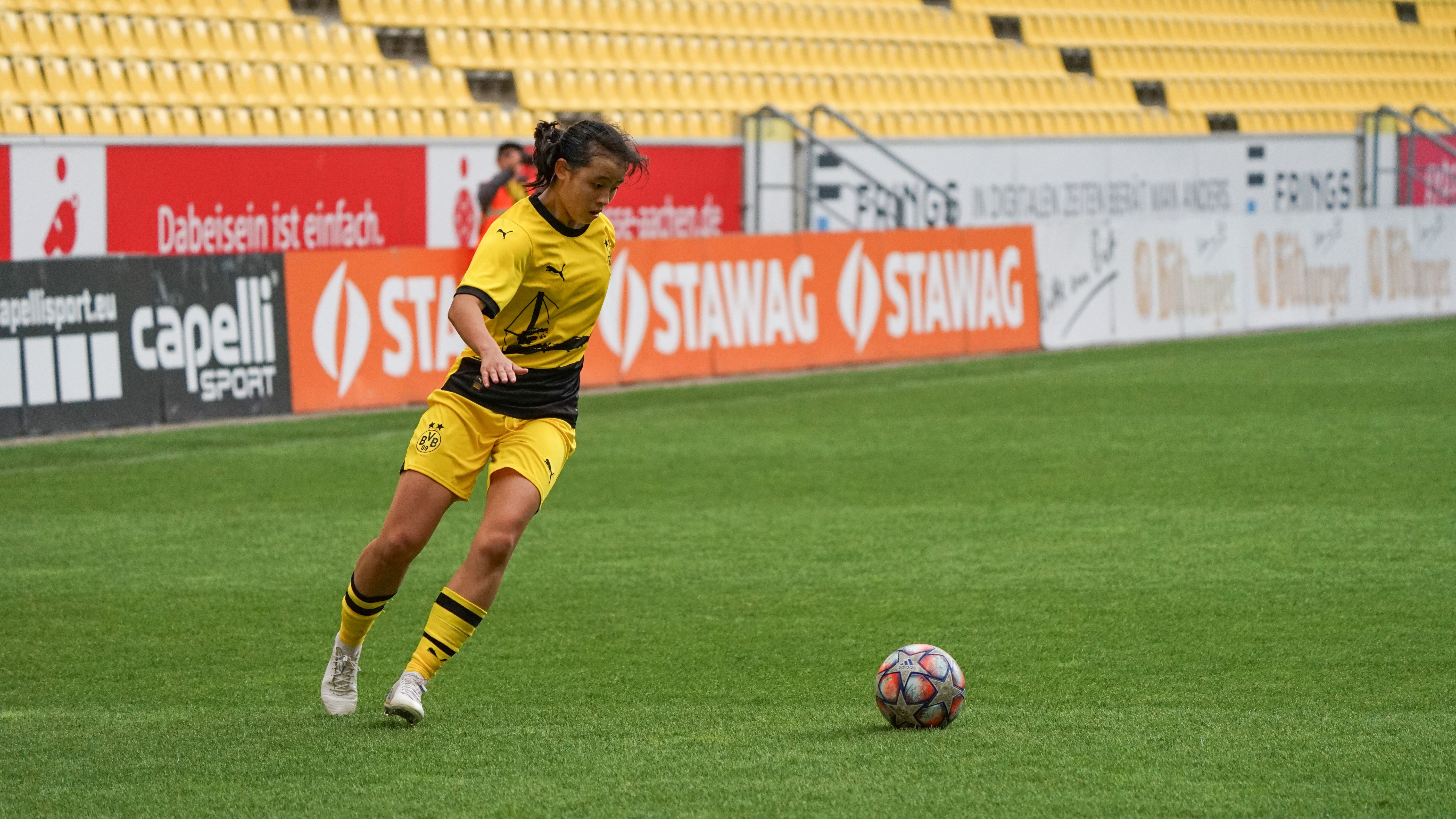 TeamSG's Danelle Tan training in the club colours of Borussia Dortmund. Photo Credit : @fkursch
Following a successful pre-season campaign with Borussia Dortmund's women's squad, Danelle Tan marked the start of her professional career in Germany with a resounding win. Featuring in the starting lineup for Dortmund's first match of the domestic season in the 5th-tier Landesliga, the 18-year-old striker chalked up an assist as BVB-Frauen beat SC Drolshagen 5-1.
She told Unleash The Roar! website after the match : "I was really excited when I was selected to start in my first league match for BVB. It was a huge honour. I thought I did well in the game- held up the ball well and connected the play. I also had a nice assist when I flicked on the ball with my head to set my teammate, Mia Bedarf, through on goal. The atmosphere was great with many BVB fans in attendance even at an away game. Flags were waved, BVB songs were sung throughout the whole match and it felt incredible to play with that kind of support for the team."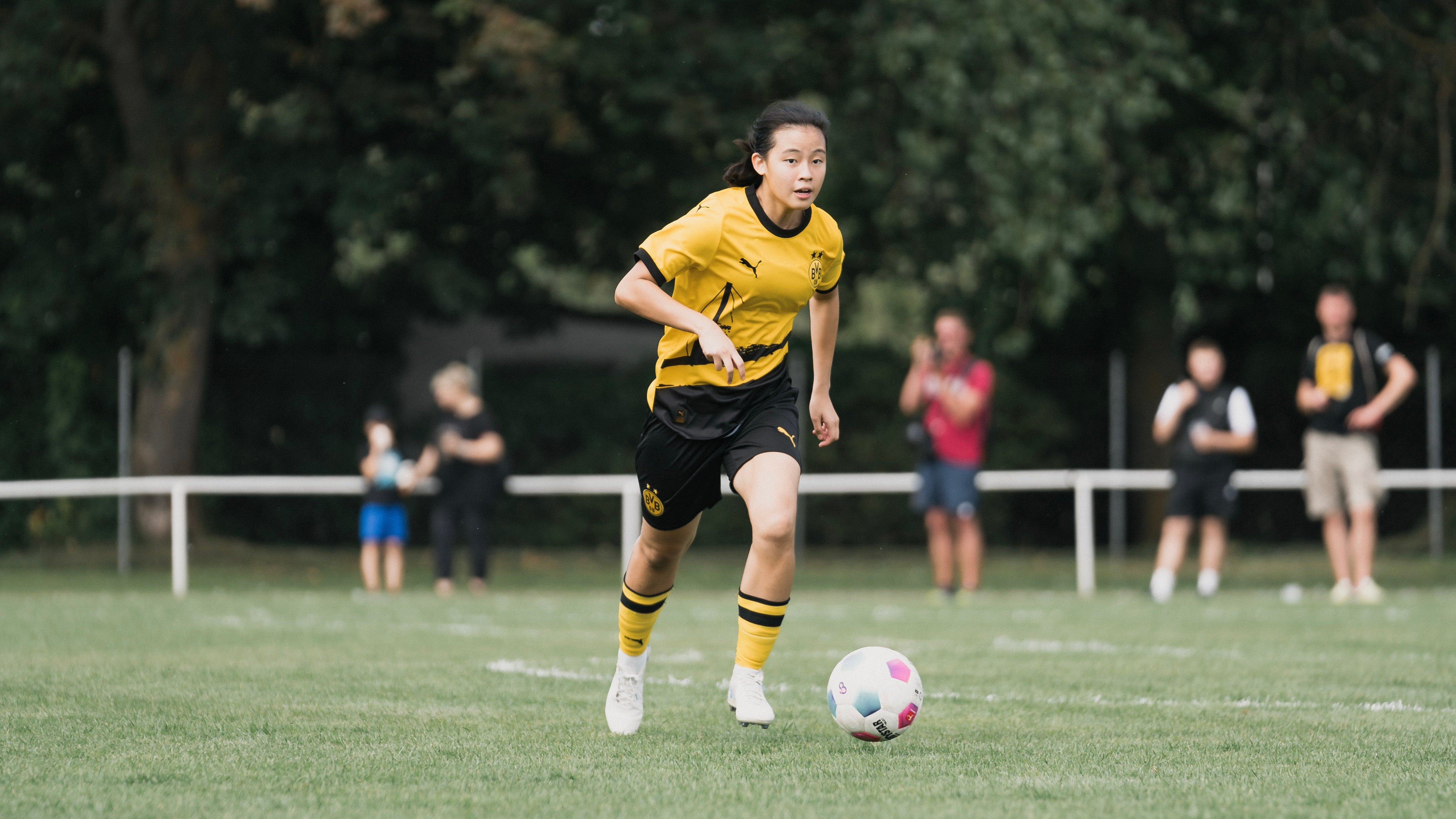 18-year-old Danelle Tan at a training session in Germany. Photo Credit : @throughkimseye
Singapore international Danelle arrived at BVB in mid-July for a year-long stint. She has settled into her life in Germany well, even earning the top scorer award at a recent pre-season tournament.
We caught up with the national striker via email and Zoom.

Q : How have you been after more than a month in Germany?
Danelle : Football-wise, I've settled in very nicely. I scored in the second friendly we played against Alemannia Aachen. We also had a 7-a-side tournament in the island of Poel. Dortmund won the tournament and I was the top scorer. It's going to take a bit longer before I can fully understand what's happening in training and the locker room, but my teammates have all been so helpful and lovely.
Q : What was the overall response from your family and friends, regarding your move to Germany to play professional football?
Danelle : My parents have always been fully supportive of my choice of paths so that definitely made it easier. Expectedly, there was that initial shock from many of my friends that I was going to give up a scholarship in a prestigious US college to try and pursue a career in professional football. But eventually, all of them were very supportive and encouraging.
Q : How difficult was the decision to forego a scholarship in the US?
Danelle : Believe me, it was an extremely hard decision to make. William and Mary is a fantastic school, and the coaches Julie and Marsha are possibly the warmest and most welcoming individuals I've met. But Dortmund is a special club. When I went to the stadium and watched Dortmund men beat Chelsea in the Champions League, I got to experience how insanely (in a good way!) passionate the fans are. The "yellow wall" is the stuff of legends and I got to witness that firsthand. More critically, Dortmund is committed to building the women's side and it's something I really want to be a part of!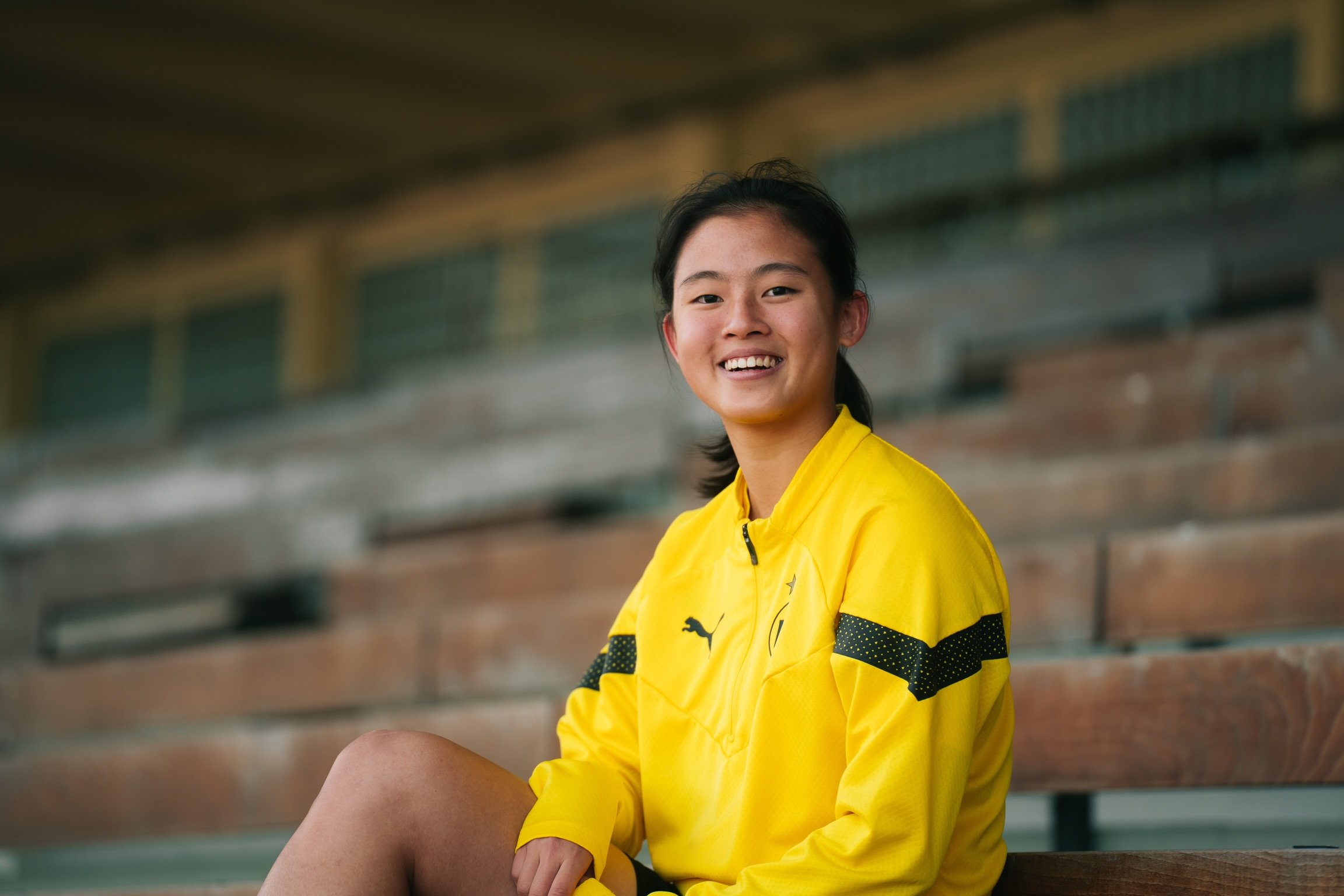 TeamSG's Danelle Tan becomes 1st Singaporean woman to play professionally in Germany. Photo Credit : @schwarz_gelber_aleks
Q : What advice have your parents given you, in relation to this move to BVB?
Danelle : Stay focused and manage your time well.
Q : Do you have any fears regarding your role in the new football season?
Danelle : One of my biggest fears moving here was the language. I had lived in a boarding house in the UK with a community which was predominantly English-speaking, sharing similar experiences in school.
Living in an apartment by myself now and being immersed in a country that speaks a foreign language is pretty daunting. But I'm learning German intensively so the transition should get easier. My teammates and the staff here at Dortmund have also been nothing short of amazing. They have been so helpful in making the move here as smooth as possible and I couldn't be more grateful.
For more details on Danelle's training, daily routine, challenges, dietary conditions, targets and aspirations, catch her in the pre-recorded video interview (below).
Zoom Interview with Danelle Tan on 26 Aug 2023. Video Credit : SportSG
For more details and match fixtures of BVB-Frauen in the 10-month long Landesliga season, you can visit here
Written by : Raj Kumar
(This article was originally published on Unleash The Roar!'s website here on 2 Sep 2023)