TeamSG's Josh Chua Stuns Higher-ranked Opponent on Day 1 of Singapore Smash 2023!
by Circle, on March 8, 2023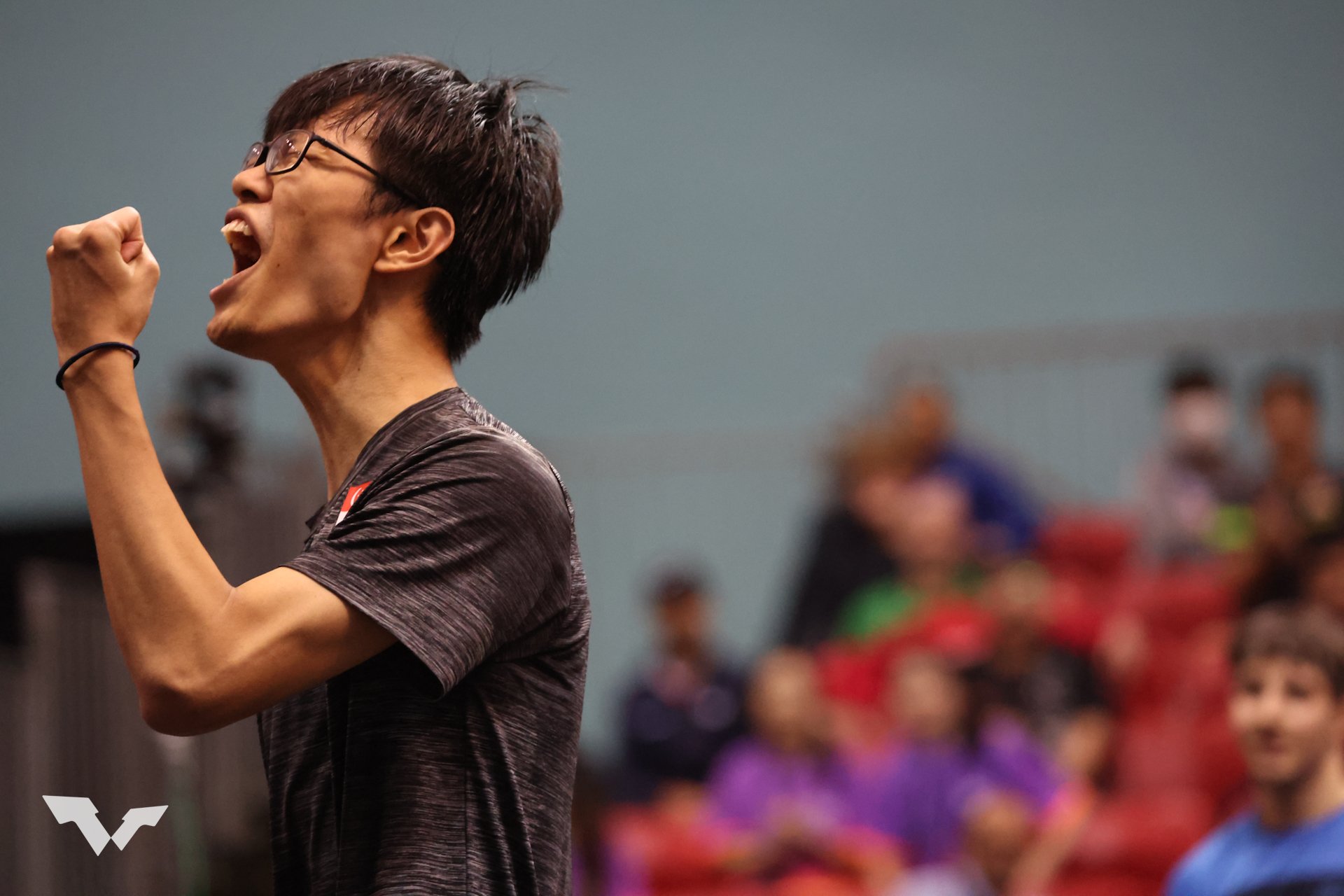 TeamSG's Josh Chua celebrates after scoring. Photo Credit : WTT
By Pearlyn Koh
Following Singapore's success of hosting the first-ever WTT Singapore Smash at the OCBC Arena last year, the second edition of the table tennis extravaganza has once again returned to the
Lion City from 7 - 19 March 2023!
Hailed as the marquee event of professional table tennis, Singapore Smash 2023 has an
attractive total prize pool of US$2 million, and 2,000 world ranking points up for grabs. And being the host country, a total of 18 Team Singapore (TeamSG) athletes were awarded wildcards for the tournament. This is an exciting opportunity for local athletes to showcase their talents on the international stage and gain valuable experience, as they compete against some of the world's best table tennis players.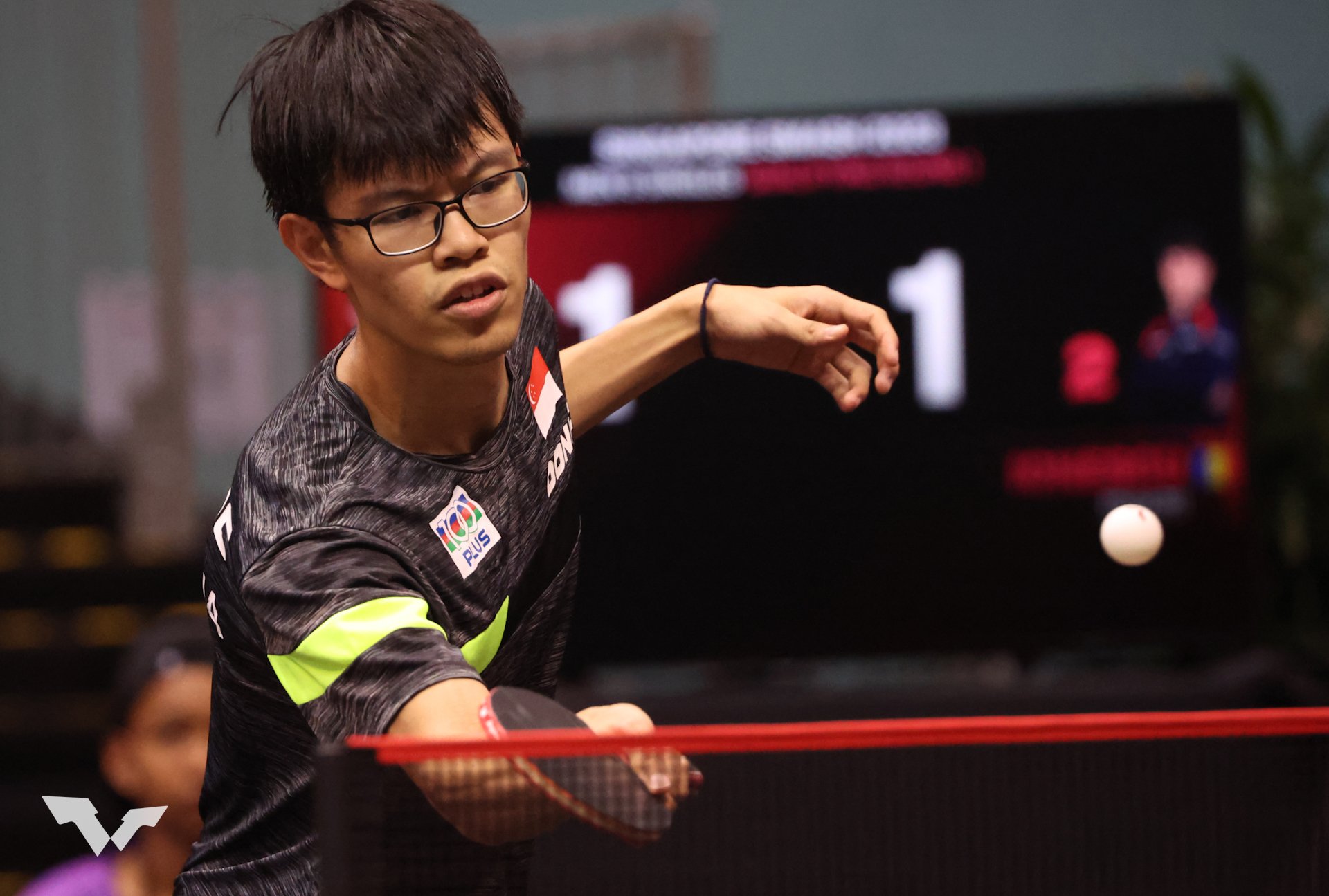 TeamSG's Josh Chua competing in qualifiers at Singapore Smash 2023. Photo Credit : WTT
Day 1 (7 March) of qualification saw a slew of up-and-coming local talents vie for their spot in the main draw. In the opening round of the Men's Singles qualification, 21 year old TeamSG paddler Josh Chua (world no. 312), put up a spectacular performance against Romania's Eduard Ionescu (world no. 151), as he edged out his higher-ranked opponent 3-2 (11-9, 6-11, 12-14, 12-10, 11-9)!

Both players started off their opening game with caution, trying to test different game strategies against each other. Scores were closely tied at 9 apiece, before Josh sealed off the first game, 11-9! In the 2nd and 3rd games, 18 year-old Eduard seemed to have found his rhythm of the game, with Josh struggling to keep up with the Romanian's precise placements and strong attacks. And despite Josh's attempts to keep his opponent closer to the table, it was ultimately the higher-ranked Eduard who took Games 2 and 3, 11-6 and 14-12 respectively.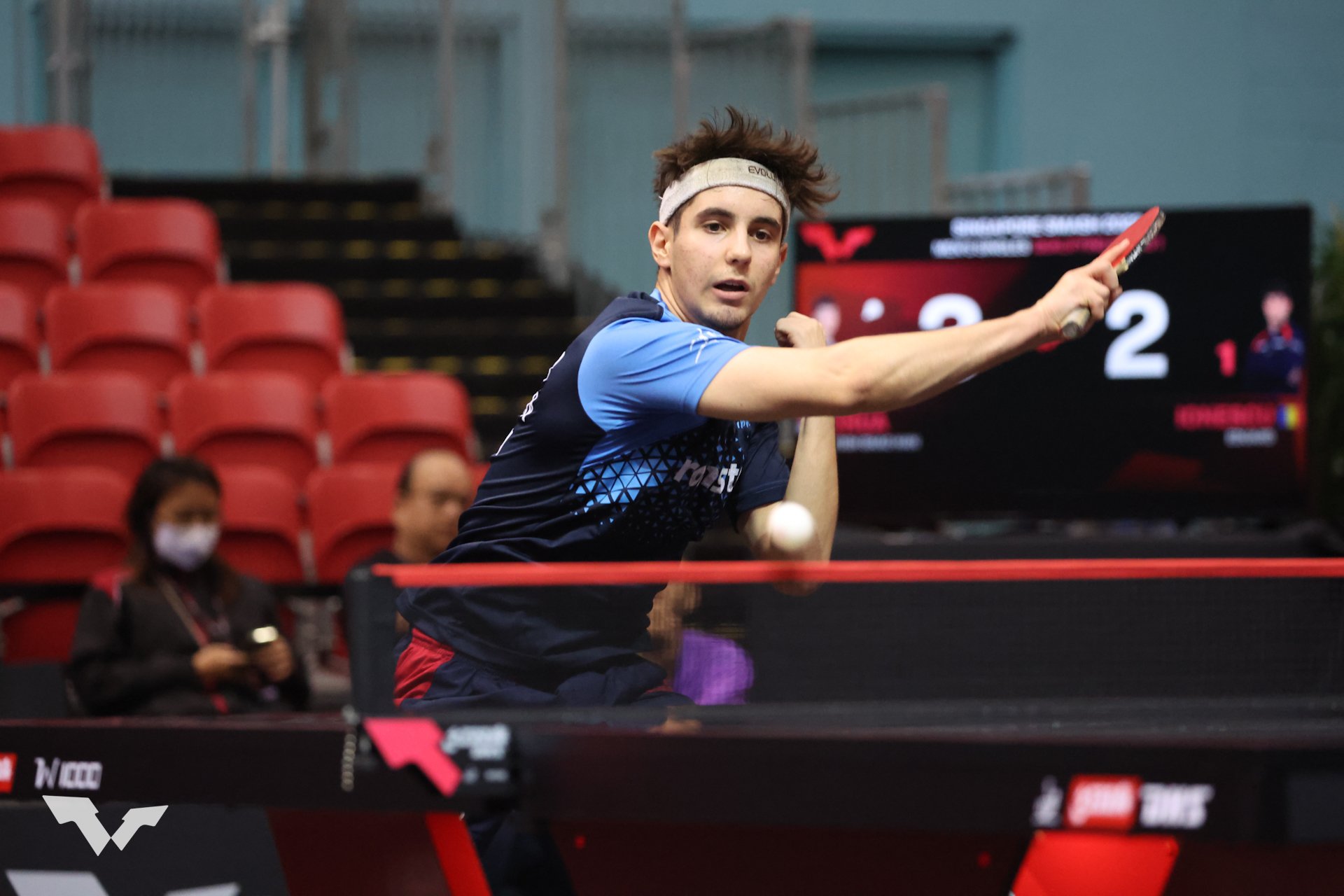 Romania's Eduard Ionescu competing at Singapore Smash 2023 qualifiers. Photo Credit : WTT
Trailing 2-1, the 22 year old Singaporean was not ready to give up without a fight. For Game 4, Josh readjusted and simplified his game strategy, with a greater focus on his service-attack combinations. His strategy proved useful, as he managed to score several points on his service.
Similar to the first 3 games, Game 4 commenced with the score tied at 7-all, before Josh managed to bag 2 points in a row, to bring himself to a 9-7 lead. However, Eduard quickly scored 3 consecutive points, leaving Josh to trail 10-9. Josh quickly called for a timeout - which proved to be effective as he eventually took the fourth game 12-10, to keep his Singapore Smash hopes alive!
Following his success in Game 4, Josh knew he had to continue his winning formula in the rubber game, in order for him to score his first-ever WTT Singapore Smash win. With 2 games each, fans at the OCBC Arena witnessed a series of exciting rallies between the Singaporean and Romanian paddlers, as they fought for victory. And after a nail-biting Game 5, it was the TeamSG athlete who eventually emerged victorious on home soil, 11-9!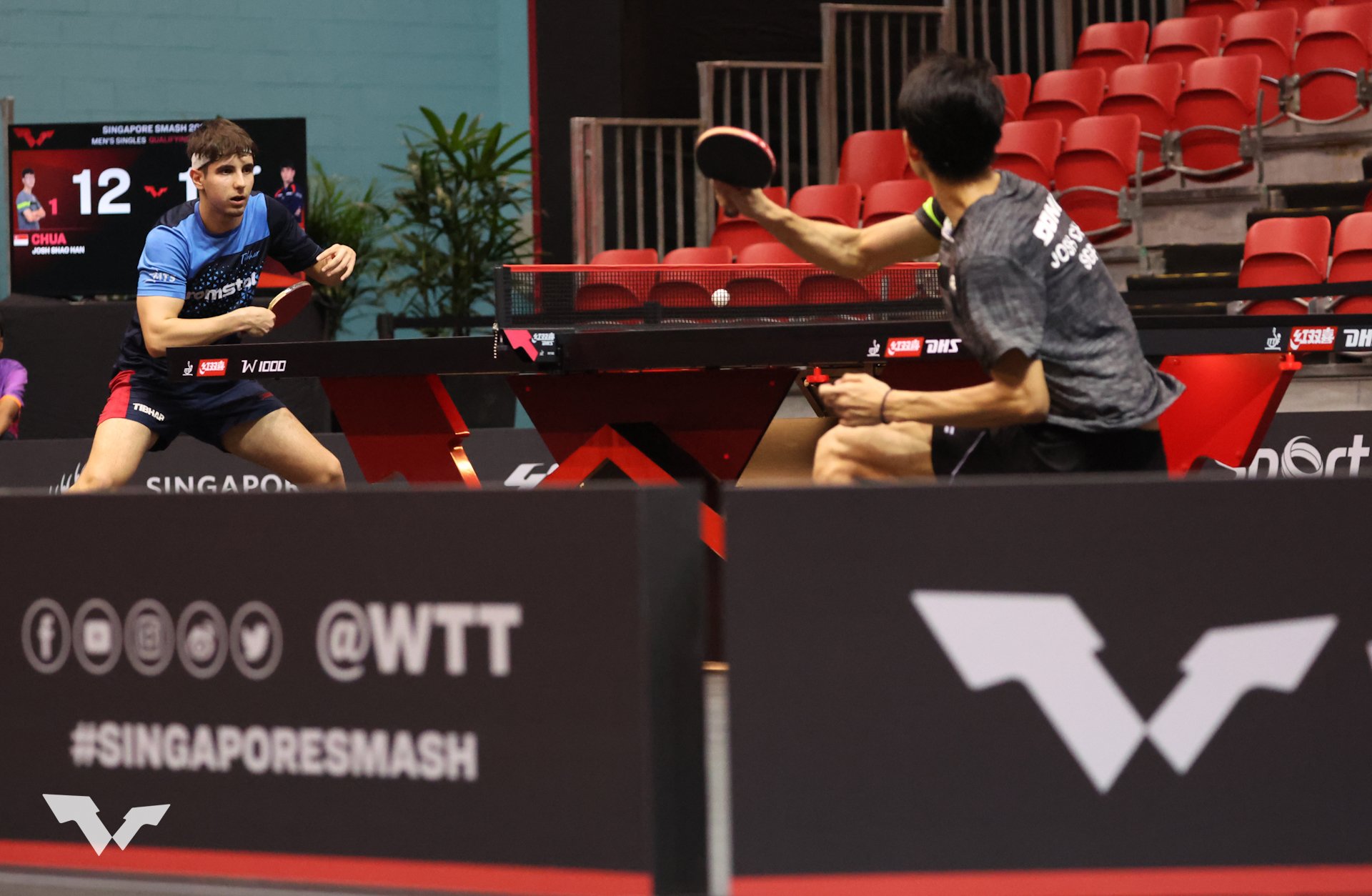 Romania's Eduard Ionescu vs TeamSG's Josh Chua in Singapore Smash Qualifiers. Photo Credit : WTT
"I'm very satisfied with my performance today! Despite trailing by one game, I fought back to win
the fourth game 12-10. I was also able to keep my cool and focus on winning one point at a time. I feel very privileged to be able to play at such a prestigious event, and I'm very thankful to STTA and WTT for giving me this golden opportunity to play at the Singapore Smash this year", said Josh in a post-match interview.
With his impressive win, Josh proceeds to Round 2 off the qualification series, and will next face the
winner between Victor Ishiy (BRA) and Alfred Dela Pena (NZL) on 9 March.

Results Summary for TeamSG players on 7 March:

Women's Singles (Qualification) :
Sawettabut Jinnipa (THA) vs Loy Ming Ying (SGP) : 3-0 (11-7, 11-7, 11-4)
Liu Hsing-Yin (TPE) vs Ser Lin Qian (SGP) : 3-0 (11-8, 11-7, 11-7)
Zauresh Akasheva (KAZ) vs Tan Zhao Yun (SGP) : 3:0 (11-9, 11-5 , 11-7)
Joo Cheonhui (KOR) vs Chloe Lai (SGP) : (11-3, 12-10, 11-1)

Men's Singles (Qualification) :
Josh Chua (SGP) vs Eduard Ionescu (ROM) : 3-2 (11-9, 6-11, 12-14, 12-10, 11-9)
Mizuki Oikawa (JPN) vs Lucas Tan (SGP) : 3-1 (14-16, 11-3, 11-8, 11-4)

Catch the following players in Day 2 (8 March) of the Singapore Smash qualifications:

Women's Singles (Qualification) :
Nicole Arlia (ITA) vs Janissa Cheng (SGP)
Prithika Pavade (FRA) vs Zhang Wanling (SGP)

Men's Singles (Qualification) :
An Jaehyun (KOR) vs Dominic Koh (SGP)
Felix Lebrun (FRA) vs Ethan Poh (SGP)
Event details
Singapore Smash 2023 at the OCBC Arena, will feature 64 player men's and women's singles and 24-pair doubles and mixed competitions. A singles qualifying competition featuring a further 64 men and 64 women will be held from 7-9 March. The overall player line-up for the 7-19 March extravaganza is listed here.
Tickets for the Qualifying sessions and the Main draw are available here.
Pearlyn Koh played Table Tennis competitively for 9 years. She represented Team Singapore at several major tournaments, including the 2018 Asian Games and World Table Tennis Championships. In 2019, Pearlyn was also the sole Southeast Asian player to enter the Top 16 at the Asian Junior & Cadet Table Tennis Championships. During her free time, Pearlyn enjoys reading and catching up with her friends. Having retired from the national team in Feb 2023, she's now a Business Ad undergrad at NUS.