TeamSG's Koen Pang Bows Out of the Men's Singles at Singapore Smash after a Strong Fight!
by Circle, on March 14, 2023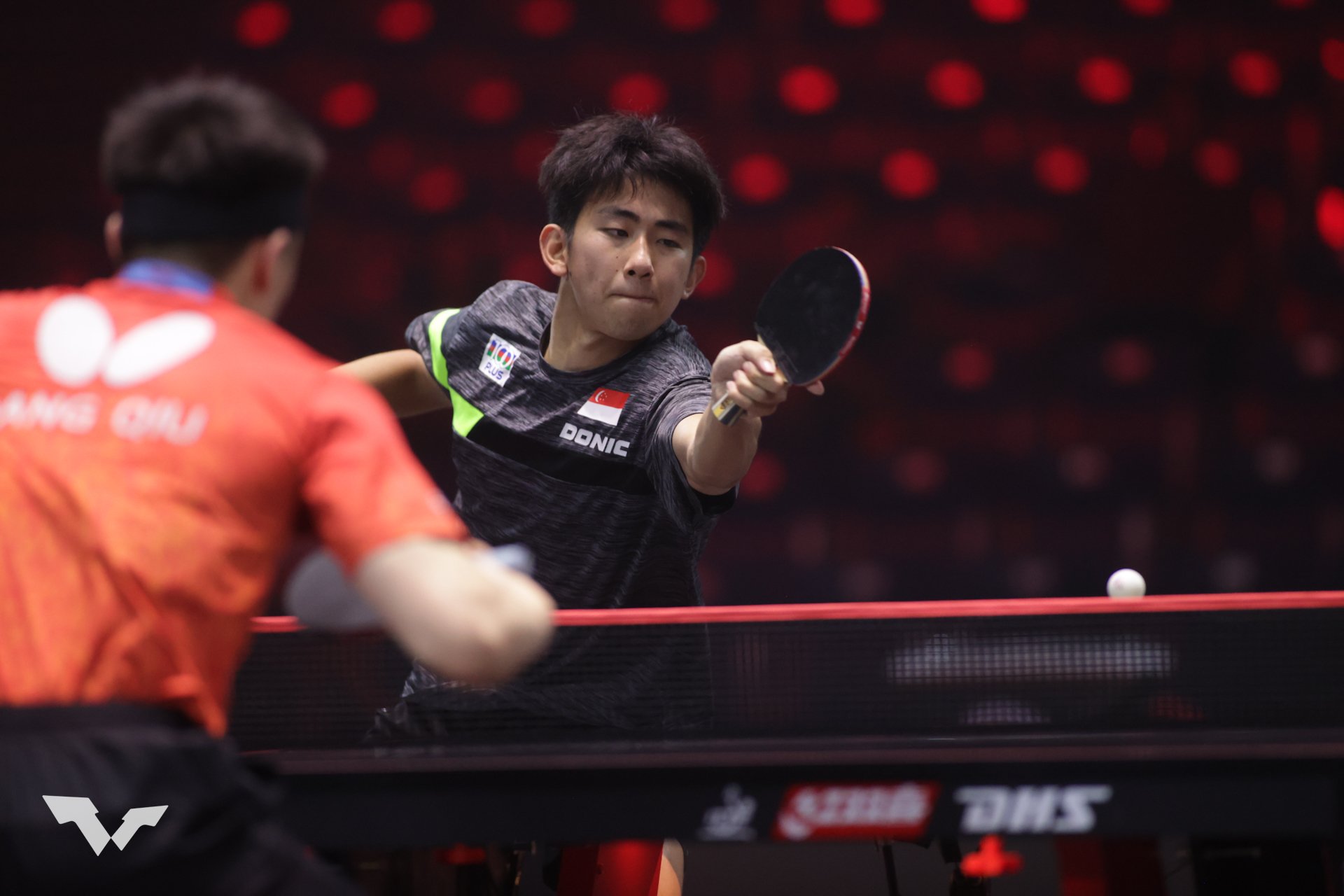 TeamSG's Koen Pang vs Qiu Dang (GER) in Singapore Smash 2023. Photo Credit : WTT
By Pearlyn Koh
Exciting table tennis action continued on Tuesday (14 March), as the world's best table tennis players gathered at the OCBC Arena to battle it out for victory at the second-ever Singapore Smash!
In the first match of the evening session at the Infinity Arena, local fans watched Team Singapore's Koen Pang took on world number 11, Qiu Dang. Prior to the duo's round of 32 encounter, the 20 year old paddler beat Australia's Nicholas Lum (world number 42), while his German opponent overcame England's Liam Pitchford (world number 24), in their respective opening round matches.
Currently ranked 131st in the world, the TeamSG paddler has been no stranger to the international stage. Besides being the reigning SEA Games Mixed Doubles Gold medalist, Koen is also part of the team which won silver at the 2022 Commonwealth Games. The local favourite also made his name known in 2018, when he became the first-ever Singaporean player to reach the world number 1 status in the Boys' Under 18 category.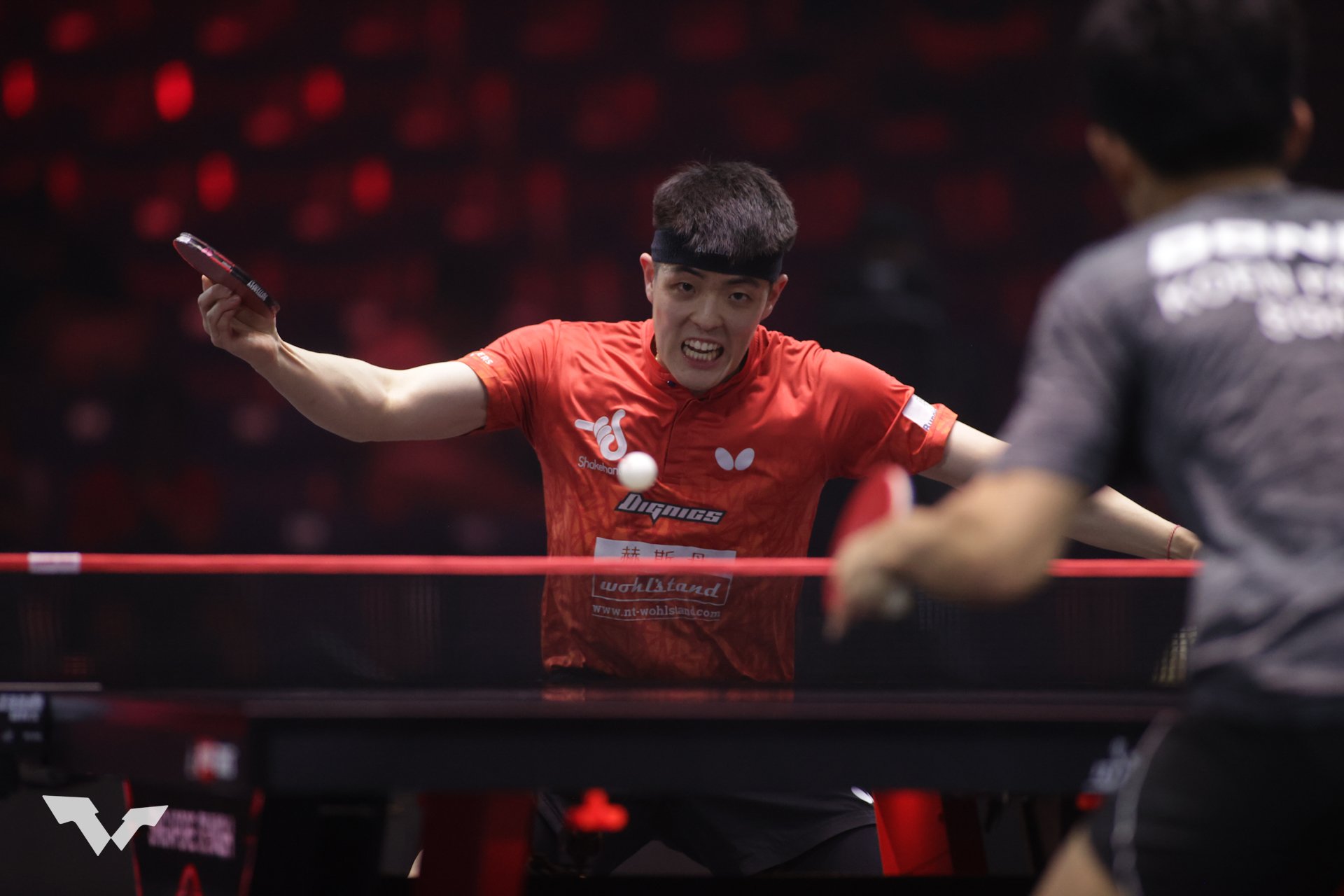 Germany's Qiu Dang vs TeamSG's Koen Pang in Singapore Smash 2023. Photo Credit : WTT
Qiu Dang, on the other hand, is presently ranked 11th in the world. Being one of the few penhold players in the modern table tennis scene, his unique playing style has brought him several successes on the court. And besides being the reigning Men's Singles European champion, he also recently won the silver medal at the 2023 Europe Top 16 Cup, which concluded 2 weeks ago. Meanwhile at last year's edition of the Singapore Smash, the 26 year old also won bronze in the Men's Doubles event!
The duo's clash at the Infinity Arena marks their first ever career meeting. Against a player with such accolades, the 2019 SEA Games gold medallist knew he was in for a tough match against the German. While Koen would have hoped to repeat his success from the first round, it was ultimately the older and more experienced Qiu Dang who took the eventual victory, 3-0 (11-4, 11-4, 11-7).
Game 1 started with some nervousness on Koen's end, as he struggled with his receiving game. That allowed the European champion to execute his well-versed service-attack combinations, which enabled him to swiftly take a 6-1 lead. Fighting n front of his home crowd, the local athlete tried to score as many points as he could by improving the quality of his returns and tapping on his opponent's unforced errors. But despite Koen's attempts to make full use of his advantage as a southpaw, the penhold player was unfazed as his powerful forehand shots proved even stronger! The German's good form made it tough for the Singaporean, as Qiu Dang clinched the first game with a score margin of 11-4!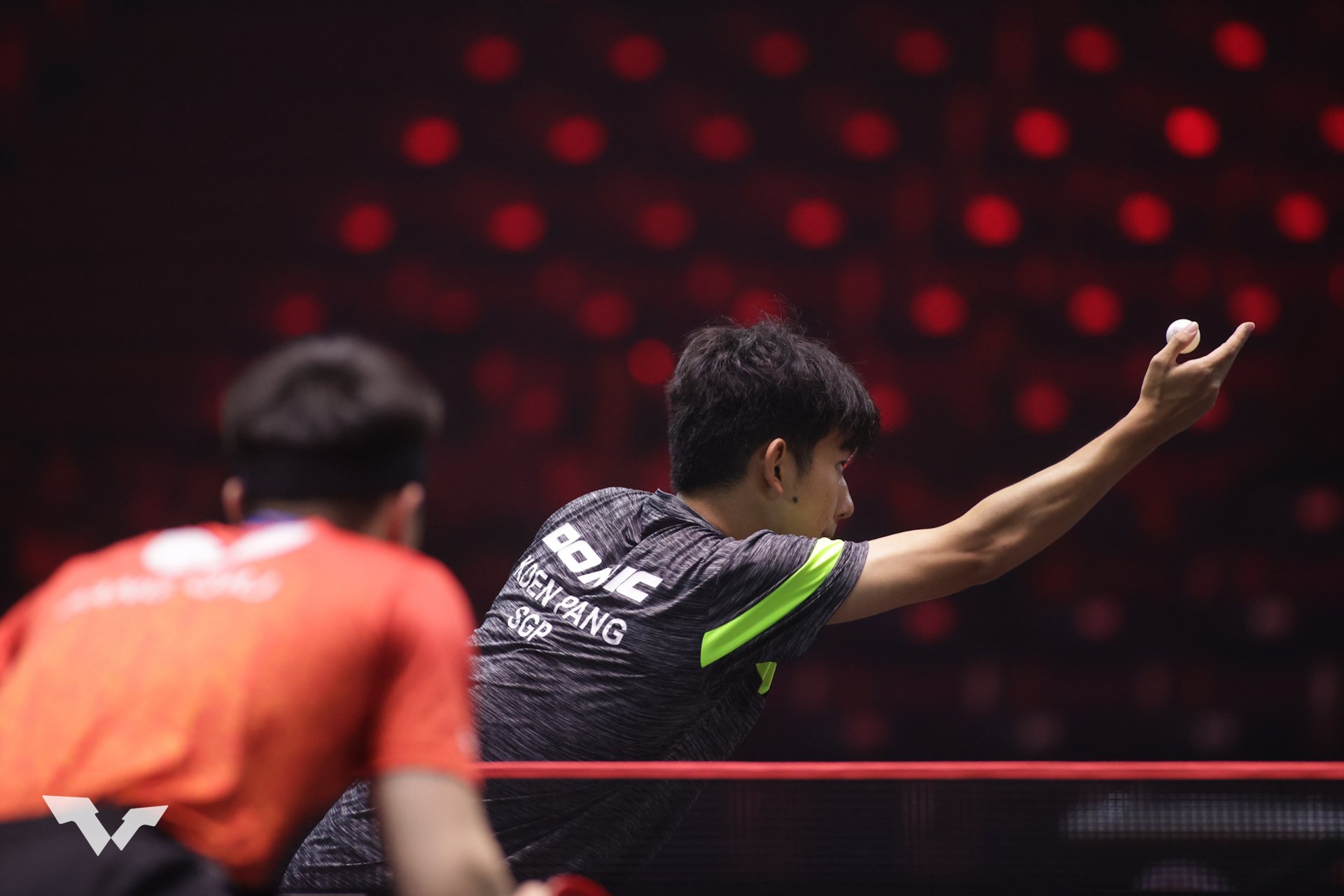 TeamSG's Koen Pang vs Qiu Dang (GER) in Singapore Smash 2023. Photo Credit : WTT
Learning from the first game, the 20 year old local paddler entered Game 2 better prepared for more rallies. Knowing he had nothing to lose, the world number 131 player began to execute his shots more freely and started attacking more. This strategy was useful for a start, as Koen brought himself to a 4-1 lead against the reigning European champion. But things took a turn, as a series of unforced errors by the Singaporean allowed Qiu Dang to quickly regain the lead 5-4. This forced the TeamSG paddler to call for a timeout, with the hope of breaking the 26 year old's winning momentum. However, the timeout was insufficient to stop the world number 11, as he continued his strong form in the second game, clinching all 6 points on offer to take the second game 11-4!
Albeit the SEA Games champion's attempts to try out new strategies in the final game, Qiu Dang's all-roundedness made it extremely tough for the Singaporean to find any loopholes. The German made little to no unforced errors, and knew exactly how he should precisely position his returns to cause trouble for Koen. As a result, the local paddler could only defend on most occasions, and remained rather passive throughout the game. Eventually, it was the Qiu Dang, who claimed the third game 11-7, to earn himself a ticket into the third round of the Singapore Smash! And with this win, Qiu Dang will next face France's Felix Lebrun in the Round of 16.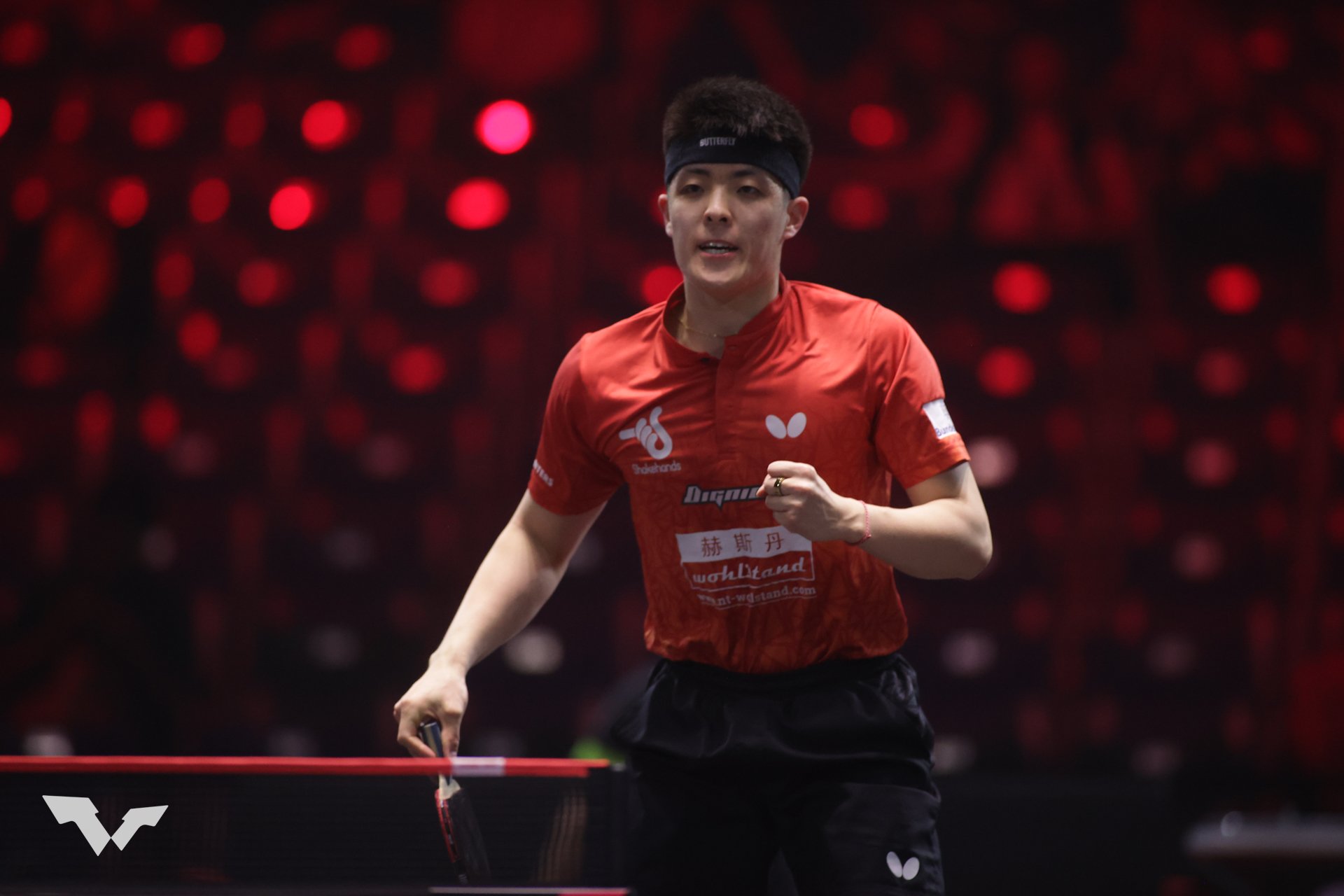 German paddler Qiu Dang qualifies for 3rd round of Men's Singles at Singapore Smash 2023. Photo Credit : WTT
"Koen got off to a good start in the second game, but I just told myself to remain calm and try not to widen his lead, or it will be difficult for me to catch up. I also tried to vary my serves in the second game, and I'm glad my strategies worked. Felix is a strong opponent and I am prepared for a tough match ahead", said the world number 11 in a post-match interview.
"I'm not very happy with my performance. He played really well and attacked my weaknesses and I couldn't overcome that. I need to work on my skills and techniques so I can tap onto my reserves in the bag when playing at such a level. It's a bittersweet experience today as I realised table tennis is simple and yet complex at the same time. To get the upper hand, I first need to work out my opponent's weakness, expose his weaknesses, and figure out a way to leverage on that.To progress to the round of 32 is pretty good, but I hope to get even further the next time round, "said Koen after his match.
While Koen is out of the Men's Singles, his Singapore Smash hopes remain alive as he teams up with teenage star Izaac Quek, to take on reigning Singapore Smash Men's Doubles champions Fan Zhendong and Wang Chuqin, in the Round of 16.
Catch Koen Pang and Izaac Quek on Wednesday (15 March) at 1pm, as they take on reigning Singapore Smash champions Fan Zhendong and Wang Chuqin in the Round of 16 of the Men's Doubles!
16 year old Izaac will also face off against world number 3 Wang Chuqin in the Men's Singles 3rd round event at 8.45pm.
Support Izaac at the Infinity Arena and grab your tickets at 20% discount off all Category 1 to 3 tickets for Session 10 (7pm, 15 March 2023) purchased through Ticketmaster.
Simply enter the promo code: GOIZAAC at the seat selection page.
Enter the promo code: SMASHBACK at the seat selection page to enjoy a 10% discount for all Category 1-4 tickets for all sessions (excluding sessions 15, 16 and 17) purchased through Ticketmaster.
This promotion is active from 15 March 2023 1000hrs.
Event details
Singapore Smash 2023 at the OCBC Arena, features 64 player men's and women's singles and 24-pair doubles and mixed competitions. A singles qualifying competition featuring a further 64 men and 64 women was held from 7-9 March. And the overall player line-up for the 7-19 March extravaganza is listed here.
Tickets for the the Main draw are available here.
Pearlyn Koh played Table Tennis competitively for 9 years. She represented Team Singapore at several major tournaments, including the 2018 Asian Games and World Table Tennis Championships. In 2019, Pearlyn was also the sole Southeast Asian player to enter the Top 16 at the Asian Junior & Cadet Table Tennis Championships. During her free time, Pearlyn enjoys reading and catching up with her friends. Having retired from the national team in Feb 2023, she's now a Business Ad undergrad at NUS.