TeamSG's Koen Pang Defeats Oceania Champion to Reach 2nd Round at Singapore Smash 2023!
by Circle, on March 12, 2023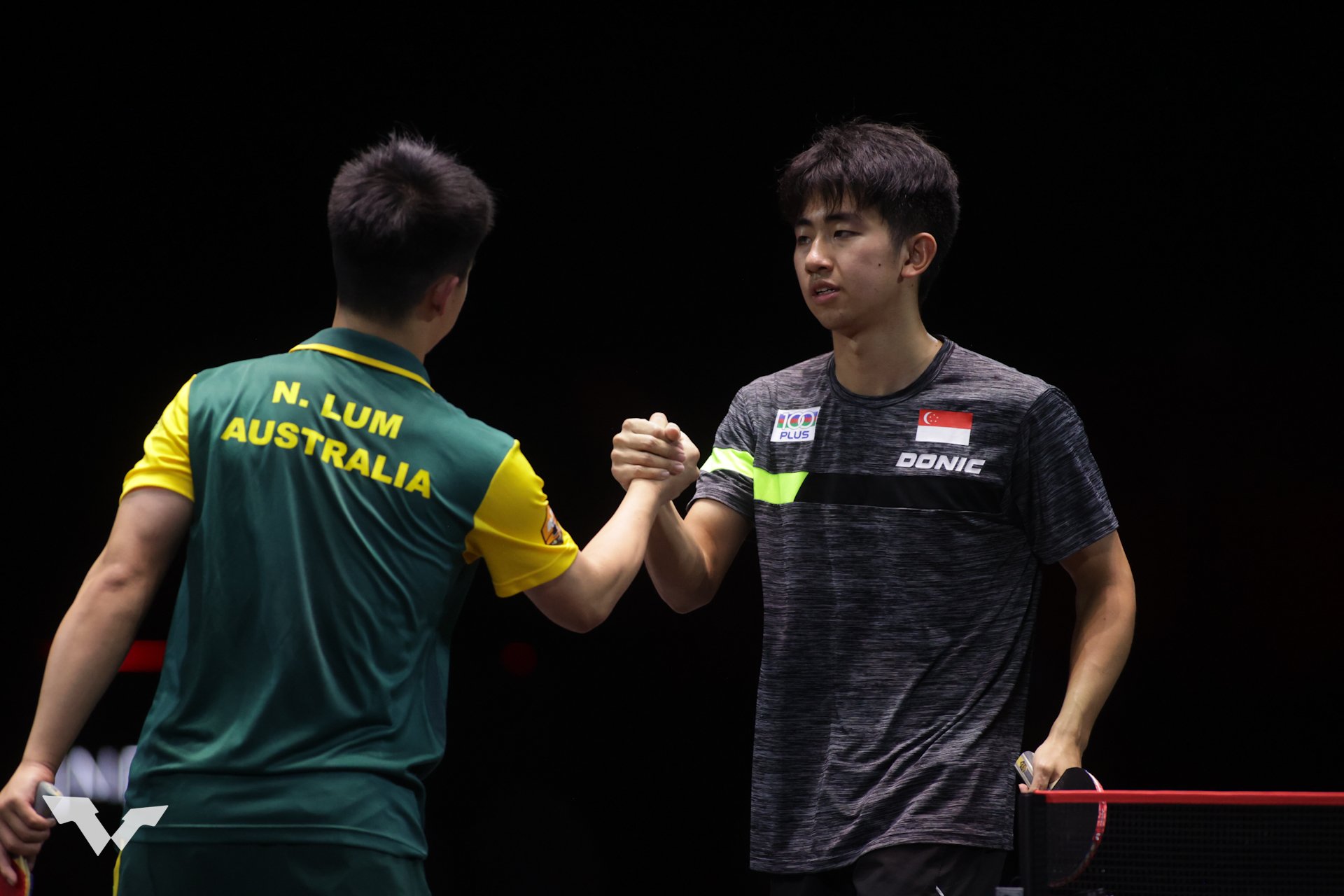 Nicholas Lum (AUS) vs TeamSG's Koen Pang at Singapore Smash 2023. Photo Credit : WTT
By Pearlyn Koh
On Day 2 of the main draw at the second-ever Singapore Smash, all eyes were on home favourite Koen Pang (world number 131), as he overcame Australia's Nicholas Lum (world number 44) in straight games (11-3, 11-6, 11-4), in the round of 64 of the Men's Singles event! His victory was the Republic's 3rd in the main draw, after compatriots Izaac Quek (men's singles) and mixed doubles pair Zeng Jian and Clarence Chew won their respective opening matches on 11 March.
Koen, the rising star of Singapore's table tennis and the reigning Mixed Doubles champion at the 2021 SEA Games, is currently the highest-ranked local male player. At just 20 years old, Koen has already won the title of the Men's Singles champion at the 2019 SEA Games. The talented paddler also successfully led the Republic's Men's Team to score bronze at last year's SEA Games, followed by a silver medal at the Commonwealth Games in Birmingham.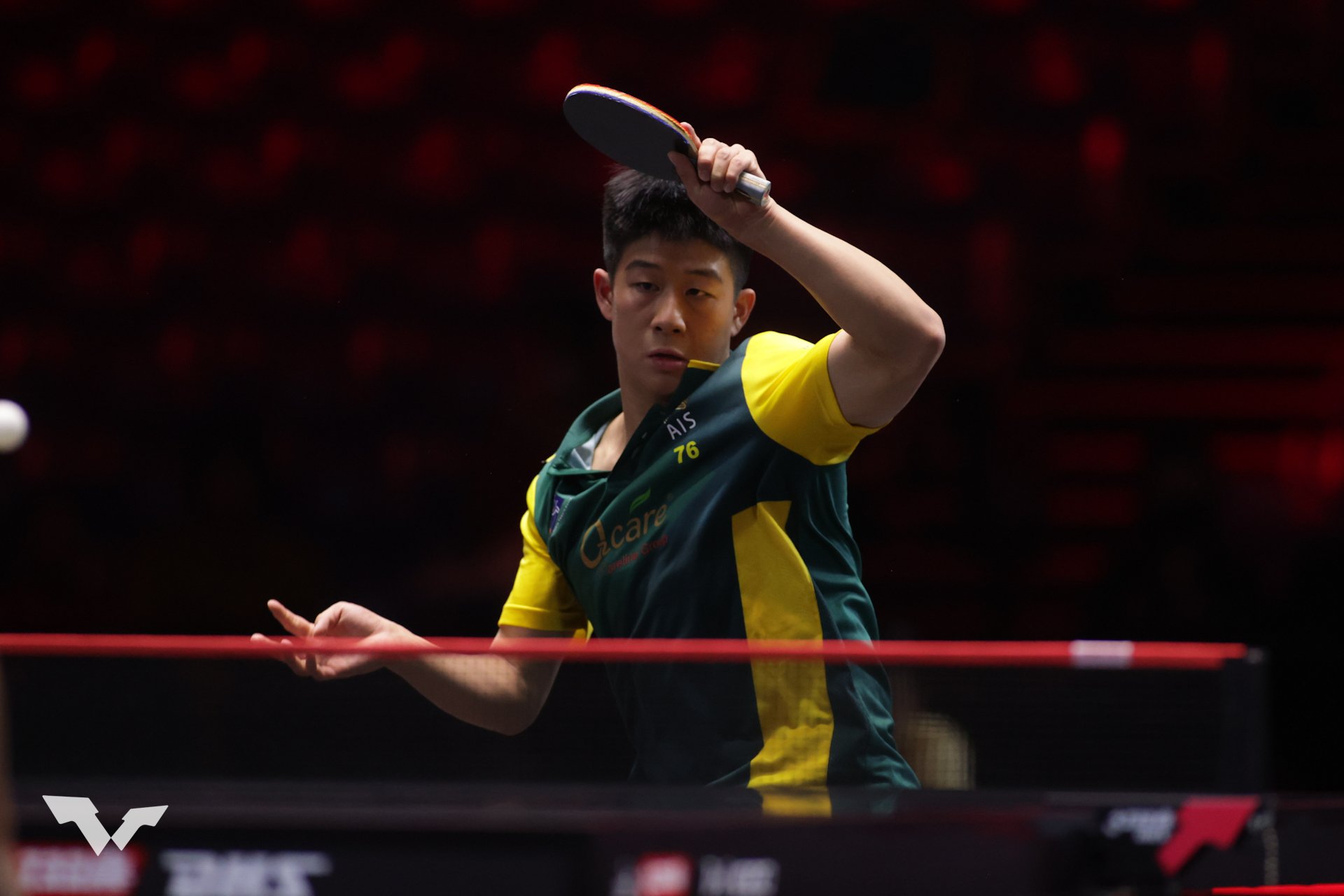 Australian teen Nicholas Lum at Singapore Smash 2023. Photo Credit : WTT
17 year old Nicholas, on the other hand, is the top male player in Oceania, having just won the Men's Singles title at the Oceania Championships last September. And at the WTT Youth Contender Italy in 2021, Nicholas scored Gold in the Boys' Under 17 category - despite being only 15 then!
With the glittering profile of both talents of their respective countries, the duo's face-off at the Infinity Arena on Sunday (12 March) was bound to be an interesting one. They started off Game 1 with some nervousness, with scores being tied at 3 apiece as both athletes executed their carefully-calibrated attacks. Then, it was as though the 20 year old TeamSG paddler suddenly found his form, as he went on to play a series of strong shots. Coupled with the world number 44's unforced errors, fans at the OCBC Arena witnessed Koen dominating the first game by taking 8 straight points, to take the opening game decisively, 11-3!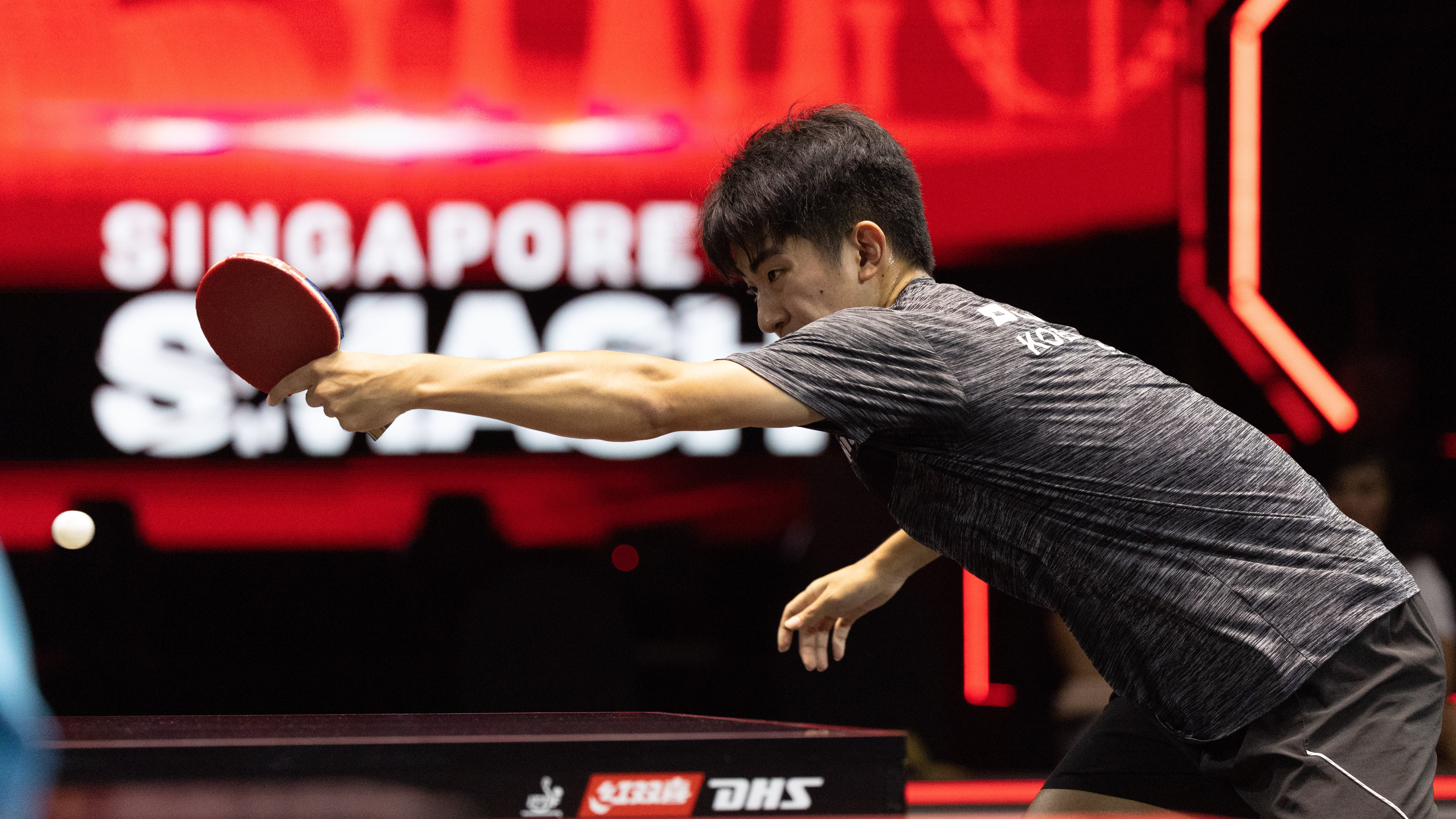 TeamSG's Koen Pang at Singapore Smash 2023. Photo Credit : Ken Chia
In Game 2, the Australian paddler knew he had to adjust his strategy in order to stand a chance at winning. And so, Nicholas started playing more forehand attacks in an attempt to try and catch his Singaporean opponent off-guard, to force him into a defensive position. His tactic worked initially, as he managed to level the score at 4-all. However, the ex-SEA Games champion was quick to adapt and added more spins to his returns, making it harder for the world number 44 to execute his attacks. And once again, the local star managed to widen his lead to 9-4, before sealing off the second game, 11-6!
As both players returned to the table for Game 3, two unforced errors on Koen's end allowed his opponent to take his first lead of the game, 3-1. But the Singaporean quickly refocused himself, as he took 4 consecutive points to retake the lead. The 20 year old became more confident and relaxed in the rest of the game, as he added more variations to his serves and rhythm of his shots. That seemed to have caused his Australian opponent's confidence to take a hit as Koen went on to dominate the third game, with a score margin of 11-4, taking the overall victory 3-0!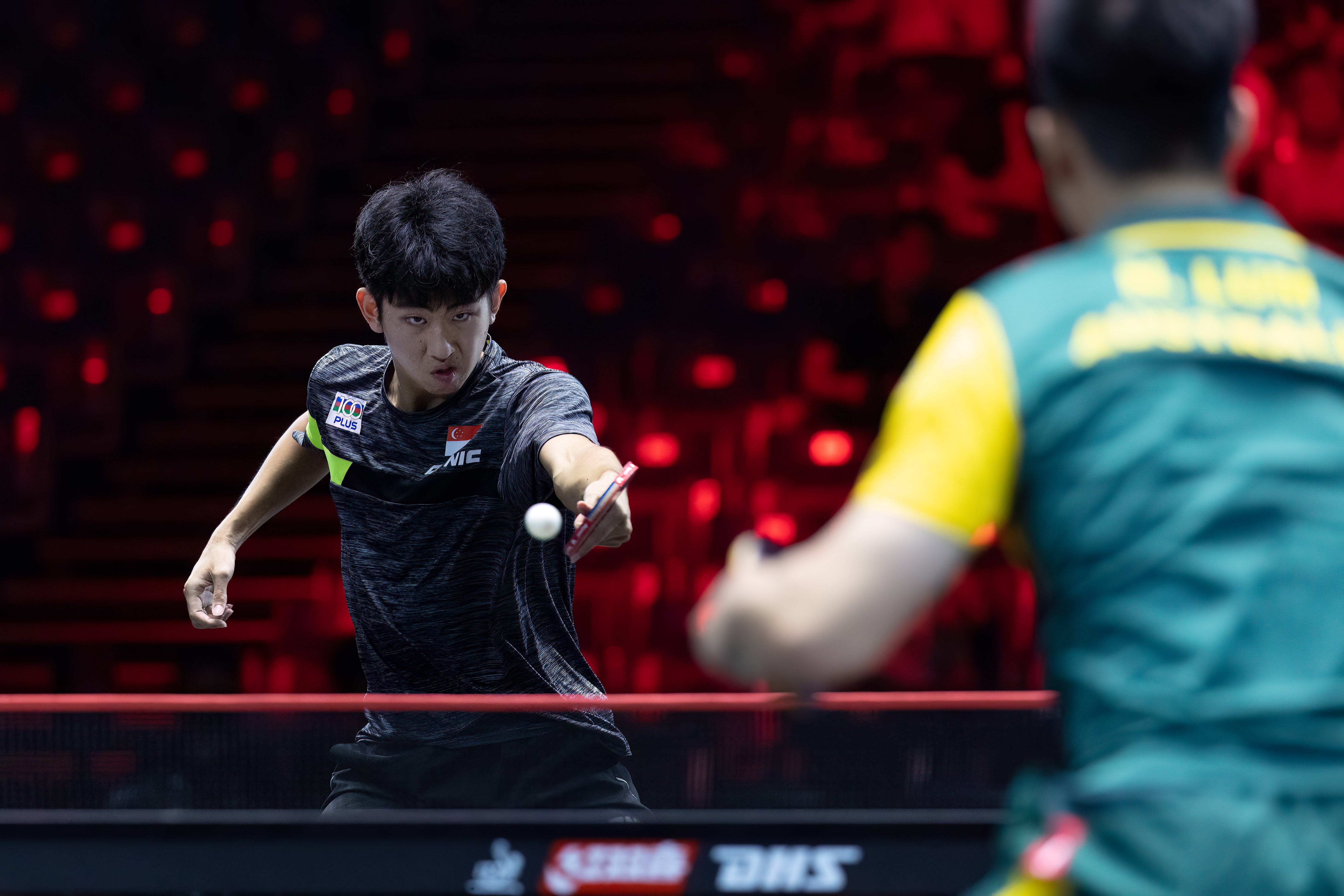 TeamSG's Koen Pang vs Nicholas Lum (AUS) at Singapore Smash 2023. Photo Credit : Ken Chia
"After my first-round loss to India's Sathiyan last year, I really wanted to win before my home crowd this year - so I'm really delighted with my win today! I think I played quite well in the match today, and I will give it my all to fight for my next match", said Koen, following his round of 64 win.
With this win, Koen will next face Germany's Qiu Dang (world number 11) in the round of 32 of the Men's Singles event, scheduled to take place on Tuesday (14 March).
Results summary of TeamSG players on 12 March:
Men's Singles :
Koen Pang (SGP) vs Nicholas Lum (AUS) - 3:0 (11-3, 11-6, 11-4)
Can Akkuzu (FRA) vs Beh Kun Ting (SGP) - 3-1 (5-11, 11-2, 11-6, 11-5)
Kilian Ort (GER) vs Clarence Chew (SGP) - 3:0 (11-6, 11-9, 12-10)
Women's Singles :
Miyuu Kihara (JPN) vs Zhou Jingyi (SGP) - 3:0 (11-7, 11-9, 11-7)
Men's Doubles:
Adam Szudi/Nandor Ecseki (HUN) vs Beh Kun Ting/Josh Chua (SGP) - 3:1 (11-9, 5-11, 11-6, 11-5)
Women's Doubles:
Chen Meng/Wang Yidi (CHN) vs Janissa Cheng/Zhang Wanling (SGP) - 3:0 (11-6, 11-9, 11-4)
Catch the following TeamSG players on 13 March at the OCBC Arena:
Men's Singles:
Mattias Falck (SWE) vs Izaac Quek (SGP)
Men's Doubles:
Clarence Chew/Ethan Poh (SGP) vs Koen Pang/Izaac Quek (SGP)
Mixed Doubles:
Sathiyan Gnanasekaran/Manika Batra (IND) vs Clarence Chew/Zeng Jian (SGP)
Women's Doubles:
Lee Ho Ching/Chen Szu-Yu (HKG/TPE) vs Goi Rui Xuan/Wong Xin Ru (SGP)
Lily Zhang/Amy Wang (USA) vs Ser Lin Qian/Zhou Jingyi (SGP)
Shan Xiaona/Nagasaki Miyu (GER/JPN) vs Loy Ming Ying/Chloe Lai (SGP)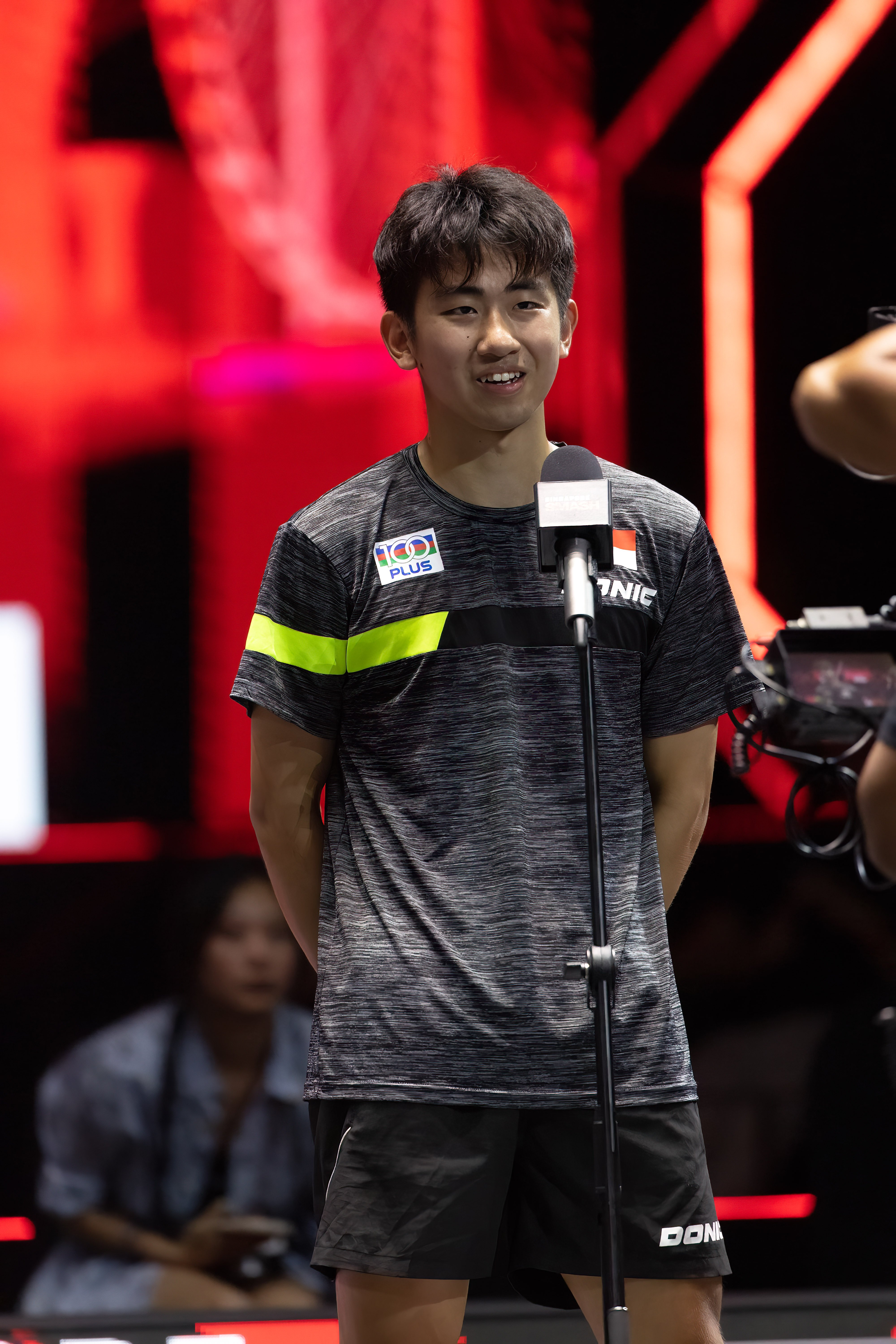 TeamSG's Koen Pang with his post-match courtside interview at Singapore Smash 2023. Photo Credit : Ken Chia
Event details
Singapore Smash 2023 at the OCBC Arena, features 64 player men's and women's singles and 24-pair doubles and mixed competitions. A singles qualifying competition featuring a further 64 men and 64 women was held from 7-9 March. And the overall player line-up for the 7-19 March extravaganza is listed here.
Tickets for the the Main draw are available here.
Pearlyn Koh played Table Tennis competitively for 9 years. She represented Team Singapore at several major tournaments, including the 2018 Asian Games and World Table Tennis Championships. In 2019, Pearlyn was also the sole Southeast Asian player to enter the Top 16 at the Asian Junior & Cadet Table Tennis Championships. During her free time, Pearlyn enjoys reading and catching up with her friends. Having retired from the national team in Feb 2023, she's now a Business Ad undergrad at NUS.