TeamSG's Top 4 headlining athletes in 2021, celebrate in open-top bus parade!
by Circle Stories, on December 26, 2021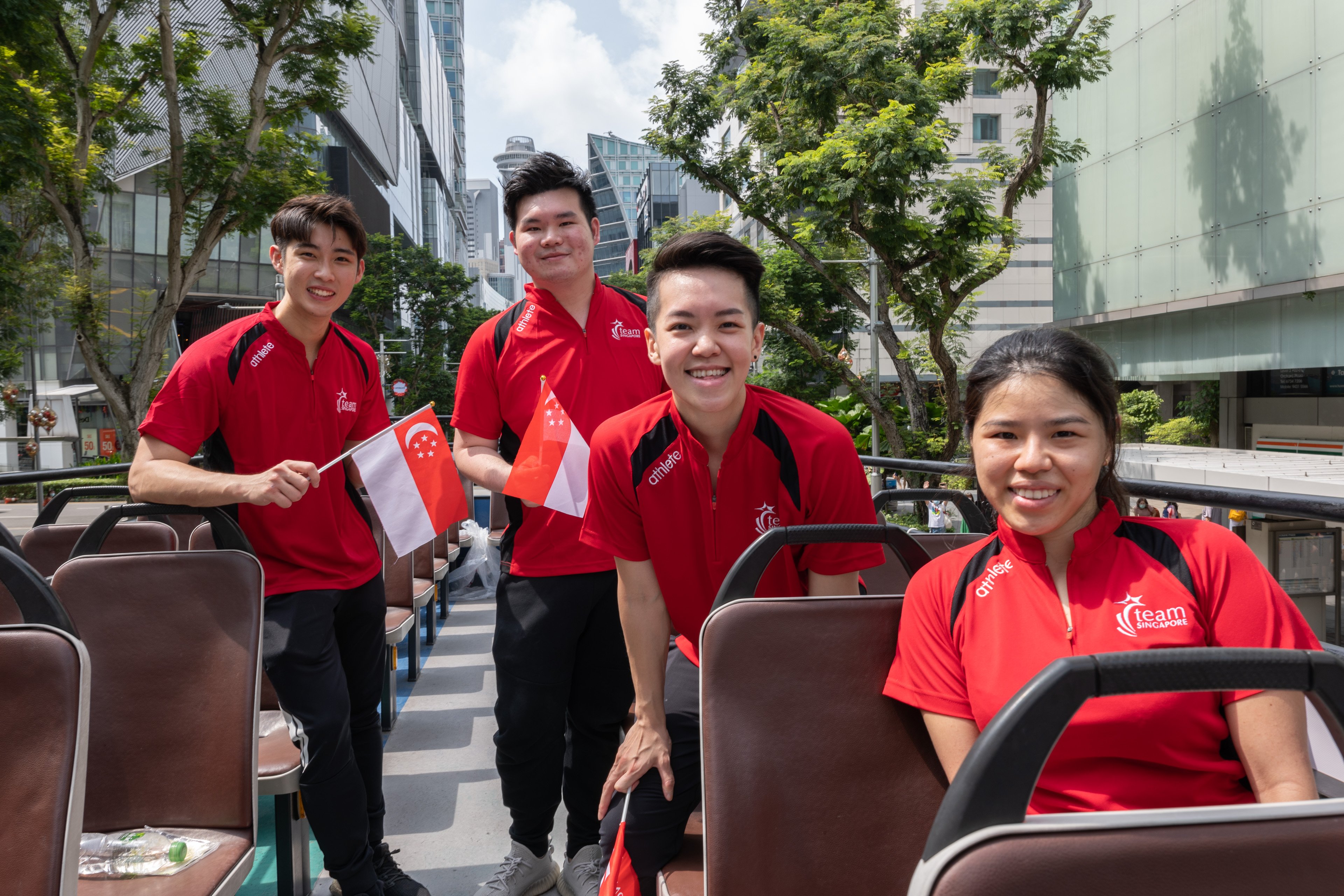 (From L to R : TeamSG's Loh Kean Yew, Aloysius Yapp. Shayna Ng and Yip Pin Xiu on an open-top bus. Photo Credit : Sport Singapore)
By Raj Kumar
For more than 18 months, our Team Singapore athletes were unable to travel overseas to train or compete due to the ongoing global pandemic. 1.5 years is an extremely long period, especially for our elite athletes who had to pivot, adapt and find different ways of training locally in Singapore. Without the key element of international competitions and battling against other world class athletes, our TeamSG sportsmen and women, had to also cope mentally, emotionally and physically. It required a great deal of mental fortitude and focus to maintain an overall positive mindset, in light of the evolving pandemic situation in the Lion City.
Back in July 2021 though, the Republic saw our national athletes embark to Tokyo for the Olympic and Paralympic Games. This marked the beginning of the gradual return of our TeamSG athletes on the global stage. Since the end of Tokyo 2020, we've seen our athletes travel to compete at the World Floorball Championships, World Youth Sailing Championships, World Table Tennis Championships, the AFF Suzuki Cup etc. And among our athletes returning to compete at the international arena, were 4 of the nation's top-performing stars of 2021!
The "Fantastic 4" are :
Loh Kean Yew : World Badminton Men's Singles Champion
Shayna Ng : World Bowling Women's Singles Champion
Yip Pin Xiu : 2-time Paralympic Gold-medallist, Tokyo 2020
Aloysius Yapp : 1st Singaporean to be ranked world No. 1 in Pool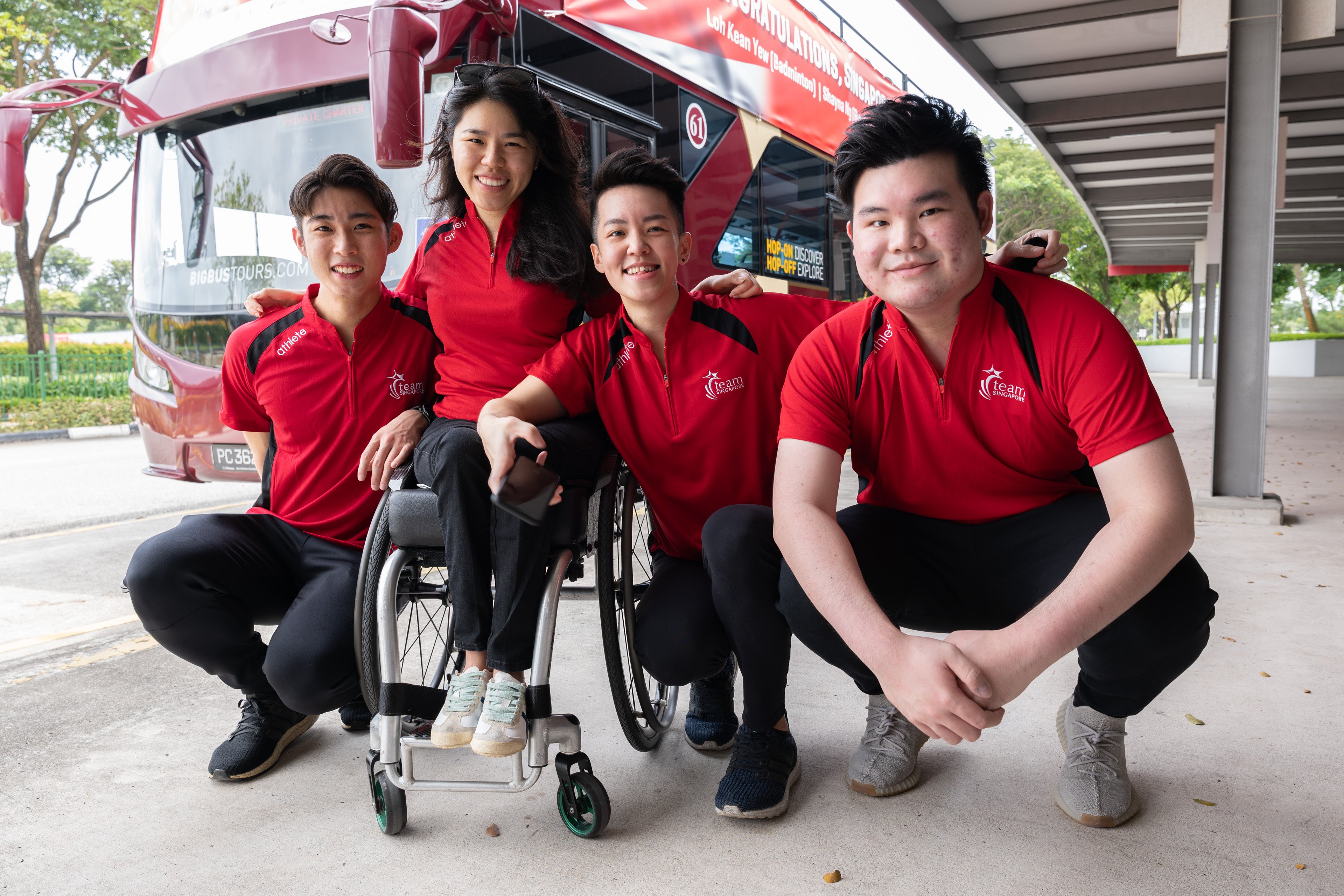 (From L to R : Loh Kean Yew, Yip Pin Xiu, Shayna Ng and Aloysius Yapp. Photo Credit : Sport Singapore)
With 2021 almost at a close and a rapidly approaching new year, packed with 3 Major Games for the very 1st time (SEA Games, Commonwealth Games and Asian Games), and with Covid-19 under strict control here, it was the right time to allow Singaporeans to celebrate the nation's historic sporting successes of the last 6 months! Hence, an open-top bus parade was held by the Singapore Sport Institute (SSI), in collaboration with Cuesports Singapore, Singapore Badminton Association, Singapore Bowling Federation and the Singapore Disability Sports Council.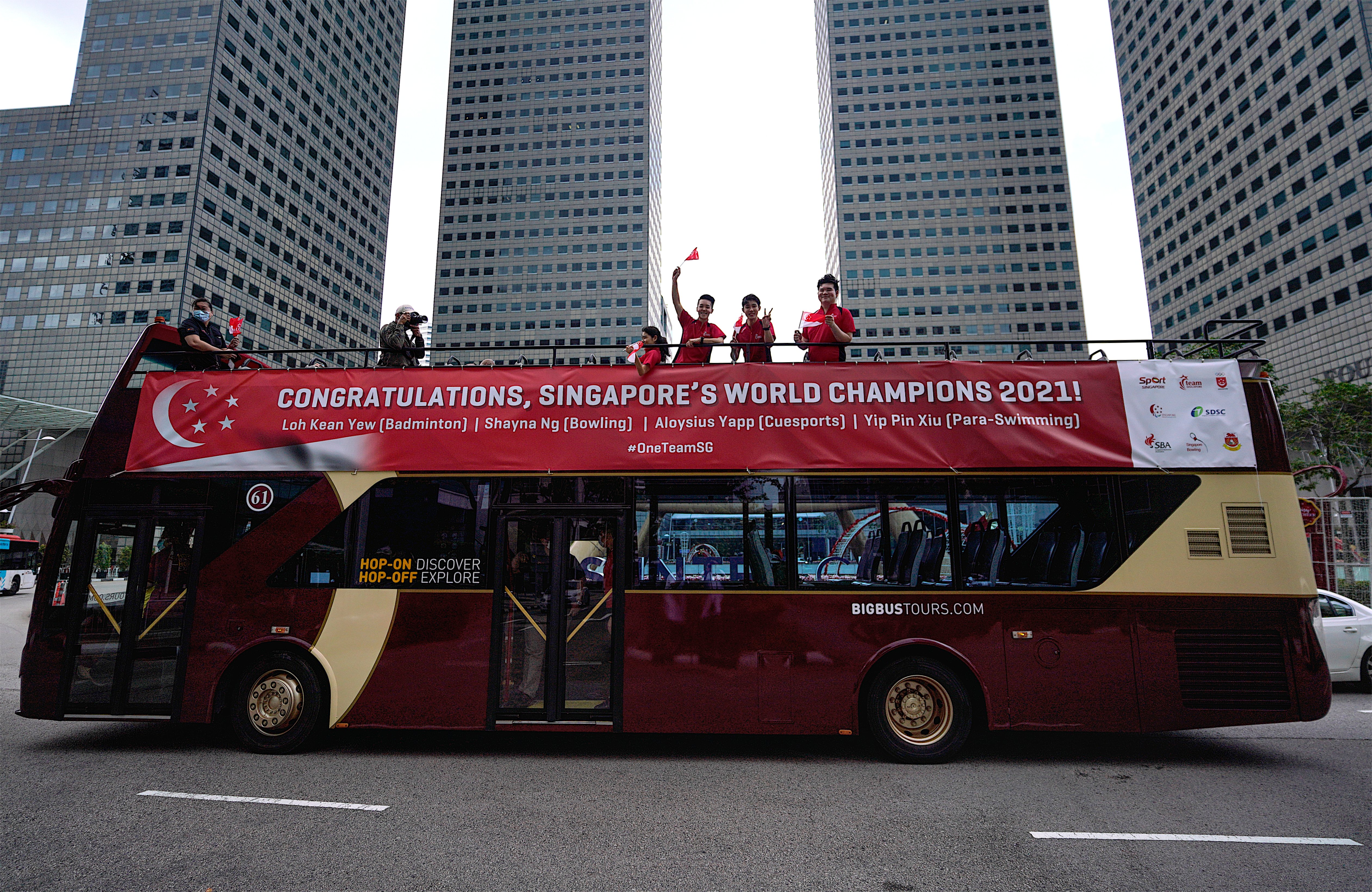 (Open-top Bus Parade Celebrations. Photo Credit : SportSG)
The 2-hour open-top bus parade was a golden opportunity for Singaporeans to see their sporting heros in the flesh. But as part of the current safety management measures (SMMs), organisers decided not to share the exact locations of the city tour, to prevent members of the public from gathering in groups. The route began from the Sports Hub onto Marina Bay Sands, Chinatown, Clarke Quay, Orchard Road, Dhoby Ghaut, Bugis Junction and Suntec City, before finishing at the Sports Hub.
Su Chun Wei (Chief of SSI) said, "We are immensely proud of the achievements by Kean Yew, Pin Xiu, Shayna and Aloysius, each rising to the top of their sports at the world level. Their success and other breakthroughs by our athletes this year, uplift Singaporeans' spirit during this pandemic period. It inspires our people to persevere, overcome challenges and reach for greater heights in their respective endeavours.
As a community, these performances present an excellent opportunity for us to continue to rally behind our athletes too. The Singapore Sport Institute and National Youth Sport Institute are committed to support our athletes in achieving more breakthrough performances in 2022."
Here are some of the colourful and exciting photos from the Bus Parade. See if you can recognize our Lion City landmarks :)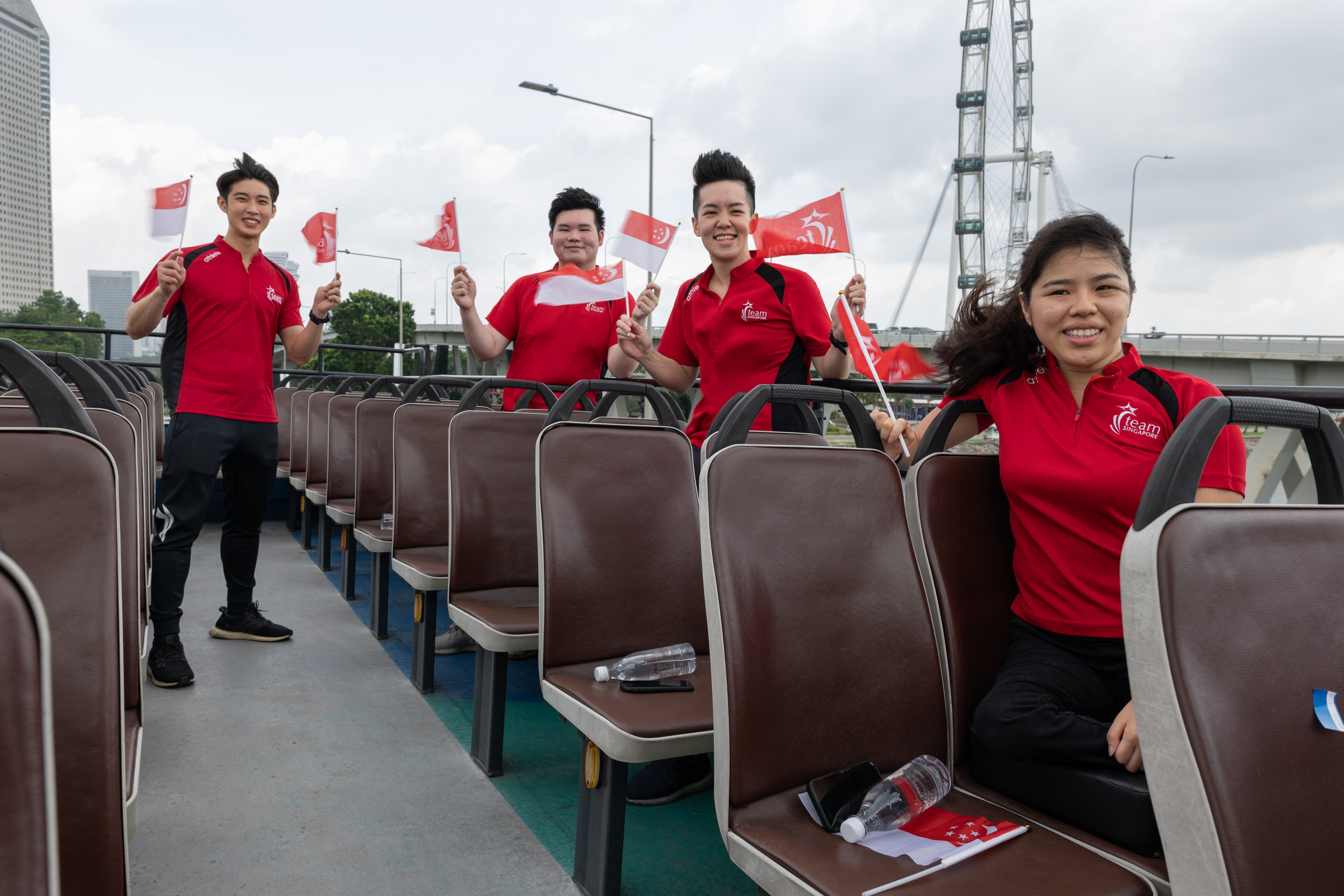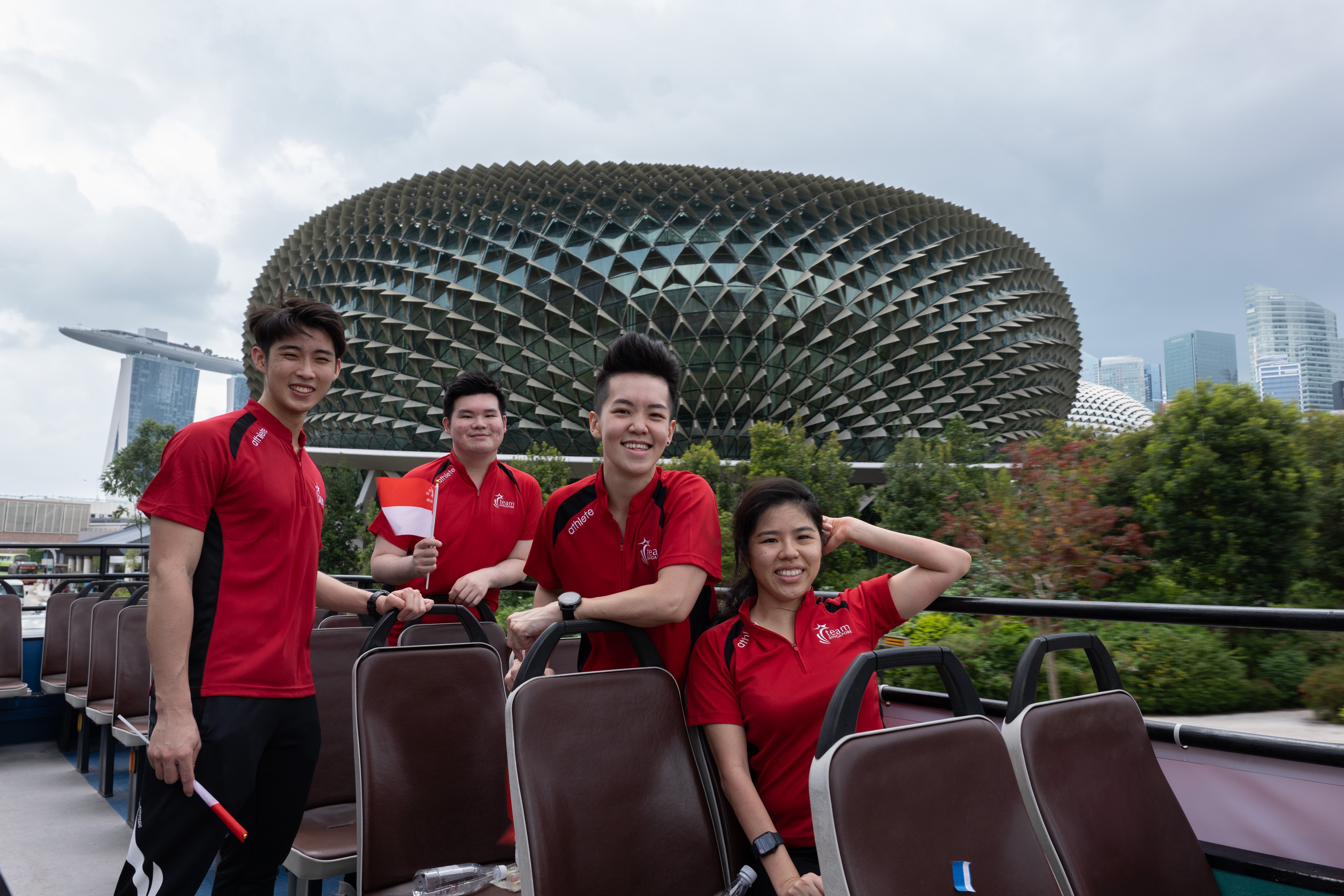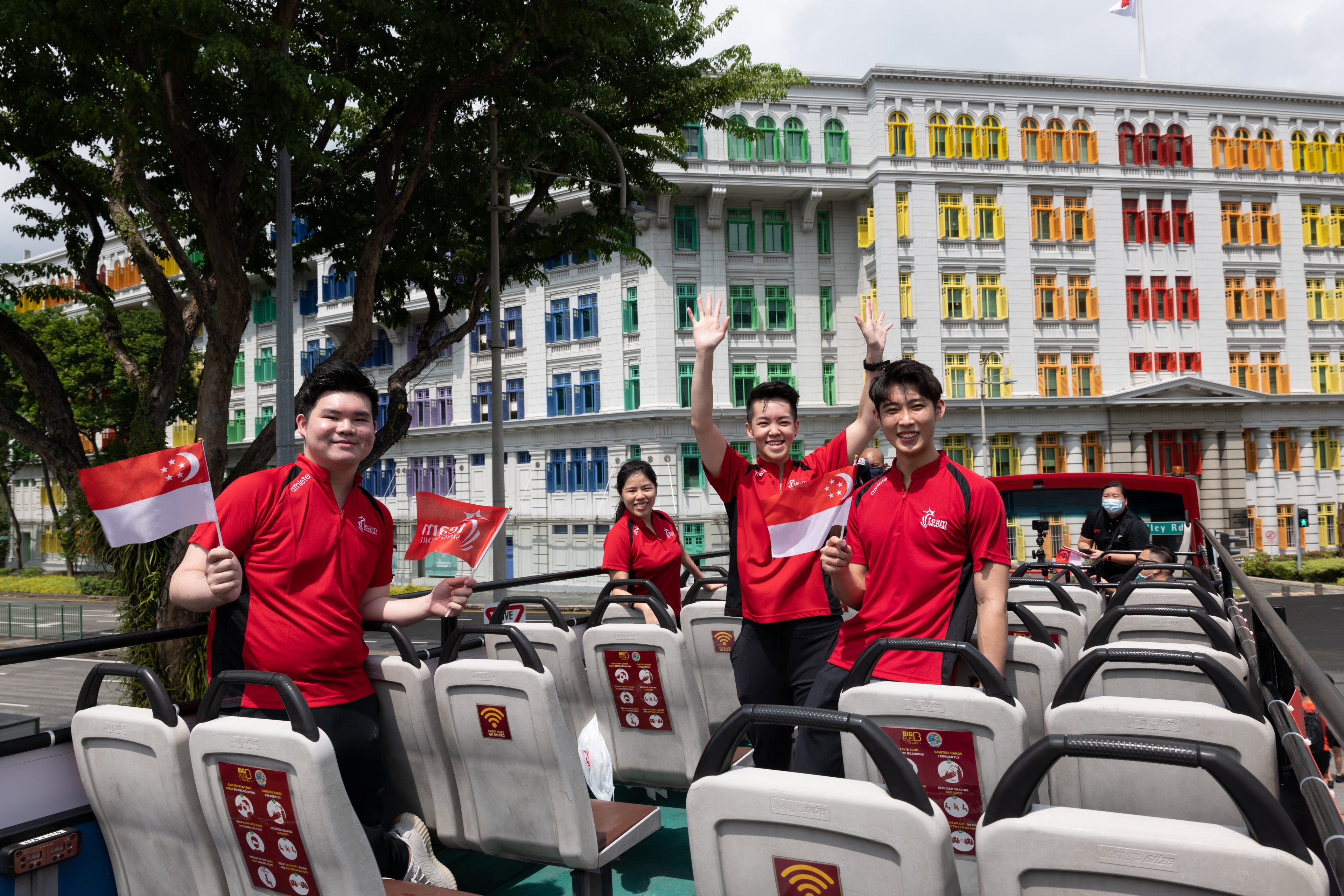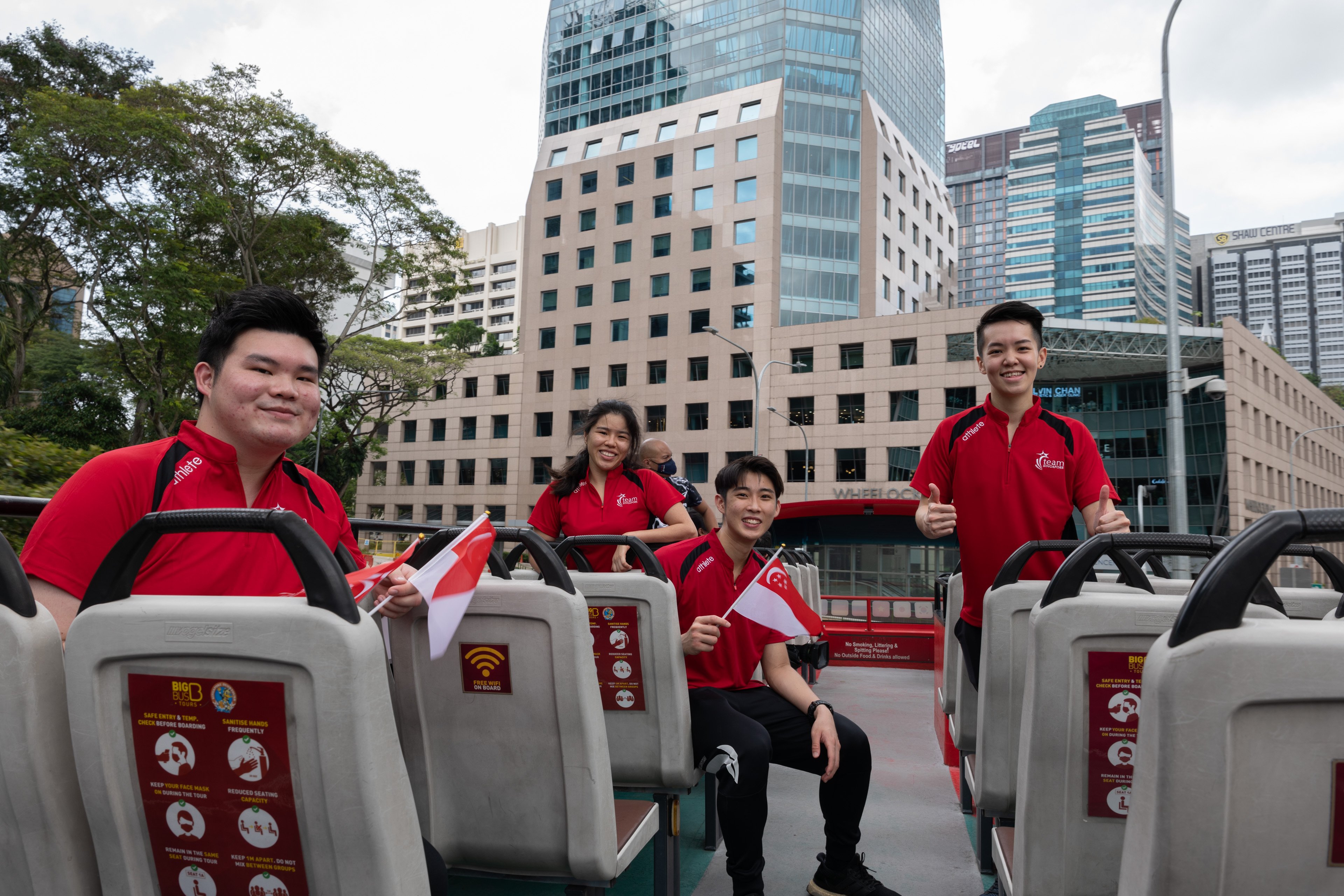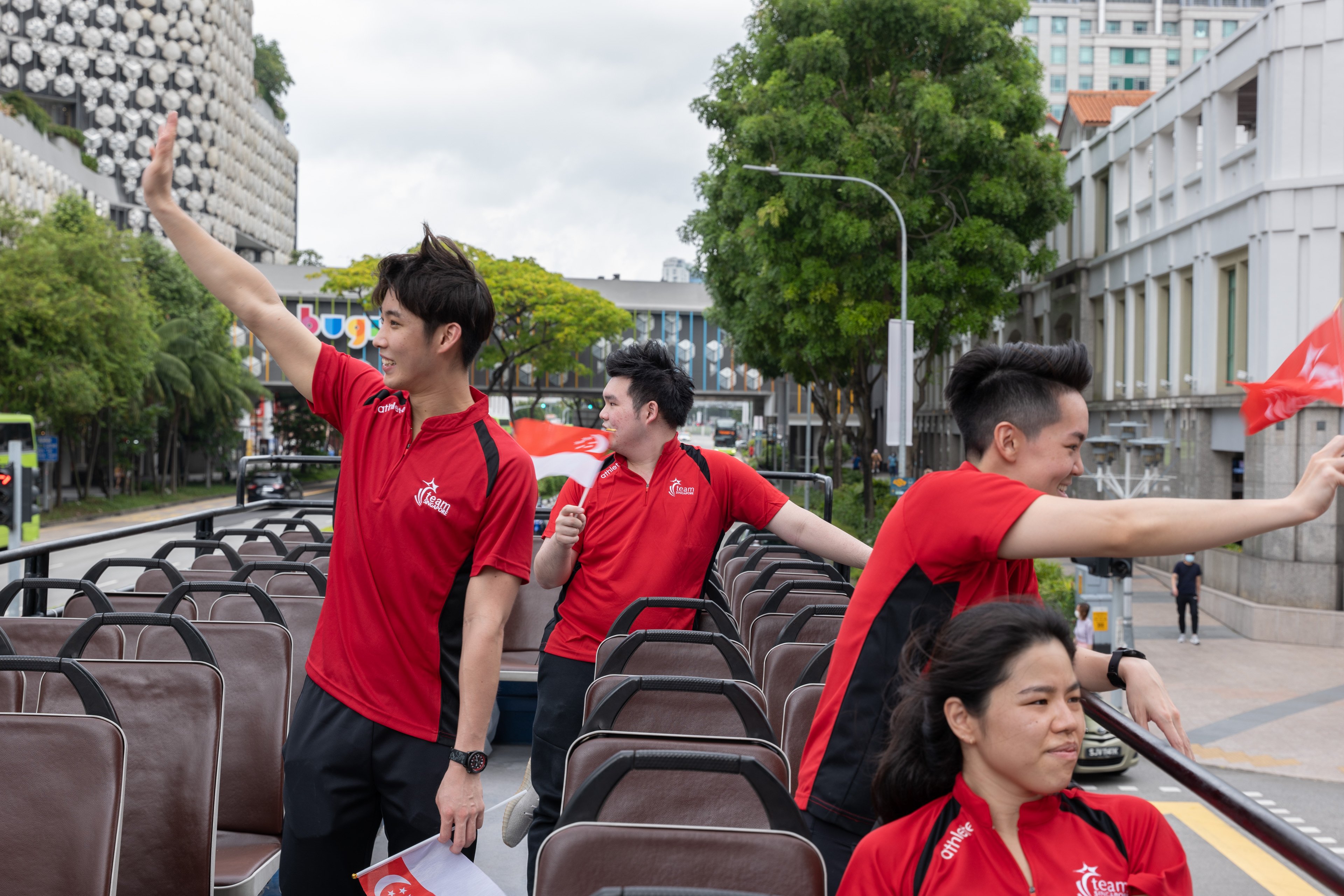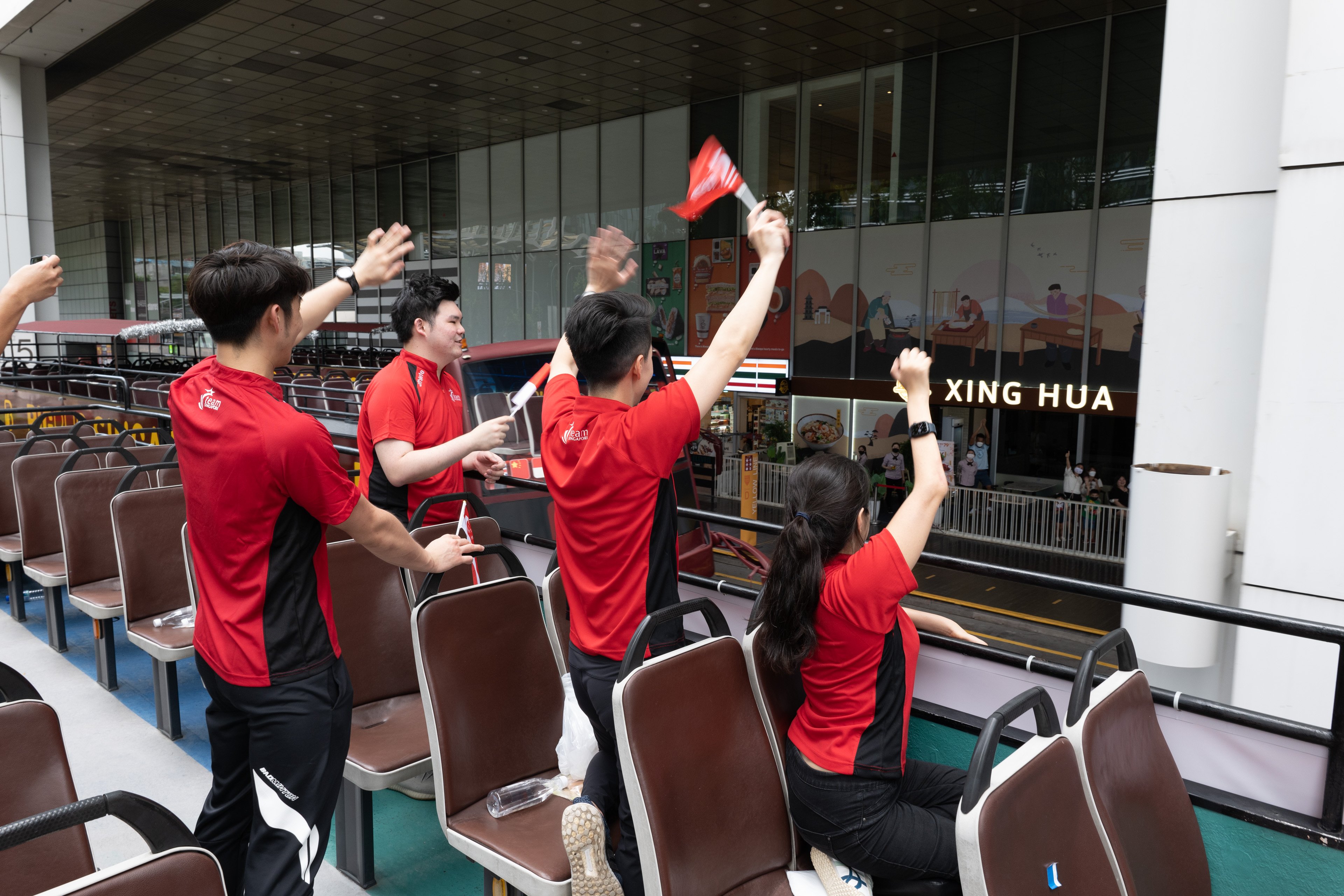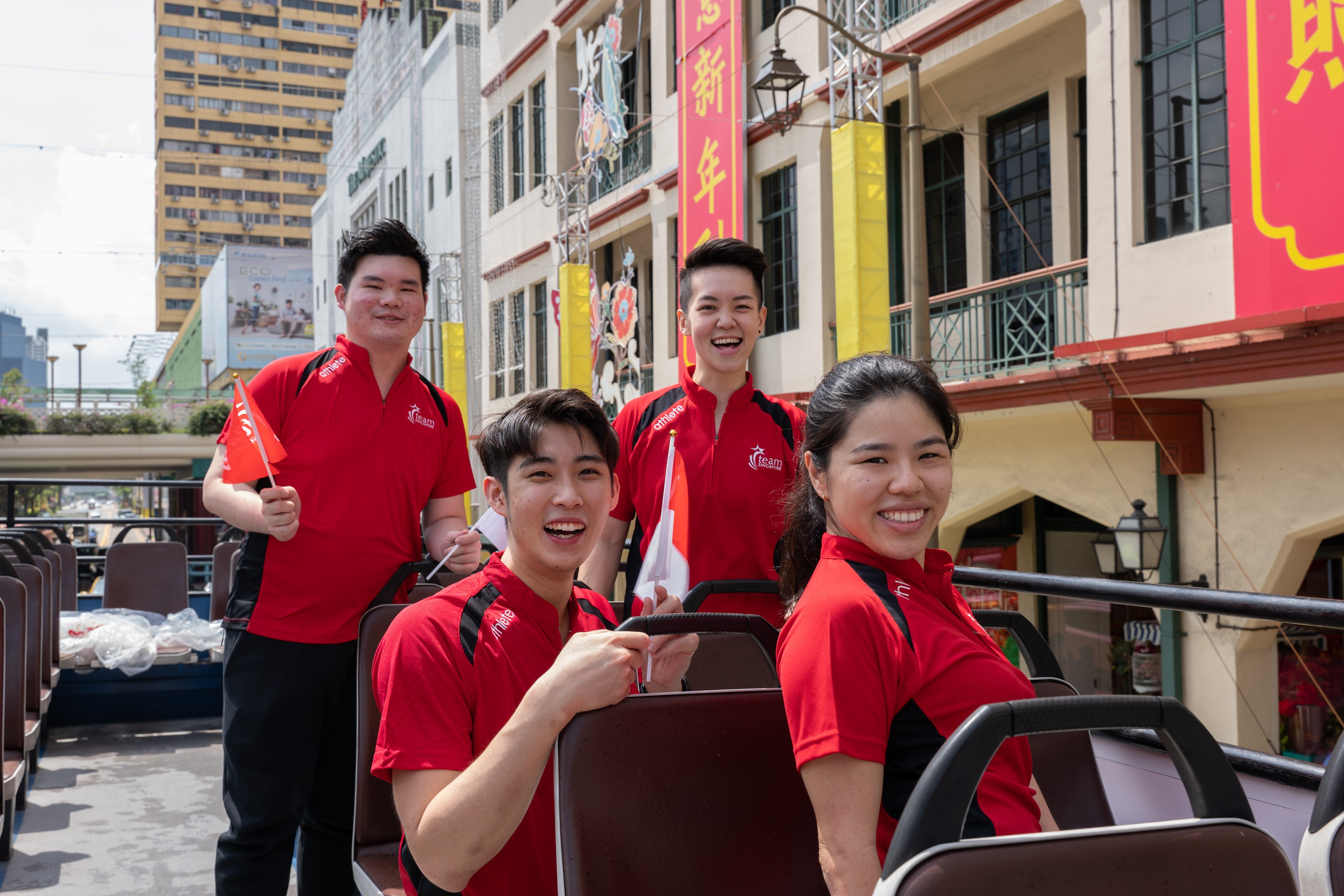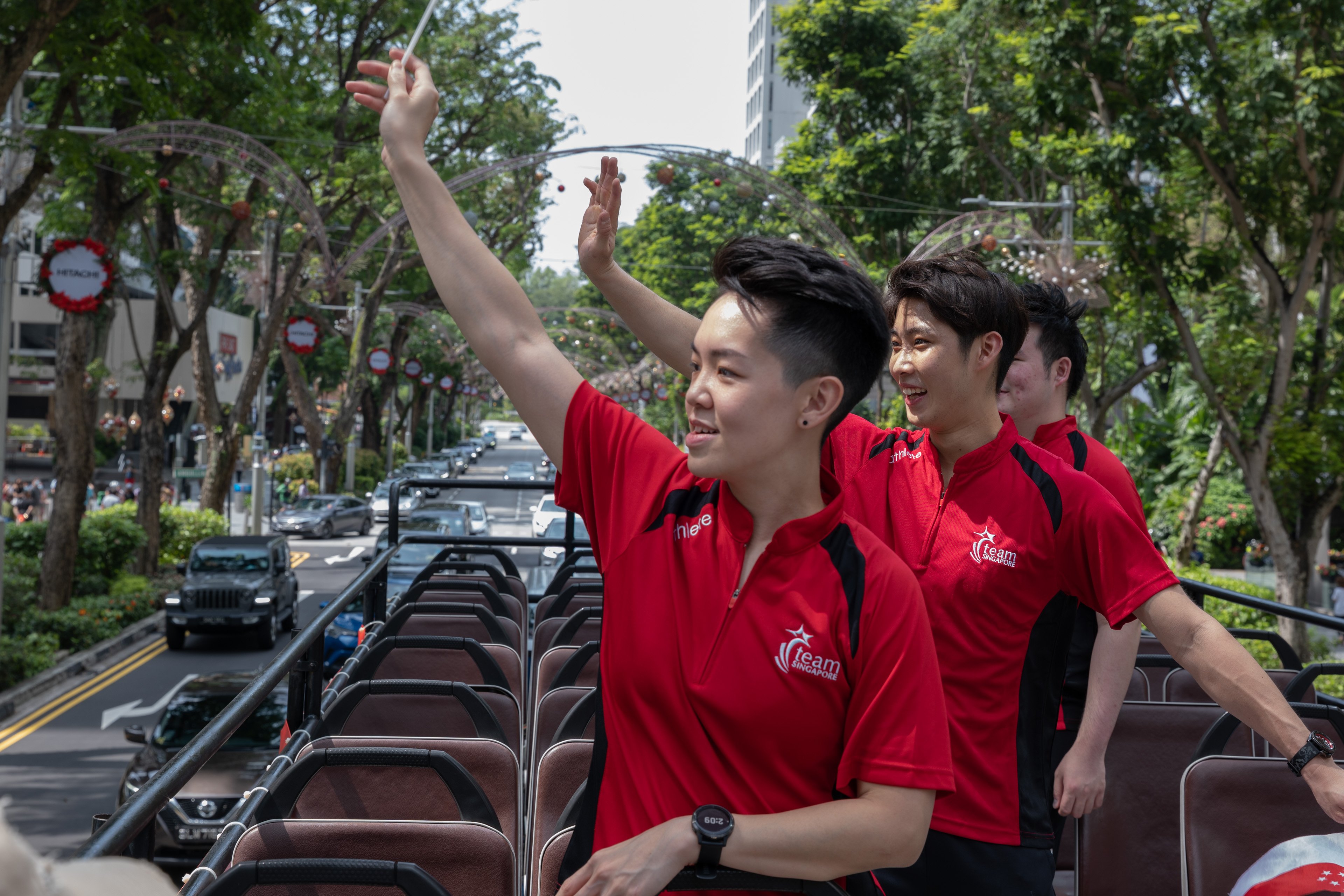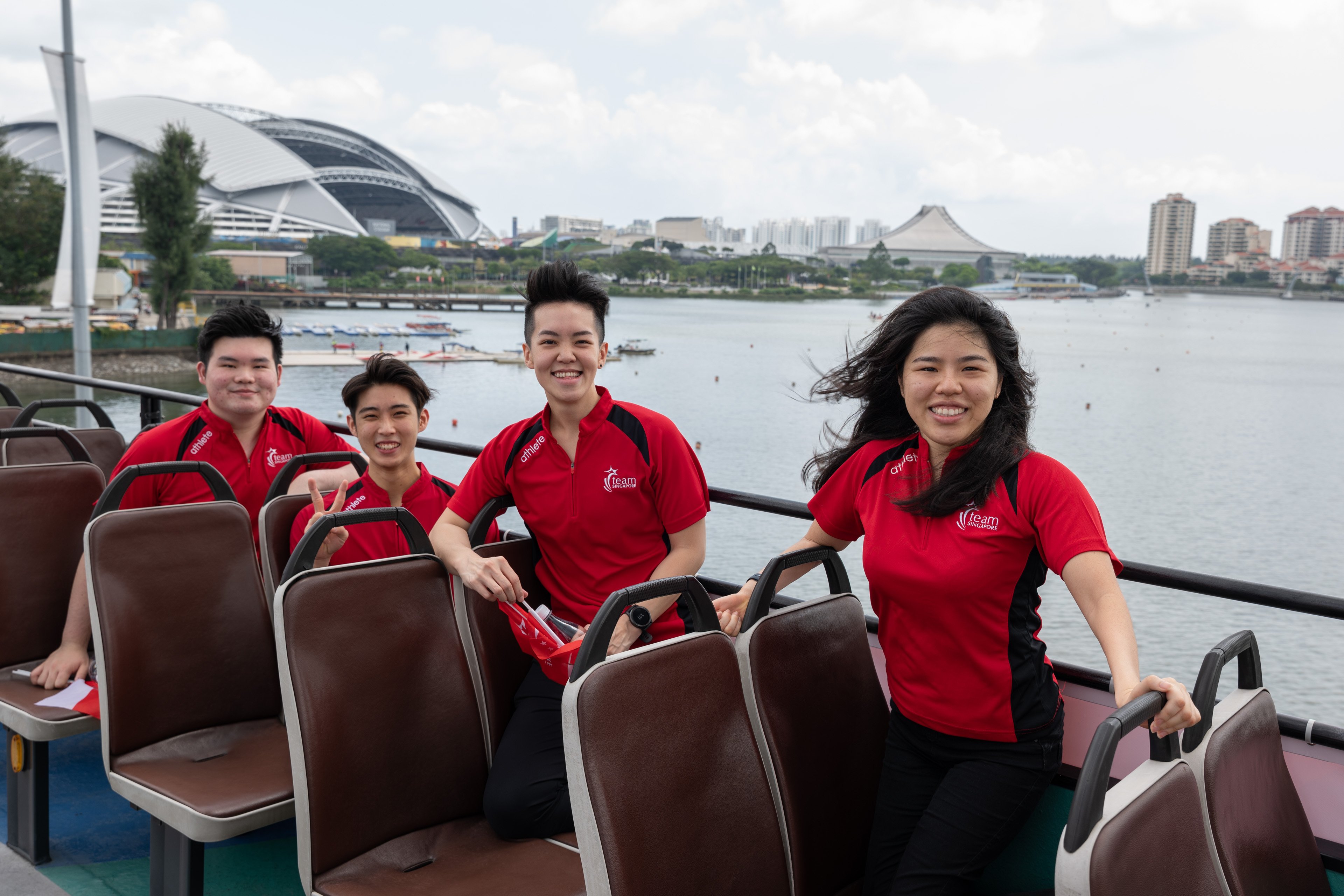 (Photos Credit : Sport Singapore)
Singapore's very 1st World No 1 in Pool, Aloysius Yapp said, "Had an amazing time today! Was wonderful to see so much support from everyone! Thank you Team Singapore for organising this and appreciating our effort. It's really an honour to be a part of this! Was also a pleasure to meet the other world champs as in Shayna, Pin Xiu and Kean Yew! Hope everyone will achieve big success again next year! Jiayou Team Singapore!"
Newly crowned Badminton World Champion Loh Kean Yew concurred when he commented on his IG Page, "
Honoured to join my fellow Team Singapore t
eam-mates in Pin Xiu, Shayna and Aloysius - 3
outstanding athletes with very impressive credentials in today's celebrations. A big Hello
to all who came out to say Hi!

A shout-out to the parade organisers, we appreciate you working over the Christmas holidays to put this together for us. Rain or shine. Thank you all for being here for us. Thank you, Singapore! "
Catch the Video Highlights of the TeamSG Open-top Bus Parade, courtesy of MCCY and SportSG (Play Video Below)
Dr Valerie Teo (President, Singapore Bowling) said, "Congratulations to Aloysius, Pin Xiu, Shayna and Kean Yew for flying the Singapore flag high with their excellent world class achievements. Sport has the ability to bring people together and these athletes have truly united Singaporeans who have followed their exploits closely and with great anticipation and interest. I have no doubt their tremendous feats will inspire new generations of aspiring sportsmen and sportswomen."
Justin Lee (President, CueSports Singapore) commented, "2021 has been a fantastic year for Singapore Sports. We congratulate all Team Singapore athletes for a job well done. All our champions and competitors have trained hard, fought hard and sacrificed for our country. Their accomplishments are justified and recognized in their successes. Special mention must be made about our athletes on this bus today and special thanks to SSI for this opportunity to show them off to the nation.
Cuesports is extermely proud of Aloysius Yapp. His achievements in 2021 has far surpassed all expectations and he has also shown to be a great role model for other young, aspiring champions in our sport. Cuesports and SSI have firmed up additional support for Aloysius in his chase to retain his world ranking and push for world championships on several fronts. 2022 could be another watershed for Cuesports with the SEA games on our radar and our athletes raring to go! Go Team Singapore!"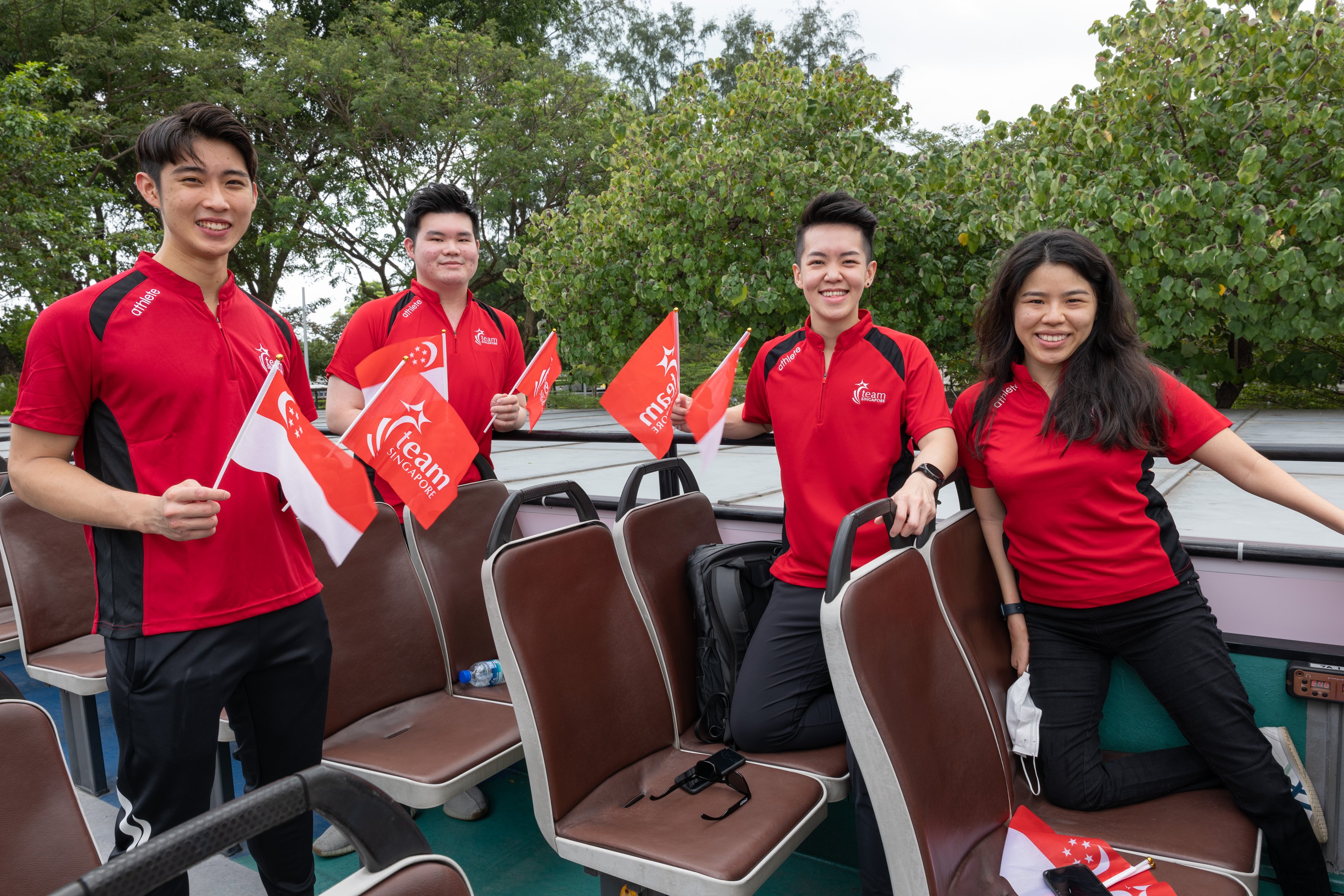 (From L to R : Loh Kean Yew, Aloysius Yapp, Shayna Ng and Yip Pin Xiu. Photo Credit : Sport Singapore)
In a period of 6 months, 4 TeamSG athletes made the local and global sports headlines in their respective fields. And their accomplishments were down to sound and strategic planning + training adaptions locally (during the pandemic), an overall positive mindset, the backroom support from their respective organisations and the self-belief of wanting to be at the TOP of their game!
Their sacrifices have paid off, but they are not looking to rest on their laurels. Come 2022, the "Fantastic 4" and all of our TeamSG athletes will be training extremely hard to cope with a Major Games calendar spread across 6 months (excluding World Championship tournaments, World Cups, locally held events and others). And we say THANK YOU to ALL of our TeamSG Athletes and Wish them a truly successful, safe and spectacular 2022 Sporting Year ahead :)
Raj Kumar's been in Singapore's sports reporting and broadcasting scene since 1997. He was the former Sports Editor and Presenter on Power 98FM (SAFRA Radio) and 938LIVE (Mediacorp Radio). Over the years, he travelled to report on Team Singapore at the 2008 Beijing Olympics and 2012 London Olympiad, including 4 SEA Games cities. As a familiar voice and face on Radio, TV and online sports, he has produced and hosted more than 650 talkshows and programmes.
Related Topics
Related Events & Programmes
Related Topics