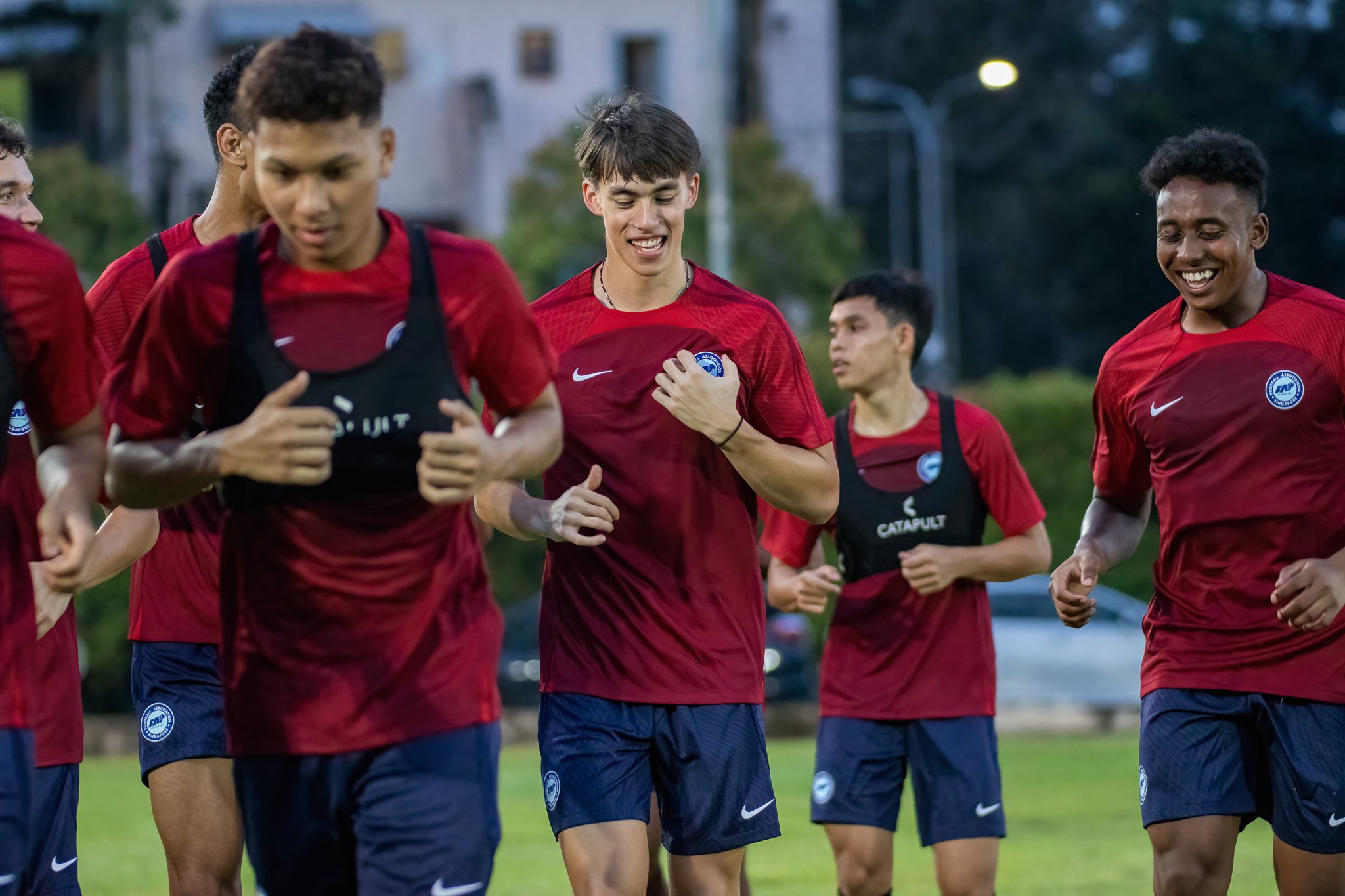 Singapore's Under-22 squad in training for the 2023 Merlion Cup. Photo Credit : Football Association of Singapore
The road to glory at the 2023 Southeast Asian Games, begins with the return of the Merlion Cup in Singapore, taking place from 24-26 March at the Jalan Besar Stadium. The quadrangular will see Singapore's Under-22 squad face their opponents from Hong Kong, Cambodia and Malaysia. With the SEA Games less than 6 weeks to go in Cambodia, the Republic's Young Lions have been busy preparing under their new coach, Philippe Aw.
Back in 2019 though, the Republic under the tutelage of local legend Fandi Ahmad, managed to beat Thailand 1-0 in the final to lift the Merlion Cup. Fast forward 4 years later, Team Singapore has a busy journey ahead with their 1st major campaign at the SEA Games. That will be followed by the 2024 Asian Cup qualifiers and the Asian Games in September. Meanwhile, ActiveSG Circle just caught up with Coach Philippe and Team Captain Harhys Stewart, for their thoughts and hopes for the coming quadrangular and more.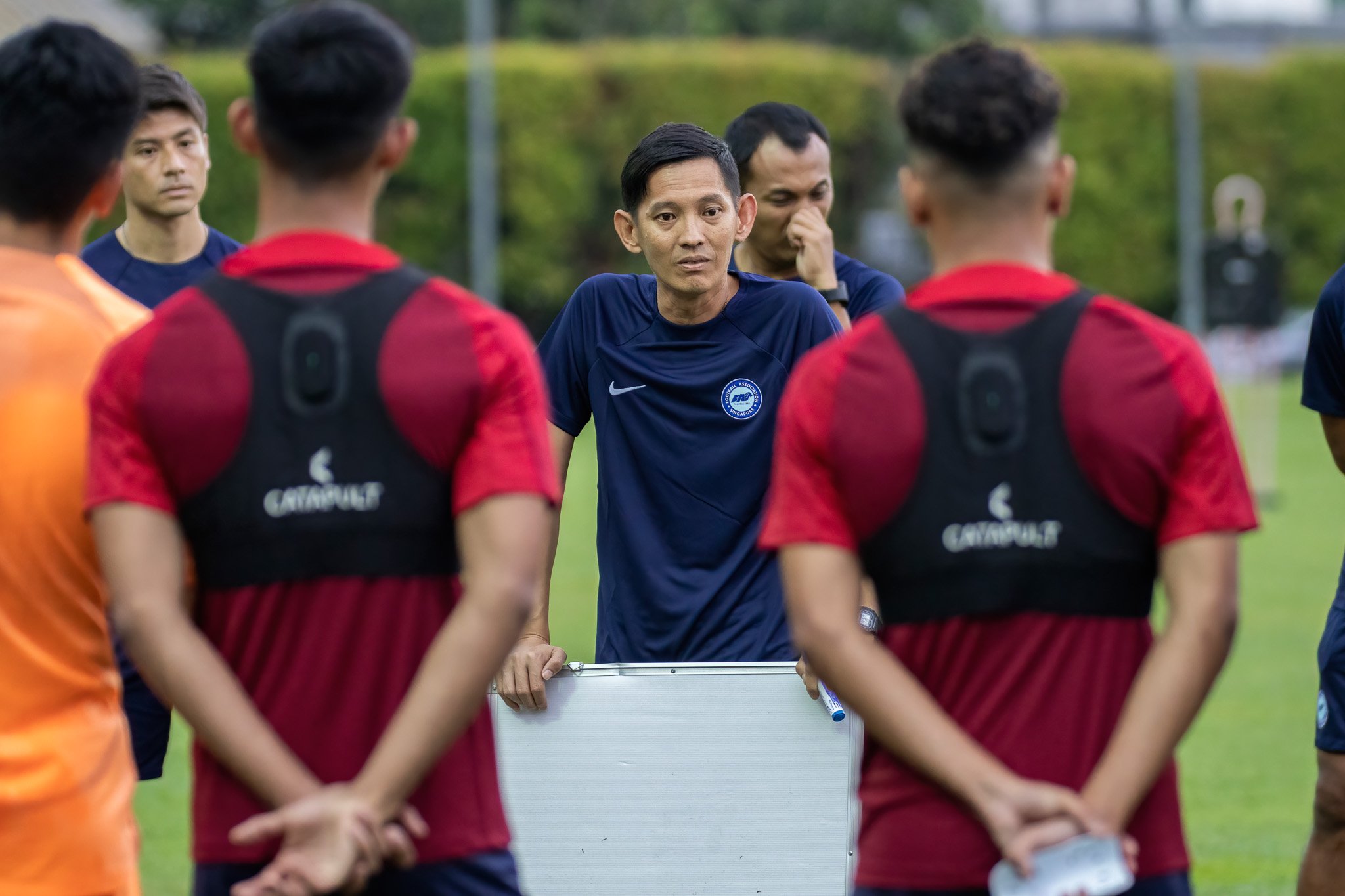 Head Coach Philippe Aw (blue) at a training session. Photo Credit : Football Association of Singapore
Philippe Aw (Head Coach, The Young Lions)
Q : The Merlion Cup is back for the 1st time since 2019. How are you feeling ahead of this event?
Coach Philippe : This tournament will be a good way for us to prepare for our SEA Games campaign in May and I am certainly looking forward to using it as a preliminary gauge to see where we are compared to our opponents. It is important for the players to have this level of exposure against international opponents so they can test themselves against their peers.
Q : What's your assessment of the Young Lions after 4 matches into the current SPL season?
Coach Philippe : We have several new players this season and most of them were playing in the U-21s (part-time) last year. It will require some time for them to adapt to the rigours of a professional schedule and perform consistently at this level. Developing young players require patience and so we adopt a growth mindset here at Young Lions.
We've used the opening matches to ensure the eligible players clock in game time before the Merlion Cup, so they have a sufficient level of match fitness and have the opportunity to apply our game model. It took some time, but I am glad that we are entering the international break on the back of a morale boosting win against a decent side. (On 18 Mar, Young Lions clinched their 1st league win after defeating the defending Singapore Cup Champions, Hougang United 2-1)
Q : What will you be focused on during the buildup towards the clash against Hong Kong on 24 Mar?
Coach Philippe : We will be using the time afforded during the centralised training to ensure we are defensively solid, while being effective in possession. It will also be a good opportunity to integrate the players who are not part of the Young Lions and ensure they understand their roles and responsibilities in our game model.
Most importantly, we want to prepare the boys so they will put up performances that Singaporeans will be proud of.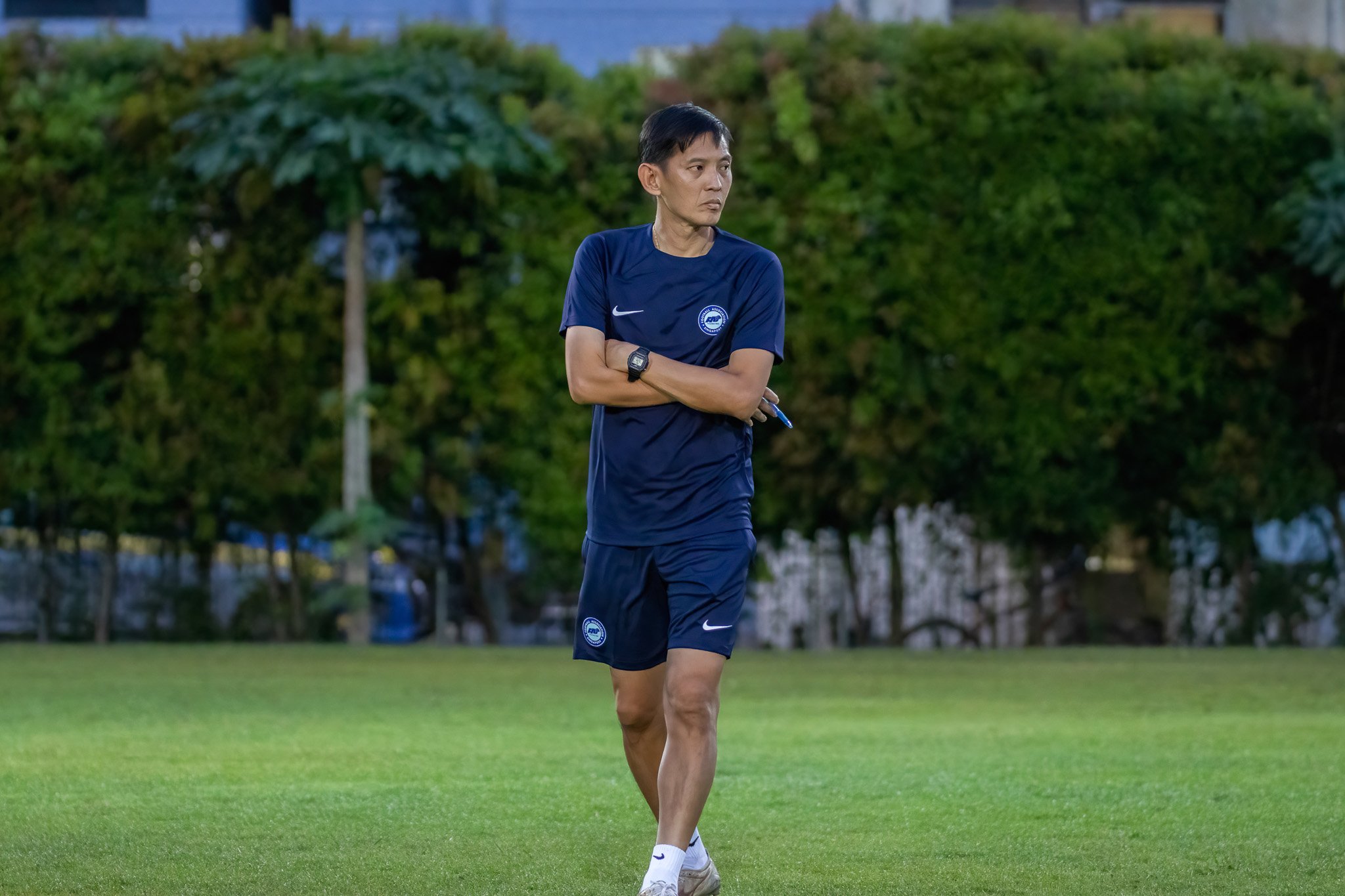 Young Lions Head Coach, Philippe Aw. Photo Credit : Football Association of Singapore
Q : Could you single out 2 players for the fans to look out for at the Jalan Besar Stadium and why?
Coach Philippe : I don't think it's fair to single out any one in particular, not because there are no standout players, but more because I believe in team unity. Having one or two talented players won't win games, but a team that fights and plays to each other's strengths will!
Q : What are you hoping to achieve from the Merlion Cup campaign, ahead of the SEA Games?
Coach Philippe : We are using the tournament as preparation for the SEA Games. We will be looking at the performances over the two matches and the players' ability to cope at the international level.
Personally, I want to see how well the boys work together to achieve good performances.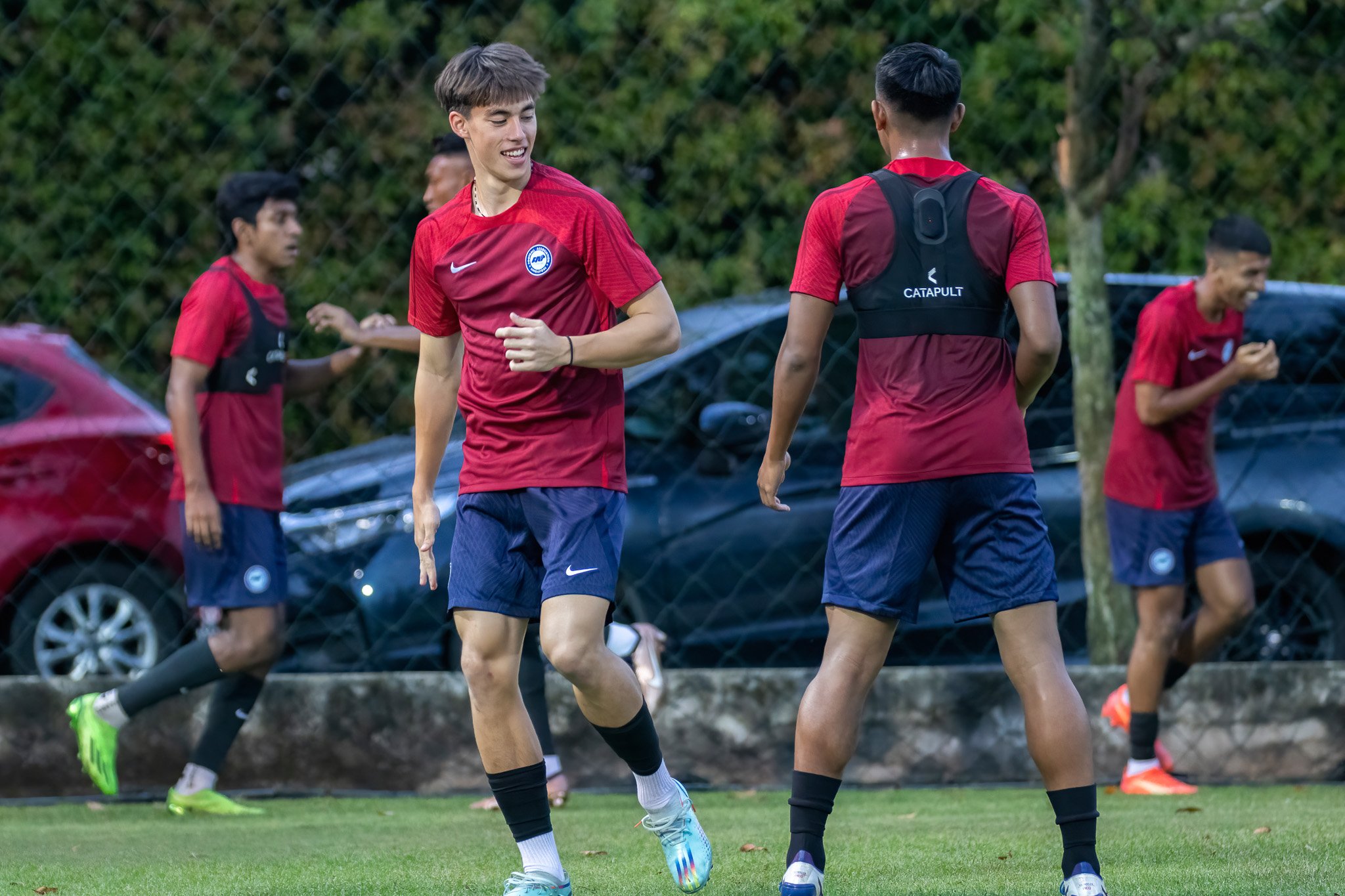 Harhys Stewart at training. Photo Credit : Football Association of Singapore
Harhys Stewart (Captain, Team Singapore Under-22s)
Q : What are some areas that you would like to improve on?
Harhys : Goals win games and I want to contribute more offensively, either by assisting my team-mates or scoring myself. I've been working hard on the training field and I am glad I scored my first SPL goal of the season on 18 March against Hougang!
Q : Following the Merlion Cup, the Team will be preparing for the SEA Games in mid-May. Your thoughts on that upcoming campaign in Cambodia?
Harhys : It's going to be a busy year for the Under-22s and we need to seize every opportunity afforded to us in order to get up to speed, both individually and collectively. As a team, we want to defend the trophy and win the tournament in Jalan Besar. But more importantly, the Merlion Cup will be a good platform to gain international experience - especially for the younger boys - and gel as a team.
I hope that we'll be able to showcase our identity and fighting spirit, and use the tournament as a springboard for a positive SEA Games and the rest of 2023!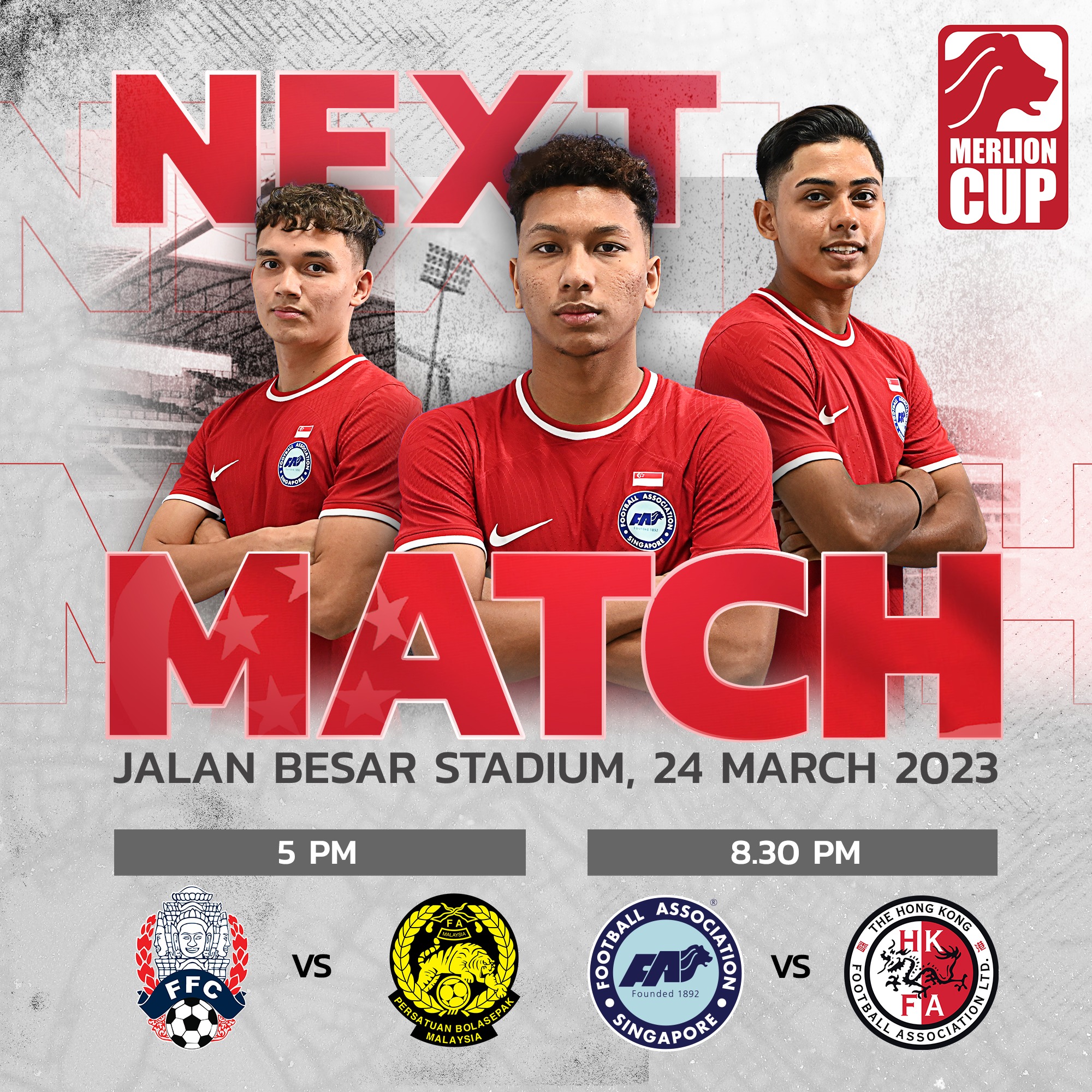 Image Credit : FAS Facebook