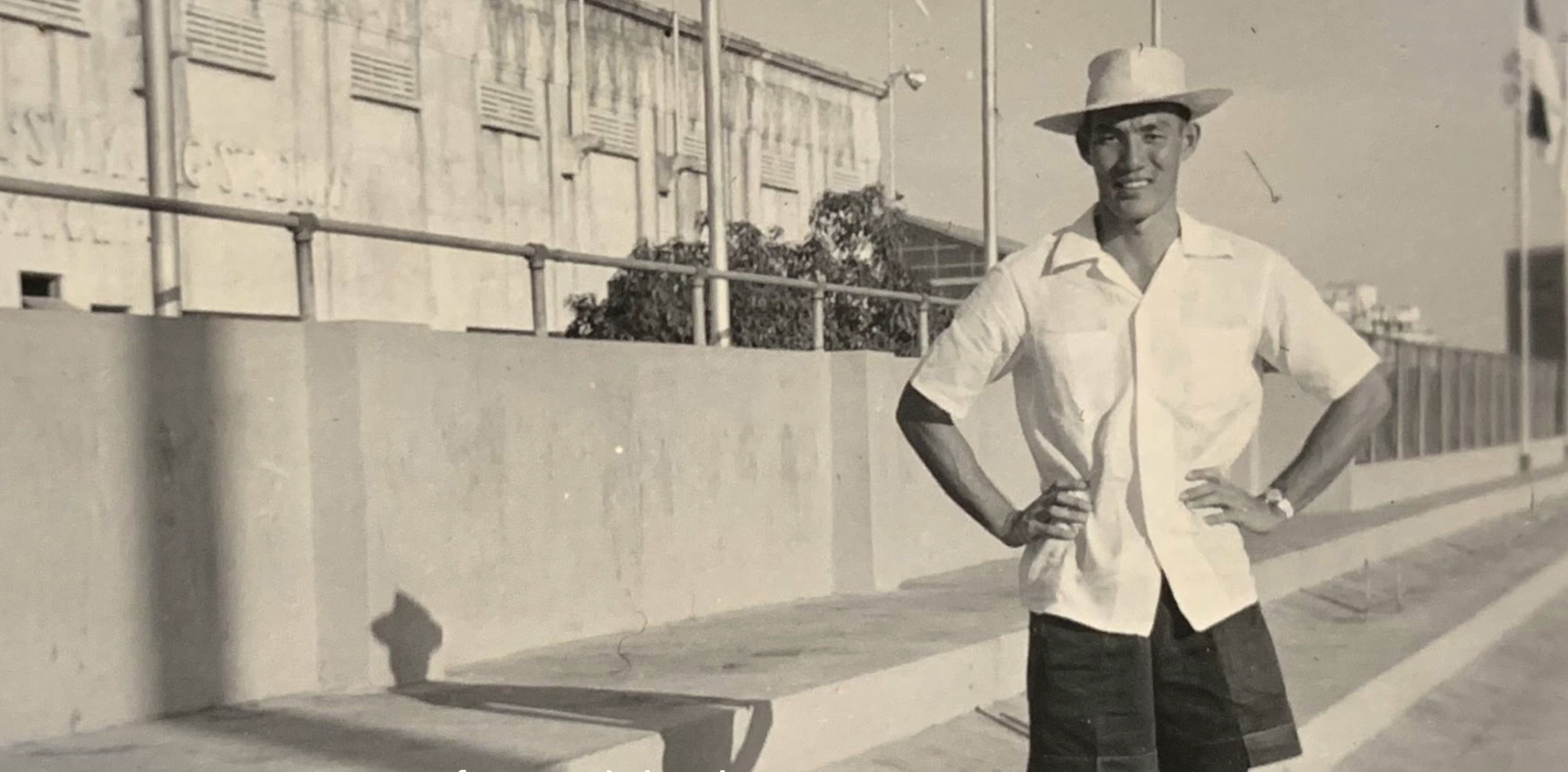 (Tan Hwee Hock)
His first experience of swimming took place at the Fort Canning Pool, which was a YMCA facility. This was during the years leading up to World War II. He became a Raffles Institution student during the post-War period (1946 - 1948), and he developed his swimming skills at the Tiger Swimming Club (TSC) in Pasir Panjang, along with two of his brothers, Wee Chwee and Wee Eng. He then became the captain of the TSC in 1951 as a 21-year-old and his job included, acting as a volunteer lifeguard. He even saved a man from drowning at Haw Par Pool in November 1951.
Hwee Hock was a breaststroke specialist who adopted a butterfly-style arm technique; a hybrid style that was legal until 1952. Water Polo also became a strength for Hwee Hock when the league was reintroduced in 1950. There were three teams in Division A: TSC, the Singapore Swimming Club (SSC) and the Chinese Swimming Club (CSC).
At the age of 21, Hwee Hock represented TSC against future national teammates Barry Mitchell, Wiebe Wolters and Willem Van Daatselaar. He would also become a close associate of Kee Soon Bee, an experienced player/coach, who'd encourage him to practise a rarely used back-hand throw with the left hand.
Writing in the Singapore Free Press in early 1951, journalist Koh Peng Long dedicated a complete article to the evolving career of Tan Hwee Hock. The timing was significant because the first Asian Games were due to be staged in New Delhi. Hwee Hock was a medal prospect in the Breaststroke and as a member of the strong Singapore water polo team.
There would be controversy at the inaugural Asiad though. In the match for the gold medal against India, there were serious questions about the quality of the officiating, which ended in a loss for Singapore.
"It was pretty obvious. We could have won hands down." This was Hwee Hock's own comment. But he did go on to win a second silver medal in the 3x100m medley relay. (In those days there was no 4x100m medley relay)
Three years later and it was a different story in 1954, when the surprise goals using Hwee Hock's secret weapon – the back throw with the left hand – brought Singapore back into the final against Japan. And the final gold medal winning score was 4-2 in Singapore's favour. Till present day in 2021, the Gold medal won in Manila in 1954, is the highest medal achievement by the Singapore water polo team at the Asian Games.
(The 1954 Asian Games gold winning team - from left to right: Tan Hwee Hock, Wiebe Wolters, Gan Eng Teck, Christopher Oh Chwee Hock, Tan Eng Bock, Oh Kian Bin, Keith Mitchell)
There might have been another opportunity for the Olympic experience in 1960, but Singapore was unable to send a team to Rome. Hwee Hock then became a National coach in 1961 with a specialisation in water polo.
As the Singapore team coach, the Asian Games in 1962, the Olympic Games in '64, the SEAP Games a year later and the Asian Games in 1966, represented new challenges to overcome. A bronze medal was secured in '62 in Jakarta. When Singapore merged with Malaysia, there was an opportunity to travel to Tokyo in 1964. Unfortunately, Malaysia failed to qualify. In 1965, Singapore won the first ever water polo competition at the SEAP Games. (This was the start of an undefeated run until the 2019 Games) And at the 1966 Asian Games in Bangkok, Singapore took the silver medal behind Japan.
The year 1970 was the final chance for Tan Hwee Hock to coach a Singapore team at the Asian Games. After a draw against India (7-7) and a loss to Indonesia (4-6), Singapore dropped out of medal contention.
Tan Hwee Hock was Vice-President Singapore Amateur Swimming Association for 18 years until 1990 and continued to inspire the young players. He was elected Coach of the Year (1987) – Singapore National Olympic Council award – for the year 1986. He was an inductee of the Hall of Fame in 1985 and into the Singapore Olympic Academy in 2003.
In Education
As his career as an aquatics' specialist flourished, there were still waves to contend with professionally. He was awarded a British Council Scholarship to attend Loughborough College of Physical Education in 1956.
He was following in the footsteps of Joseph David, Low Wing Kee, Lau Teng Chuan and Tan Eng Yoon. The year he was entitled to take up the posting was also an Olympic year and Singapore had earned automatic entry on the basis of the Asian Games gold medal. Ideally, it would have been a deferment to study at Loughborough so that he could help the team in Melbourne. However, Loughborough said no and so Hwee Hock decided to forego the Olympic experience in favour of ensuring a top professional qualification that would guarantee later financial security. He graduated from Loughborough in 1959.
Tan Hwee Hock served in every aspect of PE and Sports in Singapore schools, having been a Primary and Secondary school teacher, and then an Assistant Inspector of Schools with the Ministry of Education. He worked with the Extra Curricular Activities Centre, with Curriculum Development with MOE, and then joined the Institute of Education in 1980. He became a College of Physical Education lecturer when the institution opened in 1984.
The first time I met Tan Hwee Hock was in early 1986. I had just started a local contract as a first-time lecturer at the College of Physical Education. His reputation was an interesting one. His students in their swimming classes held him in total respect. To say he was firm, but fair would be a considerable underestimation of his charismatic personality.
The students were in awe of him because of his supreme aquatic skills and his forthright attention to detail and tradition. I did not know him on a close personal level, but I quickly learned of his humility and passion for teaching and engagement in sport. I learned later of his deep impact on physical education and on the game of water polo, which remains the most successful team sport in Singapore.
This article was contributed by Dr Nick Aplin. He is an Englishman and a PR of Singapore, who has observed sport here from close range for more than 30 years. He is the number one fan of his wife (a Badminton champion), his eldest son (a Football international) his second son (an ASEAN age-group Chess champion) and his third son (a SEA Games Bronze medallist).
Follow us on Telegram for more news and updates.