Tokyo 2020 : Fulltime Staff Nurse & TeamSG Sculler Joan Poh, finishes her maiden Olympic campaign with her best race performance!
by Circle Stories, on July 29, 2021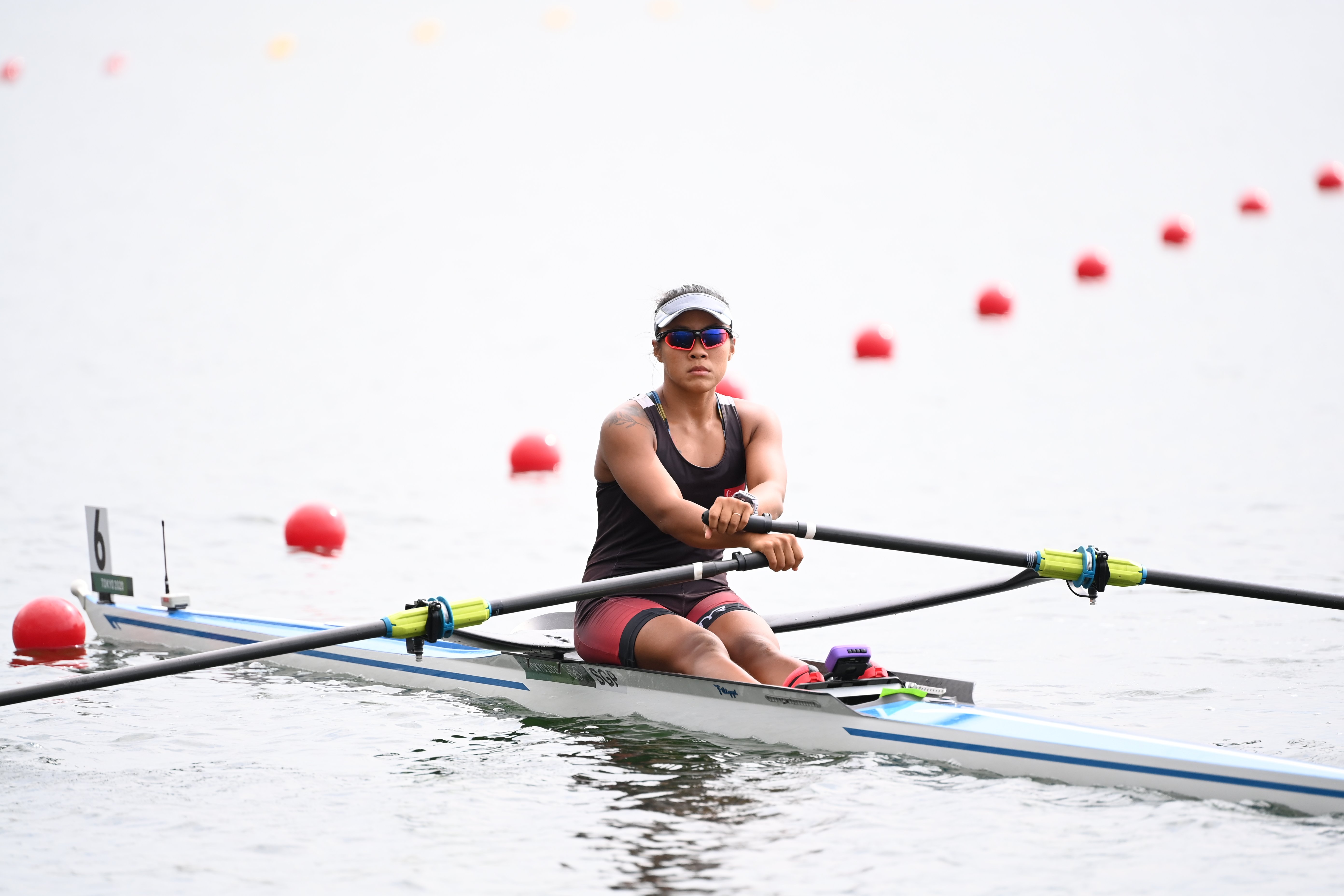 (TeamSG Rower Joan Poh in the E Finals of the Single Sculls event at Tokyo 2020 - Photo by Sport Singapore)
By Raj Kumar
1 week ago on a bright and sunny Friday morning (23 July), Joan Poh had the honour of being the first Team Singapore athlete to feature at the Tokyo Olympic Games. Exactly 12 hours before the start of the Opening Ceremony of the XXXII Summer Games, Joan was already competing in Heat 2 of the Women's Single Sculls event.
Over at the Sea Forest Waterway, the 30 year old was in Lane 4 for the 2 kilometer long race, while 2-time world champion Sanita Puspure (Ireland) was in Lane 5. In the Single Sculls, rowers have to propel a boat with one oar in each hand with their backs facing the direction of movement along a 2,000m straight-line course. And in her very 1st Olympic race, she timed 8 mins 31.12 secs. It was a decent showing, but not good enough to reach the quarter-finals just yet.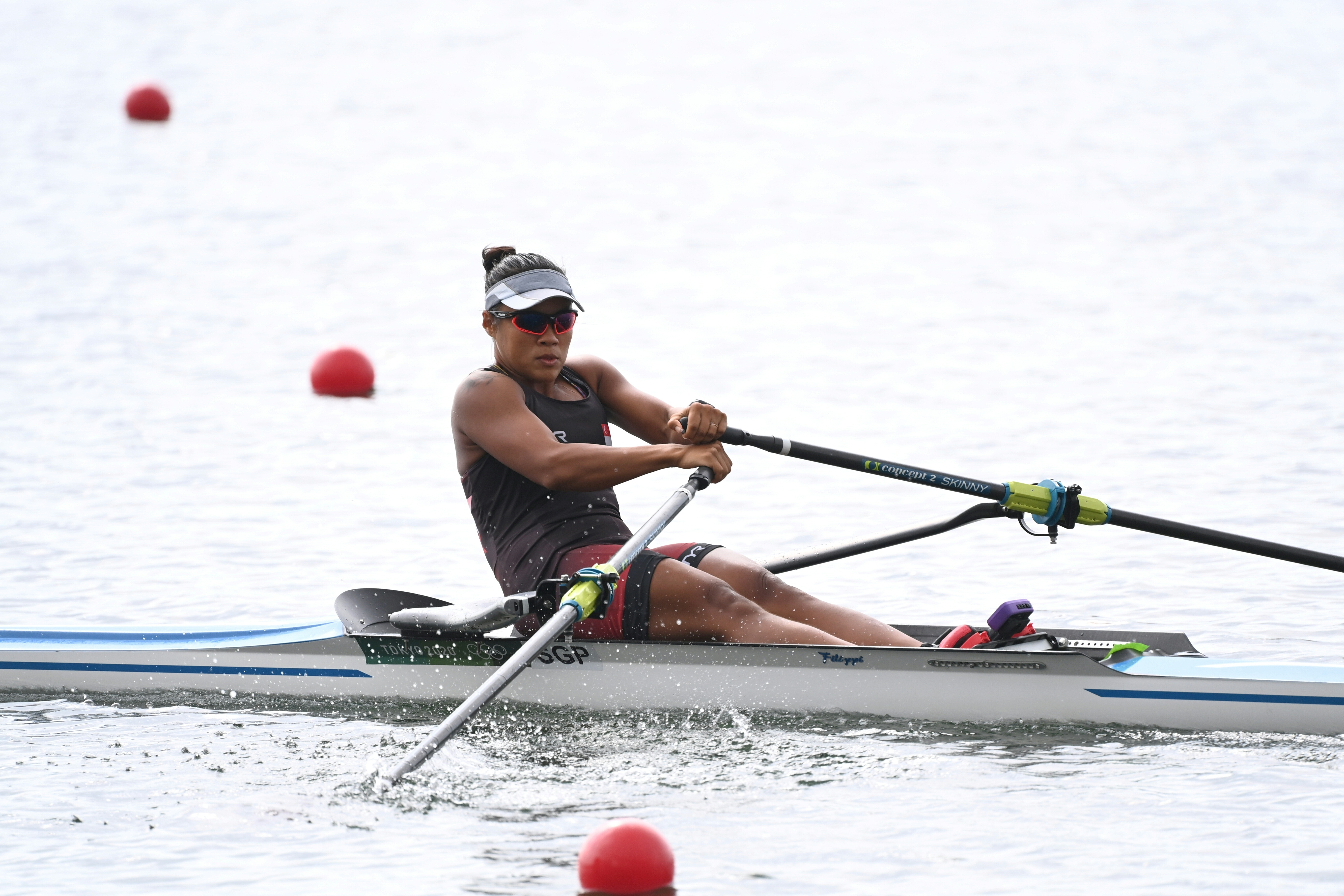 (TeamSG Rower Joan Poh in the E Finals of the Single Sculls event at Tokyo 2020 - Photo by Sport Singapore)
Returning to the competition venue the very next morning, the Staff Nurse at Tan Tock Seng Hospital (Renal Department), took part in the Repechage. The Singapore Sculler went on to finish 4th with her time of 8:40.06 and didn't make the cut for the last 8 on her 2nd attempt. Her next 2km race was on Sunday morning, in the semi-finals of the E/F event, whereby she finished 3rd out of 4, and would go on to feature in her last event - the E Finals. This would be determine the overall rankings between 25-30 in the field of 32 rowers.
This morning (30 July), after a 4-day rest period, Joan returned to compete in her 4th and last race of the Tokyo Games. And she timed 8 mins 21.23 secs. That 4th place finish out of 6, was good enough for an overall 28th placing on her Olympic debut.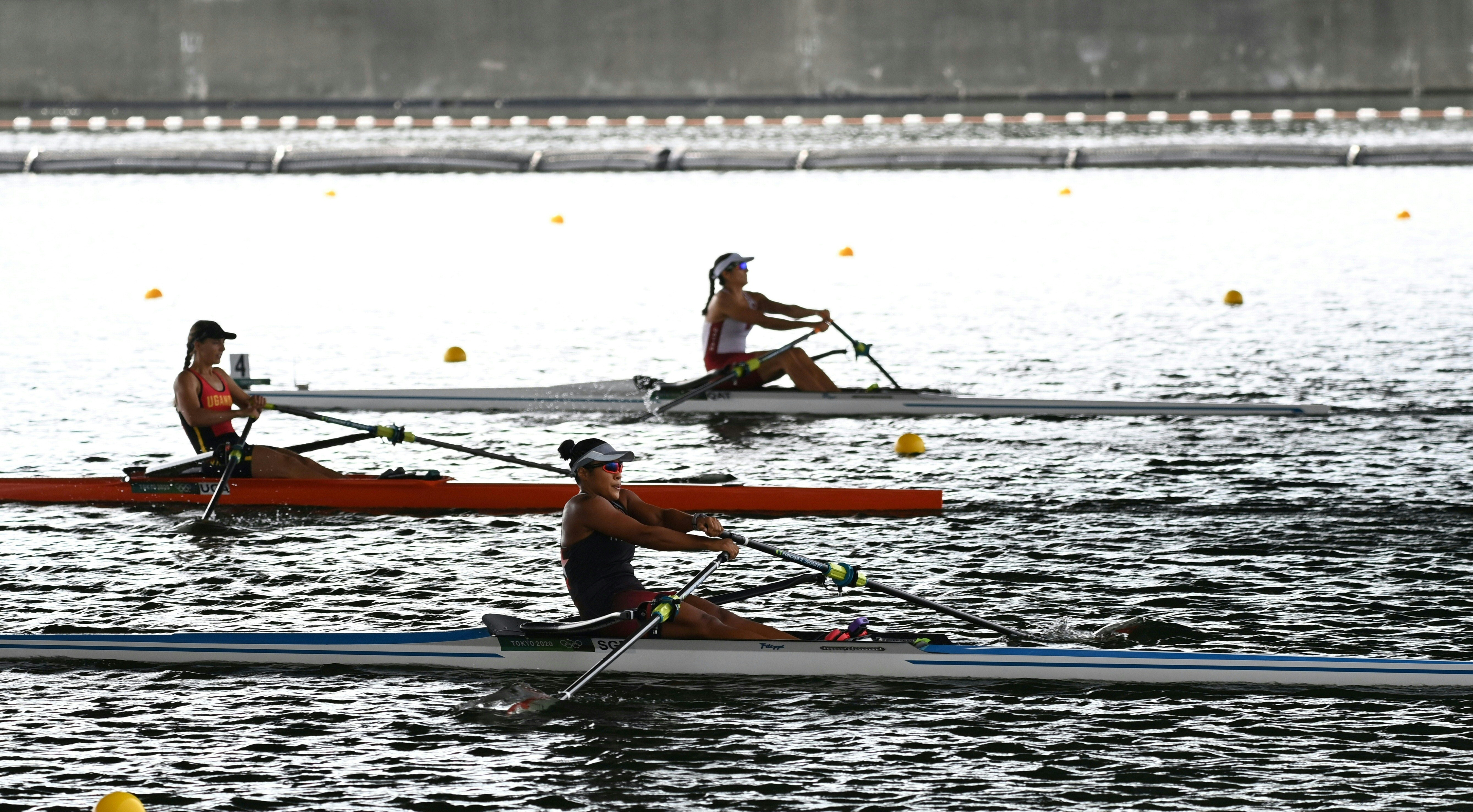 (TeamSG Rower Joan Poh in the E Finals of the Single Sculls event at Tokyo 2020 - Photo by Sport Singapore)
Joan's Race Timings :
Qualifying Heats 2 - 8:31.12
Repecharge 1- 8:40.06
SF E/F - 8:44.77
Final - 8:21.23
In an official statement from Razemin Omar (Head of Training & Development, Singapore Rowing Association) :
"Jo completed her Olympic Campaign in the Women's Single Sculls E Final today, rowing her best showing clocking fastest time throughout the campaign. She started the E Finals in a strong position, but was overtaken by the Qatari and Ugandan Scullers just at the 500m mark. She continued to put up strong strokes throughout the rest of the race, however was also edged out by her Nicaraguan opponent. She held on positively and finished the race in 4th ahead of Moroccan and Nigerian scullers.
Although times in training in Singapore prior to the Games with Coach Laryssa Biesenthal indicated that Joan had improved by at least 25 seconds to clock one of her faster timing over the 2km race distance, her races in Tokyo did not demonstrate this. Racing under the pressure of the Games exposed that, with Jo not performing too well in terms of technique in the Semi Final E/F Round.
Although she tried hard to keep up with the race plans in Heats and Repecharge, sticking to the stroke rating set in plan. Joan still has work to do on her mental preparation to allow her to race to her full potential. Racing at the Games has allowed Joan to see first-hand, not only how fast international scullers are on Race Day, but has opened her eyes to how she needs to train - 365 days a year
(Full-time)
, the 4 years of the Olympic cycle".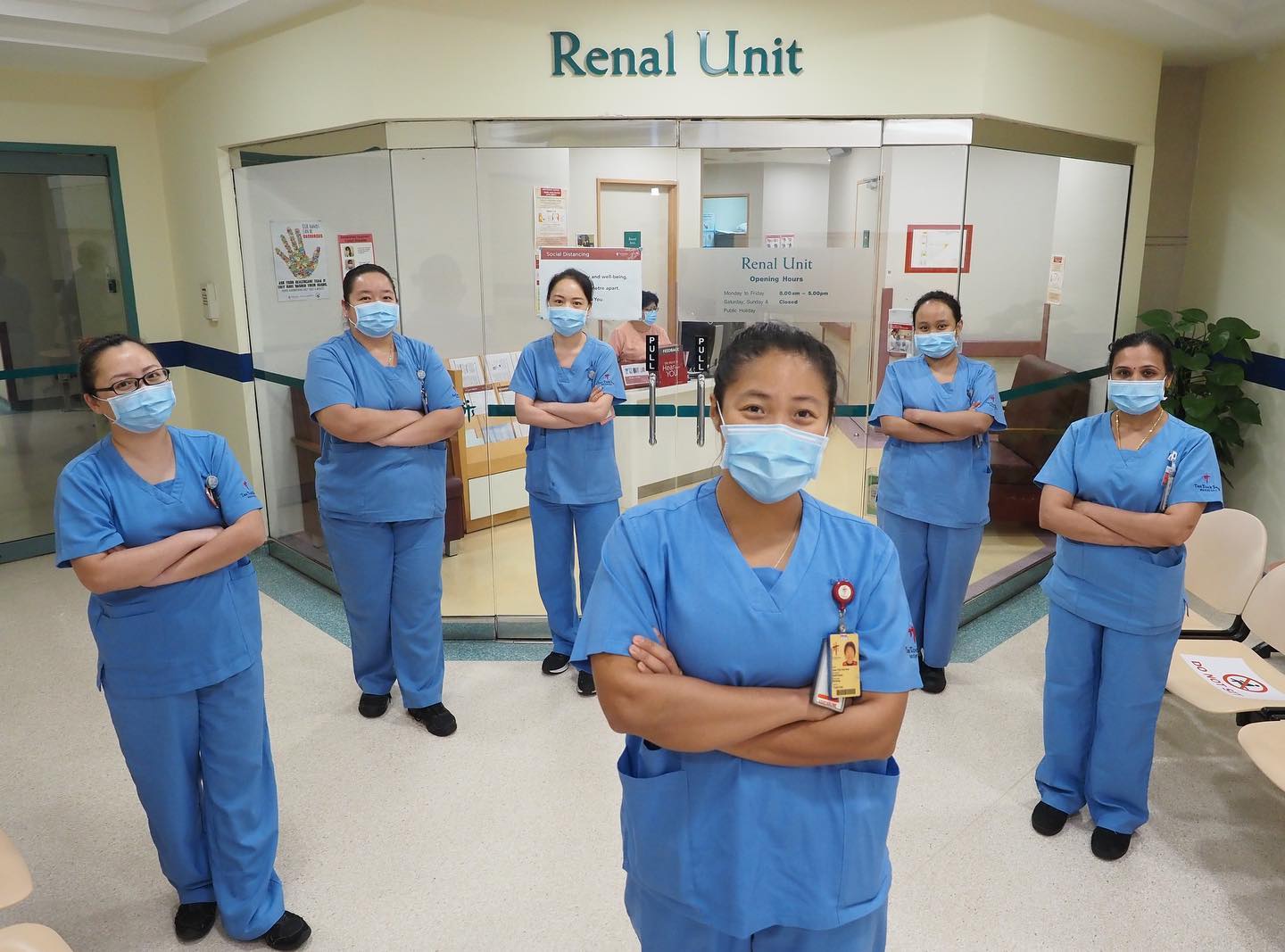 (Joan Poh and fellow nurses at Tan Tock Seng Hospital (Renal Department - Photo from Joan)
Prior to the Games, Joan did say that she wants to do better in the sport of Rowing - a sport which she picked up only in 2015 and then a year later, she started to focus on the Single Sculls discipline. And with every Games and competition, it's all about learning. The fact that she trains part-time while juggling a full-time job, travelling overseas to train, doing fund-raising for her competitions and finishing 28th out of 32 in the world (most of whom might be professional full-time rowers), is already testament to Joan's fortitude, mindset and her passion to represent the nation. So GOOD JOB, Joan Poh :)
Well, to find out more from this Dragonboater-turned-sailor-turned-rower, here's Joan in a pre-taped Zoom interview on 21 June, talking about achieving her dream of featuring at the Olympics. She also touches on her aim to groom the next generation of rowers for Team Singapore and much more!
The 32nd edition of the Olympic Games is from 23 July to 8 Aug 2021. For all coverage and news of the Republic's national athletes who're competing at the Games, check out the official Team Singapore Tokyo 2020 website.
Remember to also Show your support for Team Singapore at the Olympic Games!
Team Singapore athletes have worked tirelessly over the last 12-20 months, especially under strict safety management measures to train and prepare. They've had to step up, pivot and adopt new and innovative methods to train especially with their preparations confined to the Lion City. With no international competitions or training stints, these athletes have had to adopt and maintain a positive mindset as well, throughout this entire journey to reach the grandest stage in Sport!
Simply click here to pledge a few words of encouragement and send positive vibes, as our TeamSG athletes continue to fly the national flag proudly in Tokyo.
Raj Kumar's been in Singapore's sports reporting and broadcasting scene since 1997. He was the former Sports Editor and Presenter on Power 98FM (SAFRA Radio) and 938LIVE (Mediacorp Radio). Over the years, he travelled to report on Team Singapore at the 2008 Beijing Olympics and 2012 London Olympiad, including 4 SEA Games cities. As a familiar voice and face on Radio, TV and online sports, he has produced and hosted more than 650 talkshows and programmes.
Related Events & Programmes