Tokyo 2020 : "Resilience" is the middle name of TeamSG Windsurfer Amanda Ng, in her 2nd Olympic campaign!
by Circle Stories, on July 27, 2021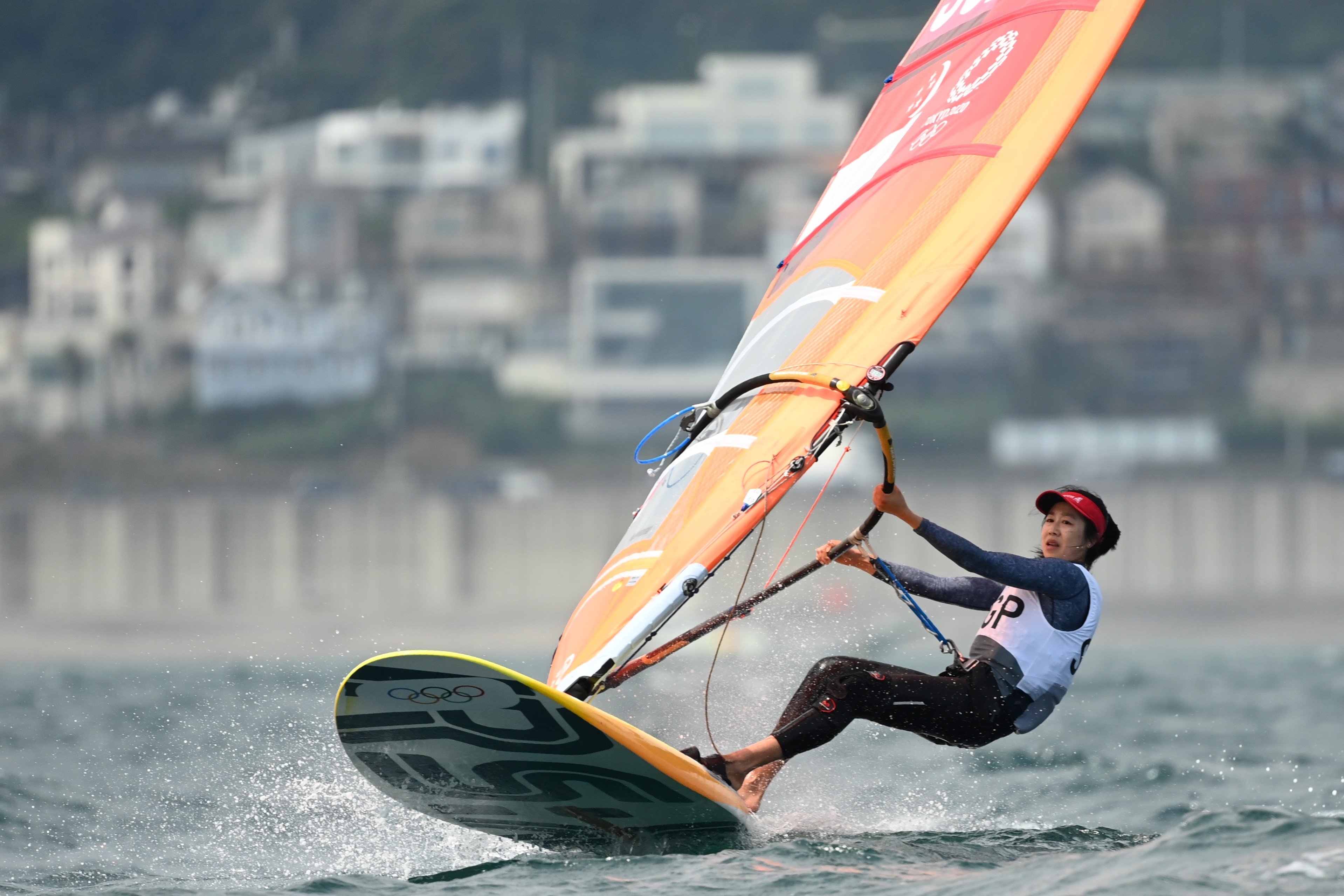 (Team SG's Amanda Ng competing at Tokyo 2020 - Photo by Sport Singapore)
By Raj Kumar
She was in a wheelchair, arriving daily at the Olympic qualification in Oman back in April. On the eve of the start of the competition, she fell flat upon completion of her final training session. So for the duration of the qualifiers, her coach Alistair Masters had to carry her, push the 27 year old in a wheelchair down to the dock, place her onto her sailing craft and repeat the whole process, once the race is done.
This process was done for 13 races. And all of the hard work paid off when Amanda clinched the winner's medal in the final race. And by topping the 3-woman RSX field, she picked up the only Asian qualification ticket available for Tokyo 2020. Since then, she was based in the UK for her final preparations and recovery, before heading to Japan - 2 weeks before the start of the XXXII Olympic Games.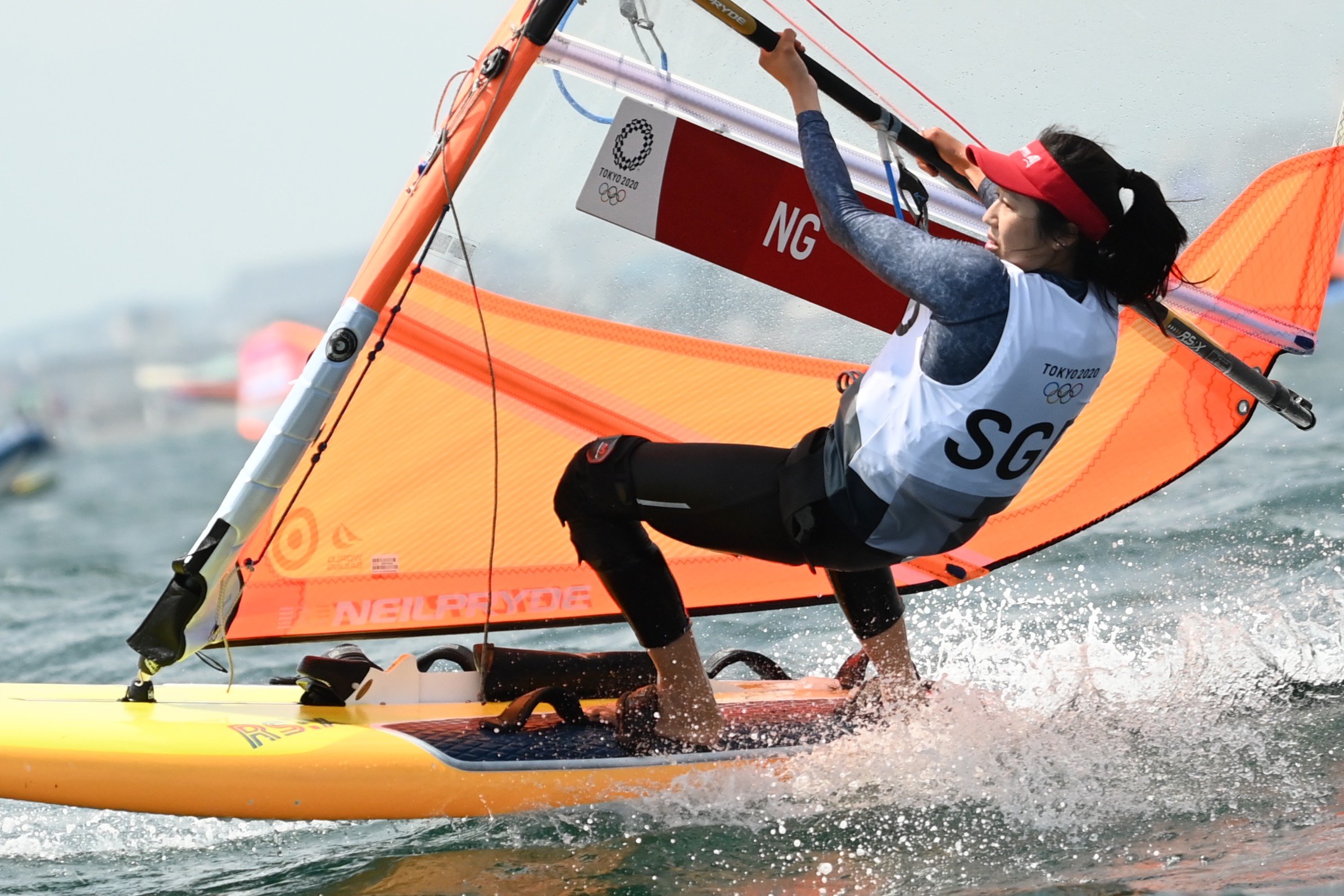 (Team SG's Amanda Ng competing at Tokyo 2020 - Photo by Sport Singapore)
Her Olympic debut took place in Enoshima on the mid-afternoon of 25 July, which was the 2nd day of the Games. Amanda competed in the 1st race and finished in 22nd place. In Race 2, she moved up to 17th and in the 3rd race, she dropped to 20th spot. Hence overall, Amanda was ranked 22nd out of 27 competitors after her opening 3 races.
On the next day, the Olympic debutant struggled and completed her 4th race in 25th position, followed by 26th and 27th spots respectively in the next 2 races. And after 6 races, Amanda was placed 24th out of 27. Following a 1-day break, she finished 26th in Races 7 and 8 and then rose to 23rd in Race 9. By then, she had accumulated 185 net points and was placed 26th overall.
In a post-race interview with Mediacorp TV, she said " I was feeling kinda nervous actually, given the forecast of strong winds and big waves - not my strongest conditions. But I think I managed well today and I really gave it my all. Race 7 was a little bit unfortunate as I actually fell down at the start! That kind of put me far behind once the starting gun went off. I just tried to hang in there for the rest of the race. In Race 8, I kind of got the hang of sailing in the waves and and the 2nd upwinds. So that's when I caught up quite a bit as I was actually quite far behind".
Her final 3 races will take place on Thursday, July 29th in Kamakura. And Amanda is looking to give it one last push on the last day of racing, to finish higher on the overall standings.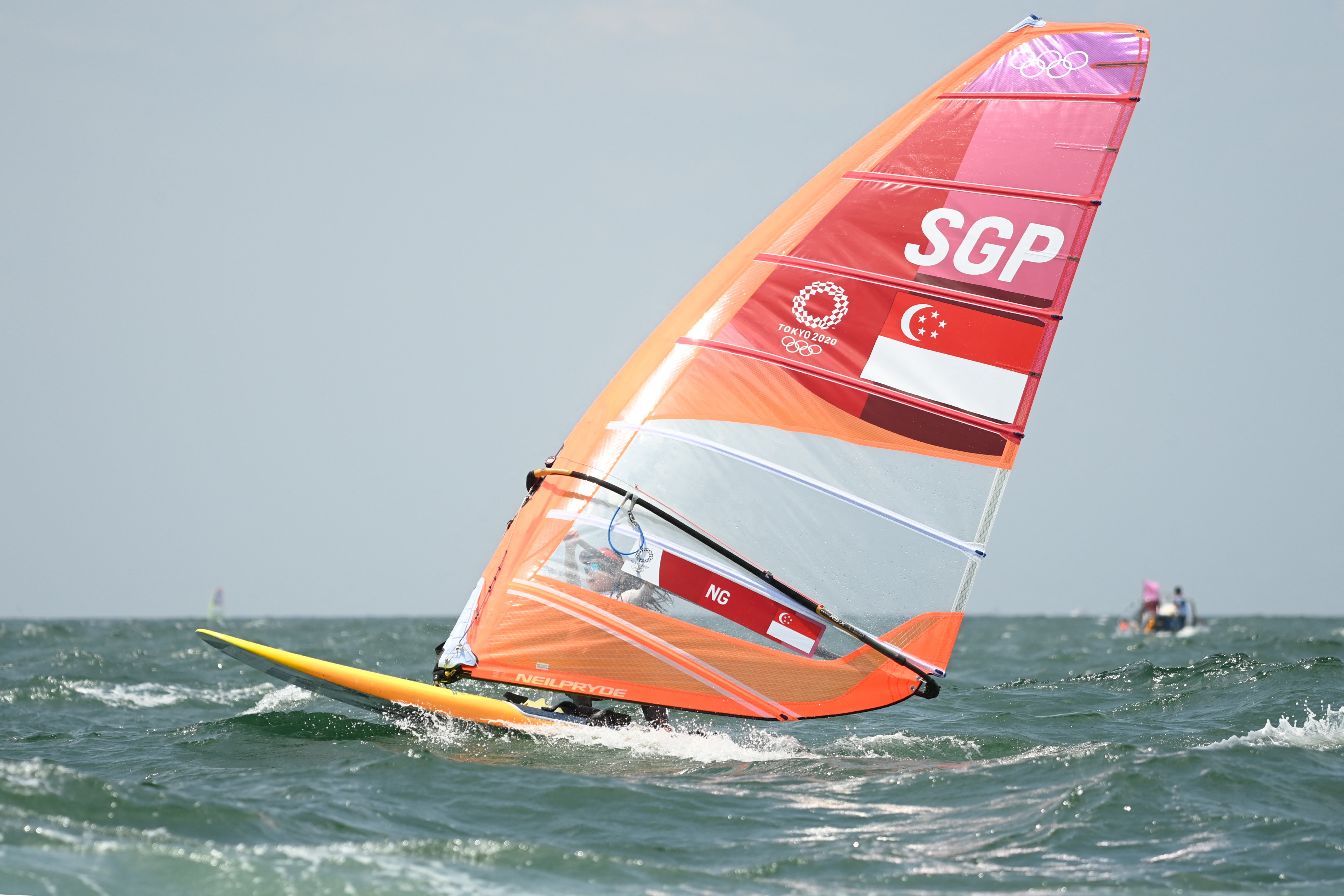 (Team SG's Amanda Ng competing at Tokyo 2020 - Photo by Sport Singapore)
In the buildup towards the Olympic Games, Amanda took a time-out (1st July) to do a Zoom call interview from her training base in the UK. And she spoke at length of her injury, her mindset going into her 2nd Olympic campaign, and her training plans ahead of the Summer Games.
(Raj Kumar interviewed Amanda on 1st July)
The 32nd edition of the Olympic Games is from 23 July to 8 Aug 2021. For all coverage and news of the Republic's national athletes who're competing at the Games, check out the official Team Singapore Tokyo 2020 website.
Remember to also Show your support for Team Singapore at the Olympic Games!
Team Singapore athletes have worked tirelessly over the last 12-20 months, especially under strict safety management measures to train and prepare. They've had to step up, pivot and adopt new and innovative methods to train especially with their preparations confined to the Lion City. With no international competitions or training stints, these athletes have had to adopt and maintain a positive mindset as well, throughout this entire journey to reach the grandest stage in Sport!
Simply click here to pledge a few words of encouragement and send positive vibes, as our TeamSG athletes continue to fly the national flag proudly in Tokyo.