Tokyo 2020 : Team SG books a date with China (No 1) in Table Tennis Team Quarter-finals, after 3-0 sweep of France!
by Circle Stories, on August 1, 2021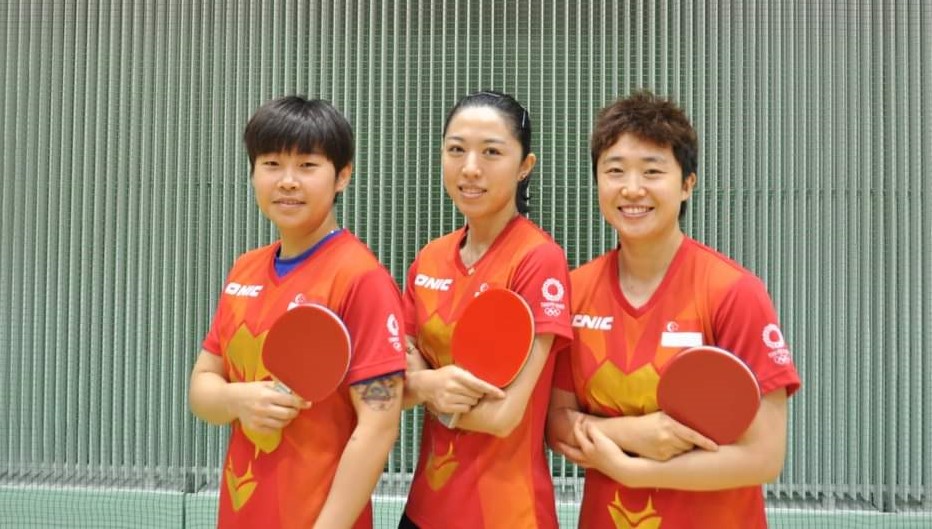 (Team SG's Lin Ye, Yu Mengyu and Feng Tianwei - Photo by Singapore Table Tennis Association)
By Kenneth Tan
Singapore's Women's squad will face a crunch quarter-final clash against top seeds China tomorrow afternoon (August 3) at 1.30pm (SGP time) in the Team event. That's after the trio of Feng Tianwei, Lin Ye and Yu Mengyu overpowered their French counterparts 3-0 in the Round of 16 this morning.
At the Tokyo Metropolitan Gymnasium, the Republic's paddlers – seeded 6th – had too much experience, strength, prowess and worldclass quality as opposed to France's Stephanie Loeuillette, Prithika Pavade and Yuan Jia Nan. The European underdogs only gained entry into the Olympics, after accepting the team quota reallocation from North Korea, following the latter's participation due to fears over COVID-19.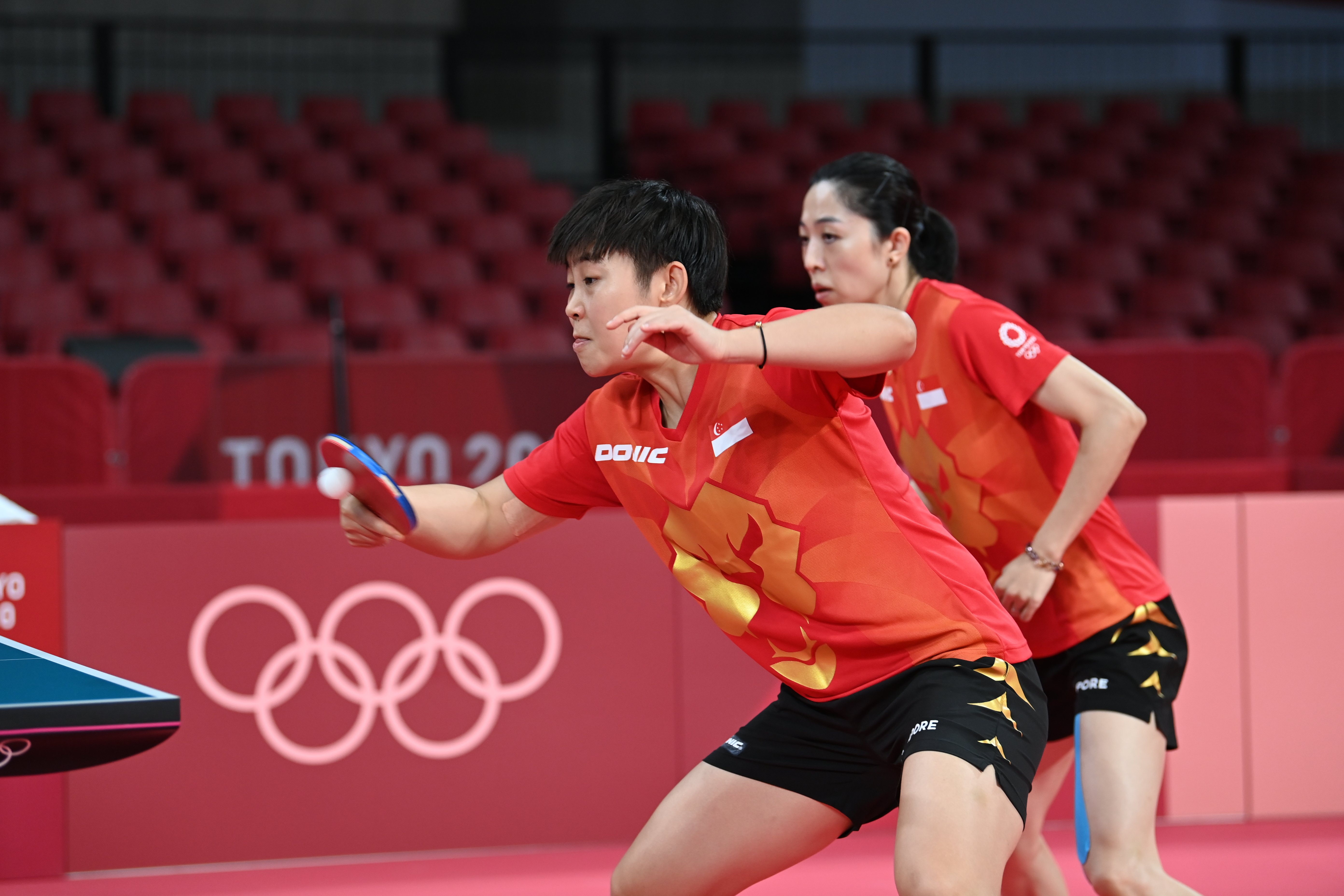 (TeamSG's Lin Ye and Yu Mengyu in Rd of 16 at Tokyo 2020 - Photo by Sport Singapore)
Starting off with the Doubles, 25 year old Lin Ye – making her Games debut – and Mengyu paired up well as they downed Stephanie Loeuillette and Yuan Jia Nan with a 3-0 sweep. Playing the best-of-5, the duo (ranked 12th in the world as a double pairing and 5 places above the French) did face some resistance in Game 3, when they trailed 4-6 at one stage. But they came through 13-11 and gave the Republic a 1-0 lead overall.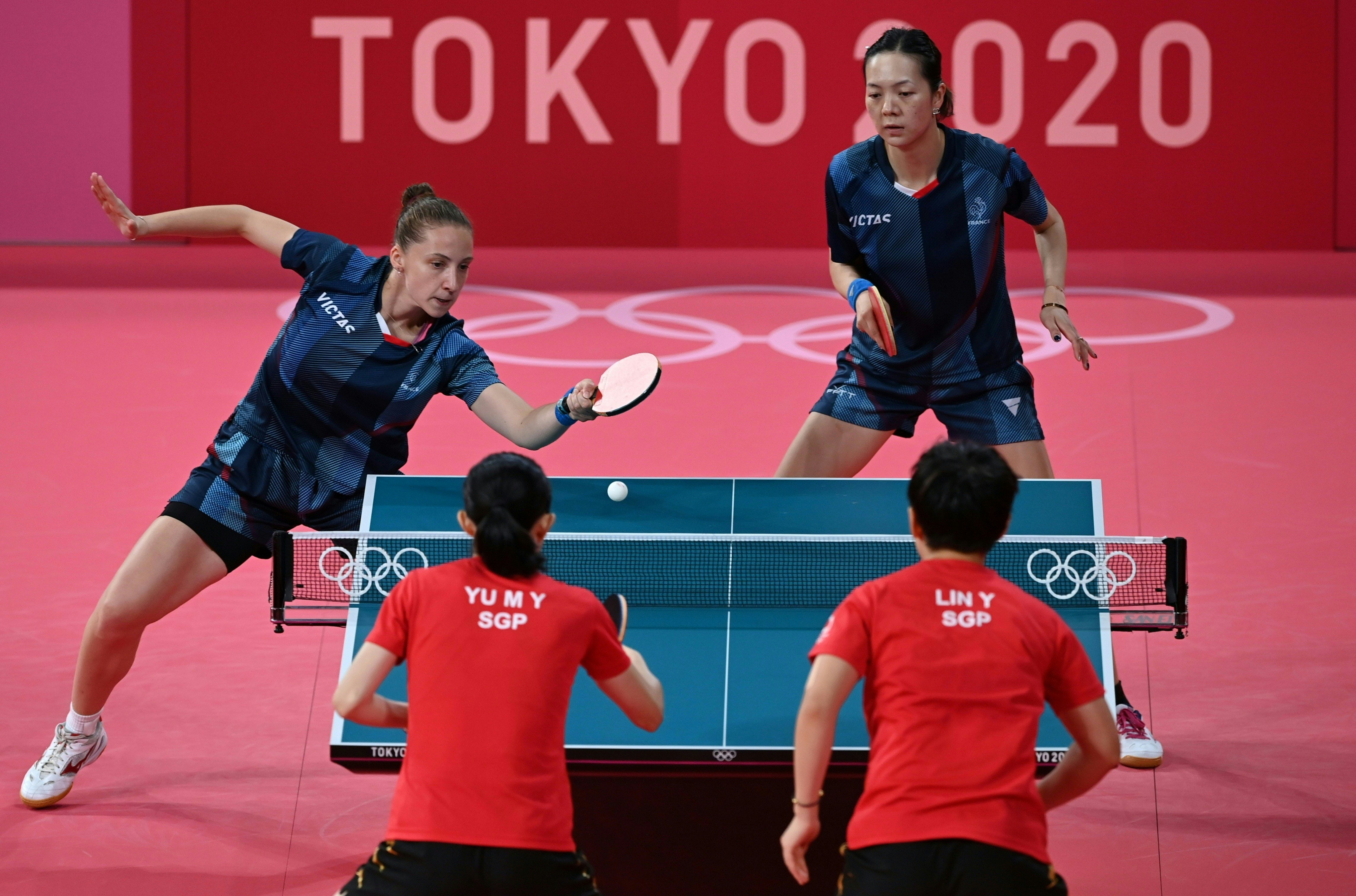 (Team Singapore vs France in Rd of 16 - Photo by Sport Singapore)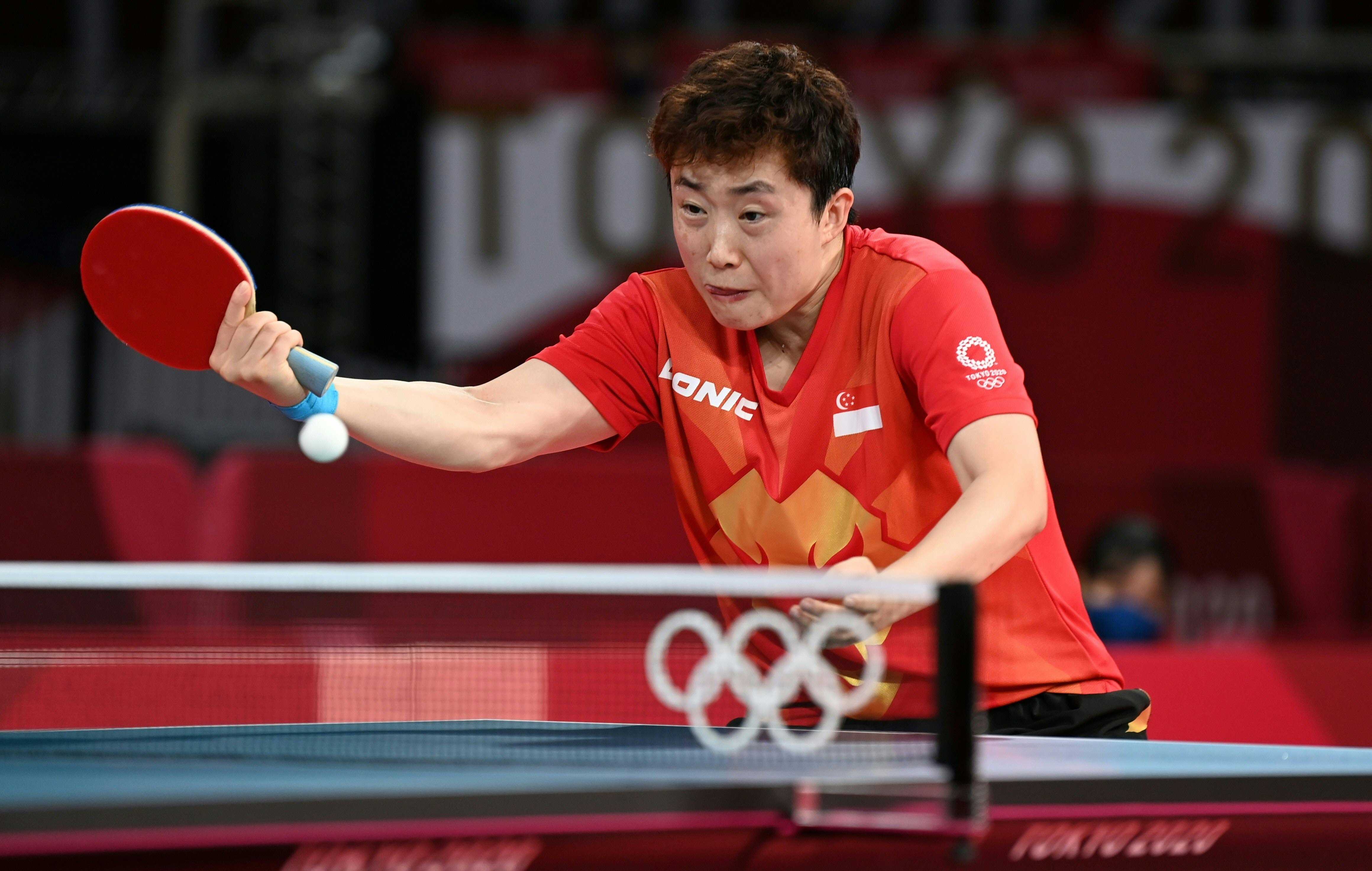 (TeamSG's Feng Tianwei in Rd of 16 at Tokyo 2020 - Photo by Sport Singapore)
Generally, it was all smooth-sailing until the Singles encounters when world no. 9 and 34-year-old Tianwei came up against 390th-ranked Prithika Pavade. In what looked like a total mismatch, the latter – who is of Indian origin and playing on her 17th birthday (today) – stunningly took the first 2 games. However, Tianwei – playing at her 4th and possibly final Olympiad – roared back to win the next 3 to avoid a huge upset. Final score was 3-2 . As for the French teenager, she will be one to watch when the Olympics heads to Paris in 2024.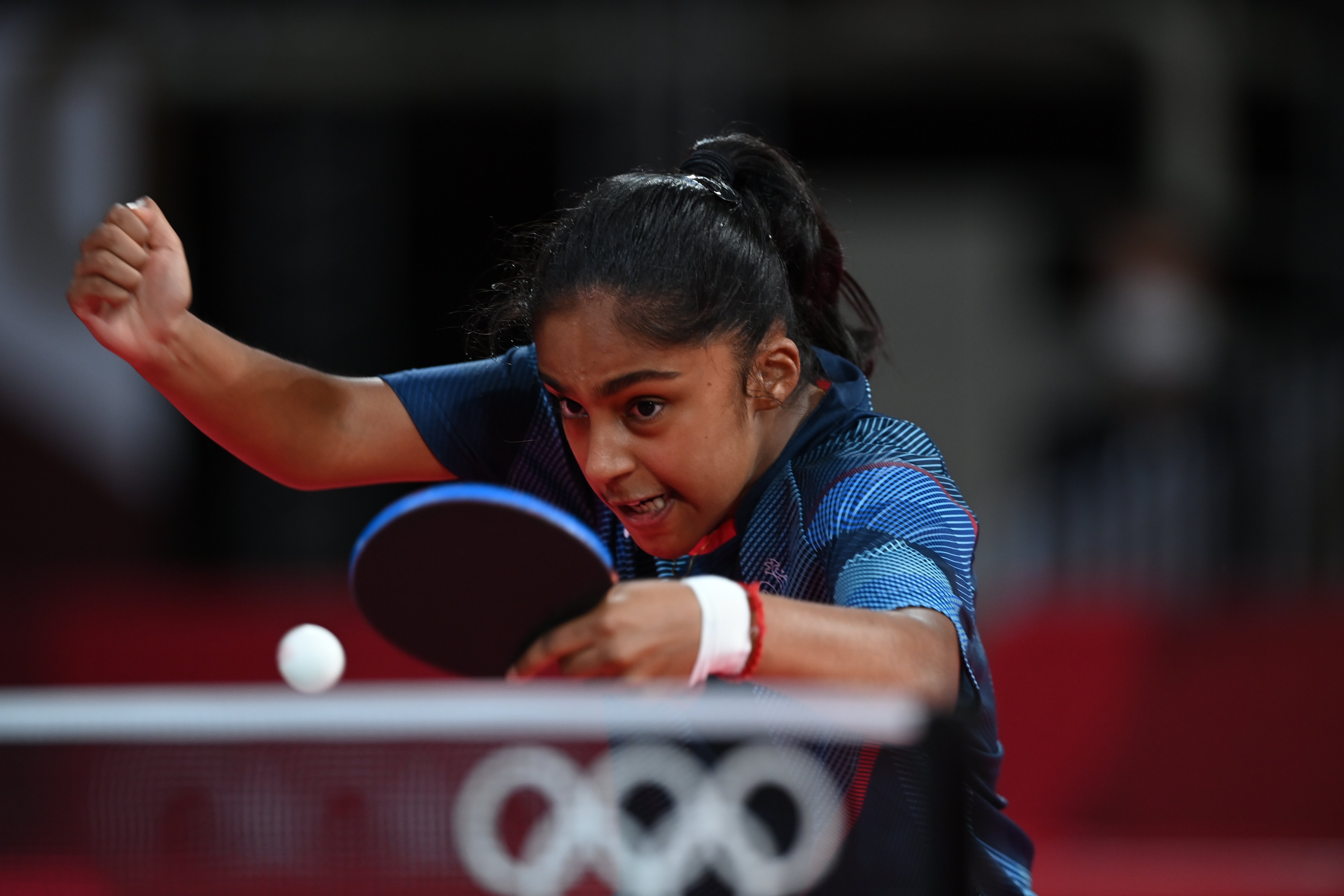 (French teenager Prithika Pavade in Rd of 16 - Photo by Sport Singapore)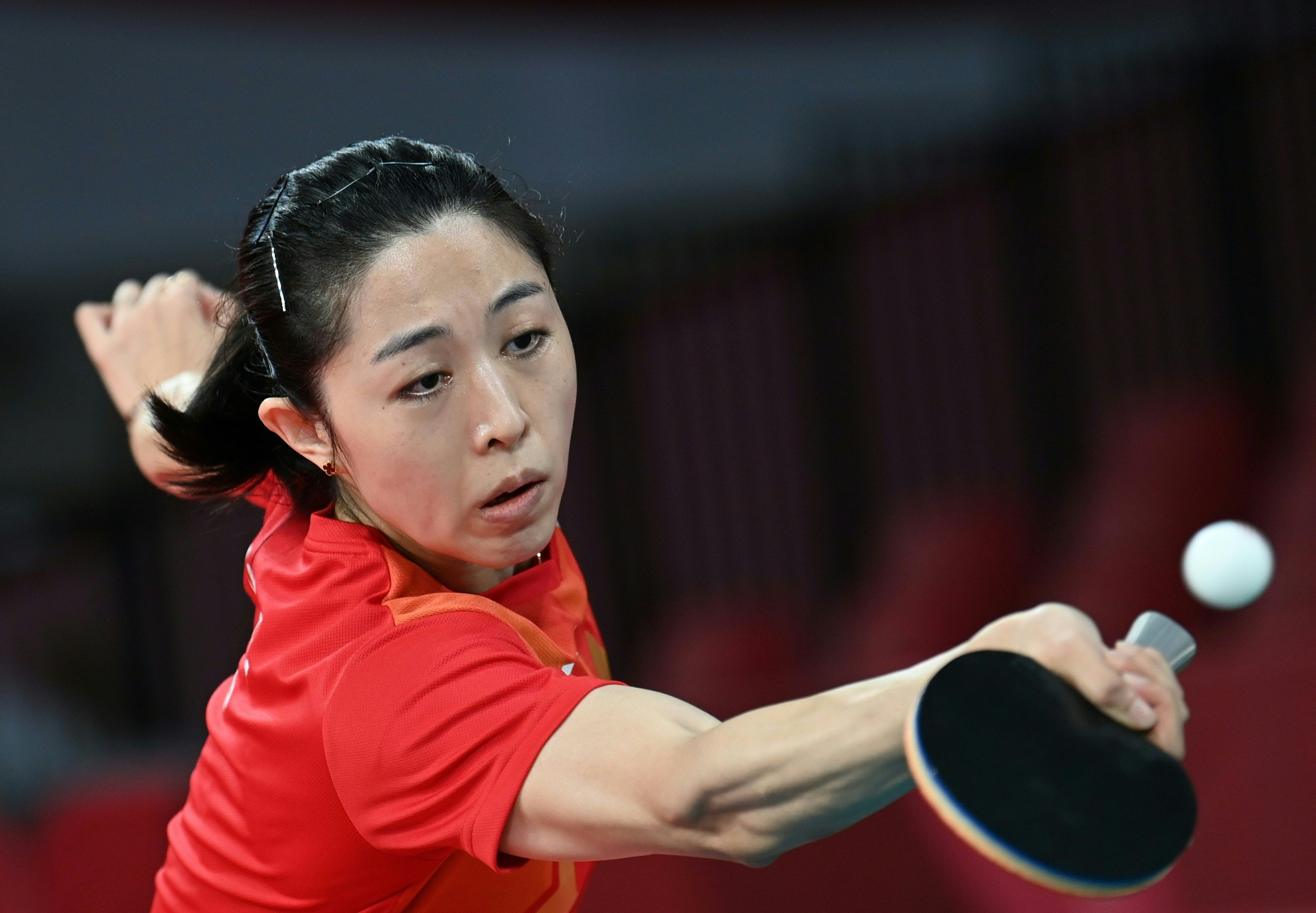 (Team Singapore's Yu Mengyu vs France in Rd of 16 - Photo by Sport Singapore)
With a 2-0 lead and their Quarter-final tickets already sealed, it was Mengyu's turn to feature next as the world no. 47 came up against 95th-ranked Yuan Jia Nan in the 3rd and final matchup. Each player took a game apiece, before the 31 year old Singaporean paddler hit the form, that saw her claim her best-ever finish (fourth) in the singles the previous week. Mengyu struck a series of decisive shots en route to clinching the next two games to win her match 3-1, and guaranteeing the Republic of a 3-0 overall victory.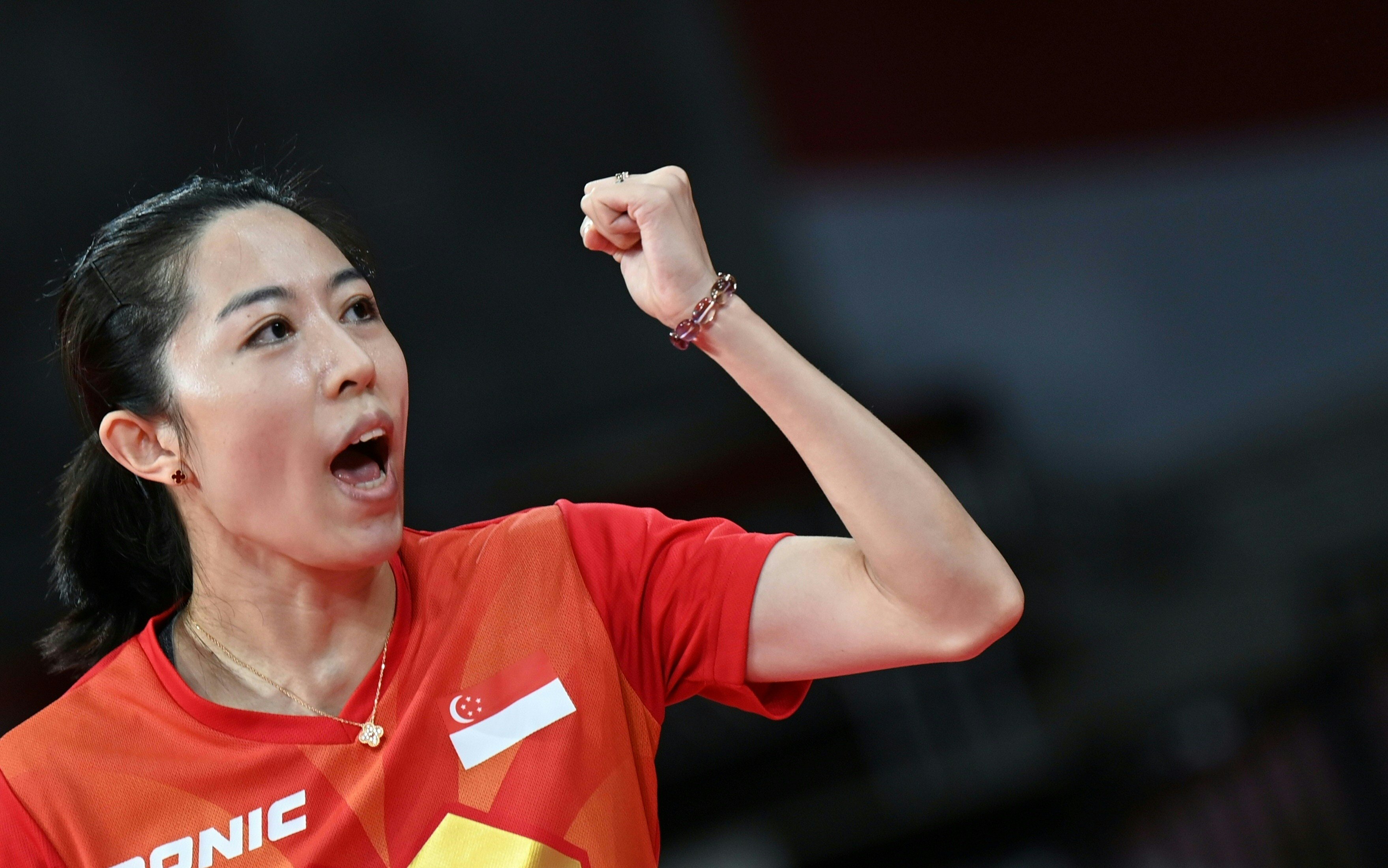 (Team Singapore's Yu Mengyu vs France in Rd of 16 - Photo by Sport Singapore)
The Republic's paddlers will now turn their focus towards the huge meeting with China tomorrow as they look to progress into the last 4 of the team competition. The Chinese trio of Chen Meng, Sun Yingsha and Wang Manyu smashed their Austrian counterparts 3-0 earlier on Sunday (August 1) to make the quarters.
Singapore will be underdogs for that one. However, should they upset the odds against the top seeds, they will be huge favourites to reclaim the podium finishes, which they achieved back in Beijing 2008 and London 2012.
Women's Table Tennis Round of 16
France 0-3 Singapore
Lin Ye/Yu Mengyu (SGP) beat Stephanie Loeuillette/Yuan Jia Nan (FRA) 11-6, 11-5, 13-11
Feng Tianwei (SGP) beat Prithika Pavade (FRA) 8-11, 6-11, 11-3, 11-8, 11-3
Yu Mengyu (SGP) beat Yuan Jia Nan (FRA) 11-8, 7-11, 11-5, 11-8
The 32nd edition of the Olympic Games is from 23 July to 8 Aug 2021. For all coverage and news of the Republic's national athletes who're competing at the Games, check out the official Team Singapore Tokyo 2020 website.
Remember to also Show your support for Team Singapore at the Olympic Games!
Team Singapore athletes have worked tirelessly over the last 12-20 months, especially under strict safety management measures to train and prepare. They've had to step up, pivot and adopt new and innovative methods to train especially with their preparations confined to the Lion City. With no international competitions or training stints, these athletes have had to adopt and maintain a positive mindset as well, throughout this entire journey to reach the grandest stage in Sport!
Simply click here to pledge a few words of encouragement and send positive vibes, as our TeamSG athletes continue to fly the national flag proudly in Tokyo.
Related Topics
Related Events & Programmes
Related Topics