Tokyo Paralympics : Congratulations to the Class of 2020, on Singapore's 2nd Best Showing in 9 Paralympic campaigns!
by Circle Stories, on September 3, 2021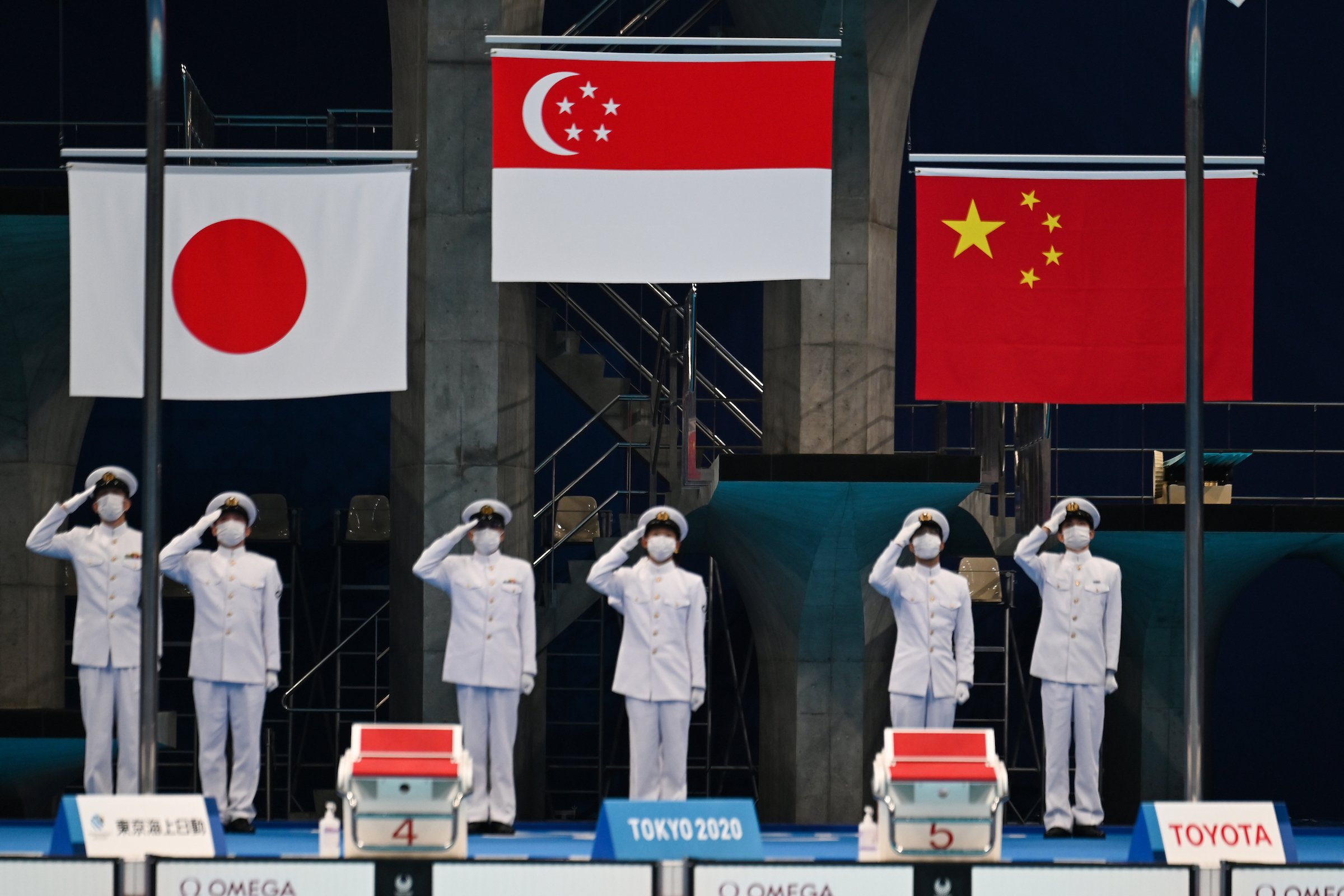 (Yip Pin Xiu's Gold Medal Victory Ceremony - Photo by SportSG)
By Kenneth Tan
The city of Tokyo saw the successful completion of another global multi-sports meet following the July 23-Aug 8 summer Olympic Games. Featuring people with disabilities, the Paralympic Games held from between Aug 24 to Sep 5, was a true spectacle that showcased the para-athletes' strength and resilience.
Making its 9th appearance in the Paralympics, Team Singapore had a total of 10 para-athletes featuring in six sporting disciplines in Tokyo 2020. And 4 of them made their Games debuts, while 2 sports were also represented by the Republic for the very first time.
Here we look back on a memorable campaign which yielded 2 Gold medals, while personal/season bests and national records were smashed along the way.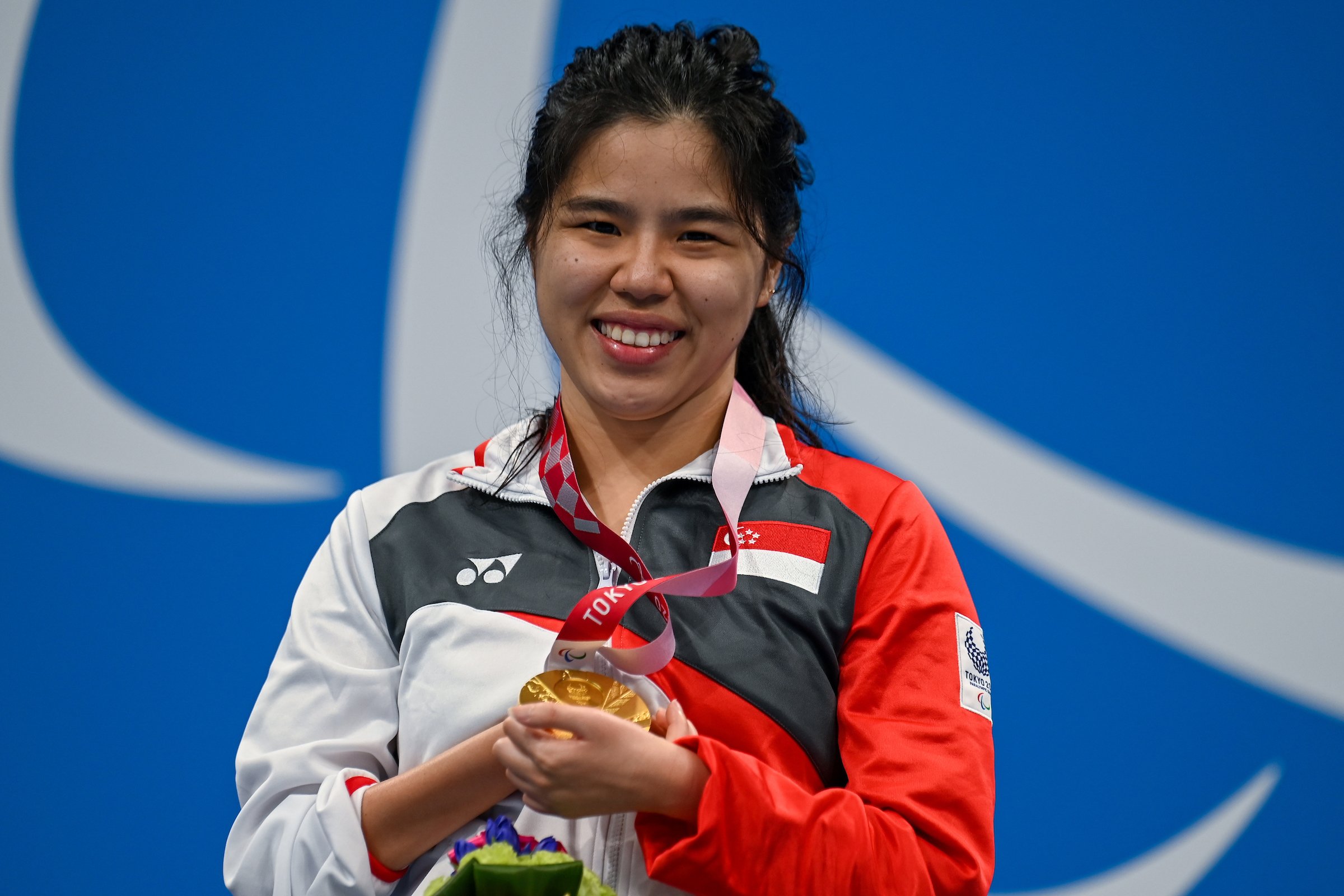 (TeamSG's Yip Pin Xiu - Photo by Sport Singapore)
All eyes were on Singapore's most decorated Paralympian Yip Pin Xiu (PX) and she truly delivered at the Tokyo Aquatics Centre. The 29year old – who has muscular dystrophy – successfully defended the 50metres and 100metres backstroke (S2) titles that she won back in Rio 2016, with outstanding swims in both events in Tokyo.
On Day 1 at the Games, she bettered her Season Best by clocking 2 minutes 14.46 seconds to qualify for the 100m backstroke final. Pin Xiu touched the wall (in the Final) almost 10 seconds ahead of Japan's Miyuki Yamada at 2 minutes 16.61 seconds in the medal race, to begin her campaign on a good note.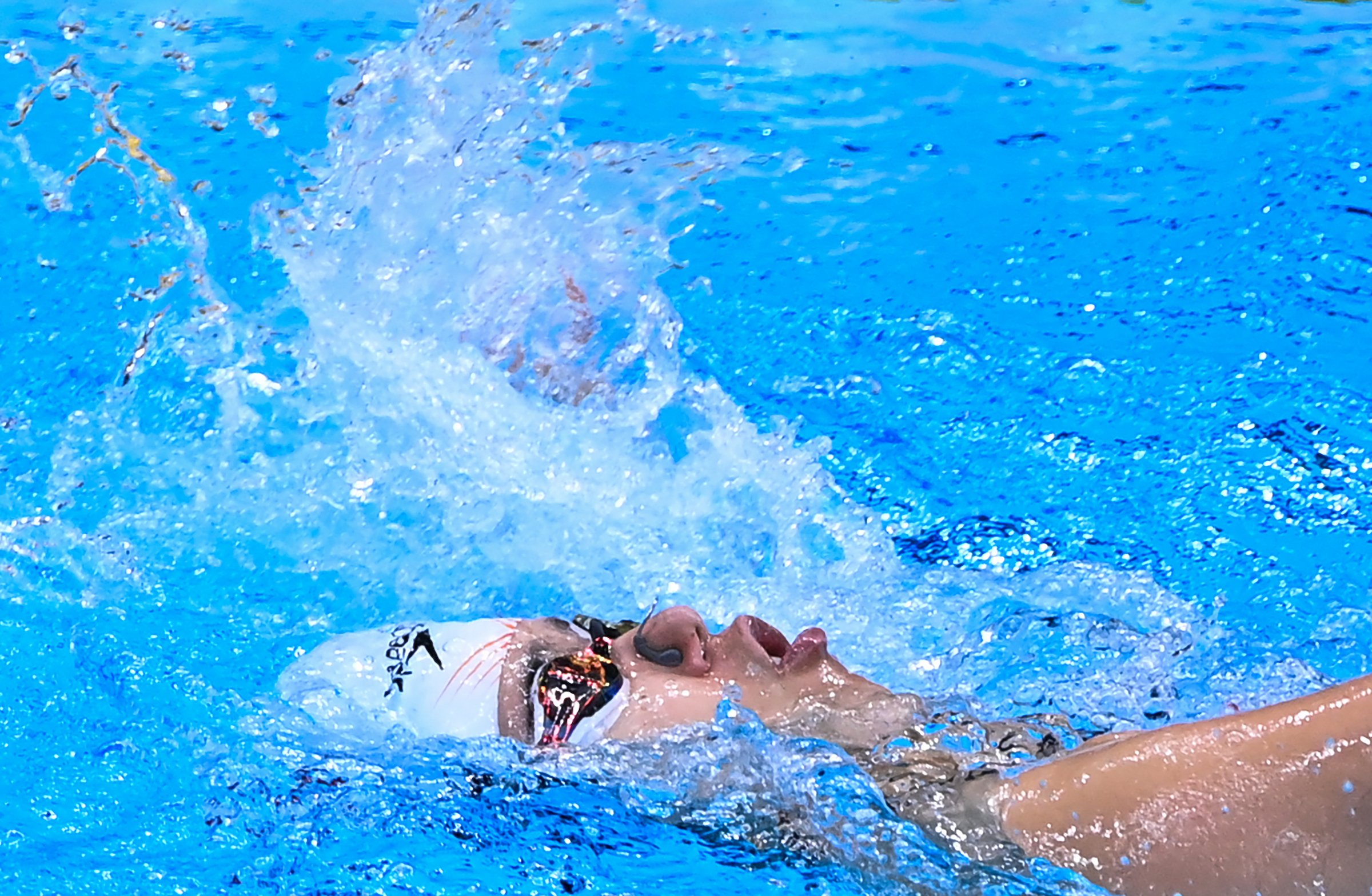 (TeamSG's Yip Pin Xiu - Photo by Sport Singapore)
The 2-time Singapore Disability Sports Council (SDSC)'s Sportswoman of the Year duly finished off with a flourish in the shorter 50m race (a week later), with a new Season Best timing of 1 minute 03.61 seconds. That was almost 6 seconds quicker than her 14 year old rival Yamada, to clinch her 2nd gold medal of this year's Games.
As the current world record holder in both events, PX now has an unprecedented 5 gold medals and a silver, accumulated over 4 consecutive Games appearances. It's truly an incredible feat for Pin Xiu, who has already her sights on making Paris 2024, while also looking to firm up plans to set up a swim school for able-bodied and disabled kids.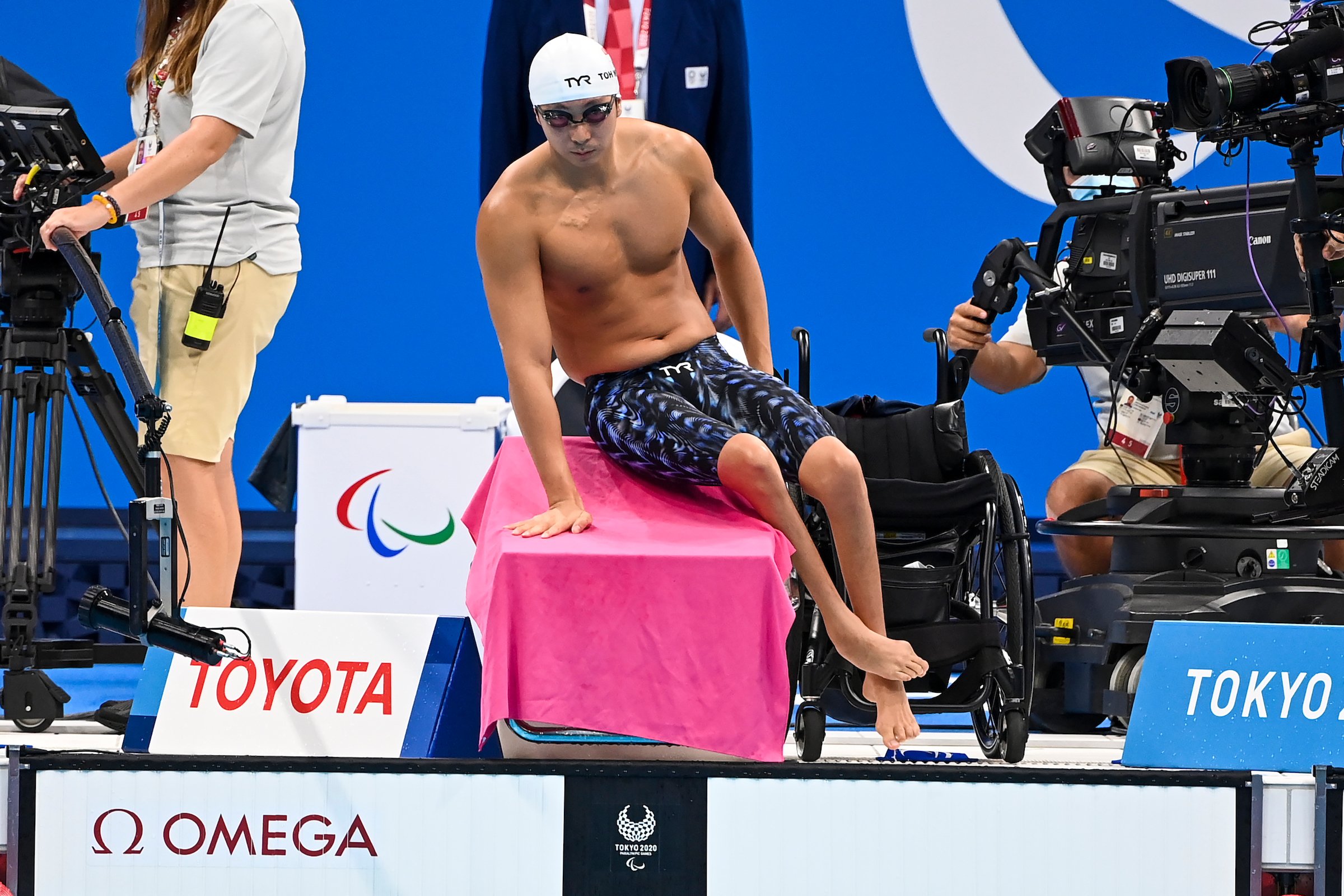 (TeamSG's Toh Wei Soong - Photo by Sport Singapore)
Fellow para-swimmer Toh Wei Soong also made a huge splash in the pool, as he reached 3 Finals in his S7 classification, broke 2 national records (NRs) and almost claimed a medal in his 1st ever Paralympics campaign.
Starting off by clocking 5 minutes 6.39 seconds in a 7th-place finish in the 400m freestyle final, he then equalled his previous NR of 29.01 secs in the 50m freestyle heats. That was before proceeding to smash it, with a time of 28.65 seconds to claim 7th (again) in the following final.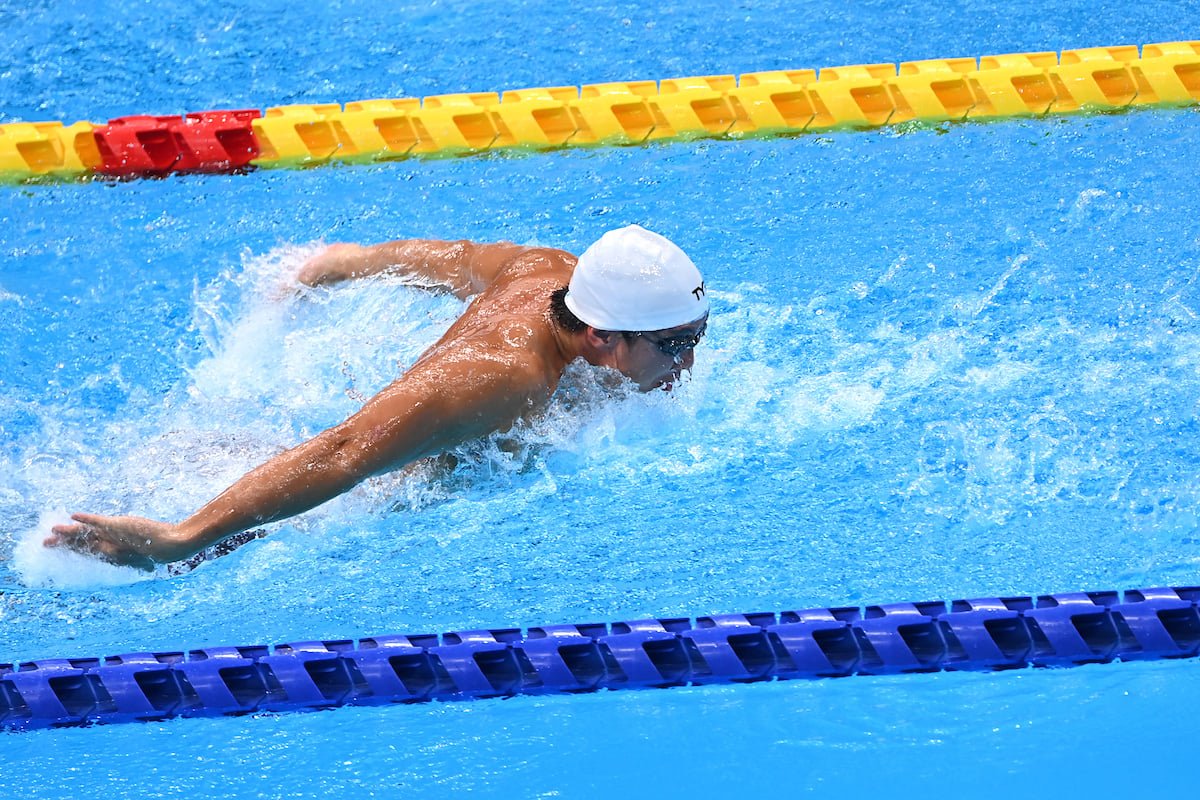 (TeamSG's Toh Wei Soong - Photo by Sport Singapore)
In his 3rd and final event, the 22 year old – who has tranverse myelitis – would agonisingly miss out on a medal in the 50m butterfly final, as he touched the wall in 4th place and was only 0.16 seconds away from a podium finish! His timing of 29.50 seconds was, however, another new National Record – having already swam 29.90 seconds in the preceding morning qualifying heats, to eclipse the previous benchmark of 30.76 seconds.
The future certainly looks bright for Wei Soong, who will now turn his focus towards defending his 50m and 100m freestyle titles in next year's Asian Para Games, before a 2nd Paralympics appearance beckons.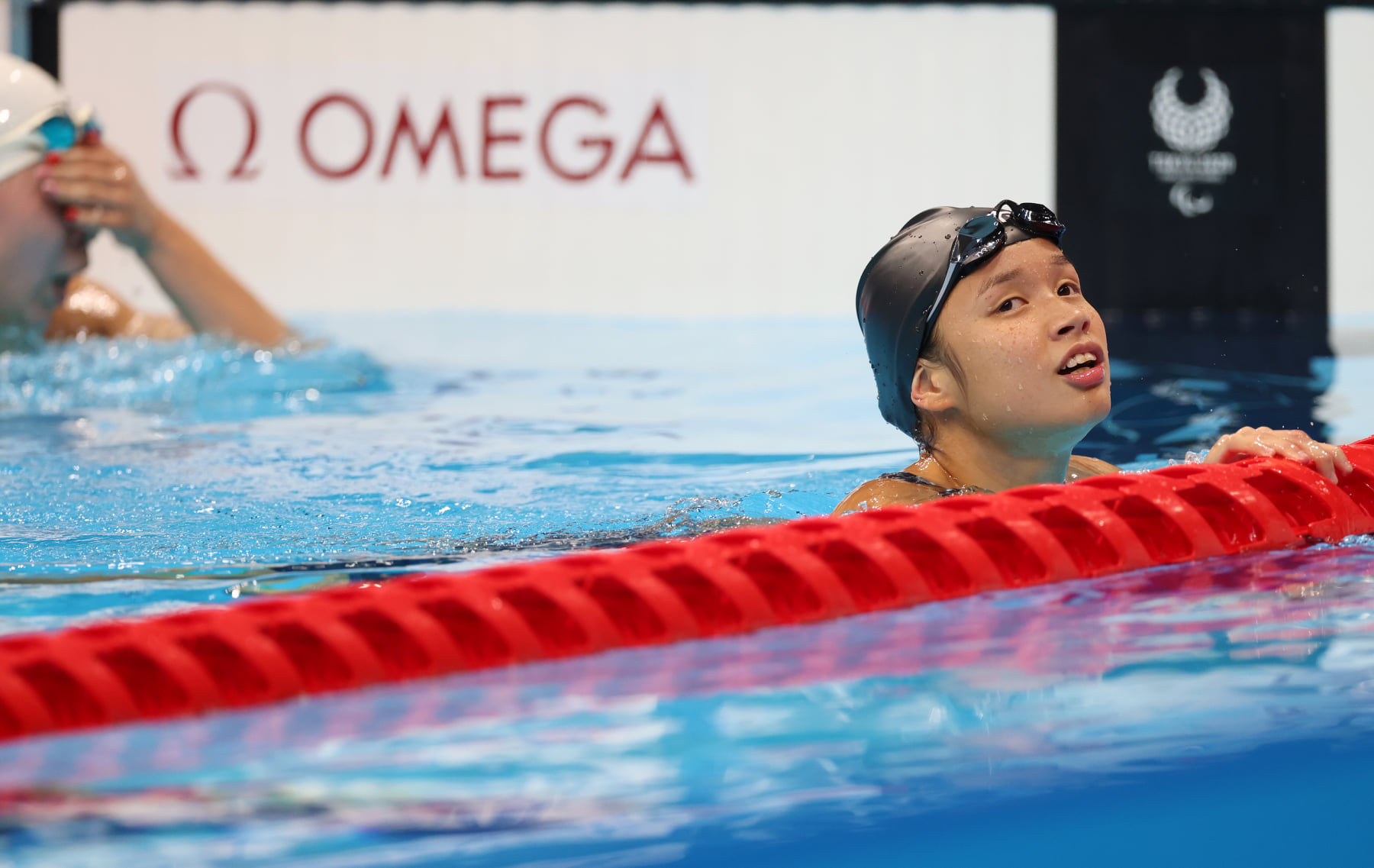 (TeamSG's Sophie Soon - Photo by Sport Singapore)
Another Paralympics swimming debutant was Sophie Soon, who put up encouraging performances, despite not being able to attain a medal. Sophie is the 1st visually impaired female swimmer to compete at the Paralympics.
A timing of 1 minute 28.61 seconds in the 100m butterfly S13 heats in her very 1st Paralympic event, was not enough to qualify her for the final as she finished 18th out of 18. But the 24 year old – who has cone rod dystrophy – fared better in the 100m breaststroke SB12 final where she clocked 1 minute 29.52 seconds to come in 4th in a field of 7 swimmers.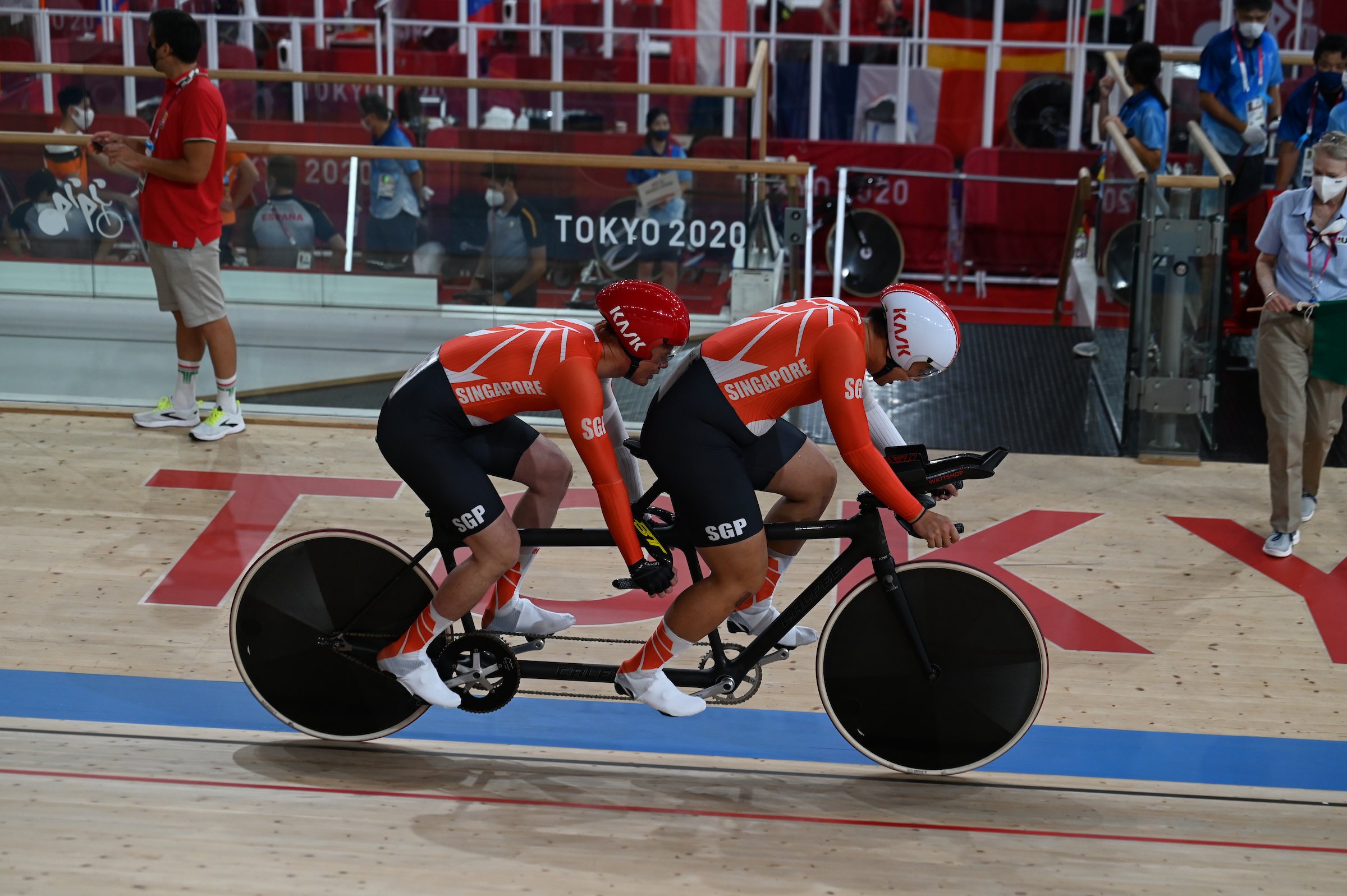 (TeamSG's Steve Tee & Ang Kee Meng : Photo by SportSG)
Moving away from the pool, para-cyclist Steve Tee also put up a great showing on his Paralympics debut, as he paired up with pilot (able-bodied partner) Ang Kee Meng, to set 2 new Personal Best (PB) timings on the track.
The tandem cycling pair first shaved more than 7 seconds off their previous PB of 4 minutes 47.414 seconds to finish the Men's B 4,000m Individual Pursuit in 4 minutes 40.453 seconds – that ranked them 9th out of 14 pairs overall. They then repeated the script in the 1,000m Time Trial at the Izu Velodrome, by clocking 1 minute 10.885 seconds to better their previous benchmark of 1 minute 14.121 seconds to finish eighth in a field of 10.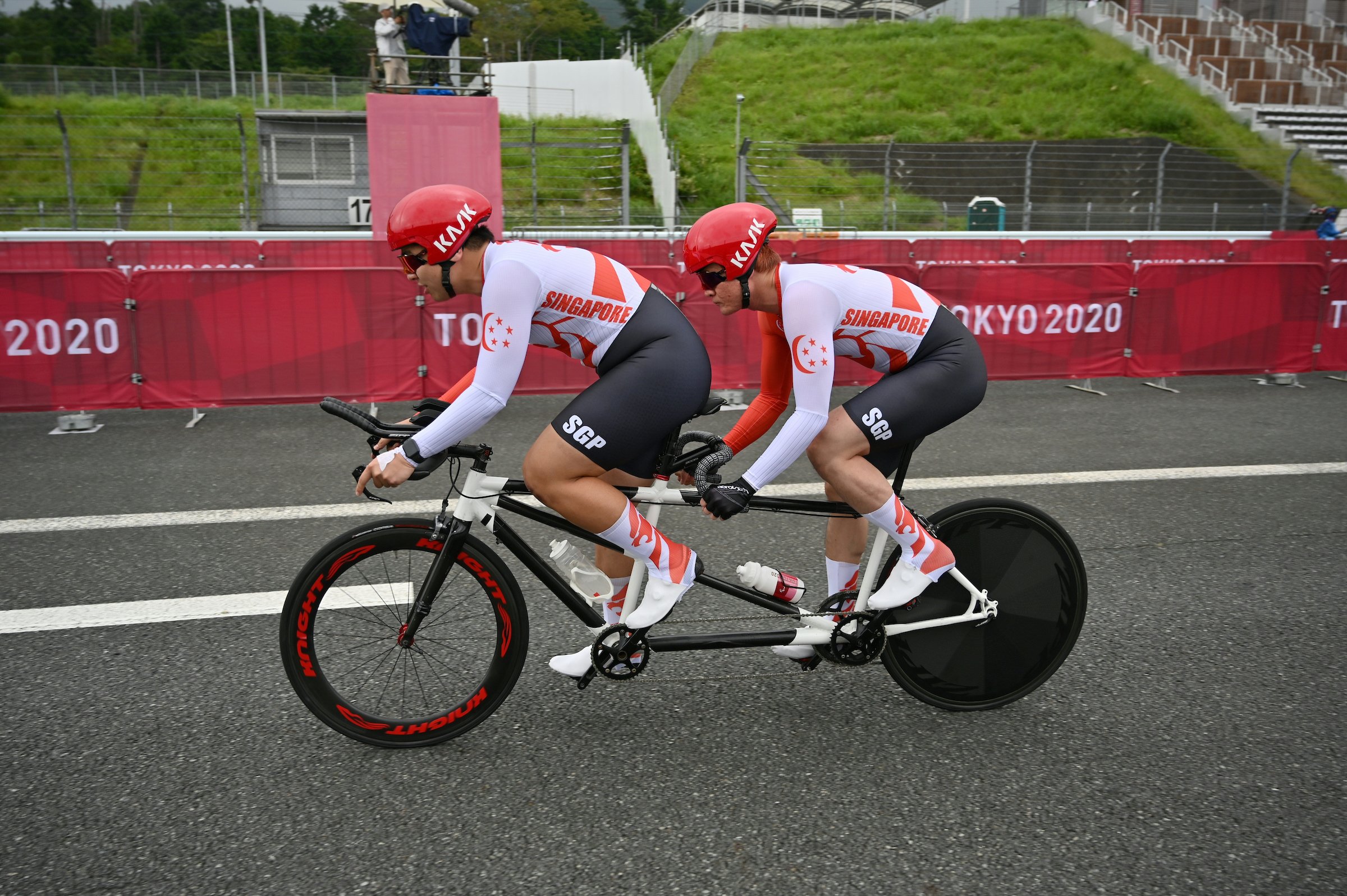 (TeamSG's Steve Tee & Ang Kee Meng : Photo by SportSG)
40 year old Steve – who has retinitis pigmentosa – and former Team Singapore cyclist Kee Meng (aged 34), however, did not enjoy similar fortunes on the road in their Men's B time trial (32km) at the Fuji International Speedway. Suffering a broken chainring in the first 8km of the race, they were unable to fix the issue despite multiple attempts to do so and ended up not being able to complete the route.
Nonetheless they can look back fondly on being Singapore's first-ever para-cycling representatives at the Games.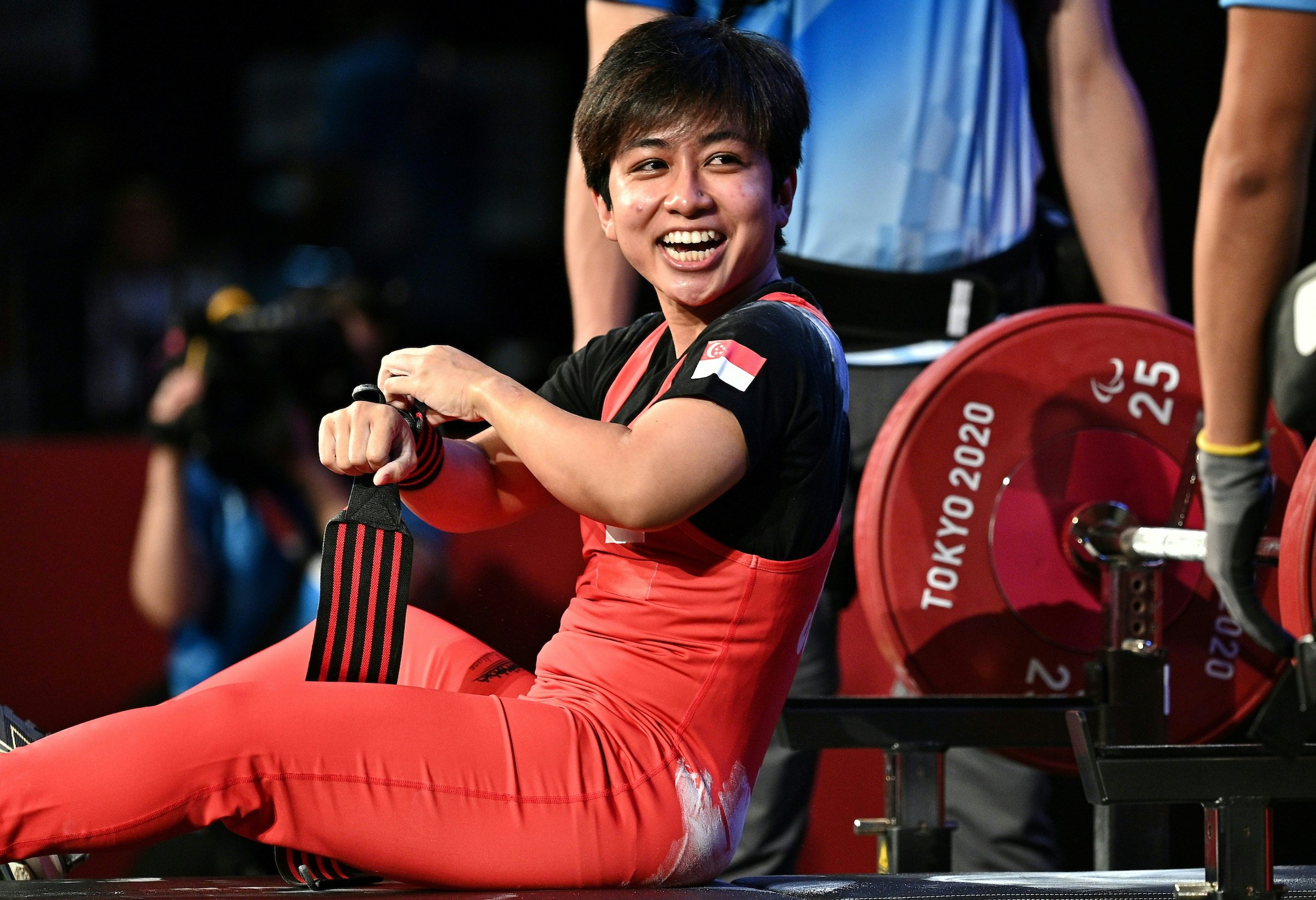 (TeamSG's Nur'Aini Binte Mohd Yasli - Photo by SportSG)
Nur'Aini Binte Mohd Yasli was another history-maker as she became the Republic's 1st para-powerlifter in the Paralympics. The 29 year old lifted 77kg in the Women's Up to 45kg weight class. She was just 4kg short of her PB and finished 6th out of 9 competitors.
Nur'Aini – who has multiple epiphyseal dysplasia – has to be lauded for her bravery as she attempted to lift a new PB of 82kg, before agonisingly missing her mark due to a slight error in her bench press sequence.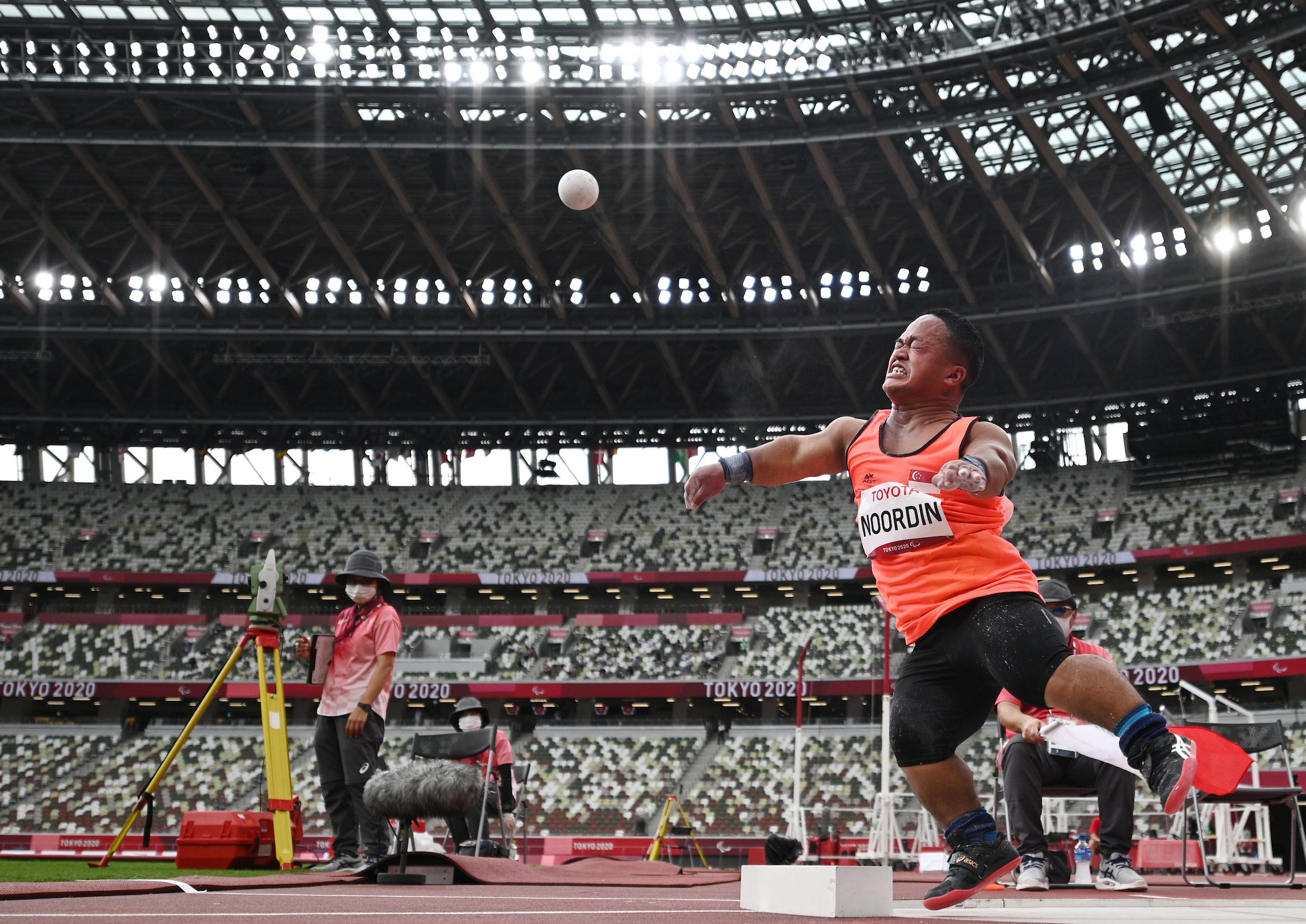 (TeamSG's Md Diroy Bin Noordin : Photo by SportSG)
Crossing over to athletics, Md Diroy Bin Noordin had a campaign to remember as he made good on his promise to better his previous PB of 9.78m in the Men's Shot Put F40 final.
The 29 year old - who was born with Short Stature – achieved 9.92m in his record-breaking 6th and final attempt to finish 8th out of 9 competitors. It was a significant improvement for the Team Singapore flag-bearer at the Games' opening ceremony, who did 7.29m to finish 9th out of 10 on his Paralympics debut back in Rio 2016.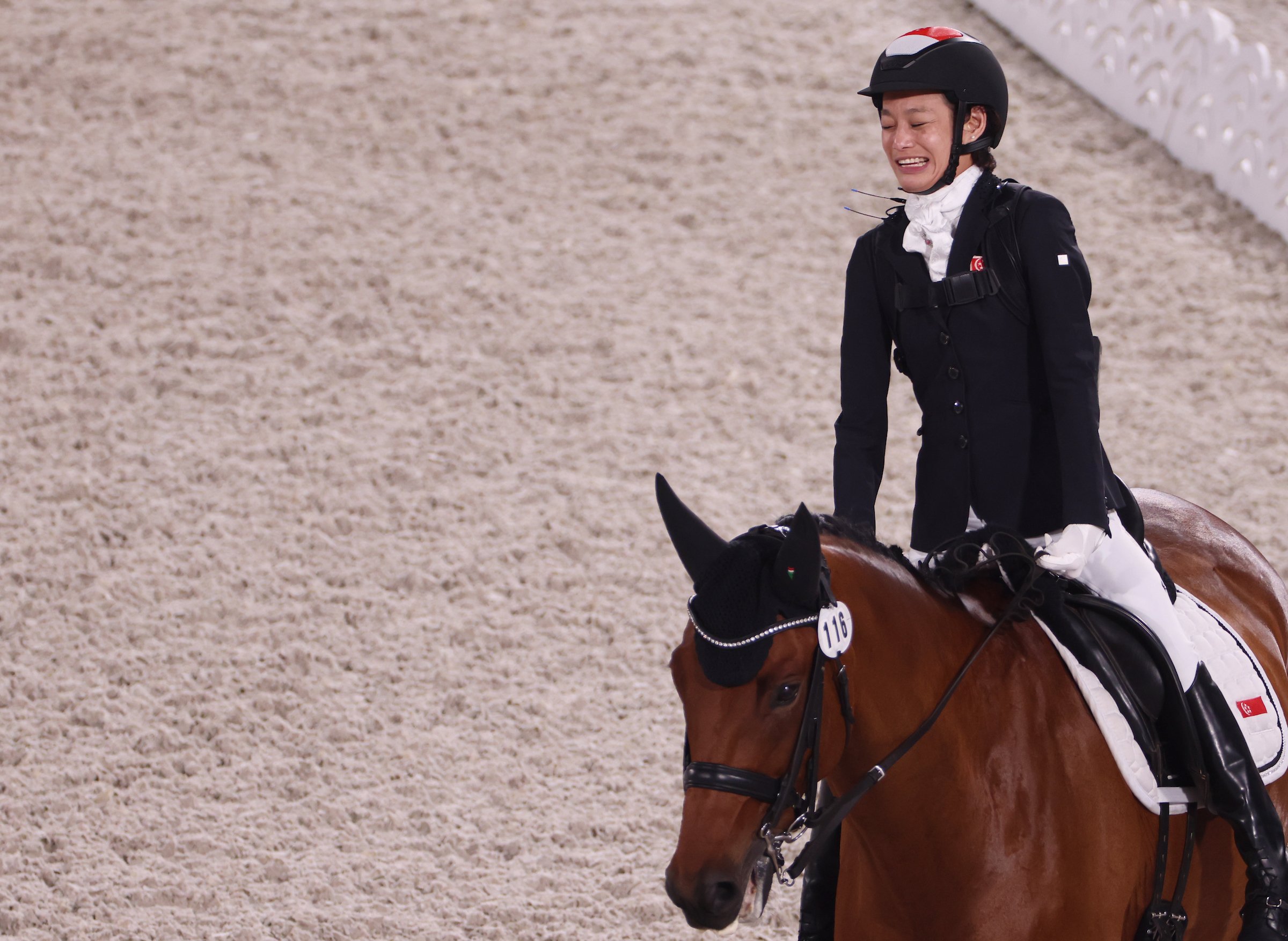 (TeamSG's Laurentia Tan - Photo by SportSG)
In equestrian, the experienced Laurentia Tan did the nation proud with splendid displays in her 4th Paralympic campaign as she narrowly missed out on a medal for a 2nd straight Games.
Scoring 73.964% with her four-legged partner "Banestro" in her Grade I Dressage Individual Test to finish 5th amongst 18 participants, the 42 year old – who has cerebral palsy and profound deafness – progressed as part of the top 8 into the Individual Freestyle Test.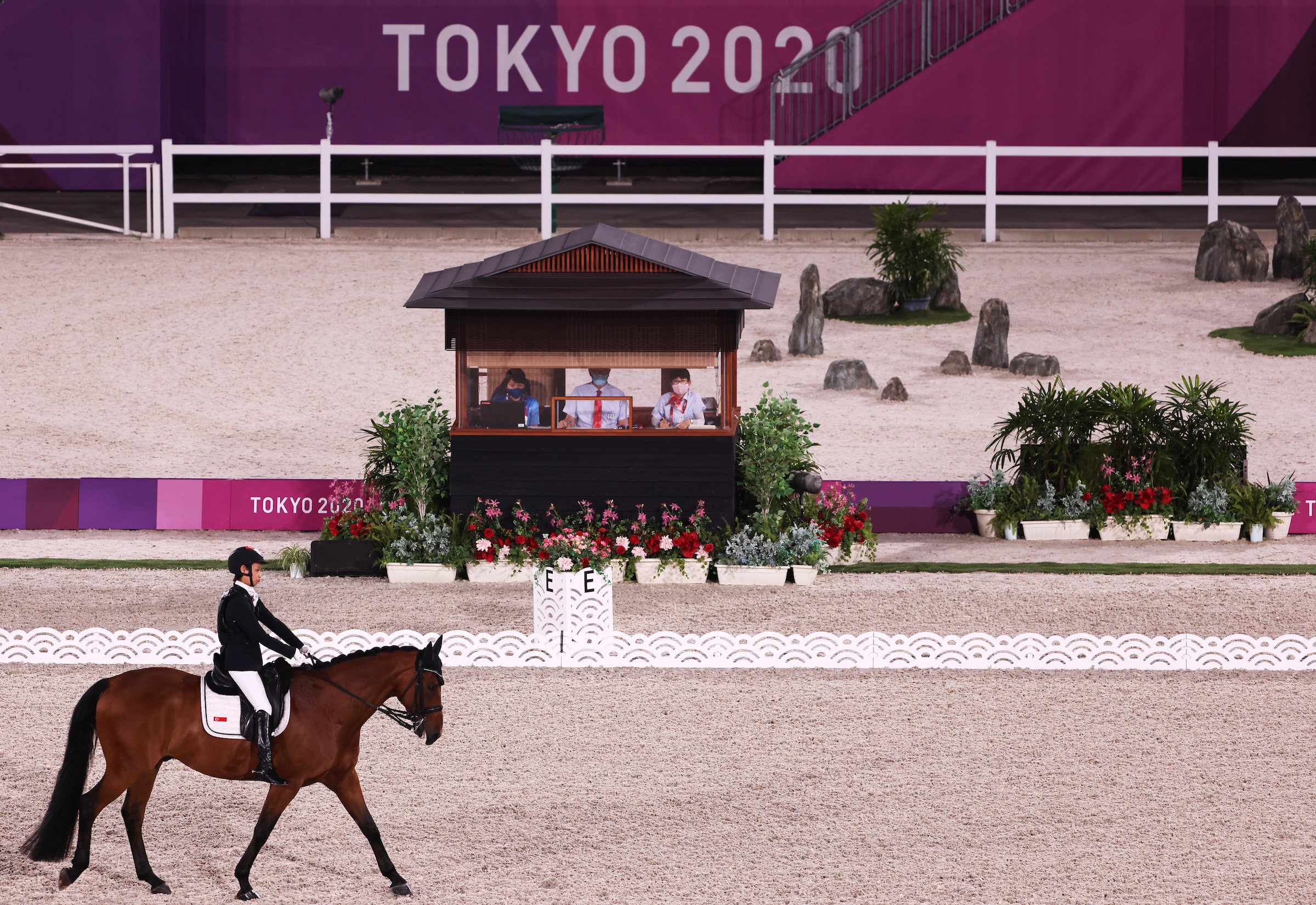 (TeamSG's Laurentia Tan - Photo by SportSG)
That was a particularly challenging one for Laurentia, who is unable to hear the music due to her hearing impairment. But she rose above that obstacle to get a wonderful score of 75.060%. Placing 5th, she will be slightly gutted not to be able to add to her tally of 3 bronze medals and 1 silver, accumulated from Beijing 2008 and London 2012.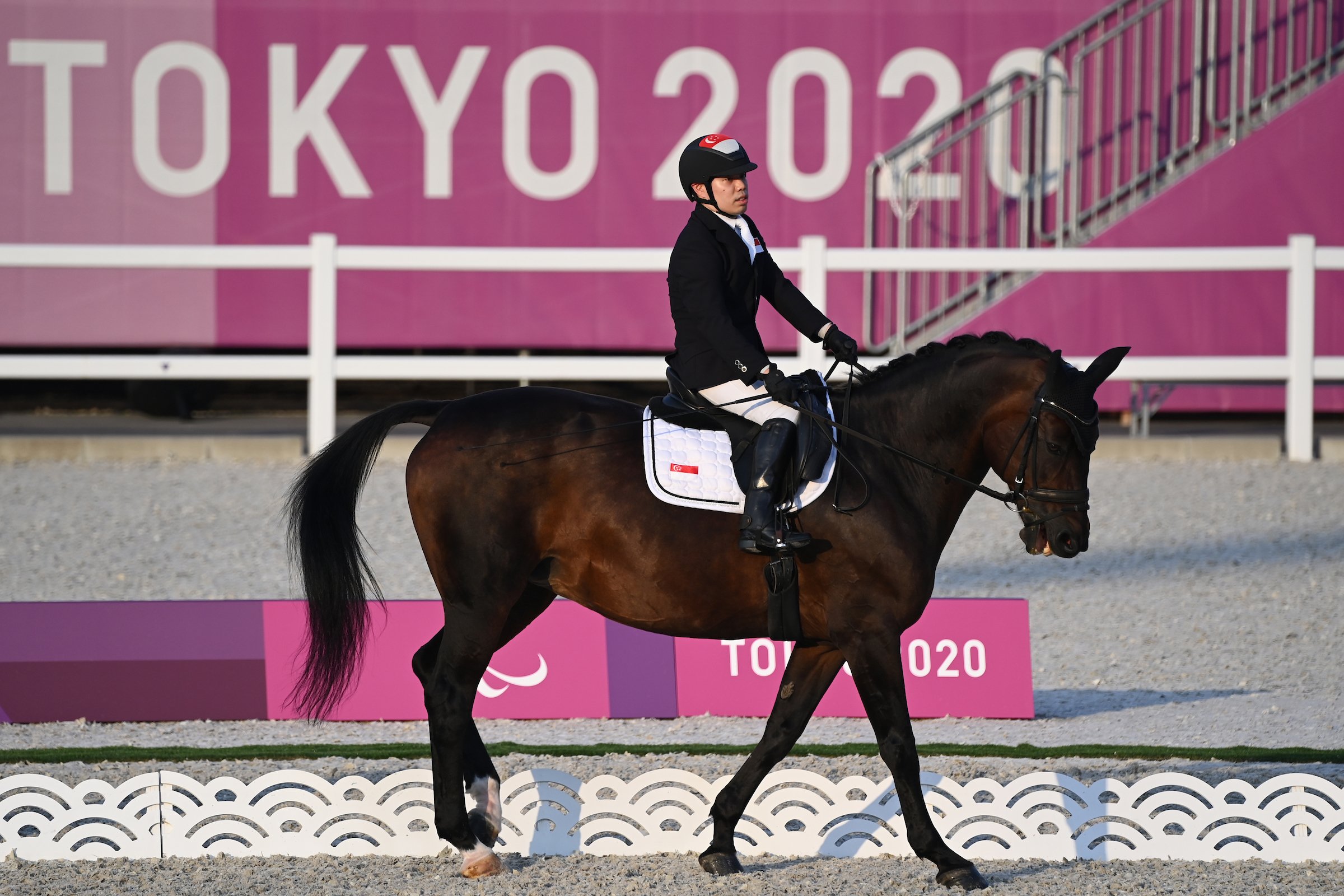 (TeamSG's Maximillian Tan - Photo by SportSG)
She also netted an impressive 75.857% in the Team Test to Music, with partners Gemma Foo and Maximillian Tan – who are similarly born with cerebral palsy – getting 63.965% and 60.970% respectively for a combined score of 200.792% as the Singapore para-equestrian team finished 14th out of 15 in the mixed team event.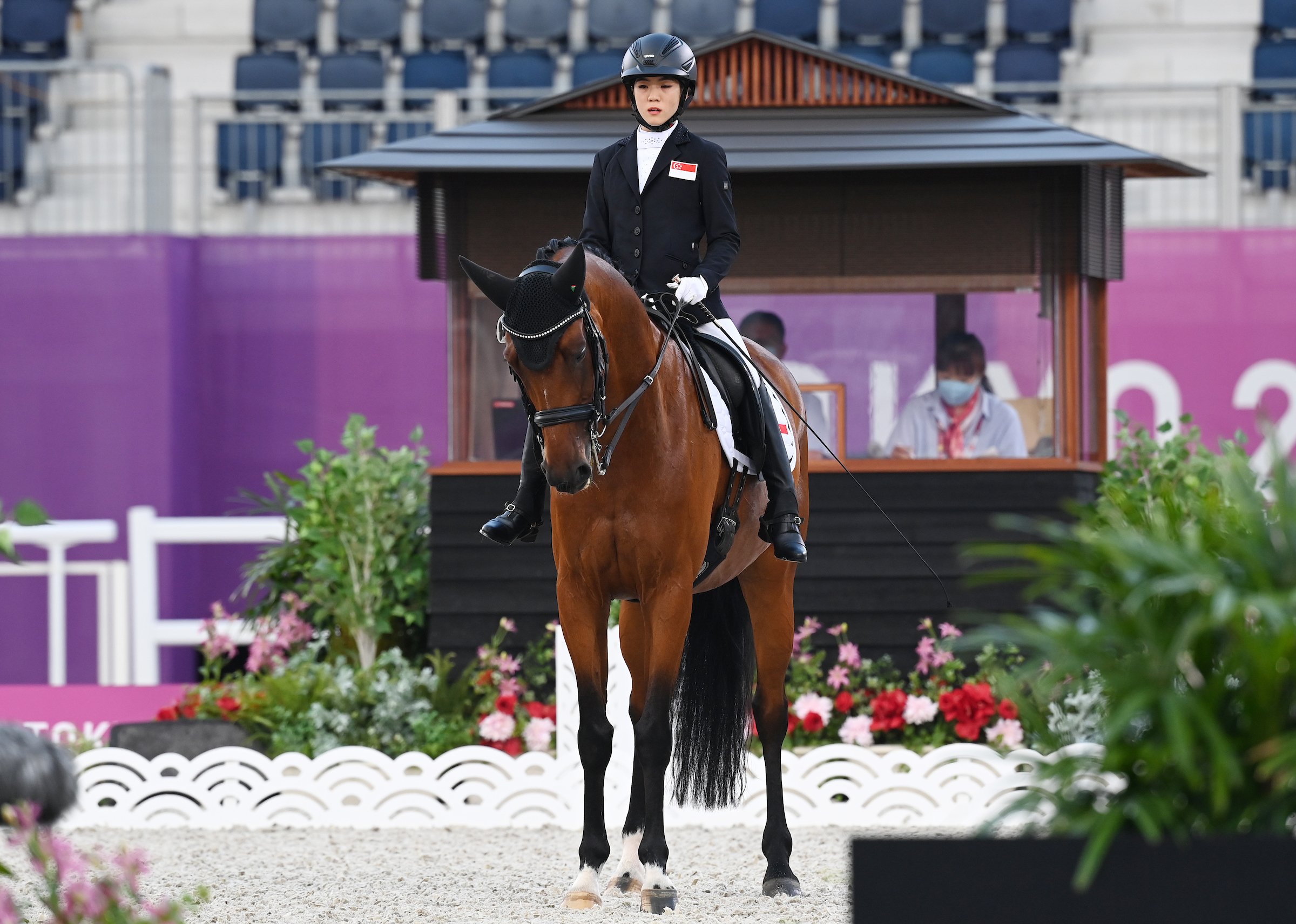 (TeamSG's Gemma Foo - Photo by SportSG)
Making their respective 3rd Games appearances, the latter 2 also put up improved showings from their outings five years ago.
25-year-old Gemma scored 62.750% to better the 62% attained in Rio 2016 as she ranked 17th out of 18 in her Grade I dressage individual test, while 34-year-old Maximillian hit 61.588% in the Grade II category – a higher score than the 59.862% back then – to finish 11th out of 12. Their scores were, however, not enough to qualify them for the freestyle test.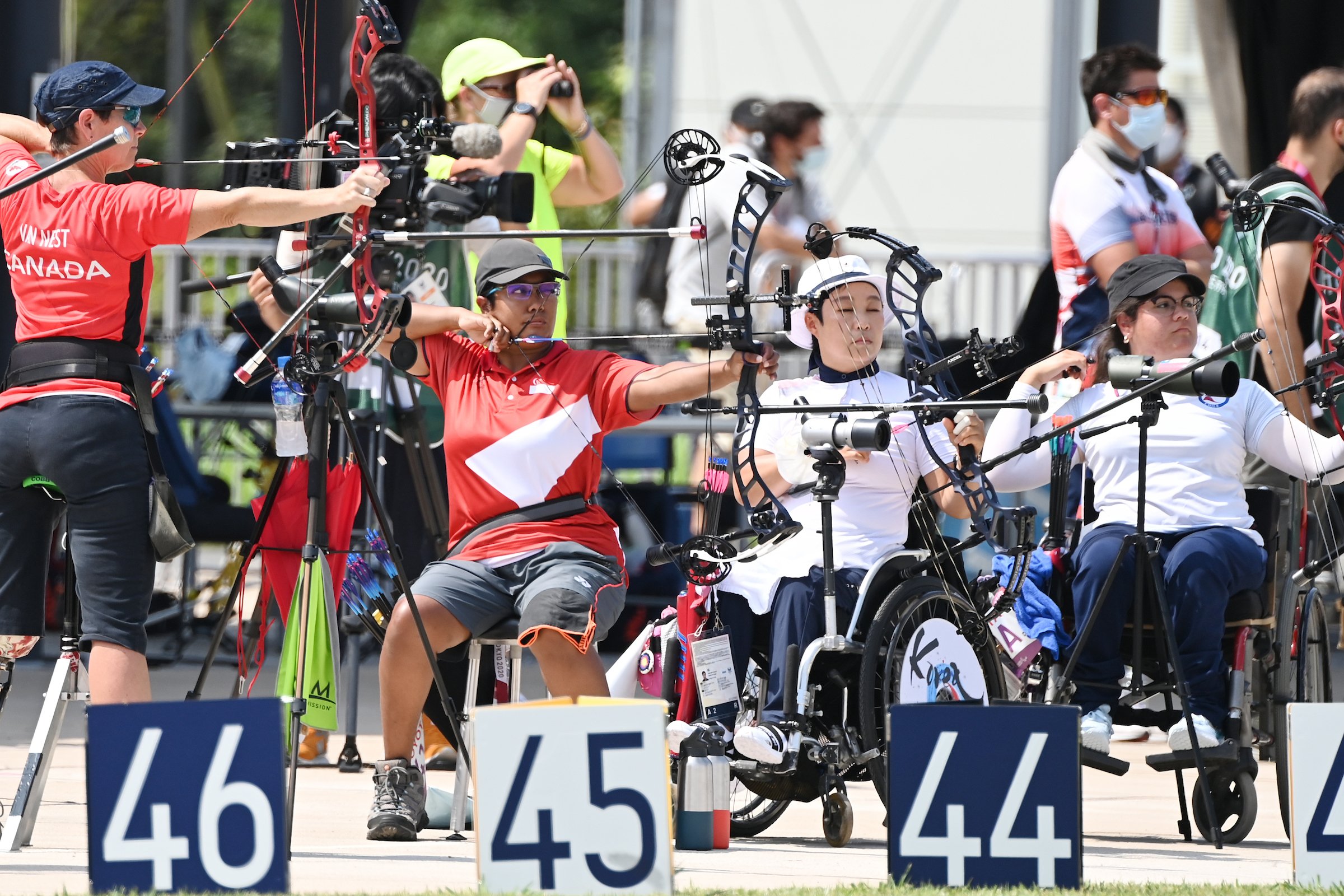 (TeamSG's Nur Syahidah Binte Alim - Photo by SportSG)
Last but not least, para-archer Nur Syahidah Binte Alim will be slightly disappointed, as she failed to equal her quarter-final finish in her Games debut back in Rio 2016.
Placing 7th out of 24 competitors in the open ranking round of the Women's Individual Compound, the 2019 world champion was unable to perform to her usual high standards in the following 1/8 elimination round as she went down 140-136 to Turkey's Yorulmaz Sevgi.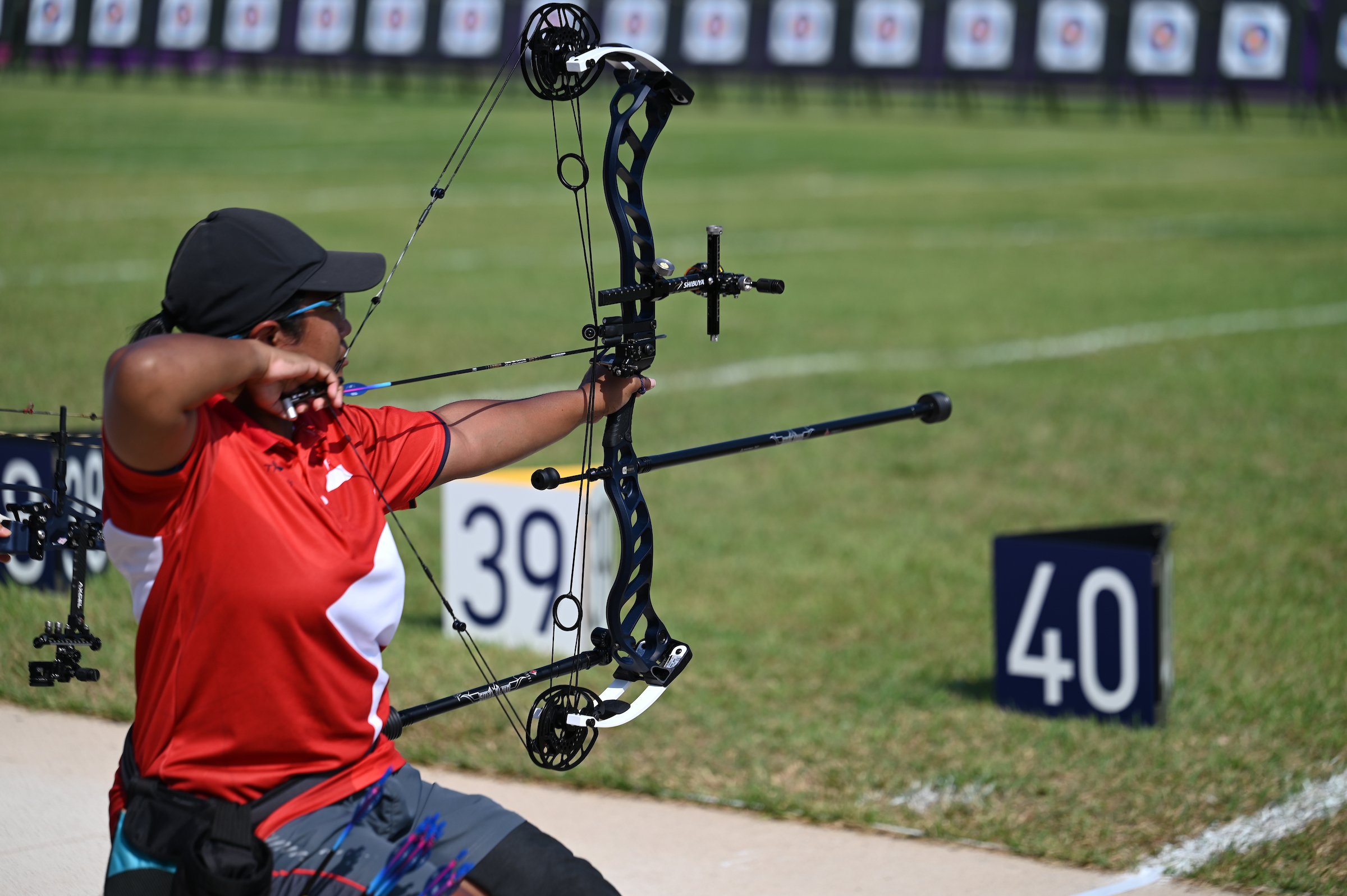 (TeamSG's Nur Syahidah Binte Alim - Photo by SportSG)
Nonetheless the setback has done little to deter the 36 year old – who was born with cerebral palsy – as she looks to bounce back in next year's ASEAN Para Games and Asian Para Games.
A year's delay to Tokyo 2020 created major disruptions for the Team Singapore para-athletes' preparations. But the contingent put up a wonderful overall display of resilience and fighting spirit to show what they are made of.
Now it's time for them to take a well-deserved break as they return home and we look forward to them strutting their stuff again in the various Major Games in 2022!
Watch Highlights of the Singapore National Paralympic Council's post-Games Review virtual media conference which took place on Saturday (4 Sep)
For all coverage and news of the Republic's national athletes who're competing at the Games, check out the official Team Singapore Tokyo 2020 website.
Additional Reporting by Raj Kumar
Pledge Your Support here
Show your support for Team Singapore in the Paralympic Games!
Team Singapore athletes have worked hard to qualify for the Paralympics despite the challenges placed in front of them by the pandemic. They've trained relentlessly, all while adapting to the different safety measures throughout their journey, to ensure that they can represent our flag in Tokyo.