Jonas Vingegaard will compete in 1st ever Tour de France Prudential Singapore Criterium!
by Circle Stories, on August 25, 2022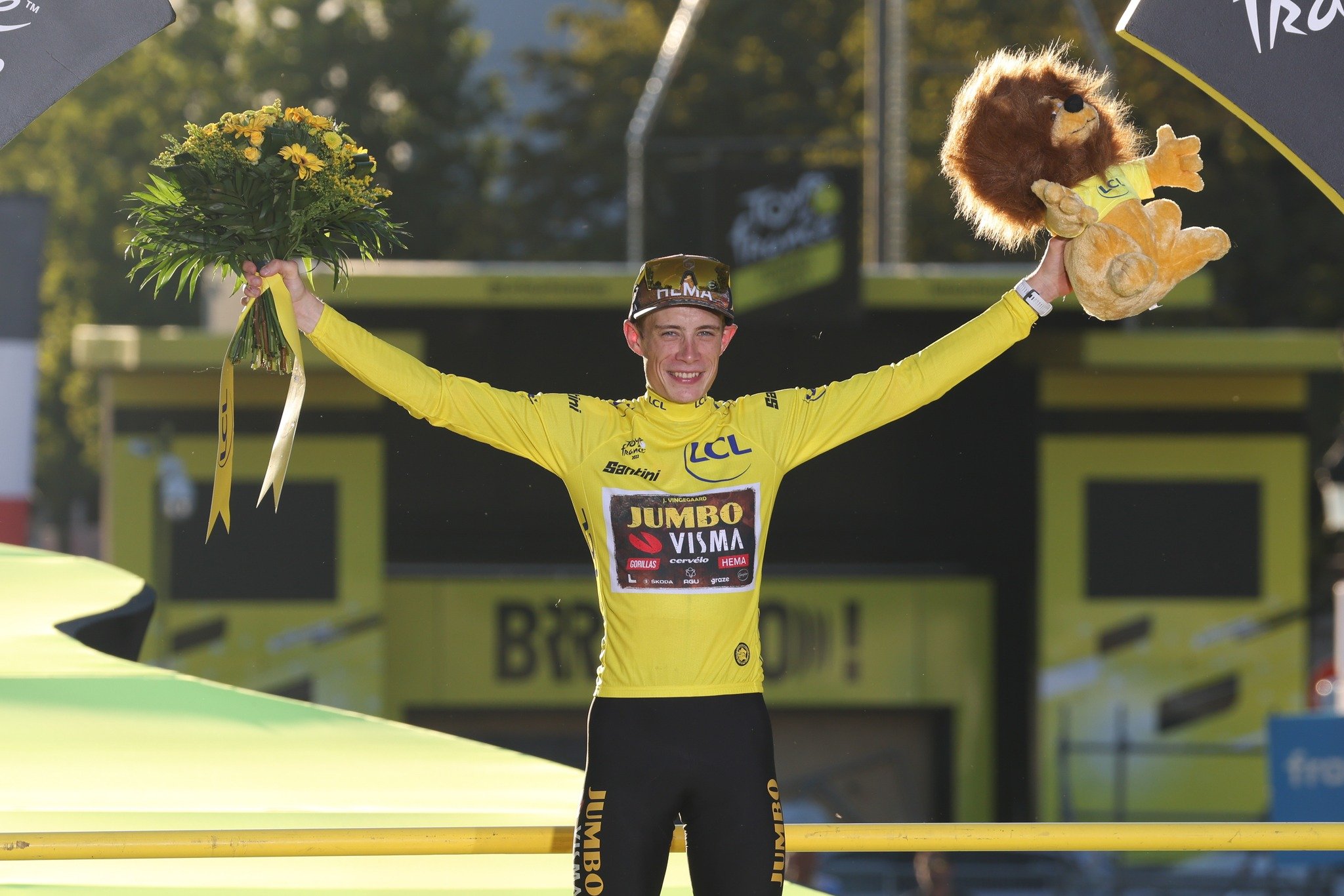 2022 Tour de France Champion, Jonas Vingegaard. Photo Credit : @letour Facebook Page
24 August 2022 – The official schedule for the first ever Tour De France Prudential Singapore Criterium, to take place at The Float@Marina Bay for one weekend only – Saturday 29th and Sunday 30th October, has been unveiled. Tour de France 2022 winner Jonas Vingegaard has also confirmed his participation at the Tour de France Prudential Singapore Criterium. He's the latest cyclist to confirm his participation of the event alongside decorated British rider Mark Cavendish, who holds the joint record for the most Tour de France stage wins (34).
Cycling and event fans in Singapore and from around the world will also have the chance to be a part of sporting history at the inaugural Tour de France Prudential Singapore Criterium, with race formats catering to all levels of the cycling community here.
In addition to the professional criterium race featuring 32 of the world's top cyclists, there will also be a selection of rides that the public can sign up to be a part of through the various event partners. All races will take place on a specially-designed street circuit in the heart of the city. Singapore will be represented in the pro race, with Team SCF (Singapore Cycling Federation). National cyclist Yeo Boon Kiak, who most recently won the bronze medal at this year's SEA Games Criterium, will be part of the team.
Yeo said: "It's an honour to race among the world's best. The Tour de France is the pinnacle of our sport and being part of this incredible event promises to be an amazing experience which I will never forget. We've cycled through the city countless times, but this will probably be our most challenging and exciting ride yet. We're looking forward to seeing how our race strategy and familiarity with the street circuit measures up against the skills of the best cyclists in the world – we're sure it will be an amazing experience."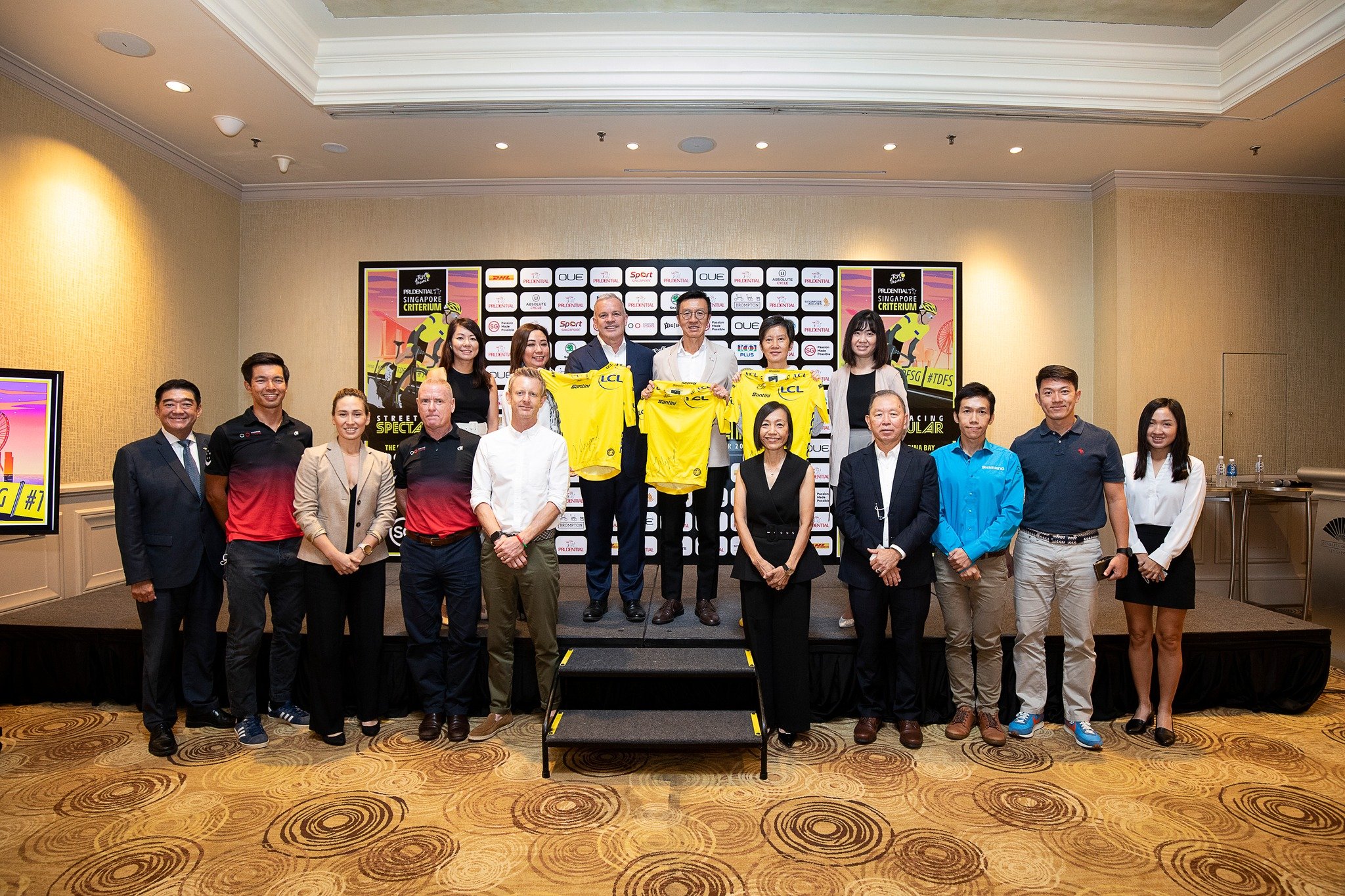 Media conference on 24 Aug to announce official schedule for the first ever Tour De France Prudential Singapore Criterium. Photo Credit : Tour De France Prudential Singapore Criterium
Dr Hing Siong Chen, President of the Singapore Cycling Federation commented: "The Singapore Cycling Federation is proud to support the Tour de France Prudential Singapore Criterium. An event like this not only gives those in Singapore the chance to watch a thrilling professional criterium race up close, but also presents many opportunities for greater engagement and awareness. We know the cycling community in Singapore is an enthusiastic one, and those who want to be a part of the races can join the SCF TDFSG Amateur Championship. Beyond the competitive races, recreational cyclists can also participate in the community rides and enjoy the other fun fringe activities that are on during the event weekend. We hope that everyone, whether or not they are cyclists, enjoys their outing at the Tour de France Prudential Singapore Criterium."
Public sign-ups and programme
Two amateur races will be organised in partnership with the Singapore Cycling Federation (SCF) – the Men's Open and Men's Masters criterium. The public can also be a part of the Tour de France Prudential Singapore Criterium by signing up for rides organised by Brompton and title sponsor Prudential.
Prudential Seeker's Society
Leading life insurer and title sponsor Prudential has launched the Prudential Seeker's Society to help cyclists become better riders, and to build a community of like-minded individuals. Seeker's Society members will enjoy access to a series of complimentary cycling clinics, designed and held in partnership with SCF. These clinics are led by professional coaches and athletes from SCF to help cyclists improve as athletes, and be race-ready for a criterium format. Besides access to coaching, members will receive exclusive club merchandise and an opportunity to be selected to race in a special Prudential Criterium during the race weekend.
To encourage more people to get active, Prudential has also launched Challenge Your Pulse on the Pulse by Prudential app with exciting rewards up for grabs. Users can check in at various pit stops around Singapore using their Pulse app to earn points, which can be redeemed for prizes and vouchers. To find out more, visit https://www.prudential.com.sg/campaigns/tdfsg-criterium.
Prudential Singapore's Chief Customer Officer, Goh Theng Kiat, said: "We are elated to be the title sponsor of Tour de France's very first criterium event in Southeast Asia. Both Tour de France and Prudential are well-known brands with over a hundred years of history, and we wanted to partner Tour de France to encourage Singaporeans to lead active lifestyles. We look forward to welcoming families and friends at the inaugural Tour de France Prudential Singapore Criterium, where they can come together to stay active, have fun and bond with one another. Prudential Seeker's Society's cycling clinics and Challenge Your Pulse are great examples of how Prudential is helping Singaporeans lead healthier lifestyles and get the most out of life through sports and wellness."
Brompton World Championships
Brompton, the London-based manufacturer of the iconic folding bicycle, is bringing its well-loved Brompton World Championship ("BWC") to Singapore for the first time. BWC will start at The Float @ Marina Bay and loop around some of the most Singapore's most iconic streets and sights. The race will have a total capacity of 450 participants across 3 categories of Male, Female and Veteran. BWC will also include a Community Ride with a capacity of 400 participants. Race participants stand the chance to win medals in each category of the races.
BWC tickets will be available on a ballot basis. Interested participants should register their interest online. Following balloting, successful participants will informed via email with a link to the Tour de France Prudential Singapore Criterium ticketing platform for registration. Registration format applies to both the category races and community ride.
Entertainment
Fans can select from a variety of two-day grandstand offerings and hospitality packages that will enable them to experience the exciting race action and off-track entertainment from different parts of the Circuit Park over the race weekend. Children 12 and under will have be able to attend the event for free. Tickets and hospitality packages will go on sale next Wednesday on 31 August via Ticketek Singapore.
Attendees to the two-day cycling spectacular can also look forward to a unique collaboration with Absolute Cycle Singapore. The team at Absolute will be bringing its signature rhythm cycling classes to The Float@Marina Bay on Saturday. More than 100 spin bikes will be available for attendees keen for a full music festival-esque workout experience against an iconic outdoor setting. In addition to the themed rides, participants can enjoy cycling challenges at Absolute Cycle's booth and walk away with attractive prizes.
Strong support from sponsors and partners
The Tour de France Prudential Singapore Criterium is supported by SCF and the Singapore Tourism Board, and is promoted by TEG Sport in conjunction with Evoke EXP.
In addition to title sponsor Prudential, DHL and Singapore Airlines and OUE have also come on board as the event's main sponsors. DHL is also the official logistics partner. The other event partners are; 100PLUS; Mandarin Oriental, Singapore; ŠKODA; Brompton; Absolute Cycle; Shimano; Mediacorp; and Sport Singapore.
Brendon Bainbridge, Managing Director TEG Asia, said: "Part of the fun of putting together a world-class sport and lifestyle event like this is getting everyone in the community involved, so that we can all celebrate the making of sporting history on our doorstep. Team SCF's presence in the pro criterium race is definitely one of the highlights, and we've also planned and designed the activities so that they can be be accessible to as many people as possible. The Tour de France Prudential Singapore Criterium will have something for everyone to enjoy, and we're so pleased to be working together with like-minded partners and supporters to bring this spectacular event to life."
The Tour de France is the pinnacle of professional cycling – watched by over a billion viewers annually. Elite cyclists compete in a gruelling test as they cover an average of 3,500 kilometres over three weeks in their quest for sporting glory. In contrast, the Criterium is a shorter race on a closed circuit, which makes the format more suited to Singapore streets. The Tour de France Prudential Singapore Criterium race weekend, comprising races for both professionals and amateurs, is expected to reach millions of viewers through a variety of international broadcasters.
Visit www.singaporecriterium.com for more details and update about the Tour de France Prudential Singapore Criterium. Register your interest at Ticketek Singapore. Latest updates are also available on Facebook and Instagram.
Event programme

29 October, Saturday
• Absolute Cycle spin class
• Parade of Tour de France Prudential Singapore Criterium cyclists

30 October, Sunday
• SCF Men's Open and Men's Masters races
• Prudential Criterium
• Brompton World Championship
• Tour de France Prudential Singapore Criterium pro race