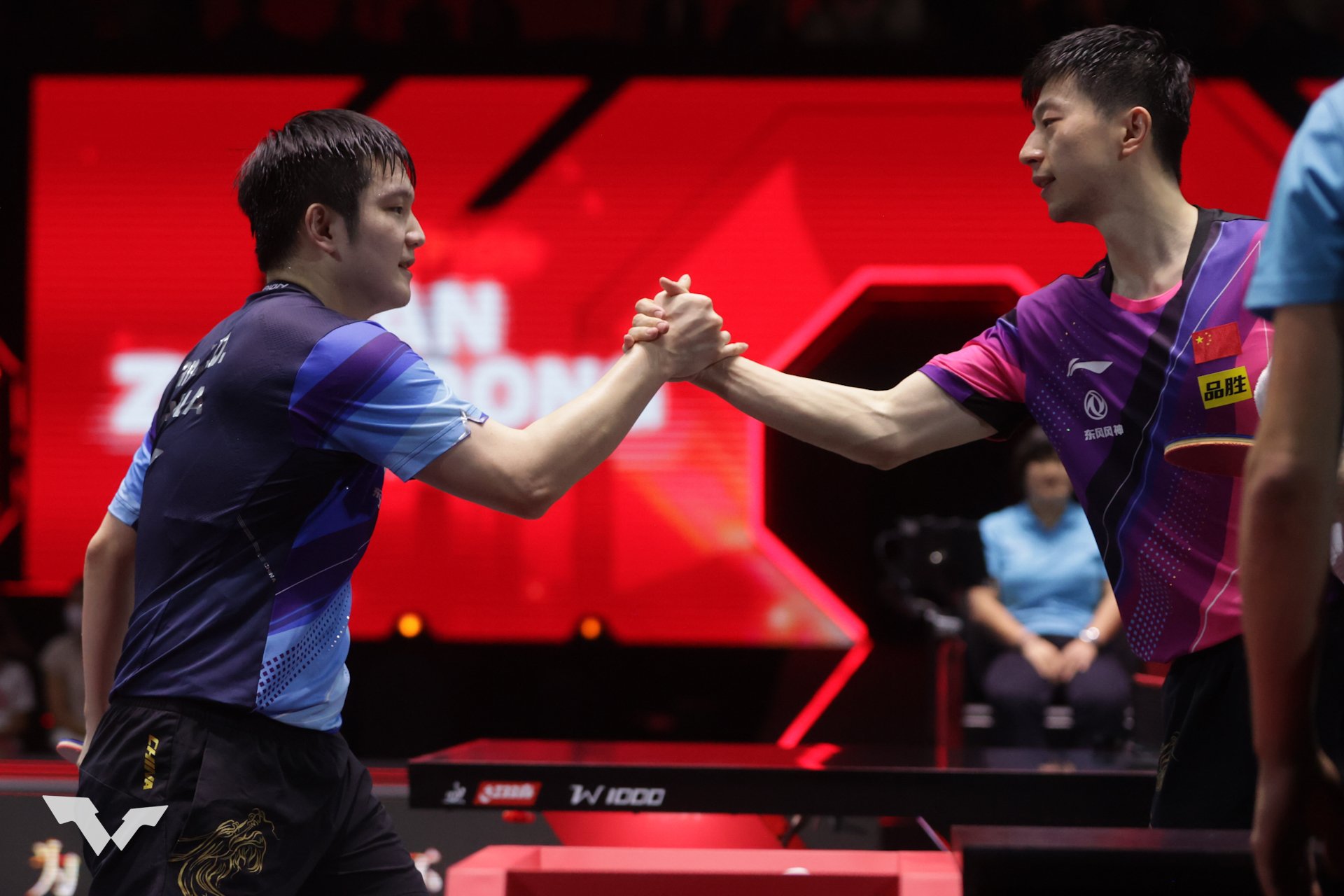 Chinese superstars Fan Zhendong and Ma Long compete in Men's Singles Final of Singapore Smash 2023. Photo Credit : WTT
The Infinity ∞ Arena produced two nail-biting finals on the last day of Singapore Smash 2023 with world number 1 Sun Yingsha (CHN), walking away with the women's singles trophy after a 4-1 (11-7, 10-12, 13-11, 11-6, 11-7) win over compatriot, Qian Tianyi. And World number 1 Fan Zhendong (CHN) retained his Men's title with a 4-1 (11-5, 13-11, 8-11, 11-9, 11-9) victory over Ma Long (CHN).

The odds were good for Sun Yingsha as she had triumphed over Qian Tianyi in all 4 of their previous match-ups from their time as cadets to the senior circuit. Putting on a valiant fight, Tianyi took the second game and nipped at Sun Yingsha's heels throughout the third game. Both women were neck to neck for much of the match, producing an intense atmosphere for the sell-out crowd at the OCBC Arena.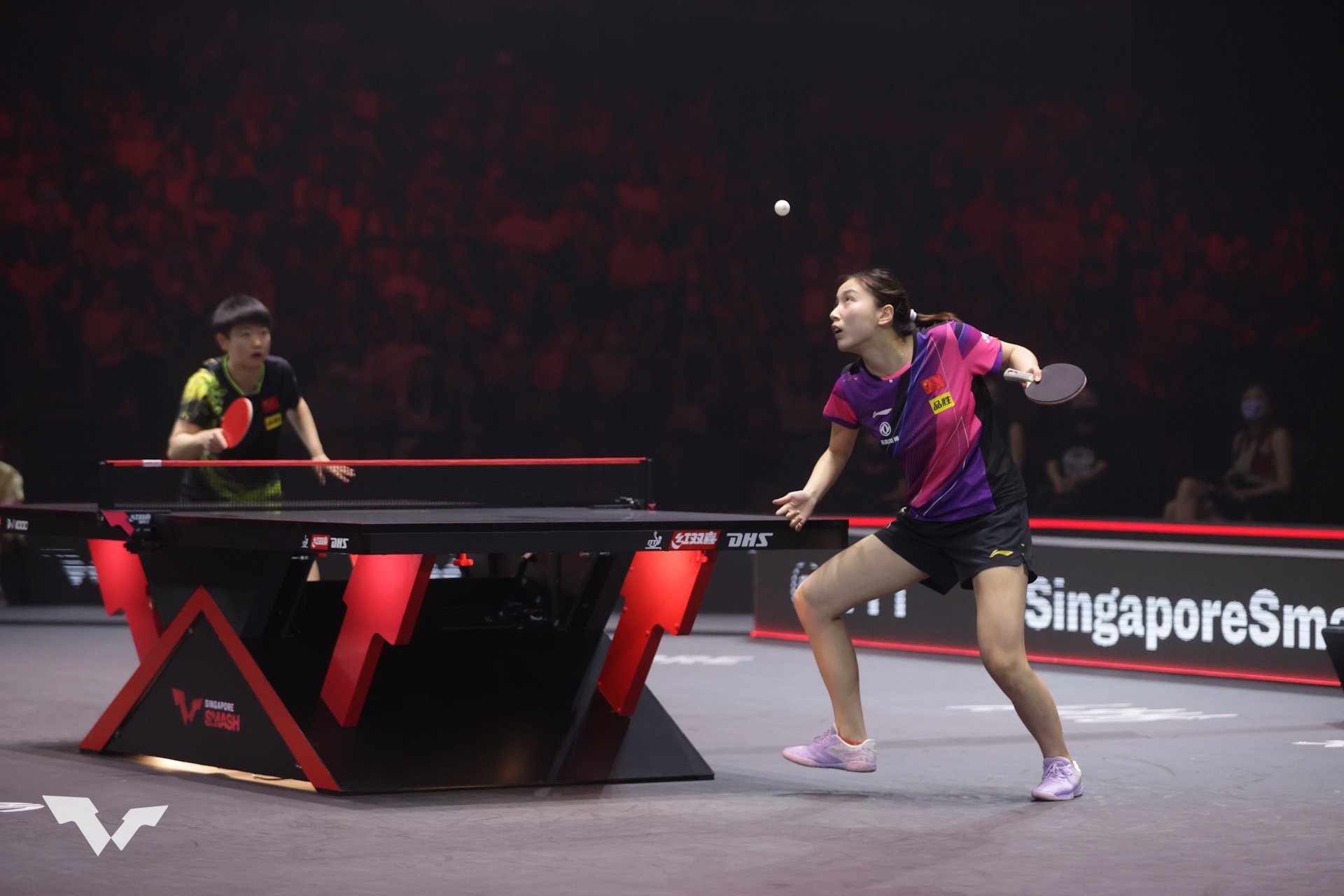 China's Sun Yingsha vs Qian Tianyi (purple top) in Women's Singles Final at Singapore Smash 2023. Photo Credit : WTT


Brandishing the title that eluded her last year, Yingsha was all smiles. She said: "I'm really pleased to win the match tonight. I know Qian Tianyi well and we often train together. Both of us put in our best for the match. It was a very close fight for the first 3 games; I made some strategic changes thereafter which resulted in a much smoother fourth game for me. Overall I'm very happy with my performance for this event. It's the first time I've won all three titles and it's a validation for myself. Having played in all three categories for this event, I feel that I've dealt with it well. I was not too tired, even towards the tail end of the event, and was able to perform well. It is important for me to prepare my body to deal with all the competitions and events that come my way and I will continue to do my best."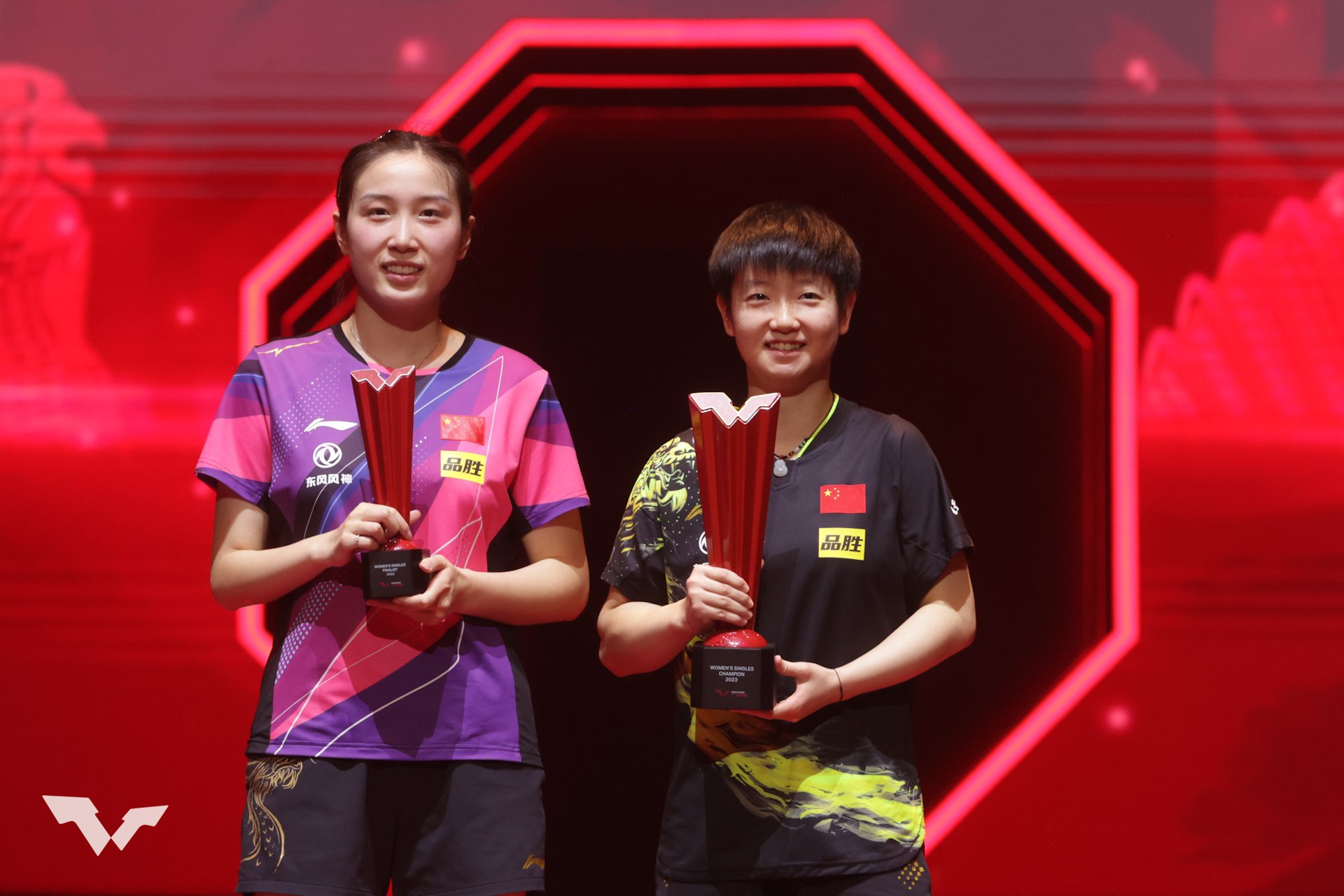 China's Qian Tianyi (left) finishing 2nd as Sun Yingsha wins back-to-back Women's Singles title at Singapore Smash 2023. Photo Credit : WTT


This title in Singapore is Sun Yingsha's 16th consecutive win in singles across all competitions – her career best. Her previous record was 11 consecutive wins.

Switching over to the men, as they mirrored the women and produced an epic battle proving to the world why they are the world's top two players. Ma Long didn't make it easy for his fellow countryman, piling on the pressure in every game, at times threatening to force the match into six games before a winner could be called.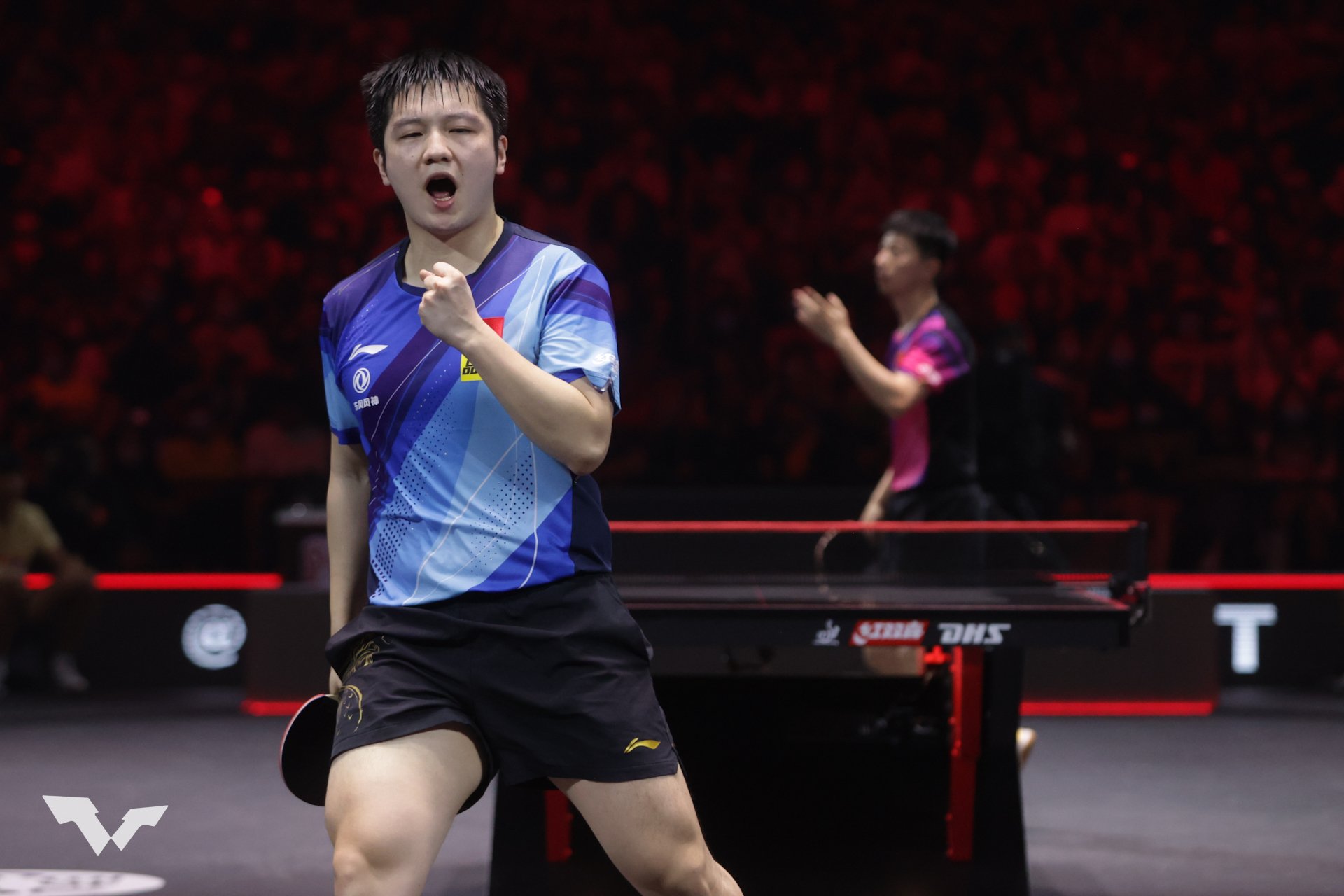 Chinese superstars Fan Zhendong and Ma Long compete in Men's Singles Final of Singapore Smash 2023. Photo Credit : WTT

In a rare show of emotion, Zhendong pumped his fists and celebrated his win, after taking the match in the 5th game, delighted that he's regained his winning form after a less than ideal start to the year.

In his post-match interview, he acknowledged the challenges he faced coming to Singapore but was glad with his improvements as he progressed in the event. He also identified the second game as a turning point for him in the final. After falling behind at 4-8 in the second game, he persevered and found his way back.

"I feel that Ma Long is in really good form for this event. Age seems to not have left a mark on him. In fact, he's playing even better and stronger than before. For myself, other than preparing the technical aspect of my game, mental preparation is just as important. There were a few occasions today where I was lagging mid-game, but I didn't give up and ended up winning the games. Regardless of whether it's mental preparation prior to the match or being resilient and thinking on my feet during the match, this is a key aspect of the match. The challenges were there but the reward is huge. Tonight is not just about winning the title but also a huge confidence boost for me."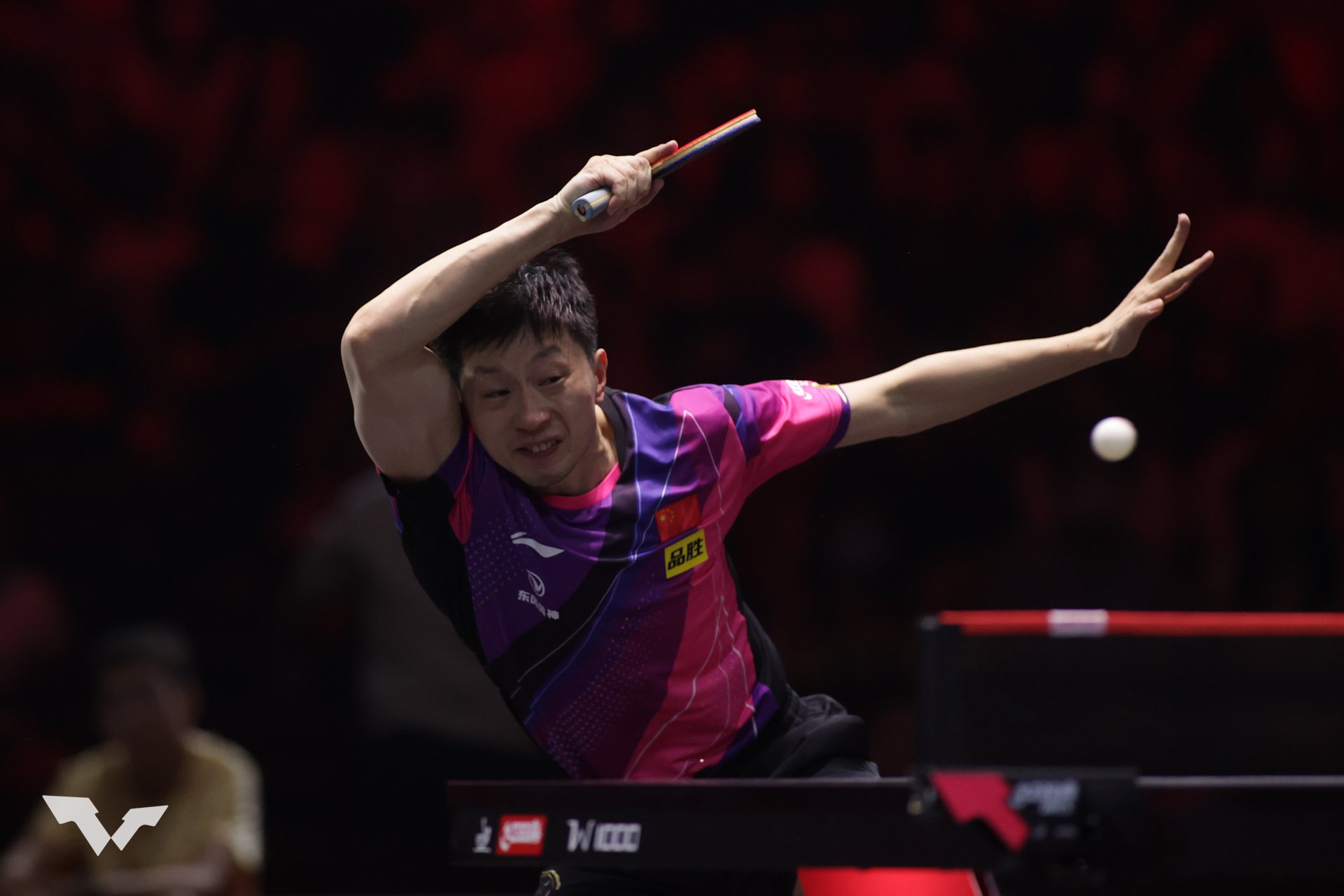 World Number 2 Ma Long settles for back-to-back silver medals at Singapore Smash 2023. Photo Credit : WTT
An estimated sold-out capacity crowd of 2,400 was in attendance for the finals, as after a 2-week long campaign, the curtains came down on the Republic's hosting of a top-tier world class table tennis event for the 3rd time in less than 18 months. The US$2 million event featured 64 men's and women's singles and 24-pair doubles and mixed competitions. And a singles qualifying competition featuring a further 64 men and 64 women was held before the main draw.