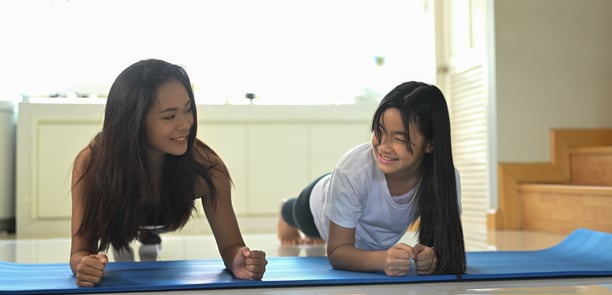 By Charlene Lim
Exercising can be intimidating for beginners. There are so many forms of exercise out there. Gyms, trainers, fitness influencers, and even our friends recommend so many different types of workouts – going to the gym, going for a run, joining a yoga class, kickboxing, basketball, cross fitness… the list goes on
When you do settle on one exercise, overextending yourself can lead to uncomfortable soreness that leaves you feeling even more unfit than before you started!
With all that in the way, it's understandable that many of us feel discouraged and put off starting new health and fitness journeys. But fret not! Here are 3 simple ways to make exercise less daunting.
Start with just 60 seconds
When trying out a new flavor or product, you get a sample or tester first. That way, you can discover which product you really enjoy without investing too much in it. Why not do the same thing with your workouts?
Rather than overwhelming yourself with a whole new sport or workout routine, try out a bite-sized 60-second exercise instead. By keeping it short, you can try different exercises and find one that you truly enjoy.
The smaller time commitment also means you'll be less likely to be distracted or find excuses to miss your workout!
Keep to one fitness target
Exercise has so many benefits, such as losing weight, building strength, toning muscle, enhancing coordination, improving heart health, and more. It can be confusing, especially for fitness beginners, to know where to start.
The good news is that any exercise is better than no exercise! If you aren't sure where to begin, start by picking just one fitness goal to begin with.
It could be as simple as "I want to lose some weight" or "I want to feel less stiffness in my back". Once you know what you'd like to achieve, you can choose the best exercise to do in your 60-second workout.
Abandon the "all-or-nothing" mindset
If you need a break or if you get sidetracked by other commitments, that's okay. Don't let one missed workout derail your entire fitness journey. Just pick up again the next day!
Ready to start your fitness journey?
Check out https://go.gov.sg/sw-60for quick 60-second exercises that you can do today!