5th seed Nishioka survives strong American challenge to reach STO Rd of 16
by Circle Stories, on February 22, 2021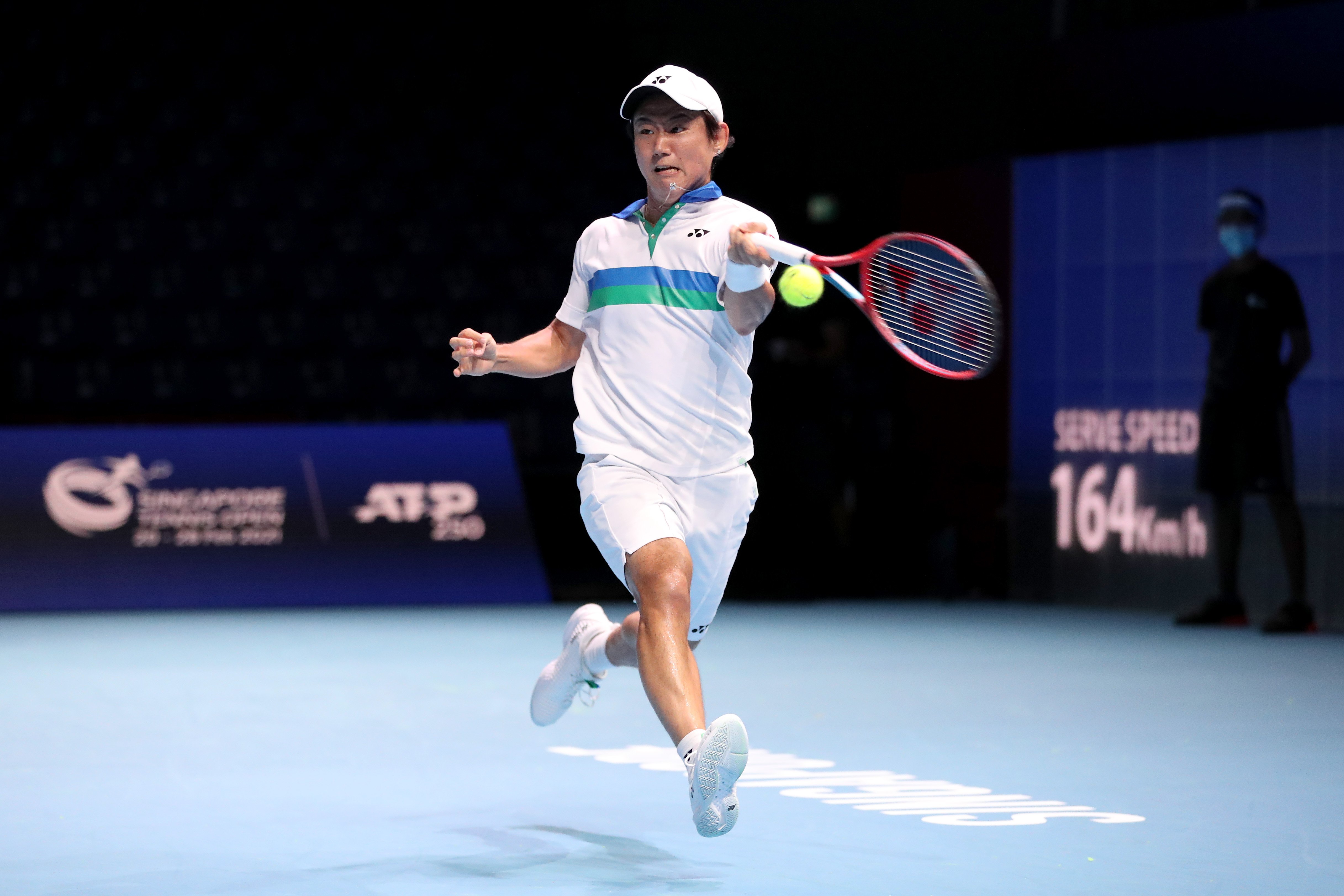 By Lynelle Lim
In the last match of Day 1 of the main draw at the Singapore Tennis Open, American Michael Mmoh, (ranked 178) faced the 5th seed Japanese Yoshihito Nishioka, in the first round at the OCBC Arena.
The opening game of the first set was tight with two deuces but the American stood his ground to hold. At 1-1, Nishioka played some wondrous tennis and showed his soft hands to finish the point with a forehand drop volley. The Japanese played another stupendous point to give himself his first break point of the match. He broke at the first time of asking before consolidating it on his serve to lead 3-1. After a few service holds and some well-constructed points from both players, Nishioka broke again to extend his lead at 5-2. And after 38 minutes of high quality tennis from the Japanese, he wrapped up the first set 6-2 with a first serve percentage of 89% and 2/2 break points won.
The American held convincingly in the first game of the 2nd set, before hitting a huge forehand return off a second serve to put the world number 61 in trouble and go 0-30 up. The duo then had their longest rally of the match with the Japanese coming out on top to level things at 30-30. Mmoh ran around to hit a forehand winner and saw his first break point before an unforced error from his opponent handed him the break for a 2-0 lead. After the American consolidated his break for 3-0, both players held their serves until 4-2 to Mmoh despite the Japanese facing a break point at 1-4. Nishioka showed some superb defence and foot speed scrambling around the court to go 0-30 on the American's serve. A well-played drop shot and a big serve levelled things at 30-30. The Japanese misfired a forehand and his opponent followed up with a big serve to lead 5-2 in the second set. Nishioka held comfortably to put Mmoh up to the task of serving out the set at 5-3. The American displayed some hard hitting ground strokes to finish the set 6-3 and take the match to a decider.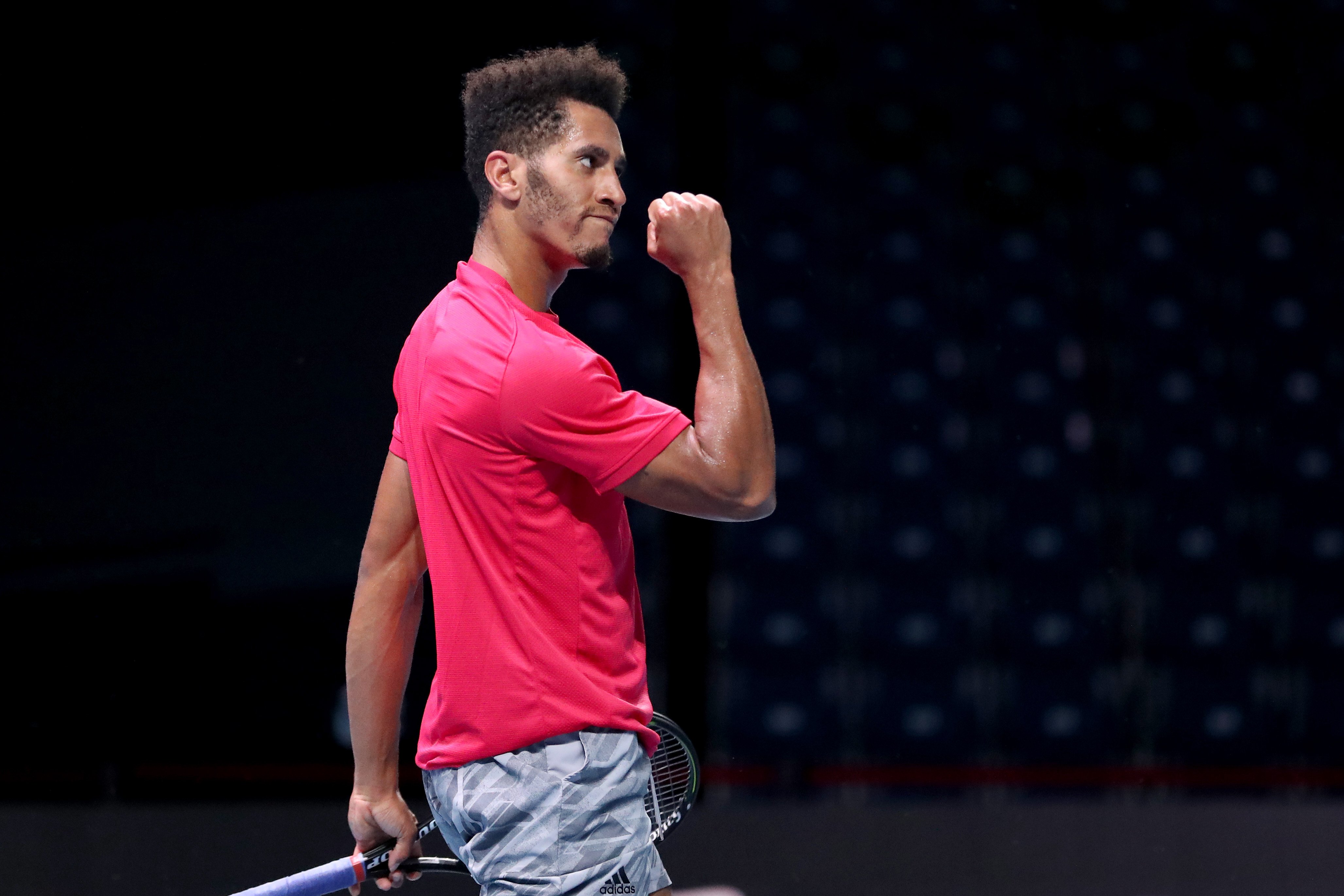 After going up 1-0 in the 3rd set, Nishioka got his first break point opportunity in the decider when Mmoh hit a double fault and a forehand unforced error. However he failed to convert when he hit his forehand long. Some solid tennis from the baseline brought up break point #2 for the Japanese, but a big ace from the American took the score back to deuce. Mmoh saved two more break points before playing solid tennis from the baseline to hold a tight service game for 1-1. The match continued with both players winning their service games comfortably until 3-2 to Nishioka. The left-handed Japanese then ran down a drop shot before hitting a passing shot to set up 3 break points for himself. He failed to convert all 3 of them, but saw a 4th break point immediately.
After a display of excellent side to side movement and brilliant ground strokes in the longest rally of the match, Nishioka broke to lead 4-2 when Mmoh pulled a backhand wide. In the 7th game of the decider, the Japanese showed his prowess including hitting a Nadal-esque backhand passing shot and a volley at full stretch to hold. He took the score to 5-2. Nishioka served for the match at 5-3 and closed out the match as the clock reached 1 hour and 58 minutes. The Japanese got 71% of his first serves in and won 71% and 73% of points behind his first and second serve respectively. Final score 6-2, 3-6, 6-3
American Maxime Cressy is up next for the 5th seed in the round of 16 after defeating Jason Jung earlier today in straight sets.
---
OTHER RESULTS - FEBRUARY 22, 2021
Men's Singles - First Round

[WC] A. Andreev (BUL) d [7] L. Harris (RSA) 1-6 6-3 6-4
M. Cressy (USA) d J. Jung (TPE) 7-6(4) 6-2
T. Daniel (JPN) d R. Ramanathan (IND) 6-3 6-7(3) 6-3
A. Popyrin (AUS) d [Q] C. Eubanks (USA) 7-6(5) 7-6(5)
Men's Doubles - First Round
N. Balaji (IND) / L. Margaroli (SUI) d [WC] S. Alam (SGP) / R. Hobbs (SGP) 7-5 6-1
---
(Edited by Raj Kumar)
Lynelle Lim is a full-time tennis player and part of the national Team Singapore setup. She's represented the Republic in various prestigious and renowned events such as the Federation Cup, WTA Future Stars, as well as the 2019 SEA Games. At the age of 13, she made the decision to take a route less familiar because she had an extremely strong desire to become a competitive tennis player. And today, Lynelle feels proud and fortunate to say that tennis has given her a great deal, and it's taught her so much more than she could ever imagine. Aged 20 and watching the game from a different perspective, she's looking forward to writing about the Singapore Tennis Open, featuring world class players from the Men's ATP Tour!
For live streams, schedules and more stories from the Singapore Tennis Open 2021, visit hub.tennis
For the latest Singapore Tennis Open updates on the go, follow us on Telegram
Related Events & Programmes