8 new names are included in 2021 spexScholarship Programme, as Team Singapore athletes continue to receive full support
by Circle Stories, on March 23, 2021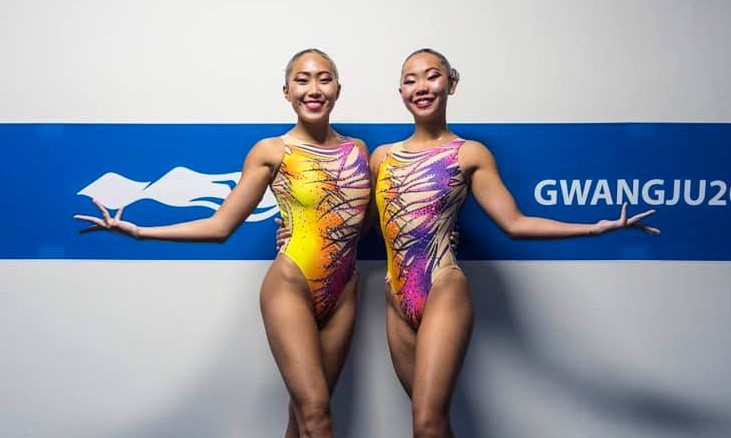 (Photo of Debbie Soh and Miya Yong at 2019 FINA Aquatics World Championships by Simone Castrovillari/SSA)
24 March 2021 – This year, 8 new athletes will join 68 existing athletes as spexScholars across 20 sports and 6 para sports. The spexScholarship programme has seen success over the years with the 2019 cohort contributing to 58 medals won by Team Singapore at the 2019 SEAGames and more than 70% of the medals won at the 2018 Asian Para Games. With another 8 new faces coming onboard, the coveted programme will contribute to the continued progress for both sporting excellence, and support for the sporting ecosystem in Singapore.
Congratulating the new spexScholars, Mr Edwin Tong, Minister for Culture, Community and Youth & Second Minister for Law, said, "The spexScholarship represents our pinnacle support for High Performance Sport (HPS) athletes who have demonstrated the potential and drive to perform well and win medals at the Asian, Olympic and World Championship events. Our spexScholars have continued to show tenacity and resilience during this period in their pursuit towards sporting excellence. I believe that their positive spirit will inspire our younger generations as we continue to support and rally behind our athletes as One Team Singapore."
Rigorous Selection Process
Despite the unprecedented COVID-19 pandemic, the spexScholarship Selection Committee was strict in assessing applications. While athletes have not been able to travel or take part in local and international competitions in 2020, the new spexScholars were thoroughly assessed and selected based on their existing performance and their potential to win medals through a targeted support system to achieve medals on a consistent basis. It also aims to identify sporting heroes who will inspire the wider Singaporean community to live better through sport.
This year, the Singapore Sport Institute (SSI) received 48 nominations and eight were selected to join the programme this year. A total of the 76 spexScholars are in the new cohort and 54 of them had their spexScholarships renewed from the previous cycle.
Mr Kon Yin Tong, Chairman of the spexScholarship Selection Committee and Chairman of Sport Singapore, said, "My congratulations to our new batch of spexScholars who have shown plenty of promise so far and we hope that the additional support will give them the push needed to succeed at the highest level. While 2020 had been a challenging year for existing spexScholars, they have continued to maintain their fitness levels and have been training conscientiously and diligently since the Circuit Breaker period till now. I am heartened to see that the pandemic has given the perfect opportunity for our athletes becoming an inspiration to younger Singaporeans.I am confident that our athletes will continue to train well, qualify and perform their best at the competitions happening this year, especially the Olympics and Southeast Asian Games."
"As a recipient of the prestigious spexScholarship in 2021, I am very thankful to be given this opportunity. I believe that the enhanced support from this programme will further develop my skillsets to represent Singapore on the international level. I hope to inspire young Singaporean cycling enthusiasts in my journey as a spexScholar," said Mr Goh Choon Huat, Team Singapore cyclist.
Similar to Mr Goh, Boccia athlete Ms Nurulasyiqah Binte Mohammad Taha also expressed her gratitude in receiving this scholarship. "I am very pleased to be one of the 8 recipients this year. This scholarship will definitely help in supporting my overseas competitions, should the COVID-19 situation improves. I am determined to train even harder to fly Singapore's flag high."
A holistic support for athletes
There are many facets of athletes' life and a holistic support for them allows them to perform at their best with minimal or no distractions. With the COVID-19 pandemic, it has become more important that such support systems serve its purpose. Since its launch in 2014, the spexEducation and the spexBusiness schemes have helped over 800 athletes.
The spexEducation scheme is an integrated and robust system to assist student-athletes with the dual demands of sport and education. The SSI is currently partnering 15 Institutes of Higher Learning (IHL) to offer various forms of academic flexibility for the spexScholars. This includes merit admission (e.g. aptitude based admissions schemes), staff mentoring for student-athletes, customised academic study load that fits around the athletes' training and competition pathway, provision of multiple leaves of absence and even alternative arrangements that meet course requirements (such as rescheduling exams and assignment deadlines). Under the spexEducation scheme, athletes are also able to benefit from athlete- life coaching to proactively plan their individual academic, career and life goals and integrate these with their sporting aspirations.
Miya Yong, a national artistic swimmer and a Year Two student in Singapore Management University, is one of the many student-athletes who have benefitted from the spexEducation scheme. "The spexEducation scheme provides me with more flexibility to juggle both academic and sporting requirements. With the competition being uncertain in the initial stage, I had to reschedule one of my exams earlier to facilitate the 2021 Olympic Games Qualifying event. As training intensifies leading up to the key competition, I took a reduced study load of three modules this semester, which gives me a good balance between training commitments and my studies. I am thankful for the spexScholarship and I look forward to joining the programme to optimise the supports in terms of a more focused daily training environment and holistic development as a High-Performance athlete," said the 21-year-old who is one of the new spexScholars.
The spexBusiness scheme offers current and former athletes support in terms of internships opportunities, job placements and flexible workplace practices. The SSI is currently partnering 66 athlete-friendly companies, with new partners including, HP Enterprise, Octagon, Qiren, Sealed Network, SportFIVE and Watsons that came onboard over the last two years. The scheme empowers active athletes to take charge of their personal development during their sporting journey to create greater opportunities beyond their sporting career.
In addition, the SSI also collaborated with various partners to organise workshops to support athletes' in their journey to elevate their personal brand. More than 300 athletes signed up for the workshops such as Personal Showreel, Athlete365 Career+, Financial Literacy and Sponsorship and Endorsement.
Personal Showreel
Through this workshop, athletes experience first-hand in creating creative and innovative videos of themselves and their achievements to enhance their personal branding. These videos can then be used as a medium to reach out to their supporters as well as to companies, as part of a job resume. This collaboration is supported by IHLs including Nanyang Polytechnic, Temasek Polytechnic and Ngee Ann Polytechnic.
Athlete365 Career+
Together with Adecco and the Singapore National Olympic Council Athletes' Commission, the Athlete365 Career+ workshop prepares athletes for post sport transition. This includes guiding them to learn more about their own strengths that are transferrable to workplace, as well as acquire useful networking, social media, and interviewing skills. Athletes are also offered tips to build an effective resume and LinkedIn profile.
Financial Literacy
This partnership with SGX Academy equips the athletes with basic financial literacy and tips on investing. A specially tailored investing training programme was also designed for the athletes and their families to educate them with fundamental knowledge to manage personal finances and investments alongside their sporting careers and beyond.
Sponsorship and Endorsement
The Athlete Sponsorship and Endorsement workshop empowers and upskills athletes with some commercial sensibilities, so that they can better manage their own rights and branding. Creative marketing agency and partner Octagon provides insightful knowledge for athletes to learn more about athlete endorsement and sponsorship know-how during the workshop, including follow up supports and advice.
"As a full time athlete, I am very grateful for the opportunties that spexBusiness have provided me such as the financial literacy class. Such courses are important for us as it teaches us lifelong skills, allow me to widen my knowledge and benefit my sporting journey in the long run," said Team Singapore Archer Contessa Loh.
Due to the COVID-19 pandemic, no physical ceremony will be held to celebrate the inauguration of the new scholars. Selected scholars will be notified by their respective National Sport Associations.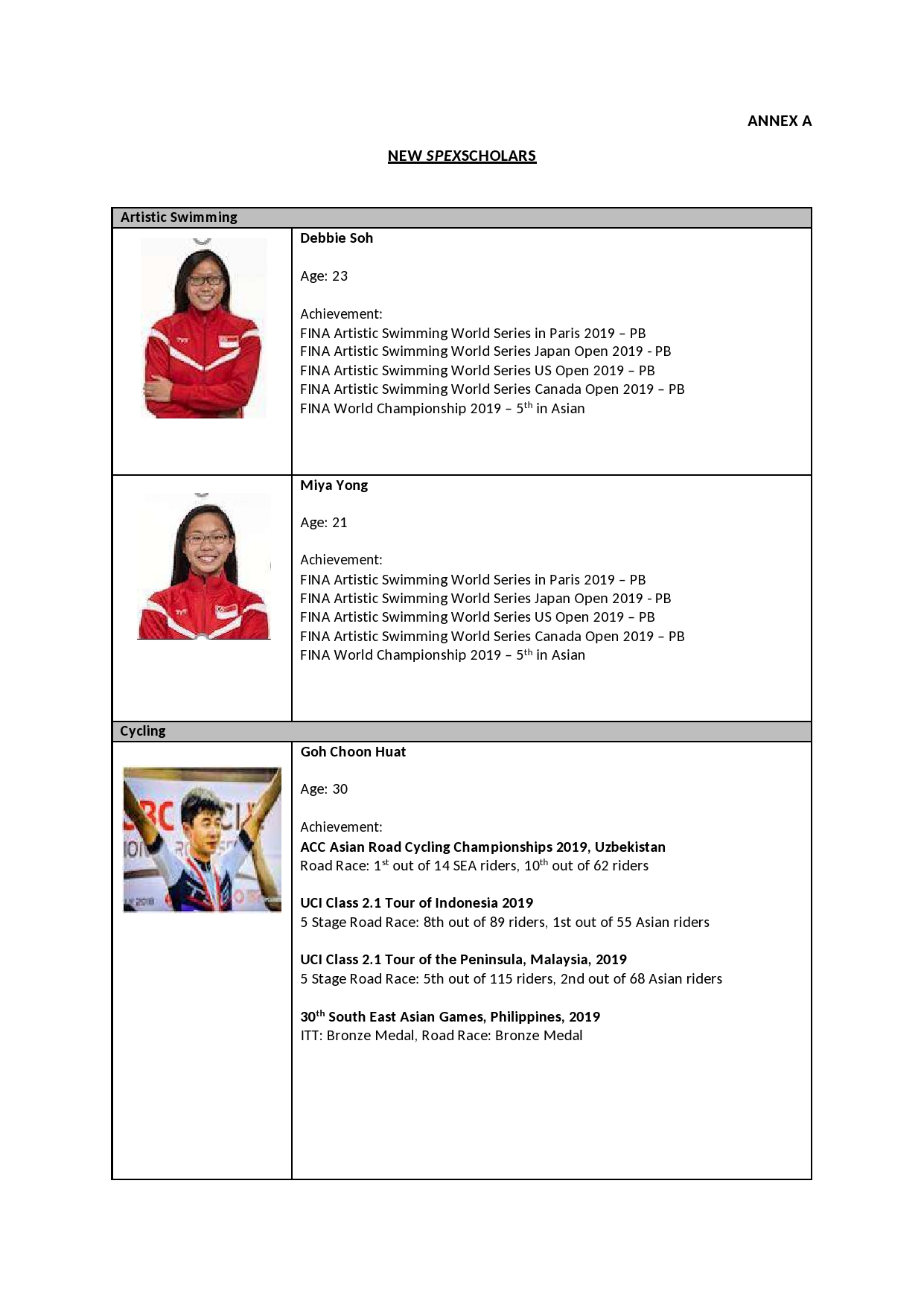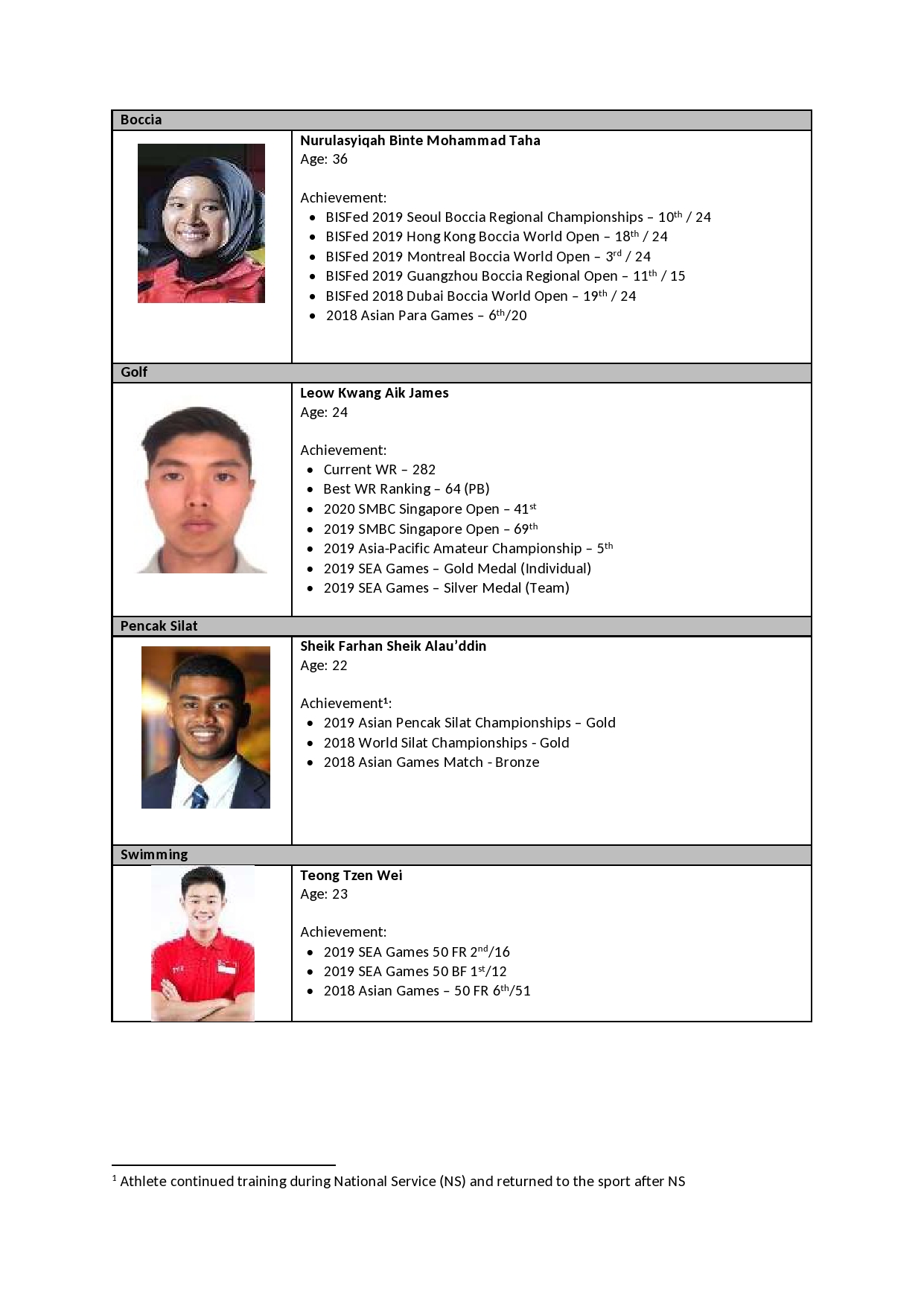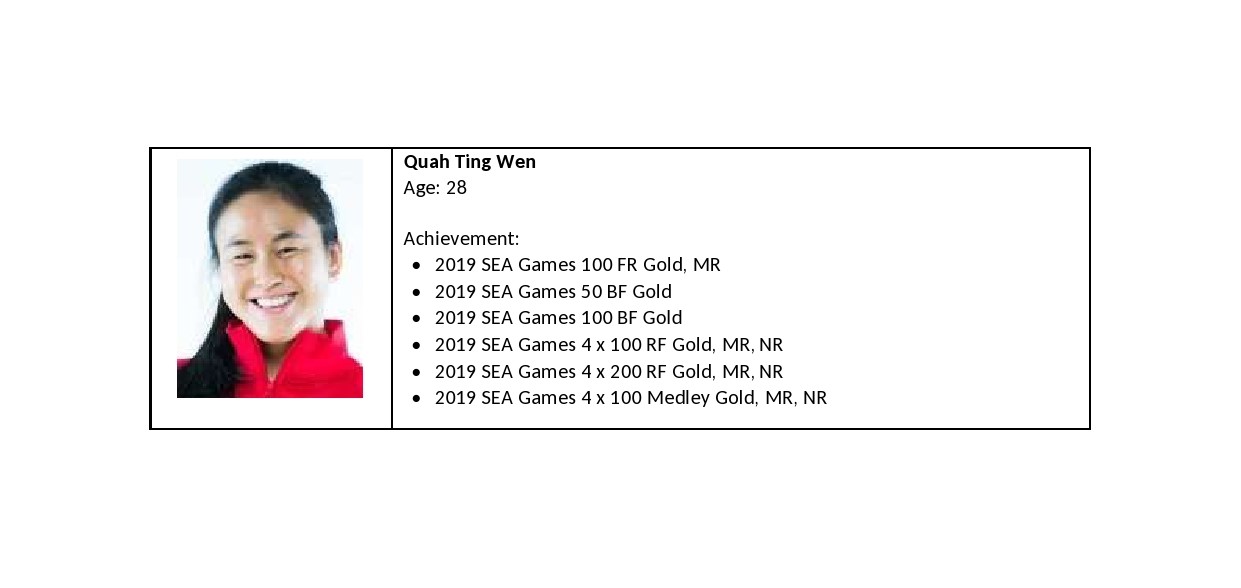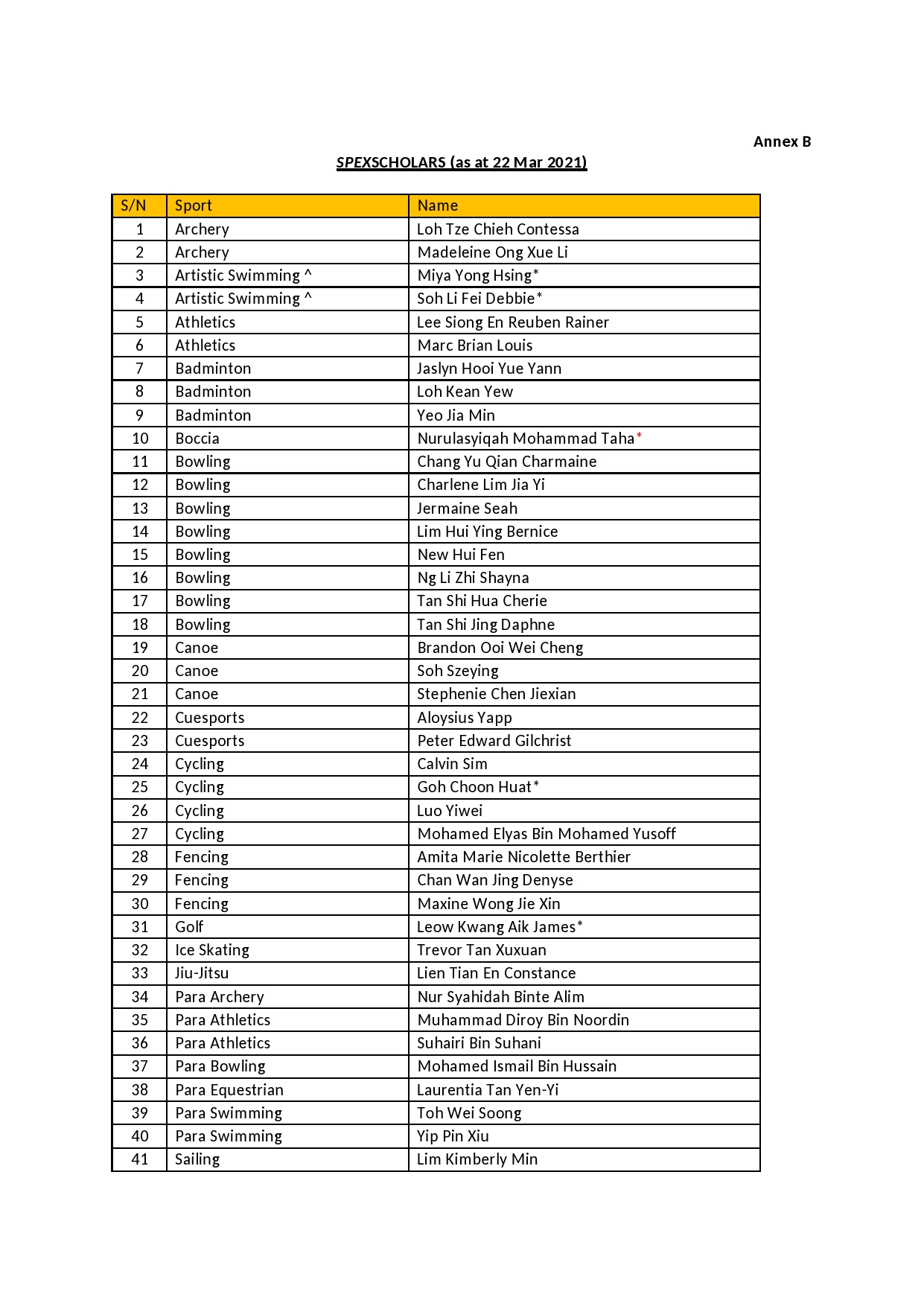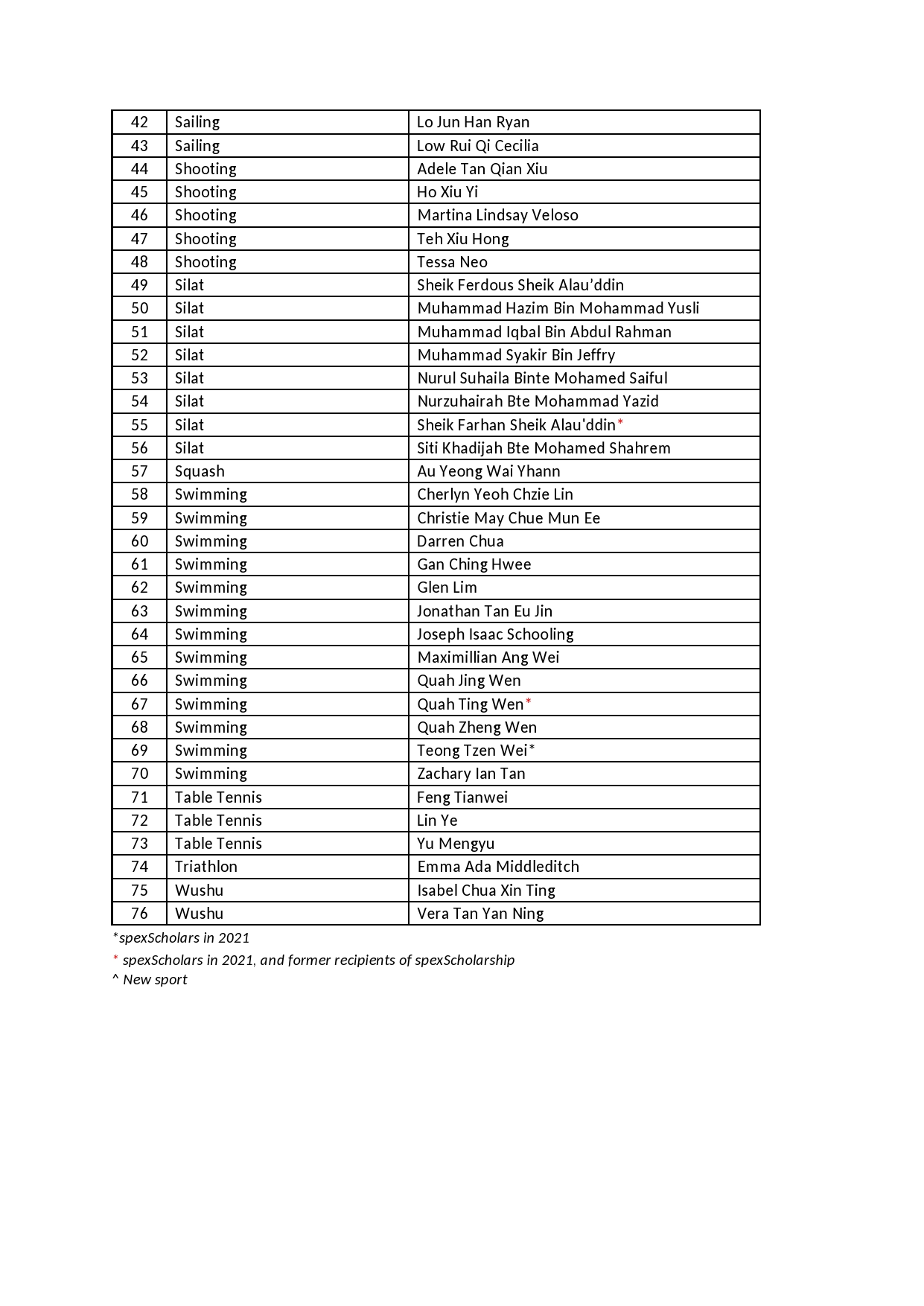 Follow us on Telegram for more news and updates.