Cambodia 2023: Ensconced in performance bubble, sailors hunt for medals
by ActiveSG Circle, on May 8, 2023
Heading into the final day of Sailing competition on Monday (8 May) at Sihanoukville, some two-and-a-half hours away from the hustle and bustle of Phnom Penh, Singapore's sailors are holding sway in two of the nine medal events while having an even chance to strike gold in four others.
For nearly two weeks now, Sailing team manager Chung Pei Ming has been playing the role of Mother Hen, looking after his team which is largely made of SEA Games debutants. In his possessions are the mobile phones of all the young sailors who have been denied access to social media over the past fortnight as they hunker down to the serious business of sailing their hearts out in the Gulf of Thailand, amid light to medium conditions.
"Before heading out to the Games, I told them we will be going into a 'performance bubble' where they will need to focus on their craft as well as to support one another as a team," said Chung, himself a former national sailor.
"I also met with the parents and told them to entrust their kids with me for the Games, while they will be cut off from their parents as I will be taking away their phones. The buy-in from the parents was universal, and I'm really thankful that they comprehend what we're trying to do and achieve here."
The so-called curfew will end at 2.30pm today (8 May) when the medal matches will all be settled and the medals handed out.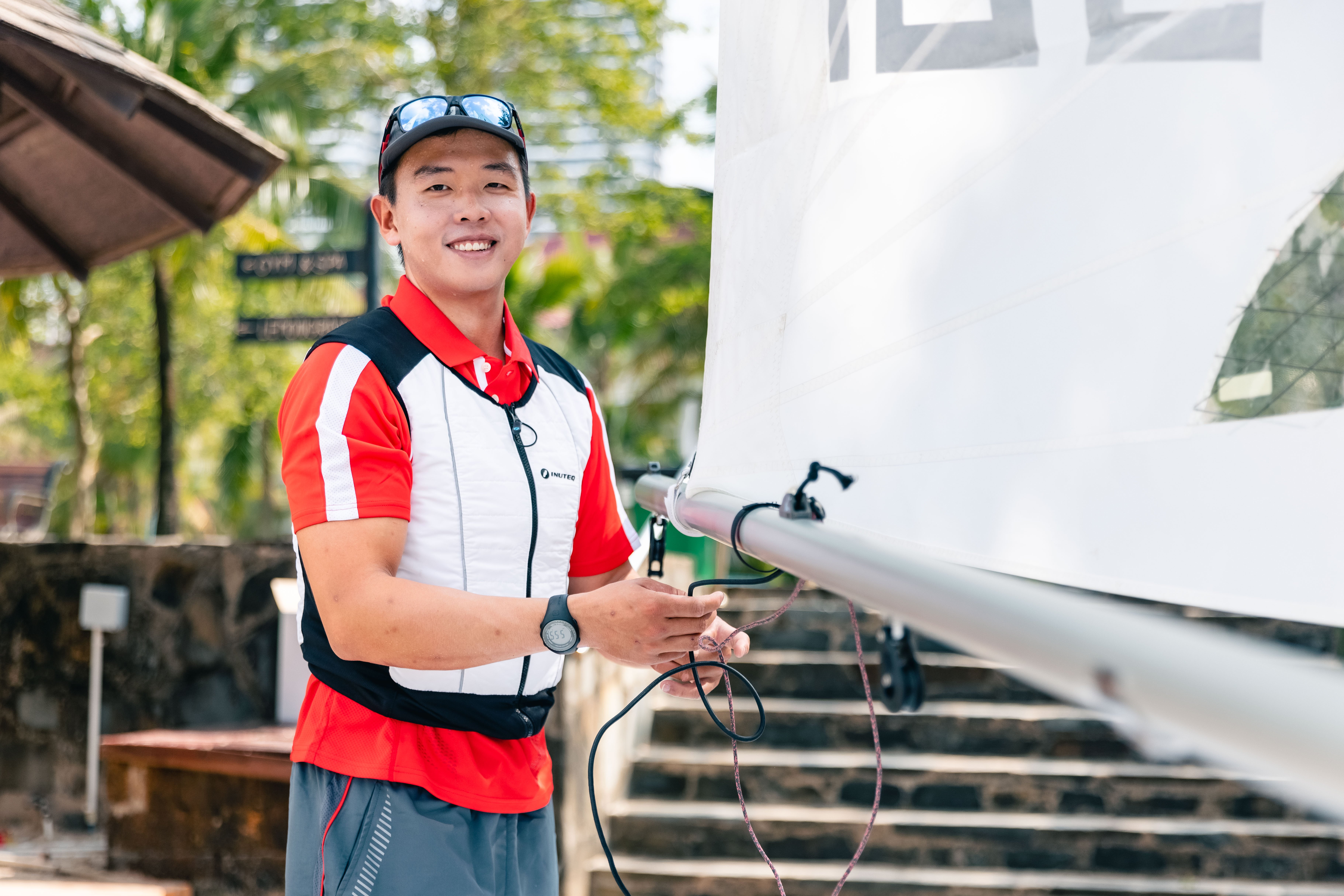 At 26, Ryan Lo is the old man of the team. Photo: SNOC/Eng Chin An
As it currently stands, 26-year-old veteran Ryan Lo leads the Men's ILCA7 event by a decent margin having seized the initiative from Day 1, and should easily lock up the Gold.
The Olympian is a cut above his opponent, having been on the Olympic pathway for some years now, despite his tender age of 26.
Team-mate Isaac Goh is also sitting pretty in the Men's ILCA4 event, having led from the outset.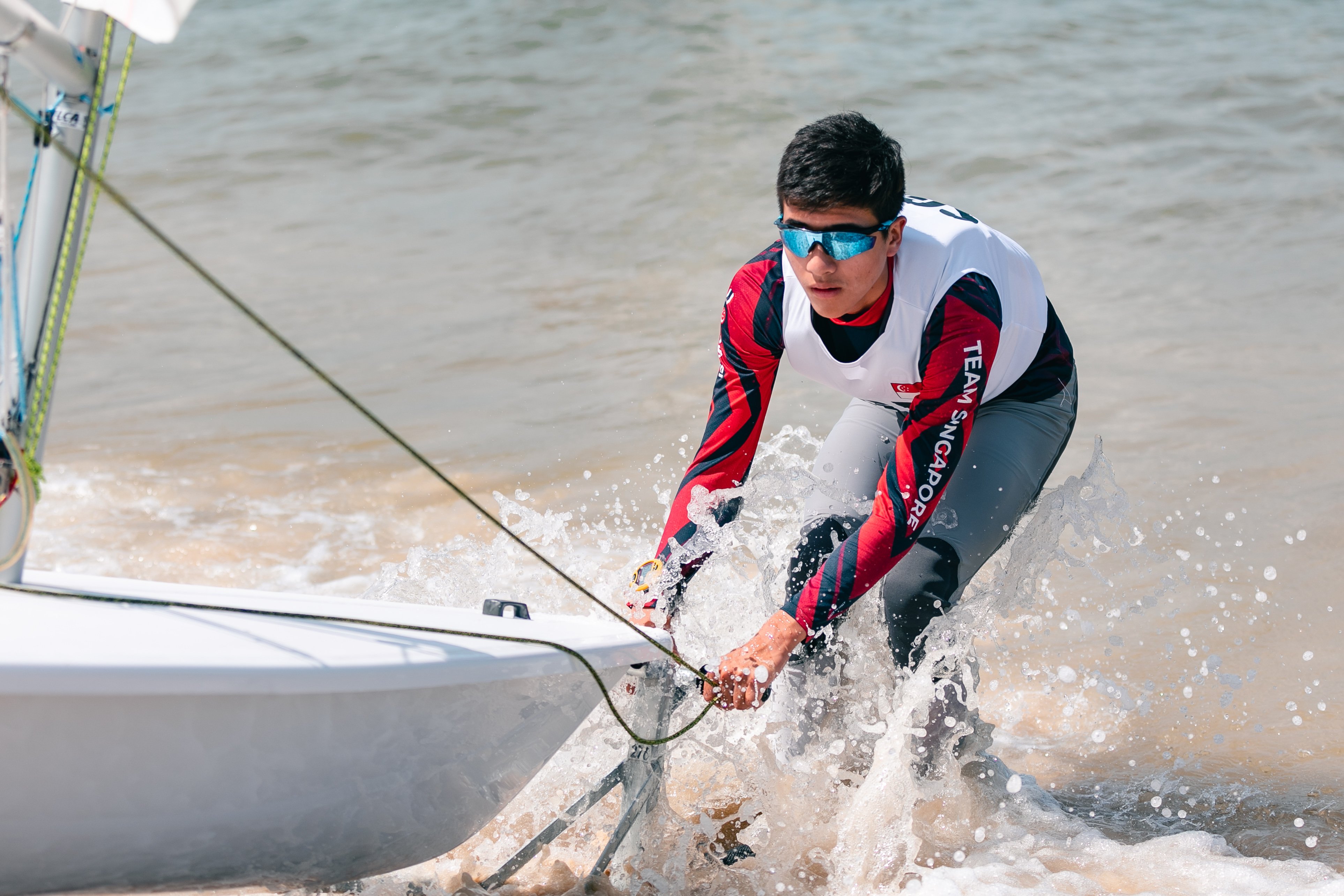 Isaac Goh has made a great transition from the Optimists and is one to watch for the future. Photo: SNOC/Eng Chin An
"Isaac is a good sailor and we've been preparing him for a long time," said Chung. "He has a strong base in Optimist, he has the physical size and the technical ability. His main opponent from Thailand is someone he's met on many occasions and he's lost to the Thai boy before, although this time around, things have worked out well for Isaac."
Jayson Tan currently sits second in the Men's RS:X windsurfing event, with 22 points after 12 races. He will need to win the medal race today and hope that other results go his way to nab gold.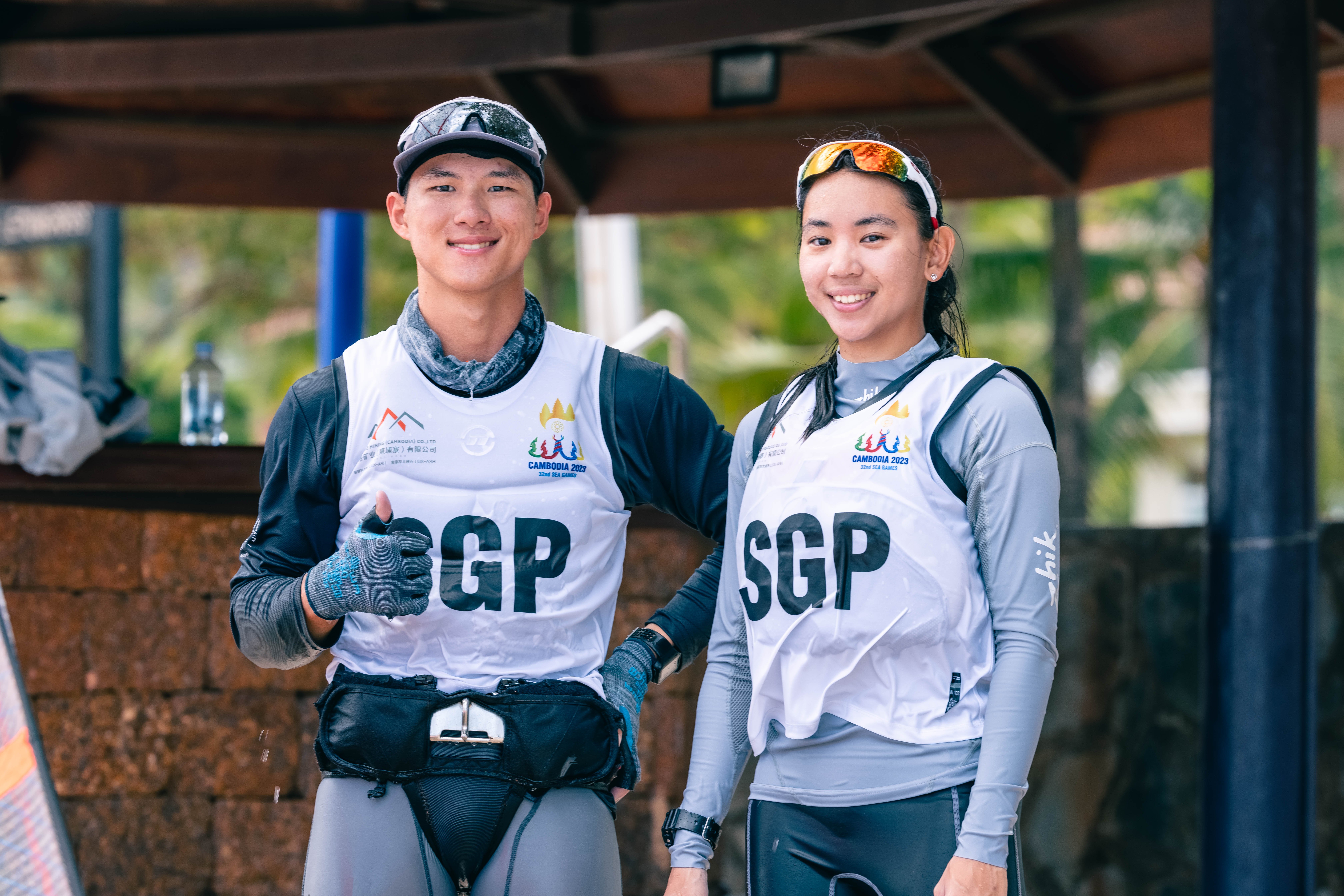 Mixed 29er pair of Ellyn Tan and Chia Teck Pin are gunning for gold in their event. Photo: SNOC/Eng Chin An
So too the Mixed 29er pair of Ellyn Tan and Chia Teck Pin, who on 21 points are similarly second in their event.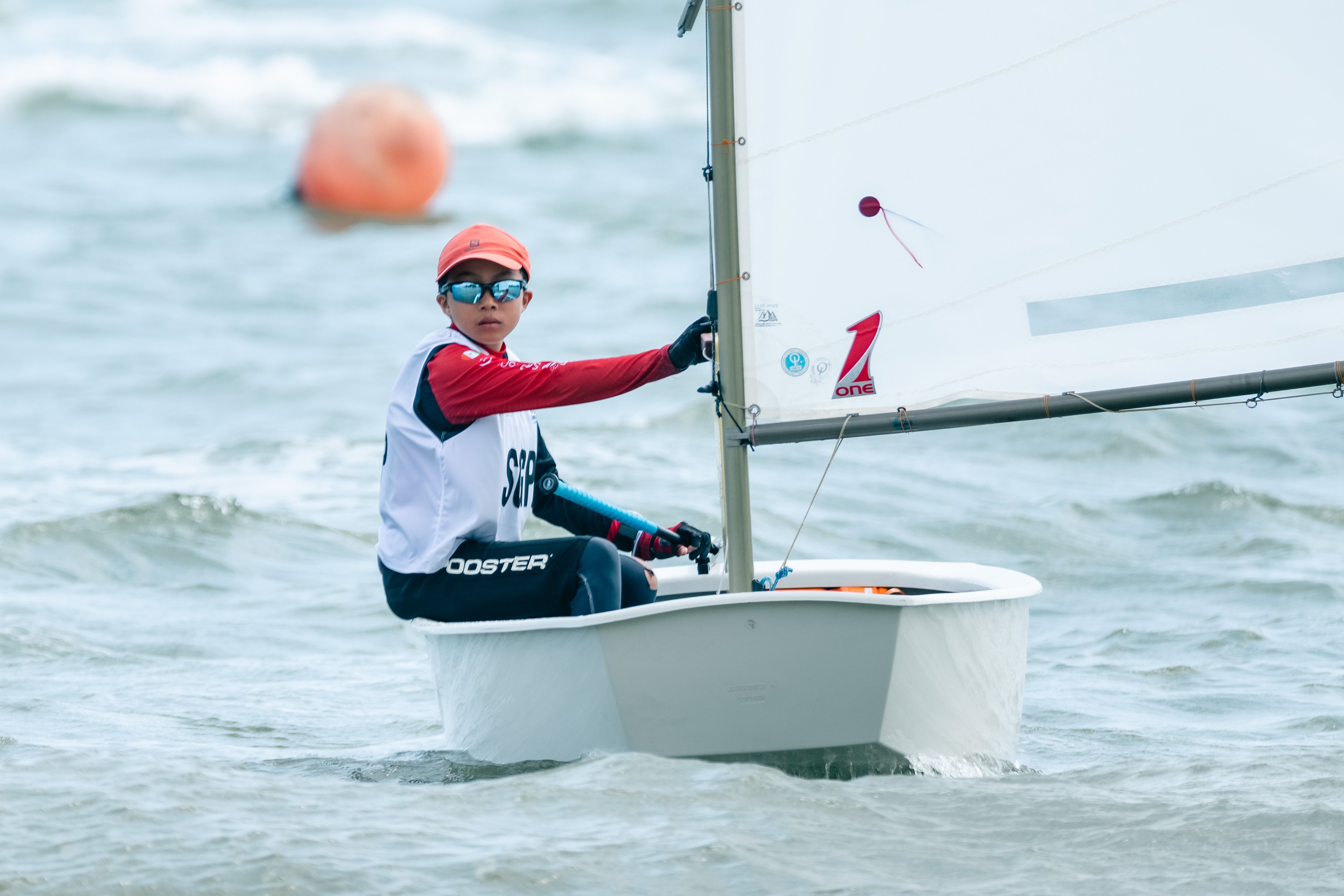 Ethan Chia stays in contention in the Mixed Optimist event. Photo: SNOC/Eng Chin An
Also in Gold contention are Cheryl Yong and Ethan Chia in the Mixed Optimist event, where they lie second, although their task is slightly harder as they've accumulated 59 penalty points so far.
Jania Ang, meanwhile, is also in second place in the Women's ILCA6 event, with 15 points after 10 races, while teammate Elkan Reshawn Oh is lying third in the Windfoil IQ: Foil event.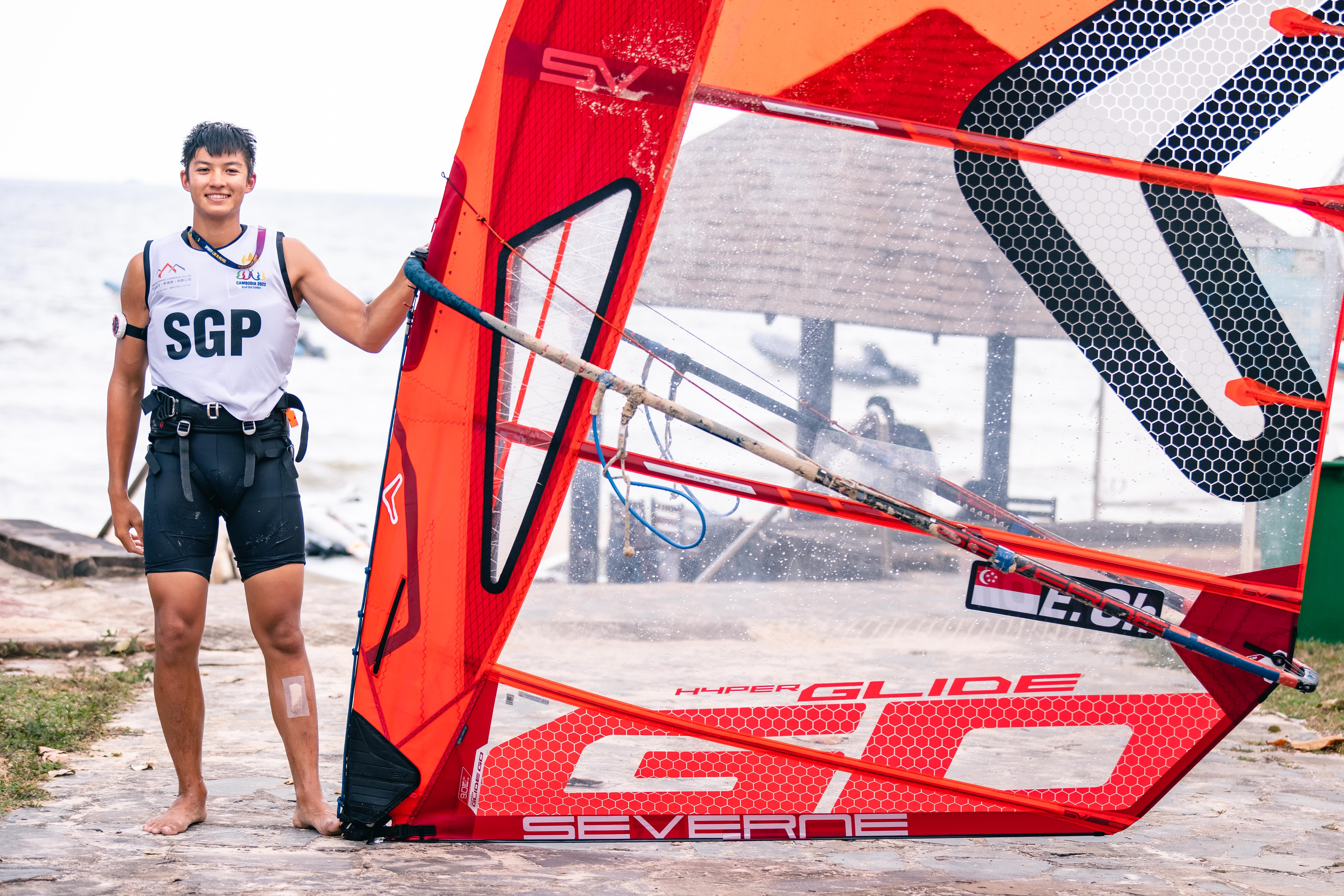 Elkan Reshawn Oh is preparing for a big show in 2025. Photo: SNOC/Eng Chin An
David Ng looks out of the medal running, as he occupies fifth spot in the Men's RS:One windsurfing event, with only the medal race to go.
"We told the team that the racing will be intense in the SEA Games, which is a small fleet competition and the pressure is high," said Chung. "But we're really pleased with how things have gone so far, given the preparations we've done to get everyone ready.
"For Jason and David in the windsurfing events, this outing is all about building their confidence for the 2025 SEA Games in Thailand where the hosts have indicated they will be featuring more windsurfing events. The boys have done well since converting from Optimist sailing."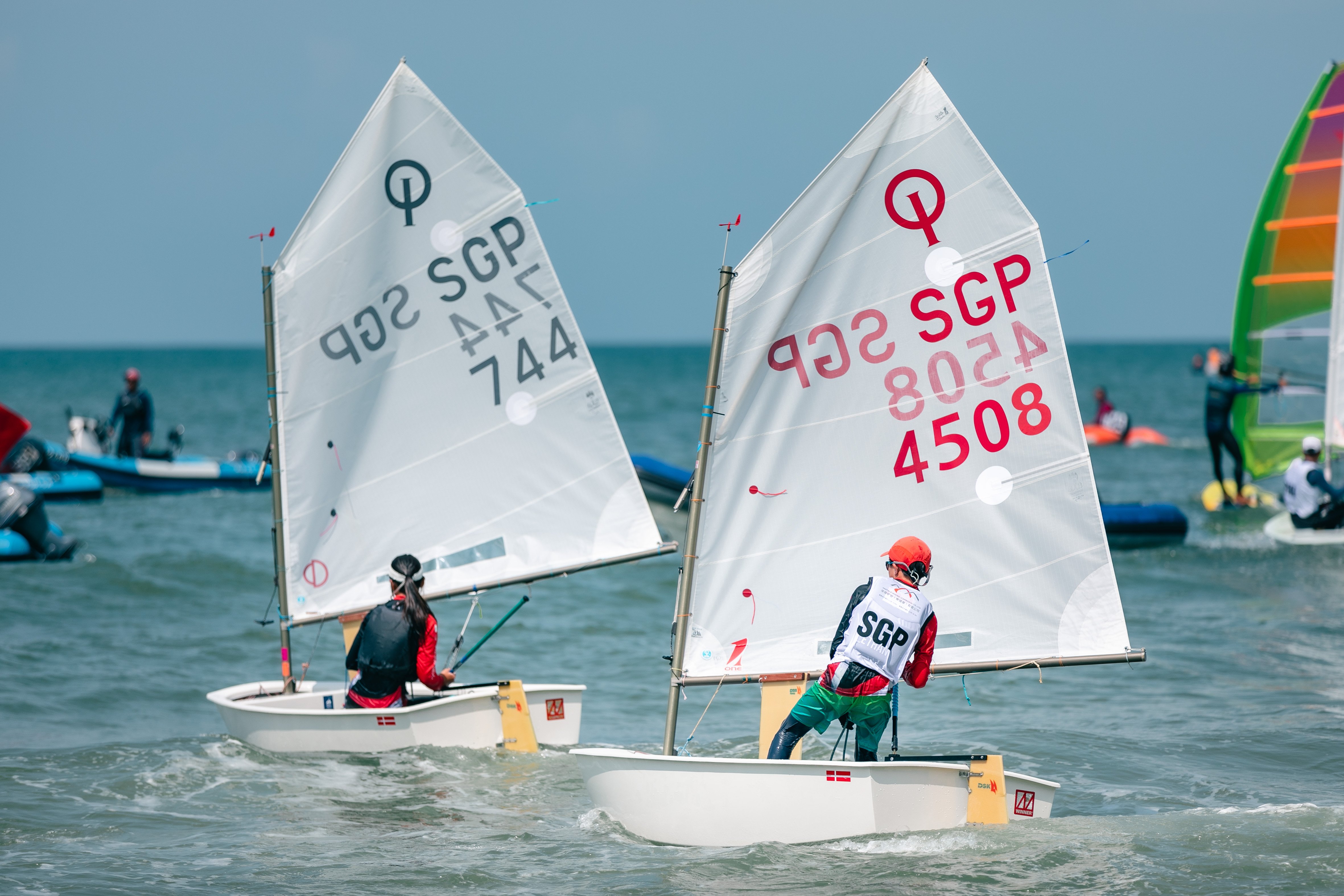 Sailing returned to the SEA Games this edition having sat out the previous Games in Hanoi. Photo: SNOC/Eng Chin An
With Sailing returning to the SEA Games after sitting out last year's edition in Vietnam, the Singapore Sailing Federation has set the minimum target of doing better than the previous edition in the Philippines in 2019 when the team returned with just one gold medal and a handful of silvers.
"I will be happy with two golds this time and any additional will be bonus for the team," said Chung. "But what has been great is how the team has bonded together, supporting one another and really coming together. That has been really pleasing to us."
The 32nd SEA Games are held in Cambodia from 5 to 17 May 2023. For the latest Team Singapore coverage and news, follow Team Singapore on their social media channels (Facebook, Instagram, TikTok) or visit the official Team Singapore website.
Related Topics
Related Events & Programmes
Related Topics