By Philip Goh
After a dismal day yesterday (14 May) when both Singapore teams (women's sabre and men's epee) failed to win through to the final despite being the top seeds, it was left to the women's foil and men's sabre teams to reclaim lost pride.
The women's foil team has had a stranglehold on the gold medal for several editions now and was highly fancied to repeat their gold medal feat, while the men's sabre team had never made it to the final at SEA Games level before.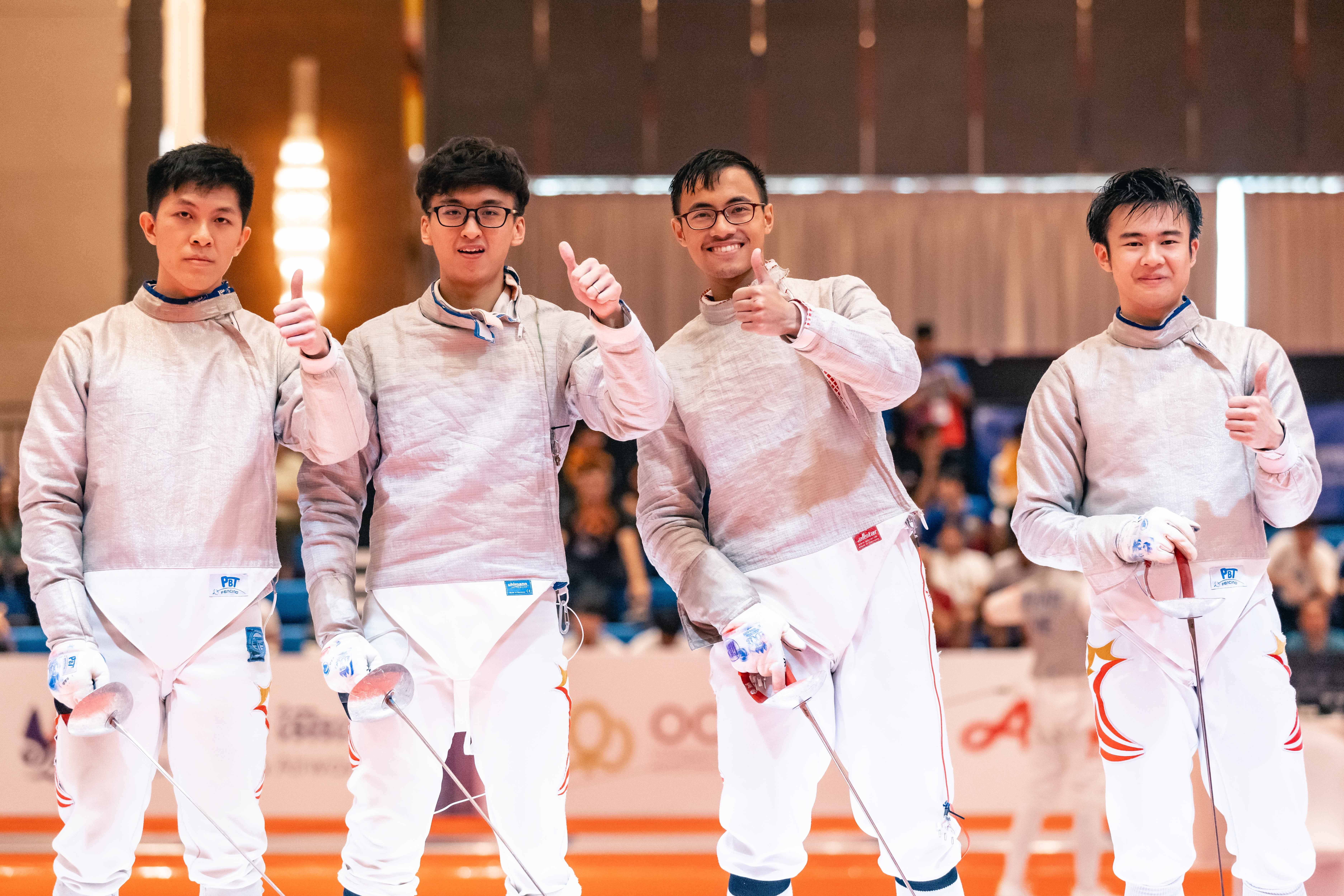 Nicholas Loo, Lucius Loh, Dan Wei Zuo and Jorelle See were out to create history. Photo: SNOC/Eng Chin An
Seeded third, the team of Nicholas Loo, Lucius Loh, Dan Wei Zuo and Jorelle See set off on their mighty quest to crest new heights, firstly with a 45-40 win over the Philippines in the Round of 8. That locked in a medal for the quartet, with the unknown being how far they could extend their run.
Next up against Thailand, the boys produced their best performance, always keeping their noses in front as they roared home 45-41 winners.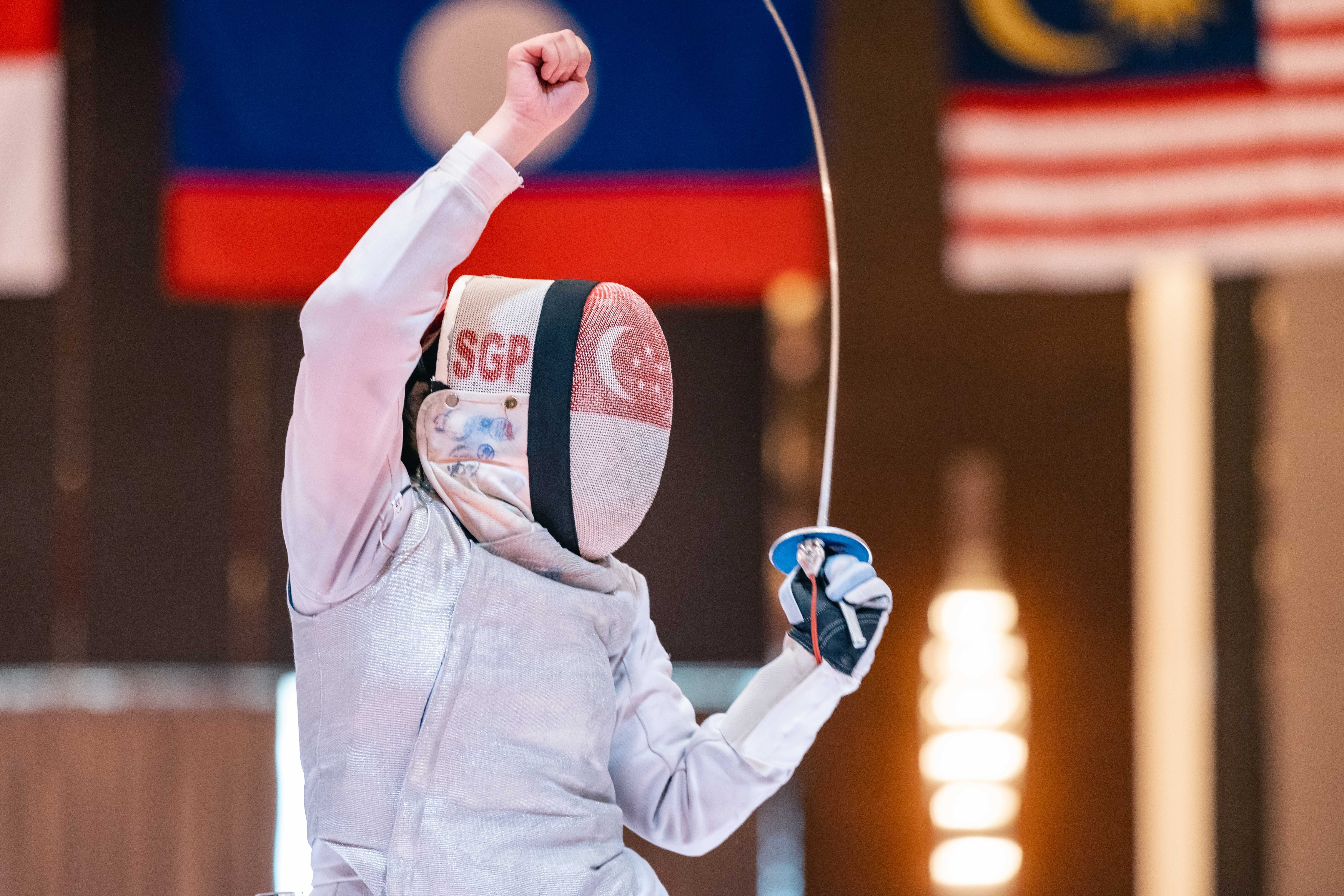 Strike a pose... Points in the bag is what the fencers were seeking. Photo: SNOC/Eng Chin An
But Vietnam in the finals proved a bridge too far, as the team fell 45-31 to settle for silver and achieving Singapore's best-ever result in Men's Team Sabre.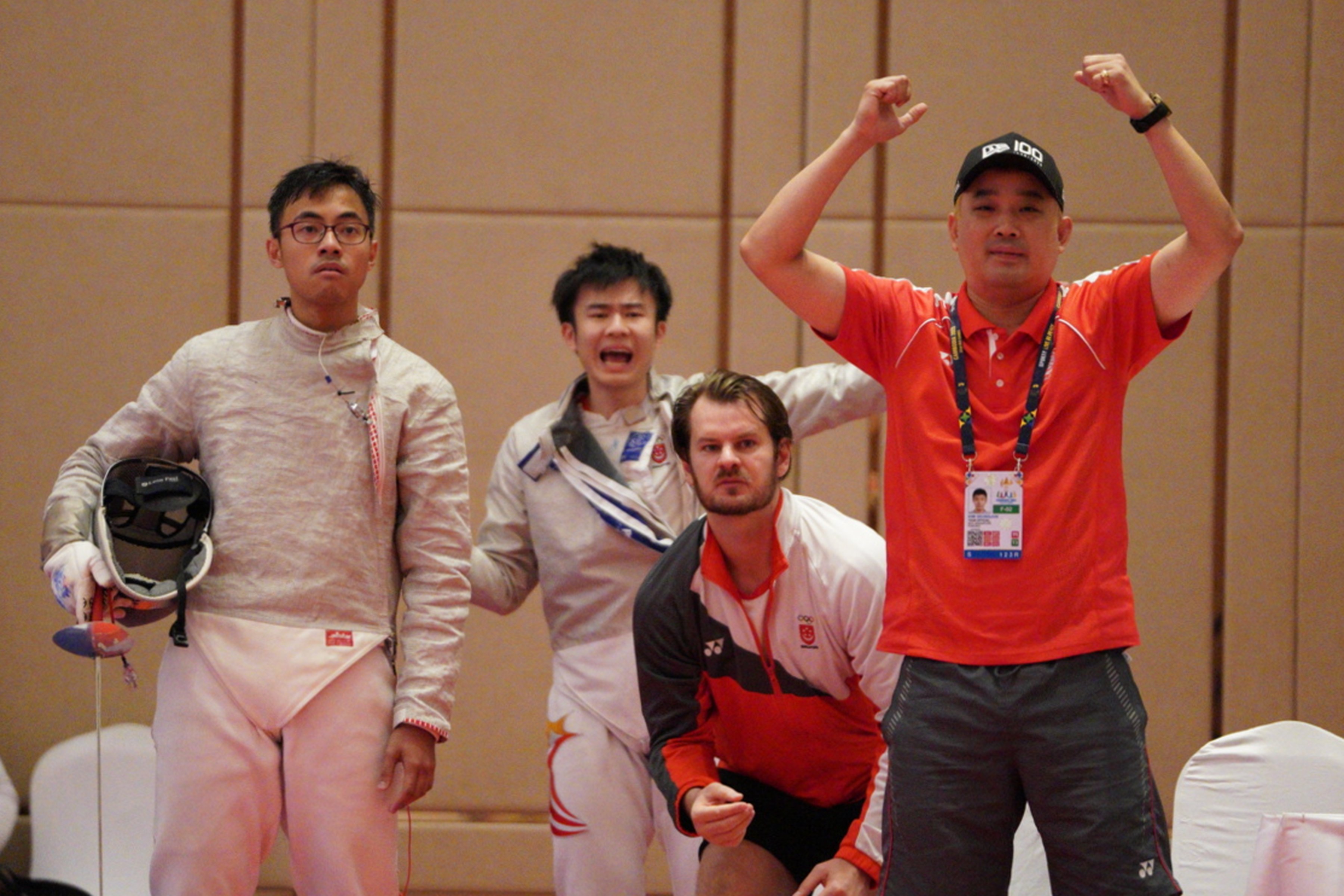 The men's sabre team kept their support crew on their toes. Photo: SNOC/Eng Chin An
Speaking for his team-mates, Dan Wei Zuo said: "This result was unexpected and it made the medal even more rewarding. It's definitely a pleasant surprise to all of us.
"Our performance in the final could have been better. There's definitely room for improvement and we will fight harder for the next SEA Games."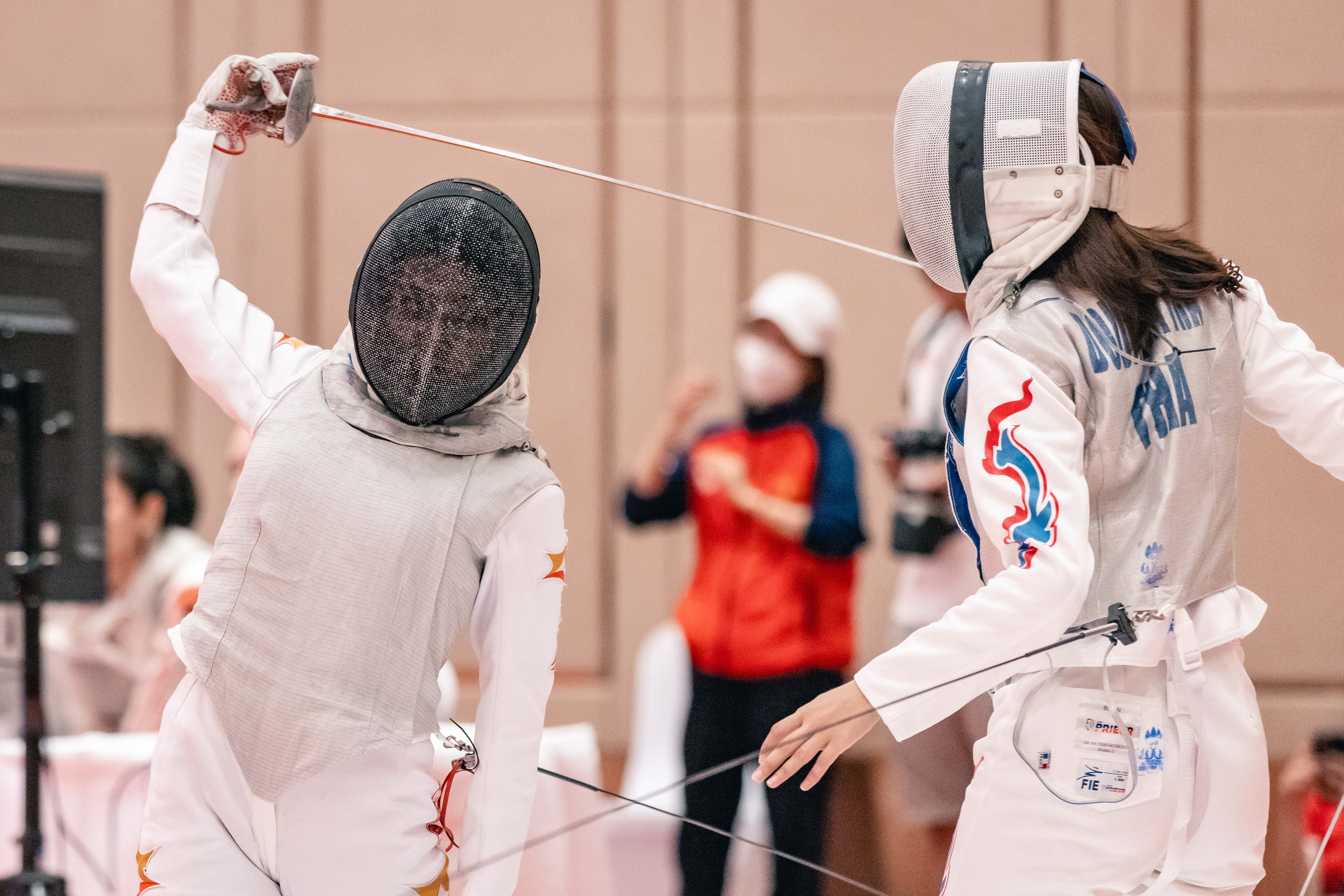 The women's foil team were out to defend their Gold medal. Photo: SNOC/Eng Chin An
In the women's foil event, Singapore got direct passage into the semi-finals by virtue of their top seeding. Against Thailand, they did not give their opponents a sniff in as the team of Cheung Kemei, Maxine Wong and Tay Yu Ling motored to a 45-22 win.
Facing up to fierce regional adversaries Vietnam in the final, the same trio fought with intensity, reaching the winning 45 points while conceding 23 to Vietnam, locking up the gold with finesse. Reserve Tiffany Seet played her hand in the semi-finals, helping to contribute to the gold medal effort.
Staying in focus, the women's foil team had their minds locked on Gold. Photo: SNOC/Eng Chin An
This is also the fourth Games in a row that Singapore has won this event, with 22-year-old Wong collecting her third straight Team Gold.
Speaking for her team-mates, Wong said: "The medal represents the resilience of our team. My team-mates in 2019, 2022 and this year 2023 are all different fencers. However, we have the same common goal of winning Gold.
"I am glad and thankful that we have good rapport and today we went in with Gold in mind. On a personal note, I am very thankful to have fulfilled a personal goal of getting the double Gold at the SEA Games, so this is a particularly sweet result for me," she said.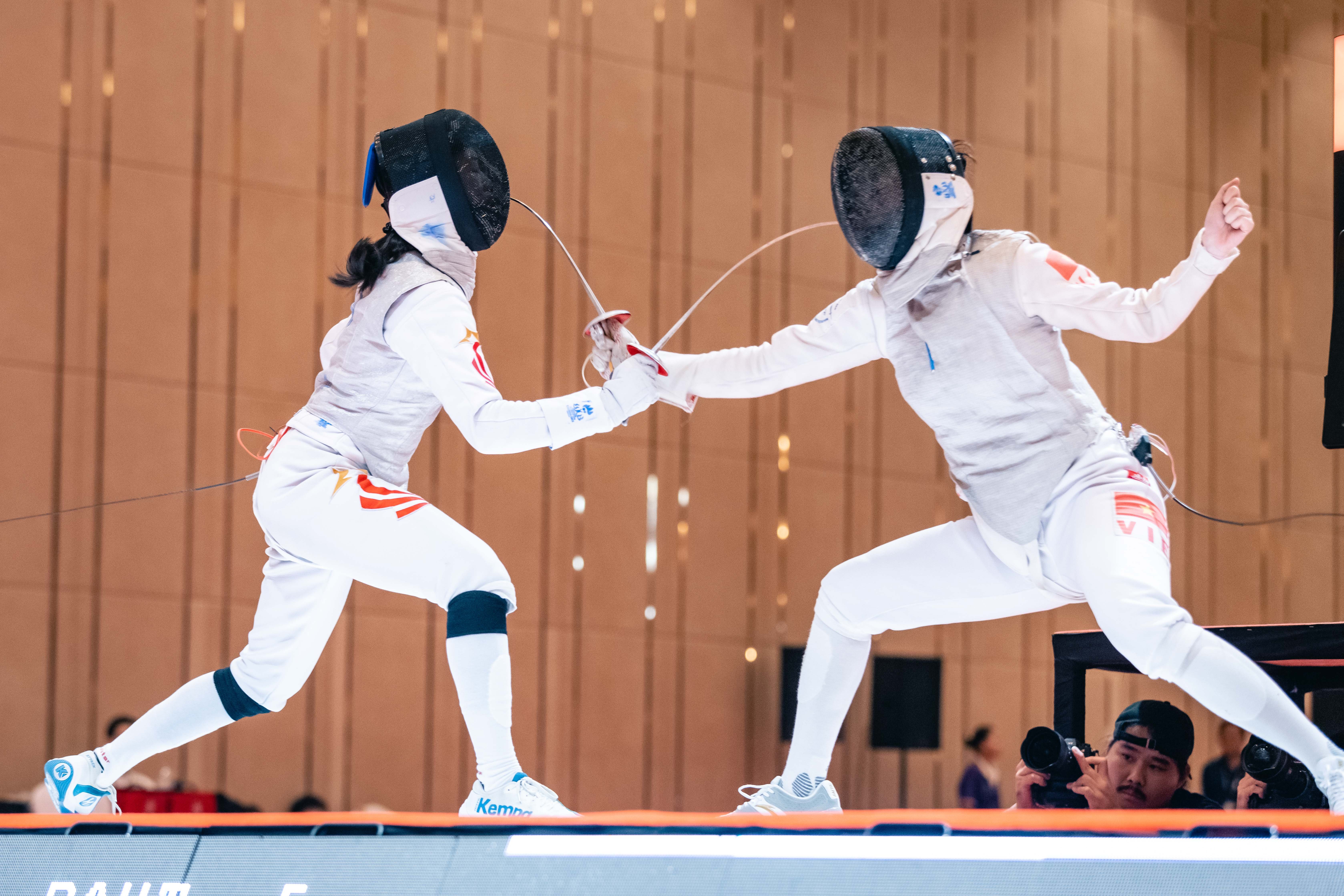 At 36, veteran Tay Yu Ling was enjoying a comeback to the SEA Games. Photo: SNOC/Eng Chin An
Commenting on the final, Wong said: "Throughout the match, we kept the lead and I am very glad that all of us kept the momentum going and by doing so, we pulled more and more points ahead. So, in that sense, I wouldn't say I am surprised at the margin of victory."
At 36, Tay Yu Ling is the oldest member of the entire Singapore fencing squad at these Games. She had been quietly making a comeback to the competitive scene since last donning national colours at the 2010 Asian Games in in Guangzhou. Her last SEA Games outing came in 2007 in Korat, having also participated in the 2005 Manila Games.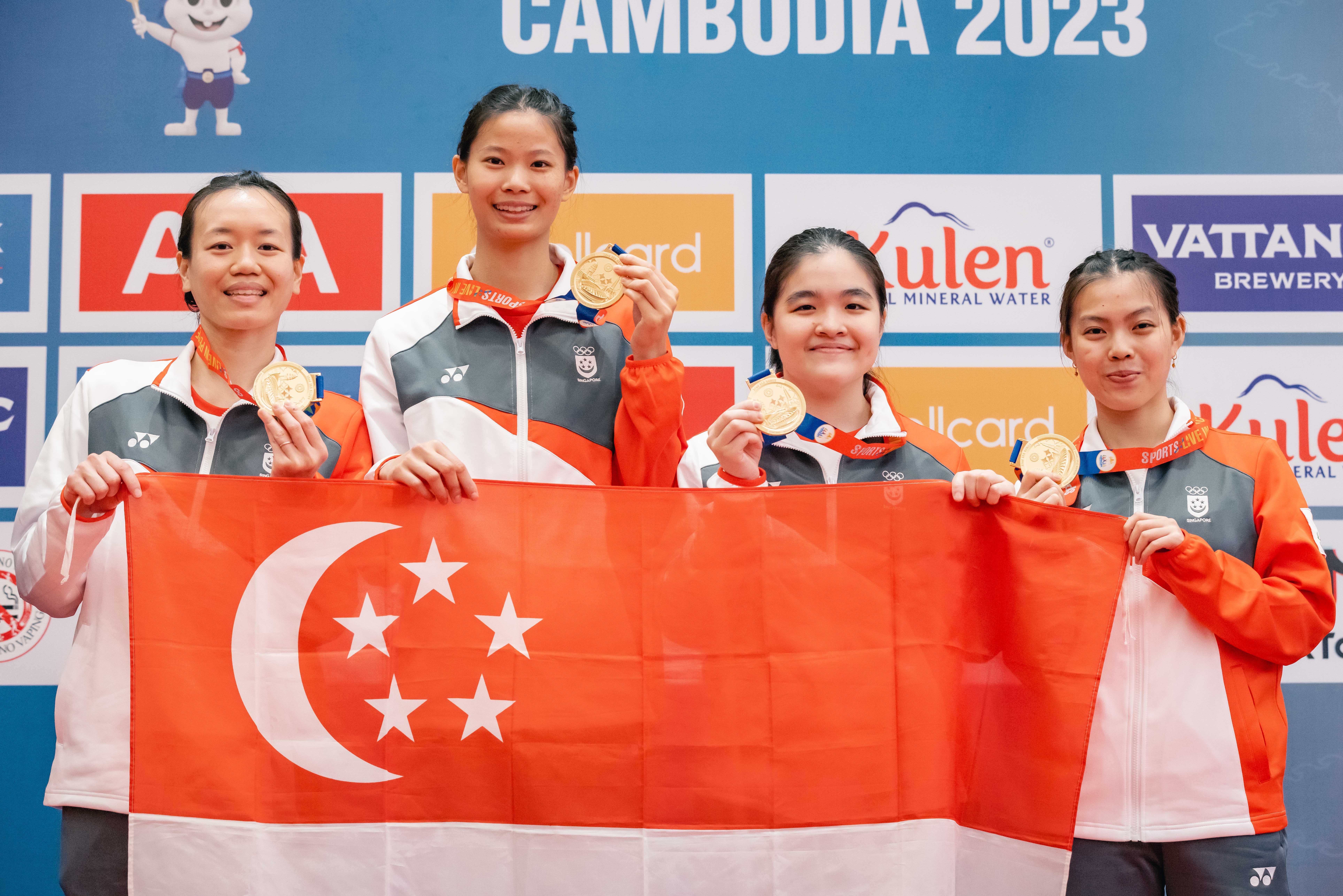 A proud triumph for Tay Yu Ling, Cheung Kemei, Maxine Wong and Tiffany Seet. Photo: SNOC/Eng Chin An
Commenting on winning the gold medal, she said: "It means that you do not need to be afraid to chase your goals and dreams. You will struggle, and struggle constantly. But you do not stop until you win.
"And you are grateful for the people supporting you along the way, and that is part of your transformation for the better."
Today's medals brings Singapore's fencing gold haul to six, matching the record set in Hanoi at the last Games, and the total medal haul to 14, just one shy of matching Hanoi's record total.
Fencing concludes tomorrow (Tuesday, 16 May) with the Women's Epee and Men's Foil team events.
The 32nd SEA Games are held in Cambodia from 5 to 17 May 2023. For the latest Team Singapore coverage and news, follow Team Singapore on their social media channels (Facebook, Instagram, TikTok) or visit the official Team Singapore website.
Related Topics
Related Events & Programmes
Related Topics