By Philip Goh
Singapore's Fencing campaign got off to a rousing start at the Chroy Changvar Convention Centre in Phnom Penh with four individual medals on the opening day of the event.
That's after the Republic's fencers in the women's individual sabre and men's individual epee all made it through to the semi-finals.
And as far as outcomes go, Singapore enjoyed the best of results as Juliet Heng and Jessica Ong won their respective semi-finals to make it an all-Singapore final, locking up gold and silver.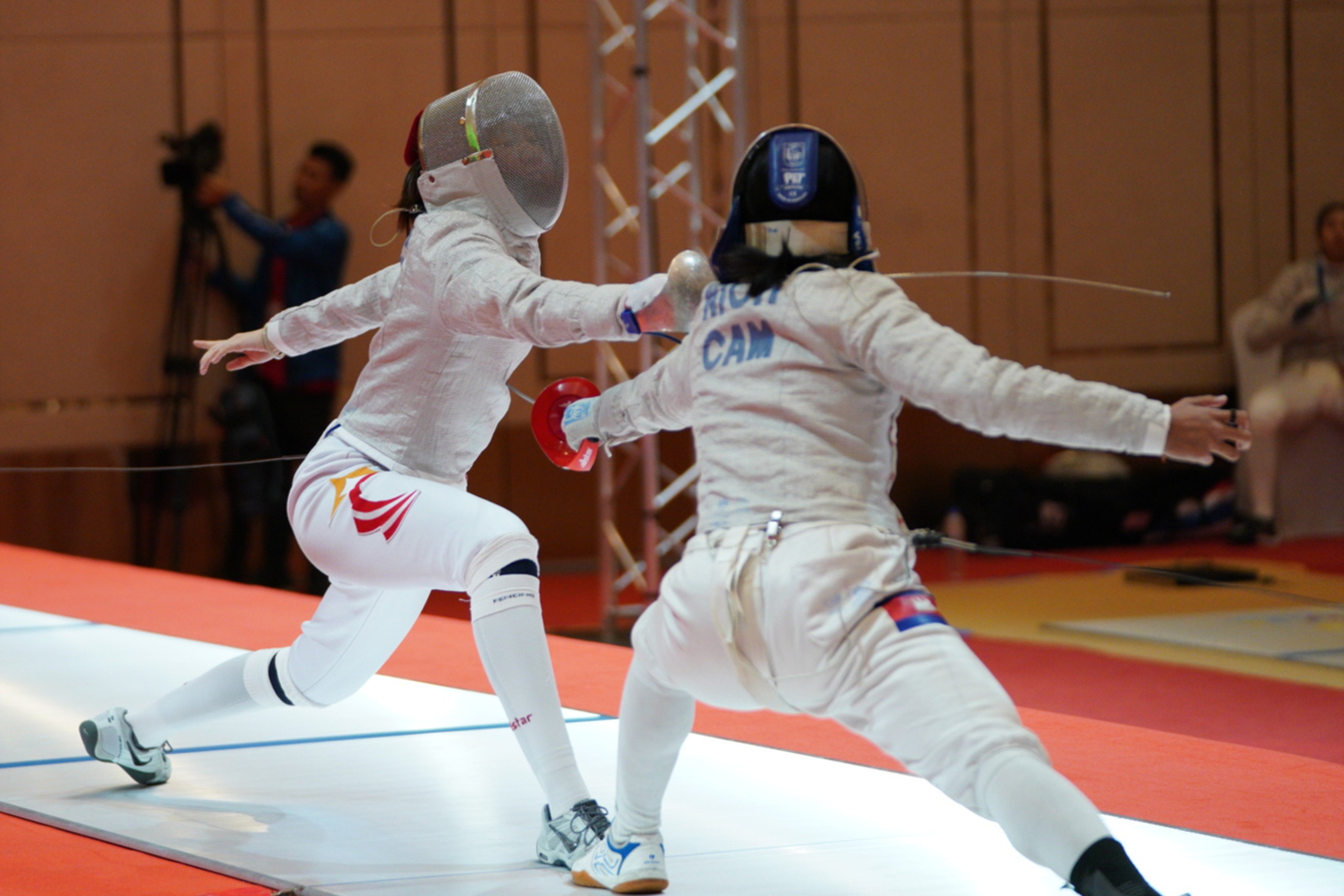 Singapore's women sabre fencers vanquished all their opponents from other countries. Photo: SportSG/Bryan Foo
While Si To Jian Tong, Singapore's 19-year-old Asian Junior Champion, further burnished his reputation, by not only making the final but vanquishing Jose Noelito Garcia of the Philippines 15-11 to top the podium. Teammate Simon Lee, 20, made it two bronzes in consecutive SEA Games after losing to Garcia in the final four.
Singapore came away from the previous games in Hanoi with 15 medals, including 6 gold medals and is regarded the leading fencing nation in Southeast Asia.
Still, that did not account for 18-year-old Juliet and 23-year-old Jessica topping the pools with 4 wins out of 5 each, and moving straight into the quarter-finals as the top two seeds in the knock-outs.
Juliet took care of opponents from Thailand and the Philippines to book her place in the final, while Jessica despatched opponents from Thailand and host nation Cambodia to reach the gold medal match.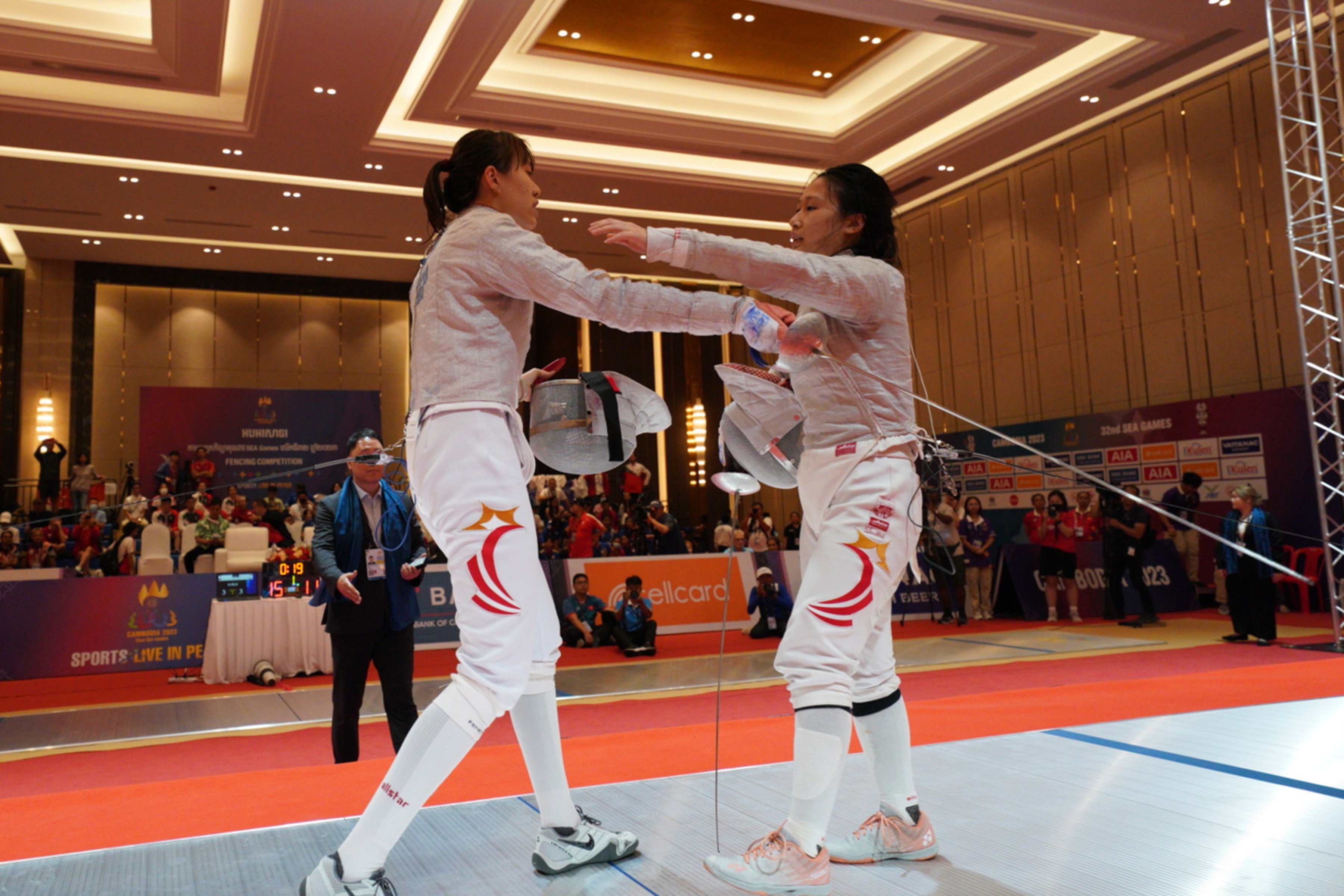 The all-Singapore final meant gold and silver were assured. Photo: SportSG/Bryan Foo
In the final, it was the younger Juliet who seized the early initiative to power through for a 15-8 victory. The result meant Jessica has matched her silver medal showing in this event from the previous Games in Hanoi.
Meanwhile, Simon and Jian Tong who won four of their 6 pool bouts. Although Simon earned a direct passage through to the quarter-finals, Jian Tong had to negotiate Indonesia's Williansyah Anggi, whom he edged 14-13 to move into the final 8.
Jian Tong then defeated Malaysia's topseeded Koh I Jie 15-7 before edging Vietnam's Nguyen Tien Nhat 15-12 to make the final.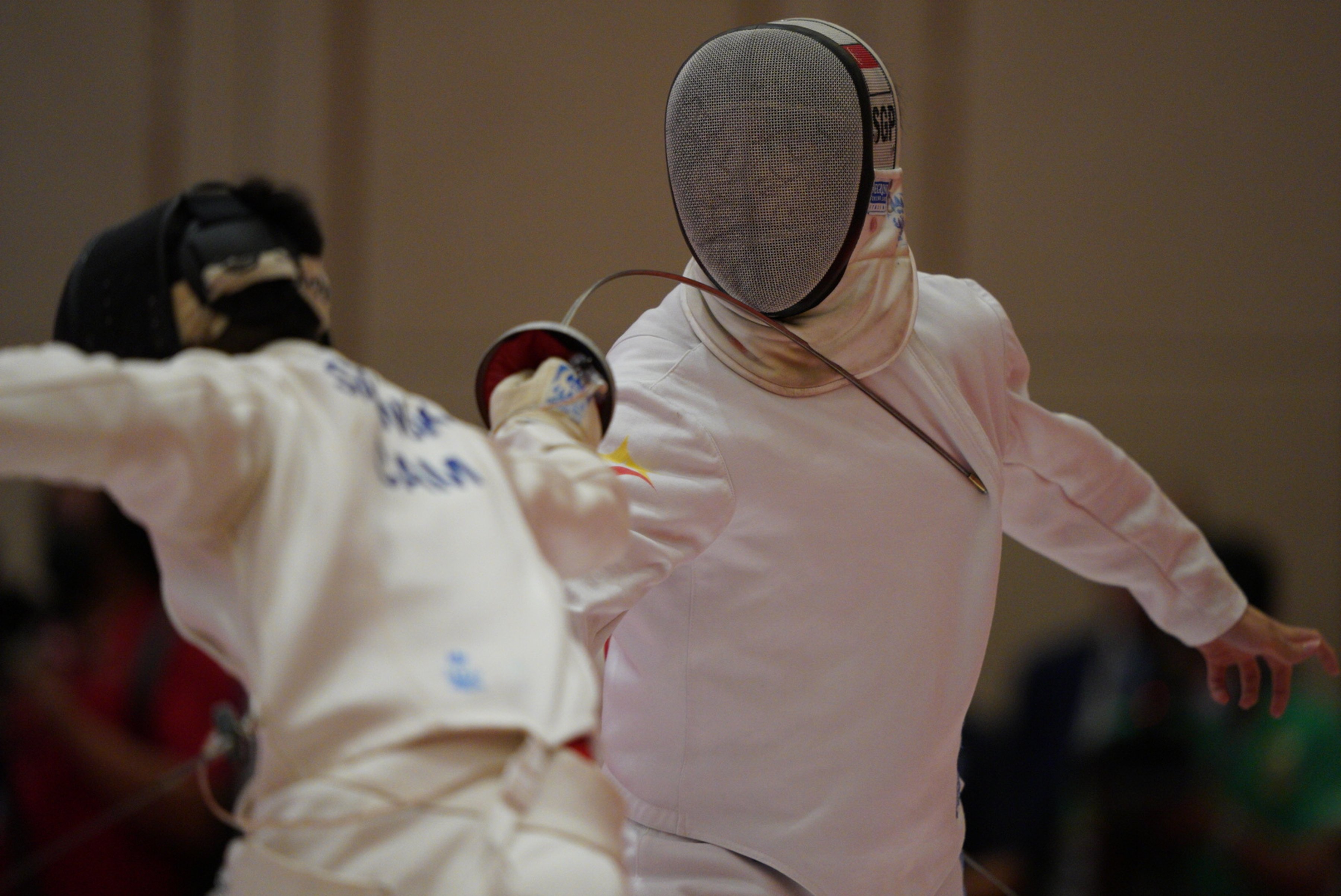 For a second consecutive Games, Simon Lee had to be content with bronze. Photo: SportSG/Bryan Foo
Simon edged Thailand's Nattiphong Singkham 14-13 before coming a-scupper against Garcia, losing 15-10.
In the final, Jian Tong and Garcia traded points in the early goings before the Singaporean pulled away in a late burst to secure the gold.
Considering he wasn't the automatic pick for the individual places – Jian Tong replaced senior Samson Lee in the competition after Lee was withdrawn from the squad – this was an amazing outcome.
"I am more grateful than surprised (to win) because I would not have won this gold medal without everyone's support, especially my coach and family," said Jian Tong.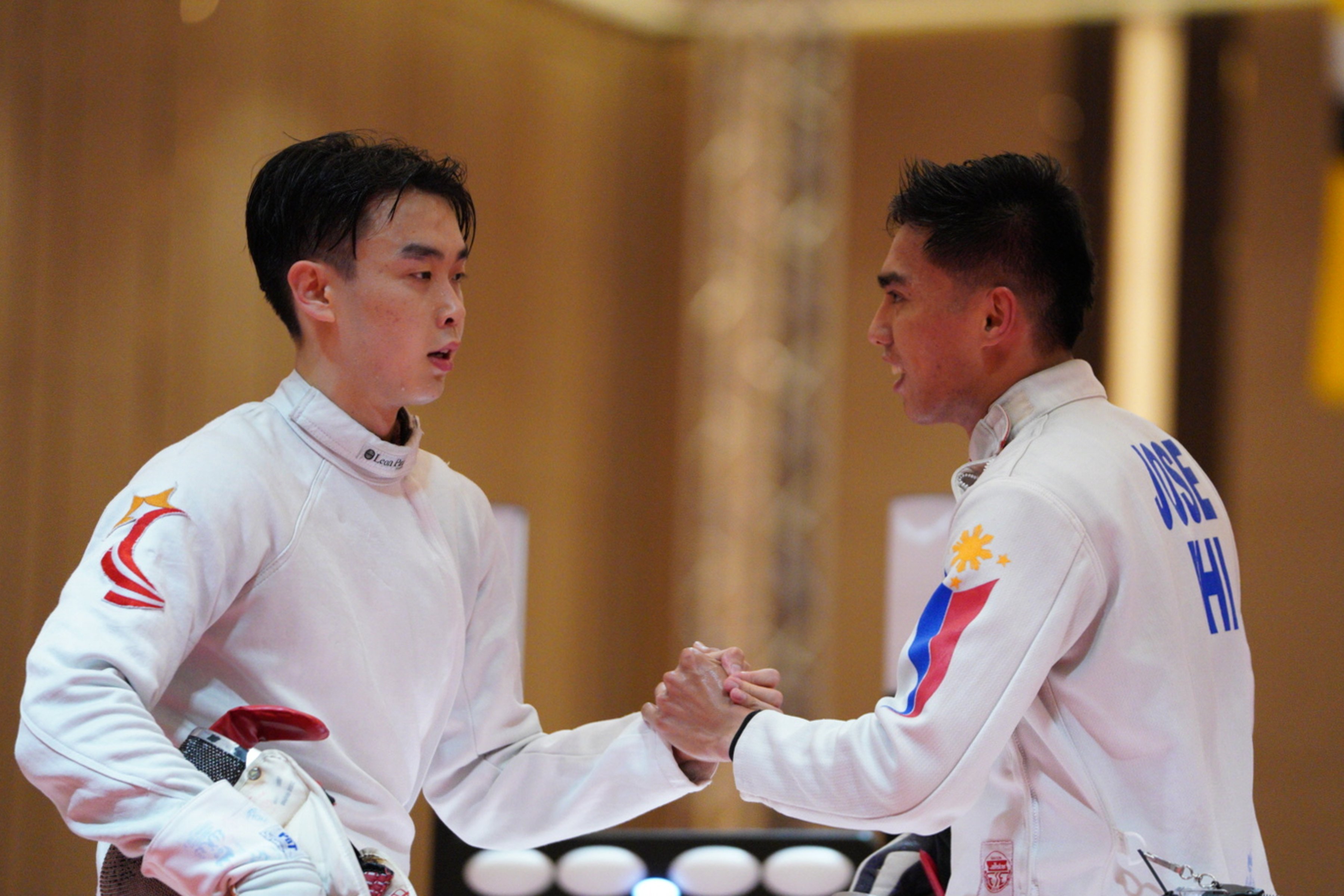 Si To Jian Tong kept his nerves and got the better of Jose Noelito Garcia of the Philippines. Photo: SportSG/Bryan Foo
Speaking of his motivation for the Games, he said: "I just kept telling myself that I am going to do my best and give back to the people who have helped me achieve all I have now."
As for Juliet, she was happy to have been part of an all-Singapore final.
"I came to this competition to do my best and I'm happy with the results," she said. "I want to thank my coach, Kim Seung Jun who believed in me from start to end, and this medal would not have happened without him.
"I also want to thank my parents and my "village" – SNOC, Singapore Sport Institute, Fencing Singapore, National Youth Sport Institute and Singapore Sports School. To all my teammates, thank you for cheering for me throughout."
As for future plans, Juliet is looking ahead to the upcoming Asian Games.
"I have already started my preparations and I am focused on doing my best," she said.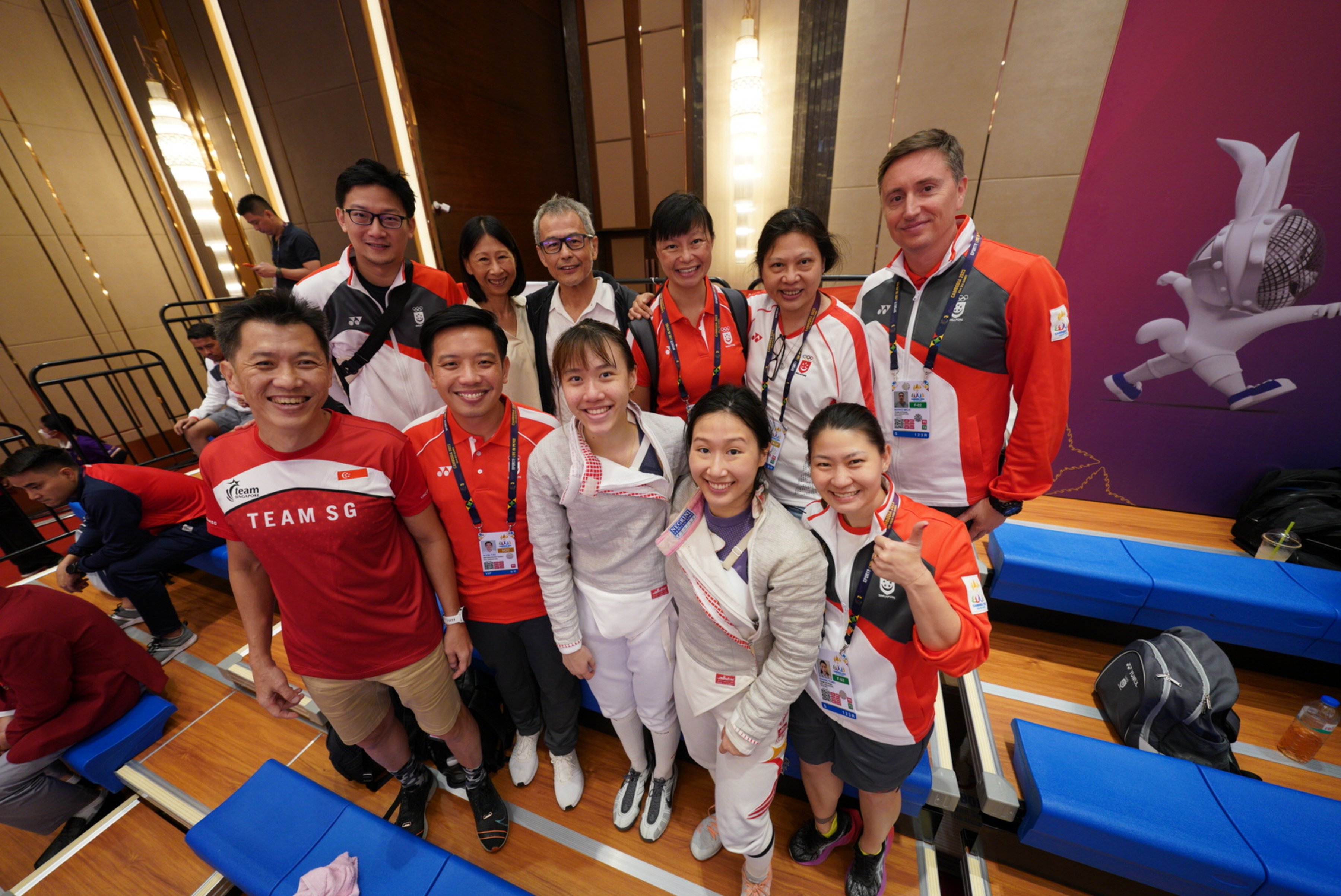 Behind every successful athlete there is a hardworking team. Photo: SportSG/Bryan Foo
Commenting on the good start to the fencing campaign, Fencing Singapore President Juliana Seow lauded her team.
"Full credit goes to our athletes and coaches for trying their very best. We also thank SNOC, SSI, clubs and schools for their support. We have a big village behind everyone!
"We've continued to grow over the past few SEA Games and I'm happy to see such a strong start from the team. All four of our fencers fought hard today and deserved the medals they won.
"We hope our other fencers will take heart from today's results and do their best when their turns come up."
The 32nd SEA Games are held in Cambodia from 5 to 17 May 2023. For the latest Team Singapore coverage and news, follow Team Singapore on their social media channels (Facebook, Instagram, TikTok) or visit the official Team Singapore website.
Related Topics
Related Events & Programmes
Related Topics