Cambodia 2023: Fencing picks up two more Gold, on way to smashing haul record
by ActiveSG Circle, on May 13, 2023
By Philip Goh
It's another joyful day for Team Singapore at Hall B of the Chroy Changvar Convention Centre in Phnom Penh as the Republic's fencers won both individual events being contested on Day 3 of Fencing competition.
Elle Koh is the first Singapore fencer ever to win back-to-back gold medals in SEA Games Women's epee individual, while Samuel Robson showed imperious form enroute to winning the men's individual foil event, chalking up impressive wins in the knockout stage.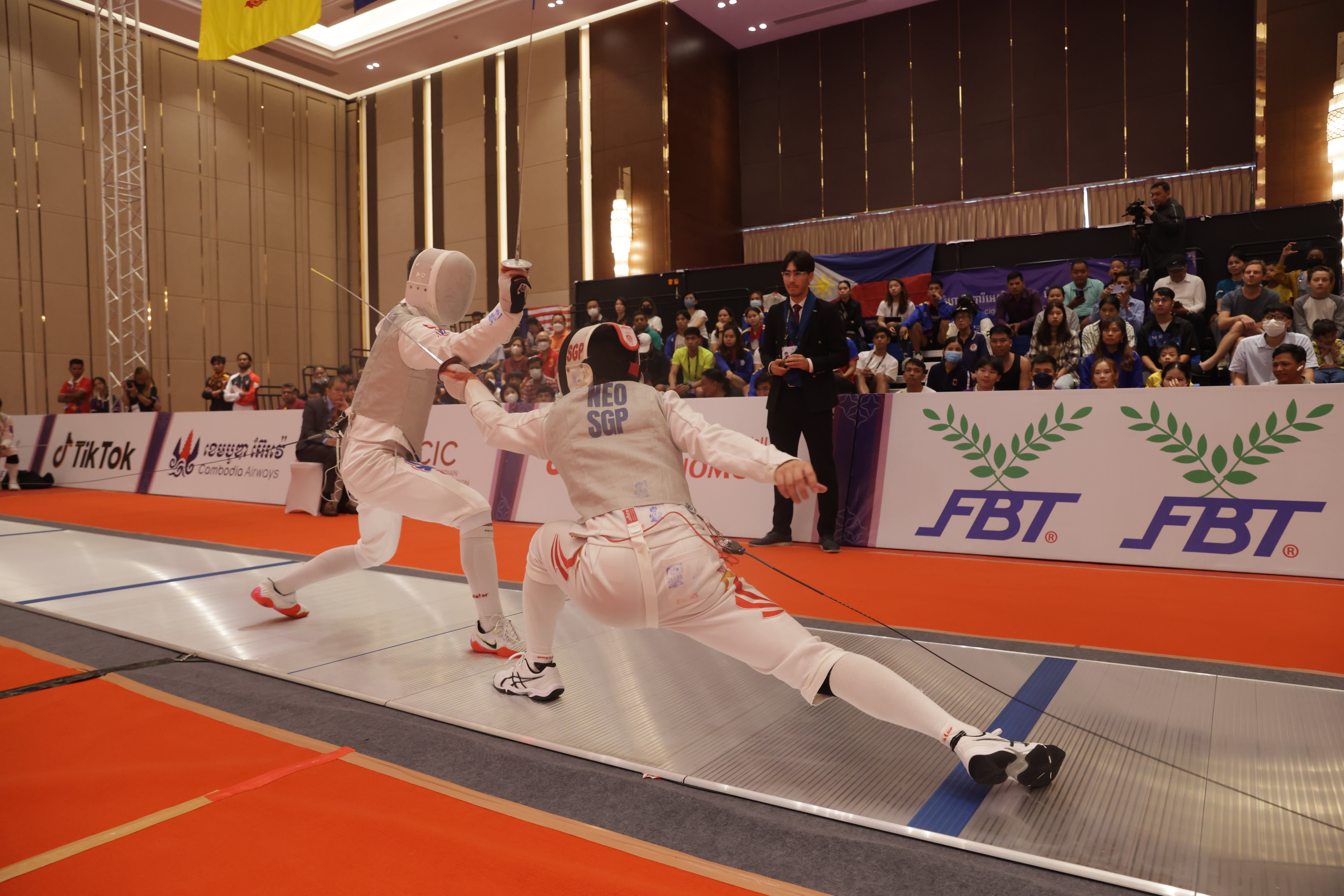 Max Neo picked up three wins in the Pool stage. Photo: SportSG/Bryan Foo
Robson and teammate Max Neo went through the pool stage picking up four and three wins from five matches respectively to earn their spots in the knockout stage, with Robson earning direct passage into the quarter-finals while Neo set up a Round of 16 meeting with Thailand's Ratchanavi Deejing.
While Neo's journey ended with a 15-9 defeat to Deejing, 17-year-old Robson showed nerves of steel as he first swept aside Sitsadipat Doungpatra of Thailand 15-7, then Malaysia's Cheng Xing Han 15-6 to book his place in the final against Sammuel Lopez Tranquilan of the Philippines.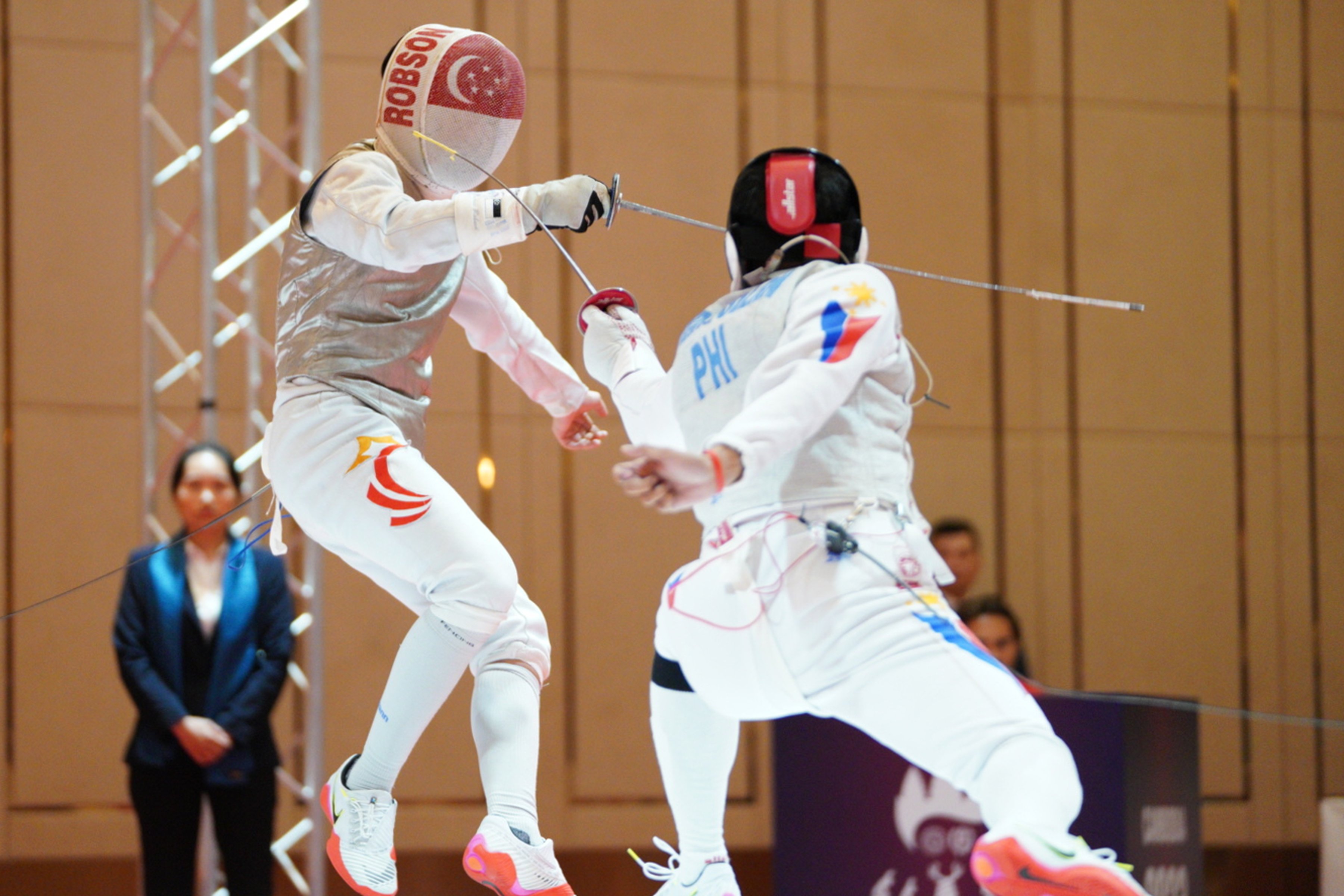 Samuel Robson was in top form throughout the day. Photo: SportSG/Bryan Foo
And there really was only one fencer in the gold medal decider and Robson hardly gave his Filipino opponent a look-in, his 15-3 victory leaving his opponent shell-shocked.
Speaking after his win, Robson said: "I was very focused and confident throughout the competition. Once I started fencing, I felt better and more relaxed with each match, so I was more confident going into each successive match and I was fencing well in general to start off, so I was on a roll.
"I came into the SEA Games with the goal of winning gold but I only had the expectation to fight for every point, not on the ultimate medal or position."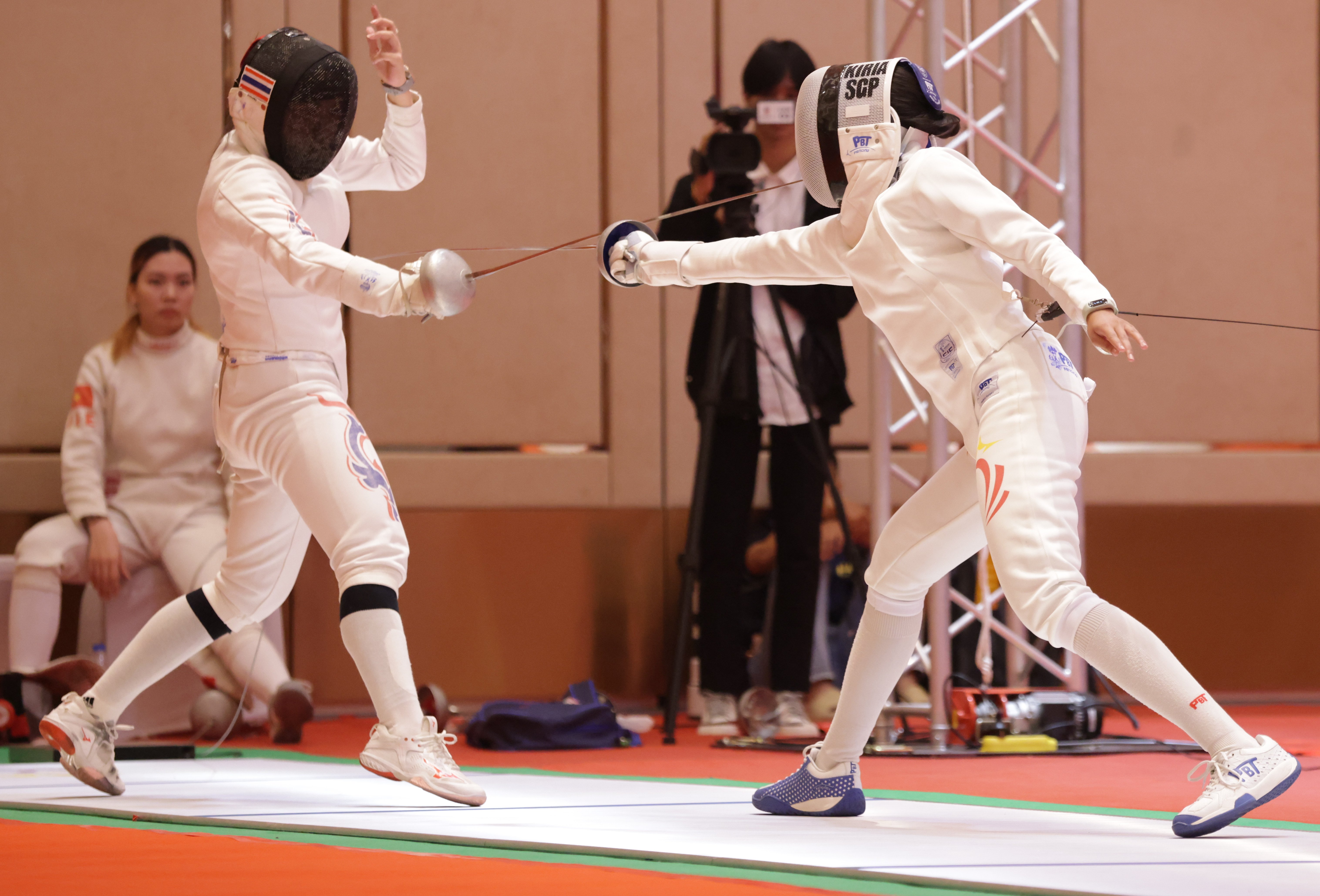 Team Singapore fencers are on course to better the total medal haul from the previous Hanoi Games. Photo: SportSG/Dawn Chua
Robson also took inspiration from his teammate's results from the previous days where Singapore had picked up 7 medals including three golds.
"I was definitely inspired by my teammates' dominance in the other weapons groups, and their support on the day itself. Winning Gold at the SEA Games is a culmination of my efforts for the past 10 years, and it was extremely fulfilling to achieve this milestone."
The women's epee competition saw Singapore fielding two well-known athletes in 15-year-old Elle Koh and 22-year-old Kiria Tikanah Abdul Rahman, gold medallists in 2021 and 2019 respectively. Both started by negotiating the pools safely, Elle scoring three out of four wins, while Kiria won two of her four bouts. That saw both of them through to the final eight automatically although unfortunately, they ended up in the same top half and were due to meet in the semi-finals.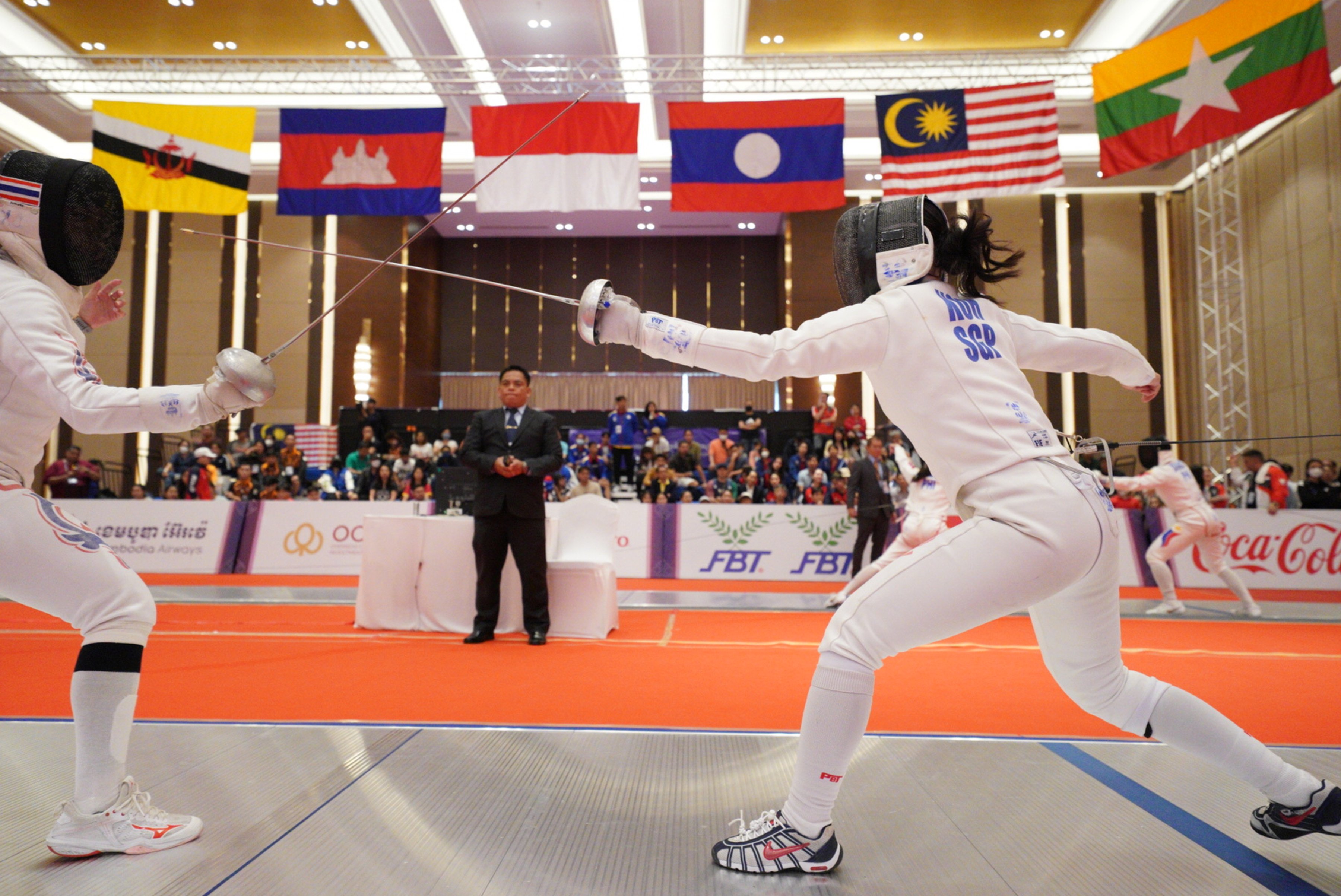 Elle Koh picking up victory against her Thai opponent. Photo: SportSG/Bryan Foo
Which duly happened after Elle despatched Thailand's Pacharaporn Vasanasomsithi 15-5, while Kiria took care of Winya Warisa, also of Thailand 15-8.
The semi-final between Elle and Kiria, which was a repeat of the gold medal match of the previous Games, was a nip and tuck affair which had to be settled in sudden-death after the score was level at 11-all. Elle managed to get the decisive touch, relegating Kiria to a bronze medal while booking a match with Vietnam's Vu Thi Hong in the final.
Against Vu, Elle kept her distance early and focused on winning single points, which she did to record a 15-10 victory over her opponent.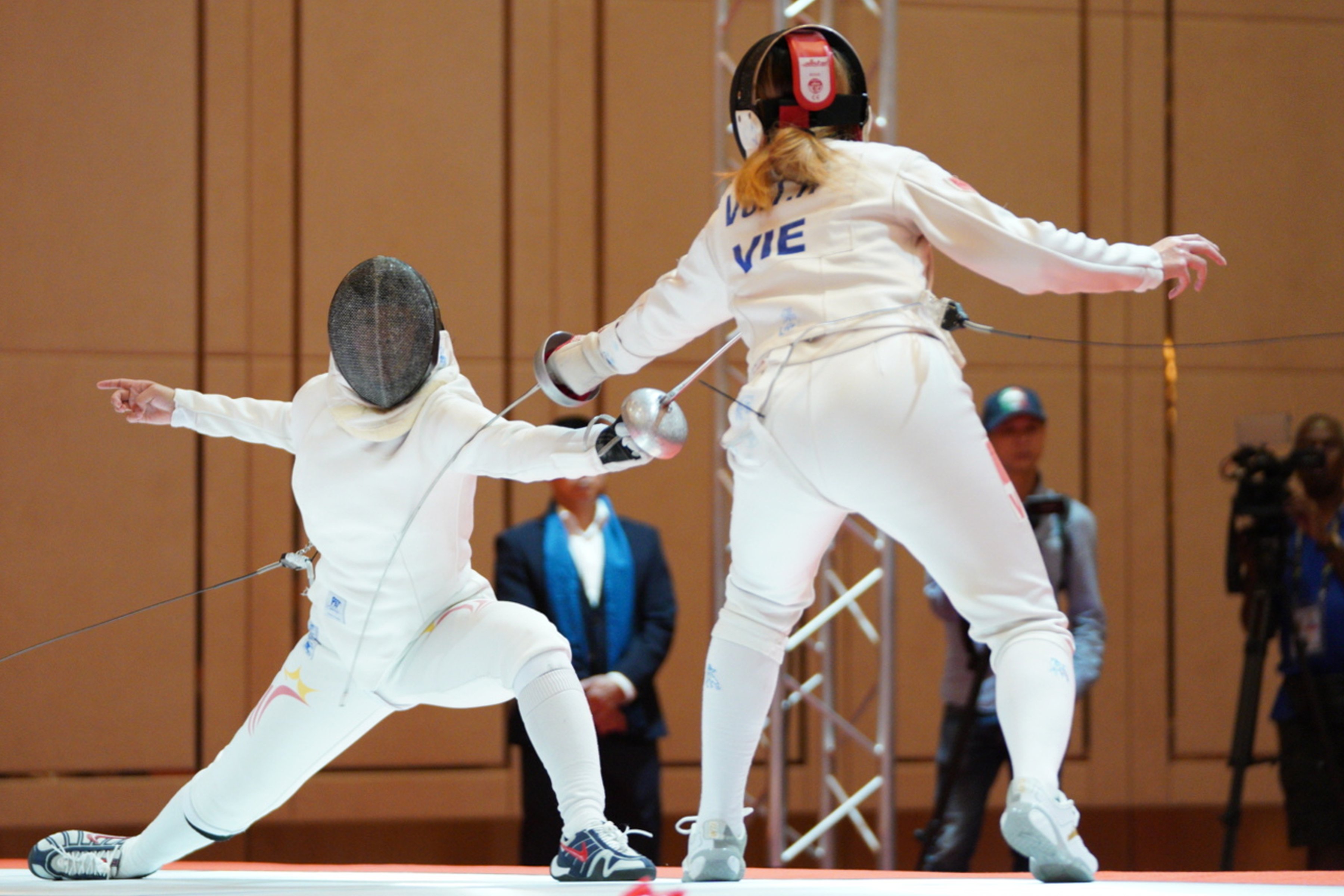 Elle in action against her Vietnamese opponent in the gold medal match. Photo: SportSG/Bryan Foo
Commenting on the final, Elle said: "I went into the match wanting to try my best and win for Singapore and Kiria. I started off with a lead and was trying to figure out more ways to score single lights against my opponent. After I'd widened my lead, I was focused on hitting to maintain my lead and win the bout. At the end, as time was running out, my opponent had to rush her moves and I was able to capitalise on that to score and close out the win."
As for her semi-final meeting with Kiria, Elle said it was definitely the toughest match of this tournament, both mentally and physically.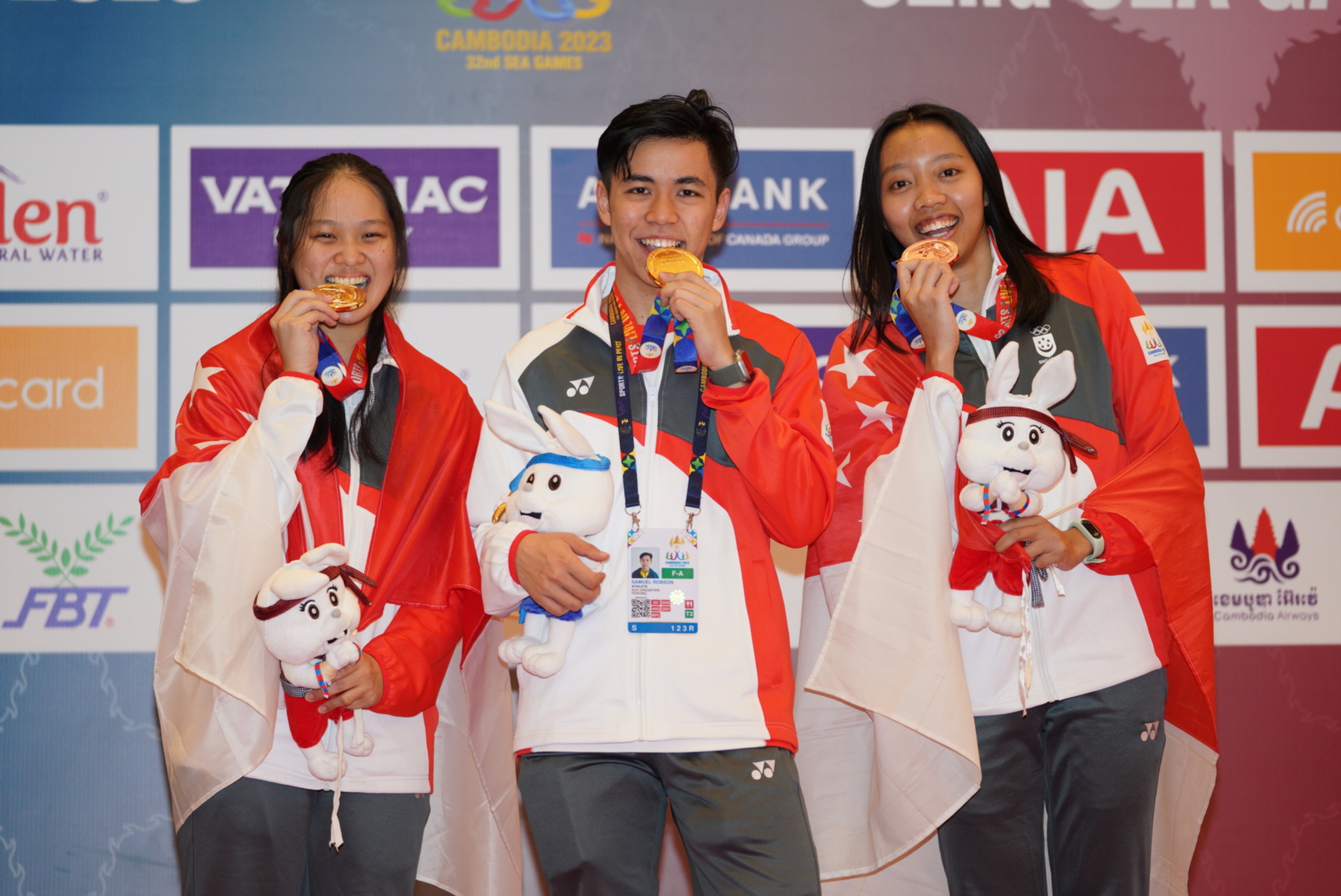 Two golds and a bronze, another successful day for Singapore. Photo: SportSG/Bryan Foo
"By far, Kiria is the best fencer here and I think on any given day, she can beat anyone. Since she is my teammate, we have fenced each other a lot and know lots of tricks against each other. I respect her a lot so having to fence her is the most difficult bout of the tournament. Tactically, my game is the most complex against her compared to everyone else," she said.
Of her victory, Elle said it was a surprise to her that she was able to defend her SEA Games title.
"Coming into the competition, I was extremely nervous about keeping up with people's expectations and making sure I don't injure myself," she noted.
At the midway point of the competition, with the six team events to come, Team Singapore has picked up 10 medals and is on course to better the 15 medals collected from the previous Hanoi Games. That haul included a record 6 gold medals, and Singapore's current tally is five Gold, a silver and four bronze medals.
Partner coaches play and important role, as Samuel Robson will attest with his coach Joseph Engert. Photo: SportSG/Bryan Foo
Commenting on the achievements thus far, Fencing Singapore Secretary General David Chen said: "We are elated to have achieved this milestone of winning five out of the six individual gold medals!
"This is only possible with the support of our National Partner Coaches (NPCs) who worked hard together with the fencers to achieve this. We also have very supportive parents and schools who are willing to go the extra mile for sporting excellence. Thank you also to the Singapore National Olympic Council and Singapore Sport Institute for believing in us!"
The 32nd SEA Games are held in Cambodia from 5 to 17 May 2023. For the latest Team Singapore coverage and news, follow Team Singapore on their social media channels (Facebook, Instagram, TikTok) or visit the official Team Singapore website.
Related Topics
Recent Events & Programmes
Related Topics