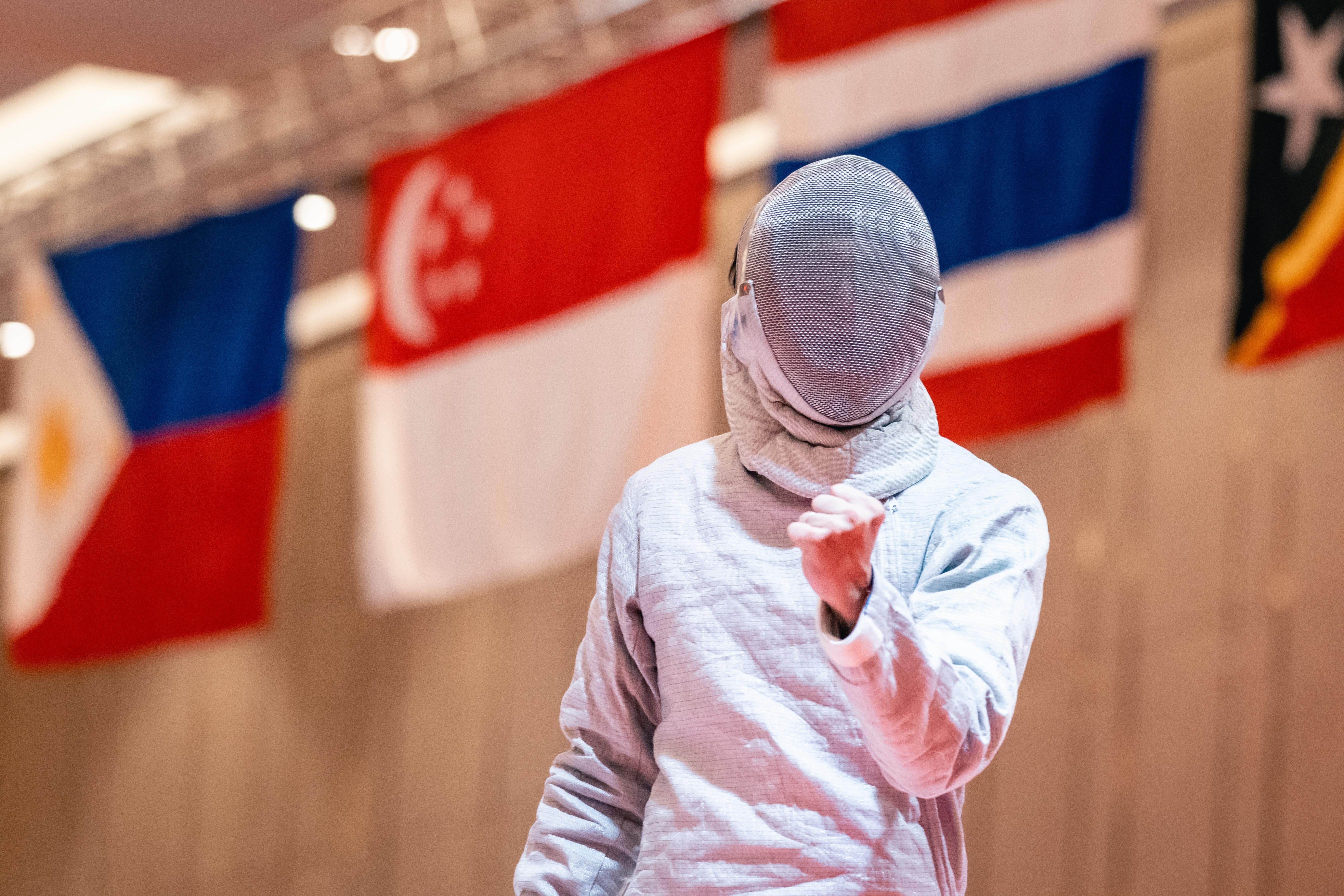 Team Singapore's medal haul continued in the penultimate day of the SEA Games in Cambodia, with fencing contributing more silverware. Photo: SNOC/Eng Chin An
Singapore's penultimate day in action at the 32nd SEA Games came with some unexpected but welcome triumphs.
The men's cricket team delivered gold in the Sixes format, while fencing drew a sixth gold to at least equal their haul from the last Games in Hanoi. Medals also came through sports like xiangqi, judo and field hockey.
The final day of action in Cambodia promises more medals. The men's water polo team are expected to reclaim gold, while expectations are also high in floorball and table tennis.
After another three golds, two silvers and five bronzes, the current medal tally after 10 days of competition stands at 45 golds, 39 silvers and 59 bronzes.
TeamSG xiangqi player blitz competition for gold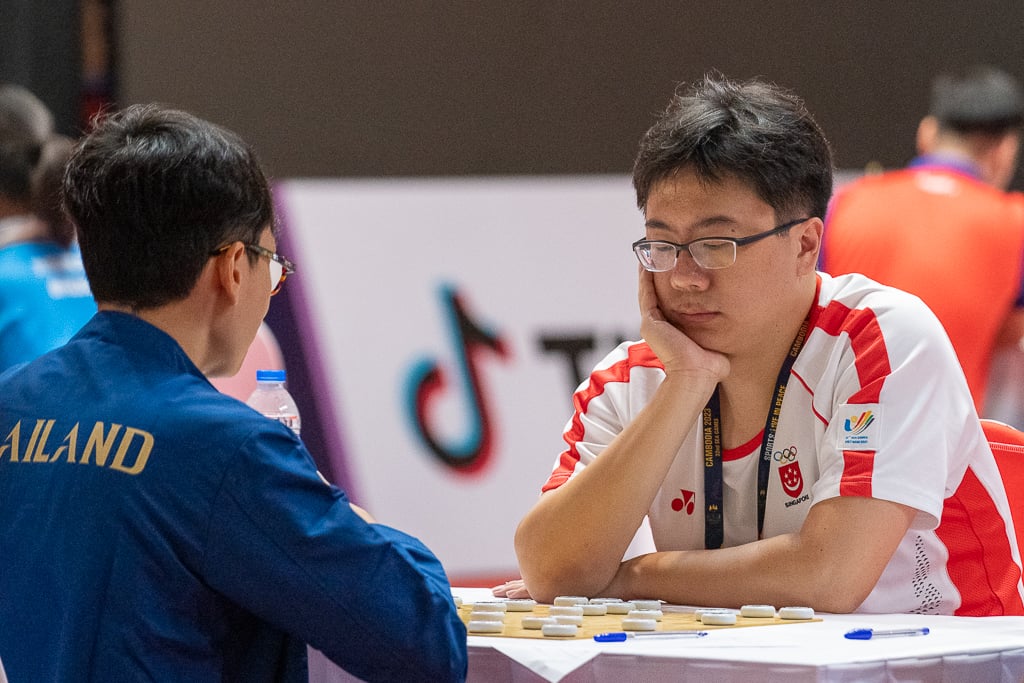 Singapore's Alvin Woo in action in xiangqi. Photo: SportSG/Flona Hakim
Singapore's xiangqi athletes Alvin Woo and Low Yi Hao cruised to victory in the xiangqi men's blitz team event.
Over five rounds, the duo beat opposition from the Philippines, Thailand, Cambodia and Malaysia with only a blip in their tie against regional kingpins Vietnam.
They finished overall first out of six teams to take the gold medal.
Judo takes in bronzes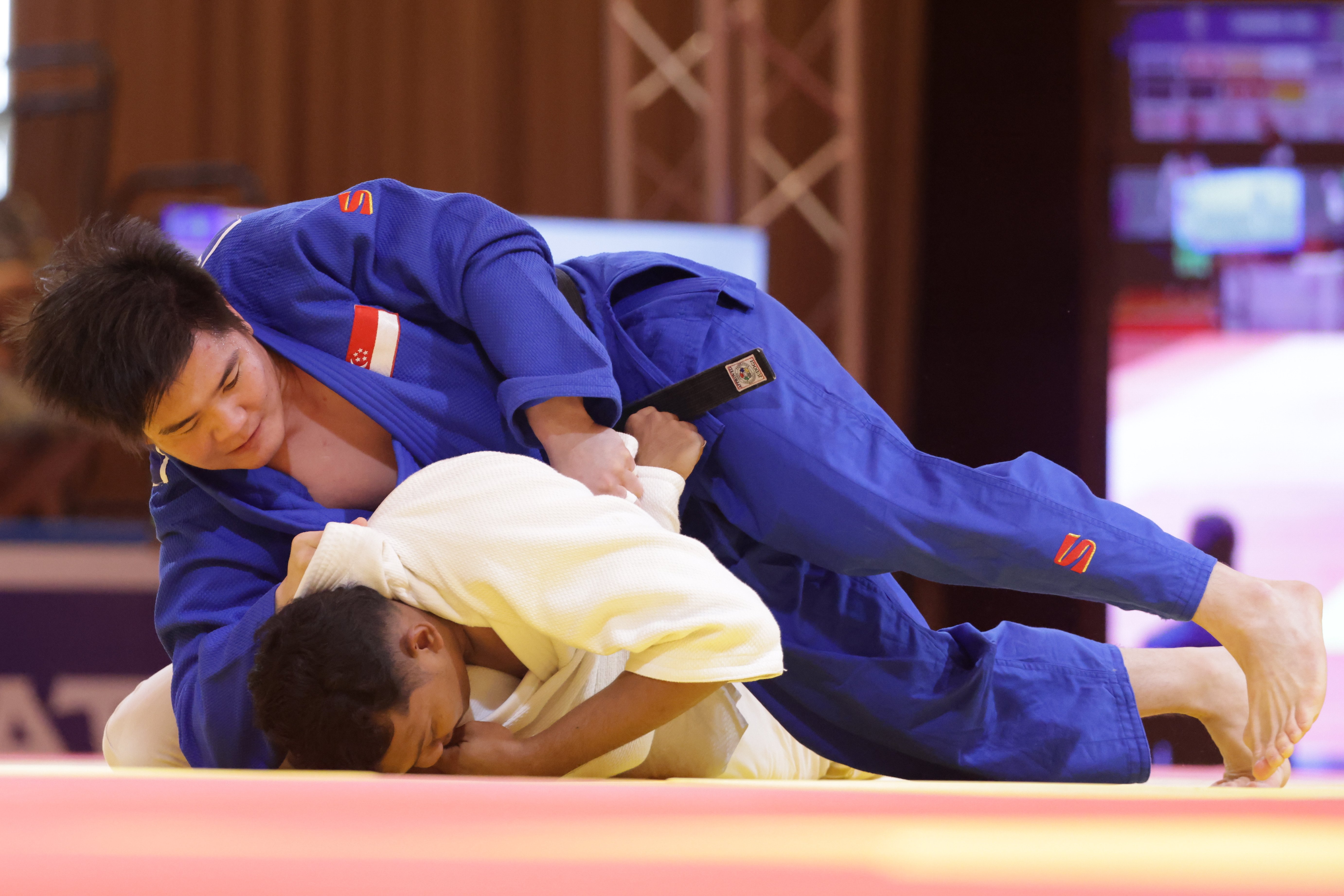 Aaron Ng, already a medallist at the 2019 edition of the Games, won a bronze in the men's under-90kg judo event. Photo: SportSG/Dawn Chua
Judo brought in two more bronzes on Monday (15 May).
In the men's under-90kg, Aaron Ng took out Indonesia's I Kadek Pasek Karisna in the repechage round and earned a bronze medal.
Likewise, Valerie Teo beat Malaysia's Goh Xuan Le in the Under-52kg repechage round, finishing third out of six athletes for a bronze medal.
Hockey has a field day against Thais, but settle for third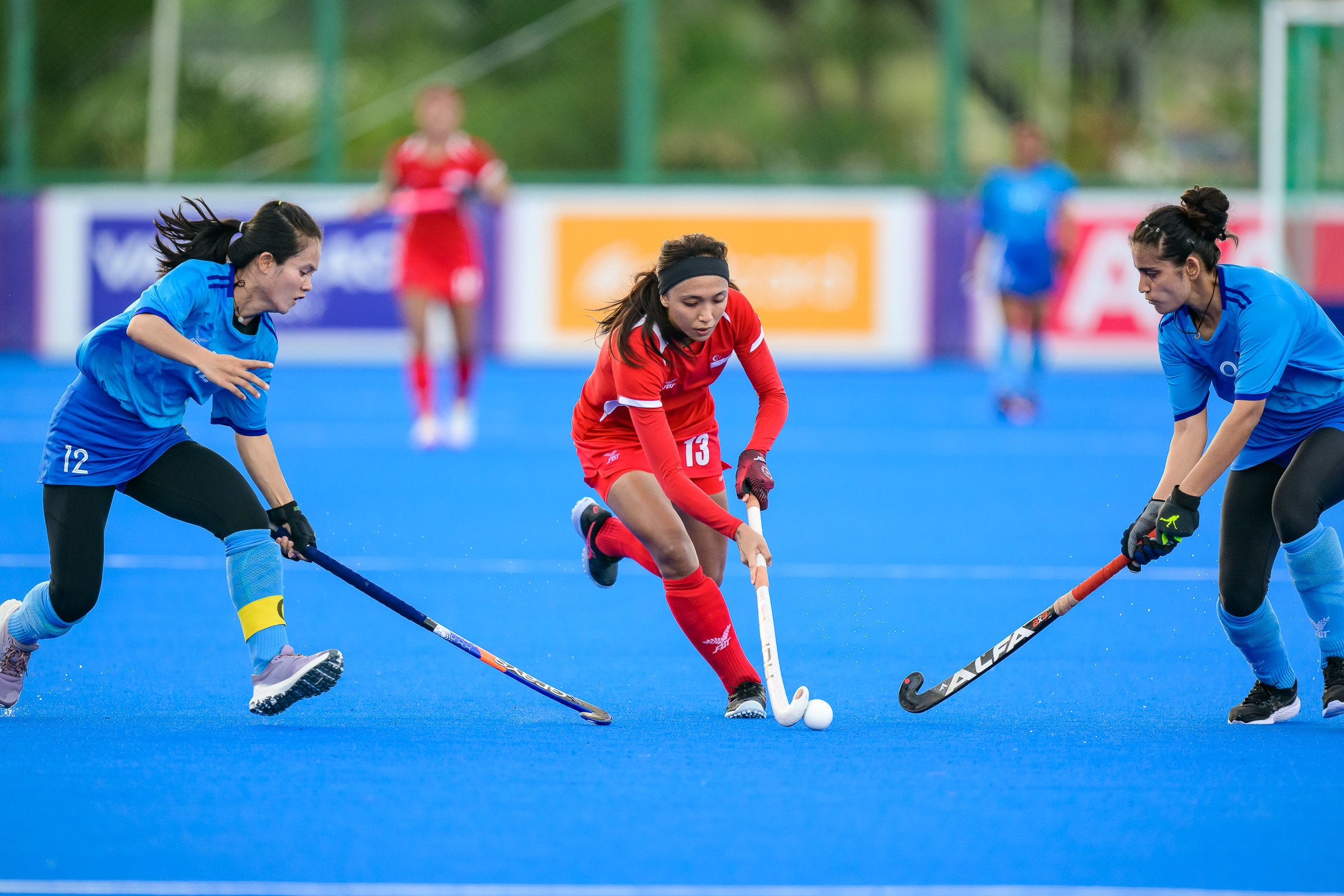 Singapore field hockey player Johana Hajaratih in action during a game against hosts Cambodia. Photo: SNOC/Andy Chua
TeamSG's women's field hockey team posted a laudable win against Thailand in their final pool game, winning 1-0. The win, however, was not enough to earn the team a place in the gold-medal play-off.
The team will rue two costly draws against Cambodia and Indonesia, and finished third out of five teams to take the bronze medal. Still, the result equals the sport's last showing at the 2017 edition, when the team also took bronze. Meanwhile, here's Vice-Captain Laura Tan with her thoughts on the match. (see below)
TeamSG Vice-Captain Laura Tan's post-match interview after their 1-0 victory over the Thais. Photo Credit : SportSG/Lim Weixiang. Video Credit : Singapore Hockey Federation and Sport Singapore
Athletes wrestle for podium positions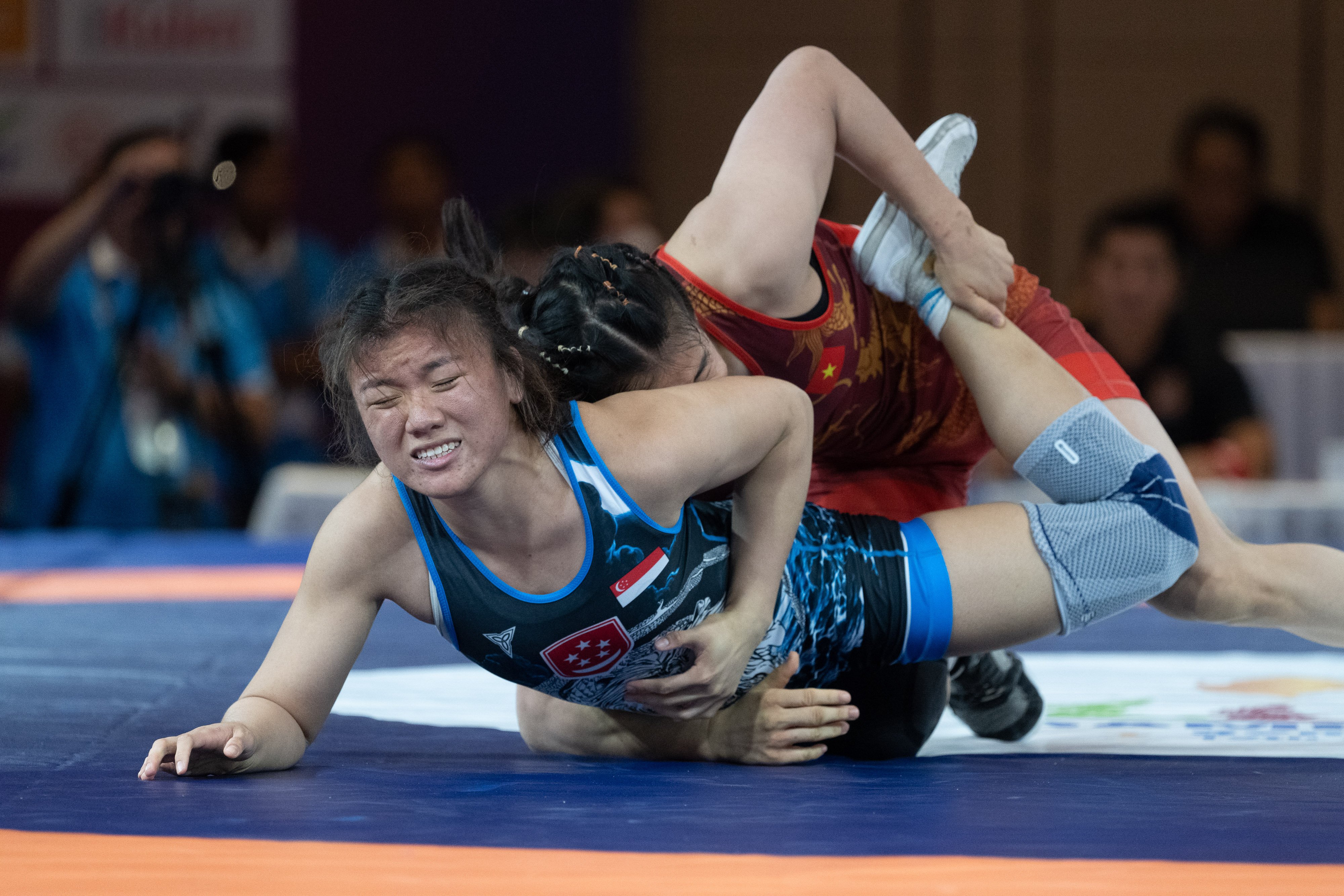 Wrestler Danielle Lim in action against her Vietnamese opponent in the women's 57kg event. Photo: SNOC/Lim Wei Xiang
Danielle Lim won her first SEA Games medal in the women's 57kg weight class. In the round robin matches, she beat Cambodia's Keatha Sim 10-0 but could not find a way past Vietnam's Thi My Trang Ngyen, losing 10-0.
She finished second overall to take the silver.
In the women's 76kg class, Jezamine Chua finished third to take bronze.
Floorball
Singapore's women's squad faced off against arch rivals Thailand in their final group clash. The Republic, with a few key injuries, pushed the Thais extremely hard. But it was Thailand finishing with a 3-1 win. Singapore finished 2nd in the round-robin stage and will play the Thais again tomorrow in the grand final. Meanwhile, check out Vice-Captain Michelle Lok's brief review of the match (see below)
TeamSG Captain Michelle Lok's post-match interview after their 3-1 loss to the Thais. Photo Credit : SportSG/Dawn Chua. Video Credit : Singapore Floorball Federation and Sport Singapore
A crucial game against Thailand awaited Singapore's men's floorball team on Monday. This was after they were beaten 2-1 by the Philippines, as the Republic dropped to 3rd in the pool. And against the Thais, TeamSG battled valiantly. But they succumbed to a 4-3 loss and will proceed to face Malaysia in the bronze medal playoff. Meanwhile, catch Vice-Captain Kumaresa Pasupathy in the post-match interview (see below).
TeamSG Vice-Captain Kumaresa Pasupathy's post-match interview after their 4-3 loss to the Thais. Photo Credit : SportSG/Dawn Chua. Video Credit : Singapore Floorball Federation and Sport Singapore
Water Polo
After 3 straight wins, Team Singapore's quest to reclaim the Men's gold medal was looking ever so bright. And although the team was beaming with confidence, they still maintained a humble outlook overall, and continued to train and prepare diligently for each match. And on 15 May, TeamSG took on the 2019 runner-up, Philippines. It was a tough outing for the Republic. But they eventually grinded out a 10-4 victory over the Filipinos. And next up, it will be their final round-robin match against Cambodia on 16 May, for the chance to redeem the gold. Meanwhile, TeamSG's Chow Jing Lun gives us his take on the match against the Philippines (see below).
TeamSG's Chow Jing Lung's post-match interview after their big win over the Philippines. Photo Credit : SportSG/Andy Chua. Video Credit : Singapore Swimming Association and Sport Singapore
Beach Volleyball
Singapore's Men's team finished overall in 5th place, following the end of the round-robin group stage. From the very beginning, the Draw wasn't in favour of the Republic, considering their strong Group B opponents from Thailand and Indonesia. And despite their valiant performances, defeats to the Indonesians and the Thais, and the sole victory over the Malaysians, wasn't enough to put them in contention for a medal finish. Meanwhile, 4-time SEA Games veteran Kingsley Tay, has his say on the team's overall performance in Cambodia 2023 (see below)
TeamSG's Kingsley Tay's review of his team's SEA Games campaign. Photo Credit : SNOC/Eng Chin An. Video Credit : Volleyball Singapore and Sport Singapore
TeamSG still in the running for medals on final day of events
With one more day to go in Cambodia, Singapore are still in pole position to add to its medal haul.
The men's water polo team will be in action for their final game, with gold only a formality. The women's beach volleyball will also have a shot of finishing on the podium, and will play Vietnam for bronze early on Tuesday (16 May).
In floorball, bronze is also up for grabs in the men's event, with Singapore set to face Malaysia. The women's team will vie for gold against Thailand.
The 32nd SEA Games are held in Cambodia from 5 to 17 May 2023. For the latest Team Singapore coverage and news, follow Team Singapore on their social media channels (Facebook, Instagram, TikTok) or visit the official Team Singapore website.
Related Topics
Related Events & Programmes
Related Topics