Cambodia 2023: Medals in the waiting in combat sports as Pencak Silat delivers a gold and three silvers
by ActiveSG Circle, on May 10, 2023
He'd competed in two different weight classes at previous Games but this time around, Sheik Farhan needed to make his mark in the Men's Tanding I (85-90kg) event.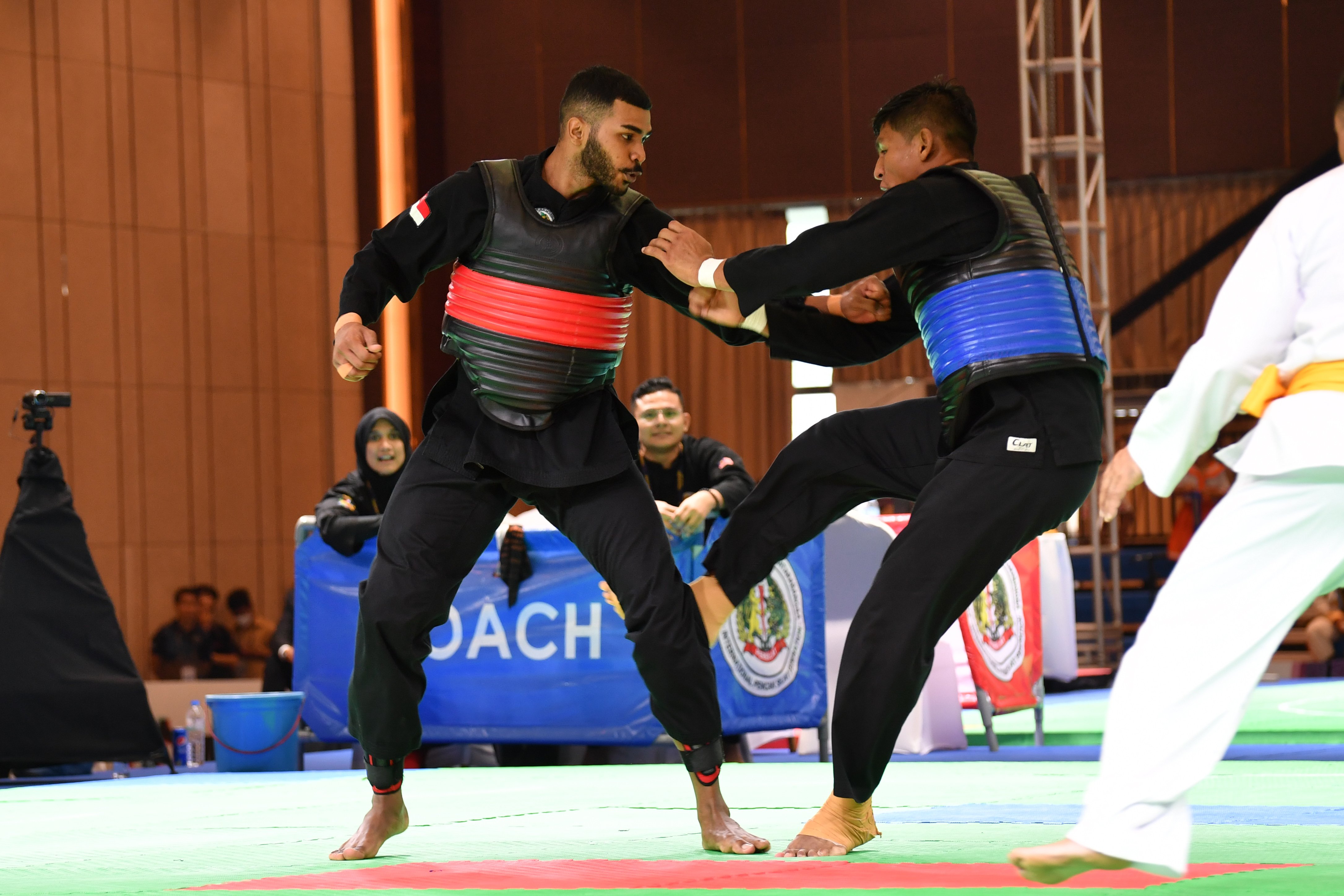 Sheik Farhan was always in control in the Tanding I final. Photo: SportSG/Alfie Lee
Against Malaysian Muhammad Robial Sobri, the 26-year-old produced a dazzling, physical display to beat his opponent 42-11 to secure a much-needed Gold for Team Singapore.
Said Farhan: "My coach didn't have any plans or tactics for me, he told me he believes in whatever I wanted to do, and I should just go out and do it.
"I didn't mind keeping the score very close in the first two rounds, but the last round is when you need to heat things up, so that was when I decided to level up the game."
The Gold was a welcome relief for the team which had seen its athletes defeated on the mat. First up, Dhani Andika Razali fell 31-15 to Indonesia's Bayu Lesmana in the Men's Tanding below 45kg event, settling for a joint-bronze.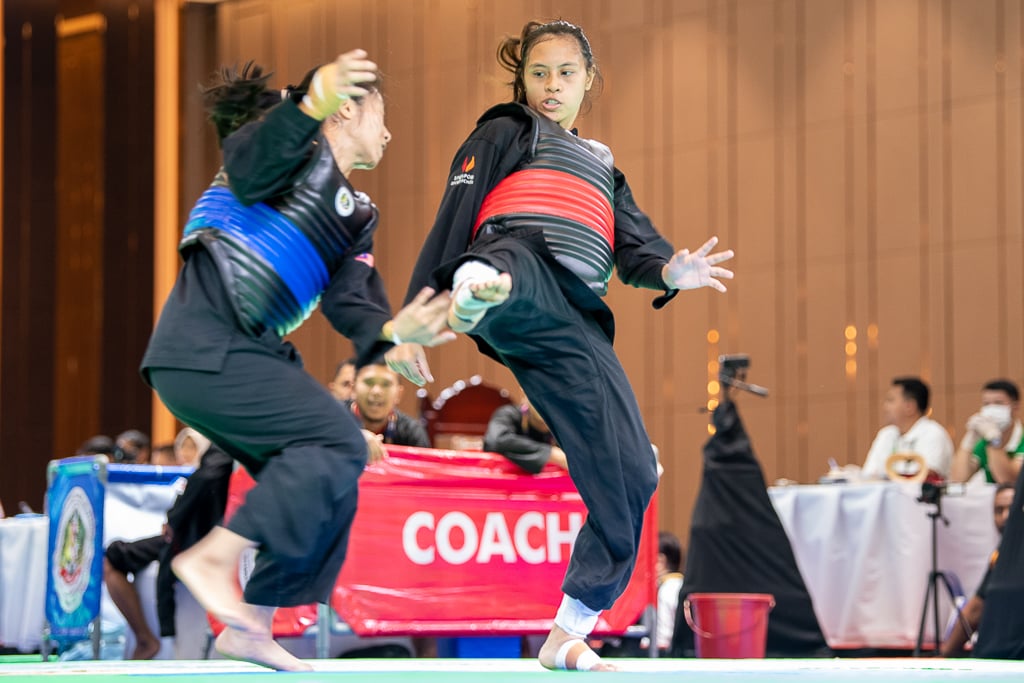 Nadhirah Sahrin could not land the meaningful blows in her match. Photo: SportSG/Flona Hakim
Then, debutant Nadhrah Sahrin fell to Malaysia's Nor Farah Mazlan by disqualification in the Women's Tanding A (45-50kg) event. Even Farhan's brother, Sheik Ferdous could not match up to Vietnam's Nguyen Tan Sang, losing the Men's Tanding G (75-80kg) final by a score of 26-(-2).
Said Ferdous: "I felt like I had a good run in this competition. But the opponent was a better fighter today. I don't want to talk much about the referee's decisions." For more reactions from Ferdous, see the clip below.
Sheik Ferdous' post-fight reactions. Video Credit : Singapore Silat Federation / Sport Singapore
Muhd Nurshahfareeq Shahrudin made it three silvers for the day, losing the Men's Tanding H (80-85kg) final to Vietnam's Nguyen Duy Tuyen, albeit by a narrow margin of 49-45. For Nurshahfareeq's post-fight reactions, catch the video below.
Nurshahfareeq's post-fight reactions. Video Credit : Singapore Silat Federation / Sport Singapore
Singapore Silat Chief Executive Sheik Alau'ddin said it was a good outing for his young team, many of whom are making their SEA Games debut.
"This competition is where we are looking at the judges, the athletes and the entire set-up," he observed. "So this time around, I knew in my heart and I told my athletes that 'you need to smash your opponents, failing which you can't smell success'… you cannot just punch and kick to get the points."
Singapore's boxers featured in two bouts today (10 May), with Muhammad Danish Husli losing to Thailand's Weerapon Jongjoho in the men's 80kg semi-finals by a referee's stoppage, while Velvan Tan lost 4-1 to Norlan Alcayde Petecio in the men's 67kg semi-finals, with both settling for joint-bronze medals. But Singapore Boxing has much to be proud of, wrapping up their SEA Games campaign with a total of 3 bronze medals.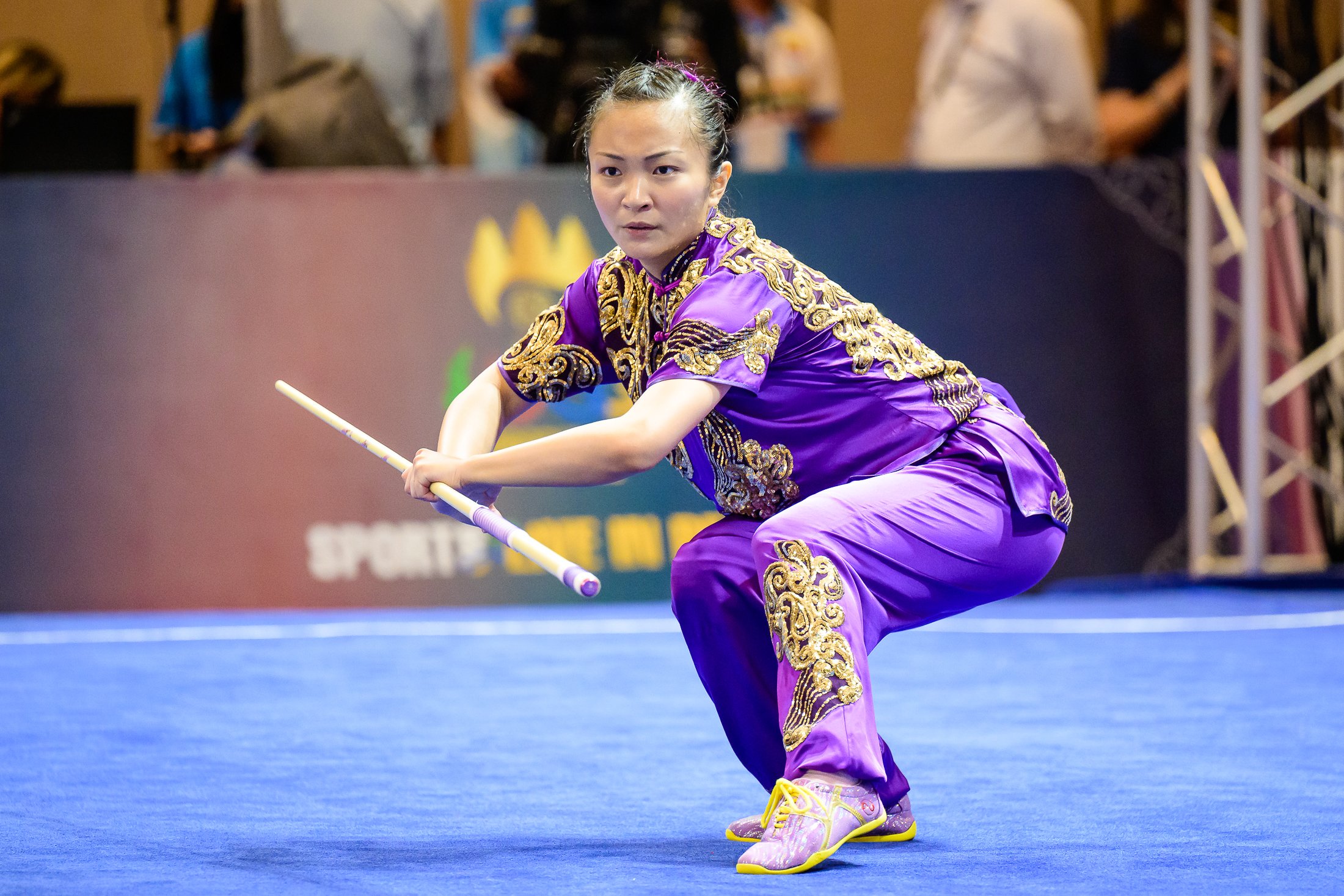 Singapore's wushu athletes kept up their high standards and remain in the running for medals. Photo: SNOC/Andy Chua
Over in Wushu, Singapore won a bronze medal in the women's Duilian final from the team of Kimberly Ong, Zeanne Law and Zoe Tan, scoring 9.393 points. The men's Duilian team finished in fifth position.
In the women's Daoshu + Gunshu combined event, Kimberly Ong leads after the Gunshu discipline with 9.603 points with teammate Zoe Tan in fourth position. They will be competing in Daoshu on Thursday (11 May). Meanwhile, teammate Zoe Tan is fourth after the Daoshu discipline.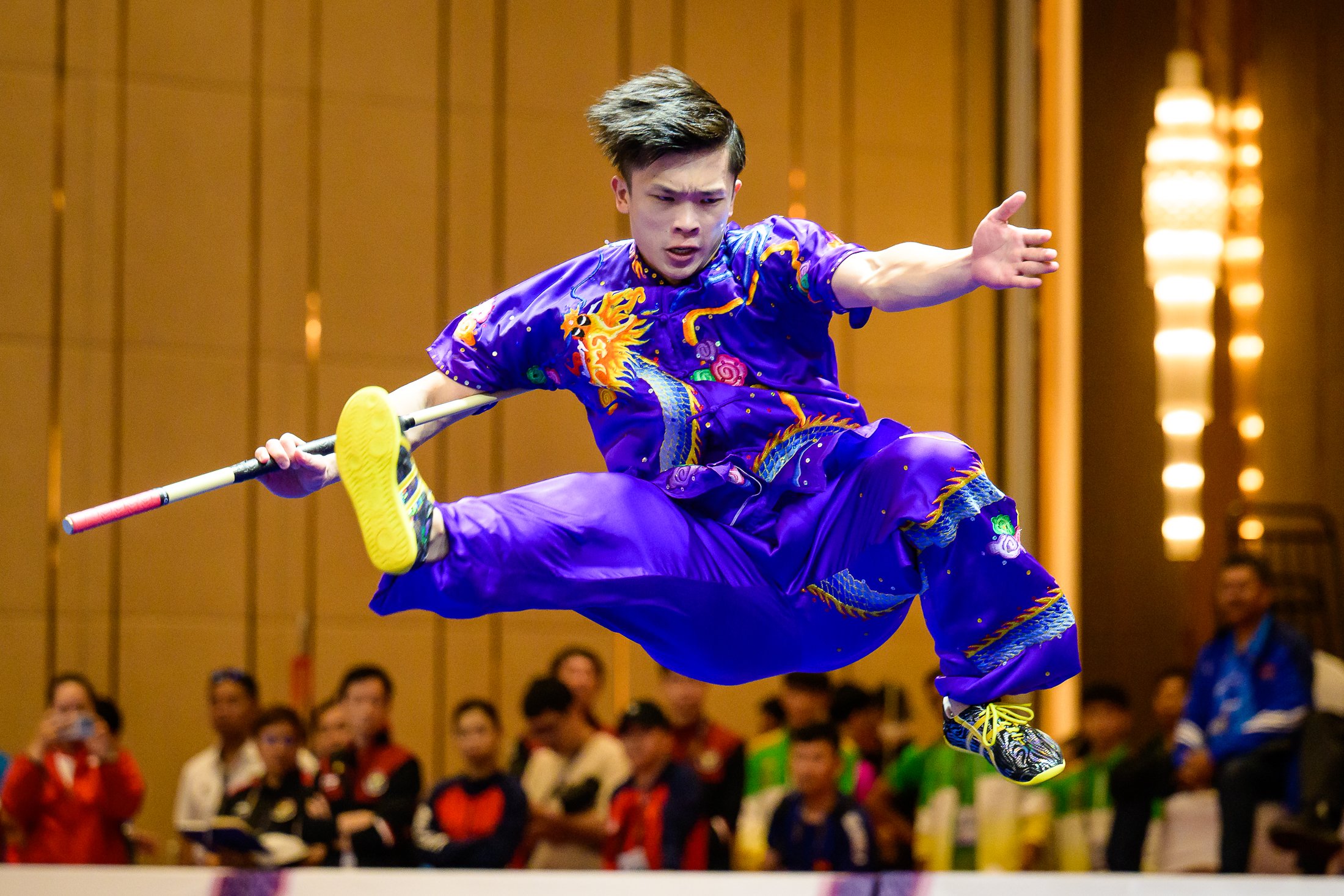 Jowen Lim competing in the Daoshu event on the first day of Wushu competition. Photo: SNOC/Andy Chua
In the men's Daoshu + Gunshu combined event, Jowen Lim lies third after the Daoshu discipline while Ong Zi Meng is seventh in the 11-strong field.
In the women's Taijiquan + Taijijian combined event, Vera Tan is fourth after completing the Taijiquan event with 9.506 points. Teammate Zeanne Law is sixth; both will compete in the Taijijian event on Friday (12 May).
The 32nd SEA Games are held in Cambodia from 5 to 17 May 2023. For the latest Team Singapore coverage and news, follow Team Singapore on their social media channels (Facebook, Instagram, TikTok) or visit the official Team Singapore website.
Related Topics
Related Events & Programmes
Related Topics