Cambodia 2023: Men's cricketers triumph in Sixes against all odds
by ActiveSG Circle, on May 15, 2023
By Philip Goh
Singapore's cricketers pulled off an astounding gold medal feat at the 2023 SEA Games in Cambodia, winning the Sixes crown after beating hosts Cambodia by 27 runs in their final round robin match.
At the AZ Group Cricket Oval in Phnom Penh, the Republic also relied on Indonesia's 2-run victory over the Philippines to secure gold.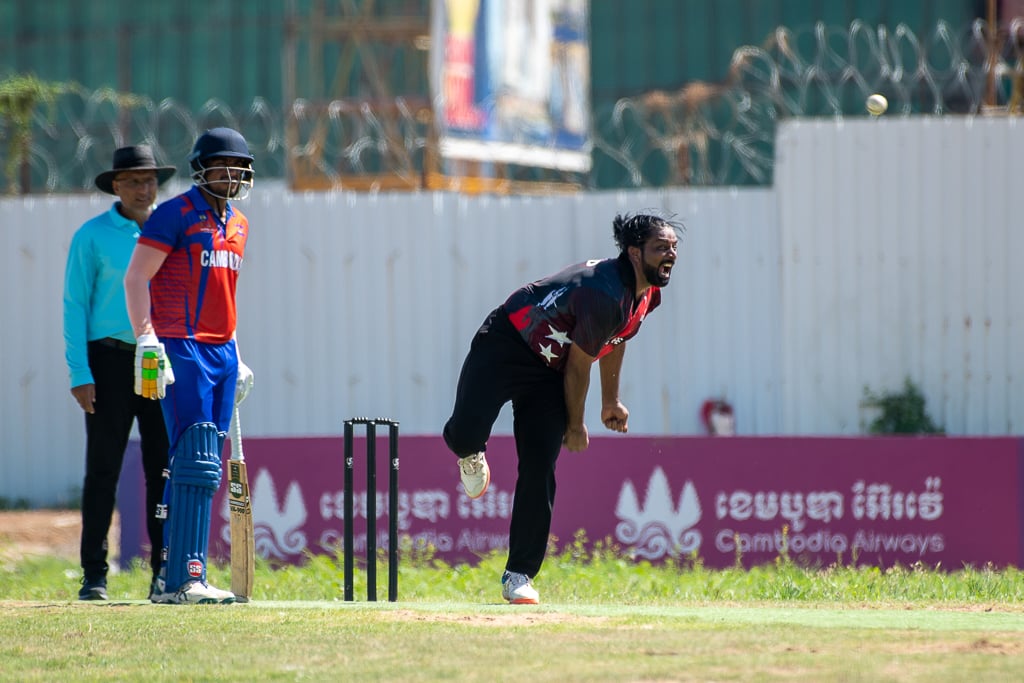 Amjad Mahboob's masterful bowling was instrumental in Singapore's victory. Photo: SportSG/Flona Hakim
The pair of results meant Singapore were tied at the top of the table with Cambodia but won gold based on a superior nett run rate of 2.0, compared to 0.887 for the hosts.
It was the Singapore cricket teams first and only gold of this SEA Games campaign which saw Cambodia unfurling the widest and most comprehensive cricket programme in SEA Games history with men's and women's competition in Sixes, T10, T20 and 50-overs format.
Singapore won bronze in the Men's T20 competition last week, defeating Indonesia by 15 runs.
The Women's team had the chance this morning (Monday 15 May) to add to the tally but lost the T20 Bronze medal playoff by three runs to Malaysia.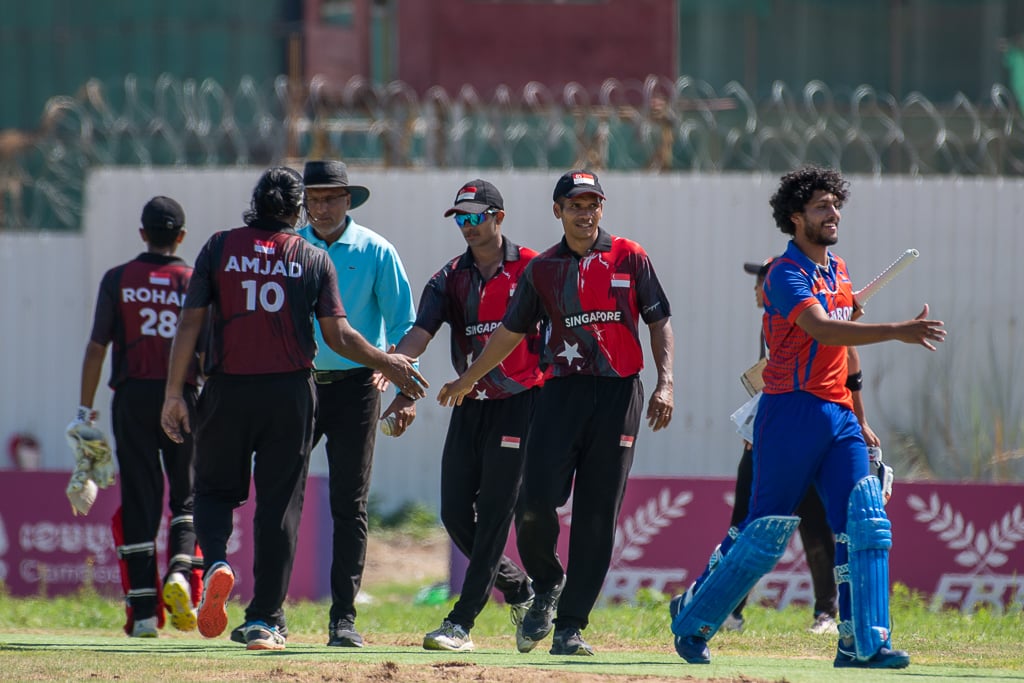 Singapore needed a result against Cambodia to secure the gold medal. Photo: SportSG/Flona Hakim
In the Sixes final, Singapore's Raoul Sharma led with bat and ball, carrying the bat for a masterful 50 in Singapore's innings of 97 for 3 in six overs. Sharma's innings included three sixes and five fours. The 19-year-old then turned destroyer with the ball, claiming 2 for 12, including the key wicket of Cambodian dangerman and former Pakistani first class player Luqman Butt. The Republic was able to restrict Cambodia to 71 for 5 in their innings, a result that helped greatly in the countback.
Singapore had started the Sixes tournament with a four-wicket defeat to the Philippines before defeating Indonesia by 14 runs. That put the team in a good position in the medal push by virtue of their superior run rate.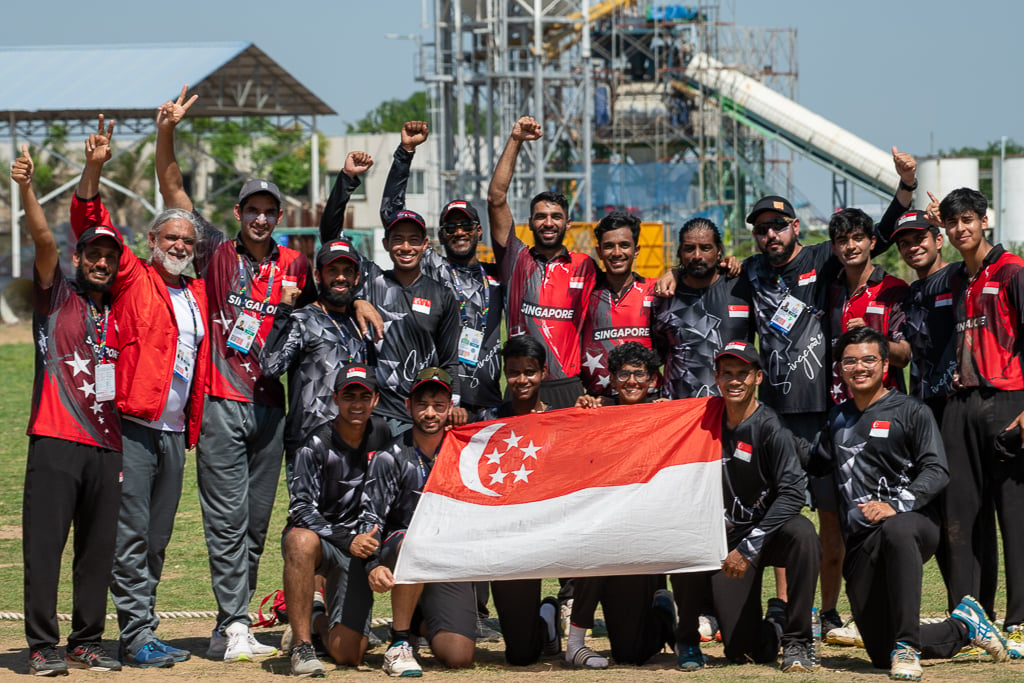 All smiles for Team Singapore cricket who overcame difficulties in the lead-up to triumph in Cambodia. Photo: SportSG/Flona Hakim
Singapore skipper Amjad Mahboob gets the credit for his bowling in all three matches, a performance described as "miserly", conceding only six runs against the Philippines and eight each against Indonesia and Cambodia.
Mahmood Ghaznavi, President of the Singapore Cricket Association (SCA), lauded his team for their gold medal achievement.
"The whole team is to be congratulated for believing in themselves against Cambodia which had won every match in all versions of the SEA Games,'' he said. "The team knew they were facing an uphill task but also knew that playing above themselves could turn the tables on the hosts and this they did with utmost determination."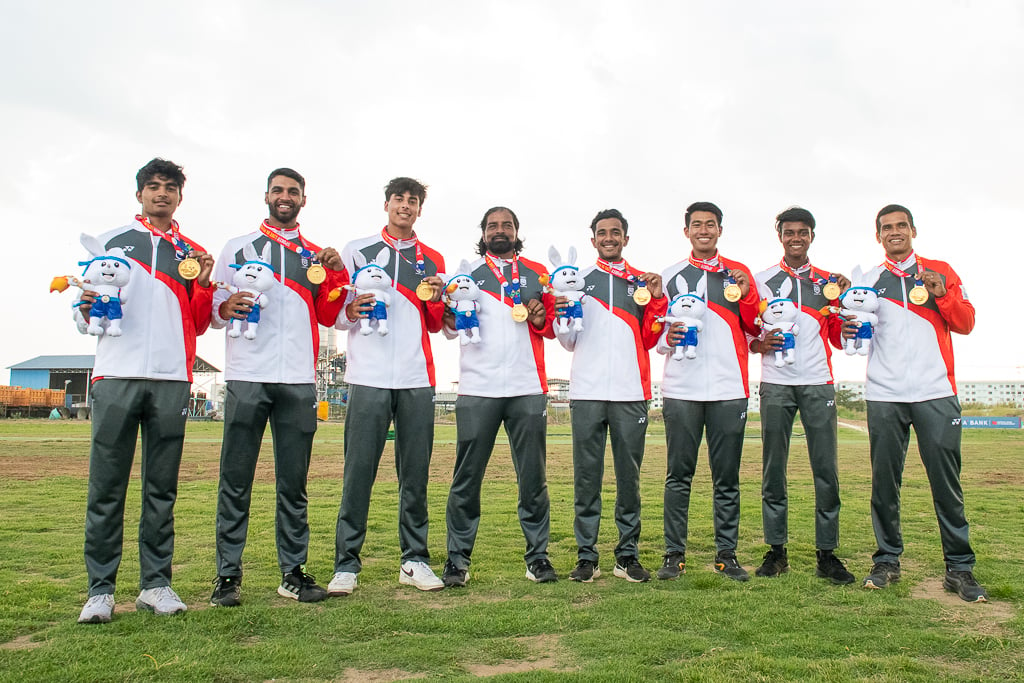 A gold medal which will hopefully inspire changes in the cricket scene back home. Photo: SportSG/Flona Hakim
The SCA also took the opportunity to lay out the difficulties they faced in the lead-up to the SEA Games, including the fact the national team has not had a training ground since August 2022, and limited training facilities since mid-March of this year.
"This gold came with minimal preparation and intense challenges,'' said Gaznavi.
"Having a shared facility is not workable in shaping the upward path of cricket. We require a dedicated facility to fashion hopes of a climb back to the days when we occupied No.19 standing in the world.
"Our competitors have caught up and surpassed Singapore. Our world ranking has declined, and we expect challenging years ahead as we have limited facilities."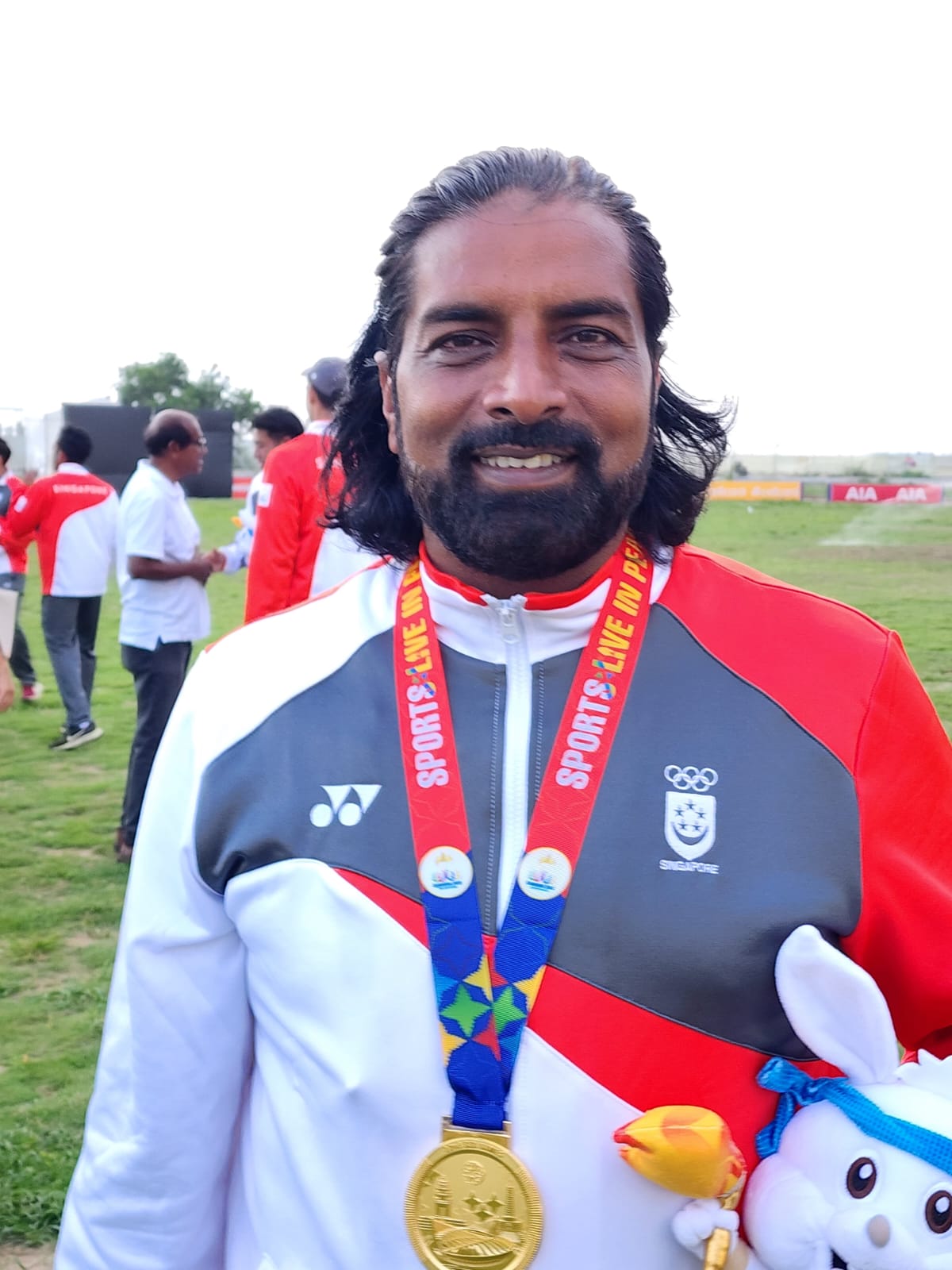 Captain Amjad Mahboob wearing his gold medal with pride. Photo: Saad Khan Janjua
Gaznavi says he hopes cricket will be able to secure proper training facilities with help from SportSG and other government agencies.
"We appreciate all help received thus far,'' he said. "But we need a dedicated cricket facility badly and it has to come soon where we can also aspire to accommodate foreign teams and offer top-quality cricket for spectators."
Singapore has another medal chance in Cambodia with the playoff for bronze tomorrow (16 May) against the Philippines in the Men's T10 event.
The 32nd SEA Games are held in Cambodia from 5 to 17 May 2023. For the latest Team Singapore coverage and news, follow Team Singapore on their social media channels (Facebook, Instagram, TikTok) or visit the official Team Singapore website.
Related Topics
Related Events & Programmes
Related Topics