Cambodia 2023: Paddlers win singles golds to be top table tennis team
by ActiveSG Circle, on May 16, 2023
Izaac Quek is table tennis' top performer, finishing his debut SEA Games with three gold medals. Photo: SNOC/Eng Chin An
By May Chen
Singapore has regained its standing as the kingpins of table tennis at the SEA Games.
Paddlers enjoyed a red-letter day at the Morodok Techo National Stadium Table Tennis Hall on Tuesday (16 May), sweeping the singles events.
Zeng Jian got things off to a good start when she beat Thailand's Suthasini Sawettabut in the women's singles final, although gold did not come easy by any means.
The world No. 55, up against a higher-ranked No. 33 veteran, raced to a three-game lead but ended up labouring to a 11-8, 11-8, 11-9, 3-11, 9-11, 7-11, 11-9 win.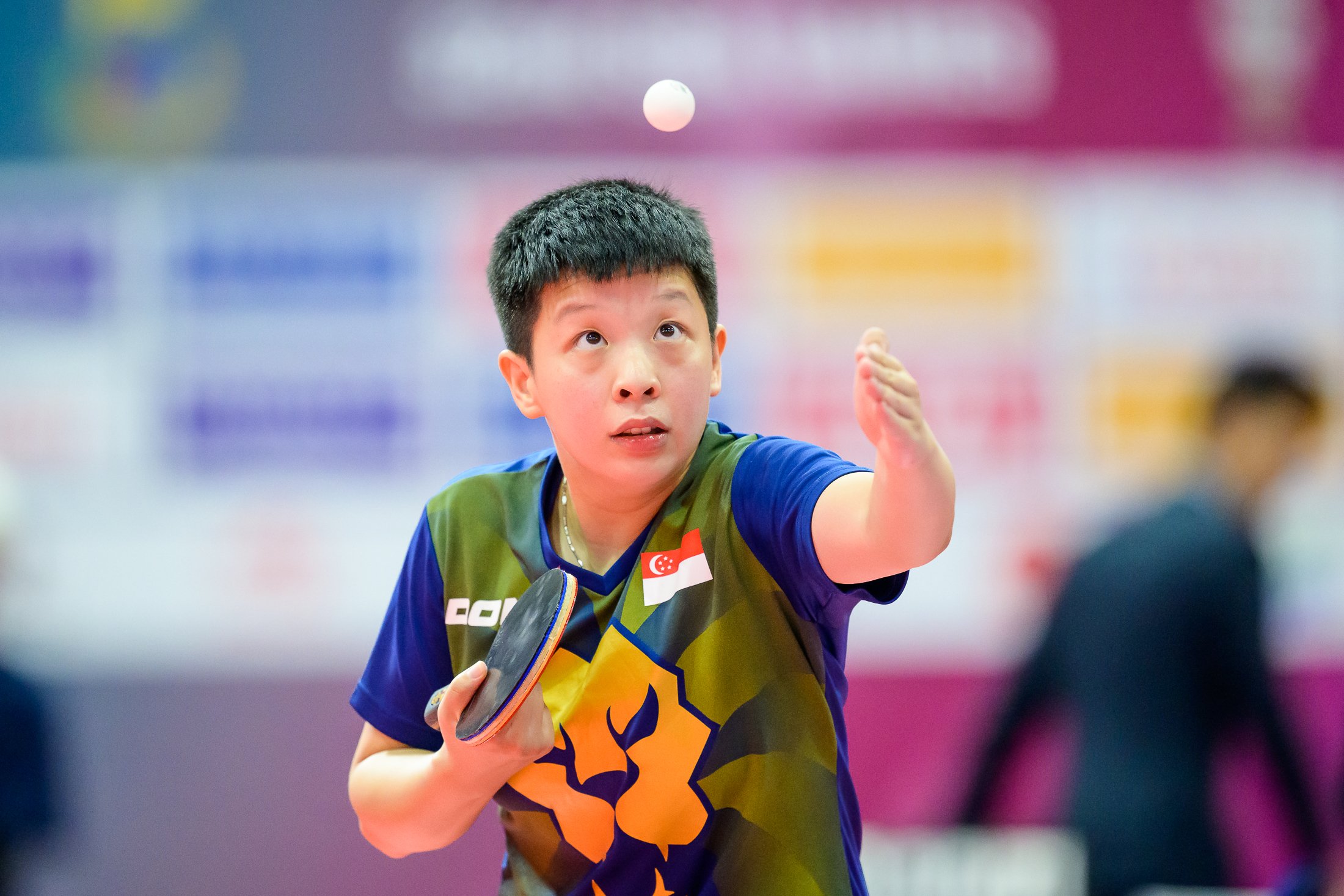 Zeng Jian, a bronze medallist in this event at the last Games, was made to work for the gold, defeating two Thais en route to the gold. Photo: SNOC/Andy Chua
Said Zeng, who had to take out defending champion Orawan Paranang of Thailand in the semi-finals yesterday en route to the final: "I never realised how difficult it would be to win a gold medal at the SEA Games.
"Every match felt like a life-or-death battle. I just wanted to fight for every point. Finally, on the last day of competition, after so many days, I finally have a gold medal."
Zeng was a singles bronze medallist at the last Games in Hanoi. She added: "My mind was blank when we got to the seventh game, but I just told myself to continue believing in myself. It was a test of who could hang on until the end.
"Becoming champion is confidence boosting, but it's important to recognise where you still fall short. Every competition is a test to see how you can outdo yourself."
Teammate Izaac Quek, meanwhile, made winning the men's singles gold at his debut Games look like a stroll in the park.
The teenage sensation never looked in doubt as his ruthless showing gave him a straightforward 11-3, 11-6, 11-8, 11-7 victory over Vietnam's Nguyen Anh Tu.
It completed what has been a dream SEA Games for the 16-year-old, who will leave Cambodia with three gold medals. He teamed up with Koen Pang to win the men's doubles event and was also part of the squad that took team gold.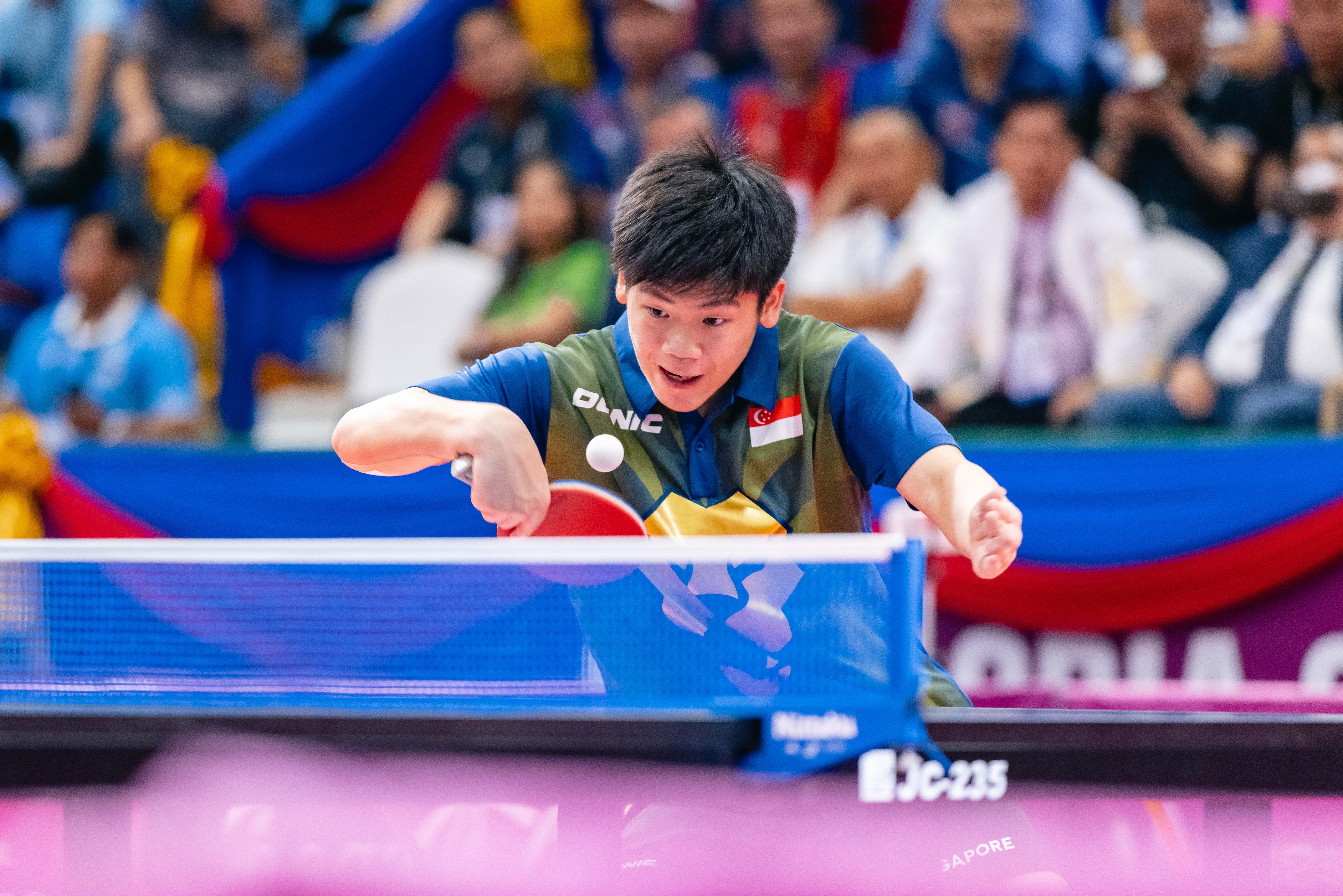 16-year-old teenage sensation and debutant Izaac Quek will leave Cambodia a three-time SEA Games champion. Photo: SNOC/Eng Chin An
Said Quek: "I've been watching the SEA Games since I was a child. I still remember when it was in Singapore I was there watching Clarence (Chew) and Gao Ning playing in front of the crowd. I told myself then that I want to be like them and now, one of them is now my teammate and the other is my coach."
While there was great hope that the 16-year-old would deliver gold, he said his youth and inexperience meant he felt little to no pressure to perform.
"I have the least pressure because I'm the youngest. I just wanted to learn from the other players and told myself to take it match by match.
"It still doesn't feel real. It's been a special year. This is a confidence boost and will help push me for the competitions to come. I still have a lot to work on and I have to focus on the world championships coming up."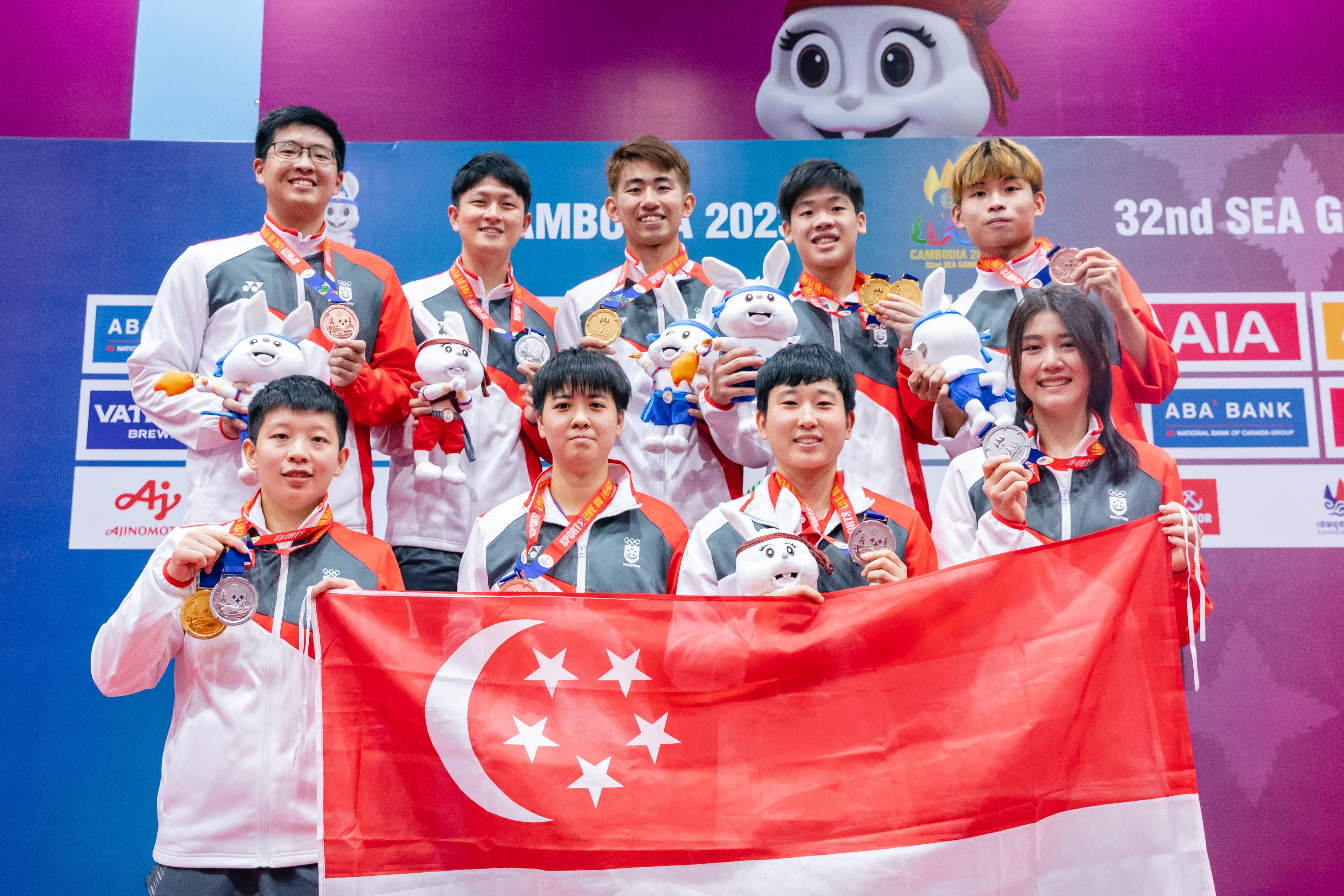 Table tennis' haul of four gold medals surpasses the sport's pre-Games target of two titles. Photo: SNOC/Eng Chin An
Table tennis, a sport that has been going through transition and renewal periods as older, foreign-born paddlers retire, will leave the SEA Games with medals to prove that it is on the right track.
Paddlers won a total of four golds (men's team, men's doubles, men's singles, women's singles), two silvers (mixed doubles, women's doubles) and three bronzes (men's doubles, women's doubles, women's team).
It is a vast improvement from the two golds, three silvers and four bronzes at the last Games in Hanoi just a year ago.
The 32nd SEA Games were held in Cambodia from 5 to 17 May 2023. For the latest Team Singapore coverage and news, follow Team Singapore on their social media channels (Facebook, Instagram, TikTok) or visit the official Team Singapore website.
Related Topics
Related Events & Programmes
Related Topics