Cambodia 2023: Pencak Silat delivers medals in Artistic discipline
by ActiveSG Circle, on May 8, 2023
As the Pencak Silat artistic programme at the SEA Games drew to a close, Singapore Pencak Silat Chief Executive Sheik Alau'ddin felt mixed emotions as he reflected on Team Singapore's medal haul, with the women's Regu (trio) team claiming a gold medal while the shiniest of colours eluded the men's and women's Tunggal (singles) athletes.
There is elation that the women's team achieved the result they had been striving for, and disappointment that defending champion Muhammad Iqbal Abdul Rahman did not get the outcome he had hoped for.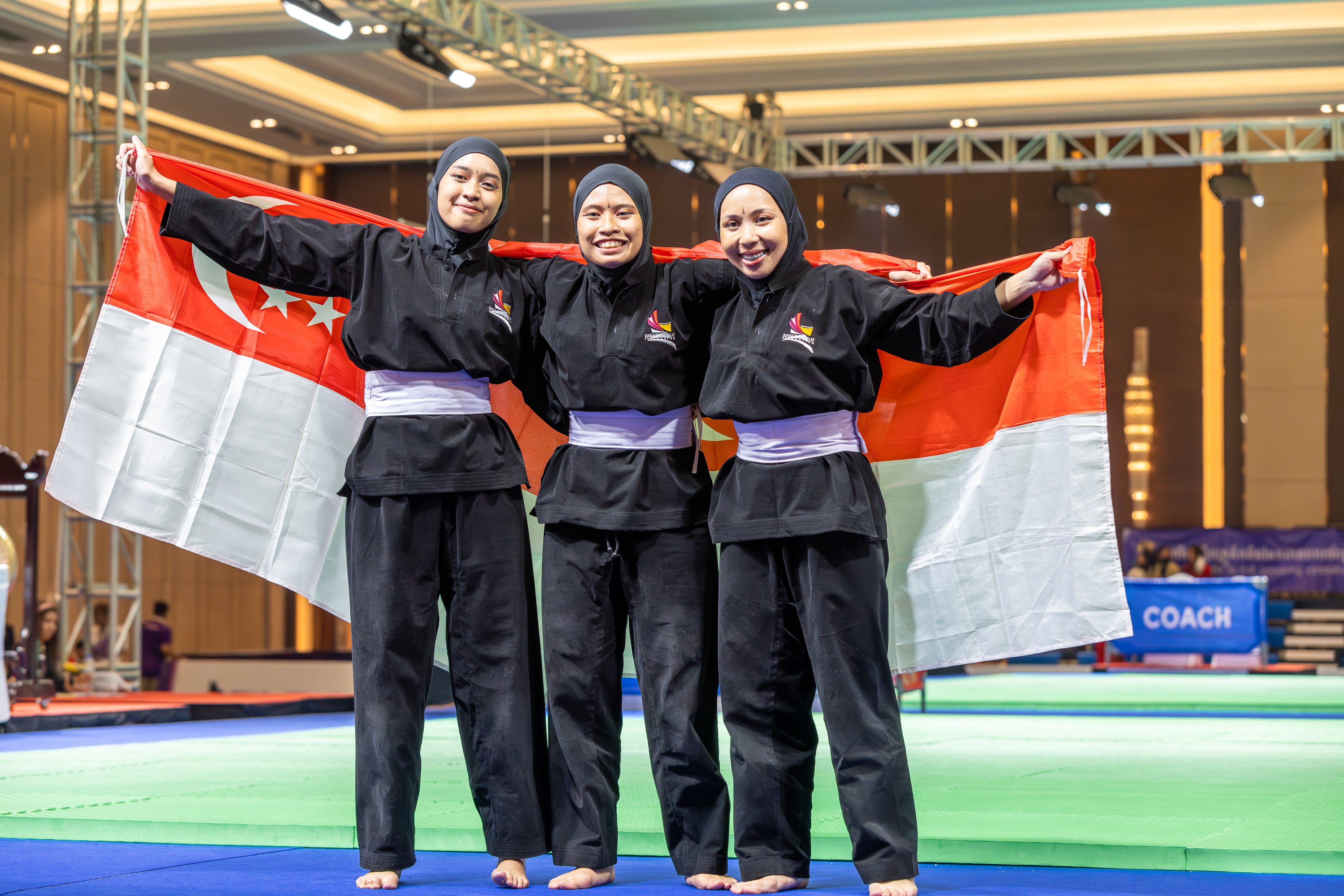 The women's regu team delivered the first gold for Pencak Silat. Photo: SportSG/Dyan Tjhia
There is also relief in the acknowledgment of Sport Singapore's spexScholarship programme, which provides financial and programmatic support to prepare athletes to excel at major Games.
Up until this year, Nur Ashikin Zulkifli, who is a member of the gold-medal winning trio, used to spend her mornings cleaning fish at the wet market to provide for her family.
"I see her chopping fish, cleaning the guts, working so hard in the wet market, and my heart goes out to her," said Sheik. "She is such a good silat talent and we could not afford to lose her, yet we weren't able to help her alleviate her financial worries, until she was accepted into the spexScholarship programme. Once that came on board, away went her worries and she was able to focus on Silat, and now we have a gold medal to show for it."
Ashikin and her team-mates, Amirah Sahrin and Iffah Batrisyia Noh were a cut above their Bruneian opponents, producing a better coordinated and more polished performance to secure the gold medal with a near-perfect score of 9.955.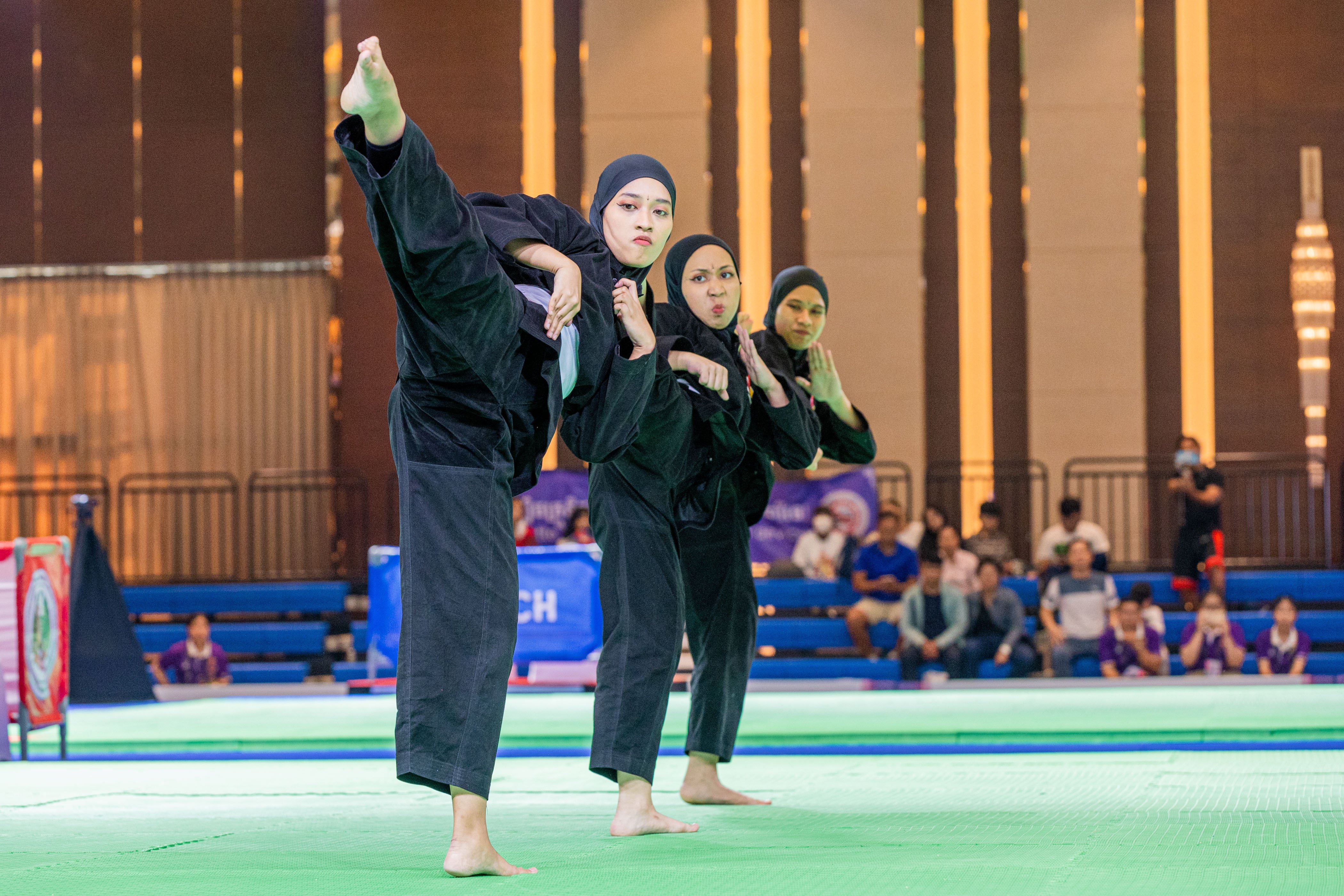 The women's trio displayed great co-ordination and poise to top the podium. Photo: SportSG/Dyan Tjhia
Said Sheik: "During the final itself, it was very obvious our girls were stronger than their Bruneians opponents, in terms of their stance, posture, coordination and so on. We've put them through hours of training to get everything right.
"This is the same team that won at the last World Championships, so we knew what they're capable of. We just needed to make sure they compete with the right mindset, which is why apart from physical coaching, they also went through mental skills training, which helped them to stay composed and not get ahead of themselves."
The Pencak Silat artistic competition featured six events in Singles, Doubles and Team, of which participating nations are able to enter a maximum of four events.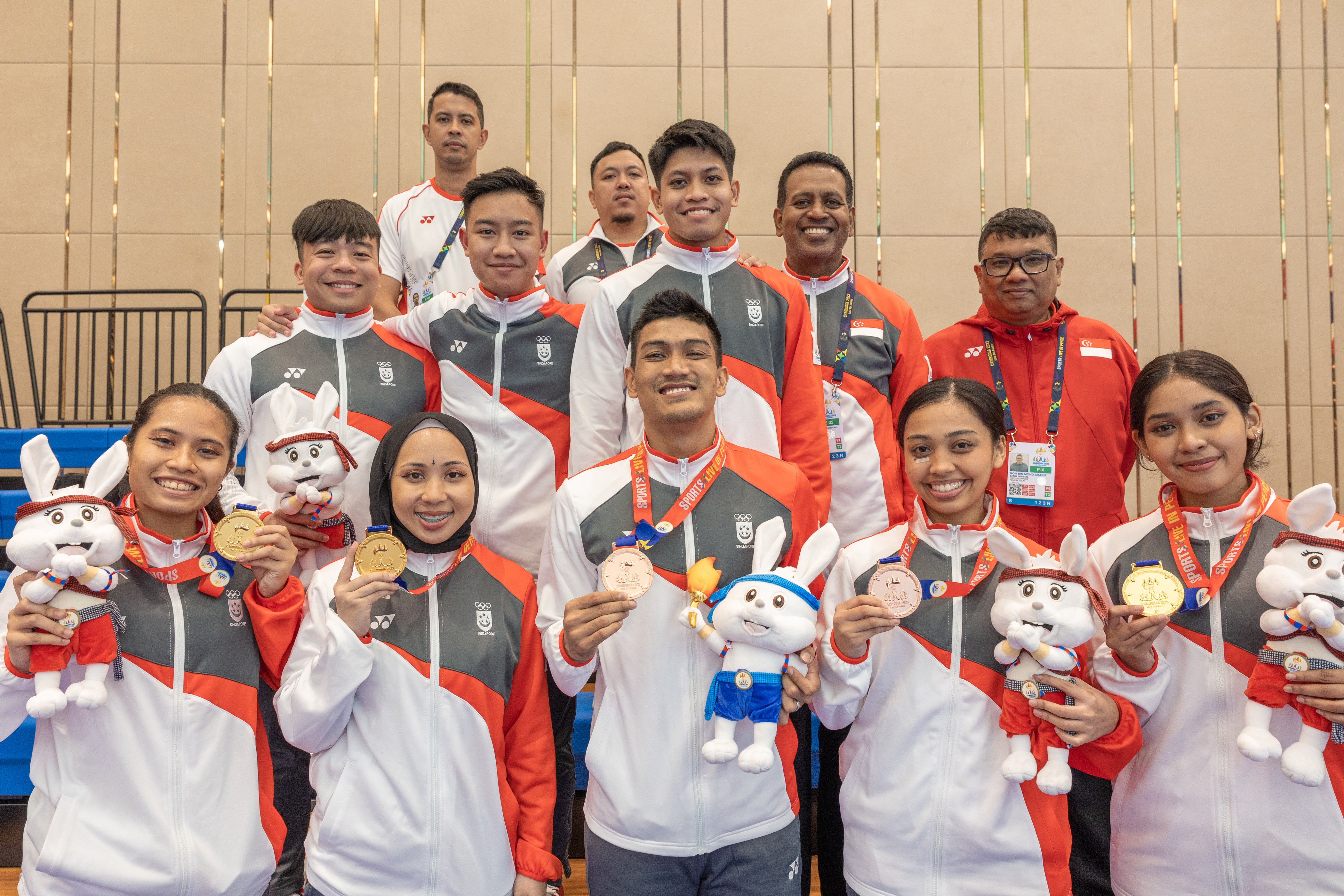 Team Singapore artistic silat athletes celebrate their achievements at the 32nd SEA Games. Photo: SportSG/Dyan Tjhia
Singapore focused on the Tunggal (singles) and Regu (trio) events, and saw two of its athletes make the semi-finals of the Tunggal. But this is where fate played its hand, as artistic competition will frequently involve subjective judging, with judges having different perspectives and viewpoints.
With that in mind, Sheik is philosophical about Muhammad Iqbal not making the final, even though in his eyes, his charge produced a far stronger performance than his Cambodian rival.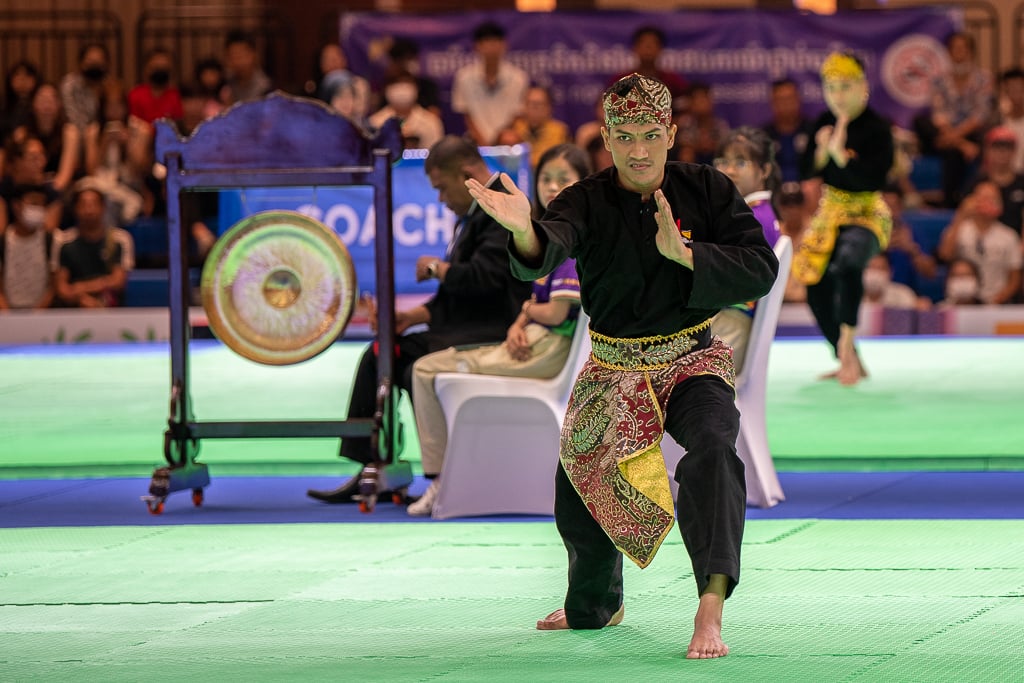 Muhammad Iqbal Abdul Rahman puts his best foot forward to win the bronze medal in the Men's Tunggal. Photo: SportSG/Flona Hakim
Iqbal lost to Cambodia's Some Sokdevid despite posting a score of 9.935.
"There is disappointment as Iqbal is doing so well. He's been training hard and we expected a better result. He now has to bounce back and work harder and focus on the competitions ahead, including the Asian Martial Arts Championships in Bangkok this November.
"But I also understand he wants to get married first, so I wish him all the best for his nuptials!"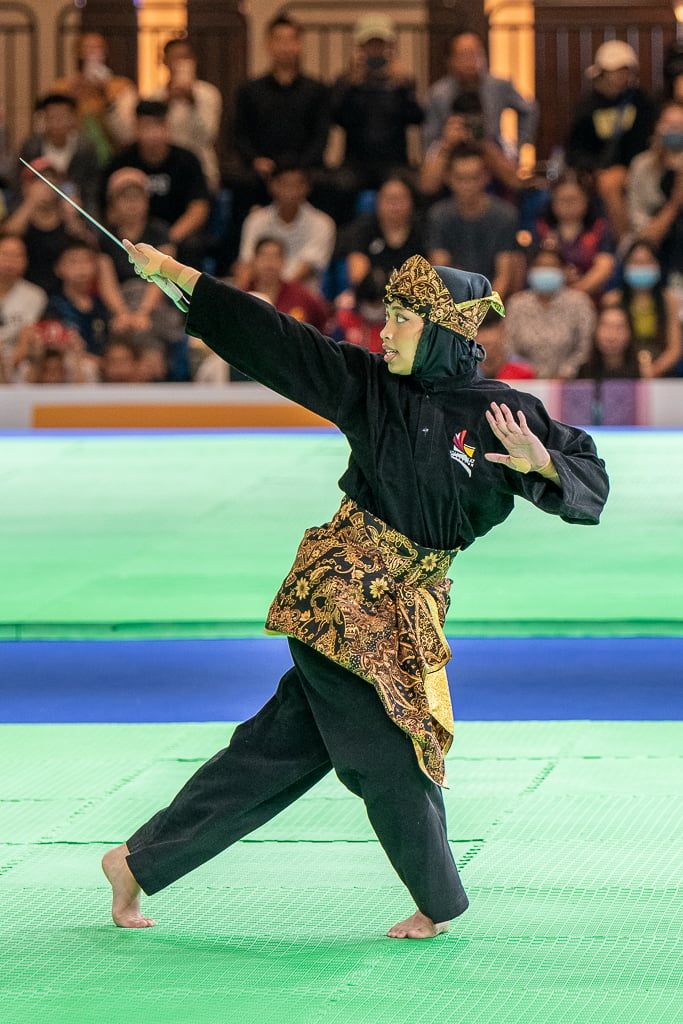 Singapore's Siti Nazurah Mohd Yusoff earns her first SEA Games medal with a bronze in the Women's Tunggal. Photo: SportSG/Flona Hakim
The women's Tunggal semi-final saw Siti Nazurah Mohd Yusoff face a tough challenge against Indonesian stalwart Puspa Arum Sari, but she should be proud of herself for holding her own with a bronze and her first SEA Games medal.
Said Sheik: "Puspa came with a big reputation so it was difficult for our girl to match up to her."
While judging for artistic events can be uncertain, the outcome will be different when the Tanding events begin on Monday (8 May), where there is full body contact and results are more conclusive.
"Our athletes are all very hungry for action, they've been pacing the floor since we arrived on 4 May and can't wait to get going," said Sheik. "We hope they will bring their all to the mat and deliver more medals for Team Singapore."
The 32nd SEA Games are held in Cambodia from 5 to 17 May 2023. For the latest Team Singapore coverage and news, follow Team Singapore on their social media channels (Facebook, Instagram, TikTok) or visit the official Team Singapore website.
Related Topics
Recent Events & Programmes
Related Topics